Thursday Sports Entertainment News Report 01.17.13
January 17, 2013 | Posted by
Greetings, folks, and welcome to another edition of Thursday Sports Entertainment! Lots to cover this week, so let's jump right into the news, shall we?
WORLD (WRESTLING ENTERTAINMENT) NEWS TONIGHT
Following WWE starting the process to sign Independent star El Generico, news is that Adam Cole and Sami Callihan will have tryouts as well with WWE.
The company has changed their attitude about signing top independent workers that don't necessarily have the look and size that WWE traditionally looks for. This is partly due to the success of CM Punk, Daniel Bryan and now Dean Ambrose and Seth Rollins. Punk and Bryan have specifically caused a different mentality when it comes to talent coming through the Independents as well as talent that doesn't have the look, the size and the physique that used to be the first thing they look for.
The old WWE mentality was to sign people who could be TV stars and teach them to wrestle WWE style, as opposed to signing great wrestling talent and giving them the ball and seeing how far they can run with it.
I say do all of it. Seriously. Variety is the spice of life, and WWE needs to offer a little something for everyone.
There are people out there who are big fans of technical wrestling. Sign those guys.
Some folks just like huge, shredded monsters beating the crap out of each other. Sign them too.
Others like comedy wrestlers that make them laugh. Sign 'em.
Special attractions/Sideshow wrestlers? Hey, Khali and Hornswoggle have plenty of fans. Get them as well.
Hot babes? Sure, we all love those.
Talent comes from all sorts of unexpected places. Whether it's independent wrestlers, college football players, bodybuilders, whatever – WWE should explore all avenues when recruiting new Superstars. I don't think there should be one, specific venue for recruitment – that only limits their options.
There has been talk within WWE that Randy Orton will need to take some time off to deal with a personal mater. Word is that the matter has nothing to do with a wellness violation or a behavioral issue, which had sidelined him in the past.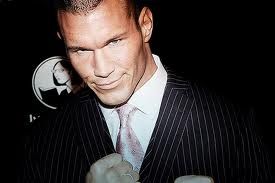 I originally wasn't going to include this news item, but then I remembered it would likely continue the hottest feud currently taking place on the Thursday Sports Entertainment comment board – 1degenerate vs. MISTER Ice Dagger!
And Randy Orton's vacation (aka "The Year 2012") continues with only a brief blip in recent weeks. Man, how about that loss to Wade Barrett on RAW? It looks like Randy's star has fallen, folks. Man, first AWOL from the Marines, now AWOL from WWE. When will it end?
But in all seriousness, I hope that whatever personal issue Orton's experiencing isn't serious, and he can be back on TV jobbing to future main eventers ASAP! No really, my hope is that his family's health is OK. You never know – maybe Bob Orton broke his arm and needs his son to nurse him back to health. If so, don't expect to see Randy until WrestleMania 39.
That makes me think that the WWE should add a Body Part wing to the Hall of Fame – recognizing the historic contributions that certain people's body parts have made to the industry. Here are my nominations for the inaugural class of the WWE Body Part Hall of Fame:
Cowboy Bob Orton's Arm
Mae Young's Hand
Kevin Nash's Quads
Steve Austin's Middle Fingers
The Rock's Eyebrow
Jerry Lawler's Heart
Mr. McMahon's Ass
Am I missing any?
David Otunga was recently interviewed by WWE Magazine, and discussed the success of the former Nexus members. Here are the highlights…
"I think everybody has been doing great. We pretty much are the new top guys of WWE. We're all here now. Ryback just contested a championship match, and he's got another one coming up. Daniel Bryan has been a champion before and Wade Barrett is well on his way. Heath Slater has his own crew now. I just filmed my first movie with Halle Berry. I think it all turned out better than we planned."
Michael Tarver begs to differ. But seriously…he's right. For those that are still around, they are getting plenty of TV time and opportunities. A lot of people like to rag on Ontunga, and maybe they are justified, but clearly World Wrestling Entertainment sees tremendous value in him. Don't believe me?
They've placed him in their highest profile film, opposite an Oscar winning, A-List actress.
They've also placed him in their opening montage. Check him out at about 8 seconds, sandwiched between Chris Jericho and Sheamus:
Now, WWE didn't just pick people at random for their signature opening. Each person was carefully selected because they represent the greatness of the company. Here are the people that I noticed in that introduction, in order of appearance:
John Cena
Andre The Giant
HHH
The Rock
The Undertaker
Vincent J. McMahon
Stone Cold Steve Austin
Gorilla Monsoon
CM Punk
Chris Jericho
David Otunga
Sheamus
Eve
Kane
Shawn Michaels
Ric Flair
Talk about esteemed company! The only two question marks there are Eve and Otunga. For Eve, I would guess that she was included because she was the highest profile female on the roster at the time. That just leaves Otunga. Why was he thrown in there? They must know something we don't, but either way, he'll be around a loooooong time.
Both Bruno Sammartino and Bob Backlund are on the list of considerations for this years Hall of Fame class. Sammartino has turned down offers from WWE in the past for an induction, but word is that Triple H is personally trying to make the induction happy, and may even fly to Pittsburgh for a face to face meeting if it will make the deal happen.
Bob Backlund's name has also popped up again, due to his history with Madison Square Garden. The report is WWE has reached out to him but no word on if he's accepted.
The latest on this year's class is that it is still very up in the air, and that there are several possibilities for the spots.
Two very worthy additions, in my opinion. I think that if Bruno doesn't go in this year, he never will. Let's look at the reasons why Bruno might accept, and the reasons why he may not:
Reasons Why Bruno May Accept
Having the ceremony happen on his home turf, Madison Square Garden, is the unique factor here that juuuuust might make it hard for him to say no. That, and he seems to have a lot of respect for Triple H. Perhaps he's thinking about his legacy, and at almost 80 years old he may want to be immortalized in the WWE Hall of Fame.
Reasons Why Bruno May Not Accept
These are too numerous to list, so I'll go with the big one. By all accounts, Bruno seems to be a man with a strong moral core, who cares more about doing what's right than what's easy. He blames Vincent K. McMahon for ruining wrestling. He was disgusted by the (alleged) widespread drug use and sexual abuse that was (allegedly) festering in the WWF under Vince's control. He's often derided the profanity and extreme violence that characterized pro wrestling up until recent years. Having his name associated with people he despises would prove too much for Bruno to handle. To get a better idea of how he feels, check out the video below at 26:44 and 35:10.
Some context: Vince McMahon was embroiled in scandal. He was facing legal charges for distributing steroids to performers, and his management team was accused of all sorts of drug/sexual wrongdoing. While this was happening, McMahon appeared on Phil Donohue's talk show alongside former wrestlers and "wrestling journalists" to discuss the situation. Among those in attendance was Bruno Sammartino. Again, check out Bruno's comments at 26:44 and 35:10…
Do you think Bruno will ever put aside his problems with Vince and accept a Hall of Fame induction? I highly doubt it.
SPOILERS AHEAD:
At this time, here are the top four matches that WWE will be working toward for WrestleMania 29…
* The Rock vs. John Cena (WWE Title)
* CM Punk vs. The Undertaker
* Brock Lesnar vs. Triple H
* Randy Orton vs. Sheamus (WH Title)
It's not a BAD card…it's just not a good card either. The thing with WrestleMania is that the matches should feel fresh, new and exciting. Let's break it down:
The Rock vs. John Cena – This is the same Main Event as last year's WrestleMania, only now the WWE Title is in the mix. Last year, this match was dubbed as "Once In A Lifetime," which must have been shortened from "Once in a Lifetime…of a Brine Shrimp" (life expectancy: 1 year). It's still the money match, so I can't blame them for going with this one. I'm looking forward to it, but a straight-up rematch isn't as exciting as one would expect.
CM Punk vs. The Undertaker – I've already seen this match in person at Hell in a Cell 2009. The only variable here is The Streak, but I don't think Punk is the one to end it. He's hinted numerous times that he'll be retiring "sooner than we think," and I don't think the 'E would be willing to sacrifice the streak to someone with a short shelf life. Besides, Punk doesn't need the rub that ending the streak would bring. So this match has already been done, and we can comfortably predict the outcome – thus, my excitement level isn't that high. On the bright side, it should be a heckuva match.
Brock Lesnar vs. Triple H – Because no one demanded it! Let's follow the story – Brock breaks HHH's arm. HHH wants his revenge, so they have a match at SummerSlam. HHH loses, Brock leaves. The end.
Why bother with a rematch from an event less than a year ago? This one puzzles me most of all. Two part-timers wrestling is bad enough, but two part-timers wrestling a rematch no one is clamoring for is bewildering. Why not use Brock's cachet to elevate someone like Ryback? Win or lose, if Ryback holds his own against someone like Lesnar, then he's set for life.
Randy Orton vs. Sheamus – If the news bit above about Orton going away for a while is true, then this match might not even happen. But if it does, it doesn't feel special to me. I mentioned last week that the WWE should use the WHC match to showcase some excellent technical wrestling. We're not going to get that with Orton's 5 minute rest hold specials. Anyway, let's hope that Dolph Ziggler makes history by successfully cashing in his briefcase at WrestleMania.
READER SUBMISSIONS!
As you may know, I issued a challenge to Team411maniaUniverseArmyNation. Since I couldn't be bothered writing about the minor leagues of wrestling, and since many of you crave such content, I threw down the gauntlet to see if any of you brave souls would step up and write a piece for this column. For two weeks, the challenge went unanswered, but this past week – not one – but two! readers sent in some TNA thoughts for your enjoyment.
First up is John Reid. John has some thoughts on the following TNA newsbite:
TNA has officially announced that they will be shifting their focus from monthly live PPVs to four live shows on PPV per year. The promotion has announced that their live PPV events will be Genesis on January 13th, Lockdown on March 10th, Slammiversary on June 9th and Bound for Glory on October 13th.
To fill the month spots, the promotion will hold seven PPV specials dubbed "TNA Wrestling: One Night Only." The three-hour taped specials will kick off in April and run throughout the year on the first Friday of each month. This is where the tapings this weekend will come into play; as previously reported, they are a "Joker's Wild Tag Team Tournament and X-Division show.
TNA President Dixie Carter commented, saying, "The Pay-Per-View industry has changed so much in the last decade. The traditional pay-per-view wrestling model needed to evolve and we believe this strategy will positively impact not only the Pay-Per-View events but the weekly television programming as well.
And what does John think about TNA's new PPV strategy? Let's find out. Take it away, John!
"While this is a step in the right direction, there is more that TNA could do to create interest in their product. For starters, instead of having these PPVs similar to the WWE's "In Your House" events, they should instead take their "Championship Thursday" nights and make that replace these taped-specials. Also, it doesn't make sense to remove the Destination X PPV, as they had a built-in gimmick in place with the X-Division champ cashing in his belt for a World title shot. Will be interesting if they still find a way to implement it going forward."
There you go. Short and sweet, just like Daniel Bryan.
Next up is a man known by many of you as APinOz! Mr. inOz has a more in-depth, general "state of TNA address" submission for your perusal.
"For me, 2012 was TNA's best year since the middle of the decade when they were putting on 5 star matches with Samoa Joe, AJ Styles, Chris Daniels, AMW, XXX and the X Division. This can be put down to two things: the title reign of Bobby Roode and the emergence of Austin Aries as a main event level superstar. The fact that one ended the other in by far the best TNA match this year is significant because it made a U-Turn in the predicted booking path that TNA was taking. It looked for all the world like they were building to a James Storm-Roode confrontation at Bound For Glory but sensibly they did not ignore the wave of support Aries was getting, nor did they ignore the consistently great matches he was having against almost any opponent they threw at him.
There have been other aspects that have made me tune in: The Bully Ray singles run is one of those "never saw it coming" things that gave TNA an awesome, believable, old-style heel who was destined for immense popularity when he turned face to battle the Aces and Eights. Gut Check and Open Fight Night have been great innovations which have even got the WWE sitting up and taking notice. The in-ring action on Impact has been a vast improvement on the previous year. Any company with AJ Styles, Chris Daniels, Kazarian, Kurt Angle, Samoa Joe, Zema Ion, Kenny King and Kid Kash under contract can't help but cobble up decent in-ring action.
There are problems of course. I'm wary of the whole Bully Ray-Hogan family angle. Brooke Hogan should not be on a wrestling show. She's as wooden as a barn door, can't cut a promo to save her family and we all know the last name is the ONLY thing keeping her on TV. Apparently, she can't sing either. At least Madonna can dance… Hulk Hogan has become too much of a regular presence on the screen again for my liking and it has cut the legs out of the run Bully Ray was on.
Also, the major angle in the company – the Aces and Eights – is obviously not being written with an end in mind and is floundering. Mike Knox being unmasked was met with the sounds of the crowd picking their underpants out of their ass-cracks as they shuffled in their chairs with disinterest. The group keeps getting beaten in matches where they outnumber the TNA guys. Wasn't Bruce Prichard watching when WWF booked the Invasion? They are painting themselves into a corner and need the next unmasking to be a Bill Goldberg-level star (I know it wouldn't be HIM but go with me on this) if they want to have it capture the interest back. And surely the end point is Jeff Jarrett and Eric Bischoff being revealed as the orchestrators of the whole shebang and then we're just back to the same old Invaders vs Dixie Carter schtick we saw with the Hogan-Bischoff thing and before that the Main Event Mafia (which did at least give us that AWESOME whole company brawl throughout the Impact Zone but I digress)
Jeff Hardy as champion is not working. Sure, he sells merchandise but so does Zack Ryder and that hasn't got the WWE rushing to strap the WHC around his waist. In fact, the Hardys were huge merchandise sellers in WWE but it didn't translate into main event spots for them both, except for Jeff towards the end of his run. And in WWE, Jeff was the plucky underdog, the guy who had been there since he was 16, struggling to reach the level of guys like HHH, Undertaker et al. The crowd picked up on it and drug suspensions apart, he rode a great emotional tidal wave to his first singles World Title. He does not have that aura at all in TNA, much as they have tried to paint the picture of him as this reformed character who has slayed his demons and made it back to the top, no matter how true it might be. TNA would be best served getting the strap back onto Roode or Aries and letting them have barnburner matches with the top talent at the top of every PPV card.
It might be obvious, but TNA works best when they present themselves as an ALTERNATIVE to the WWE, rather than a shadow of it. I watch and like both but TNA should use their advantage of being more adult-oriented to give the fans intense, hard-hitting matches, a bit of blood and profanity without going overboard, and not rely on ex-WWE stars to carry a "name value" for the company. There has been no indication that Hogan, Rob Van Dam, Mr. Kennedy or Hardy have turned ratings around due to their former associations. They are not going to rattle WWE's ratings or PPV numbers but why worry about that as long as they are putting on a compelling, interesting product which is not sending them or their backers over the fiscal cliff? They have revived the dying heartbeat which was the Knockouts which is a plus and while it's not as great as it was at its Awesome Kong-Gail Kim peak, at least one of those names is still there.
Giving the fans a variety of things to choose from their menu is TNA's big plus – they have enough talent under contract to do it and they shouldn't boil it all down into one cookie-cutter "style" as WWE has done. (Is it just me, or do others go crazy hearing that a wrestler can't work "WWE-style" so they are not valuable?)
Oh, and they need more Eric Young. He's the funniest guy in pro wrestling!"
What do you think readers? Do you agree with APinOz's thoughts on TNA? Is Brooke Hogan as wooden as a barn door, or is she more like a shed? Does Jeff Hardy deserve to be TNA champion? Sound off below!
Special thanks to John Reid and APinOz for stepping up. It takes courage to put yourself out there, and I laud them for doing so. Great job, guys!
PROUD PAUL'S TRAVELS
What you were SUPPOSED to get this week was an Awesome Ladybug Girl recap of the 20th Anniversary of RAW. However, ALBG has been embracing her #HEELish tendencies of late, and as a result, was grounded – her punishment has left her bereft of all forms of electronic entertainment for a week, including TV. I blame Dolph Ziggler. Ever since she developed that infernal crush on him she's become more and more difficult to handle. CURSE YOU, SHAKE-A-BUTT GUY!!! And it's too bad, because she's been dying to see a cage match. Her loss!
So what's an Internet Wrestling Columnist to do when his go-to material provider flakes out? Well, come up with something new, dammit! While ruminating on some fresh features for the site, I was thinking about the Paul Heyman/CM Punk situation. We all know that Heyman was brought back as a much needed mouthpiece for Brock "I'm feeling you feeling my feeling the feeling because I can feel it" Lesnar to spare us from any more of his rambling promos. That Heyman guy sure can talk, I tells ya. But things took an unexpected turn when the man formerly known as Paul E. Dangerously was teamed up with the Straight Edge Superstar CM Punk.
As the world knows, Punk does NOT need a mouthpiece, he can carry his own promo, thankyouverymuch. However, the link between Punk and Heyman runs deep, and WWE wanted to exploit their relationship to further Punk's heel turn. Which is fine, no complaints from me. But what does a manager known for his talking skills do when teamed up with someone that has superior talking skills all his own? Why, you stand back, shut up, and lift the shit out of that title belt.
Which brings us to Proud Paul's Travels. Inspired by internet memes like "Where's Randy Savage?" and "CM Punk is Not Impressed," I decided to create a meme of my own featuring a proud Paul Heyman hoisting the WWE Championship in amusing situations. There's something about that lovable walrus holding up the belt that makes me laugh, especially when juxtaposed against scenes from world history, pop culture, etc. I created five to start, and if you're so inclined, make a few yourself and send them to [email protected] and I'll include them in here. So, without further ado, I present to you PROUD PAUL'S TRAVELS!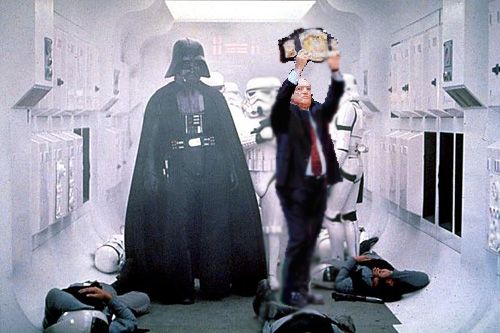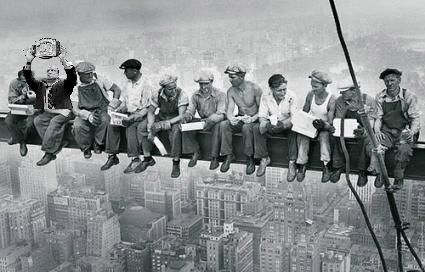 And there you have it. Were you inspired to create your own Proud Paul's Travels pictures? If so, hit me up at [email protected] and you can see it published RIGHT HERE…at 411mania! *thumbs up*
YOU'RE IN FOR A REAL TWEET
And of course, follow all the 411 stuff on Twitter! #spon
http://www.twitter.com/411mania
http://www.twitter.com/411wrestling
http://www.twitter.com/411moviestv
http://www.twitter.com/411music
http://www.twitter.com/411games
http://www.twitter.com/411mma
SIGNING OFF
Thank you for making Thursday Sports Entertainment your go-to destination for Wrestling News, Opinions, etc. Make sure to leave a comment below, create your own Proud Paul Pictures, and submit non-WWE thoughts for inclusion in this very column!
Hasta Jueves,
This is Sean.

NULL