Tremendous Tirades 4.04.13: TNA Impact Wrestling
April 4, 2013 | Posted by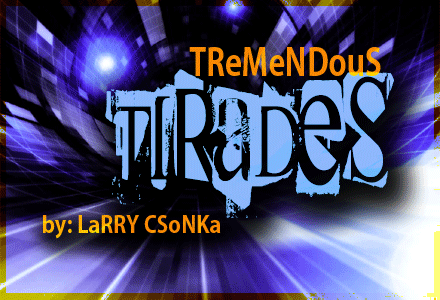 Introduction
It's the road to WrestleMania, and with that being the case, I have dusted off the old Tremendous Tirades name for new alternate recap to the main shows that will air each week (Raw, Impact and Smackdown). This will not be another traditional recap, but instead it will be a mash up of the Rs, Instant Analysis and my usual Twitter ramblings I would do during the shows; completely uncensored and as the ideas flow unfiltered to the old keyboard.
I felt that last week's show was the third good Impact in a row. Not outstanding or perfect, but good. The show seemed focused, building some stuff for next week, keeping Aces and 8s strong, and also building to the next live show with two title matches. With only four PPVs, TNA can now afford to give away a match like Bully vs. Hardy in full metal mayhem. They had some pacing and layout issues, but the show was easy to watch and the product feels fun again.
Tonight's edition of the show comes to you live via tape from Jonesboro, Arkansas…
Aces and 8s Try to Recruit AJ Styles: Ok, I had to laugh, I just notice that Mr. Anderson's cut says "Asshole" on it. That's pretty great. Mr. Anderson has a cut for AJ Styles, reminding him that TNA turned their back on him. As mentioned, they are doing the nWo-Sting angle; replace Sting with AJ, nWo with Aces and 8s and the shirt is now a cut. Some will complain, but I am fine with it. Devon has an envelope, noting that it had to do with Brooke and Bully Ray, and we would learn more later tonight. D'Lo also got time to talk, and had his letter of termination from TNA. He felt he deserved more, and wanted answers. Kurt Angle then appeared and we then got a brawl between TNA and Aces and 8s. Angle, Joe, Magnus, Eric Young and…Joe Park stood tall. It was your basic opening segment for the show, which is something I addressed previously. We're going to see a lot of this sort of thing, leading to tag matches, leading to show ending brawls. I also highly question using the Joe Park character here, they play him as mostly comedy, and they need to be using a James Storm or someone like that here to keep the serious tone.
Rating (1-10): 6.0
Joey Ryan hits on Brooke Hogan, and offers to be the knockouts referee. Brooke warned him to stay hands off. This will not end well.

Gail Kim and Tara w/Jessie vs. Taryn Terrell and Velvet Sky – Joey Ryan Special Referee: And this is the sort of thing that pisses me off. For weeks they are actually doing a good job of building the Taryn Terrell angle, they take all of the right steps and they do it all very well. Last week they even did the tease, and didn't give away her first match, instead saving it for this week. So instead of actually following up on that and the first positive momentum the knockouts have had in a long while, they go ahead and make the match all about Joey Ryan and his sleaze gimmick. Just because TNA creative is too busy to give Ryan an actual angle, that doesn't mean that they should insert him into one that has been working rather well. Instead of following up with the ladies in a match, we spend 90% of the match focusing on Ryan wanting to fuck the four chicks in the ring, completely taking away from the solid match that the ladies were having. The thing is that the stuff with the ladies was working very well, and the crowd was reacting well in recent weeks. Yeah, good for Taryn, she got to hit him in the balls afterward. Unfortunately the Joey Ryan stuff killed this for me.

Rating (1-10): 2.5

Tag Team Contract Signing – Nice of Hernandez to Dress Up: We had the bit contract signing for next week's tag team title match. Aries and Roode, and then Chavo and Hernandez came out. Chavo, Aries and Roode all wore suits, Hernandez wore his gear; nice of him to dress up. There was contract discussion and Aries wanted to add perks for the winner; so he and Roode huddled and added some silly things like green M&Ms, a fruit basket and then more money. Chavo and Hernandez then had some ideas, they did some back and forth and while we didn't hear them, they agreed to the stipulations. The match is a two of three falls match, ad it Chavo and Hernandez lose, they will never team again in Impact Wrestling. Hernandez was hesitant about signing, but then again, he had no pants on. This was perfectly average, but did add some incentive to next week's title match, so they had that going for them.

Rating (1-10): 6.5
Adam Pearce video package time.
Magno video package time.

Gutcheck Match: Adam Pearce vs. Magno: This was rough. They opened up well enough and when Pearce was on control things went well. Unfortunately when Magno got his first chance to shine, he did himself no favors. He had two really rough spots as the match went on, one crash and burn on a counter and one moonsault that he basically landed on his face with. He was also given a big spot to the floor to shine, while Pearce was simply booked like a "solid hand" in there. The good news is that Pearce was able to keep things together, and he got the win being a sneaky heel and using the ropes. Pearce is a guy that TNA could really use, especially working with his friends Daniels and Kazarian, but I expect TNA to go with Magno because they always go the opposite way and stay away from the TV ready people that they can use right now.

Rating (1-10): 5.0
Mr. Anderson meets with AJ Styles and hands him an Aces and 8s cut, and tells him to consider their offer.
Highlights of the Hogan-Bully Ray drama.
Hulk heads to the ring.
Joe Park meets with Kurt Angle. He wants to fight, and after kissing Angle's ass, offers to be on his team tonight. Angle says he is green, and he needs to follow his lead.

Hulk Hogan's In Ring Chat Of The Week: Hogan talks about going with his gut, and with all of the Aces and 8s drama going on, he needs to call out AJ Styles. AJ came out, carrying the Aces and 8s cut. Hogan then questioned him, and said they must be on different pages. Hulk tried to talk AJ into helping him, noting that AJ has been here since day one and he needs to help TNA. Hogan says AJ is a dangerous man right now, and that is exactly what they need. AJ was about to give an answer, but James Storm came out. Storm came out and discussed being the man that pinned AJ Styles and sent him into this tailspin. But Storm says that AJ let Aces and 8s attack him, a guy he has known for 17 years, and a guy that with AJ built TNA. Storm was all fired up here, and said AJ is not the same guy anymore, and then told AJ to clock out before he gets knocked out. AJ stayed stoic, showing no emotion, and left the ring, still holding the cut of Aces and 8s. This was the first really good segment of the show, I like the AJ angle, especially if it leads to him saving the company at BFG, and Storm's promo was good stuff. Plus the crowd was really into the guys, which just made it all click.

Rating (1-10): 8.0

X-Division Title Qualifying Match: Sonjay Dutt vs. Mason Andrews vs. Petey Williams: Good work by Mike Tenay to remind the audience as to why Petey Williams had to leave TNA, continuity is always appreciated. I am not the biggest fan of the new X-Division rules, but I love having Dutt and Williams back. They had a fun match, the crowd liked it and was into Petey and popped well for the Canadian Destroyer. The right guy won, and things are picking up here on the show. If you're going to rebuild the X-Division, guys like Dutt and Williams are the right ones to bring back.

Rating (1-10): 7.5
Bully Ray talks with Aces and 8s, and says that they need to get the job done tonight. Devon then asked if Ray was ready to deal with Brooke tonight, and Ray says he actually misses her. Ray then promised to look her in the eyes and hand her the envelope, and then, they will all be able to move forward.
They preview next week's big matches, and Hardy vs. Bully, Aries and Roode vs. Chavo and Hernandez, Kim vs. Terrell and AJ makes his decision.

Team Aces & 8s (Devon, Wes Brisco, Doc, Knux, Garett Bischoff) vs. Team TNA (Kurt Angle, Samoa Joe, Magnus, Eric Young, Joseph Park): Overall this was a good little 10-man tag match. They got some time, Eric Young playing face in peril always works well, and even the hot tag to Park resonated with the live crowd. They did the big break down spot, guys hit their spots, the crowd seemed to really like it, and at the end of the match, Aces and 8s cheated and pinned the right guy (Park). Aces and 8s winning is very good as they continue to rebuild the entire stable, and at this point, TNA has to be on the defensive and looking for some kind of upper hand. But now isn't the time for them to have it. I feel that overall this as good stuff, not pretty, but it was a big 10-man that fell into chaos, and I have no real complaints.

Rating (1-10): 7.5
Hulk is not happy about what Brooke is about to do with Ray tonight. She promises to have security with her, and she thinks it is just about a divorce, and wants to get it over with.

Bully and Brooke: Marriage Counseling?: Bully Ray put over his title match next week, and they called out Brooke. She was flanked by Atlas Security; for her safety. Ray then mockingly spoke to her about not wearing her wedding ring, and then said he hopes the security is there for him because after Lockdown, Brooke was insane. She should have been happy for him since he won the title. Instead, she was insane, but he forgives her. He then brought up the envelope, and said that they were not divorce papers. Bully says he loves her and couldn't have done this without her. He gives her the envelope and they are tickets for next week's Impact. Front row, so she can sit and watch Bully defeat Hardy for the second time. More importantly, he wants her by his side, looking beautiful, to cheer him on. He then says she has let herself go lately, and she slaps him. Bully laughed it off, and said she was pathetic. He dares her to smack him again, but Jeff Hardy's music made the save and he and Bully brawled. They brawled as the cameras went to black. Bully was a spectacular dick here, but I really wish that things had focused more on the title instead of on Brooke, because it does nothing for me. Do you think that they do the Brooke turn next week? It wouldn't surprise me.

Rating (1-10): 6.0

The Tirade


This week's show was solid, but unspectacular. In all honesty, it was one of those "just a show" shows to me. But the good news is that the focus is still there, as they did some solid build to next week. Not as good as the last three weeks of Impact, but it was far from bad.

The good news is that they seem to have a lot of people hyped for next week's stacked show, and that is a good thing.

Show Rating: 6.0

As a reminder, I will be going by the 411 scale…

0 – 0.9: Torture
1 – 1.9: Extremely Horrendous
2 – 2.9: Very Bad
3 – 3.9: Bad
4 – 4.9: Poor
5 – 5.9: Not So Good
6 – 6.9: Average
7 – 7.9: Good
8 – 8.9:Very Good
9 – 9.9: Amazing
10: Virtually Perfect
---
BONUS COVERAGE
Your heart is free. Have the courage to follow it…TO CSONKA'S TWITTER!
http://www.twitter.com/411wrestling
http://www.twitter.com/411moviestv
http://www.twitter.com/411music
http://www.twitter.com/411games
http://www.twitter.com/411mma
Have you checked out the Csonka Podcasting Network? If you haven't, you should We run anywhere from 15-20 shows a month, discussing pro wrestling, the world of MMA, the NBA, general sports, popular TV series of the past, bad movies, battle rap, interviews, MMA & Wrestling conference calls and more! Around 10 different personalities take part in the various shows, which all have a different feel; so you'll likely find something you like. All of the broadcasts are free, so go ahead and give a show a try and share the link with your friends on the Twitter Machine and other social media outlets! Running since May of 2011, there are currently over 280 shows in the archive for you to listen to.
Larry Csonka is a Pisces and enjoys rolling at jiu jitsu class with Hotty McBrownbelt, cooking, long walks on the beach, Slingo and the occasional trip to Jack in the Box. He is married to a soulless ginger and has two beautiful daughters who are thankfully not soulless gingers; and is legally allowed to marry people in 35 states. He has been a wrestling fan since 1982 and has been writing for 411 since May 24th, 2004; contributing over 3,000 columns, TV reports and video reviews to the site.
NULL