Tremendous Tirades 4.07.13: Dragon Gate USA Mercury Rising 2013 iPPV
April 7, 2013 | Posted by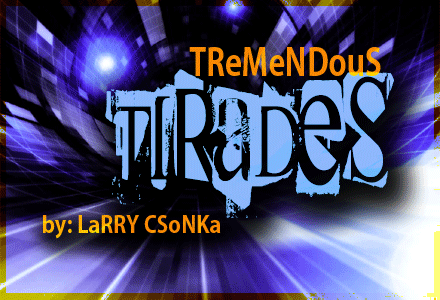 Introduction
It's the road to WrestleMania, and with that being the case, I have dusted off the old Tremendous Tirades name for new alternate recap to the main shows that will air each week (Raw, Impact and Smackdown). This will not be another traditional recap, but instead it will be a mash up of the Rs, Instant Analysis and my usual Twitter ramblings I would do during the shows; completely uncensored and as the ideas flow unfiltered to the old keyboard.
Today we shall look at the Dragon Gate USA Mercury Rising iPPV, the final event of the big WrestleCon weekend before WrestleMania 29. The show will feature the traditional Dragon Gate six-man tag match, which will see CIMA, EITA & Tomahawk TT vs. Johnny Gargano, Rich Swann & Ricochet. The cravat here is that the winner of the fall will be entitled to a future title shot of his choice. This can include the new EVOLVE Title, the DGUSA Open The Freedom Gate Title or the DGUSA Open The United Gate Titles. This is not a MITB scenario; the match has to be signed in advance.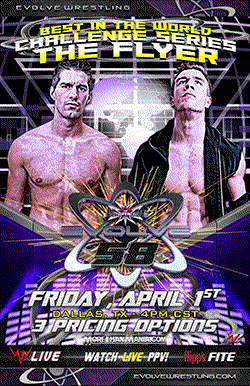 The event takes place at the Meadowlands Expo Center in Secaucus, NJ
Tony Nese w/Unidentified Big Bubba Rogers Looking Dude vs. Soldier Ant w/Fire Ant: Nese vs. Soldier Ant was a perfectly fine opening match. They kept things simple, they worked hard, they kept the crowd, didn't do too much and overall it was a fine opening to the show. Nese scored the victory with a one armed buckle bomb, followed by the 450 splash. Nese needed the victory to play off the big signing angle, so wining yesterday and today was simple and smart booking. The big dude is apparently "Mr. A," according to Nese. He's the director of imaging. Mr. A then destroyed Fire Ant with a chokeslam and top rope splash. He's a large dude, so that had to suck. Nese said he was building a support system, which he is now doing, but is also winning on his own, which is even better.
Match Rating: **¾
The Feud No One Asked For – Scott Reed w/Larry Dallas vs. Caleb Konley: They broke up last night after a two year run as a team. You know when you have that really great tag team, and then things start to boil over, and you get the big split? And then everyone is excited to see the big singles match? Yeah, that's not happening here, at all. Larry Dallas got involved by actually getting in the ring, Trina's tits distracted the ref, allowing Reed to his smash mouth and score the victory. The crowd didn't really care, only reacting to a big dive or spot; but overall they weren't into the match. Overall the ring work was solid, but after two years of the crowd not caring about Dallas or the Scene, Konley is going to have a hard time getting a big reaction while he feuds with Reed and Dallas.
Match Rating: **
The Super Smash Brothers vs. Sami Callihan & Arik Cannon: After a solid, but unspectacular start to the show, things picked up nicely with this tag team match. Super Smash Brothers ran wild in the early seconds with hit a cool double team piledriver for a near fall that people bought. On commentary they told the story of how the Super Smash Brothers have impressive performances, but when it matters, they never get that big victory; noting them defeating the Bucks at EVOLVE 19, but then turning around and losing last night. After some really fun and fast paced action, Super Smash Brothers were going for the fatality to finish things off; but Player Uno dropped Callihan from the Gory special. He looked to have injured his shoulder or arm, and instead, just held Callihan down for Dos to hit a big splash for the win. It was going along well, but the end looked to be effected by Uno's injury. I hope he's ok. The win by the Super Smash Brothers should set them up for a title match against the Bucks down the line.
Match Rating: ***
Drew Gulak has been on commentary, but his mic is either too low or there is some other issue, because you can barely hear him.

Brian Kendrick vs. Chuck Taylor: While Gulak is on commentary, Taylor has brought out Orange Cassidy, the Swamp Monster and Colonel Angus. Kendrick was working really hard again here, as he and Taylor showed some good chemistry. Every time that Kendrick was starting to take over fully, one of Taylor's group would get involved to turn the tide. The back and forth was good, with Kendrick working arm bars early, and Taylor working the half crab. Kendrick looked to have the match won with sliced bread, but Colonel Angus got involved and distracted him. Kendrick dispatched him, and Taylor looked to use sliced bread on Kendrick, but Kendrick countered and hit the move again for the victory. This was solid, but unspectacular, which is fine because nothing has been bad thus far.

Match Rating: **¾

Ladders Are Legal High-Flyers FRAY: Matt Jackson, Nick Jackson, AR Fox, Samuray Del Sol, Uhaa Nation, Christina Von Eerie, Facade : The match starts with two participants, with another enters every 2 minutes. Eliminations can take place anytime by pinfall, submission or DQ. Finally, ladders will be legal when every participant has entered the match. AR Fox and Samuray Del Sol kicked off the match. Glad to see Del Sol back, after he had to miss yesterday's show due to a reported hip bruise. They did the big arm drag; counter, flippy do stand off sequence to begin, which pleased the crowd and works for this kind of match. Matt Jackson was #2, and ran wild and asked the crowd if they wanted to see a dive. He did the cartwheel, back hand spring and then slid under the ropes and executed a back rake to Fox. Christina Von Eerie was #4, almost slipped off the ropes on a dive spot, but then ran wild on Matt Jackson. #5 was Nick Jackson, and he and Matt immediately paired together to work over both Fox and Del Sol. Matt then wanted to be a gentleman, and offered to shake hands with CVE, which led to Nick superkicking her face off and she was then pinned and eliminated. Nick played air guitar on her leg as he pinned her. Shit got real as Uhaa Nation came in at #6 and ran wild. We then went into the traditional series of dives. Façade was in at #7, and ladders are now legal. Fox eliminated Del Sol with Low Mien Pain next. Things were sloppier and not nearly as crisp while Façade had control. They used some cheap ass ladders, as Façade did a springboard into the ring and crumbled the ladder's one side. Thankfully Fox eliminated him. The Bucks continued to work together, using the ladders, and including Matt doing a great spot where the ladder was pushed over, he walked off of it to the top rope and then hit a dive in the most fluid of ways. Ricochet came out to cost Fox the match by shoving him off the top and Fox landing on a ladder. Ricochet then hi the 630, and Fox got pinned. Fox and Ricochet will continue their long running feud, likely over the EVOVLE title now. Uhaa Nation countered more bang for your buck and rolled up Matt for the pin, and then hit the Uhaa Combination (press slam, standing moonsault and then standing SSP) to win the match. Much like yesterday's six-way freestyle, your enjoyment of the match will vary, this isn't meant to be a traditional style wrestling match, it is supposed to be that exhibition style, essentially a well choreographed spotfest, and there is nothing wrong with doing those from time to time, as long as the whole card isn't like that. That being said, this wasn't quite as goods as yesterday's match. It didn't have the flow, and while there were a few cool spots, I never felt wowed. The right guy won; but it is a bit of a questionable call when you consider that the Bucks are the tag champions now.

Match Rating: ***½
We go to intermission now and thus far the show has been solid.
WrestleCon officially announced they will be bringing their event to New Orleans over WrestleMania 30 weekend. They are planning a venue in walking distance of the WWE AXXESS events. Smart planning.

Jon Davis vs. Orange Cassidy: They did some stuff, Cassidy is amusing in his comedy role, but it was all to set up Davis hitting another referee and losing via DQ again. Davis then killed Gulak with a buckle bomb, Chuck Taylor in for the save and got laid out as did the poor Swamp Monster. I am amazed in the fact that they tried to push Davis, no one gave a fuck, yet they turn around and run a major angle with the guy over the weekend. I have no idea what they see in the guy, they tried, he failed; please move on. Cassidy wins via DQ. My daughter just watched this and said, "Yup, that was a match."

Match Rating: NR
They thanked the crowd for spending their time on the WrestleCon event.

The Tradition Continues: CIMA, EITA & Tomahawk TT vs. Johnny Gargano, Rich Swann & Ricochet: Rich Swann rocking the Ribera Steakhouse jacket. As previously mentioned, the match has a special stipulation this year. The winner of the fall will be entitled to a future title shot of his choice. This can include the new EVOLVE Title, the DGUSA Open The Freedom Gate Title or the DGUSA Open The United Gate Titles. This is not a MITB scenario; the match has to be signed in advance. We had the basic opening for this kind of match, one on one with to guys, counters and quick reversals, switching to another set and so on and so forth. Swann and Ricochet took over for a bit, good double team stuff and Swann even broke out a Flair impression doing a series of chops, eye pokes and "woooooooo's". Team CIMA took over on Swan for a long while, including a good near fall 13-minutes in off of the doomsday lung blower. Swann then took CIMA to the floor, Gargano and Ricochet battled Tomahawk and EITA, and this is where the pace started to pick up. Ricochet and Swann ran wild with some double teams, Gargano hit a lawn dart and then Ricochet hit the SSP all on Tomahawk for a great near fall. We then hit the revolving door spot of kicks and high impact moves that laid out all six guys and really got the crowd to their feet. Team CIMA took control with the crazy moonsault to the floor, splash mountain and meteora by CIMA on Ricochet for the near fall. It came down to Gargano and CIMA for a bit, great counters of their finishes, and CIMA was trapped in the Gargano escape, but Tomahawk made the save. The end saw Gargano hit the hurts don't it on EITA, followed by Swann getting a standing 450 and Ricochet closing it out with the 630. Surprising victory by Ricochet, because I thought that CIMA was going to take it. Ricochet teased that he would go after Gargano's title. This was a lot of fun and easily the best thing on the card thus far, but not quite at the level of past DG six-man tags. I did like that they used the match to get EITA and Tomahawk over, because going forward they can be used more and be very believable as a duo.

Match Rating: ****¼
After the match Gargano asked CIMA to return to the ring. Gargano put over the concept of the DG six-man tag and that CIMA was the legend behind it all. Gargano said CIMA was like a mentor to him, and he was honored to be in the ring with him. Gargano wanted to prove that he was on CIMA's level, and that his title was on the level of CIMA's Open the Dream Gate Title. CIMA responded, "Same level? Holy shit…" CIMA stated he would bring his belt next time, and maybe they could do the match. Jon Davis ran out to groans and shoved Gargano into CIMA. Gargano then stood up to Davis, and Davis backed off and left. This led to Gargano kicking CIMA in the balls, and then superkicking Rich Swann and beating him down on the floor. Gargano then got a strap and choked out CIMA while proclaiming that he was out hero and that he loved us all.

Shingo vs. Akira Tozawa: Shingo vs. Tozawa was the big hyped match for the show, and scored the main event spot. Following the DG six-man is not a position that you can put many matches, but if anyone had a chance to do as well or better it was this match. Also, Tozawa and Shingo have the advantage of working a very different style that what the six-man presented. Shingo works a lot of power strikes and moves, while Tozawa can also play the striking game, but can also do the dives and other athletic stuff to be a perfect counter to Shingo. About 15-minutes in they did a spot where Tozawa did a suicide dive, but Shingo caught him and then powerbombed him onto the ring apron. We lost the stream for about a minute, and came back to the guys trading strikes mid-ring. They then went into an insane session of suplexes, counters and Shingo put an end to that noise with the bomber and both men were finally down. They traded shots again, leading to Tozawa hitting the dead lift German for a near fall. Shingo fired up and hit a pair of made in Japan's, which were both kicked out of. He finally nailed the bomber clothesline, taking Tozawa out of his boots, and scored the victory. Overall it was a very good match to close the show, and as a double main event deal, the show certainly closed on a high note. It felt as if they were going for an epic match, but it didn't quite get there. Still, it was a very good match.

Match Rating: ****¼
Both men got to their knees and had a stare down, and then to their feet and shook hands. Tozawa wasn't happy about the loss though.

The Tirade


It was going to be really hard to top last night's show, but they still put on a good event. The undercard was generally good, outside of a few things (Scene colliding, Jon Davis), but the card was built on the six-man and main event, and they did deliver. It was certainly a good weekend for the DGUSA product, and if anything, make sure you catch the double main event, because they are worth your time and money.

Show Rating: 7.7

As a reminder, I will be going by the 411 scale…

0 – 0.9: Torture
1 – 1.9: Extremely Horrendous
2 – 2.9: Very Bad
3 – 3.9: Bad
4 – 4.9: Poor
5 – 5.9: Not So Good
6 – 6.9: Average
7 – 7.9: Good
8 – 8.9:Very Good
9 – 9.9: Amazing
10: Virtually Perfect

As a reminder, this is not a basic "how good was the show" number like a TV show, as I have always felt that a PPV is very different from a regular show. I have always judged PPV on how they built to a match, the match quality, crowd reactions to matches and angles, the overall booking, how the PPV leads into the future, PPV price and so on and so forth. I have added this in here for an explanation since so many have asked, and I have previously discussed it on podcasts. I understand that this may seem different, but that is how I grade. Obviously your criteria may be different.
---
BONUS COVERAGE
Your heart is free. Have the courage to follow it…TO CSONKA'S TWITTER!
http://www.twitter.com/411wrestling
http://www.twitter.com/411moviestv
http://www.twitter.com/411music
http://www.twitter.com/411games
http://www.twitter.com/411mma
Have you checked out the Csonka Podcasting Network? If you haven't, you should We run anywhere from 15-20 shows a month, discussing pro wrestling, the world of MMA, the NBA, general sports, popular TV series of the past, bad movies, battle rap, interviews, MMA & Wrestling conference calls and more! Around 10 different personalities take part in the various shows, which all have a different feel; so you'll likely find something you like. All of the broadcasts are free, so go ahead and give a show a try and share the link with your friends on the Twitter Machine and other social media outlets! Running since May of 2011, there are currently over 280 shows in the archive for you to listen to.
Larry Csonka is a Pisces and enjoys rolling at jiu jitsu class with Hotty McBrownbelt, cooking, long walks on the beach, Slingo and the occasional trip to Jack in the Box. He is married to a soulless ginger and has two beautiful daughters who are thankfully not soulless gingers; and is legally allowed to marry people in 35 states. He has been a wrestling fan since 1982 and has been writing for 411 since May 24th, 2004; contributing over 3,000 columns, TV reports and video reviews to the site.
NULL