Tremendous Tirades 4.07.13: WrestleMania 29
April 7, 2013 | Posted by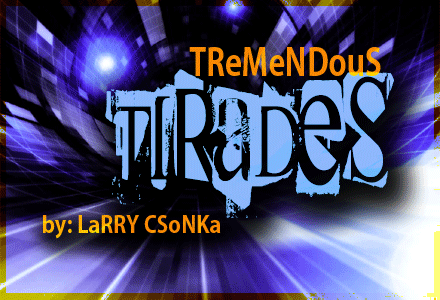 Introduction
It's the road to WrestleMania, and with that being the case, I have dusted off the old Tremendous Tirades name for new alternate recap to the main shows that will air each week (Raw, Impact and Smackdown). This will not be another traditional recap, but instead it will be a mash up of the Rs, Instant Analysis and my usual Twitter ramblings I would do during the shows; completely uncensored and as the ideas flow unfiltered to the old keyboard.
Today we shall look at the reason we're all here this weekend, the WWE WrestleMania 29 event. If you looking for coverage of the other big events from this weekend, I reviewed the following…
Csonka's DGUSA Mercury Rising 2013 iPPV Review
The event takes place at MetLife Stadium in New Jersey.
There is no coverage of the pre-show in this review, because this is a PPV review, and the pre-show doesn't factor into the overall score of the PPV.

The Shield vs. Randy Orton, Sheamus & Big Show: As an opening match choice, I liked this. You want to get the show off to a good start, and you either send out a match that will be so action packed that it rocks their faces, or you have to hit them with star power. This had star power and a chance to be a good wrestling match, so we were good. The faces ran wild for a while, but then cut off Sheamus. The Shield seemingly had things under control for the Shield bomb, but Show speared the pile to save Sheamus. As Sheamus was looking for the tag to Show, Orton reached in and stole it. He ran wild for a bit, hit an RKO on Rollins as he flew in, but ate a spear and then got pinned as Big Show watched on, pissed off, at the 10-minute mark. Show and Orton argued after the match, so Show KO'd Sheamus and Orton. Solid work, good finish and the crowd were into it, but most importantly the Shield won and keeps rolling.

Match Rating: **½

Mark Henry vs. Ryback: Mark Henry vs. Ryback was built well just as it was, a battle of super strong monsters that want to prove who is the alpha male. The build was really good, and I was hoping they could deliver something smartly laid out here. They traded power shots early, until Henry took control and decided to plan the game of tossing Ryback to the floor, yell "that's what I do" and see if he could get a count out. There was some uncharacteristically bad producing by WWE as they caught the guys talking more than once. The crowd got into Ryback as he hit the meat hook, and then got Henry up for the shell shock. Henry grabbed the ropes and crashed down onto Ryback and got the pin off of that. Ryback got revenge after the loss by hitting shell shock. Really shocked Ryback lost as the talk was that this was supposed to be his big win to get him back on track. The match went a bit too long at 8-minutes, and wasn't good; and I say that as a big fan of Henry and the feud.

Match Rating: *

WWE Tag Team Title Match: Team Hell No © vs. Dolph Ziggler & Big E. Langston: They teased the 18-second loss, this time on Ziggler after he kissed AJ, and Bryan hit a high kick for the quick near fall. I liked the tease as the open to the match. Solid work and Langston did well in his limited role on the big stage. AJ distracted the ref, but Ziggler failed in using the briefcase on Kane, which led to a chokeslam and then the Daniel Bryan flying headbutt for the finish at about 6-minutes. The crowd loved Hell No retaining and chanted YES along wit h Bryan and Kane. This was solid, just like the opener, but rushed/ Overall there's been nothing special on the show as of yet, but you'd think that the Ziggler loss could signal the possible cash in later.

Match Rating: **½

Chris Jericho vs. Fandango: Fandango had about 10 dancing chicks on the stage to kick off his entrance with a little routine. This is obviously a huge match for Fandango, as a good performance will keep him in the good graces, and if not, he'll likely get tossed onto the scrap pile of gimmicks they have given up on. They did a big tease of a quick finish early as Jericho hit the code breaker, but Fandango bounced out to the floor to stay safe. Later Jericho hit the post hard, and Fandango hit the big leg drop for a good near fall. Finish saw Fandango miss a second leg drop, allowing Jericho to o for the lionsault. Jericho overshot, went for the walls, sold the tweaked knee and Fandango rolled him up for the win at 9–minutes. Jericho worked hard to make Fandango look good, and Fandango was fine, but they really didn't book the match or give them the time to make Fandango's win feel like anything special. And it didn't feel special because they essentially had Jericho slip on a banana peel and lose. If you want the guy to be important, put him over that way. Like most of the show thus far, it was fine, but nothing special at all.

Match Rating: **¾
Diddy performed. Unfortunately, there was no hologram of Biggie.

World Heavyweight Title Match: Alberto Del Rio © vs. Jack Swagger: Swagger and Dirty Dutch have a special WrestleMania ATV that they brought out to the ring. Dutch had his vest on, but a shirt and tie this week, he dressed up for Mania. He cut the usual promo and no one really cared. Del Rio got a spiffy new robe and fireworks for his entrance. Del Rio came out full of fire, sending Swagger to the floor early and trying to get the crowd into things. Dutch of course distracted Del Rio, allowing Swagger to make his comeback and take control. Both guys tried for their submissions at different times, but the other would constantly counter. Swagger would finally get the ankle lock, and at one point went to drop back ala Kurt Angle, but Del Rio countered into the arm breaker. Swagger got the ankle lock again as the crowd chanted, "we want Ziggler." Yup, that tells you about how into the match they are. After some shenanigans involving Dutch and Ricardo on the floor, Del Rio got the arm breaker out of nowhere and won clean via submission in about 11–minutes. Quality wise this was more of the same; it was fine, but nothing special at all.

Match Rating: **½

The Undertaker vs. CM Punk: I dig Punk's gear tonight, sporting the Undertaker style gray, black and purple. By the way, Taker's ring entrance from DONG to steps was 3:09, so if you took the under, you won. Vegas had the number set at 3:45. For the first time tonight, a match is feeling really important as the crowd is really into everything, even using the dueling chants. Taker controlled early, and they did some teases with a possible DQ to play into the story they established in the build. Punk was able to escape old school, and then hit the move himself with an extremely smug ass look when he did. Punk would again try old school, but ended up crotched on the ropes. Taker went for the big dive, but Heyman got in the way to stop it, leading to Punk getting a near fall off of the flying clothesline. Speaking of Heyman, the little things he does on the floor, and the times he decides to speak to Punk; it all works and I never too much, instead, just enough and adds nicely to things. At this point, the crowd is still into things more than anything else on the show, making it feel more important. Punk hit a huge elbow drop from the top rope to the Spanish Announce table onto Taker, and the table refused to break, which HAD to suck for both guys. They did a good count out tease spot off of that. They followed that with a cool sequence, where Punk escapes the gogoplata, and got the anaconda vice. Taker sat up and escaped, Punk got go to sleep, but Taker rebounded off the ropes and hit a tombstone immediately for a near fall. They then did the big striking exchange, the ref got bumped, Taker tried for the last ride but Punk got the urn and nailed him to escape and got a SWEET near fall. They reeled in the people in attendance big time on that one. Heyman's reactions at ringside sold this shit so well on top of the reactions, and made it even better. The end saw Taker counter a GTS into the tombstone to score the victory at about 22-minutes. He also got the urn back and posed with it, all is well for Taker. This is exactly what this card needed, because up and to this point, the card was extremely average. Punk and Taker came in there and worked a big time match with a big time feel, and while many were concerned with Taker's condition (myself included) they delivered a damn fine match here. It wasn't quite the wars of years past, and that isn't an insult, but this was the first thing on the show that made it feel like we were getting a WrestleMania level match. Great work from both men, and it was nice to see this huge crowd finally come alive, and credit to the guys for still being able to make people pop for the streak possibly ending; drama, emotion, a good story in the ring, the right ending and it all worked.

Match Rating: ****½

No Holds Barred Match: HHH (w/Shawn Michaels) vs. Brock Lesnar with HHH's career on the line: I usually hate the announcer's cliché that, "this isn't a match, it's a fight," but that was the perfect description for what this was and for what it was supposed to be. Of note the crowd looked to be a bit burnt out as the match started. They likely should have strolled out the hall of fame class for a buffer, but that's just my opinion. As expected, HBK tried to get involved and was knocked back to the floor. He then later tried to superkick Brock, but ate the F5 for his troubles. Lesnar worked the kimura and they discussed the previous times Brock broke his arm with it. There was a small, "break the arm" chant, which I am sure HHH loved. HHH then worked over Lesnar's arm with a chair and locked in a kimura of his own for some payback. Heyman begged Brock not to tap, and then tried to help Lesnar with the chair, but ate a superkick for his troubles. Lesnar powered out and slammed HH to the steps to break the hold, HHH grabbed it again and ate the same fate. HHH grabbed the hold for a third time, Lesnar powered out and again slammed HHH to the steps and broke the hold, unfortunately for him HHH cradled the head and got a DDT into the steps. HHH got the sledgehammer shot and pedigree on the steps for the victory. Unlike Punk and Undertaker, the people seemed to know the result, but didn't buy into anything to play along like they did with that match. They also never really did anything to make you feel as if Lesnar really had the chance to win. The old joke, "spoiler, HHH wins" comes to mind here with the crowd response, or lack there of. Also, without the suggested buffer, the early part felt very flat. The match wasn't bad, they worked a good and physical style, but it fell well below most people's expectations, especially with the live crowd's reaction.

Match Rating: ***
Highlights from the hall of fame ceremony run.
The hall of fame class of 2013 then gets introduced.
The attendance is announced as 80,676.
With John Cena coming to the ring, it is clear that Brodus Clay, Tensai, Cameron & Naomi vs. Rhodes Scholars & the Bella Twins has been cut. It's always amazing when shit has to get cut on a four-hour show. After 28 of these things, you'd think they'd have their timing down. This also answers why there was no buffer for Lesnar vs. HHH.

WWE Title Match: The Rock © vs. John Cena: Now obviously I don't know how you people reading are thinking about the show at this point, but this would have to be pretty amazing to get this event as a whole up into the recommendation category for me. I swear to God that Cena is wearing a mic, because you can always hear him calling spots. In ways the match felt technically better at times than last year's effort, but the crowd didn't really care. Some token "Cena sucks" stuff, excitement for a finisher, but generally not much reaction and it really just did nothing to help you get into the match. They finally got the crowd into it on a few near falls and when Rock mocked Cena with the five-knuckle shuffle and they teased the finish based off of last year's finish. They did the big "boo-yay" striking exchange, and then Cena got the Rock bottom for a good near fall. Cena then looked to do the same finish as last year, but knew better; unfortunately Rock also knew better and got Rock bottom for a close 2. Tons of finisher reversals followed, and Cena finally got the AA for the win at about 24-minutes. It was like they realized that shit wasn't working, and after the teases from last year, they just started unloading with finishers and counters to finishers to get the crowd fully back. They were trying to tell this epic tale of redemption for Cena, which no one bought because it wasn't like he ever stopped being John Cena. At the end of the day I felt that they recovered well and produced something worth watching, but as the big main event, with all of the hype, I think a lot of people came away disappointed. I ended up really liking the homestretch and feel they did a great job of getting the live crowd back into things, but again, it's one man's opinion.

Match Rating: ***½
Rock and Cena had a moment and hugged it out and said thank you to each other. Cena left and allowed Rock to have the ring as Rock's music played. Rock played to the crowd, and then met Cena on the ramp and they raised each other's hands to close the show.

The Tirade


They always say that everyone tries to steal the show at WrestleMania, well, guys weren't exactly given the chance to, and because of that, a lot of this show felt like an edition of Raw in front of 78,000 people. This was a largely average show with one great match (Punk vs. Taker) and a lot of stuff that was fine. If you're cool paying $70 for "fine," then more power to you. This was a very average show, with only one thing you really have to see from the event. And considering that it is WrestleMania, that is not a good thing. Again, if you're cool paying $70 for "fine," and the big time atmosphere, more power too you. Some will say it was a three match show, but when one delivered, one is questionable, and the other fell very short, that is not a good thing.

Show Rating: 5.0

As a reminder, I will be going by the 411 scale…

0 – 0.9: Torture
1 – 1.9: Extremely Horrendous
2 – 2.9: Very Bad
3 – 3.9: Bad
4 – 4.9: Poor
5 – 5.9: Not So Good
6 – 6.9: Average
7 – 7.9: Good
8 – 8.9:Very Good
9 – 9.9: Amazing
10: Virtually Perfect

As a reminder, this is not a basic "how good was the show" number like a TV show, as I have always felt that a PPV is very different from a regular show. I have always judged PPV on how they built to a match, the match quality, crowd reactions to matches and angles, the overall booking, how the PPV leads into the future, PPV price and so on and so forth. I have added this in here for an explanation since so many have asked, and I have previously discussed it on podcasts. I understand that this may seem different, but that is how I grade. Obviously your criteria may be different.
---
What Did You Think About WrestleMania 29?
BONUS COVERAGE
Leave the memories alone…
Your heart is free. Have the courage to follow it…TO CSONKA'S TWITTER!
http://www.twitter.com/411wrestling
http://www.twitter.com/411moviestv
http://www.twitter.com/411music
http://www.twitter.com/411games
http://www.twitter.com/411mma
Have you checked out the Csonka Podcasting Network? If you haven't, you should We run anywhere from 15-20 shows a month, discussing pro wrestling, the world of MMA, the NBA, general sports, popular TV series of the past, bad movies, battle rap, interviews, MMA & Wrestling conference calls and more! Around 10 different personalities take part in the various shows, which all have a different feel; so you'll likely find something you like. All of the broadcasts are free, so go ahead and give a show a try and share the link with your friends on the Twitter Machine and other social media outlets! Running since May of 2011, there are currently over 280 shows in the archive for you to listen to.
Larry Csonka is a Pisces and enjoys rolling at jiu jitsu class with Hotty McBrownbelt, cooking, long walks on the beach, Slingo and the occasional trip to Jack in the Box. He is married to a soulless ginger and has two beautiful daughters who are thankfully not soulless gingers; and is legally allowed to marry people in 35 states. He has been a wrestling fan since 1982 and has been writing for 411 since May 24th, 2004; contributing over 3,000 columns, TV reports and video reviews to the site.
NULL