Tremendous Tirades 5.04.13: ROH Border Wars iPPV
May 5, 2013 | Posted by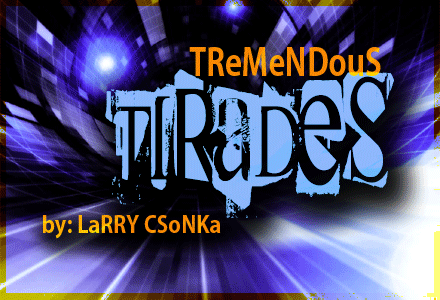 Introduction
The road to WrestleMania is over, but I am back. I will be doing the review for Raw and PPVs going forward. As a reminder, this will not be another traditional recap, but instead it will be a mash up of the Rs, Instant Analysis and my usual Twitter ramblings I would do during the shows; completely uncensored and as the ideas flow unfiltered to the old keyboard. Remember, this is a review; and I am here to review the show. Don't throw that "just have fun and be a fan" junk up in here. That's for you to do.
---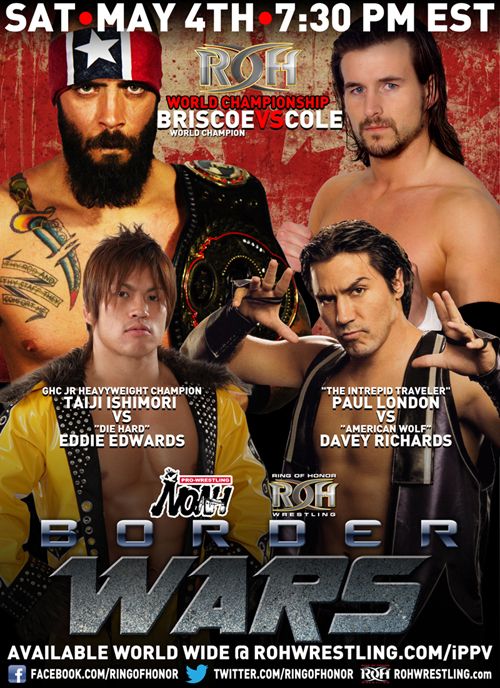 Tonight's ROH iPPV comes to you live from the Ted Reeve Arena in Toronto, Ontario, Canada.
Sorry for the delayed review, was working Saturday night on other site things and just couldn't get the review done that same night.

Caprice Coleman & Cedric Alexander vs. ACH & Tadarius Thomas: I really like both teams, and in theory this is a great way to kick off the show because they will fill that "excite the crowd" quota the opener needs. This was a really fun, fast paced and athletic match and honestly about what I expected going in. Both teams have been fun to watch, and while reDragon and the Wolves get all of the hype, for me these two teams are quickly becoming favorites of mine. ACH has such skill, and he has a great charisma in how he interacts with the fans during a match. They had some miscommunication about 9-minutes in that took me out of the match a bit, but they got things back with the live crowd with a good series of stuff that got the crowd into things big time, and didn't allow the crowd to shit on it. Caprice Coleman & Cedric Alexander won at about 12-minutes with the overtime in a very entertaining opener.

Match Rating: ***¼

Mike Bennett vs. Roderick Strong: This match was changed to a singles bout, due to Mike Mondo being injured while training. Roderick Strong won with the sick kick at 12:30, as Cheeseburger ran out, made out with Maria a bit, got chased by Bennett who then got tagged with the kick. Continuity from the last show, I'll give them that. The match was fine, but I feel that both guys are rather directionless at this time. The rumors of Bennett leaving soon are still around (and ROH even plays off of that), and Strong is just a guy on the card to me. They did the tease of Bennett tapping, but Maria distracted the ref and he never saw the tap. Nothing wrong with the match at all, but I just never got into it because I feel no reason to care about either guy at this time. It was good in the fact that Bennett got screwed over by the kid he KO'd last iPPV, but I mean, are we building to a Bennett vs. Cheeseburger match?

Match Rating: **¾

BJ Whitmer vs. Rhett Titus in an I Quit Match: Now I didn't expect this match to be Tully vs. Magnum, but it could have been, you know, good. This whole thing was angle instead of match to bring some culmination to the Titus turn on Whitmer. Titus used zip ties to tie Whitmer to the ropes, he beat on him, Whitmer made the comeback and was about to beat down Titus with a chair when Corino got involved. This led to a completely anticlimactic finish where Corino turned his back to Whitmer, daring him to use the chair. Whitmer, being stupid, took too long to make a decision and then Titus did the weakest "I Quit" to save Corino. By the way, Corino was ejected earlier, but is all the sudden back. I did like the way Corino sacrificed himself (because his character is great), but the finish did nothing for me considering the weak match that built up to it. It did set up Jimmy Jacobs & Cliff Compton attacking Whitmer and bridge into the next match, but man, way to kill a stipulation. Also, I know he's part of a bigger group, but Titus has no heat on his own. This wasn't the best 12-minutes of the show, and again, really hurt the stipulation. I mean, if I hear ROH is running an I Quit match, I wouldn't be excited about buying it.

Match Rating: **

SCUM (Jimmy Jacobs and Cliff Compton) vs. Jay Lethal and Michael Elgin: They did the gimmick where Lethal got injured about halfway into the match off of a dive, and had to be taken to the back, leaving Elgin to go it alone against SCUM. With Lethal being gone, this evolved into Elgin taking the beating and having to fight for ROH on is own. Elgin power spot of the match was the nearly one-minute stalling vertical suplex with the fans counting the seconds a long. Every time Elgin started to come back and use his power stuff, SCUM used the numbers to keep him down. But then, Kevin Steen ran out and stood in the corner to be Elgin's new partner. Nigel allowed it, and Steen got the hot tag and cleaned house. Elgin got back into it, the faces looked to have the match won as Steen hit a powerbomb on Compton and went for the Package Piledriver but Jacobs rolled him up at about 20-minutes. Elgin was pissed at Steen, who will not get instant redemption from the ROH locker room, as it should be. With the victory, the pre-match stipulation comes into play as Steve Corino will be the new announcer on TV, and Matt Hardy will get a shot at the ROH title. Good story, right result, and the brawling style fit this well.

Match Rating: ***
Intermission.
After intermission, RD Evans and QT Marshall were in the ring for a promo, and Tazz like shit hit the big screen, revealing Tomasso Ciampa, who then made his turn. Evans ran, Ciampa beat down Marshal until Evans pulled him out to safety. Seemed like a good reaction for Ciampa's return and a good way to get him back into the mix without throwing away too much.

Eddie Edwards vs. Taiji Ishimori: This was a match I was looking forward too, and delivered as it ended up being the best match on the card, easily. While it may not be everyone's deal, and I fully understand that, these guys work really good together and did their best to give you that one great match on the show. They did a good job on commentary of selling that Edwards wanted to earn a shot at the GHC Jr. Title, and the work in the ring reflected a man battling for a title shot. In the end, Eddie Edwards defeated Taiji Ishimori at 15-minutes with a superkick, power bomb, Liger bomb and a Die-hard driver. Normally overkill, but I dug it. They played up big that Edwards would be getting a shot at GHC Jr. Title due to that victory. Again, easily the best thing on the show and made the card from that wrestling standpoint. The crowd also treated Ishimori like something special, adding to the atmosphere of the match.

Match Rating: ****¼

ROH TV champion Matt Taven vs. Mark Briscoe : This came off like your typical Matt Taven match in ROH. Lots of hoopla from Martini and the chicks, and Briscoe carrying the match as far as personality goes and getting people to care. I have little patience for Martini's shtick, and while I was pleaded that they gave Taven a shot with the TV title and some time to run, he just isn't lighting the world on fire in any definition of the word. He comes off as John Morrison light, who always came off as an HBK light to me. Taven scored a roll up with a handful of tights for the win following a distraction from the chicks kissing at about 14-minutes. Matt Taven's uneventful TV title run continues. I hope it gets better and something clicks, but it just hasn't happened as of yet.

Match Rating: **½

Paul London vs. Davey Richards : Due to an injury to Naomichi Marufuji, Paul London was brought in for the weekend to replace him. They hyped it as London's big ROH return, but to be honest I wasn't all that thrilled about it. I think what truly hurt the match was that London wasn't in regular ring shape. Yes he still takes booking, and it wasn't like he was 300 pounds out there, but there's a difference in working some independent dates, and coming into ROH and working with a guy that works a pace like Richards does and works as often as he does. The match had a more stalling compared to the usual Davey Richards match, had some off spots and at times London seemed a step slow and the match just never got into that next gear. It didn't help that Richards did a double stomp off the top and landed on London's face at one point, which apparently gave the dude a concussion. I mean, that was some scary shit. After a delay they continued, and Richards countered the shooting star press with knees, and cradled up London for the win at about 15-minutes. I also think that they should have stopped the match, because letting London go for that shooting star press was idiotic and dangerous. You get the same result and do not risk another injury. London seems to still have the smarts to work a quality match, but again didn't seem physically ready for ROH in 2013. This wasn't bad by any means, and London didn't look bad, it just under delivered. But that may just be my opinion. I would like to see London in better shape (working more dates and being ready to work to the best of his abilities) and give ROH another run, due to his history with the company, because the ROH faithful seem to want that to happen, and under the right circumstances, I think could work very well. Also, I do not want this to come across as if London didn't work hard, it was very obvious he busted his ass in the ring, but I guess the best way to describe his performance was, "the mind was wiling, but the body was weak." In other words, 2013 Paul London trying to work like 2004 Paul London doesn't work. And I also think that they set the stage for that to happen as London wore the same gear he wore in his last ROH match, and Richards put him over big in the post match promo. The crowd really enjoyed this and chanted that it was awesome, I just felt it was good.

Match Rating: ***¼

ROH champion Jay Briscoe vs. Adam Cole : Jay Briscoe may be the world champion, but the match was booked to be more about SCUM than him retaining the title. Also I like both guys, and left to have a match they will have a good one as evidence here, but I feel for either to have a great match that they need someone else in there to call and lay things out. That just maybe me, I like Jay Briscoe, but his singles matches that have been great have all had a common theme, tremendous opponents (Joe, Nigel, Steen, ect). The other thing is that the crowd didn't react to this like an ROH Title match. The fact that Cole hit the top rope release suplex, superkicks and the Florida keys and they didn't bit at all on the near fall tells you that. Both guys worked hard, but again, this didn't feel like an ROH world title match or a PPV main event. We they had a ref bump, Steve Corino coming out like he was Ted DiBiase in WCW and tossing a nWo/SCUM shirt to Cole. This led to Nigel getting involved, physically, crotching Corino on the top and then hitting the tower of London on him. As Nigel took Corino to the back, Jay then hit the Jay-driller to retain at about 20-minutes. This was booked like a TNA main event, and that isn't exactly a compliment. They did a lot of teasing with the SCUM shirt and post match of a Cole heel turn, but all it was simply planting the seeds at this time. I think a Cole heel turn would be for the best, in ROH he is bland as hell right now, but his heel work on the independents has actually made me want to see it in ROH.

Match Rating: ***½

The Tirade


While this didn't have the blow away matches like the Supercard of Honor or 11th Anniversary shows, it was a really solid card. The wrestling was generally good, Edwards vs. Ishimori delivered as the big match, the main event was good, the tag opener was good as was Richards vs. London. For the price, the wrestling was worth it, and they are telling stories to get to the next TV and next iPPV. Again, Edwards vs. Ishimori is what really makes the show worth it.

The stuff I didn't like, the I Quit match, the TV Title match, Bennett vs. Strong were what really pulled down the show for me. None of it was completely horrible, but they either had bad finishes, lack of direction or just the same old shit. Finally, the main event booking is starting to annoy me as well. ROH has prided themselves on not constantly doing what has alienated fans from WWE & TNA. And that is the main event bullshit with run ins. Last time it made sense with the SCUM story and Briscoe overcoming the odds, and while this has a connection, it felt like too much and made the title match more about SCUM, and not about the champion.

It was a fine show with good wrestling, and for $15 I think that most would enjoy the show. But if you're tight on cash, this isn't something you have to go out of your way to see like the company' other iPPV events this year were.

Show Rating: 7.4

As a reminder, I will be going by the 411 scale…

0 – 0.9: Torture
1 – 1.9: Extremely Horrendous
2 – 2.9: Very Bad
3 – 3.9: Bad
4 – 4.9: Poor
5 – 5.9: Not So Good
6 – 6.9: Average
7 – 7.9: Good
8 – 8.9:Very Good
9 – 9.9: Amazing
10: Virtually Perfect
---
Have you checked out the Csonka Podcasting Network? If you haven't, you should We run anywhere from 15-20 shows a month, discussing pro wrestling, the world of MMA, the NBA, general sports, popular TV series of the past, bad movies, battle rap, interviews, MMA & Wrestling conference calls and more! Around 10 different personalities take part in the various shows, which all have a different feel; so you'll likely find something you like. All of the broadcasts are free, so go ahead and give a show a try and share the link with your friends on the Twitter Machine and other social media outlets! Running since May of 2011, there are currently over 300 shows in the archive for you to listen to.

Your heart is free. Have the courage to follow it…TO CSONKA'S TWITTER!

http://www.twitter.com/411wrestling
http://www.twitter.com/411moviestv
http://www.twitter.com/411music
http://www.twitter.com/411games
http://www.twitter.com/411mma

Larry Csonka is a Pisces and enjoys rolling at jiu jitsu class with Hotty McBrownbelt, cooking, long walks on the beach, Slingo and the occasional trip to Jack in the Box. He is married to a soulless ginger and has two beautiful daughters who are thankfully not soulless gingers; and is legally allowed to marry people in 35 states. He has been a wrestling fan since 1982 and has been writing for 411 since May 24th, 2004; contributing over 3,000 columns, TV reports and video reviews to the site.
NULL