Tremendous Tirades 5.10.14: ROH-NJPW Global Wars iPPV
May 11, 2014 | Posted by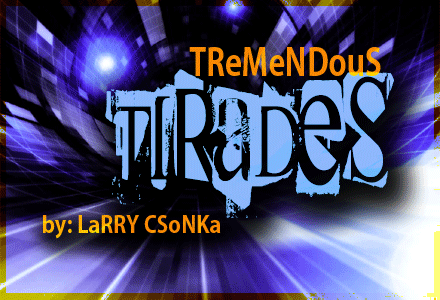 Introduction
As a reminder, this will not be another traditional recap, but instead it will be a mash up of the Rs, Instant Analysis and my usual Twitter ramblings I would do during the shows; completely uncensored and as the ideas flow unfiltered to the old keyboard. Remember, this is a review; and I am here to review the show. As always, I encourage discussion and even disagreement, just do so in a respectful manner. I will be doing the review for Raw and most PPVs and iPPVs going forward.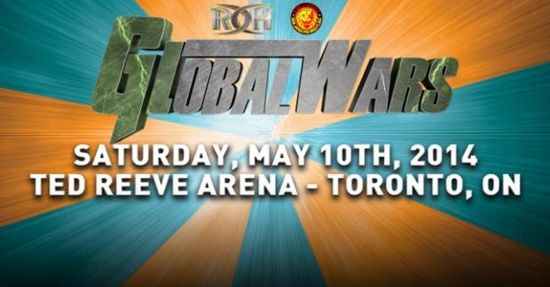 ROH-NJPW Global Wars iPPV
From the Ted Reeves Arena in Toronto.

Mike Bennett (w/Maria Kanellis) defeated ACH (8:00): I felt as if this was a good choice for the opener. It was the perfect match to give Bennett a win, heading into next week's match with Tanahashi. Also, ACH is the kind of guy that does well in opening matches because he gets the crowd behind him and does cool stuff. We got the usual interference from Maria, but that got paid off when Bennett accidentally speared her on the apron, much to the delight of the crowd. ACH made his comeback, went up top, Bennett knocked the referee into the ropes to knock him off balance. He then hit the dominator for the win. This was a fine way to kick off the show.
Match Rating: ***

Michael Elgin defeated Takaaki Watanabe (7:30): Elgin is challenging for the IWGP Heavyweight Title in New York next week, so the result was never in question. The thing was to work a match that made you think that he had a chance to lose, and unfortunately they never really did that here. Part of that was that Watanabe hit his backdrop driver finish, and no one seemed to know that was "his move". Elgin hit the Buckle Bomb/Elgin Bomb combo and scored the win. It was what it should have been, but suffered from lack of crowd involvement and the fact that they never really made you feel Elgin could lose. It may have been better to have Elgin in a tag match on this card.
Match Rating: **½

The Briscoes defeated reDragon (Kyle O'Reilly & Bobby Fish) and The Decade (Jimmy Jacobs & B.J. Whitmer) (8:00): This match, on paper, had a ton of potential, unfortunately the show was heading in the wrong way, downhill. I have no emotional attachment to Jacobs and Whitmer either way; they are just guys, and did nothing to change my mind here. reDragon was not all that involved in things, which while it protects them, hurt the match. The Briscoes won, it was another short match, and this show needs something to turn around quickly. It's not bad by any means, just under whelming early.
Match Rating: **

Cedric Alexander defeated Roderick Strong (14:00): The Decade were banned from ringside here. They worked a slow and deliberate pace here, with Strong (the veteran) controlling things. It was the typical veteran vs. younger guy story; the younger star fires up, gets cut off because the veteran is smarter and such. It was solid; they worked hard and had a good to a pretty hot finishing stretch. Alexander countered out of a back breaker and into a small package for the win. It felt a bit long though; I personally would have trimmed a few minutes and tightened this up more. I saw someone mention this on Twitter, almost weird to think that Strong was a vital part of Generation Next, and now is in the Decade, the "veteran group". It totally never crossed my mind, because Strong has seemingly always been there and I almost forget he is still around. Anyway, the show was going back in the right direction.
Match Rating: **¾

The Young Bucks defeated Forever Hooligans (Rocky Romero & Alex Koslov) and Time Splitters (Alex Shelley & KUSHIDA) to retain the IWGP Jr. Tag Titles (12:00): The good news is because the NJPW Juniors division has been so limited, these teams have worked together a lot and it showed here. This match right here was exactly what the show needed. This was 12-minutes of balls to the wall juniors action between three teams that do it very well. Alex Shelley was over huge in his ROH return, the crowd loved the entire match and it just clicked big time. Sometimes a show is just a show, and then you have that one match that wakes everyone up and gives the show a chance to achieve at a higher level. This was that match. The right match, the right guys, the right style in front of the right crowd at the right time.
Match Rating: ****
RD Evans defeated announcer Bobby Cruise to continue "The Streak". Suck it Undertaker, 105-0.

Hiroshi Tanahashi & Justin Liger defeated Shinsuke Nakamura & Jado (12:00): Hiroshi Tanahashi & Justin Liger defeated Shinsuke Nakamura & Jado in a simple and basic tag. The work was simple, but smart, and the crowd was into the match big time, treating Liger as the biggest star. It's amazing to some, but after all of these years, Liger is still treated like the shit when he comes to the US. For the most part it felt as if they were working a safe match, but the work was smart, and with the crowd being so electric for this, it came off really well. Jado, as one of the bookers, knew his role here and took the pin.
Match Rating: ***

ROH TV Title match: Jay Lethal retained over Tommaso Ciampa, Matt Taven and Silas Young. Lethal pinned Taven after Truth Martini got involved (8:00): This was a match that needed a few extra minutes from that Strong vs. Alexander match. You simply cannot rush multi-man matches, because they can get sloppy and turn into cluster fucks. This felt rushed and disjointed early, they brought it back with some big spots (Young's superplex on Chiampa off the guard rail to the floor, Taven's moonsault off of the top rope onto the floor onto the pile of guys), but the ending felt flat with the Martini interference. This wasn't bad, but I was hoping for more, so this felt disappointing.
Match Rating: **½

AJ Styles and Karl Anderson defeated Kazuchika Okada and Gedo (12:00): I liked this one better than the Hiroshi Tanahashi & Justin Liger vs. Shinsuke Nakamura & Jado match. Again, a pretty safe and simple match, but it was clean and clicked pretty well. The Toronto fans loved Okada, which was cool to see. They got some time, and like the other tag; Gedo, as one of the bookers, knew his role here and took the pin. Styles got the win, and did the big staredown with Elgin. They face off next week. Okada joined the party, because he gets the winner at the Yokohama show. This was enjoyable, but I was hoping for more.
Match Rating: ***¼

Adam Cole defeated Kevin Steen to retain the ROH World Title (20:00): Adam Cole defeated Kevin Steen to retain the ROH World Title in the show's main event. They got the time to work, and Steen looked to kill Cole with several apron powerbombs. Cole worked the knee of Steen, which would cause Steen issues at times. Mike Bennett did a random ass run in to eat a package piledriver. Way to make the guy facing Tanahashi next week look like a complete geek. The finish felt a bit out of nowhere, but was fine. I was hoping for more here, but I never felt as if the match got to that next level that a lot of Steen matches have in the past. Of course, this was not bad in any way, and ended the show well; but maybe my expectations were a bit too high. On the other hand, I haven't been all that wowed by the Cole title run, so it is what it is.
Match Rating: ***¾
End scene.
Thanks for reading.
The Tirade


When initially discussing this particular show, I stated that it felt like the NJPW/CMLL Fantastica Mania events. It was a showcase of both brands, tag matches, but not a ton on interaction. The Fantastica Mania events can do that, and as the series of shows go on, the talent mix more and more in the matches and it is usually a fun, but not spectacular set of shows. That was this show, good, but unspectacular. The match of the night was the junior tag match, followed by the main event. This felt like an appetizer for next week's more anticipated show. That's not a bad thing, as most expected the show would largely go as it did. This is not a must see show, but isn't a horrible introduction to NJPW talent if you only watch ROH .

The good news is that the stream worked well for everyone I talked with, which has to make ROH happy, and relieved.

Show Rating: 7.0

As a reminder, I will be going by the 411 scale…

0 – 0.9: Torture
1 – 1.9: Extremely Horrendous
2 – 2.9: Very Bad
3 – 3.9: Bad
4 – 4.9: Poor
5 – 5.9: Not So Good
6 – 6.9: Average
7 – 7.9: Good
8 – 8.9:Very Good
9 – 9.9: Amazing
10: Virtually Perfect

As a reminder, this is not a basic "how good was the show" number like a TV show, as I have always felt that a PPV is very different from a regular show. I have always judged PPV on how they built to a match, the match quality, crowd reactions to matches and angles, the overall booking, how the PPV leads into the future, PPV price and so on and so forth. I have added this in here for an explanation since so many have asked, and I have previously discussed it on podcasts. I understand that this may seem different, but that is how I grade. Obviously your criteria may be different.
Have you checked out the Csonka Podcasting Network? If you haven't, you should We run anywhere from 15-20 shows a month, discussing pro wrestling, the world of MMA, the NBA, general sports, popular TV series of the past, bad movies, battle rap, interviews, MMA & Wrestling conference calls and more! Around 10 different personalities take part in the various shows, which all have a different feel; so you'll likely find something you like. All of the broadcasts are free, so go ahead and give a show a try and share the link with your friends on the Twitter Machine and other social media outlets! Running since May of 2011, there are currently over 500 shows in the archive for you to listen to.

Larry Csonka is a Pisces and enjoys rolling at jiu jitsu class with Hotty McBrownbelt, cooking, long walks on the beach, Slingo and the occasional trip to Jack in the Box. He is married to a soulless ginger and has two beautiful daughters who are thankfully not soulless gingers; and is legally allowed to marry people in 35 states. He has been a wrestling fan since 1982 and has been writing for 411 since May 24th, 2004; contributing over 3,000 columns, TV reports and video reviews to the site.

Your heart is free. Have the courage to follow it…TO CSONKA'S TWITTER!

http://www.twitter.com/411wrestling
http://www.twitter.com/411moviestv
http://www.twitter.com/411music
http://www.twitter.com/411games
http://www.twitter.com/411mma