Views from the Hawke's Nest: Class Wars – Episode Eleven: The Final Step
April 16, 2012 | Posted by
Views from the Hawke's Nest: Class Wars – Episode Eleven: The Final Step
Watch this full 20 minute episode right here!

Trash confronts Billy Roc outside of the Class Wars arena. Roc apologies for not informing her of her mystery opponent next week. Roc says that her opponent is inside the arena now destroying a bunch of dudes. We see a bunch of dudes coming out of the Class Wars arena looking and sounding like they were mauled by a bear. It turns out, it was some woman named Miss Heidi, who is way too chipper for her own good. Trash is pissed off as usual.
Dale Patricks talks to Billy Roc about how scared he is to go up against "Big" Sue Jackson again. Roc talks him up. This conversation was spliced with footage of Tripp Cassidy telling Jackson that he has to eat Patricks. The League is the best.
"Big" Sue Jackson (w/ The League) vs. Dale Patricks
Patricks immediately starts hitting big forearms and dropkicks. Roc never even got a chance to do the coin toss. So, we are just doing a 10-minute Time Limit automatically (apparently). Sue cut him off with a big lariat. Sue got a nerve pinch. Patricks escaped and got a sunset flip, but Sue just pulled him up and hit a big elbow drop. Jackson went for the Vader Bomb, but Patricks rolled out of the way. Both got to their feet. Patricks hit a series of forearms and a Brogue Kick Jeremy Hadley jumped on the apron, but Patricks gave him a Brogue Kick! Patricks goes for another Brogue Kick on Jackson, but the monster catches him and gives him a choke bomb: 1…2…3!
I thought this was the best match Jackson has had on Class Wars, and that is a testament to him and the work Patricks put in here. Jackson had made a huge impact throughout this Class Wars run, and I am ecstatic to see him in the finale.
Remi Wilkins vs. "Big" Sue Jackson is the finals matchup for the School of Roc Class Wars Tournament. They do a face to face confrontation after the match.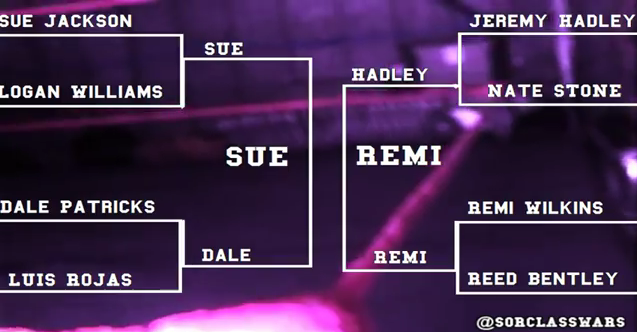 The Class Wars voice over/commentator guy runs down the full card for the 4-part Season Finale.
There is a montage to close out this episode with thoughts from all the wrestlers. Trash is pissed that her match is with a student (I agree! It should be with Billy Roc!). Hadley and Rojas make fun of Williams and Patricks. I think (hope) that those two matches are going to be turned into a tag match between the four men. Nate Stone says he is The End. Reed Bentley says that Stone is nothing and that he never wants to see his face again. Bentley says that Stone's career will end after their Street Fight. Stone says he is The End of Reed Bentley. Wilkins says he is not afraid of Sue Jackson. Tripp Cassidy starts to cut a promo for Jackson, but Jackson pushes him aside. Jackson speaks! "Remi, you're done." End Scene.
For more info on Class Wars and the School of Roc, check out their:
Website
Facebook
Twitter
Youtube Page
Thanks everybody for reading! You can send feedback to Twitter or at my email address: [email protected] If you are a wrestling personality who would like to be interviewed by 411mania, you can also contact me in either of those ways.
PLUGS!
I am now the editor of a brand new wrestling website, FreeProWrestling.com . What is this site, you ask? It's a website that posts a free wrestling match every single weekday. All matches are legally provided by the promotions that originally put them on. If you like wrestling and you hate spending money, I think you will enjoy it!
Be sure to check out some of my past 411 Interviews
Kevin Steen Part 1 & Part 2
Eddie Edwards
Johnny Gargano
Mike Quackenbush
Nigel McGuinness
Lance Hoyt/Vance Archer/Lance Archer
Adam Cole
Gran Akuma
Be sure to follow 411mania on Twitter!
411mania
411 Wrestling
411 Movies/TV
411 MMA
411 Music
411 Games
For all of my interviews (like TJ Perkins , Steve Corino , Davey Richards , Jimmy Rave , Joey Ryan , Kyle O'Reilly , AR Fox , etc.) before 411mania, check out my Road to Mania Blog (where I still do stuff like Wrestlemania Build coverage, Wrestling DVD reviews, movie/TV reviews and more).
Clear Eyes. Full Hearts. Can't Lose.

The 411: This was an excellent "go-home" show for Class Wars's season finale. Sue Jackson looked like a beast as always, but Patricks showed that Jackson was not just going to squash anybody. If anybody has a shot at him, Remi Wilkins has been built up to be the one person who could. This has been an excellent debut season for Class Wars, and I hope you all make an effort to catch up before the season finale next week.

 
Final Score:  7.5   [ Good ]  legend