Views from the Hawke's Nest: WWE Main Event 2.14.2013
February 14, 2013 | Posted by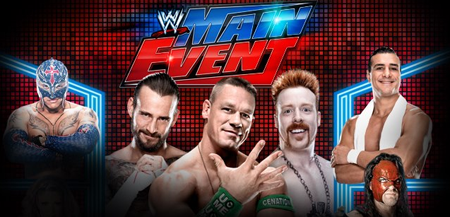 This is my very first time watching Main Event. I've seen a lot of praise for the show, so I thought it would be cool to take a closer look at it. Plus, 411mania is really lacking in star ratings and the people demand star ratings (that was a joke).
Commentators: Michael Cole & JBL
(I heard Miz was the Main Event commentator, so I definitely picked a good episode to start with.)
Chris Jericho came out for a Highlight Reel segment. He showed highlights of Antonio Cesaro giving The Miz the giant swing repeatedly into a section of the barricade. This is the best wrestling television show in the history of wrestling television shows. Jericho let Ricardo Rodriguez introduce Alberto Del Rio. They did some forced dialogue about current feuds, which I don't care about. Then all three of them started speaking Spanish. BEST SHOW OF ALL TIME. Eventually, Dolph Ziggler with AJ Lee and Big E. Langston. Jericho made fun of Langston's name. Jericho and Dolph made some threats. Del Rio challenged Ziggler to a match. Jericho got the crowd excited for the idea of the match. Commercial.
Alberto Del Rio (w/Ricardo Rodriguez) vs. Dolph Ziggler (w/Big E. Langston & AJ Lee)
Dolph and Del Rio went back and forth with neither man getting a decisive advantage. Dolph hit a suplex and a neckbreaker. Del Rio came back with some kicks. Del Rio went for a charge into the corner, but he crashed into the ringpost and hurt his shoulder. Commercial
We're back, and Dolph is getting the heat on Del Rio. This went on for a while. Del Rio was eventually able to send Dolph into a turnbuckle, but Dolph then tossed Del Rio to the floor. Del Rio crashed hard. Del Rio managed to come back with a super reverse suplex. Ziggler is crazy. Awesome spot. Commercial
We're back, and they are trading blows. Del Rio hit a tilt-a-whirl backbreaker and then showed some BABYFACE FIRE~!. Del Rio hit a kneeling superkick: 1…2…NO! Dolph came back with his delayed DDT: 1…2…NO! Del Rio came back with an elevated Backstabber: 1…2…NO! AJ got Dolph's leg on the ropes to break the fall. Dolph hit a FameAsser: 1…2…NO! Del Rio hit the armbreaker with the knees. Dolph avoided the corner enzuigiri, and he then locked in the sleeper! Del Rio escaped and hit the corner enzuigiri: 1…2…NO! Del Rio went for the cross armbreaker. AJ jumped off the apron. Big E. hit Del Rio. Ricardo hit Big E. Big E. chased him to the back. Del Rio avoided a Zig Zag and locked in the cross armbreaker! ZIGGLER TAPS!
This match was the fucking stuff. The match started a little slower than I expected, but they managed to get the crowd completely invested until they were going nuts for most of the nearfalls. Del Rio's babyface fire is the definition of professional. He knows exactly what he's doing. Dolph continues to deliver when he's called upon on television. He just needs more PPV main events to solidify his hype as one of the best wrestlers in the world. I would honestly love to see a rematch at Wrestlemania for the World Title.
Match Rating: ***3/4
At some point during WWE commercials, JBL referred to Tensai and Brodus Clay as the Future Endeavors. I loled.
Paul Heyman was backstage with the WWE Championship belt. Heyman said Punk was in training at the moment. Heyman was awesome in recapping the recent developments.
Recap and highlights from the Shield vs. Cena, Sheamus, and THE Ryback. I appreciate WWE wanting to give Rollins and Reigns promo time, but Ambrose should be cutting all these promos. Skip Sheffield and Jon Moxley brawling on Monday Night Raw in a main event feud. WWE is in a strange place.
The 411: I totally get why there is so much hype for the Main Event show. It's simple and to the point (as opposed to the uninteresting mess that is most Raws). There is an extended wrestling match (as opposed to the short ones usually seen on Raw). So much of Raw feels like a complete waste of time (to the point where I stopped watching Raw over a year ago), and this show is tight and focused. I don't know who is writing this show or who is the main person in charge of the show, but they are doing an excellent job. I don't have a lot of time to watch (let alone review) more wrestling, but when there's a match like this promoted, I will be more likely to check out Main Event again.
What did YOU, the 411mania readers, think of Dolph Ziggler vs. Alberto Del Rio?
Thanks everybody for reading! You can send feedback to my Twitter or to my email address: [email protected] Also, feel free to check out my own wrestling website, FreeProWrestling.com. Also, check out my Best of Chikara blog and an archive of all my 411 video reviews.
NULL