Wrestling's 4R's 1.21.12: WWE Smackdown & TNA IMPACT Wrestling Reviewed
January 21, 2013 | Posted by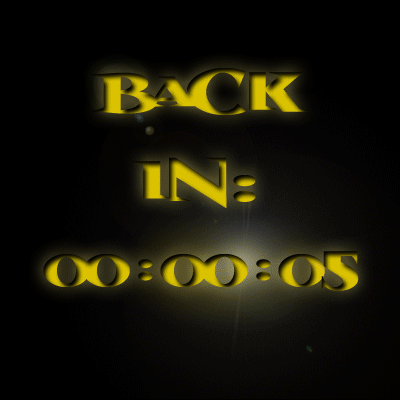 How the 4R's of wRestling Work!
Here is a quick explanation of the 4R's. The column will run TWO times a week. We will group our feelings on the shows in various categories: The Right, the wRong and the Ridiculous. The Right is stuff that worked very well: a great promo, a great match and so on. PuRgatoRy is a section between the right and wrong. It shows equal traits from both sides that cannot be ignored and needs discussed. It is not a bad place per say, as things can get remedied or go the wrong way the very next week. The wRong is what it sounds like: bad matches, bad or boring promos and so on. The Ridiculous is stuff that had no right on TV: Stupid angles and so on. And there is always a possibility of a 5th R, which is as bad as they come. This column is supposed to be analytical, and at the right time very critical of the shows, it was the whole reason it was created. This is not a "mark" column, nor a "smark" column, our goal is to analyze the show from many different fronts, reward the good and call out the bad. We will not apologize for our opinions, they are as they are, whether positive or negative.
---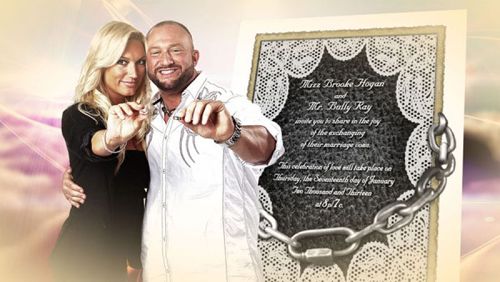 Impact 1.17.13:
By: Larry Csonka
QUICK RESULTS:
– James Storm and Jeff Hardy defeated Daniels and Kaz @ 11:55 via pin [***]
– Kenny King defeated Christian York @ 2:52 via pin [NR]
– Velvet Sky defeated Gail Kim @ 5:50 via pin [**]
THE RIGHT:
Opening In Ring Segment: Overall the opening in ring promo segment for the show was a fine way to kick off things. While I am personally tired of this starting off almost every wrestling show for WWE and TNA, it's the way things are. They showed hardy defeating the odds at the PPV (which was a really good match BTW) and then he came out to celebrate with his fans. The crowd like him and reacts, and Hardy has been working well in the ring as champion, so at this time, I have no issues with his run. Christopher Daniels and François Kazarian broke things up as Daniels bragged about sending AJ home, beating Storm on PPV and that he would be beating Hardy next week for the title. The heels attacked and took the advantage, but James Storm made the save. They have established that Hardy and Storm have a friendship and have teamed (last week as a matter of fact) and Storm obviously is pissed about losing on PPV to Daniels, so this worked out well to set up the opening match.

James Storm and Jeff Hardy defeated Daniels and Kaz, Daniels Gets the Last Laugh: James Storm and Jeff Hardy defeated Daniels and Kaz in the only match that had some time and substance on the show. All four guys are good, Daniels and Kaz continue to be so great in everything that they do, and I enjoyed the match. Hardy scored the win, but Daniels had the last laugh as he beat down Hardy and gave him the angle's wings onto the title. He then took the time to pose over Hardy, proving that he is a great man. I look forward to the title match next week, because Daniels has been on a roll match wise, as has Hardy; so they should deliver a great TV match.

SKY vs. KIM: Following an oddly booked gauntlet at the PPV, with a result that didn't exactly make Sky look like the best contender in the world, TNA decided to rectify the situation on Impact. They had a good match, which is pretty much the usual with Kim involved these days. While everyone wants to talk about the other ladies, Kim continues to be the most consistent female performer in the promotion. But they re-signed Sky and will be featuring her going forward I suspect. They had a good match that could have used a little more time, but they got things fixed with the Sky victory. She'll move onto face Tara for the title next week.
PURGATORY:
GUTCHECK: Gutcheck seemed a bit anticlimactic this week, almost like they were just going through the motions because they were so focused on the wedding angle. The week before they did this new concept with both guys being Gutcheck performers, and then they just drop one right away and then vote like they always did. The fact that they flew in Cage for a one-minute in ring segment shows you that priorities are not in the right place. Also, Cage really looked like the guy with more overall potential, especially in TNA. I don't really have a problem with Bradley winning, but the whole segment felt rushed and like it was forced into the show, when the "important wedding angle" had to be the priority.

YORK vs. KING: As a follow up to the Genesis PPV, Christian York got a chance for revenge against Kenny King. It's a simple story, York won at the PPV to get a title shot, Kenny King got pissed, and then hit York with his finish. This caused York to be weakened, and he couldn't capitalize on his title chance and lost. So he gets the chance for revenge on Impact, which made sense. Unfortunately, on a show that was light on wrestling due to the big wedding angle, they couldn't even afford three full minutes to this match. The sad part is that no one should be surprised at this at all. I have been discussing for a while TNA's lack of booking ands time dedication to the X-Division, and this was another example of this. The worst part of it all is that if they were going to go so short is that they should have just done a short match and then brawl to the back instead of forcing the finish. It isn't all bad, but I really wish that they would put some effort into and invest some TV time in the X-Division.

ARIES & ROODE: Austin Aries and Bobby Roode continue to be very entertaining over the past few weeks as they have been working together. This week they came out and were objecting to the wedding and everything that wasn't in praise of their accomplishments. They also slammed the current slate of champions for the company. As they carried on, Chavo Guerrero and Hernandez came out to voice their objections, which were related to the whole slamming of the current champions thing. They brawled, and the tag team champions cleared the ring. On one hand, the duo of Aries and Roode are very entertaining, but they have to be careful not to make them too much of a comedy duo, I do worry about that. And then there is the feud starting with the tag team champions. On one hand, again, the tag division is shit and Chavo and Hernandez are lame duck champions. Aries and Roode could breath life into that division, but I don't think that they should be demoted like this, especially if it is to put over the stale Chavo-Hernandez tag team.
THE WRONG:
THE MAIN EVENT WEDDING ANGLE: So the show was all about the wedding angle. The build, the angle with ray asking Sting to make sure Hulk was there, Dreamer and Spike showing up to be groomsmen; the show was all about the wedding to close the show. I am generally not a fan of wrestling weddings, because we know what they will be, but companies love to do them because in the past they have pulled ratings. So they did the wedding, Hulk did walk Brooke down to the ring to get married, and it all appeared to be going off without issue. And then Taz objected to the ceremony, revealed himself to be a member of Aces and 8s, the gang unleashed their fury and Brooke unleashed her boobs. The Aces and 8s angle has not been clicking, and while I do appreciate a long-term angle, the reveals (Devon, Knox and Gallows) have not lit the world on fire. The reveal of Taz is puzzling at best. The main part I have an issue with is that Taz cannot wrestle, cannot bump and cannot get physical due to his neck. In my opinion that takes so much away from the turn on Ray, because there is no real revenge to be had, which is what it should be about at the end. I already had issues with Aces and 8s, I had issues that Sting and Hogan seem to be in the middle of it (which is why it is getting so much time and so many chances) and I still do after this angle. I just hope that they have a proper conclusion, unlike the Main Event Mafia angle, which never saw TNA "new blood" get their proper revenge, it just ended. This just didn't do anything for me, at all.
THE RIDICULOUS:
NOTHING

The 411


I am worried about the future shows here, due to the drop in PPV that they are producing. Going forward, Hardy will be off of FOUR UK taped shows, and I also fear that with out the push of building to PPV, that TNA will not feel that building PPV gives you, that we will see a lot of repeats and useless stuff. This week the tag match was a repeat of last week, and the Knockouts match was a repeat from the PPV. That doesn't make it all bad, but I feel that we're going to get this a lot.

As for the show, it was fine. Some good wrestling, some build to title matches next week, and the latest in the misadventures of Aces and 8s.

Show Rating: 6.0

As a reminder, I will be going by the 411 scale…

0 – 0.9: Torture
1 – 1.9: Extremely Horrendous
2 – 2.9: Very Bad
3 – 3.9: Bad
4 – 4.9: Poor
5 – 5.9: Not So Good
6 – 6.9: Average
7 – 7.9: Good
8 – 8.9:Very Good
9 – 9.9: Amazing
10: Virtually Perfect
---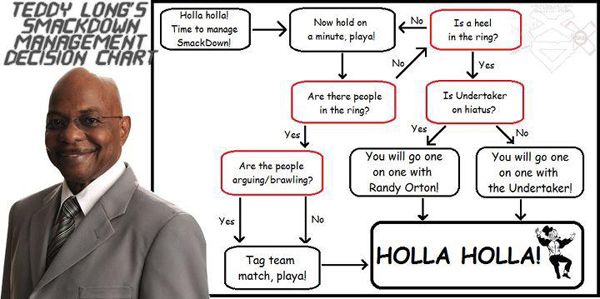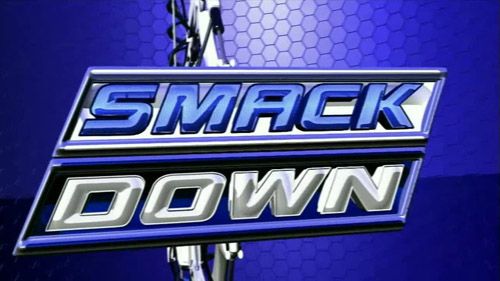 By: Larry Csonka


Smackdown! 1.18.13:
QUICK RESULTS
– Non-Title Match: Antonio Cesaro © defeated Kofi Kingston @ 3:01 via pin [**]
– The Great Khali defeated Tensai @ 1:24 via pin [NR]
– Randy Orton and Team Hell No defeated the Rhodes Scholars and Wade Barrett @ 7:45 [**½]
– The Miz defeated Primo @ 5:43 via submission [**]
– Non-Title Match: Kaitlyn © defeated Aksana @ 3:30 via pin [*¾]
– Alberto Del Rio and Sheamus defeated Dolph Ziggler and Big Show @ 14:28 via count out [***]
THE RIGHT:
FIESTA DEL RIO: Smackdown kicked off with the Fiesta Del Rio, to celebrate Alberto Del Rio's world title victory. We had the mariachi band, the dancer, the decorations and Ricardo looking so happy for his pal. He did the big announcement and Del Rio came out, and looked so happy to be doing the celebration. Ziggler, AJ and Big E came out to ruin the party, followed by the Big Show, who stood there and looked pissed. He does a good job of that. Just as the heels looked to have the advantage, Sheamus came out and endorsed Del Rio for his world title victory. Sheamus even discussed their past, but noted his respect, and offered his hand in friendship. I always hate when a guy turns face ands then is instantly accepted with NO acknowledgement of the past. So the fact that they brought it up here was good. Booker T came out when things got heated, booked a Teddy Long special, and then booted the heels to the back so that the celebration could continue. We got dancing, spinaroonies, and truth be told the only thing missing was this…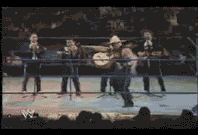 FOLEY VIDEO-SHIELD EXPLANATION: On Monday's Raw, they totally downplayed and devalued the Hall of Fame induction announcement of Mick Foley. That was really unacceptable, especially on a three-hour show, but that's what they did. Thankfully on this show they fixed that by showing a great Foley video, one that made the induction seem important, like it should have on Monday. So they fixed that and then followed it up with a fan cam interview from the Shield. They explained their attack on Foley, with Ambrose using a lot of the material that they were going to use with their singles feud that never happened.
Randy Orton and Team Hell No defeated the Rhodes Scholars and Wade Barrett: WWE has really has an ability over the years to put on very fun six-man TV matches, and this was one of them. Sure it wasn't very long, or something that you'll remember in a few weeks, but it was a good tag team match with Orton getting some shine back after some recent losses and beat downs. Cody, Sandow and Barrett all continue to work hard and continue to impress. This was fine stuff here as far as the match goes, and I do appreciate good or fun matches on my wrestling shows. In what is typical WWE booking, be happy if you're a fan of Cody and Sandow. With them losing quickly on Raw and then here, WWE booking says that they will win the tag team titles at the Rumble.
Kaitlyn © defeated Aksana: Kaitlyn defeated Aksana in a perfectly acceptable match. The match honestly served a few purposes, 1 is that they got the new champion on TV so that they could put over the title win on Monday. 2 is that Aksana was involved in the whole Eve deal with the wig and attack on Kaitlyn, which allowed Eve to win the title in the first place. So they had a match that made sense, and it was fine for the time given, so I had no problem with this. Also, I like the change to Kaitlyn using the spear. She's a physical specimen (or big bitch as my wife called her) and while the gut buster is cool, not all of the ladies do it right, which means it looks like shit. The spear looks good and is easily believable, so I hope she sticks with it. Also I liked the little meeting backstage where Layla didn't want to give the title back during the "YAY KAITLYN" meeting. I could see them turning her back heel with Eve's departure, and her gunning for the title for the time being.
Alberto Del Rio and Sheamus defeated Dolph Ziggler and Big Show: The main event of the show saw Alberto Del Rio and Sheamus defeated Dolph Ziggler and Big Show via count out. I was actually a fan of the finish here, as I don't think any of these guys need to be losing heading into the Rumble. Sheamus has the whole couldn't beat Big Show thing haunting the character, Show just lost the tile, Del Rio just won the title, and Ziggler was made to look like totally ineffective against Cena. Getting them set at he show's beginning, fighting and they having the faces stand tall is all you need to do sometimes, and you don't have to do finishes for that to happen on the Friday night show. I mean, when you think about it, the only thing that was missing was this…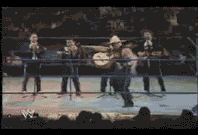 PURGATORY:
Antonio Cesaro vs. Kofi Kingston: Antonio Cesaro defeated Kofi Kingston in the opening match on Smackdown this week. While a short match, they packed in a lot of action and Cesaro got the victory. Cesaro has been looking great and more people are finally starting to take notice. With some of the audience he has to fight the "Indy" stereotype, but the guy can work with anyone, and more people are starting to see that. But I am concerned with the booking of Kofi Kingston. That quick KO loss on Raw, and just since losing the IC Title, he has been booked like a job guy. It would be one thing if he was pushing Cesaro to the limit in a great 15-minute match, but constantly losing matches like this has hurt his stock. At times when you see booking like this it could signal a heel turn, but with Orton supposedly going heel, I am not sure that they would also turn Kofi, which just means shitty booking.

The Miz defeated Primo: The Miz defeated Primo in a perfectly acceptable match on Smackdown. The Miz is a guy that they seem to have no plans with at this time, one week he is feuding with Cesaro, the next he is hosting his horrible talk show, and now apparently he is Flair's protégé to feud with Cesaro. I am not really a fan of that, on Monday the crowd SHIT all over it when Flair passed the hold to Miz they didn't want to see Miz do it, they wanted to see Flair do the hold. Also, Miz isn't the guy to be the next Flair, a Flair protégé or even a pretend Flair. Much like TNA trying to make AJ Styles the new wave Ric Flair, I just do not buy it.
THE WRONG:
Khali vs. Tensai: And right at the top of my list of guys I do not need to see on my TV these days, we have Khali vs. Tensai. The match wasn't good, and is only used to get Khali and Hornswoggle on the show, because WWE loves the oddball tag team. This added nothing to the show at all, and honestly it would have been better to scrap this and devote the time to something else on the show that could have used it.
THE RIDICULOUS:
NOTHING


The 411


This was a good episode of Smackdown this week, not great, but good. There wasn't anything horrible on the show, the booking largely made sense and the wrestling was fine. They also established Del Rio as the lead for the show with the Fiesta and tag team main event, which is good to see because of their timid booking of him in the past. Add in solidifying Kaitlyn's title win, as well as the Foley and Shield videos; and this was an overall enjoyable show.

SHOW RATING: 7.0

0 – 0.9: Torture
1 – 1.9: Extremely Horrendous
2 – 2.9: Very Bad
3 – 3.9: Bad
4 – 4.9: Poor
5 – 5.9: Not So Good
6 – 6.9: Average
7 – 7.9: Good
8 – 8.9: Very Good
9 – 9.9: Amazing
10: Virtually Perfect
---
MY YEAR IN REVIEW
Looking at EVOVLE-DGUSA on iPPV in 2012
Looking at TNA on PPV in 2012
Looking at WWE on PPV in 2012
Looking at ROH on iPPV in 2012
The Top 10 Things I Enjoyed About 2012
The 756th edition is over…
Mine is FORBIDDEN RAGE! Share yours in the comments section…
Your heart is free. Have the courage to follow it…TO CSONKA'S TWITTER!
http://www.twitter.com/411wrestling
http://www.twitter.com/411moviestv
http://www.twitter.com/411music
http://www.twitter.com/411games
http://www.twitter.com/411mma
Larry Csonka is a Pisces and enjoys rolling at jiu jitsu class with Hotty McBrownbelt, cooking, long walks on the beach, Slingo and the occasional trip to Jack in the Box. He is married to a soulless ginger and has two beautiful daughters who are thankfully not soulless gingers; and is legally allowed to marry people in 35 states. He has been a wrestling fan since 1982 and has been writing for 411 since May 24th, 2004; contributing over 3,000 columns, TV reports and video reviews to the site.
NULL