Biffy Clyro – A Celebration Of Endings Review
August 15, 2020 | Posted by
Biffy Clyro – A Celebration Of Endings Review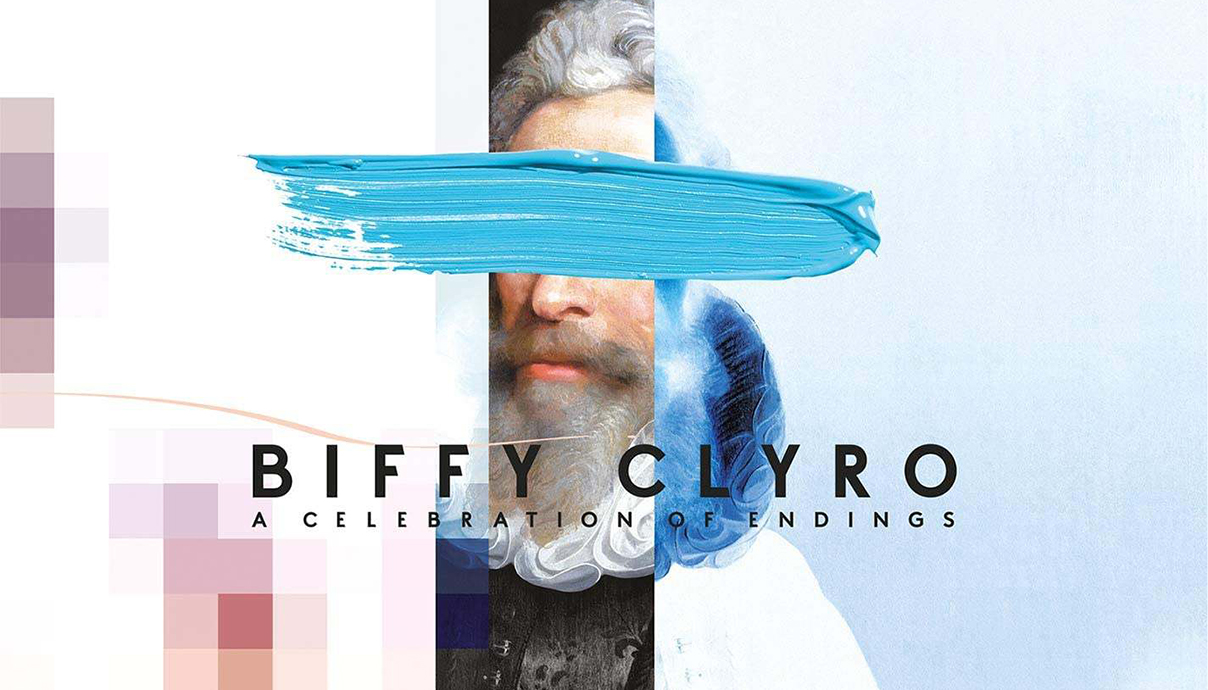 The rise of Kilmarnock's Biffy Clyro from humble beginnings to superstar status is both a testament to the importance of an unwavering work ethic and a compelling argument against the idea that great bands should arrive fully formed.  After three cult-favorite, silver-selling albums and seven years playing any festival that would take them, Biffy had cemented themselves as a well-liked, mid-tier fixture of the British rock scene. Music obsessives could be excused for thinking the band had plateaued. Then in 2007 Puzzle and "Living Is A Problem Because Everything Dies" arrived. Suddenly, the fractured and frayed edges of their sound were exaggerated to the nth degree, creating jarring, staccato and infinitely moshable rhythms, while their nascent, twitchy hooks blossomed into arena filling anthems. The Scots had taken the leap both creatively and commercially – and this great little live band now had a host of grandiose compositions ready to be ripped to shreds on the world's festival stages. By the decade's end Biffy would be headliners and hitmakers in their own right, conquering metal (Sonisphere and Download), alternative (Reading and Leeds) and mainstream (Isle of Wight) festivals, respectively.
Biffy Clyro were made men and, unfortunately, they started to behave like artists on an unshakeable pedestal in the 2010s. The impressive in scope, but uninspired in sound double album followed (Opposites) – less the statement of a band over-flowing with creativity and more the work of an outfit with a formula that could turn almost any impulse into a pleasing arena-ready anthem. 2016's Ellipsis injected a bit of feral energy ("Animal Style") even as the band moved in a more saccharine ballad driven waters ("Re-Arrange"). The album felt like a tentative step forward that was quickly withdrawn. Live it all sounded fantastic as more headline arena tours beckoned, but there was a worrying suggestion that, with increased familiarity, Biffy's eccentricities were becoming cosy clichés. Their time as a truly dynamic and boundary-pushing outfit appeared to be at an end.
Enter Balance, Not Symmetry. On paper Biffy Clyro's eighth studio album was the type of release most fans would choose to overlook. The soundtrack to Jamie Adams' 2019 indie film of the same name pushed Biffy further into the pop realm with softer, more distant and shimmering 80s reference points, suggesting that Simon Neil's crooked and vulnerable songwriting could shine in a more glamorous world of swirling uplift. It might not have been the new album proper that long-term fans were hoping for, but it was a hint that the palette-expanding impulses of Ellipsis were set to continue going forward as Biffy attempted to reconcile the jagged and smooth extremes of their sound.
In this light the Kilmarnock trio's latest, A Celebration of Endings, feels like a fork in the road release, a true inflection point: will Biffy continue to happily coast on cruise control or will they endeavour to sharpen their MOR impulses while deviating from well worn rock formulas of old?
Album opener "North Of No South" makes it abundantly clear that whatever the band may attempt over the next 45 minutes, Biffy Clyro will not relinquish their stadium-sized ambitions. Whether it's prog, pop, indie, hard rock or some hybrid of all of the above, Biffy intend to play these songs with a dutiful chorus of thousands echoing their every word. Like U2 before them (at least in their prime years), Simon Neil and Ben and James Johnston are determined to retain their eccentricity while painting in broad and universal brushstrokes. As a result the gestures on this album are large, elaborate and clearly signposted, even as the band try to subvert expectation or wear a wry and ironically jaunty expression – as they do on the wonderfully cruel verses of "Weird Leisure" ("It's obscene, I've seen your true colors and theirs nothing underneath"). It's a tough balance to strike and there is a frustration as Biffy start the aforementioned track full of eccentric oddness – like a rum sodden Queen raised in one of Kilmarnock's dingiest pubs – only for the chorus to arrive in the form of a paint-by-numbers alternative pummelling of brooding guitars and anti-melodies. "Weird Leisure's" final stretch hints at something greater as the strangeness of Neil's vocals and a barrage of squirrelly riffs burst through the surface just as the sludgy guitar work begins to seductive slide (or rather ooze). The end result is a sexy hodge-podge, thrilling in its migration, but disappointing as its cocaine critiquing verse is let down by an unnecessarily anaemic bridge ("weird leisure comes and all pleasure goes").
The 80s tinged of experimentation of Balance, Not Symmetry has been discarded, but Biffy have recaptured their sense of bravura dynamism. The band's compositions seek to contort expectation and avoid linear progression at all times. Simon Neil tries to hold up his end lyrically but seems caught between intriguing premises (broken relationships, addiction, enduring love) and frustratingly straightforward wordplay. The brutality of old remains, but only sporadically. There are bloody lips, but more often than not Neil's lyrics feel conventional. To borrow his own phrase from the charming love-inspite-of-absence anthem "Space": "We tried to conceal the scars we wore, 'cause we wouldn't show what we couldn't show". Neil used to thrive on showing the grit and darkness in even the most lovestruck relationships through his use of grizzly metaphors, but now it feels as though the bruises of old are being concealed in favor of a soft focus and an at times tepid glow.
Still, that's not to say that Biffy have lost their bite. For every ill-advised and pandering "woah-oh" or "hey-hey-hey", there's a pointed and pugnacious narrative. "The Champ" sees Biffy get thrillingly political with a scathing assault that turns the "OK Boomer" meme into an unflinching socio-political denunciation: "Don't give me that bullshit catchphrase, "it was better in my day", 'cause I know…you broke every little thing that you built. You lost every little thing that you cherished and more". Better still this barrage isn't framed as a petulant or seething rant, Neil is coy and dismissive in his verse before waving the banner for a new generation in his verse. This takedown of his elders is proudly uplifting.
Of course, Biffy couldn't keep their cool for an entire album, "Cop Syrup" bookends A Celebration Of Endings and suggests that Neil may have been listening to IDLES in lockdown as he blends optimistic aphorisms ("I'm not dumb and I'm not blind", "you don't have to be cruel to be kind") with a feral hardcore-lite chorus that screams "fuck everybody". Biffy clearly have their ear to the streets, but rather than mere imitation, the band's savage assault is full of darting chicanes and long lunging hairpins. This supposedly punk onslaught blossoms into a prog opus complete with a tranquil acoustic guitar break that migrates into an elegiac and romantic swell of deftly balanced strings.
Even when succumbing to their worst impulses there is a sense that Biffy Clyro are honing the bloated looseness of Opposites down into tighter and more ambitious compositions. "Worst Type Of Best Possible" sees Neil in confessional mood ("I had a lot to drink last night, I had a lot to say, I woke up with a busted lip and a stream of words dripping down my face") and as if to match his poetic turn the Johnstons summon an arrangement that swings, lunges and saunters around him. Biffy haven't quite mastered mid-tempo radio smash, but they have found a happy middle ground between either stripping down or overloading their more sentimental works. Although, that being said, there is no redeeming the tiresome plodder "Instant History".
Despite the odd misstep, A Celebration Of Endings cannot be accused of lacking bite. "End Of" crashes and thuds between the spikey scuzz of Scottish rock and sleazy and lurid grooves of the LA underground. Biffy have always had bombast and the ability to bludgeon the life out of their instruments, but now they are really cooking. Tracks like "The Pink Limit" are free to skip, slide and rumble along at a delicious pace – and it's this newfound sense of control that makes the daggering attack of old feel surprising all over again. Although, truth be told, it's the new tricks that steal the show. The track's ascending vocal harmonizations are ripped right out of the 1970s while the tightly coiled guitars practically fizz from tense verse to triumphant chorus. The innovations represent the kind of delightful and knowingly naff risks only a veteran band would dare to take.
If there is a worry that Neil can no longer muster a poignant ballad in the mould of "Machines" or "God & Satan", then "Opaque" goes someway to allaying those fears. Neil tenderly addresses a relationship with an oblivious and scornful partner who has no idea how hurtful their actions prove to those around them. The track is anchored around the curt and dismissive snarl masquerading as a hook: "take the fucking money and run". Unfortunately, on an album defined by bold compositional gestures, when it comes time to climax this vulnerable and wounded anthem Neil opts for a wishy-washy and repetitive fading outro ("These walls are closing in"). This is a tendency Biffy have often succumbed to in the years since "Biblical" became a radio hit in the UK.
A Celebration Of Endings leaves a strange taste in the mouth. It is a resounding return to form that expands an already ambitious band's horizons while serving up 45-minutes of infinitely listenable, headline worthy rock, but it is also an album that routinely misses the mark. The ballads are a little too flat or one note, the lyrics are fleetingly thrilling (and always thoughtfully composed) without cutting as deep as they once did, and the band's newfound compositional attack deserves to be let off the leash more often. The result is a nearly, but not quite record that shows of Biffy's depth of talent and considerable ambition without reaching the highest of heights. Nevertheless, A Celebration Of Endings represents a pathway between the dangerous extremes of crowd-pleasing smultz and experimental naval gazing. With a little refinement and few harder hitting hooks Biffy Clyro will effortlessly regain their title of Britain's most intriguing mainstream rock band.
7.0
The final score: review Good
The 411
Nearly, but not quite, A Celebration Of Endings is riotous mish-mash of compositional daring and occasionally bland anthemics. Tighter than Opposites, more ingenious than Ellipsis, this is a clear step in the right direction for Biffy Clyro even if the lacerating lyrics, tender hooks, hair brained grooves and staccato bombardments only synchronize every so often.
legend