Outside Party. While I suppose I should be hopeful Reigns and Lesnar will string together a good to great match at this point, it doesn't really matter if it's a given that the Brooklyn crowd will turn on it like a hungry pack of lions on a couple of limping gazelles. The only reason anyone (outside of the contingency of fans who are actually looking forward to Take 1000 of Roman's push) is watching is to witness the very likely MITB cash-in by either Strowman or Owens. If there's even the slightest indication that nothing of the sort will go down, I can almost guarantee the Brooklyn crowd will simply leave in protest mid-way through the match. If WWE anticipates that to be the case, they may well have the MITB holder pull a Rollins and interject themselves mid-way through the match. Regardless of how it's set up, we're looking at a new champion...I hope.
WINNER
: Roman Reigns (No Cash-In)...or...Braun Strowman (Cash-In)
Jake Chambers
: This whole current Brock Lesnar situation is karma. And I blame you. You know who you are. Back in the wake of SummerSlam 2014 when the WWE first enacted this "absentee champion" angle, the praise from the punditry and fans was pretty overwhelmingly positive, with the common dopey argument being, "Brock not being there every week will make the championship feel special." All of a sudden, the five hours of TV a week and the monthly 3-hour PPV didn't matter, all so that a phantom Lesnar title match that would come one day might "feel special". If you said or thought this, I blame you for this lame-ass match at SummerSlam. And there was a lot of you, don't deny it. If there was ever a moment that you can pinpoint the beginning of the Mediocrity Era, it's that 2014 SummerSlam main event: Punk had quit, Bryan had been forced to retire, Brock just squashed Cena in the SummerSlam main event and figuratively killed the symbolic presence of a regularly guaranteed meaty main event. And when you had the chance to embrace Roman Reigns as the next wrestler who could main event week-after-week, month-after-month, in great matches like Cena had, you shit on him because "he wasn't ready". Well, those two genius trains of thought "Brock being away makes the title feel special," and "Roman Reigns isn't ready" have culminated four years later in a match that will likely suck, for a championship that means nothing, featuring two wrestlers irreparably damaged by all the exterior gossip and business factors that constantly swirl around them. None of this is about giving the fans great wrestling matches in PPV main events anymore, and for that I blame YOU.
WINNER
: Brock, Losers = Everyone who believed absentee champion Brock Lesnar would make the title feel "special".
JOIN 411 TONIGHT AT 5 PM ET FOR OUR LIVE COVERAGE OF THE SHOW
[post_title] => 411's WWE Summerslam Preview (Part II) [post_excerpt] => [post_status] => publish [comment_status] => open [ping_status] => closed [post_password] => [post_name] => 411s-wwe-summerslam-preview-part-ii [to_ping] => [pinged] => [post_modified] => 2018-08-19 00:48:15 [post_modified_gmt] => 2018-08-19 04:48:15 [post_content_filtered] => [post_parent] => 0 [guid] => https://411mania.com/?post_type=face3_wrestling&p=557471 [menu_order] => 0 [post_type] => face3_wrestling [post_mime_type] => [comment_count] => 0 [filter] => raw ) [2] => WP_Post Object ( [ID] => 557468 [post_author] => 395 [post_date] => 2018-08-19 00:03:09 [post_date_gmt] => 2018-08-19 04:03:09 [post_content] =>
411's WWE Summerslam Preview (Part I)
~THE STAFF~
* 411 Columnist,
Mr. Steve Cook
. * 411 Columnist,
Mr. Mike Chin
. * 411 Contributor,
Mr. Ken Hill
. * 411 Columnist,
Mr. Justin Watry
. * 411 Contributor,
Mr. Rob Stewart
. * 411 Contributor,
Mr. Jake Chambers
.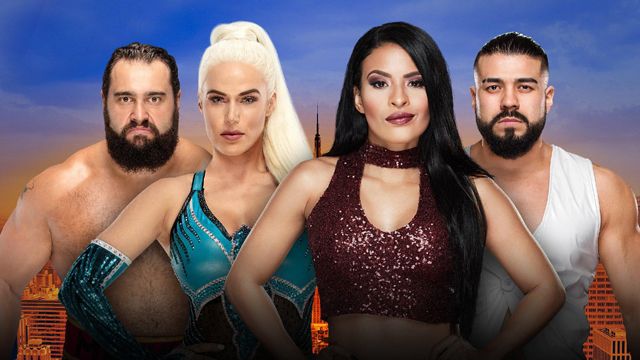 Kickoff Show Match: Rusev and Lana vs. Zelina Vega and Andrade "Cien" Almas
Rob Stewart
: From a world title shot at Extreme Rules to a mixed match pre-show contest at SummerSlam, I guess this isn't one of the better Rusev Days in recent memory. I wish this was just Ru vs Almas with the ladies at ringside, but you take what you can get. Whether cleanly or through some botched Aiden English spot, Almas and Vega are sure to grab the win here. I suppose it's possible Lana gets a pin on Vega, but that doesn't progress anything, so nah. Not going to psych myself out.
WINNER
: Andrade and Zelina
Ken Hill
:
Rusev and Lana may be the best Rusev Day may be number one But they'll fall to the duo tranquilo Then Aiden's song comes undone.
As much as I've enjoyed the "Rusev Day" union of Rusev and Aiden English, and Lana getting some fun musical shine from English as well, this match is clearly set up to finalize the split between Rusev and English. English will come out to "help" as he has in the past couple weeks, only this time his costing Rusev and Lana will most likely be intentional to set up the one-off feud.
WINNER
: Almas and Vega
Steve Cook
: Zelina has consistently gotten the better of Lana throughout this feud, & Rusev hasn't fared much better against Almas. Logic dictates that Rusev & Lana should have their day here, but Almas & Vega have more upside & need the win more. Hopefully the fans get in their seats in time for this one.
WINNER
: Vega & Almas
Mike Chin
: This is an oddball case of two excellent acts who somehow still feel as though they deserve better—particularly better than their pre-show placement. Hopefully the match itself will be fun, and being on the pre-show winds up a blessing in disguise to give them more time than they otherwise would. In the end, Almas and Vega are the fresh act that could use the push, and ongoing dissension between Aiden English and Rusev ought to seal the deal.
WINNER
: Zelina Vega and Andrade "Cien" Almas
Justin Watry
: Another month, another rumor of Rusev/Lana leaving the company. What a way to begin my WWE Summerslam preview, huh? True or not, Andrade Almas and Zelina Vega are the new hot act. They deserve the victory more.
WINNER
: Vega & Almas
Jake Chambers
: Even with the most positive of vibes going beforehand, I was thoroughly disappointed by Rusev's outing against AJ Styles last month. This is WWE, I shouldn't have let them sucker me in yet again. But I did. Now I realize that this conception of Rusev as some held-back great wrestler is an illusion brought on by thirsty fans dying for something... anything new. Dude is just the next Santino, let's be honest. Unlike Rusev's constant unproven potential for excellence, Almas actually has a strong in-ring resume, but sadly the existence of this match in this spot on the card, indicates exactly how the WWE feels about the former La Sombra. And therefore, I'm assuming this one will live up to everyone's usual low expectations for a Kickoff Match.
WINNER
: Does it matter?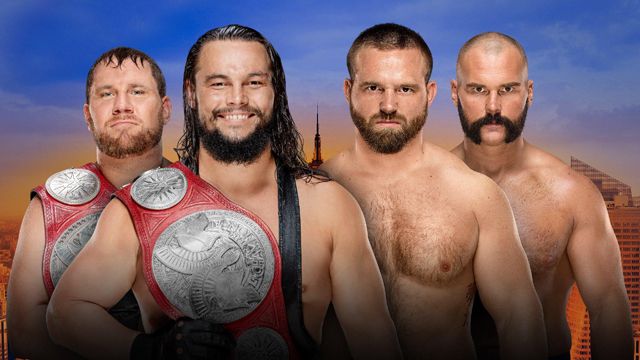 Kickoff Show Raw Tag Team Championship Match: The Revival vs. Champions The B Team
Rob Stewart
: Talk about a tease. We all want a Revival title win here, but we aren't about to get it. Dash and Dawson are just a segue feud for the B-Team as they transition from winning the titles from the Deleters of Worlds to losing them to the Authors of Pain. Dash, Dawson, and all their proud Southern people deserve better, but they aren't getting it on this show. The story of the B-Team putting together a hot streak before they run into the Unstoppable Force of the AoP isn't bad (as long as the Authors are allowed a long, dominant run), but the idea of watching The Revival fall to Axel and Dallas is... I need to lie down and watch some 2017 NXT...
WINNER
: The B-Team
Ken Hill
: While I don't appreciate the last-minute setup of the match, it's simple, sensible booking since The Revival were the odd team out on the finish to the triple threat tag title match on RAW. While in most cases I'd go with The Revival to have them claim their first main roster tag titles, I'd rather see them chase a more legitimate team like AOP. For that to happen, B-Team would squeak out another win here, only to then get mowed down by an uber-aggressive Akkam and Rezar for the red straps, possibly on the post-SummerSlam RAW.
WINNER
: The B-Team
Steve Cook
: It would be a bigger deal for Wilder & Dawson to win the straps on Monday night's episode of Raw than on the SummerSlam Kickoff Show. True story. My guess: Bo Dallas & Curtis Axel win on a technicality on Sunday night, then Constable Corbin makes a rematch on Monday night.
WINNER
: The B Team
Mike Chin
: With so many good tag teams on SmackDown, it's kind of absurd that two teams booked essentially as jobbers as recently as this spring are vying for the red brand's tag titles. The Revival has the ability of a
great
team as demonstrated by their time in NXT, so I'm going a little outside my comfort zone in picking them to go ahead and take the titles here.
WINNER
: The Revival
JUSTIN WATRY
: This is the problem. If The Revival win (which they should), then the past two months of The B-Team has been a waste. If The B-Team win, then I don't know what to tell you other than shrugging and moving on. We need new RAW Tag Team Champions. I doubt it happens at Summerslam though...
WINNER
: Lose-Lose
Jake Chambers
: The Revival needs a revival, and the B Team only wishes they were B-level. This match will suck.
WINNER
: How could anyone be a winner in this match?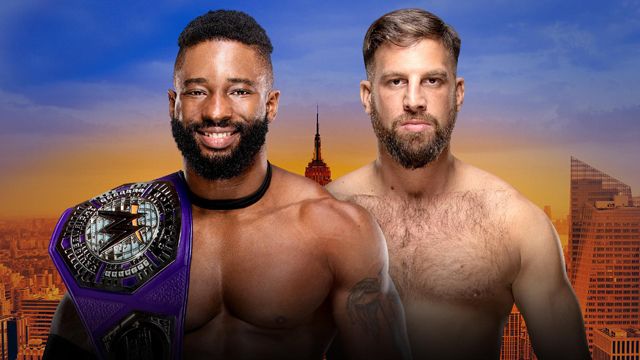 Kickoff Show WWE Cruiserweight Championship Match: Drew Gulak vs. Champion Cedric Alexander
Rob Stewart
: I'm WAY behind on my full episodes of 205 Live these days, as work on my
podcast and blog
has kept me from watching nearly as much wrestling as I would like (remember how I said during the NXT preview that I am also behind on the G1?). That said, this seems like Gulag's time. He has turned in a great body of work for 2018 from his humorous Power Point attempts to his current turn as a more brutal grounder, and he really deserves the title for all he has done.
WINNER
: Drew Gulak
Ken Hill
: This is going to be a really fun match, an underrated spectacle that's had some great buildup with Gulak using his cohorts Kendrick and Gallagher to effectively wear down the resilient champion by pinpointing Cedric's neck in each of their respective singles matches, softening him up for the "Gu-Lock" dragon sleeper. Simple, effective storytelling at its finest and shows just how well Gulak has blended his campy "politcal" character with his vicious, technical savagery and savvy. As much as I've enjoyed Alexander's rise to the top since WM 34, it's time for some new blood in the CW Title scene.
WINNER
: Drew Gulak for Champion, and A Better 205 Live
Steve Cook
: The cruiserweights (well, two of them anyway) finally return to PPV (well, the kickoff show anyway). Gulak has done good work on 205 Live, and its about time Cedric dropped the strap anyway.
WINNER
: Drew Gulak
Mike Chin
: Although Drew Gulak deserves championship consideration for his excellent work of late, and the story of him and associates wearing down Cedric Alexander is nicely constructed, I'm ultimately picking Alexander to retain and set up an eventual title showdown with Lio Rush.
WINNER
: Cedric Alexander
Justin Watry
: I have watched a grand total of zero episodes of 205 Live the last couple of months. I have no idea if Drew Gulak is still discussing Powerpoint presentations or what Cedric Alexander is up to. What I do know is that this match is on the Kickoff Show and probably for good reason. IF I do end up watching, I am likely to enjoy the bout. In ring is not the issue.
WINNER
: Cedric
Jake Chambers
: How much better would this match be if it was just on 205 Live? We saw this happen at Wrestlemania: after a pretty awesome tournament on the weekly show, they shoehorned the finals onto the Kickoff Show and the match looked out of place and random rather than the epic showcase it would have gotten on its own show. Expect this match to follow a typical pattern: quick high spots to pop the randos getting to their seats who'll all be saying some variation of "Oh, that guy's pretty good, who is he again?", then a long chinlock sequence to make room for commercials, and finally an ending that'll feel rushed.
WINNER
: Everybody who watches the inevitable re-match on 205 Live in 2 weeks.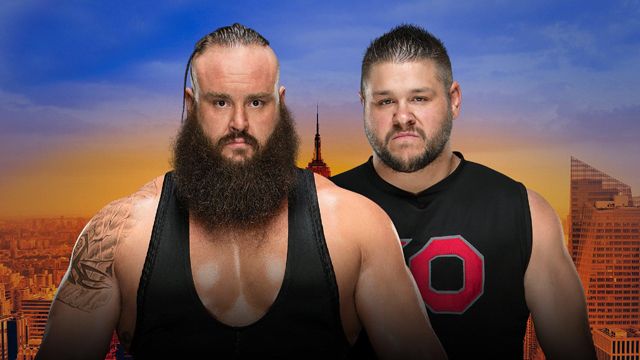 Money in the Bank Contract On the Line: Braun Strowman vs. Kevin Owens
Rob Stewart
: Real talk? I hate the idea of the Money In The Bank contract being something that should be defended. It takes away from the importance of the match itself if WWE is going to throw out the occasional mulligan. To my memory, only Mr. Kennedy ever lost a briefcase, and that was due to real life injury, so there's no issue to be had there historically. I'm happy WWE hasn't (to my memory) had MitB change hands since then, and I hope that trend continues here. I didn't think Braun needed the briefcase, but he won it, so let's see where this can go. Hopefully it goes all the way to, oh let's say, the main event of this very show. Owens hasn't proven to be a REAL threat to Braun yet, so while this could be a swerve... eh, I don't think it will be.
WINNER
: Braun Strowman
Ken Hill
: I've generally agreed with the notion that Braun doesn't really NEED the briefcase to earn a title shot, and the buildup seems set up so that Owens will use some sort of nefarious means to come away relatively unscathed with the MITB case. That said, I feel like they're leaning so much on the notion of Braun getting DQ'ed or counted out that it'll ultimately end up being a non-factor. My theory, correlating with
a comment I made concerning the fallout from SummerSlam
, is that Braun realizes that even though he's not a
dumb
monster, there are people like Owens that are generally smarter than him and will try and outwit him to win a match. Thus, he secretly enlists the help of one Paul Heyman, someone who provides savvy and managerial genius to his clients to aid their brawn and/or athleticism in matches, like Lesnar currently and previous ones like Big Show, RVD and even current RAW GM Kurt Angle. For any and all parts of my theory to make even a lick of sense, Strowman has to win here.
WINNER
: Braun Strowman
Steve Cook
: I have this feeling that Owens will somehow win the briefcase & win the championship all in the same night. As much as I like the guy, I don't see that working out too well. Braun should be the guy on the top of the card, and he should run through Owens in short order.
WINNER
: Braun Strowman
Mike Chin
: Although Kevin Owens could be a fine Mr. Money in the Bank, Braun Strowman is clearly enough heading to the top, and the MITB contract offers multiple intriguing routes for him to get there, including his rumored heel turn. One way or another, this one ought to come down to filler to occupy Strowman before he cashes in either at the end of the night or in the near future.
WINNER
: Braun Strowman
JUSTIN WATRY
: Despite all the speculation and fantasy booking, I do not feel this matchup will mean anything long-term. Braun had to beat somebody up at the pay-per-view, and Kevin Owens is the best heel available. No switch in contracts. No Money in the Bank swap. Nothing. Just a filler story line to get both men on the card in an entertaining way. Do we get the actual cash in later on Sunday? I know it is the popular belief...I will say no though. Keep the mystery going for awhile.
WINNER
: BRRRRAUN
Jake Chambers
: With this match the WWE has got everybody speculating on potential cash-in scenarios at the end of the night. Well, I've got one word for all that: BORING! If you're going to "pop" for a Money in the Bank briefcase cash in - in 2018 - for two guys who are already huge superstars, then I gotta figure you're just an easily pleased person. Are you telling me that it's exciting to see Braun Strowman, a guy who topples trucks with super strength and has been pegged as the biggest babyface in the WWE for over a year, win the Universal Title with an impromptu cash-in on a tired opponent (after already failing to defeat Brock in 2 multi-man title matches, and a one-on-one attempt). Or do you think it'll be cool if Kevin Owens, who was Universal Champion once (which he lost due to musical distraction) and was later crowned "biggest heel in the company" by many after head-butting Vince McMahon, also wins the title without any kind of match? If so, then I gotta ask you what you're watching all this for? Do you like wrestling matches? Do you like twists and surprises? Because these scenarios offer you neither. You'll be better off spending your time re-watching the build-up and main event from No Way Out from 2004 just to see how the WWE used to be able to take the title off Brock Lesnar before the crutch of the Money in the Bank briefcase became the main trope of the Mediocrity Era.
WINNER
: Braun, Loser = People popping for his MitB cash in.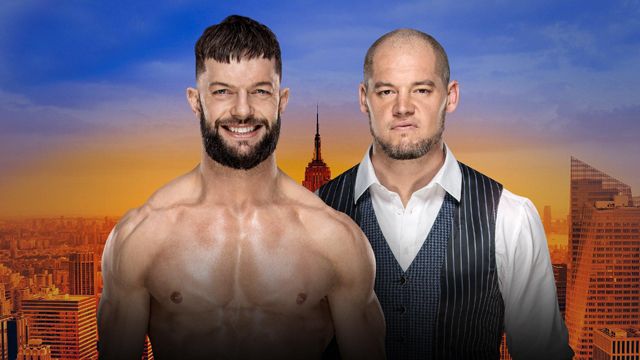 Finn Balor and Baron Corbin
Rob Stewart
: Might we get a demon sighting here? I'm not sure why on Earth we would do this match yet again unless we do something different. Has anyone been clamoring for Balor/Corbin III or IV or XII or whatever this is without any new strings attached? On the other hand... WOW, what a waste of The Demon this would be! Against Corbin in a nothing match? I don't know... I'm down on this one, sorry. I feel like WWE is actively trying to make me not care about Finn with this feud. So even if it's a meaningless appearance, hopefully we see The Demon to remind us all that, oh right, that's a thing he does sometimes.
WINNER
: Finn Balor
Ken Hill
: This has simply been a feud, nothing outright bad, but certainly nothing memorable or remarkable about it either. Balor got the win at Extreme Rules, Corbin got his win back on RAW, so simple booking leads to the rubber match. Here is where a street fight-type stipulation might have done the feud a modicum of good in terms of a proper payoff. As it is, this will hopefully be set up to give Balor the win and move him towards a title picture (most likely IC), as Corbin is an "authority" figure and doesn't really have anything to gain with a win, and even less to lose in a loss.
WINNER
: Finn Balor
Steve Cook
: Some find the whole Constable thing entertaining & thinks this match deserves a spot on a major card. I agree with the latter, as restroom breaks are important.
WINNER
: Finn Balor
Mike Chin
: This program feels like such a waste of Finn Balor. Hopefully, it comes to an end here, and with Balor going over once and for all.
WINNER
: Finn Balor
@JustinWatry
: I have officially thrown in the towel on predicting "The Demon" Finn Balor appearing. Too bad too because that persona should be busted out on rare occasions. WrestleMania 34 would have worked. Summerslam would also work. Either way, I think Balor gets the nod here. Corbin has the perfect role currently. Balor needs to be doing more though. With Brock Lesnar (maybe) out the door soon, a spot at the top of Raw is opening up.
WINNER
: Finn Balor
Jake Chambers
: The most unnecessary match on a card of mostly unnecessary retread matches. Even the most die-hard 2018 WWE super-fan has got to struggle to justify why this match is happening or explain why they should be excited for either guy.
WINNER
: Balor, Loser = Anyone who considers themselves Balor Club.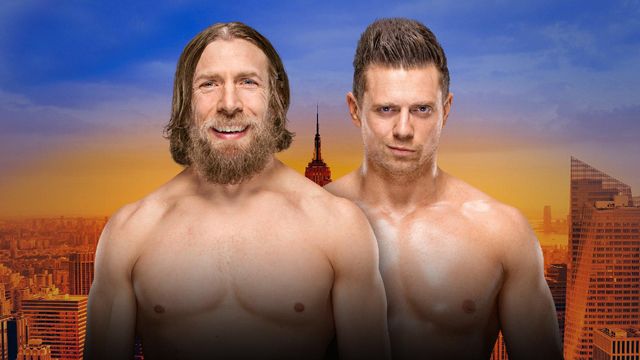 Daniel Bryan vs. The Miz
Rob Stewart
: Now we are talking. If I had my druthers, I would still have preferred they held off this encounter until Wrestlemania (AND made it for the WWE title), but the build up has been so good--and there is just so much history to play off of--I'm just happy WWE is giving us a quality set-up. Those videos they ran on Smackdown hyping this match? If you can't get excited for this one, forget having a pulse... you might never have been born. Onto my thoughts: Miz almost has to take this one in some kind of crooked, underhanded manner. Probably Maryse gets involved so that Brie can come back and join in the action for future encounters, but this storyline has the clearest path forward with Miz stealing one from Bryan. Keep the fans anticipating Daniel's revenge!
WINNER
: The Miz
Ken Hill
:
A titanic rivalry building 8 years towards Sunday Ultimate battle of technician vs performer. The eternal struggle renews once more Bryan's draconic revival vs Hollywood's Lister of A! It's a fiery war of passion versus fame Which is stronger, which is fleeting? Who will carry the torch and not be burned By this rivalry's everlasting flame? To whom goes victory? To and fro, opinions sway Some say Bryan should stand triumphant, But to do justice to a feud of great magnanimity Miz's heelish tactics must seize the day.
Screaming babies aside, I've loved the slow-burning build of what's been an intense rivalry "8 years in the making." WWE's production team has outdone themselves once again with an excellent series of promos highlighting Miz and Bryan's building animosity, stemming from their time as Pro and Rookie in the original NXT, to Miz hijacking Bryan's moves during the latter's unfortunate retirement, to the Miz undercutting Bryan's triumphant in-ring return and promising to prove what he's always believed, that he is firmly above Bryan in all facets of professional wrestling. Miz has gone above and beyon to establish himself as WWE's most prevalent asshole of a heel and I've loved almost (again, screaming babies) every second of it This WILL be an intense, emotional match that's bound to be one of the big highlights of SummerSlam. However, to have it only be a one-off where Bryan reigns triumphant over Miz would be a waste of the years of buildup and continuity this rivalry has built up and an insult to both wrestlers. Again, it's a shame Cass got released, because this would have been the perfect spot to have Miz reveal him as his new backup to aid him and cost Bryan a big win at SummerSlam. As it is, it will still be a great match, and Miz will definitely have something nefarious in mind regardless to trip up Bryan and squeak out a win, then hopefully move on to a WWE Title program down the road with AJ Styles, where Miz can have his overdue second run with the title and have it lead to a big-time payoff with Bryan in a WM 35 main event.
WINNER
: The Miz
Steve Cook
: One of WWE's longest running feuds finally returns to the ring. One suspects it won't end here. Miz winning via chicanery makes the most sense for the bitter feelings between the two to continue.
WINNER
: The Miz
Mike Chin
: At the end of the day, this is the program, and consequently the SummerSlam match I'm most excited for. If the rumors are true that Bryan may no re-sign with WWE, there's a rationale for The Miz to go over. In the end, though, as the climax of such a longstanding issue and at such a big show, I'm hopeful WWE gives us the happy ending to this rivalry with Bryan winning cleanly.
WINNER
:Daniel Bryan
Justin Watry
: Awesome, awesome, awesome video packages Tuesday night on Smackdown LIVE. If you have not seen the promos yet, go watch them now. I can not praise them enough. We all knew this story line would be good, but wow! Hats of to WWE, Daniel Bryan, and The Miz for their work in hyping Summerslam. No doubt will be a hot atmosphere in Brooklyn on Sunday. The winner comes down to Daniel Bryan's contract. If he is leaving, he needs to lose. If he is staying, he needs to win. The rivalry is paid off with the face beating the heel. No other outcome is correct...unless The Yes Man is finished with WWE.
WINNER
: Daniel Bryan
Jake Chambers
: This match deserves so much more than being stuck in the middle of another excessively overstuffed PPV. Sure, those video packages on Smackdown were cool, but to me that only highlighted just how much time the WWE has wasted with these two over the years, especially Bryan. The sad part is, the match at SummerSlam will likely be shorter than those 3 videos combined, and way less interesting. WWE has a surplus of TV and PPV time, but they still can't make a whole Smackdown episode dedicated to a big match between these two, or have them main event next month's PPV. It's kind of infuriating how much I just know they're gonna mess this up. And if you think I'm being a jerk here, show me where the WWE has followed through on anything with the potential to be awesome in the past few years? I'm begging them to be better.
WINNER
: Bryan's bank account, Loser = Fans of Daniel Bryan professionally wrestling.
CLICK HERE FOR PART TWO
JOIN 411 TONIGHT AT 5 PM ET FOR OUR LIVE COVERAGE OF THE SHOW
[post_title] => 411's WWE Summerslam Preview (Part I) [post_excerpt] => [post_status] => publish [comment_status] => open [ping_status] => closed [post_password] => [post_name] => 411s-wwe-summerslam-preview-part [to_ping] => [pinged] => [post_modified] => 2018-08-19 00:48:12 [post_modified_gmt] => 2018-08-19 04:48:12 [post_content_filtered] => [post_parent] => 0 [guid] => https://411mania.com/?post_type=face3_wrestling&p=557468 [menu_order] => 0 [post_type] => face3_wrestling [post_mime_type] => [comment_count] => 0 [filter] => raw ) [3] => WP_Post Object ( [ID] => 557389 [post_author] => 395 [post_date] => 2018-08-18 00:07:18 [post_date_gmt] => 2018-08-18 04:07:18 [post_content] =>
~THE STAFF~
* 411 Columnist,
Mr. Mike Chin
. * 411 Contributor,
Mr. Ken Hill
. * 411 Columnist,
Mr. Justin Watry
. * 411 reviewer,
Mr. Kevin Pantoja
. * 411 Contributor,
Mr. Rob Stewart
.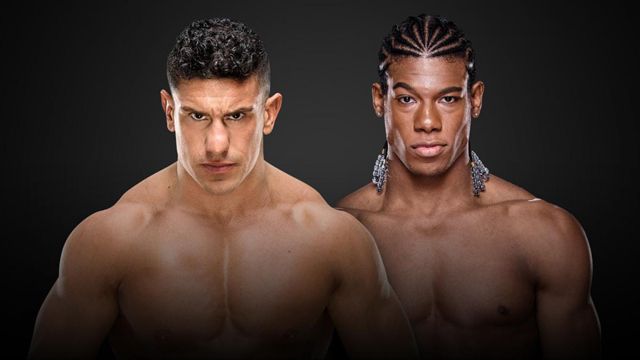 EC3 vs. Velveteen Dream
Rob Stewart
: Dream can't keep losing all of his biggest Takeover matches, can he? EC3 feels bulletproof enough to take this L, but after losing to Aleister Black and Ricochet, I feel like Dream is wading into dangerous territory should he succumb to another loss here. EC3, meanwhile, could eat the defeat and still easily and believably be built up to #1 contender status by next Takeover. So I do feel myself drifting into picking the guy who "needs" the win more, even if I might prefer to see EC3 go over (but it's a slight preference; both guys are so damn enjoyable). Either way, these two HUGE personalities should make this whole encounter a lot of fun, even if it fails to match Dream/Black or Dream/Ricochet in terms of work.
WINNER
: Velveteen Dream
Mike Chin
: This is a clash between a guy who has felt underutilized, particularly in getting left off the last NXT TakeOver, and a guy long overdue for an NXT TakeOver victory. This could go either way, and should be fun. In the end, I'm picking EC3 to win here to set him up for a run at the North American or maybe the NXT Championship, and maybe we'll see Dream called up sooner than later.
WINNER
: EC3
Ken Hill
: An interesting match-up here; it's a heel-vs-heel dichotomy, which normally wouldn't work so well in most cases, except here it also pits two of NXT's popular, cocky superstars against one another, simply because one walked out on the other during a tag match. See Vince, booking a feud with certain wrestlers doesn't always need to be so convoluted, unlike other feuds that have been stuck on "Rehash, Rinse, Repeat" for 4 years. Velveteen's role as of late has been playing "gatekeeper" for NXT arrivals like Ricochet, Aleister Black and now EC3. His only real victory on the big stage came in the form of the comparatively lower Kassius Ohno at "Takeover: Philadelphia." In my mind, he needs this more than EC3; it seems apparent he's a long-term investment for NXT, and for that investment to pay off, he needs a substantial win here or there, not just to remain in title conversations, but to avoid having the stigma of being a "big match loser."
WINNER
: Velveteen Dream
Justin Watry
: Two of the best NXT has to offer. Any moment now, Raw and Smackdown LIVE are going to be eyeing up some new talent for the Fall season. EC3 and Velveteen Dream may not be finished with NXT just yet but WWE may be ready for them. I tend to enjoy anything Dream does (huge Prince fan), so he gets a pass for the weird/weak pool scene with young Ethan last week. Still, it was one silly little interaction. The rest has been fun, entertaining and most importantly - different. Great balance to the card and one that will surely excite the live crowd on Saturday night. Good stuff all around. Give me the upset, and let's go crazy!
WINNER
: Dream
Kevin Pantoja
: How good is the Velveteen Dream? This dude is special and everything he does is outstanding. I like EC3, but he hadn't been too interesting in NXT until coming up against the Dream. It's a tough match to call because I think Dream needs the win more, thanks to a poor TakeOver record, but EC3 hasn't felt like a major deal yet. I guess I'll say EC3, but Dream should win.
WINNER
: EC3
NXT Women's Title Match Champion Shayna Baszler vs. Kairi Sane
Rob Stewart
: Kairi already feels a bit like she has been "TJP'ed", winning an inaugural tournament but not amounting to too much in its wake. I don't anticipate her having much chance here, as this should follow the Shayna/Ember Moon script of Baszler taking the initial loss, but having come back more prepared and having better scouted her foe for the rematch. The clash in styles should be fun with Kairi running around and doing her best to avoid Shayna's grip, but the Queen of Spades is going to eventually ground her and retain her title. I'm not really sure where Kairi goes from here without taking the title--a battle of Mae Young tourney winners with Sane having the belt would be ideal--but Baszler is in the midst of a dominant run.
WINNER
: Shayna Baszler
Mike Chin
: Kairi Sane is a unique star, and Shayna Baszler is good enough that she seems to finally be winning over the haters who want to insist she's only getting pushed for her connection onto Ronda Rousey. If their past encounters—particularly the Mae Young Classic final—are any indication, this could be quite good. I would be happy to see Sane win here, but I suspect there's more mileage in Baszler carrying forward as champ, particularly with Candice LeRae demonstrating an excellent bully heel-underdog face dynamic opposite her in the original MYC, and the potential to revisit Baszler's issue with Dakota Kai in a higher profile showdown.
WINNER
: Shayna Baszler
Ken Hill
: Now here's a feud that's had a nice, steady build over the past year; Sane notched a win over Baszler in the inaugural Mae Young Classic finals last year, and Shayna took a victory back from Kairi earlier this year in February, leaving the rubber match for this Sunday. Baszler's steamrolled over the majority of the babyfaces on NXT's female roster, so typically it wouldn't be much of a surprise to see her go 2-1 over Sane here. However, there are a lot of different factors to take into consideration here: -- Like I pointed out, Shayna's pretty much decimated the face side of the women's roster. She beats Sane, then there's literally no one left with any sort of positive momentum to stand up to her and dethrone her for the championship. Plus, Baszler's already teased her move up to RAW, citing a lack of competition in NXT. Who wouldn't be excited to see her pop up on the RAW after Summerslam? Maybe even at the PPV itself, perhaps to back up another Four Horsewoman... -- Brooklyn has always acted as the launching point for a babyface challenger, having them emerge triumphant against a near-indomitable opponent to cap off a wrestler's rise in NXT, like Bayley overcoming a vicious Sasha Banks to win the NXT Women's Title many thought she'd never hold, Nakamura cementing his arrival in NXT with a NXT Title victory, and McIntyre proving his mettle as a competitor with reinvigorated aggression and passion by winning the NXT Title last year. -- Io Shirai, one of the top-tier performers for this year's Mae Young Classic, is bound to be in attendance. She and Sane have had an extended history as both friends and rivals, and the potential for a title feud between them would have a chance to not only be the best, intense NXT women's feud since Bayley vs Sasha, but maybe even succeed it. When taking all of that into account, I've got to go with the InSane one here. The potential's just too good to pass up
WINNER
: Kairi Sane
@JustinWatry
: I am so tempted to predict a title change this coming Saturday night. The problem is where. If Shayna Baszler is getting the main roster call up (doubtful), then this will be Kairi Sane's moment. Looking at the full picture of NXT and WWE, it makes sense. The Mae Young Classic is returning, and these two are the best to promote such a big tournament due to them being in the finals last year. I get the idea and even dig Sane being crowned champion. I get it...but Baszler is so good as the bully heel running all over the division. Keep her AWAY from Ronda Rousey for as long as possible. Best for both.
WINNER
: Shayna
Kevin Pantoja
: This is gonna be good and it's still my least favorite match on the card. That's saying something about this show. Their Mae Young Classic Finals match good and I think this will be better. Kairi has the one win over Shayna so far and, while she'd make a fine champion, I don't think it's time to end Shayna's run.
WINNER
: Shayna Baszler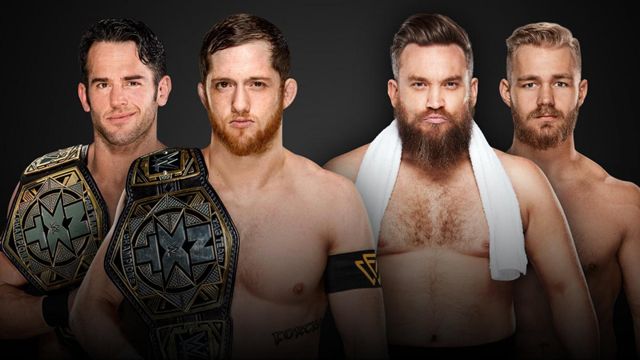 NXT Tag Team Title Match: Champions The Undisputed Era vs. Moustache Mountain
Rob Stewart
: Interesting rubber match for the NXT Tag Titles here, as these two have swapped title reigns since the last NXT special in Chicago. And like a certain main event of this show, if something was well done twice, why not try for the hat trick? Like pretty much every bout on this card save the Women's Title Match, this could conceivably go either way, but I don't think the Era is over yet (I mean... they're OVER over. I was playing on, like, "the end of an era". You know? Whoof, swing and a miss, Stewart). I look for them to retain here and keep going for a while longer.
WINNER
: Undisputed Era
Mike Chin
: This has all the makings of yet another
great
tag title match in the long history of them at NXT TakeOver shows. I foresee The Undisputed Era continuing to ride high for the months ahead, and this is the lower stakes place for them to continue to reign, whereas the North American Championship match feels like it's in greater jeopardy to me.
WINNER
: The Undisputed Era
Ken Hill
: A straightforward, but equally entertaining and physical feud between these two teams. Both of their first two encounters were amazing, and I've got no reason to believe the third time will be any less of a charm. Barring the rare occurrence (Revival taking back the tag straps from American Alpha), back-and-forth hot shots with the straps don't happen often, as it tends to take away from the titles, the feud and the wrestlers involved, not to mention that with their heavy involvement in NXT's new UK program, Bate and Seven's stateside title defenses would be rather infrequent. With the War Raiders on the rise as the next challengers, it seems very likely that Undisputed Era will notch the win here in what should be a phenomenal rubber match.
WINNER
: The Undisputed Era
JUSTIN WATRY
: Well, these two teams have certainly made me a believer. Originally, I pegged this as a placeholder story line with no real potential or interest. Through their great matches and raw emotion, I am officially all in. The Undisputed Era are my pick, but I am secretly going to be rooting for a title change just so we get another showdown with an added stipulation down the road. Yet another match of the night candidate. How does NXT constantly keep topping themselves? It's incredible.
WINNER
: Undisputed Era
Kevin Pantoja
: What a series. Screw whatever is happening in any other tag team division (most aren't any good in 2018). This has been spectacular. Their first two matches were awesome. The first gave us a feel good moment to cap a banger and the second was one of the best-told stories in a tag match ever. As great as Mustache Mountain is, I get the sense Undisputed retains. They're around more consistently. This might be MOTN.
WINNER
: The Undisputed Era
NXT North American Title Match: Champion Adam Cole vs. Ricochet
Rob Stewart
: Cole has had a good run as the first ever North American champ in NXT, but this should be the show where the King gets crowned. At this point, Adam Cole could move up to either the actual NXT Title or the main roster, and it feels like he has done everything with the North American belt that he needs to. Ricochet, meanwhile, has the classic "secondary champ" feel to him, and could really grab this title and make it his own. Not a knock on Cole, who has been wonderful in NXT, but I see Ricochet being a guy who can elevate this title a bit more.
WINNER
: Ricochet
Mike Chin
: Man, this card is stacked. This is that oddball case of a secondary championship match out of which I anticipate the loser is going to go on to become the next challenger for the brand's top championship. There's certainly time to stretch out this story, and Ricochet is still new on the scene. However, between wanting to capitalize on Ricochets momentum, and my prediction for the main event, I'm picking him to take this match and the title.
WINNER
: Ricochet
Ken Hill
: How the hell do you call this one? On the one hand, Ricochet has been on the rise since his arrival on the NXT roster and a high-profile loss could very well knock him back down the proverbial ladder. On the other hand, you have Adam Cole (BAY BAY!), who's yet to have a truly defining defense of his North American championship since winning it in the inaugural ladder match at New Orleans, and having him drop it in the first high-profile match featuring the NA Title since its introduction would prove to be under whelming for both Cole and the championship. I can only imagine something screwy will go down here (perhaps a returning Bobby Fish) to keep the title on Cole and somewhat protect Ricochet in defeat. With War Games around the corner, Ricochet's feud with Cole and the Gang will most probably continue onward, regardless of who comes out on top, but I'm going with Cole, and only by a rather slim margin.
WINNER
: Adam Cole (BAY BAY!)
Justin Watry
: All five matches have the potential to steal the show. That is just ridiculous, even by NXT standards. This has not been a well-hyped live special if you ask me. However, the talent is so strong that none of that will matter come Saturday night. Adam Cole and Ricochet are perfect examples of that. Who cares what they are even feuding about? Does anyone care? Nope, didn't think so. Just give them twenty minutes in front of a hot Brooklyn crowd and boom. There is your magic. Adam Cole with the North American Title feels like a nice fit right now. Ricochet winning wouldn't shock me but isn't my prediction...
WINNER
: Adam Cole
Kevin Pantoja
: Two guys who I thought were good, but nothing special during their runs on the indies. Since coming to NXT, Adam Cole has improved dramatically and has become a weekly highlight. Ricochet has also been great, so I'm excited for a match that wouldn't have given me that feeling a year ago. I'm going to say Ricochet wins.
WINNER
: Ricochet
NXT Title – Last Man Standing Match: Champion Tommaso Ciampa vs. Johnny Gargano
Rob Stewart
: Not that this is some unheard of opinion, but I am really down over the loss of Aleister Black for this match. I was really interested in his Gives-No-F's attitude being squeezed in the middle of the Gargano/Ciampa death war. Ah well, spilled milk and all that. The Unsanctioned and Street Fight matches between these two are two of my top five matches of the year so far (obviously; they are both great, dramatic affairs AND I'm way behind on the G1 Climax this year to see if anything there squeezed them out), so I'm positive this will be another instant classic. My early feelings have been that Gargano has better potential matchups down the road than Ciampa does (since Gargano matches up well with almost EVERYONE due to his nature, but Ciampa vs EC3 or Adam Cole wouldn't work, for example), but Ciampa as a despised champ who keeps escaping with his title has some serious legs. Coin flip for me...
WINNER
: Johnny Gargano
Mike Chin
: As this match was originally booked, I was in the camp that predicted Ciampa would retain, and Gargano would chase him all the way to WrestleMania weekend to finally win the big one. Things have changed however, with Aleister Black's unfortunate injury. There's certainly still a chance of this all-time great feud stretching forward, and the most obvious way to do that is a win for Ciampa. There's a risk there, however, of squandering the impassioned support fans are feeling now for Gargano, not to mention the specter of another injury derailing this feud before WWE can realize any grander plans. In the end, TakeOver Brooklyn has felt a lot like NXT's biggest show of the year, at least on a consistent basis over the years, so I'm going to call them offering the ultimate feel good moment here, with Gargano finally winning that elusive NXT Championship.
WINNER
: Johnny Gargano
Ken Hill
: Talk about rotten timing. With Black's injury taking him out as the intermediary between Ciampa and Gargano, Trips was forced to reshuffle this into a straight up one-on-one rather than have what would've been a very fascinating, thrilling triple threat. As it is, there's still a great amount of intrigue in this feud. Ciampa just won the championship; him losing it this soon would be an anticlimactic payoff to the feud with Gargano, so he can't afford to lose. From a booking standpoint, Gargano winning wouldn't work because of his descent into madness and having the crowd turned against him. In order for this feud to reach the ultimate peak, Gargano would have to rediscover and re-embrace the "Johnny Wrestling" character the NXT audience came to love him for before his unfortunate spiral ended up benefiting his worst rival. So how do you book a match where neither man can truly afford to lose? Well, it's a good (i.e. convenient) thing that Last Man Standing matches have the opening for a non-finish, and even better, it's not an unprecedented notion when it comes to a war between bitter ex-friends... Have Gargano and Ciampa destroy each other for 25-30 minutes, with neither man making the ten count, stretcher them both out out of Barclay's with the record standing at 1-1, then set the stage for their rubber match at the next Takeover, this time inside the only structure that could truly bring a finite conclusion to their war in NXT: Hell In A Cell.
WINNER
: Double Countout (Ciampa retains)
JUSTIN WATRY
: Truth be told, I was not really looking forward to see a triple threat main event. Nothing against any of the three, but the entire thing was getting off the rails a bit. Nine times out of ten, NXT nails it. In this case, I was not a fan of where things were going. I mean, the fan favorite cost the other fan favorite the title. Ladies and gentlemen, the NXT faithful in Orlando were booing Johnny Gargano! I don't care if he snapped or what the story was; that should NOT have happened. Luckily for us fans but unluckily for Aleister Black, fate has reared its' ugly head. I am fine with the Last Man Standing match as a replacement, and I am fine with the Tommaso Ciampa/Gargano feud getting another chapter at a Takeover. Since this was not the original plan, my gut says nothing will change. The chase shall continue...
WINNER
: Champ retains
Kevin Pantoja
: Their two matches have gotten ****3/4 and ***** from me. That's insane. The only combination of singles matches to get that across a six-month stretch from me was Hart/Austin in 1996-1997. It's so hard to call this. I've never seen Gargano as a long reigning champion (as great as he is, it doesn't really fit his character), so I just can't see Ciampa having a short reign before his. I also have trouble-seeing Ciampa beating him again. It's tough. I'm going with Ciampa.
WINNER
: Tommaso Ciampa
MAKE SURE TO JOIN 411 TONIGHT AT 6PM ET FOR OUR LIVE COVERAGE OF THE SHOW!
[post_title] => 411's NXT Takeover: Brooklyn IV Preview [post_excerpt] => [post_status] => publish [comment_status] => open [ping_status] => closed [post_password] => [post_name] => 411s-nxt-takeover-brooklyn-iv-preview [to_ping] => [pinged] => [post_modified] => 2018-08-18 14:54:32 [post_modified_gmt] => 2018-08-18 18:54:32 [post_content_filtered] => [post_parent] => 0 [guid] => https://411mania.com/?post_type=face3_wrestling&p=557389 [menu_order] => 0 [post_type] => face3_wrestling [post_mime_type] => [comment_count] => 0 [filter] => raw ) [4] => WP_Post Object ( [ID] => 557199 [post_author] => 435 [post_date] => 2018-08-18 00:03:10 [post_date_gmt] => 2018-08-18 04:03:10 [post_content] => Hi, hello & welcome to Botched! It's been another wild week in the world of wrestling & we're heading right into WWE SummerSlam! Did anything weird happen along the way? You know it did! Dave Meltzer probably had the biggest botch of the week, but we're not here to talk about that…
1. Sasha vs. Steps
: Sometimes you just don't want to take a bump. Sasha Banks had no real interest in smashing her body into the steel steps. https://twitter.com/TheBrassRing1/status/1029197551235465218 Hey, I wouldn't either! Bouncing off steel's gotta suck. Save that stuff for the PPV, which…well, remember when people were saying that they were saving Sasha vs. Bayley for SummerSlam because of their NXT match in Brooklyn? Ah, funny stuff.
2. Speaking of not wanting to take bumps…
: Who wants to take a double boot to the gut? Clearly not Diamante Azul at this CMLL show in Arena Puebla on Monday. https://twitter.com/luchablog/status/1029947861562257409 Though, let's be honest, even if he ran closer there's no way both of those boots were connecting unless he was Super Porky.
3. The wind knocked Sonya down
: Becky Lynch's kicks generate so much force that the wind is enough to knock opponents like Sonya Deville down. https://twitter.com/BulletClubItal/status/1029557486011998208 Tough to think that Carmella or Charlotte stand much of a chance on Sunday.
4. 590 > 600 apparently
: Does Tom Phillips listen to his own ring announcer? Either he doesn't, or he just sucks at math. https://twitter.com/Maffewgregg/status/1029815619116523521 Then Maffew botches his own post by putting 580 instead of 590. Jeez, I'm just shooting on all the internet icons this week.
5. SummerSlam Plug
: SummerSlam's this Sunday! Here's a plug from a WWE Network e-mail sent to God knows how many people. https://twitter.com/TheSmarkCast/status/1029474904926822402 To be fair, Ziggler's hair is so pretty these days that even Carmella can't say she looks better than him. Thanks for reading! If you see (or hear) anything wrong in the world of wrestling, let me know via
Twitter
or e-mail at
[email protected]
Have a good weekend! [post_title] => Botched!: Sasha vs. Steps, Lynch Kick, More [post_excerpt] => [post_status] => publish [comment_status] => open [ping_status] => closed [post_password] => [post_name] => botched-sasha-vs-steps-lynch-kick-more [to_ping] => [pinged] => [post_modified] => 2018-08-16 14:18:32 [post_modified_gmt] => 2018-08-16 18:18:32 [post_content_filtered] => [post_parent] => 0 [guid] => https://411mania.com/?post_type=face3_wrestling&p=557199 [menu_order] => 0 [post_type] => face3_wrestling [post_mime_type] => [comment_count] => 0 [filter] => raw ) [5] => WP_Post Object ( [ID] => 556956 [post_author] => 395 [post_date] => 2018-08-17 00:07:45 [post_date_gmt] => 2018-08-17 04:07:45 [post_content] =>
WELCOME
back, back to the column that makes lists and hopes that you enjoy them. This week's column will look back at the G1 Climax tournament finals matches, ranking all 28 from worst to first. The only criteria for the list are that the matches have to be G1 Climax final tournament bouts and that they have to be awesome. The only rules are "have a take, be respectful of other's opinions and don't be a dick." We all have opinions, we're going to disagree, just be cool about it. Lets get to work… – 28.
1999
– Keiji Mutoh vs. Manabu Nakanishi [*¾] – 27.
2000
– Kensuke Sasaki vs. Manabu Nakanishi [**] – 26.
2006
– Hiroyoshi Tenzan vs. Satoshi Kojima [**] – 25.
1994
– Masahiro Chono vs. Power Warrior (Kensuke Sasaki) [**½] – 24.
2002
– Masahiro Chono vs. Yoshihiro Takayama [**¾] – 23.
2008
– Togi Makabe vs. Hirooki Goto [***] – 22.
2009
– Shinsuke Nakamura vs. Togi Makabe [***] – 21.
2013
– Hiroshi Tanahashi vs. Tetsuya Naito [***] – 20.
1996
– Masahiro Chono vs. Riki Choshu [***½] – 19.
2005
– Masahiro Chono vs. Kazuyuki Fujita [***½] – 18.
1993
– Tatsumi Fujinami vs. Hiroshi Hase [***¾] – 17.
1995
– Shinya Hashimoto vs. Keiji Mutoh [***¾] – 16.
1997
– Kensuke Sasaki vs. Hiroyoshi Tenzan [***¾] – 15.
2001
– Yuji Nagata vs. Keiji Mutoh [***¾] – 14.
2011
– Shinsuke Nakamura vs. Tetsuya Naito [***¾] – 13.
2010
– Hiroshi Tanahashi vs. Satoshi Kojima [***¾] – 12.
1998
– Shinya Hashimoto vs. Kazuo Yamazaki [****] - 11.
2004
- Hiroyoshi Tenzan vs. Hiroshi Tanahashi [****]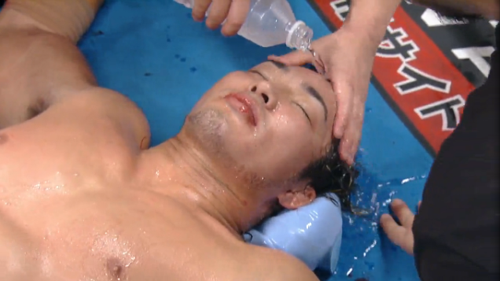 10. 2007 - Hiroshi Tanahashi vs. Yuji Nagata [****]
: Three years after his G1 finals debut, Hiroshi Tanahashi made a return to the finals and scored the big win over former G1 champion Yuji Nagata. I am a huge fan of both men, and while far from perfect, I really enjoyed the match. Nagata was still in really good form here and had the advantage of being a former champion competing against the younger man who had already failed, which I felt presented a good story. Tanahashi's growth as a performer as compared to three years prior was amazing; just comparing the two matches you see a young man with potential transform into a superstar. I enjoyed what both men did when in control and felt that they had some great transitions that made some of the work come off even better; it was a certain crispness and slight differences to the norm that made it stick out. Tanahashi looked to have it won with the high fly flow, but Nagata kicked out. Tanahashi then decided to destroy the leg with several dragon screw leg whips… and that led to another high fly flow for the win. I thought we were heading towards complete greatness, but that ending stretch didn't make sense to me. I was expecting Tanahashi's desperation to lead to something else, maybe even a new submission or something, but just hitting his finish again felt anticlimactic and a bit lazy. It's still a great match to me, but I feel that a slight change to pay off the destruction of the leg could have made it even better.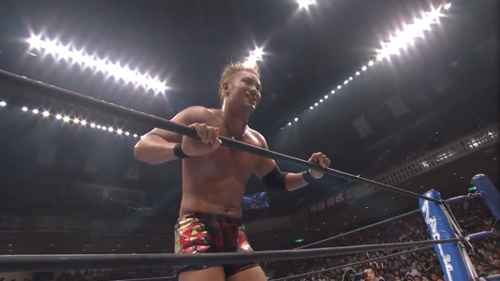 9. 2012- Kazuchika Okada vs. Karl Anderson [****]
: I am a big fan of both guys, and have been a big supporter of Karl Anderson over the years. It's not just that I find Anderson to be a good wrestler, he doe s his job well but has also stepped up when given the chance in big time singles matches. He did that here. Also, Anderson and Okada have great chemistry and use finishers that allow them to use fun and creative counters, which help build to a good finish when they work together. Okada's control of the match here was very well done, working the neck well to set up the rainmaker. He was really coming into his own here as a top performer and this match was a great example of that. The one real knock on the match is the fact that Anderson's main goal seemed to be working the arm of Okada in hopes of stopping him from using the rainmaker. Okada stopped selling that work down the stretch big time, which came off as a big negative to me, because that effort came off as busy work to fill the time, it didn't mean anything. It sounds repetitive, but it's a theme in big time matches that stick out when you do a marathon watch and see matches where they took the time and care to make it matter. Overall I really enjoyed this, and it was the best G1 finals match since 2007.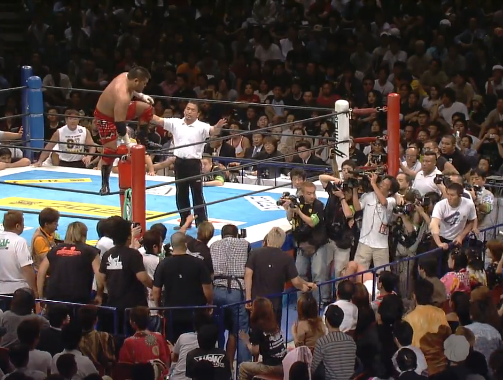 8. 2003 - Jun Akiyama vs. Hiroyoshi Tenzan [****¼]
: Ok, I can be really rough on Tenzan at times and he's not my favorite by any stretch, and current day Tenzan has a terrifyingly disfigured ankle, but this match was pretty damn great. It was a long match, but scripted out to have a lot of different changes in control and completely against what you'd expect from a regular G1 finals match. It was laid out like a big time match, and when someone would turn the tide they did so with no bullshit, they did it emphatically and made a point when doing so. What came from this is a great emotional story between these two, which really pulls you into the match and doesn't give your time to pause and think because you don't want to take your eyes off the screen. In the end, they broke down into the major match, throw big time shit at each other; but it never felt clichéd because of the way that they built to it. This was quite excellent and a surprise during my marathon of watching these. Some matches you look at and think "that looks good/bad on paper" and then they surprise you one-way or the other. This was a very pleasant surprise.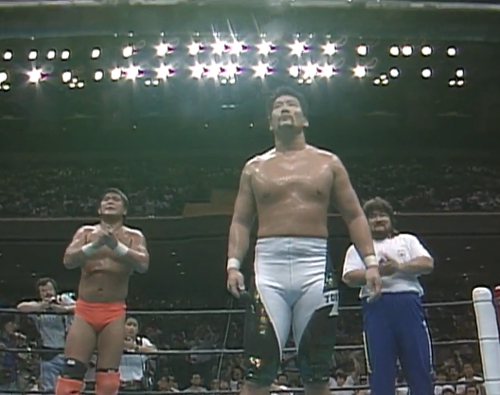 7. 1991 - Keiji Mutoh vs. Masahiro Chono [****½]
: The first G1 Climax final was everything I wanted out of a big time, important match. This had a great atmosphere, great work by two pros as they battled for ultimate supremacy. The match was a great example of evenly booking both men to give the illusion that either could win the match at any moment; it's edge of your seat shit guys. Just going back and watching to listen to the crowd and watch them react to the roller coaster ride that was the match was so much fun. The only thing that hurts the match is the fact that the work from earlier (Mutoh working the legs and Chono working the arm) felt like busy work that didn't mean as much as it should have late in the match. Had they worked that into the match it's even better. Also, Chono trying to obliterate Mutoh with piledrivers was awesome. This was an excellent match that loses nothing given its age, it's just a great match.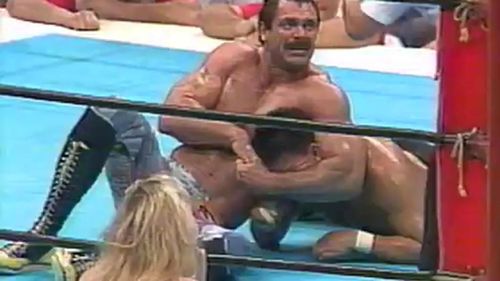 6. 1992 - Rick Rude vs. Masahiro Chono [****½]
: Masahiro Chono would go two for two in the G1, as he would pick up the win over Rick Rude in 1992. Rick Rude is a guy I always recommend newer fans check out because he was a total package and this is one of his best matches. The match works because of its simplicity; Chono as the reigning G1 champion was obviously the favorite, but the foreigner kept staying ahead of him, cutting him off just at the right times, which brought the crowd into it very well. They had such anticipation for some parts, which would be dashed and made them question the outcome. It's amazing how when you have two pros working together that the simplest of stories works so well, I just sat there in amazement in how they weaved this together, the reactions they got and how it went from good, to better, to great and then finally to excellent. Everything had a purpose, was done at the right time and Chono goes two for two in excellent finals matches.
5. 2014 - Kazuchika Okada vs. Shinsuke Nakamura [****¾]
: Okada vs. Nakamura was the kind of main event that you want to close out a tournament like this. They got over 20-minutes, it never felt long and the fact that it had been so long since they wrestled each other made it feel special. Both guys were on such a high level going into the match, and they were trying to deliver a classic, and not only did they do that, but I felt that they delivered one of the very best G1 finals matches. The closing stretch of the match was so awesome, the crowd loved it and this came across big time. Okada was obviously one of the top guys of the company (along with Tanahashi and Nakamura) but stepped up his game even more for this match. He had the great matches, but he overall looked better and came off like a complete star in this performance. The work was beautiful, and it was just one of those matches that pulled me in from the opening bell and gave me everything I wanted out of the match. Okada's trio of rainmakers was a beautiful and violent finish to such an excellent match. If you haven't watched the match, you need to make the time for it; I miss this Nakamura.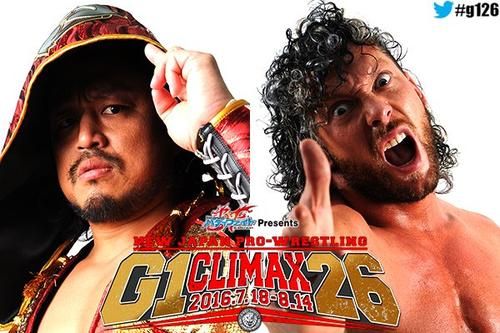 4. From 2016: Kenny Omega vs. Hirooki Goto [****¾]
: The crowd is very pro-Omega. They started off with a deliberate pacing, going back and forth and seemingly setting the stage to go long. Goto attacked the knee of Omega, which Naito worked on big time yesterday, and the crowd was not pleased with that. They aren't booing because of his work, but because he's a massive choke artist. It's making for a great atmosphere, and I love that he knee stuff from yesterday was not ignored. They worked to the floor, where Omega battled back and hit a moonsault off the barricade but immediately started to favor the knee. He then slammed Goto on the apron and then hit the apron bomb to turn the tide. Back in the ring, Omega did a little Rick Rude neck breaker with the hip swivel towards Chono for added emphasis. Omega grounded Goto, working a modified camel clutch to follow up on the apron bomb. Nice focused work by Omega here, and was rolling until he missed the corner elbow. Goto got a good hope spot, but was cut off with a bulldog for a near fall. Goto fired up as they traded chops center ring and then decapitated Omega with a lariat. Goto finally put together his first sustained series of offense, hitting the top rope elbow drop for a near fall. Omega battled back, hitting the Finlay roll into a second rope moonsault for the near fall. Omega sent Goto to the floor with the dragon snap suplex, and followed with a great plancha. Omega kept favoring the leg, having issues getting to the top and selling it after a missile dropkick. It slowed Omega enough that Goto scored with the ushigoroshi, and then ht a lariat to Omega on the apron that folded him inside out. They battled up top. Goto with the USHIGOROSHI off the second rope, which got a great near fall. He then worked the sleeper, Omega kept fighting and countered the German and hit the running knee strike and then the suplex onto the knee. Omega trying to fight through the pain hits the running knee strike but Goto escapes the one winged angel and works the sleeper again. Omega then climbed the ropes with Goto on his back and did the Nestea plunge off the top with Goto on his back, taking a SICK bump on the fall. My God. They struggled to their feet, exchanging strikes center ring. Omega then kicked Goto o the face and hit the sit out last ride for a great near fall again! Omega struggled to his feet and MISSED the Phoenix splash! Goto fired up here, Omega countered a suplex but his knee buckled and Goto hit a spinning faceplant for a near fall. Goto went for the GTR, but Omega hit a knee strike, they traded strikes and Omega then ht the snapdragon suplex for another near fall. Goto caught a knee strike, turns Omega inside out with the lariat and hits the shouten kai but Omega somehow kicks out as the crowd is going crazy for this. GTR countered, bloody Sunday by Omega! Styles Clash by Omega but the ode to Bullet Club only gets 2. One winged angle then connects, and Omega wins! Omega was the third westerner (Rick Rude and Karl Anderson) to make the finals and the first to win the G1. In all honesty that was a brilliant match, especially from Omega. Omega digging deep into the past to use moves by Ibushi, Devitt and Styles to try and win were beautiful homages, but in the end he won on his own with his own move. And take nothing away from Goto, he was half of a final that no one predicted or really wanted, but he brought his A Game, and they delivered an absolutely awesome main event. The pacing was excellent, the build felt organic, the crowd was amazing and they went home at the right time and didn't try to go way too long to make it "feel" like an epic, it didn't need that because it was one. Some want to point to the way overbooked Tanahashi match as Omega's coming out party, but that true moment was tonight, all of the reactions he received were star reactions and after a lot of work and some misfires, they have finally made Kenny Omega. Kenny Omega, from junior comedy guy wrestling kids and dolls, to a Bullet Club stooge, to G1 winner.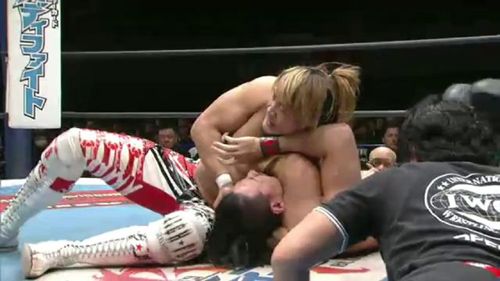 3. 2015 - Hiroshi Tanahashi vs. Shinsuke Nakamura [*****]
: While several people were still looking for a Nakamura win here, I personally was 100% set that Tanahashi was winning; a Nakamura win would have completely shocked me. So now the key is to work a match that makes me believe that Nakamura has a chance, and I was skeptical because in the past I did not think these two have delivered on the level that they should. The basic story was Tanahashi working the knee of Nakamura to try and weaken the Boma ye, while Nakamura worked the arm to set up the arm bar, which he has been successful with in the tournament. This work remained a constant thread through the match, not always a complete focus, but always called back to in the right way. Both guys are very good, especially in the big match environment, and I felt as if they did all of the big things, but maybe even more importantly the little things to make it all work and come together. We had a slow start, and then they simply built off of each part of the match, and in each instance the crowd responded about as perfectly as you could hope. The final 10-minutes was pretty epic, with both men unloading their arsenal in order to win this tournament. When things get going this wild, I do appreciate it a bit more because it not only makes the match feel important, but also what they are fighting for is even more important. It all led to both men battling up top, and Tanahashi knocking Nakamura partial off, hanging there, and then the high fly flow connected. Two more HHFs later, and Tanahashi was the winner of the 25th G1 Climax after an amazing match. It had the feel and work of the big time match, it had the crowd and I was completely emotionally invested in this match. There have been a lot of great matches in the tournament this year, some truly upper tier stuff that was more than worth my time. There were matches I was into, matches that I loved and at times stuff so good it had me wondering what in the actual fuck I was watching. This match felt big time, this match had that special feeling and was more than perfect to close out a tournament of this importance. These men, who I felt didn't always have the best chemistry and also put in some amazing efforts in the days just prior, managed to step it up and take it past the greatness that they delivered previously, but they surpassed it. I can safely say that this the best match of the entire 2015 tournament.
2. G1 27 Finals: Tetsuya Naito vs. Kenny Omega [*****]
: They had a lot to live up to after the match that they put on last year and they more than lived up to that match and delivered an all time classic and one of the very best G1 finals matches ever. . I thought that they worked an absolutely excellent match, with the focus of both men being on the neck and or back, which fits into both men's finishers. They went long, but kept an amazingly brisk pace and also worked with the sense of urgency you want to see in a match situation like this. This isn't just any other match, this is the G1 finals. This had great action, a molten crowd, amazing near falls and a great and dramatic build to the finish. They did an excellent job of making you believe that either man could win, which not only made for amazing crowd reactions, but also kept the energy at an extremely high level. I loved the focus on the neck, not only because it played into both men's finishers, but also because over the years, big time NJPW matches have focused on leg work, so this made this one feel different and fresh, which isn't always easy to do. This was top-notch work from both men and the perfect way, match wise to close things out, and the right man won. I am thrilled that Naito won, although to be honest with you, I always imagined him main eventing the dome after challenging the briefcase winner and being the first guy to win it that way, but this was amazing. Finally, when you consider the grind of the tournament, this performance from both men is even more impressive. Omega is certainly really banged up and Naito has been working through a major shoulder injury. This was special not only due to the in ring, but due to the reaction Naito got for winning.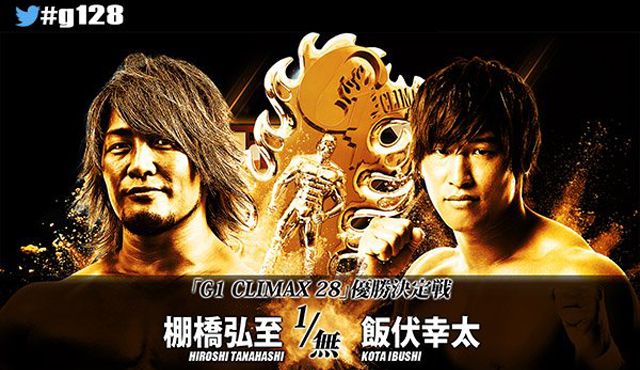 1. From The NJPW G1 Climax 28 Finals: Hiroshi Tanahashi vs. Kota Ibushi [*****]
: Just when I think I have seen something great and something special, something new comes along and absolutely blows it away. We all know that Ibushi is a special performer, and when he's on there are few better, but at age 41, Hiroshi Tanahashi, looked at as the beaten down and fading ace comes along and shows us why he is an all time great. Not only is he the man that helped turn NJPW business around and start their amazing rise, but he still delivers in the big time matches, and why many have started to double him, we should all stop until he starts shitting the bed and gives us a reason to believe he's fading and his skills are diminishing. As for the match, this was absolutely unreal and up there not only as the match of the tournament, the match of the year, and possibly the best G1 final ever, but it was quite possibly one of the very best professional wrestling matches I have ever seen. In fact, I'd go as far to say this is one of if not the best performance/match of Tanahashi's career, and that's saying a lot. From the pacing, the way they captivated the crowd, Ibushi flipping the switch into violence to answer Tanahshi's challenge, to the amazing babyface fire of Tanahashi, it was simply amazing, and they had me at the edge of my seat for the entire match. The crowd was locked in, the commentary was amazing, and it was a perfect storm and I don't use that term lightly. As for emotional investment, they also had me with that the entire time, as we watched Ibushi trying to prove himself when it mattered as Tanahashi previously challenged him to, to the old gunslinger battling through everything his young, stronger, and faster challenger had to give. But for everything Ibushi had to give, Tanahashi had an answer, survived, dug deep and finally overcame to ride as the ace one more time. In the end, Ibushi's arms were long enough to box with God, just not powerful enough to beat him. This was absolutely phenomenal and is essential viewing if you love wrestling. This was beautiful, this was art, this was professional wrestling at its very best. This was the sixth time Hiroshi Tanahashi has made a G1 Climax final, and third win overall. Of his six matches, I have given him 5 stars two times in the finals, and he holds an overall star rating of
4.13
in his six G1 finals appearances. Also, I spent Sunday night doing a fresh rewatch of the top 10 matches so that they would all be fresh in my mind and to see if anything has changed. With that being the case, my opinions have largely stayed the same, with this year's Hiroshi Tanahashi vs. Kota Ibushi match taking the throne as the best G1 finals match, in my opinion. I have seen some try and downplay the match due to "a hot crowd, the environment, and enthusiasm" and other such things, but those are all elements of great matches. All time great matches, 5 star classics, to me are the result of the right time, the right place, the right crowd, the right performers, the right style of match leading to a
virtually
perfect effect. I can't say for certain that I've seen "an absolutely perfect match," but I have seen a lot that fit the criteria I believe in. I can find some small flaws in the 1989 Flair/Steamboat trilogy, which I value all at 5 stars. Liger vs. Sasuke from the Super J-Cup 1994 is 5 stars to me, but some will dock it while I think they played it off well and didn't hurt the match in my eyes. It's just what I am feeling at the time, and if I get that feeling that this is an all-time great match, on the level of other matches I have given the rating to, I'll bust out the 5 stars; there's no super secret, scientific mathematical formula to it, it is a feeling, and when it's right, it's right. It's fine to disagree and to have a discussion, but don't be silly and claim things like the spectacle, audience, and enthusiasm involved don't play into a match and how it's received. - End scene. - Thanks for reading.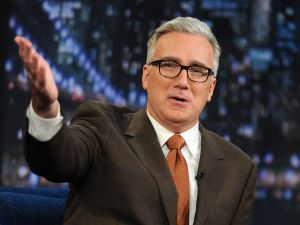 "Byyyyyyyyyyyyyyyyyyyyyye Felicia!"
[post_title] => Csonka's Ranks Every NJPW G1 Climax Final Match [post_excerpt] => [post_status] => publish [comment_status] => open [ping_status] => closed [post_password] => [post_name] => csonkas-ranks-every-njpw-g1-climax-final-match [to_ping] => [pinged] => [post_modified] => 2018-08-16 13:10:01 [post_modified_gmt] => 2018-08-16 17:10:01 [post_content_filtered] => [post_parent] => 0 [guid] => https://411mania.com/?post_type=face3_wrestling&p=556956 [menu_order] => 0 [post_type] => face3_wrestling [post_mime_type] => [comment_count] => 0 [filter] => raw ) [6] => WP_Post Object ( [ID] => 556778 [post_author] => 34 [post_date] => 2018-08-17 00:03:16 [post_date_gmt] => 2018-08-17 04:03:16 [post_content] => Hi, I'm Justin Watry. You may remember me from such columns as March 2012's "WWE WrestleMania 28: Sheamus Should Defeat Daniel Bryan In Less Than A Minute" and October 2016's "WWE NXT: Bobby Roode, You're Next."
Backstory
This Sunday is the 2018 edition of WWE Summerslam. While we can debate all day long whether this is the second or third biggest wrestling pay-per-view on the calendar every year, the fact remains this is a very important show. Not just for the company but for fans as well. Why? Let's examine.
WWE Summerslam 2018 Preview
Summer's WrestleMania
- You don't need me to tell you all the major main events from past Summerslams. Hulk Hogan vs. Shawn Michaels, Stone Cold Steve Austin vs. The Undertaker, The Rock vs. Triple H vs. Kurt Angle, The Rock vs. Brock Lesnar, the second ever Elimination Chamber, John Cena vs. Randy Orton, The Undertaker vs. Edge inside the Heck on a Deck, Nexus vs. WWE, Jeff Hardy vs. CM Punk in a TLC match, Brock Lesnar vs. Triple H for the first time ever, John Cena vs. Daniel Bryan, The Undertaker vs. Brock Lesnar, and the list goes on and on... That does not even mention the under card: Shane McMahon vs. Test in a street fight, Triple H vs. The Rock in a ladder match, first ever TLC match, Kurt Angle vs. Stone Cold Steve Austin, Shawn Michaels returning to a WWE ring for the first time in over four years to have an Unsanctioned Match vs. Triple H, John Cena vs. Chris Jericho, DX vs. McMahons, John Cena vs. Batista, Rey Mysterio vs. Kurt Angle, John Cena vs. AJ Styles, and that is barely scratching the surface. https://www.youtube.com/watch?v=yPOtDStsLUU I don't know about you, but the Royal Rumble has ONLY the Royal Rumble match (my most anticipated bout all year). However, outside of that, it is pretty rare we get anything besides that. There are definitely exceptions, so spare me the few examples. Summerslam, in my opinion, is truly the biggest party of the summer and the matches reflect that. The 2018 version is no different.
Fall's Beginning
- We all understand that WWE can tend to get a little 'blah' during September and October. Survivor Series helps in November, but the Fall season is not always kind to wrestling fans. What we get at Summerslam (and the night after) is a pretty good indicator of things to come. Will we have a new Universal Champion? Does Ronda Rousey leave with the Womens Championship? Is Daniel Bryan actually going to re-sign with WWE? How about a classic AJ Styles/Samoa Joe feud? Any heel/face turns? How about an interesting Raw/Smackdown LIVE shake up? Somebody debuting or appearing from NXT on the main roster? Anything is possible in 2018. That has been proven over and over the past eight months. The $6 billion company has had a strong year. I'd like to see them keep their momentum going AFTER this Sunday night.
NXT
- Speaking of...yet another Takeover event is waiting in the wings to not only steal the weekend but steal the entire year. A quiet but decent card has been set, and fans know what NXT can do. Whether the build has been amazing or dull, the talent is there to deliver. Do not doubt them here. Even with a worse than usual build and a major last minute injury, Takeover will be awesome Saturday night. it may not technically have anything to do with Summerslam, but it could. You never know who's watching and why. https://www.youtube.com/watch?v=yMG9r32zBW4
Crossroads
- No, not Cody. I think Summerslam is where we finally get answers. Will Dean Ambrose come back to help Seth Rollins or hurt Seth Rollins? Is Dolph Ziggler truly going to be IC Champion going forward with Drew McIntyre by his side? Does Ronda Rousey actually get the title? Is AJ Styles going to keep the WWE Championship forever? Who is Mr. Money in the Bank? Does Brock Lesnar leave the company for UFC? Do we finally get the Roman Reigns/Universal Title moment? Where exactly does Randy Orton stand in the current scene on the blue brand? Is The Miz vs. Daniel Bryan a beginning...or an end? So many questions. I believe it is time for a payoff to many long standing mysteries, and I believe WWE will give us plenty of memorable moments to rectify that.
Wrestling
- Quick: Name me the WWE Match Of The Year for 2018! Not NXT. I mean WWE...go! Still thinking? My point exactly. Right now, my MOTY is Ronda Rousey and Kurt Angle vs. Stephanie McMahon and Triple H from WrestleMania 34. I said it back in April and will again. That had it all, plus the added luster surrounding Rousey and WM. It is sitting at the top of my list, with it being VERY tough to get knocked off. Luckily, Summerslam has many possible classics awaiting. Jeff Hardy vs. Shinsuke Nakamura in front of a hot crowd could be extremely fun. AJ Styles vs. Samoa Joe might turn back the clocks and give us an impactful classic. The Miz vs. Daniel Bryan should have a rabid Brooklyn fanbase loving every minute of their battle. Roman Reigns vs. Brock Lesnar is always hard hitting and entertaining. Then there is Seth Rollins vs. Dolph Ziggler, a match that just closed a PPV. I haven't even mentioned the star studded Raw/Smackdown Live Womens Title matches yet. Stacked card, amazing potential there. https://www.youtube.com/watch?v=IZQUPuwVAbM
Expectations
- Okay, enough of the hyperbole crap. What do I honestly think of the 2018 Summerslam card? Well, I'm writing this on Sunday, August 12th. Having not seen RAW or SD Live from this week yet, I will say they could use a tad bit more hype. One final push before Sunday would be appreciated. Whether it is a stipulation or cliffhanger, *something* more is a must. As for the matches announced, I am fine with them. Go up and down the lineup. Not a whole lot of weaknesses. The strengths of WWE has always revolved around their talent, and this instance is no different. Bell to bell, Summerslam will be fine. Trust me.
Cheap Plugs
nodq.com Email:
[email protected]
Twitter: @JustinWatry Thanks, [post_title] => WWE Summerslam 2018: What To Know Before Sunday Night [post_excerpt] => [post_status] => publish [comment_status] => open [ping_status] => closed [post_password] => [post_name] => wwe-summerslam-2018-know-sunday-night [to_ping] => [pinged] => [post_modified] => 2018-08-18 18:15:42 [post_modified_gmt] => 2018-08-18 22:15:42 [post_content_filtered] => [post_parent] => 0 [guid] => https://411mania.com/?post_type=face3_wrestling&p=556778 [menu_order] => 0 [post_type] => face3_wrestling [post_mime_type] => [comment_count] => 0 [filter] => raw ) [7] => WP_Post Object ( [ID] => 557046 [post_author] => 435 [post_date] => 2018-08-16 00:07:28 [post_date_gmt] => 2018-08-16 04:07:28 [post_content] => It's been a tough year for Cincinnati sports. Their two major college basketball teams had spectacular regular seasons, only to flame out in the second round of the NCAA Tournament on the same night in the same arena. The Reds have spent the season in the cellar of the NL Central with no real hope of getting out, while their top prospects have gotten season-ending injuries while playing in the minor leagues. The Bengals have yet to start their season, but we all know that will only bring some form of tragedy. The only positive aspect of the year has been FC Cincinnati getting into Major League Soccer. Even that has a downside though, as one imagines the transition to MLS from the United Soccer League won't immediately lead to Supporters' Shields & MLS Cups. FCC will likely struggle early in their MLS tenure, and it's fair to wonder if Cincinnati fans will hang with the squad through the tough times. Cincinnati's main contribution to modern-day sports entertainment has seen some tough times in 2018. Dean Ambrose has yet to wrestle a match this year due to a triceps injury. The original hope was that he would be back not long after WrestleMania. Apparently Dean needed the extra time off to get all swole. https://youtu.be/-sdix2O2ISU It was perfect timing as far as Dean's best friend was concerned. Seth Rollins has had some problems getting backup since Dean's injury. Roman Reigns has been busy getting beat up by Brock Lesnar. Kurt Angle tried to make Seth & Jason Jordan a thing, but Jordan done broke his neck like he was actually an Angle. All of this has left Seth to deal with Dolph Ziggler & Drew McIntyre all by his lonesome. Ziggler's sneakiness & McIntyre's brutality pose a deadly combination for anybody in their path. A healthy Lunatic Fringe evens the score. But what does his future hold? The most popular prediction for Ambrose's future is a heel turn that some folks have been waiting for since he became a babyface. Back when Dean first arrived in Florida Championship Wrestling, he got all kinds of hype for his promo ability as a bad guy. He made it there in the first place largely based on his work on the microphone, which was miles ahead of almost everybody in independent wrestling at the time. Dean's never become that revolutionary figure that a lot of people were hoping for. He isn't the top guy. What he's become is a solid character that can be booked in main events & not seem out of place, but can also feel at home in the mid-card or wherever else you want to book him. There's a lot of value in a versatile guy like that. There's a good chance Ambrose will turn on Rollins at some point. The Kingslayer has never been more popular with the WWE Universe & could use an opponent like Ambrose that's on his level. There's certainly plenty of backstory between the two. Makes sense for a WrestleMania. That's why the turn isn't going to happen at SummerSlam. The fans aren't ready to boo Dean Ambrose. He just came back. It's not like he was one of those good guys that was losing steam either. He's been successful at getting cheers since the Shield turned against The Authority. Some higher-ups & wrestling legends might not appreciate his act, but the people have been cool with him since the start. As crazy as he might be, he's proven to be more trustworthy & a better guy than most of WWE's babyfaces. WWE doesn't tell fast-paced stories these days. Brock Lesnar & Roman Reigns have been circling each other for nearly four years now. What once upon a time would have been an easy breakup between Bayley & Sasha Banks has gone on for months & has no end in sight. Rollins' feud with Dolph Ziggler has gone twice as long as anybody would have predicted when they first faced off. On one hand, it feels like you can miss Raw for months at a time and not miss anything. On the other hand, taking time to tell these stories makes for a more logical show. There's good & bad with every style of storytelling. Expect Anbrose & Rollins to be a slow burn. I think Rollins wins the Intercontinental Championship on Sunday with Ambrose & McIntyre getting involved. Then of course there will have to be the series of tag team matches with Rollins & Ambrose vs. Ziggler & McIntyre. That blowoff will be on a WWE Network event, and then Ambrose makes the big turn and gives the Internet the heel they've been wanting for five years. Besides, if Ambrose is smart, he'd wait for Rollins to win a championship before turning against him. You can't rush these things. You have to wait for just the right moment. SummerSlam has enough stuff going on already that a big Dean Ambrose heel turn would get lost in the shuffle. The last thing a returning star like Ambrose needs to be is lost in the shuffle after less than a week. [post_title] => Dean Ambrose Will Turn Heel. Not At SummerSlam. [post_excerpt] => [post_status] => publish [comment_status] => open [ping_status] => closed [post_password] => [post_name] => dean-ambrose-will-turn-heel-not-at-summerslam [to_ping] => [pinged] => [post_modified] => 2018-08-18 18:15:43 [post_modified_gmt] => 2018-08-18 22:15:43 [post_content_filtered] => [post_parent] => 0 [guid] => https://411mania.com/?post_type=face3_wrestling&p=557046 [menu_order] => 0 [post_type] => face3_wrestling [post_mime_type] => [comment_count] => 0 [filter] => raw ) [8] => WP_Post Object ( [ID] => 557096 [post_author] => 4361 [post_date] => 2018-08-16 00:03:42 [post_date_gmt] => 2018-08-16 04:03:42 [post_content] => This columnist has really been running around the last few weeks, and the fatigue is starting to set in. There's been some heavy, emotional moments (Hoodslam's moving tribute to Virgil Flynn III on August 3rd brought me to tears; the Virgil Flynn III Tribute Show in Sacramento the next night, which I sadly was unable to attend; losing Nikolai Volkoff, Brickhouse Brown, Brian Christopher, and Jim Neidhart) for us fans, and so, needing a bit of a breather, I wanted to take it light this week. Going to dip into the old
Smart Marks
format, as I've taken the last week or so to really immerse myself in all the wrestling I can possibly watch, which sometimes seems like an idiot's task, but always makes me so happy when I follow through. This week, we're going to take a look at three promotions that I feel are worth your time if you aren't currently watching. One is totally obvious, one is less surprising, but the third one might actually surprise a few people. So, let's get to it! https://www.youtube.com/watch?v=IS1lFXdRWHE
Impact
Yes, yes, I watch Impact Wrestling quite frequently, and cover it almost exclusively, so this one shouldn't be a shock. However, I think that a lot of people are sleeping on a product that has improved this past year, both incrementally and dramatically, depending on the area you're looking at. The company lost many members of their roster, and rebounded by approaching things differently. They've kept a core group together, while allowing "outsiders" to show up and challenge the Impact wrestlers and test their skills. This has paid off with some incredible people showing up, and has given us the crowning achievement of Pentagon holding the Impact World Championship earlier this year. We also see New Japan's Bone Soldier (Taiji Ishimori to his friends), as well as matches frequently recorded in other promotions featuring their best superstars going at it in random locations. It's not for everybody, of course, but this Impact feels like a promotion attempting to take on the world, instead of just focusing on WWE, which has usually been something that has annoyed its fans in the past. The in-ring product has been ramped up as a result of this as well. Great matches are not uncommon on
Impact
, with main events routinely going 20 minutes (or more!) week in and week out. This is a stark contrast from just a year or two ago, when a main event would be starting up with
maybe
ten or so minutes left in the show. There's been some incredibly violent moments involving Eddie Edwards, Tommy Dreamer, Sami Callihan, LAX, the OGz, and Pentagon.
Slammiversary
was a frenetic and fun show, one I didn't regret ordering for one second. Austin Aries has provided a lightning rod for fans, as you're either a big supporter, or you can't handle the Banana Champion. Adding Killer Kross to his entourage only makes him that much more dangerous. There isn't a lot of some overbearing authority figure meddling in everything. Obviously, there's people in charge, but they don't lord over every second of every segment. I know that they may have lost you as a viewer. I'm just saying that they're worth a second look. Maybe it's still not for you, maybe you can't get over the last few years of product, but give it a shot. I know I've spouted this before, but Impact Wrestling in 2018 is a fun, athletic product with very little nonsense. Thursday night is when I can sit down and know that two hours of wrestling is coming my way. There aren't many programs where I can say that. Wrestling. Not interviews and "last week" segments and all that. This past week on Impact saw two matches go nearly twenty minutes, and they were both extremely entertaining contests. Come on back to Impact. The water's warm. And Joe Hendry's stupid handsome. https://www.youtube.com/watch?v=gXLRY0xG1Q4
Lucha Underground
Once upon a time, I was a huge, huge fan of Lucha Underground. I still, to this day, get goosebumps when I think of the night Son of Havoc, Angelico, and Ivelisse won the Trios Titles, capped off by that insane dive from Angelico. I stuck with them through Season 2, and into Season 3. It was during this season that Lucha Underground nearly lost me completely as a viewer, as the mid-season break that lasted roughly 7 months completely killed all the momentum that they had built up. Still, I did my best to stay with the program, until a few hiccups with my DVR led to me only getting to see one part of a four part Ultima Lucha Tres. When Season 3 wrapped up, I was not too pleased with what had happened to my favorite show. Then the news came out that Season 4 was going to start, and there would be much upheaval with the roster. I have to be honest, I wasn't totally excited to start the season. Which, frankly, sucked. The last couple nights, I have slowly chipped away at the Season 4 episodes sitting in my DVR, wondering if they'll ever get watched. And you know what? I'm enjoying the show again! Matanza Cueto has become a God that will #Sacrifice anyone in his way. Jack Swagger is now Jake Strong, and he's more than happy to snap your ankle and take something you own in the process. Killshot is an angry man. Pentagon is still as batshit crazy as he ever was. And Dario Cueto died, only to be replaced by his father, and it's
totally
not weird or anything. Oh, and King Cuerno has the Gauntlet now, while Catrina seemingly took Fenix's soul, and has been revitalized with vibrant life. There's more that I'm missing, I'm sure, but I just haven't seen it all yet. I've still got a few more episodes to watch before I'm all caught up, but I'm happy to be back in the fold. Sure, some of the guys I enjoyed in seasons past are gone, but this new blood may have been the infusion that was needed following the Season 3 stumble. It's good to be watching Lucha Underground again, that much is for certain. I am looking forward to seeing where it's going, and where it all ends up. And hopefully without a break that goes over half of the year. That's not too much to ask, right? https://www.youtube.com/watch?v=k1j8A8GxvCw
Major League Wrestling
This has been the fun little surprise to my wrestling schedule. Major League Wrestling has been around for a while, but has always existed as a primarily East Coast promotion. I had never really seen any of their matches before, though I was absolutely familiar with the names on their roster. When their deal with beIN Sports was announced earlier this year, I decided that I'd give them a look, and see how I felt about it. Well, I freaking
LOVE
MLW. First off, I got Tony Schiavone back on my screen! Are you kidding me?! On top of that, LOW KI is running around beating the tar out of people, reigning as their Heavyweight Champion. The man he took it from, "Swerve" Shane Strickland, is another top level performer that is always entertaining to watch. There's the Stud Stable, with Colonel Rob Parker still leading the way, and Jack Swagger – Jake Hagar here, thank you very much – also brings his amateur wrestling chops to the MLW arena. Two guys that I've taken a shine to are Maxwell J Friedman, and "Filthy" Tom Lawlor. Friedman is pushing a "talent over tenure" mantra, which basically means he doesn't care how long you've been around, he's going to force you out with his supreme talent. The man talks constant trash, but still considers himself above everyone else. Rough around the edges, I've become a fan of the MLW Middleweight Champion, and look forward to watching him get better and better. There's some comparisons to EC3 which I don't totally disagree with, but I can think of worse people with whom to be grouped. With a little more seasoning, I see Friedman emerging as a major player in professional wrestling. Tom Lawlor, on the other hand, is the biggest breath of fresh air I've seen in a while! I was a fan of his when he was in the UFC, as his weigh-ins were usually noteworthy moments. He was also always a solid out in the cage, rarely in a stinker of a fight. He's been serving a suspension, and has used this time off to stay in shape by competing in professional wrestling. His "Bellator vs. UFC" match against Hagar a few weeks back was something I enjoyed immensely, and his performance in the recent
Battle Riot
was incredible. The man has truly got it down, and with his MMA experience, has all the tools needed to become a champion. The only question is whether he sticks around once his suspension is up, or if he heads back to the UFC. Should he stay in MLW, I see a Heavyweight Championship around his waist. If you haven't seen "Filthy" Tom doing his pro wrestling thing yet, I highly recommend tracking him down. https://www.youtube.com/watch?v=ekMBa-3q0bs Plus, you know, we're getting AJ vs. Samoa Joe at SummerSlam. There's just been a lot! So, I hope you all try to find something a little outside of the usual, and maybe check out a promotion that you usually wouldn't. You might find that they've got some great things going on! [post_title] => Expanding Horizons: What's Out There? – MLW, Lucha Underground, More [post_excerpt] => [post_status] => publish [comment_status] => open [ping_status] => closed [post_password] => [post_name] => expanding-horizons-whats-mlw-lucha-underground [to_ping] => [pinged] => [post_modified] => 2018-08-15 16:08:45 [post_modified_gmt] => 2018-08-15 20:08:45 [post_content_filtered] => [post_parent] => 0 [guid] => https://411mania.com/?post_type=face3_wrestling&p=557096 [menu_order] => 0 [post_type] => face3_wrestling [post_mime_type] => [comment_count] => 0 [filter] => raw ) [9] => WP_Post Object ( [ID] => 557031 [post_author] => 4406 [post_date] => 2018-08-15 08:40:08 [post_date_gmt] => 2018-08-15 12:40:08 [post_content] => With the NJPW G1 Climax 28 in the books, we thought it was time for a recap of the best wrestlers and matches! It was an excellent tournament, with the B block being one of the better ones in history. The A Block was definitely weaker, and the constant Firing Squad interference got tiring after a while. That said, this year also had so many top end matches and great performers that it mostly overshadowed anything negative. Here we will run down the top performers, surprises, and matches of this year's tournament as we eagerly await what New Japan has in store next. https://youtu.be/2voO-3ZR6mI
This Year's or Last Year's Tournament?
: Both years were just tremendous, but I would give the edge to last year for being better top to bottom. I thought this year had better top end matches (I had four 5 star matches this year, last year I had 2). That said, when one out of every five matches ended in DQ in both blocks, that brought it down from last year. In any case, both years were next level, and I am now going to suffer from G1 withdrawal.
Top 3 Performers
: Tomohiro Ishii was the standout performer for us, as we had him having a 4 star match with everyone except Yano and Tonga. We also had him having 5 star matches with Ibushi, and Omega which will likely finish in the top 10 matches of the year. His matches with Goto, Naito, and Sanada were all unbelievable as well. The Stone Pitbull needs a belt around his waist, and soon. Kota Ibushi was the next best performer this G1, from his first match with Sabre all the way to his final with Tanahashi, he delivered in spades. He delivered two 5 star matches and a few more just below that, and won in arguably the best G1 block ever. Kenny Omega rounds out our top 3, but it easily could have gone to Tanahashi/Naito/Okada. Kenny gets the edge from us though due to his instant classics with Ishii, Ibushi, and Naito. The best bout machine brought it this tournament, and it will be interesting to see how he finishes the year out.
Biggest Surprise
: I was surprised at Tanahashi winning it all. It seemed most predictions had Okada, Naito, or Ibushi winning it all, but in the end the Ace prevailed. I'll be happy to see Tanahashi it what could be his final Dome main event, and he proved this tournament that he still is at the top of his game when it matters most.
Biggest Disappointment
: Tama Tonga and Bad Luck Fale. The amount of interference just made their matches disappointing as a whole.
Top 5 Matches
: Omega/Ibushi (Night 18), Ibushi/Ishii (Night 10), Okada/Tanahashi (Night 17), Omega/Ishii (Night 14), Tanahashi/Ibushi (Final).
Under The Radar Match
: I thought Ibushi and Sabre Jr. (Night 2) had a great back and forth match that kind of just slipped through the cracks due to all the other great matches taking place, and the fact it happened on the same card of Naito/Omega. Lots of technical wrestling, athleticism, and great drama towards the end!
Best Matches of the Tournament
Night 1
Michael Elgin vs. EVIL ****1/4
Night 2
Kota Ibushi vs. Zack Sabre Jr. ****1/2 Kenny Omega vs. Tetsuya Naito ****3/4
Night 3
Michael Elgin vs. Hangman Page ****
Night 4
Kota Ibushi vs. Juice Robinson **** Tetsuya Naito vs. Tomohiro Ishii ****1/2 Kenny Omega vs. Hirooki Goto ****
Night 5
Michael Elgin vs. Jay White ****1/4 Kazuchika Okada vs. Hangman Page ****1/4
Night 6
Tetsuya Naito vs. Juice Robinson ****1/2 Tomohiro Ishii vs. Hirooki Goto ****1/2
Night 8
Tomohiro Ishii vs. Zack Sabre Jr. ****1/4 Kenny Omega vs. Juice Robinson ****1/4 Kota Ibushi vs. SANADA ****1/2
Night 9
Evil vs. Hangman Page ****
Night 10
Kota Ibushi vs. Tomohiro Ishii ***** Kenny Omega vs. Seiya Sanada ****
Night 11
Kazuchika Okada vs. Michael Elgin ****1/4
Night 12
Kenny Omega vs. Zack Sabre Jr. ****1/4 Kota Ibushi vs. Hirooki Goto ****1/4
Night 13
Kazuchika Okada vs. Minoru Suzuki ****1/4
Night 14
Kenny Omega vs. Tomohiro Ishii ***** Tetsuya Naito vs. Kota Ibushi ****1/2
Night 15
Hiroshi Tanahashi vs. Michael Elgin **** Kazuchika Okada vs. Evil ****1/4
Night 16
Tomohiro Ishii vs. Juice Robinson **** Tetsuya Naito vs. SANADA ****
Night 17
Hiroshi Tanahashi vs. Kazuchika Okada *****
Night 18
Tomohiro Ishii vs. Sanada ****1/2 Zack Sabre Jr. vs. Tetsuya Naito ****1/2 Kenny Omega vs. Kota Ibushi *****
Final
Hiroshi Tanahashi vs. Kota Ibushi ****3/4 Thanks to everyone who checked our reviews throughout the tournament, we really appreciate the support! Let us know your thoughts on this great tournament, and be sure to subscribe for every major review of NJPW, WWE, ROH, Impact, and PWG! [post_title] => [VIDEO] 5 Minute Wrestling Reviews: NJPW G1 Climax 28 Tournament Recap! Top Wrestlers & Matches to Watch [post_excerpt] => [post_status] => publish [comment_status] => open [ping_status] => closed [post_password] => [post_name] => video-5-minute-wrestling-reviews-njpw-g1-climax-28-tournament-recap-top-wrestlers-matches-watch [to_ping] => [pinged] => [post_modified] => 2018-08-15 08:40:08 [post_modified_gmt] => 2018-08-15 12:40:08 [post_content_filtered] => [post_parent] => 0 [guid] => https://411mania.com/?post_type=face3_wrestling&p=557031 [menu_order] => 0 [post_type] => face3_wrestling [post_mime_type] => [comment_count] => 0 [filter] => raw ) ) [post_count] => 10 [current_post] => -1 [in_the_loop] => [post] => WP_Post Object ( [ID] => 558043 [post_author] => 4406 [post_date] => 2018-08-20 10:25:50 [post_date_gmt] => 2018-08-20 14:25:50 [post_content] =>
5 Minute Wrestling Reviews: NXT TakeOver Brooklyn IV
https://youtu.be/mMl7ubsjIUM
Kyle O'Reilly & Roderick Strong vs. Trent Seven & Tyler Bate for NXT tag titles
: Seven gets isolated early with TUE hitting some nice double teams. Bate hits a swing on Strong while KOR is on his back. Bate gets worked over for a while as TUE work great back and forth double team moves. Seven gets a hot tag and runs wild. KOR hits a nice PK and brainbuster for 2. Bate hits a great copa kick but Strong locks the Strong hold on Seven. Bate fights out of KOR's triangle into a powerbomb on Strong. Bate runs wild with great offense including a tope, and a Tyler Driver 97 for 2! KOR rolls into a heel hook on Bate, and Seven teases throwing in the towel but tosses it into the crowd instead. An assisted burning hammer from Moustache Mountain on KOR gets 2! Bate runs into a Strong knee, and the high/low finishes Seven off. The War Raiders attack after the match. ****1/2
EC 3 vs. Velveteen Dream
: EC3 works a wristlock to start and transitions to kicks in the corner. Dream hits a twisting DDT on the metal ramp. Dream works over EC3 and targets the neck. Dream tosses water into EC3's face and they trade hands in the middle of the ring. EC3 plants Dream's head into the mat for a nearfall and hits a cross body that gets reversed for a 2 count. A pair of powerbombs by EC3 gets another 2. A superplex gets EC3 another 2, but Dream hits the Dream Valley Driver for a nearfall of his own. Dream hits a Dream Valley Driver and top rope elbow on the apron to finish it. ***
Adam Cole vs. Ricochet for North American title
: They trade holds early and counter each other. Cole works a hold and then tosses Ricochet against the barricade. Ricochet hits a great rolling dropkick and corkscrew tope. Ricochet goes wild with flips, and gets a nearfall with a 2nd rope corkscrew moonsault. Cole hits a great superkick on a Ricochet moonsault which gets 2. They trade kicks and knees in the middle of the ring before going to a double down. Ricochet hits a reverse rana and an inside out Rana. 630 ends it and gives us a new champ. ****
Shayna Baszler vs. Kairi Sane for NXT womens's title
: Sane gets a couple quick roll ups and hits a Rana to the outside. Baszler targets the knee of Sane and ties her up on the ground. Sane finally gets to her feet and they trade strikes with Sane connecting with a couple rolling neckbreakers. Baszler hits a gutwrench superplex and a running knee for 2. Sane hits a spear and great top rope elbow and then cross body to the outside. Another top rope elbow gets 2. Baszler locks in a choke but Sane counters to a cloverleaf. Sane has a 3rd elbow blocked, and Baszler gets a choke but Sane turns over and gets the pin. ***3/4
Johnny Gargano vs. Tommaso Ciampa in a last man standing match for NXT title
: Gargano attacks before the bell and they brawl outside. Gargano hits a running front dive from the apron and follows by tossing Ciampa into the announce table. Ciampa hits an air raid crash through the announce table for a 7 count. Ciampa works a choke, but Gargano is able to hit a lawn dart through a chair. Ciampa this a trio of Germans and delivers chair shots. 3 Project Ciampas follow but Gargano gets and and hits a superkick. Ciampa reverses the slingshot spear with a DDT and they trade big strikes in the middle of the ring. Ciampa drives Gargano head first into the steps, and exposes the wood in the ring. Gargano involves a crutch and hits a draping DDT on the wooded ring for a 9 count. Ciampa hits a running knee on Gargano through the barricade and buries him with chairs and stuff at ringside for a 9 count. They battle some more and Gargano delivers a superkick through 2 tables. The action spills up the ramp and Ciampa taps out to the Gargano escape, and Gargano handcuffs him to some rigging on the stage. Gargano rains down superkicks but misses a running knee and flies off the stage. Ciampa gets up at 9 as Gargano sells the knee and can't make the count. ****1/2
Overall: 8.75/10
WWE put on another great NXT TakeOver event for Brooklyn IV. The main event between Ciampa and Gargano was another great match in their feud. The opener between Undisputed Era and Mustache Mountain was also tremendous, and they delivered another bout that will talked about in their rivalry. Adam Cole and Ricochet also had the crowd in their hands, and the most talked about spot of the night with the mid air superkick. Big thumbs up from NXT, yet again! Let us know your favorite match of the night, and we would appreciate a thumbs up if you enjoyed the video! Be sure to subscribe for more reviews of WWE, ROH, PWG, Impact and NJPW! Thanks for watching! [post_title] => [VIDEO] 5 Minute Wrestling Reviews: NXT TakeOver Brooklyn IV [post_excerpt] => [post_status] => publish [comment_status] => open [ping_status] => closed [post_password] => [post_name] => video-5-minute-wrestling-reviews-nxt-takeover-brooklyn-iv [to_ping] => [pinged] => [post_modified] => 2018-08-20 10:25:50 [post_modified_gmt] => 2018-08-20 14:25:50 [post_content_filtered] => [post_parent] => 0 [guid] => https://411mania.com/?post_type=face3_wrestling&p=558043 [menu_order] => 0 [post_type] => face3_wrestling [post_mime_type] => [comment_count] => 0 [filter] => raw ) [comment_count] => 0 [current_comment] => -1 [found_posts] => 0 [max_num_pages] => 0 [max_num_comment_pages] => 0 [is_single] => [is_preview] => [is_page] => [is_archive] => 1 [is_date] => [is_year] => [is_month] => [is_day] => [is_time] => [is_author] => [is_category] => [is_tag] => [is_tax] => 1 [is_search] => [is_feed] => [is_comment_feed] => [is_trackback] => [is_home] => [is_404] => [is_embed] => [is_paged] => [is_admin] => [is_attachment] => [is_singular] => [is_robots] => [is_posts_page] => [is_post_type_archive] => [query_vars_hash:WP_Query:private] => 43904c8794143b92043eb0cfcf043674 [query_vars_changed:WP_Query:private] => 1 [thumbnails_cached] => [stopwords:WP_Query:private] => [compat_fields:WP_Query:private] => Array ( [0] => query_vars_hash [1] => query_vars_changed ) [compat_methods:WP_Query:private] => Array ( [0] => init_query_flags [1] => parse_tax_query ) ) -->