411's Countdown to WrestleMania 28: WrestleMania 5
March 10, 2012 | Posted by
INTRO
"Apparently, things went so well for WMIV that they decided to go again. In fact, according to Basil DeVito, Jr., in "WrestleMania: The Official Insider's Story," writes, "It had always been an unspoken rule that WrestleMania would move to a different site each year. In 1989, though, that plan was temporarily shelved. The Trump organization had done such a great job with WrestleMania IV that it was hard to imagine a better host for the event. They wanted us back, and we were willing to consider a return engagement."
This was the second Mania I saw "live," meaning "on pay-per-view or at a closed circuit theater." This time, I actually took a date to the Capitol Music Hall in Wheeling, WV. How did the date end? Well, it's almost 18 years later, and she's still here. To me, that's a successful date.
Rockin' Robin (WWF Women's champion) sings "America the Beautiful" to open the show – What, was Gene Mean busy? Did Koko B. Ware insist on singing "Piledriver" during rehearsals? Seriously, her voice was okay for a locker room contest, but to open the biggest show of the year? Especially when Ray Charles, Aretha Franklin, and Gladys Knight have done the honors already? Not a good start to the show."
– Former 411 writer Ron Gamble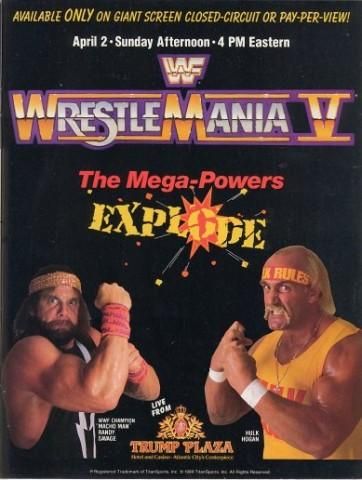 * Hercules defeated King Haku @ 6:26 via pin
* Akeem and The Big Bossman defeated the Rockers @ 8:03 via pin
* Ted Dibiase (w/Virgil) vs. Brutus Beefcake went to a double count out
* The Bushwhackers defeated The Rougeau Brothers @ 5:11 via pin
* Mr. Perfect defeated the Blue Blazer @ 5:59 via pin
* Demolition defeated The Powers of Pain and Mr. Fuji @ 8:45 via pin
* Dino Bravo defeated Ronnie Garvin @ 3:58 via pin
* The Brain Busters defeated Strike Force @ 9:16 via pin
* Jake Roberts defeated Andre The Giant @ 9:38 via DQ
* The Hart Foundation defeated Greg Valentine and The Honky Tonk Man @ 7:40 via pin
* Rick Rude defeated The Ultimate Warrior to become the NEW Intercontinental Champion @ 9:45 via pin
* Bad News Brown vs. Hacksaw Jim Duggan went to a double DQ @ 3:40
* The Red Rooster defeated Bobby Heenan @ 0:32 via pin
* Hulk Hogan defeated the Macho Man © to become the NEW WWF Champion @ 17:54 via pin
Scott Rutherford
BEST MATCH: The Brain Busters vs. Strike Force [***1/2] While you could make a case of Hogan/Savage being a higher star-rater of a match, I think this little tag match was best on night. Why? Well, for starters you had four wrestlers who were various shades of great at this point and secondly they worked an old-school, southern-style NWA tag match that was a stark contrast to the main WWF style at that point. Fast, action packed and had a GREAT twist with Rick Martel walking out on Tito Santana leaving him to the wolves and getting insanely great heat for doing so.

WORST MATCH: The Red Rooster vs. Bobby Heenan [-**] This match should have had the Rooster destroying Heenan for five minutes and getting the pin. Instead it was a 28 second squash of no great note. After months of build up this was the pay-off…weak. I'm guessing this was cut short because of time issues but still…weak.

HIGHLIGHT OF THE SHOW: Rick Rude winning the IC title. NO ONE expected this. The Ultimate Warrior was so white hot at the time and nigh invincible that it was foolish to even consider that he would lose. Cue the Bobby Heenan interference and BAM, you have a new champion. You could tell the crowd was shocked and in my feeble mark mind I though the world was going to implode from the injustice.

MVP OF THE SHOW: Rick Rude. For doing the near impossible and getting a good match out of Warrior. History would show he would be one of the few and his work at this time gave Warrior the credibility to be the next main event guy.

OVERALL SHOW RATING: 6/10 – I could have probably gone a little lower but even with an average card work wise, it still was pretty entertaining up and down. Matches like The Hart Foundation vs. Rhythm & Blues are under-appreciated and besides one or two exceptions nothing is overtly horrible. If you add the Martel heel turn, Warriors surprise loss and Hogan winning back the WWF title you actual have quite the historic card with long lasting impact.
Joel Thomas
BEST MATCH: Randy Savage vs. Hulk Hogan, *****. I have gone on record giving this match the full monty, not because it was a technical masterpiece or an innovative spotfest, but because "The Mega Powers Explode!" was the culmination of an epic storyline between two massive stars and in that sense, it was perfectly executed. Second only to Hogan/Andre in terms of sheer magnitude, Hogan/Savage was arguably the biggest WrestleMania match of all time and easily the best main event up to that point. While most of the credit often goes to the Macho Man, the Hulkster came to work as he busted out some chain-wrestling and did a great job selling Savage's attacks on his arm, his throat, and the cut on his forehead. Of course, it ended predictably with Hogan no-selling the flying elbowdrop and going into his usual routine, but it was the textbook definition of a WrestleMania main event and set a standard for years to come.

WORST MATCH: Andre the Giant vs. Jake Roberts, ½*. Since I don't believe in negative stars, that's as low as I'm willing to go. There were a few stinkers on the card, but this one sticks out the most because of its high profile and I'll be shocked if anybody else selects a different match. Although Jake did the best he could, Andre could barely move and he looked like he was in pain with each step, and the lame angle with Big John Studd wasn't something people wanted to see in 1989. Not surprisingly, all of these factors resulted in one of the worst WrestleMania matches in history.

HIGHLIGHT OF THE SHOW: Rick Martel turning on Tito Santana during Strike Force's match with the Brain Busters. Returning from a serious back injury, Martel inadvertently received a flying forearm from Santana and then chose to walk off and abandon his partner in one of the most shocking WrestleMania moments ever. Up until that point, Strike Force had regained their old mojo and they were putting on a hell of a tag team bout with Tully & Arn in what felt like an old-school NWA showdown, so when Martel headed back to the dressing room and trashed Tito in a post-match interview, it was a big surprise. This, in turn, led to Martel adopting the long-running Model gimmick and a feud with Santana that raged on-and-off for the next few years.

MVP OF THE SHOW: Rick Rude, for dragging a **** match out of the Ultimate Warrior and being the first guy to pin him in the WWF. The Ravishing One bumped his ass off and sold the hell out of his back as he did everything in his power to make the Warrior look like a competent wrestler. The finish was another huge shocker, because even with the outside interference from Bobby Heenan, I don't think anybody expected Rude to go over. Speaking of Heenan, he deserves the title of co-MVP for his under appreciated work throughout the afternoon, as he appeared at ringside in four matches and almost got killed by the Warrior, then went out and put the Red Rooster over like a true professional.

OVERALL SHOW RATING: 8/10 – I may be biased because this show occurred right when I had become a huge wrestling fan, but WrestleMania V had the best overall card of the first five 'Manias hands-down. Aside from crap like Piper's Pit, Run DMC, Andre/Jake, and Hacksaw Duggan vs. Bad News Brown, the lineup was mostly pretty solid with hidden gems such as Rockers vs. Twin Towers, Mr. Perfect vs. Blue Blazer, and Hart Foundation vs. Greg Valentine & Honky Tonk Man bolstering the high-profile match-ups. Hell, even the Rougeaus/Bushwhackers bout provided a good comedy match and didn't wear out their welcome. The only drawback to the show was the subdued crowd in Trump Plaza, many of whom weren't wrestling fans and only reacted to the big names. Nevertheless, WrestleMania V is easily one of my Top Five–possibly Top Three–WrestleManias of all time.
Tony Acero
BEST MATCH: HULK HOGAN VS. "MACHO MAN" RANDY SAVAGE: [***1/2] The rest of the card was shit, but this match was one of the best built matches of all time, and that's not an exaggeration. Yeah, you can book Cena and Rock one year ahead of time, but THIS is storytelling, and THIS is something that gets fans riled up, completely. Looking back on the show, no one will remember any of the matches except this one. Credit has to go to both men, especially Hogan, because it showed that Hogan was more than an untouchable main eventer. Of course, the superman return was inevitable, but considering Savage was the heel, it wasn't exactly the worst decision. All in all, the match was strong and really felt important (because it was). The emotions were high and the fans were just crazy. A moment that is a rarity nowadays.

WORST MATCH: RED ROOSTER VS. BOBBY HEENAN: [No Rating] Do I really need to explain why this is the worst match? Heenan fighting a Rooster. I know it was all for fun, and Heenan was so hated at the time that seeing him fight anyone would have been a highlight, but it – like the event – didn't age well.

HIGHLIGHT OF THE SHOW: Jesse Ventura just actin outrageous! I especially loved when he went off on Hogan for joining Hollywood. Classic! Haha.

MVP OF THE SHOW: Bobby Heenan From coming out to damned near half of the card, to having his own match on the card, the man was just everywhere. He had more to do during some matches than others, but he was a prominent figure throughout the show and – as per usual – added the importance to the match and the proved that the role of a manager can be utilized perfectly.

OVERALL SHOW RATING: 4.0 – The card for this match felt about 20 hours long, and with 14 matches on the card, there's really no way around that, I suppose. With only one match (aside from the main event) breaking the two star range, the PPV could easily be considered a throwaway event, with the exception of one match. That one match is really the only reason why anyone would be excited to see this, anyway, so I suppose it did it's job. That one match? Why, the ever exciting and well put together Mega Powers Exploding! Hogan and Savage had this match built for months, something damned near unseen nowadays, and I would have to say that in all honesty, the match didn't disappoint. I was about 2 and a half when this aired live, and didn't catch it again until I was 13 and got one hell of a coup in a VHS collection of Mania's up until that point. I recall this card being boring till the main event. 12 years later and I feel the same way, this was a one match PPV.
-Come back tomorrow as we breakdown WrestleMania 6!
TWITTER
Your heart is free. Have the courage to follow it…TO CSONKA'S TWITTER!
http://www.twitter.com/411wrestling
http://www.twitter.com/411moviestv
http://www.twitter.com/411music
http://www.twitter.com/411games
http://www.twitter.com/411mma