411's WWE Smackdown Report 10.04.13
October 18, 2013 | Posted by
What's up, everybody? Michael Benjamin here after a grueling work week. Being your own boss has its ups and downs. Like procrastinating until you have to put in a hundred hour work week.
If you noticed the lack of Main Event report on Wednesday, I'm sorry. I typed it all up, took it out of word, and uploaded it to the site. Turns out the article didn't post and this guy didn't save it to Word. No fear though, I started a second viewing to get er done… and then my computer froze up after the six man. Twas a nightmare.
To sum it up in short, Ziggler and Ambrose wrestled their best match to date. It was a knockdown drag out war from the second the bell rang and Ziggler delivered a running dropkick. The rest of the show was pretty good second level programming. Fandango/Khali could have been scrapped though. Four match Main Events just don't work out and the three other matches could have used a bit more time.
On with the show, right?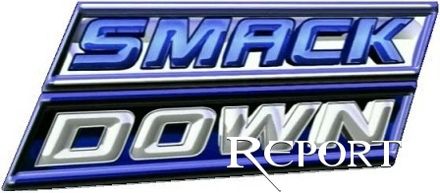 Championship Roll Call:
WWE Champion: VACANT
World Champion: Alberto Del Rio
US Champion: Dean Ambrose
IC Champion: Curtis Axel
Diva's Champion: AJ Lee
WWE World Tag Team Champions: Cody Rhodes and Goldust.
---
WWE Smackdown Report 10.18.13
– Brad Maddox and Vickie Guerrero are in the ring to start the show. She does the normal heel GM shtick about running a tight ship and whatnot. Maddox is there to ensure that Big Show won't bother any of the fans. Vickie wants to express her sincere gratitude to Triple H and Stephanie McMahon for trusting them to do what's best for business. Maddox tries wrapping it up three minutes in. Cue Daniel Bryan.
– Daniel Bryan is very happy that they're here to hold up the banner for doing what's best for business. He pimps Hell in a Cell. D-Bry is here to help though. There's rumors that a 7 foot tall giant made it past security and got in the building. He introduces Show and Show's theme hits. Wait, he;s not! D-Bry got em good! You know who is here though? Our new tag team champions, Cody Rhodes and Goldust. They make their entrance and get a great reaction. They don't really do much of anything before Vickie books D-Bry and friends against The Shield in six man tag action tonight. That's cool with me.
-Commercial Break-
Harper and Rowan (w/ Bray Wyatt) vs. The Miz and Kofi Kingston
Miz and Rowan start things off.Miz comes out of the gate with punch and run style offense. That doesn't last long before Rowan takes over. Miz tags in Kofi and Rowan tags in Harper. Kofi gets in control for a second. He jumps off the top rope and eats a big boot to the face. Yeesh. That's a good way to get to the heat segment. Quick tags from the heels with bowling shoe ugly offense in their corner. Kofi fights back with an enziguri but Rowan yanks Miz off the apron. Harper goes for a big boot and Kofi ducks it. He turns around to charge at Rowan but gets wrecked by Rowan's awesome clothesline. That's all Abigail wrote.
This match was fine. It was just there to get The Wyatt's a win over two men with a little name value. Unfortunately, the outcome was never in question and the match lacked drama as a result.
OFFICIAL RESULT: The Wyatt Family @ 4:37 via pinfall
RATING: *3/4
-Commercial Break-
Brie Bella (w/ Nikki) vs. AJ Lee (w/ Tamina)
Man, the divas division is fucking dire right now. AJ heels it up and avoids Brie. She hides behind Tamina on the outside. Brie manages to punch AJ and send her into the ring for a beating. Hair pulling and what not. AJ chokes her up on the middle rope and goes to work on Brie's arm.They go back and forth with some actual crisp looking offense and solid moves. Nothing too special though. Tamina and Nikki both created some distraction throughout, which played into the finish when Tamina's tactics got outdone by Nikki's. AJ turned around after the distraction and walked into a Facebuster. Brie defeated AJ!
Hey, not so bad! Brie seems to be getting better and the outside shenanigans were well executed. It's weird to see Brie wrestling all these matches, let alone defeating AJ. I'm surprisingly okay with it though.
OFFICIAL RESULT: Brie Bella @ 3:42 via pinfall
RATING: *
-Commercial Break-
– Big Show made it in! He was in the audience. What was he supposed to do? He has an autographed ticket from Daniel Bryan! He thanks the fans for their support and says that it means the world to him and his family.He says that he wants his job back before Maddox and Vickie interrupt. Maddox tells him to get out of his building. Big Show knocks him out. A man who's lost everything has nothing to lose. Big Show gets a yes chant going. He makes his way back through the audience. I'm really liking where this Big Show angle is going.
CM Punk vs. Big E Langston
This rare Smackdown appearance for Punker. Punk comes out of the gate with jabs but Langston powers him down with a shoulder block. They exchange Irish whip reversals, Punk leap frogs him and delivers an Irish whip. Langston charges at him but lands on the mat. Punk goes for a crossbody to the outside but Big E catches him and slams him on the apron!
-Commercial Break-
Big E works over Punk's lower back with a half crab for awhile. He maintains control for quite a while until he misses his body splash. He charges at Punk in the corner but goes shoulder first into the ring post. This sends Langston to the outside and Punk hits his crossbody this time! Punk hits a running high knee in the inside and delivers the big elbow drop from the top rope for TWO. Punk signals for the GTS! He lifts up Langston but Langston escapes! He hits his splash on the second try and only gets two. Down comes Big E's straps! Big Ending? NO! Punk escapes! Roundhouse kick! GTS! OVERRR!
This was really good! Within ten seconds, I knew that Big E was going to be a far better opponent for Punk than Ryback. He kept up with him in the speed department and it really helped the flow. The psychology was well worked from start to finish. Great showing for both men..
OFFICIAL RESULT: CM Punk @ 7.09 via pinfall
RATING: ***
– Paul Heyman steps out on to the ramp with Axel and Ryback. He buries Big E and puts Ryback over. Funny, that the first thing I noticed was how much better Big E was in every way shape and form. Axel and Ryback come down to the ring and pummel Punk. This would be a great time for Big E to turn fce and save Punk. Oh shit! Big E unloads on Axel! Holy shit! the crowd loves! Punk and Big E clear house! Big E is on the apron screaming "who's the rookie now?" as Heyman and his guys retreat. Simple and effective. I loved it. I think I'd rather see Punk and Big E vs Axel and Ryback on the card than anything else this feud can put together with the talent involved.
-Commercial Break-
– Josh Matthews interviews Alberto Del Rio in the ring about his match at Hell in a Cell against John Cena. They air a motivational Cena package. ADR responds by cutting down gringos. He thinks Cena is loco. He says that Cena should be working his way up from the bottom. ADR thinks Cena is going soft. The only thing growing on Cena is his ego. ADR beats up that nerdy Gringo, Josh Matthews to send a message to Cena. This was a decent way to keep the feud going but fucking shit, if they want ADR to be legitimately disliked, he has to do a lot more than beat up announcers, ambush people from behind, and belittle the audience. It's way too cookie cutter for a character that could have far more depth if they bothered.
The Real Americans vs. The Usos
Colter is on commentary. Cesaro starts off with.. an Uso. They exchange some opening sequence moves, if you know what I mean. Cesaro tags in Swagger and here comes the mauling! Colter is continuing a Los Matadores feud on commentary. He says that Los Matadores are a result of the government shutdown. Haha. Cesaro is in there with Jey (or Jimmy!) and does the best Big Swing I've ever seen. JBL didn't provide a rotation count on that unfortunately. In comes Swagger with a big boot f. or two. Swagger works Jey over methodically and here comes Los Matadores. Zeb isn't happy. El Torito gores him. Superkick on Swagger from Jimmy. Uso Splash for the win.
Is it still too early to proclaim that I don't like the Matadores gimmick? We went from good tag action to nonsense as soon as their music hit. Anyways, the match was good until the theatrics.
OFFICIAL RESULT The Usos @ 5:21 via pinfall
RATING: *3/4
– Shawn Michaels Raw promo recap.
-Commercial Break-
Daniel Bryan, Cody Rhodes and Goldust vs. The Shield
The heels are in control of Cody and doing their thing picking him apart. Cody finally mounts offense and makes his comeback against Reigns. Rollins comes in and gets a knee to the fce. In comes Daniel Bryan. HOT TAG BRYAN TEARS IT UP! Things break down way too quickly for me to call. If I wasn't doing this live, I'd rewind. It's entertaining as hell though. Reigns is attacking Cody on the outside. Goldust interjects and Reigns gets sent into the steps. Back in the ring, Bryan and Ambrose are having a nice exchange. Bryan goes upstairs but Ambrose meets him up there. SUPAH PLEX! Ambrose crawls for the cover and Cody Rhodes saves him. Rollns gets in there and fights off Cody. Rollins powerbombs Cody onto Goldust, onto the announce table! Daniel Bryan locks Ambrose in the Yes Lock! Rollins interferes! Bryan sends them both to the mat and dives through the ropes at him! YES! YES! YES! He hits the knee and it's over!
OFFICIAL RESULT Daniel Bryan, Cody Rhodes and Goldust @ 8:32 aired via pinfall
RATING: ***1/2
OVERALL: The main event was obviously entertaining. Daniel Bryan could work The Shield in a blindfold match and still hit *** at this point. Big E Langston and CM Punk had a very well worked and competitive match. Big E's face turn was executed simply and effectively. I've been impatiently waiting a face Big E on the main roster since the very first time I saw his act. Big Show's character development of having nothing to lose makes sense and is entertaining to watch. The amount of tag matches all over the show is simply fantastic. It's only natural for wrestlers to join forced and create teams. I wasn't a fan of the two teams at a time mentality of booking the division. All in all, this was a pretty good show. Check it out if you have a couple hours to kill.
Thank you for reading!
411 ON TWITTER~!
Follow me if you scare. Muah ha hahaaaa.
http://www.twitter.com/411wrestling
http://www.twitter.com/411wrestling
http://www.twitter.com/411moviestv
http://www.twitter.com/411music
http://www.twitter.com/411games
http://www.twitter.com/411mma