Tremendous Tirades: WWE Payback 2014
June 1, 2014 | Posted by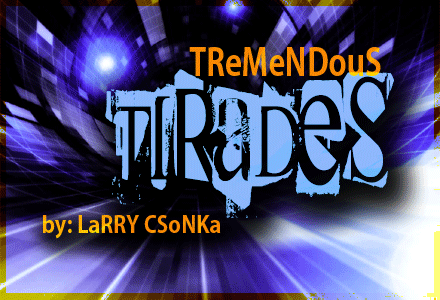 Introduction
As a reminder, this will not be another traditional recap, but instead it will be a mash up of the Rs, Instant Analysis and my usual Twitter ramblings I would do during the shows; completely uncensored and as the ideas flow unfiltered to the old keyboard. Remember, this is a review; and I am here to review the show. As always, I encourage discussion and even disagreement, just do so in a respectful manner. I will be doing the review for Raw and most PPVs and iPPVs going forward.
WWE Payback 2014
Live from the place that is close to where CM Punk is, making fans chant for him still and hoping he will show up

US Title Match: Sheamus © defeated Cesaro (11:30): I really like both guys, and this has a ton of potential because they will likely beat the hell out of each other. I also loved that they had this out first, allowing Heyman to confront the fans chanting for CM Punk. Heyman has the skills to slow that down or outright kill it, so it made sense. I love matches with guys like this, they are the workmen of the company. They go in there, they bust their ass and they don't mind getting closer than snug to make their stuff look good, and the other guy understands and does the same. It also doesn't hurt that these two guys have really good chemistry, it just feels natural when they work together. It's not news to anyone, but Paul Heyman was great as usual in his role. Cesaro had things locked up, so he thought after the swing, but Sheamus got a small package for the win. This was a damn fine opening match, the crowd was involved (loving Cesaro) and they just let these guys do their thing. I can see them doing even better down the line with more time, but this was very enjoyable.
Match/Segment Rating: ***½

Ryback and Curtis Axel defeated Cody Rhodes and Goldust (7:30): This was announced, last minute, on the pre-show. Cody played up the fact that the "Brotherhood" was born in this building. Could tonight be the end? They have been teasing it for a while. Goldust worked the majority of the match, finally got the hot tag to Cody who ran wild (but almost got hurt when he slipped on his moonsault). He recovered, but Ryback caught the disaster kick into shell shock for the win. This was a little short, but energetic and entertaining with some good near falls. Post match Cody sold disappointment at the loss, and then told Goldust that he needed a better tag team partner and left.
Match/Segment Rating: **½
Lana strutted her stuff.

Rusev w/Lana defeated Big E (3:40): This was set up when Big E tried, and failed, to make the save for Jim Dugan. He then had better success when he saved Zack Ryder. Flags were then involved, Lana is still sexy; all is right with the world. WHEN HOSSES COLLIDE. Big E has switched to USA themed gear. Big E got Rusev down, and that led to Rusev going to the apron and Big E hitting the spear to the floor. Rusev battled back and scored the win with the accolade. This was basically a TV match, but they kept it short and I was entertained. There was nothing wrong with this at all.
Match/Segment Rating: **
Bo Dallas and Kofi Kingston were scheduled to have a match, but Kane appeared and kicked Kofi's ass with a chokeslam and a tombstone. After Kofi was destroyed, Dallas held Kofi's hand and gave him some words of encouragement. What a guy. And that's what Kofi gets for Tweeting negatively about the Authority.

IC Title Match: Bad News Barrett © defeated Rob Van Dam (9:30): Barrett has been doing well as IC Champion, the match was set up when RVD won the Beat the Clock Challenge. The commentary team was on full fail mode here, worrying about telling their jokes (which were not funny) instead of calling the match. Seriously, the main roster commentary is the dirt worst these days. Barrett retained, I actually got worried as they did a good tease on the floor where he missed the bull hammer and hit the post. I liked that, because they made me believe that Barrett was losing. I bought into it. Barrett looked really good tonight, working hard and just putting things together well. RVD took out some of the offense he does that has looked dirt slow as of late, which helped the flow of the match. Barrett retains clean, and now we just need to get him into an actual feud with someone. He won the tournament, and then they did the beat the clock challenge, which felt lazy to me. Barrett needs to get involved into a real feud that fans can sink their teeth into.
Match/Segment Rating: ***

The Decision (Will Daniel Bryan Take His Talents And The WWE Title To South Beach?): Stephanie McMahon came out to call out Bryan and Brie to make their decision. Bryan gave Stephanie a chance to make the right decision, the crowd tried to chant CM Punk and Stephanie said that the fans want Bryan to quit like Punk did, nice recovery. Stephanie had brought up the fact that Bryan and Brie should think about setting an example for the children they may have, and Bryan said she should be setting an example for her children. Brie called her a bitch, which led to the ladies getting catty. Brie says she knows what needs to be done, and quit. She then bitch slapped Stephanie for laughing about it. Stephanie left the ring embarrassed, much to the pleasure of the crowd. YES CHANTS ALL AROUND! Overall a good segment, not great, but it served its purpose. They kept the story going, Bryan keeps the title, Stephanie gets put in her place and of course you leave it open for the repercussions Bryan will have to face. Also, the live crowd loved it, especially when Stephanie got bitch slapped. No real problems here, although I am not a huge fan of the big promo segments on PPV.
Match/Segment Rating: 7.0

Last Man Standing Match: John Cena defeated Bray Wyatt (24:30): Cena vs. Wyatt has been a disappointing feud in my opinion. The matches have not delivered, and the promos went from interesting and thought provoking to following a formula, with comedy and singing as the big go to material. Harper and Rowan were out there, but right at the beginning, the Usos came out to be in Cena's corner. Cena and Wyatt survived each other's finish early, the Usos and Wyatts got involved, and they brawled and hit dive spots, allowing Cena and Wyatt to battle alone. They apparently disappeared into the arena floor, because they were there and then gone. Wyatt brought a chair into the match, which both men used. We also had cameos from the table and steel steps, leading to close counts on both men. At one Point Wyatt rolled out to the floor, and Cena tossed the ring steps from the ring onto Wyatt. That had to suck. Wyatt survived, so Cena dove off the apron and jumped into a Sister Abigail into the barricade. Production missed it because they were in second screen mode, WWE rarely misses big things in production, but that was not good. Wyatt's elbow is cut up from the steps being tossed at him. Harper and Rowan would return to save Bray from a count, and then attack Cena. The Usos also returned, and one tried a dove and had a table thrown into his face. Due to all of these shenanigans, the referee completely misses Bray taking a nap for a minute or so. Tables involved again, including Harper superplexing an Uso from the ring, through the tables on the floor. JEEEEEEEEEEEEEEEESUS! Bray hit the hoss Cross body on Cena, sending both through the barricade. This led to crowd brawling and then into a tech area, and Wyatt being AA's into a production crate. Cena laid another one on him and stood on it, and that was all. It was wild, chaotic, creative, had a ton of moving parts; and it all worked and worked big time. They finally had the great match they were looking for, which I knew they had in them, but just never clicked earlier, mainly due to the booking. I had been very down on their previous matches, and the way that the feud had turned, but this was tremendous. Much credit to both guys, as well as Harper, Rowan and the Usos for their parts in the match. Their involvement was mainly to neutralize each other, and they did that well. It also continues their feud for the tag titles. I will admit that I am concerned with the booking going forward. Where does Bray go from here? Commentary harped on "Cena always winning the big matches," which is all well and good. But at the same time, you're also telling us that the other guy just lost the big match. I hope that they have a plan laid out for Wyatt heading out of this, but as for the match, great stuff here.
Match/Segment Rating: ****½

Diva's Title Match: Paige © vs. Alicia Fox (6:30): Unfortunately women's wrestling in only important in NXT in regards to the WWE Universe. They once again place the women's match in the death spot on the card, between two big time matches, where it will get next to no time or a real chance to succeed. They easily could have put the Bo Dallas/Kofi Kingston/Kane segment here and given the ladies a better chance early in the card. Instead they continue to poorly book these and refuse to give them a chance to succeed. Paige won clean in a match that was basically fine, but that no one cared about. One day WWE will actually figure out that they need a complete overhaul of how they present women's wrestling on the main roster, and then realize that the template is in their own developmental system.
Match/Segment Rating: *½

No Hold Barred Elimination Match: The Shield defeated Evolution (31:00): This is the follow up to last month's awesome match and the continuation of the Shield vs. Evolution feud. Batista did not get the memo, wearing blue instead of black and white like the Hs and Randall. Come on Dave check your email. Ok, first thing I did not like here was that they were doing tags. It's no holds barred, these guys hate each other, get in there and kick ass. There are no rules here; no count, you don't need to tag. Interesting note, they did the big Reigns vs. Triple H stand off, and circled forever waiting for a big reaction. It never came. Early on it felt like a regular tag match, and was flat compared to last month's effort. It then broke down into everyone brawling around the ring and into the crowd. This is why I hate that they started tagging to begin the match, it simply made no sense. Triple H skulled Rollins as he took flight with a flat screen in the tech area, which made a fantastic sound. Evolution ran wild and after laying out Rollins and Ambrose, they returned to the ring to attack Reigns. They ripped his shirt off and then laid him over the ring steps in the ring and then beat him with kendo sticks and chairs. Rollins did a big dive off of the entrance, wiping out Evolution and laying everyone out. Batista was eliminated first as Rollins escaped the powerbomb, Reigns hit a spear and Rollins made the cover. Ambrose eliminated Orton with his bulldog driver into a chair about a minute later. Batista speared Reigns before leaving, and then Orton gave Triple H the sledgehammer. He laid out Ambrose, but Rollins hit the flying knee and Reigns speared Triple H for the win. The Shield gets the clean sweep victory, which as far as the booking goes, there can be no complaints there. They won last month in a great match; then they took some bruises along the way to this show, and then take out Evolution in shutout fashion. Evolution got to look dominant early to retain their mystique as a group, but their over confidence cost them and the right team won. It was a very good main event, but not as good as last month's match in my opinion. Last month's had a better flow and was tighter; this had a little drag factor. Maybe cut a little off and it's a better match. Still, any complaints about this match were minimal and didn't hurt it all that much.
Match/Segment Rating: ****
End scene.
Thanks for reading.

The Tirade


I have to say that I am not a huge fan of adding matches late, never have been and never will be. The WWE has six hours of TV each week (seven if you include Superstars) to build, effectively book and set up PPV matches. There is no reason that we need to be adding matches five minutes before the show goes on the air. I don't care if the general idea of "PPV" is going away, that doesn't excuse laziness when booking to a major event. It is just something that continues to bother me, carrying on…

The first hour was strong with the good opener between Cesaro and Sheamus, followed by the tag team match where Cody and Goldust seemingly broke up. Big E and Rusev was perfectly fine and entertaining, and the show was off to a fine start. Hour two saw Kofi get killed by Kane for Tweeting about the Authority, not great or anything, but it allowed Bo Dallas to console Kofi. He's a gentleman. Bad News Barrett defeated RVD to retain the IC Title, in what was the second best match on the show at the time. Barrett continues to do well. The segment with Bryan, Brie and Stephanie I felt delivered well in regards to keeping the story going as well as seeing Stephanie put in her place for once. Cena vs. Wyatt took the rest of hour two, and was awesome. The third hour had part of Cena vs. Wyatt, and then the women's match, which was again set up to fail. It is so disappointing to see, but it's the truth. Most of the third hour was the main event, which delivered and set the Shield as the dominant force on WWE right now.

While not a fan of Monday's go home Raw, I felt that the PPV really delivered. Following the great NXT Payback show, the main roster put on a great show as well. Sheamus and Barrett are doing well as the secondary champions and had good matches, Cesaro is great as well and I look forward to more matches with Sheamus. Those guys have great chemistry. The Bryan angle was good and worked, especially with Brie getting to slap Stephanie. Cena and Wyatt had the great match I thought they could have, Wyatt's in ring stock is good and he can obviously talk. They just need to be careful where they go with him from here. Overall this was a very good show, that I really enjoyed. In my opinion, this was the best WWE PPV this year.

What you need to see: Cena vs. Wyatt, Shield vs. Evolution

Show Rating: 8.5

As a reminder, I will be going by the 411 scale…

0 – 0.9: Torture
1 – 1.9: Extremely Horrendous
2 – 2.9: Very Bad
3 – 3.9: Bad
4 – 4.9: Poor
5 – 5.9: Not So Good
6 – 6.9: Average
7 – 7.9: Good
8 – 8.9:Very Good
9 – 9.9: Amazing
10: Virtually Perfect

As a reminder, this is not a basic "how good was the show" number like a TV show, as I have always felt that a PPV is very different from a regular show. I have always judged PPV on how they built to a match, the match quality, crowd reactions to matches and angles, the overall booking, how the PPV leads into the future, PPV price and so on and so forth. I have added this in here for an explanation since so many have asked, and I have previously discussed it on podcasts. I understand that this may seem different, but that is how I grade. Obviously your criteria may be different.
Have you checked out the Csonka Podcasting Network? If you haven't, you should We run anywhere from 15-20 shows a month, discussing pro wrestling, the world of MMA, the NBA, general sports, popular TV series of the past, bad movies, battle rap, interviews, MMA & Wrestling conference calls and more! Around 10 different personalities take part in the various shows, which all have a different feel; so you'll likely find something you like. All of the broadcasts are free, so go ahead and give a show a try and share the link with your friends on the Twitter Machine and other social media outlets! Running since May of 2011, there are currently over 500 shows in the archive for you to listen to.

Larry Csonka is a Pisces and enjoys rolling at jiu jitsu class with Hotty McBrownbelt, cooking, long walks on the beach, Slingo and the occasional trip to Jack in the Box. He is married to a soulless ginger and has two beautiful daughters who are thankfully not soulless gingers; and is legally allowed to marry people in 35 states. He has been a wrestling fan since 1982 and has been writing for 411 since May 24th, 2004; contributing over 3,000 columns, TV reports and video reviews to the site.

Your heart is free. Have the courage to follow it…TO CSONKA'S TWITTER!

http://www.twitter.com/411wrestling
http://www.twitter.com/411moviestv
http://www.twitter.com/411music
http://www.twitter.com/411games
http://www.twitter.com/411mma