Csonka's WWE Raw Review 04.16.18
April 16, 2018 | Posted by
Csonka's WWE Raw Review 04.16.18
Csonka's WWE Raw Review 04.16.18
OFFICIAL RESULTS
– US Title Match: Jeff Hardy defeated Champion Jinder Mahal @ 11:25 via pin [**½]
– Bayley vs. Sasha Banks went to a no contest @ 8:57 [**½]
– The Authors of Pain defeated Slater & Rhyno @ 2:58 via pin [NR]
– For a Raw Tag Title Shot at The Greatest Royal Rumble: Matt Hardy & Bray Wyatt defeated The Revival @ 5:25 via pin [**]
– Ember Moon defeated Mickie James @ 4:38 via pin [**]
– Natalya defeated Mandy Rose @ 2:45 via submission [NR]
– The Fashion Police defeated The Bar @ 3:57 via pin [**]
– Finn Balor, Seth Rollins, Lashley, Braun Strowman, &, Bobby Roode defeated Miz, Kevin Owens, Sami Zayn, Curtin Axel, & Bo Dallas @ 22:10 via pin [***]
---
– Follow all of my reviews at this link.
Kurt Angle Talks: Kurt Angle hypes the superstar shakeup, and promises Big thing sand big surprises. US Champion Jinder Mahal, presumably w/Sunil Singh, is the first man to Raw. Mahal praises Angle for his pick, but then runs him down for no having a limo for him. Angle says he never agreed on a limo. Mahal says he's better than anyone on Raw, and wants the same perks as Lesnar. Angle tells him to email him his demands, and gives Singh a fake email. Angle then sets up Mahal vs. Jeff Hardy.
Champion Jinder Mahal vs. Jeff Hardy: Mahal attacks right away, and lays the boots to Jeff. Jeff makes a comeback, and hits a dropkick and Mahal is sent to the floor. The apron clothesline follows. Post break, and Mahal has Jeff grounded. Mahal maintains control, laying in knee drops, and choking out Jeff. Jeff battles back, stunning Mahal off of the ropes and heads up top, but gets crotched. Mahal follows him up, but Jeff sends him to the mat and hits whisper in the wind. Jeff takes out Singh, and runs wild on Mahal, covering for 2. Mahal counters the twist of fate and hits a knee strike for 2. Jeff counters out of the Khallas and gets a cradle for 2. Mahal catches him with a big boot for 2. The gut buster follows, but Jeff counters out, hits twist of fate and the swanton to win the title. Jeff Hardy defeated Champion Jinder Mahal @ 11:25 via pin [**½] Well that's an upgrade to be sure, I assume that Hardy now moves to Smackdown. This was a perfectly solid match with the crowd into the Hardy title win. This was an overall good start to the show, including the promo, giving us a title change and making things feel important right off the bat. It's also smart to move Jeff to Smackdown to presumably separate him from Matt if he's not going to be brother Nero.
– Mahal is pissed off backstage, and runs down Angle for embarrassing him. he will rematch Hardy at the Greatest Royal Rumble. No Way Jose comes dancing through. Renee dances away with him.
Bayley vs. Sasha Banks: they talk trash and banks attacks. Bayley slips off the ropes and that allows Banks to maintain control. She follows with slaps and Bayley cuts of the lucha arm drag and dumps Banks to the floor. Bayley hits a RANA to the floor. Post break, and Banks has things grounded. Bayley escapes and hits a backdrop. The stunner in the ropes follows, and the inverted tornado DDT connects for 2. Banks dumps Bayley and then hits meteora on the apron. Back in and Banks up top, and hits meteora for 2. Banks talks trash now, and then slaps her. Bayley fires up and they go crazy fists. Knee strike by Banks and then the charging knees gets 2, Banks locks in the banks statement and the Riott Squad attacks. Bayley vs. Sasha Banks went to a no contest @ 8:57 [**½] This was another solid match, but it had some rough parts. We also still have no resolution to his feud.
– Post match, the Riott Squad beats both down. With the Riott Squad to Raw, Absolution likely moves to Smackdown.
The Authors of Pain vs. Slater & Rhyno: The AOP won last week and immediately dumped Ellering. Slater & Rhyno attack and actually take control. Akem cuts off Slater and Rezar tags in. The AOP double team Slater, but Rhyno gets the tag and gets to run wild. The AOP cut him off and toss Slater. The last chapter finishes Rhyno. The Authors of Pain defeated Slater & Rhyno @ 2:58 via pin [NR] An extended squash for the Authors of Pain, with Rhyno and Slater getting in too much for my liking.
MIZ TV WITH ???: Miz has promised to interview a Smackdown star making the jump to Raw. His guests are Sami Zayn & Kevin Owens. Well that seemingly makes no sense since they weren't employed, but they are trying to play up the free agent card to cover it. So unemployed is now free agency. Miz puts over He, the Miztourage, Sami& Kevin as bigger than the Avengers and nWo. Angle arrives and says Miz has no control and that Kevin & Sami lost last week to earn a spot on Raw. Kevin says an email went out and plans changed. Sami reveals that the email says that the Sami & Kevin match proved that they belonged on Raw. The email was from Stephanie and she awarded them contracts. Miz mocks Angle and Angle says he is surprised that she couple write a letter wither arm being ripped off. Angle then reveals that Miz has been moved to Smackdown at the request of Daniel Bryan. Miz says he and the Miztoturage will make Smackdown must see TV, but Angle says that Axel & Dallas are staying. Angle books Balor, Rollins, Lashley, Strowman, and a Smackdown star debuting vs. Miz, Kevin, Sami, Axel, & Dallas. This was an overall a solid segment, I love Miz moving to Smackdown to finally pay of the feud with Bryan. Miz's reaction to he news was great as well. Kevin & Sami were glorious assholes here as well.
– Bray & Matt are here.
Matt Hardy & Bray Wyatt vs. The Revival: Matt and Dawson to begin. Dash quickly blind tags in and matt works him over right away. Wyatt tags in and lays the boots to Dash, Dawson makes the save and Wyatt spider walks. Matt tags back in and double-teams follows on Dash. They take out Dawson, clear the ring and clap. The Revival then cut off Matt and take control. More double teams follow, and Dawson covers for 2. Matt fights back with a side effect and tags in Wyatt. He runs wild on the Revival, hits the uranage, and then sister Abigail and a double team twist of fate finishes it. Matt Hardy & Bray Wyatt defeated The Revival @ 5:25 via pin [**] This was ok, but never really felt locked in or as if they really got going.
– We get a wacky commercial for the change to co-branded PPVs.
– The Bar walks and runs into the Fashion Police. They give the Bar fashion citations.
– We get a recap of Rousey ripping off Stephanie's arm last week. Natalya is moving to Raw.
– Nia Jax joins the commentary team.
Ember Moon vs. Mickie James: Moon pinned James in a tag match last week to set this up. I love the idea of Moon working James in her first main roster singles match; it's a smart call. They work some back and forth; James catches Moon with a big right, but Moon fires back with a dropkick. James now grounds the action, as we see Bliss commenting on not appearing on commentary, calling Jax a bully. Bliss announces that she's getting her rematch at Backlash. James keeps things grounded, and hits a back elbow for 2. The neck breaker follows and v covers for 2. Moon hits a head scissors, and superkick. Moon avoids a kick and hits a suplex. The corner attack follows, Moon up top and Mickie sells the eclipse like death. That's that. Ember Moon defeated Mickie James @ 4:38 via pin [**] This was only ok, but more importantly, Moon won again and is off to a good start on the main roster. Mickie's sell of the Eclipse was really great though.
Consider @MickieJames ECLIPSED by the SHENOM @WWEEmberMoon on #RAW! pic.twitter.com/3COvmuJP2V

— WWE (@WWE) April 17, 2018
– Sami & Kevin talk strategy backstage, and Miz arrives and asks about how Shane will treat him. Miz then says that they need to make his Raw finale must see TV.
– Dolph Ziggler is now on Raw. Ziggler talks about stealing the show and being the best ever. Titus and Apollo arrive with Dana. Titus tries to recruit him. Ziggler says he didn't come alone and Drew McIntyre debuts laying out Titus Worldwide. I'm happy that McIntyre's getting the main roster call up, but not excited that he's attached to Ziggler, because they'll likely work a Shawn/Diesel dynamic so that Ziggler can continue to cosplay Shawn. Hopefully it's better than I expect it will be.
Roman Reigns Talks: Man bun Reigns is here, and gets his usual warm reaction from his loving fans. He reminds us that he's here and Brock isn't. Things will be different when he fights Brock in a steel cage. He will become the full time universal champion. Samoa Joe arrives, and again runs Reigns down for not getting the job done, and that he never will. Joe says Reigns doesn't know his place and gets beaten over and over again, and won't learn his lesson until he's put down for good. He'll be waiting to put the big dog to sleep at Backlash. Joe then runs footage of Brock killing Reigns at WrestleMania and on Raw. Reigns calls Joe a fat ass and challenges him to come to the ring, but Joe backs off because he gets him at Backlash. So the plan to get Reigns over is to have Joe eviscerate Reigns on the mic? Gotcha. Anyway, Joe was again awesome here.
– According to WWE's Instagram, the Ascension has moved to Raw. That should setup Sanity to Smackdown.
Natalya vs. Mandy Rose: Deville is at ringside. It's all Natalya early on, until they go to the floor and Rose cuts her off. Back in and Rose lays the boots to her. Rose locks in the abdominal stretch, but Natalya escapes and locks on the sharpshooter. Rose taps. Natalya defeated Mandy Rose @ 2:45 via submission [NR] Welcome to Smackdown absolution!
– Deville attacks post match and Rousey makes the save. Deville stands up to Rousey and quickly gets her ass beat,
– Baron Corbin is coming to Raw.
The Bar vs. The Fashion Police: Fandango steals one of the Bar's coat and Cesaro attacks. Fandango fights him off and Breeze in, only to be laid out by Cesaro. Sheamus continues to beat him down, Cesaro back in and covers for 2. Sheamus back in and the Bar works double teams and Sheamus then grounds Breeze. Breeze hits a desperation jawbreaker, but Sheamus hits a lariat and demolition decapitation gets 2. Fandango takes out Sheamus and Breeze rolls up Cesaro for the win. The Fashion Police defeated The Bar @ 3:57 via pin [**] The match was ok, but it felt silly to have The Bar lose ahead of their tag title shot. But good for the Fashion Police, I really like those guys.
– Elias is refusing to play the small town tonight. He was going to perform for Renee, but she cut him off.
– Zack Ryder has been moved to Raw.
– Brock Lesnar will be on Raw next week.
– Mike Kanellis has been moved to Raw.
Finn Balor, Seth Rollins, Lashley, Braun Strowman, &, Bobby Roode vs. Miz, Kevin Owens, Sami Zayn, Curtin Axel, & Bo Dallas: Rollins and Kevin into begin. Kevin attacks and Rollins cuts him off. He dumps Kevin and follows with a plancha. Post break, and Rollins cuts off Axel with a dropkick and tags in Roode. He works over Axel and then Balor tags in and gets rushed to the heel corner and Kevin tags in as they lay the boots to him. Miz now tags in and works over Balor, covering for 2. The neck breaker follows for 2. Sami tags in and they continue the heat on Balor. Balor battles back, and Lashley now gets the tag, running wild. He hits the delayed suplex on Sami, and press slams Miz to the floor onto his goofs. Post break, and the heels are working over Rollins. Kevin takes control, hitting the running senton and tagging in Miz. Miz plants him with a DDT, covering for 2. Miz follows with IT kicks, but Rollins rolls him up for 2. Rollins looks for a tag, but the heels pull the faces to the floor. Rollins hits an enziguri and Braun takes out Kevin & Sami. Roode gets the hot tag; he runs wild and heads up top, hitting the clothesline on Axel. Axel fights off the DDT, but Roode hits the blockbuster for 2 as Dallas makes the save. Miz tags in and Roode rolls him up for 2. Braun finally gets the tag and it's killing time! He chases Miz and starts destroying people on the floor. Back in and he chokeslams Miz. Get these hands! Braun misses a charge and posts himself. Balor is back and takes out the Miztourage; Rollins helps and hits a suicide dive. It breaks down into the big move buffet, Miz hits dropkicks onto Braun. Braun then cuts him off with a dropkick. Alex & Dallas short arm Miz and bail on him. Braun then powerslams Miz and picks up the win. Finn Balor, Seth Rollins, Lashley, Braun Strowman, &, Bobby Roode defeated Miz, Kevin Owens, Sami Zayn, Curtin Axel, & Bo Dallas @ 22:10 via pin [***] This was an overall good main event, they got a lot of time to work and it provided a nice exit for the Miz as he heads of to Smackdown.
TO RAW:
* Jinder Mahal w/Sunil Singh
* The Riott Squad
* Sami Zayn & Kevin Owens
* The Fashion Police
* Natalya
* Dolph Ziggler
* Drew McIntyre
* The Ascension
* Baron Corbin
* Zack Ryder
* Mike Kanellis
* Bobby Roode
* Chad Gable
* Mojo Rawley
TO SMACKDOWN:
* The Miz
– End scene.
– Thanks for reading.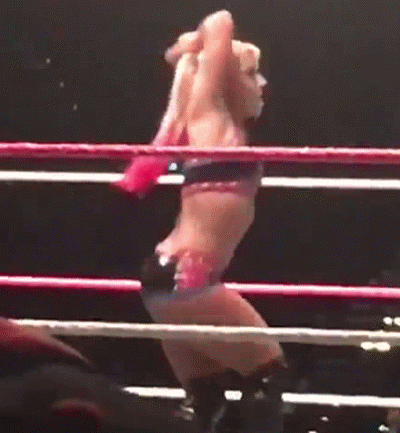 ~GLORIOUS~
6.0
The final score: review Average
The 411
Tonight's episode of WWE Raw was a perfectly solid show, with a lot of interesting moves that while they do help Raw, also help out Smackdown by getting rid of guys that really had nothing to do. I can see Jeff Hardy, Sanity, Absolution, Balor, Slater and Rhyno, and The Good Brothers easily moving to Smackdown tomorrow with the Miz.
legend