411's Instant Access 02.17.13: WWE Elimination Chamber 2013
February 18, 2013 | Posted by
Hey kids, I'm Scott, and this is 411's Instant Access: WWE Elimination Chamber 2013. Instant Access is the companion piece to 411 Live Pay-Per-View Coverage and features immediate reaction to wrestling pay-per-views. The focus in Instant Access is on first thoughts and initial reactions instead of play-by-play with the goal of providing you with instant access to one TWO writers' thoughts on the show. Here's the team for Elimination Chamber:
• Scott Slimmer, author of Don't Think Twice.
• Michael Benjamin, author of 411's WWE Main Event Report and 411's WWE Smackdown Report.
Okay kids, enough with the explanations. Let's get to the wrestling.
Match Result: Brodus Clay defeats Cody Rhodes after a double-team splash.
Match Length: 4:07
Match Analysis:
Slimmer: This was a typical pre-show match, but it was also the story of two teams heading in opposite directions. Rhodes and Sandow appear to be singles stars on the rise, so it's somewhat troubling to see them relegated to a tag team match on the pre-show. On the other side of the ring, the teaming of Clay and Tensai seems to be giving both men more exposure than they have enjoyed in many months. However, while this match was clearly designed to put over Clay and Tensai at the expense of Rhodes and Sandow, I still have to believe that Rhodes and Sandow are the better bets for long-term success. Clay and Tensai are a novelty tag team, and their shtick can only last so long. Rhodes and Sandow are versatile talents with long-term potential, so I wouldn't worry too much about one loss on the pre-show.
Benjamin: This was pretty much extended squash city. As unfortunate as it may be, the WWE usually ruins a wrestler's credibility before rebooting them and giving them a push. I'm sure they have all the intentions in the world of pushing Cody Rhodes and Damien Sandow. It's just a matter of follow through. Is there room for either man to be featured prominently on the Road to WrestleMania? Probably not. On the other hand, Tensai's doing great in his new role. Him and Brodus are a welcome addition to a quickly floundering tag division.
Match Rating:
Slimmer: *¾
Benjamin: *
Average Match Rating: *½
World Heavyweight Championship MatchAlberto Del Rio (Champion) w/ Ricardo Rodriguez vs. The Big Show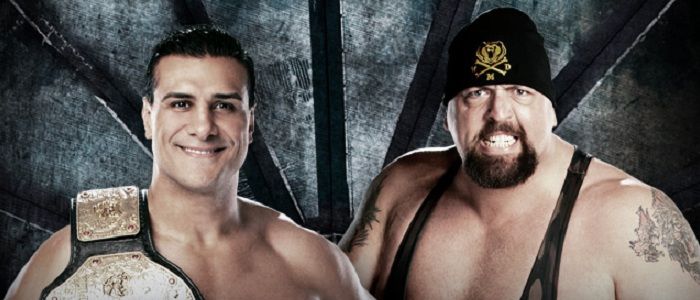 Match Result: Alberto Del Rio defeats the Big Show with the cross arm breaker.
Match Length: 13:00
Match Analysis:
Slimmer: I haven't been the biggest fan of the Del Rio / Big Show feud, but this was definitely my favorite match of the series. Big Show has always been far more athletic than a man his size has any right to be, and he's always been able to best utilize that athleticism against athletic opponents. Del Rio has done a great job of tailoring his in-ring style to match his new face persona, and the combination of Del Rio's new move set with Show's athleticism really paid off in this match. Show has done a great job of putting Del Rio over as a formidable champion, and now Del Rio is ready to move on to his WrestleMania opponent. But I'll have more to say about that situation when we get to the Elimination Chamber match.
Benjamin: These guys are really starting to develop some chemistry in the ring. This was a really good singles match. These two proved that they can deliver without a gimmick. It's pretty amazing that in 2013, Big Show can still deliver the goods so consistently. This match was chugging along fine and dandy until Alberto went to hit an assisted kick into a bucket on Big Show's face. He completely missed the first time and Ricardo just had to hold it there while Alberto got in position to redo the same spot. Big Show looked like a complete idiot because he had to act like he didn't feel Alberto's kick missing the first time. It was a sour ending to an otherwise well wrestled match.
Match Rating:
Slimmer: ***¼
Benjamin: **¾
Average Match Rating: ***
Match Result: Antonio Cesaro defeats the Miz by disqualification.
Match Length: 8:15
Match Analysis:
Slimmer: This wasn't an overly memorable match, but it was a rock-solid, psychologically sound match. This is the kind of match that WWE should be featuring on television and PPV, because this is the kind of match that tells a compelling and effective story without having to rely on gimmicks or convoluted booking. Miz' injured shoulder was the story of the match right from the beginning, and Cesaro's technical skill was showcased in the wide variety of ways he targeted the shoulder. Pick a body part and work it over – that's wrestling psychology 101. The match was all Cesaro until Miz whipped him knee-first into the steel steps, and then Miz began to target Cesaro's knees to set up the Figure Four Leg Lock. It's a tale as old as time – two guys each focusing on a specific body part and positioning themselves for their finisher. I love it. There's still a ton of mileage in Cesaro's anti-American gimmick, so I'm happy to see him pick up the win here. Cesaro and Miz were on the pre-show at the Royal Rumble, and last month I'd said that I'd be happy to see them go at it again for the title on the main card at Elimination Chamber. That's exactly what happened, and at this point I'd be more than happy to see them have one more title match at WrestleMania. Give these guys fifteen minutes, and you might just get a surprise show stealer.
Benjamin: This was a solid outing. It escalated for me when Cesaro busted his knee on the ring steps and the match transformed into a guy with one leg against a guy with one arm. They worked a smart match. It's amazing how much more painful Cesaro's offense seems just because he's executing it on a taped up shoulder. Miz is no slouch in the selling department either. The finish was pretty clever as well (perhaps a little confusing for the live crowd) and it seems like these two are going to drag the feud out a little longer. I'm okay with it.
Match Rating:
Slimmer: **¾
Benjamin: **½
Average Match Rating: **¾
Elimination Chamber Match to become the Number One Contender for the World Heavyweight ChampionshipRandy Orton vs. Chris Jericho vs. Kane vs. Daniel Bryan vs. Jack Swagger vs. Mark Henry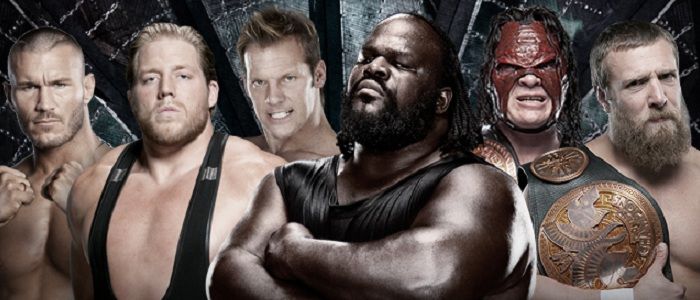 Match Result: Jack Swagger wins the Elimination Chamber match, last eliminating Randy Orton with a schoolboy pin.
Match Length: 31:18
Match Analysis:
Slimmer: Before this match, Steve Cook said that he'd never seen a bad Elimination Chamber match. I reminded him of December to Dismember, but assuming we can all go back to pretending that abomination never existed, then he definitely has a point. It's kind of hard to screw up a an Elimination Chamber match, and as expected, this match was a ton of fun. Having Jericho and Bryan start the match was smart, and we got some great technical wrestling before the carnage began. This was the first time that I can remember all six men ending up active in the match at the same time, and Henry's two eliminations were glorious. When it came down to Jericho, Swagger, and Orton, I was almost certain that Orton was going to pick up the win. Jericho was in the WWE Championship match at WrestleMania last year, Swagger is just returning from a long layoff, and Orton is due for a return to the main event scene. Orton was definitely the safe bet… and the Swagger rolled him up for the win. At first I was shocked, but then I realized exactly what had happened. Swagger just picked up a new ultra-conservative mouthpiece manager in Zeb Colter, and the World Heavyweight Champion just so happens to be Latino. I hate to be a pessimist, but this doesn't look good. There's a very real chance that we're in for seven weeks of Colter's racist anti-immigration rhetoric as the centerpiece of the Del Rio / Swagger feud. Don't get me wrong – there are ways that this storyline could become nuanced and interesting rather than clichéd and tedious. However, anyone who really has faith in WWE's ability to produce a thoughtful politically-driven storyline should remember the cautionary tale of Muhammad Hassan. And so I really don't want to condemn the Del Rio / Swagger / Colter storyline before it even gets off the ground. Like I said, there is a chance that this feud could become a fascinating reflection of the deep-seated fear and animosity in our current political climate. But it could also go wrong in about fourteen different ways. So I'll just say that I'm cautiously pessimistic.
Benjamin: This was an all-around good Elimination Chamber match. Everybody worked their asses off. They started with Jericho and D-Bry and never looked back. Mark Henry coming in last and tearing it up was immensely entertaining. It's the type of destruction every wrestling fan wants to see out of their favorite villain. I was sad to see D-Bry out first but Mark Henry looked like a killing machine by eliminating Hell No right out of the gate. The entire match, I couldn't help but shake the feeling that Jack Swagger felt out of place in there. With Alberto retaining, it wasn't a complete surprise that Swagger got the win here. The story writes itself. A lot of work needs to be done to get Swagger where he needs to be for a World Heavyweight Championship match at WrestleMania though.
Match Rating:
Slimmer: ****
Benjamin: ****¼
Average Match Rating: ****¼
Match Result: Seth Rollins defeats Ryback after a spear from Roman Reigns.
Match Length: 14:51
Match Analysis:
Slimmer: I'm happy to say that I had this match all wrong. I truly expected Cena, Sheamus, and Ryback to dominate from start to finish before getting the win, but that was the farthest thing from what really happened. The announce team touted the Shield's extraordinary teamwork throughout the entire match, and this case it wasn't hyperbole. The Shield worked as a cohesive unit better than any team we've seen in years. JBL's swarm analogy was absolutely perfect. I give a ton of credit to Ambrose, Rollins, and Reigns, because they had to work a very specific style of match. It's easy to get a bit lazy when you're not the legal member of a tag team. It's easy to stand on the ring apron and almost forget that you're still a part of the show. But what we saw tonight was Ambrose, Rollins, and Reigns all working throughout the entire match, regardless of which one of them was the legal man at the time. They provided distractions, they made saves, they took out members of the opposing team, and they wrestled a style that actually made them beating their superstar opponents seem realistic. Ambrose, Rollins, and Reigns are hungry young stars on the rise, and this is the kind of match you can get when you put those kinds of guys in the right situation. It'll be very interesting to see where the Shield goes from here. I would expect them to have a match at WrestleMania, but I hope that it's more than just a rehash of this match with Randy Orton inserted in place of John Cena.
Benjamin: First thought: "Damn, this isn't going to be a chamber." Come on, it was on everybody's mind! It didn't take long before it became clear that The Shield were being positioned to look like actual threats. Reigns, Ambrose and Rollins each proved that they can hang with the big dogs. I jumped out of my seat when they actually pulled out the victory. This is going to give the Road to WrestleMania some unpredictably during a year it desperately needs it.
Match Rating:
Slimmer: ***¾
Benjamin: ***¼
Average Match Rating: ***½
Impromptu Match
Kofi Kingston vs. Dolph Ziggler w/ AJ and Big E Langston
Match Result: Dolph Ziggler defeats Kofi Kingston with the Zig Zag.
Match Length: 3:54
Match Analysis:
Slimmer: I'm usually not the biggest fan of impromptu matches on PPVs, but I'll admit that they can definitely work under the right circumstances. Unfortunately, these were not the right circumstances. Ziggler and Kingston can definitely have a great match if given enough time, but tonight there were barely given as much time as the Divas match. In addition, the match began with Booker T saying that Kingston could do everything that Ziggler could do and more, but it ended with Kingston being made to look like a chump. Ziggler's pre-match promo reminded us all that he wasn't even booked on the show, and having a throwaway match didn't do anything to prove that he should have been. This was a waste of two very talented guys, and it didn't do either one of them any favors. Ziggler and Kingston would have both been better off if this match had never happened, and that's just about the worst thing you can ever say about a wrestling match.
Benjamin: This was just an excuse to get Dolph on the card. Kofi's in the same category as The Rhodes Scholars in that he's just a step above a jobber at this point. I get that not everybody can get pushed at once but I think they should be protecting a name like Kofi Kingston a little bit more than they have. It was awesome to see Big E get some spotlight after the match. The first time I saw his act on NXT, I knew he had the potential to be something special. Fast forward to Elimination Chamber and I'm already starting to hear "one more time" chants after he hits his finisher. As soon as he turns face, the sky is the limit for Big E Langston.
Match Rating:
Slimmer: *¾
Benjamin: *
Average Match Rating: *½
Match Result: Kaitlyn defeats Tamina Snuka with a spear.
Match Length: 3:20
Match Analysis:
Slimmer: This was the first Divas PPV match of the post-Eve Torres era, and it definitely wasn't a complete disaster. It was short and relatively uneventful, but there was nothing sloppy or obviously botched. Kaitlyn was in control almost from start to finish, and that's noteworthy against a Diva as formidable as Tamina. This match continued to build Kaitlyn's credibility as a believable Divas Champion, and that's certainly the most important role it could have played. However, as has been discussed so many times, the real problem now is the complete lack of depth in the Divas division. Even if Kaitlyn is seen as a credible champion, who can challenge her? There's only so many times she can wrestle Tamina, Layla, Alicia, Rosa, and (shudder) Aksana. The Divas division is essentially on life support until a larger, more talented roster can be established.
Benjamin: It was what it was. You've seen this type of match a million times by now. The division is completely directionless. Not that it's had any sort of long term direction ever. I can't imagine what they have in store for the title at WrestleMania. If anything?
Match Rating:
Slimmer: *¼
Benjamin: ¾*
Average Match Rating: *
Match Result:
Match Result: The Rock defeats CM Punk with the Rock Bottom
Match Length: 20:54
Slimmer: The Rock versus John Cena for the WWE Championship at WrestleMania has been rumored for months, and even the staunchest CM Punk marks (myself included) had begun to make our peace with the seeming inevitability of the situation. I expected Punk to give Rock one more compelling match before Punk and the title scene finally parted ways. However, all of that changed when the stipulation that Rock could lose the title by count-out or disqualification was added to the match. We've seen that kind of stipulation added to title matches with heel champions on many occasions, but it's far less common to see that sort of stipulation with a face champion. When that stipulation was added to the match, I truly started to believe that we'd see Punk vs. Rock vs. Cena at WrestleMania, because it I truly believed that it was inevitable that Punk would regain the title at Elimination Chamber. Punk and Heyman have been built as very intelligent, very cerebral, and very devious heels. Given how far we've seen them go in the past to protect the title, we had every reason to believe that they would use the stipulation to make sure that Punk walked out of the match as WWE Champion. It would have been so easy. Heyman could have grabbed a steel chair, climbed into the ring, and hit Punk. Boom, the Rock gets disqualified, and Punk is the champion. Brad Maddox or the Shield or Brock Lesnar could have served the same purpose. Punk could have dropped himself groin-first onto the Rock's boot and accomplished the same thing. Given the way that Punk and Heyman's characters have developed over the past year, there was absolutely no reason for this match to last more than ten seconds. And when Punk and Heyman did screw the Rock out of the title, Rock would have had a perfect case for getting himself inserted into the Punk / Cena title match at WrestleMania. From a kayfabe point of view, there is simply no reason that Punk should have tried to win a wrestling match against the Rock tonight. I know I'm probably over-thinking this whole situation. I get that. But there's a very specific logic in the world of professional wrestling, and tonight Punk and Heyman completely defied that logic. Of course, my real issue is with WWE and the way this match was booked, not with the characters of CM Punk and Paul Heyman. If this was the match that WWE wanted to have, then why the heck was the stipulation added at all? This would have been a fine match without the stipulation, but the addition of the stipulation meant that the match seemed to make no sense. Sometimes when WWE makes bad decisions, I can at least understand what they were thinking. In this case, I truly don't know why they felt the need to add a stipulation that made the entire match seem pointless. Anyway, it'll be Rock versus Cena at WrestleMania, and I'm sure Rock and Cena will both find a way to top their promos from last year's build to Mania. The more interesting question is where Punk goes from here. It's been a LOOONG time since he's been away from the title scene, and we can only hope he doesn't get lost in the shuffle along the way.
Benjamin: CM Punk losing his shit over being announced as "challenger" to start the match was pretty funny. These guys put on a similar to match to the one they wrestled at the Royal Rumble. Note that they went with a super enforced announce table this time. I was admittedly cringing when they were both standing on there again. Where does CM Punk go from here though? Does he stay in the title picture? It was a wonky finish, sure. I'm not sure if that's going to be enough to thrust him into a triple threat at Mania though.
Match Rating:
Slimmer: ***½
Benjamin: ***¼
Average Match Rating: ***½
Final Thoughts
Match of the Night:
Slimmer: The Elimination Chamber Match (****)
Elimination Chamber matches almost always deliver, and this match was no exception. There was technical wrestling, there was brutality, there was MARK F'N HENRY, and there was a surprise winner that set up a rather intriguing Road to WrestleMania.
Benjamin: The Elimination Chamber Match (****¼)
This match rocked. It had all of the fun spots and hard hitting action we've come to expect. I'm not sure how I feel about Swagger getting the win but we'll see how they move forward with it.
Trash of the Night:
Slimmer: NONE
The Divas Championship match was certainly the weakest match on the card, but I just can't bring myself to call it trash. It was short an uneventful, but it wasn't sloppy or botched. There were also a few questionable booking decisions on the show (coughheelpsychologycough), but none of the matches had enough wrong with them for me to call them trash.
Benjamin: Kaitlyn vs. Tamina Snuka (¾*)
Another month, another divas match. Nothing to see here.
Final Analysis:
Slimmer: This show was the final PPV before WrestleMania, and it definitely accomplished its goal of setting up the biggest show of the year. None of the matches were terribly memorable, but almost all of them were entertaining in one way or another. We now know the two title matches for WrestleMania, and we now know that WWE is still firmly behind the Shield. I'm very much on the fence about whether or not this show was actually work $44.99, but I'm not sure it wasn't, so I suppose that's something.
Benjamin: This was a fun show. The wrestling was solid from top to bottom. The most interesting development has to be The Shield's victory. They just picked up a HUGE L against three of the biggest players in the company. During the most important time of the wrestling year nonetheless. What will these guys be up to on the grandest stage of them all? I can't say that either of the title matches currently slated for Mania are lighting my world on fire but I'll reserve judgment. Let's see how we get from Point A to Point B.
Verdict:
Slimmer: **½
Benjamin: ***¼
Average Match Rating: ***