Csonka's WWE Raw Review 9.03.18
September 3, 2018 | Posted by
Csonka's WWE Raw Review 9.03.18
Csonka's WWE Raw Review 09.03.18
OFFICIAL RESULTS
– The Bellas defeated Liv Morgan & Sarah Logan @ 11:05 via pin [*]
– Bobby Roode & Chad Gable defeated The Ascension @ 5:00 via pin [**]
– Alexa Bliss defeated Natalya @ 3:15 via submission [*½]
– Raw Tag Team Title Match: Dolph Ziggler & Drew McIntyre defeated Champions The B Team @ 10:10 via pin [**¼]
– The Authors of Pain defeated Jimmy & Johnny Boots & Tights @ 0:30 via pin [NR]
– Sasha Banks & Bayley defeated Dana Brooke & Ember Moon @ 5:50 via pin [*½]
– Braun Strowman defeated Finn Balor @ 10:35 via pin [**½]
---
– Follow all of my reviews at this link.
– I did a column, "Where Are They Now, The Cruiserweight Classic Finals Performers" which you can check out at this link.
– You can check out my top 51 matches of AUGUST list at this link.
– Coach is away so we get Renee Young replacing him again (I'll accept all small blessings at this point).
BRAAAAAAAAAAAAAAAAAUN: Braun, Dolph, & Drew all make their way out to the ring. Braun shows us some footage of he and his new pals kicking the shit out of Roman & The Shield last week. Braun says that was justice, he tried to do things monster to man, face to face, and all Reigns had to do was take his beating. But Roman runs with his brothers, and without them, the title would have been Braun's. So due to that, Braun had to take a different path and he doesn't care if we don't like it. Braun has a crew of his own and will prove that this is HIS yard. At HIAC, he will dismantle Roman, break him, and take the universal tile. Drew says that the Shield had their time, and they are now the new kings of the jungle and they will feed on the Shield. Dolph says they will be more dominant than any other faction in WWE history, especially over the Shield. The Shield started this and they will end this. The Shield arrives and Constable Fuck Face arrives to send out the lambs to be slaughtered by the Shield. The Shield surrounds the ring and more arrive to get their aces kicked. The Shield hits the ring and we have the big brawl until more goofs try to separate them. It fails as the brawl continues to the floor and the crowd wants them to keep fighting. This was a good opening segment and brawl to play off of last week's angle.
– In the back, Constable Fuck Face has the Shield arrested and taken away.
The ENTIRE Shield is being ARRESTED?!

It is an absolutely CHAOTIC scene backstage at #RAW! pic.twitter.com/QqwFV0VrK7

— WWE (@WWE) September 4, 2018
The Bellas vs. Liv Morgan & Sarah Logan: Nikki & Liv start us off and Liv then tags out to Logan as Nikki attack. They lock up and Logan lays in strikes. Nikki battles back, takes Logan down and grounds things, working the arm and covering for 2. Logan fights off the TKO and she grounds the action. Nikki escapes and Nikki hits a sloppy divorce court for 2. Brie tags in and double teams follow as Brie covers for 2. Brie now works the arm, but Logan fights out and tags in Liv, who lays in kicks and covers for 2. Liv talks smack, Brie fires up, but Liv slams her down by the hair. Logan back in and continues to control, laying in rights until Brie hits a dropkick and yes kicks. Liv in and Brie dropkicks her. She follows with running knee strikes until Ruby distracts her and Logan attacks. Post break, and Logan has Brie grounded. Brie tries to fights back, but Logan cuts off the tag until Brie hits a missile dropkick. Morgan tags in and then so does Nikki. She runs wild, hitting dropkicks and knee strikes. Logan in to make the save until Nikki dumps her. Brie is back and almost dies on a suicide dive. Nikki hits the rack attack 2.0 and pins Liv. The Bellas defeated Liv Morgan & Sarah Logan @ 11:05 via pin [*] Well that was not good at all, actually it was bad. The Bellas didn't look good at all and Brie almost died on that horrible looking suicide dive.
– Constable Fuck Face talks with Stephanie on the phone and tells her all is well. Finn Balor arrives and wants a rematch, tonight, against Constable Fuck Face. Constable Fuck Face tries to get out of it, and Balor wants a straight up match to see who the better man is. Constable Fuck Face agrees.
– Bobby Roode & Chad Gable talk and are interviewed about their tag team debut tonight. Gable loves how Roode carries himself and wants in on that. Well, that is random.
Bobby Roode & Chad Gable vs. The Ascension: Gable start things off suplexing the Ascension around with ease. Roode tags in, lays in chops and suplexes Viktor for 2. The Ascension cuts him off and beats Roode down in their corner. Viktor now ground the action, and covers for 2. Konnor tags back in and maintains control, hitting an elbow drop for 2. Roode fights, but quickly gets cut off as Viktor tags back in. Roode fights to the ropes, Gable tags himself in and runs wild with suplexes. The missile dropkick follows and chaos theory finishes it. Bobby Roode & Chad Gable defeated The Ascension @ 5:00 via pin [**] This was ok overall, Roode & Gable may be a fun oddball tag team. It was almost scary how much better Gable looked in there than everyone else, everyone in there simply existed as Gable worked for 4 men. He's so good and so underutilized.
– Elias arrives and sings us a song. He runs down Trish for hitting him last week, and then trashes Columbus & the Buckeyes before supporting the Michigan Wolverines. Hometown girl Alexa Bliss along with Mickie James & Alicia Fox arrive. Alexa defends Columbus as her hometown and says she graduated in this building. She leads the crowd in the "O-H-ioh" chant. She then runs down the crowd as sheep, and says Elias was 100% right. Alexa couldn't wait to leave this dump and losers. Alexa then reminds the crowd how much better she is than them. Alexa then apologizes for mother of the year Trish Stratus for her attack last week. Alexa then says she will take care of Natalya, Rousey, & Trish all in sort order. Alexa asks Elias to play his song because she wants to walk with Alexa. Ronda Rousey interrupts and her best frond Natalya joins her.
Natalya vs. Alexa Bliss: Rousey, James, & Fox are at ringside. They lock up and Natalya grounds the action but Bliss escapes and basically tries to run away. Bliss looks to work the arm until Natalya hits some escapes and takes control back. Bliss escapes, runs to the ropes, and tries to attack but Natalya cuts her off and stomps on her hand. The slam and run over the back and basement dropkick follow for 2. Bliss cuts off Natalya with a huge right, and now lays the boots to her as Fox and James get cheap shots as Rousey is no help. DDT by Bliss and a sloppy arm bar follows and Natalya taps. Alexa Bliss defeated Natalya @ 3:15 via submission [*½] It wasn't a good match, but did a solid job of building to Rousey vs. Bliss II.
– Post match, Rousey runs wild on the heels until Bliss chop blocks her knee but Rousey makes her own save.
– Mike Rome is at the police station, the trio have been fingerprinted and processed. Constable Fuck Face yells at a backstage minion and meets with Braun, Dolph, & Drew. They demand competition for tonight and declare that Raw is his show. Dolph & Drew want a tag title match, but Fuck Face says they can't since the Revival have a title shot tonight. Drew teases something bad happening to the Revival and Braun demands his own competition.
– Charly interviews the Revival about tonight's tag title shot. Dolph & Drew run in and attack, laying them out to the beautiful sounds of falling pipes that are always backstage.
Champions The B Team vs. Dolph Ziggler & Drew McIntyre: Drew takes Dallas to the floor and starts tossing Axel around. Dolph tags in but Dallas takes Drew to the floor and Axel picks up near falls on Dolph. Dallas tags in and clotheslines Dolph to the floor and then Drew. Post break, and Drew has Dallas grounded and covers for 2. He follows with chops, and again grounds the action. Dolph tags in and maintains control. Drew tags back in and lays in rights to Dallas and then chops. He sets Dallas up top, but Dallas fights back and hits a tornado DDT. Dallas follows with a neck breaker and tags in Axel. Dolph in as well and Axel runs wild, hits the rolling neck snap and perfectplex for 2 as Drew makes the save. It breaks down, Drew takes out Dallas and Dolph superkicks Axel. Drew tags in and the claymore/zigzag connects and that is all. Dolph Ziggler & Drew McIntyre defeated Champions The B Team @ 10:10 via pin [**¼] While I hate that the Revival have been derailed again, I do like the tile change as the B Team needed to drop them and it plays into angle with Dolph, Drew, & Bran looking to take over the show. The match was longer and way more competitive than it needed to be, but the change is good.
– Drake Maverick (in AOP gear) walks to the ring with the Authors.
UP NEXT: WHY is #205Live General Manager @WWEMaverick with #AOP's @Akam_WWE & @Rezar_WWE?! #RAW pic.twitter.com/3dBoLNftiQ

— WWE (@WWE) September 4, 2018
– Maverick introduces himself and says that he is now the manager of the AOP and will make them tag team champions.
The Authors of Pain w/ Drake Maverick vs. Jimmy & Johnny Boots & Tights: The AOP run wild, hit the super collider and then the double powerbombs for the win. The Authors of Pain defeated Jimmy & Johnny Boots & Tights @ 0:30 via pin [NR] I loved this, a great little squash and AOP needed a mouthpiece. Plus, Maverick is awesome, and being so small, makes AOP look even bigger.
– They hype Undertaker vs. Triple H match at Super Show-Down.
LAST. TIME. EVER. The #Undertaker vs. @TripleH.

Who ya got? #WWESSD #RAW pic.twitter.com/LzEErAPFpB

— WWE (@WWE) September 4, 2018
– Shield update…
#ShieldArrest update – just now, informed that #TheShield appeared in front of a judge and have been formally arraigned. Officially charged with inciting a riot, criminal damage and disorderly conduct. Will continue to report as info is available #RAW

— Mike Rome (Austin R) (@MikeRomeWWE) September 4, 2018
Shawn Michaels Talks: Michaels arrives and is happy to accept the praise of the crowd. He promotes his new shirt and WWE Network. His talk turns to Super Show-Down, hypes Triple H vs. Taker for the final time. He's decided to be there live to see the match. As for all of the predictions for the match, he's surprise to see so many pick Taker, especially since the streak is gone and dead. He agrees with Steve Austin that Triple H will win. Sure he and Triple Hare best friends, and have been for a long time. Taker needs to understand that Triple H is still the game, the cerebral assassin, and has more in the tank than Taker. DONG… DONG… DONG! Taker arrives an takes the mic. Taker says that this just became personal. In the 20-years Michaels & Triple H were friends, he took their best and took them both down and took Michaels' soul and their egos can't accept it. You chose Triple h because I took what was most important to you, your career. Michaels says it's not about that, he's a man of his word, and he had to restore faith in the system and be committed to the words he spoke. Everyone can go back on their word, but he refused to do that and stayed true to his retirement. He is a man of honor & integrity, out of respect to the system, the fans, and even to Taker. We now get the one more match chants, and Michaels says he hears that all the time, and refuses to do so. Michaels says every WrestleMania, guys beg for a match with him, and he turns it down, turns down millions of dollars, so yeah, it's about respect. Taker asks if it's respect… or fear. "Because if you ever came out of retirement, you only would have come for me, and I would put you down all over again. You know it, I know it, and they know it. In Melbourne, I'll put your buddy down again." I really liked that, I thought the delivery was very good and loved how they played off of their past. I just hope that this doesn't lead to Michaels coming back for a match against Taker. But maybe that Saudi money is too good to turn down.
– Balor prepares backstage and Constable Fuck Face arrives to tell Balor that he's facing Braun Strowman tonight.
Sasha Banks & Bayley vs. Dana Brooke & Ember Moon: Titus & Apollo are at ringside. Dana and Bayley to begin. Bayley takes control and tags in Banks. They work double teams and Dana powders to the floor. Post break, and Bayley has Moon grounded. Moon battles back but Bayley cuts off the tag. Moon lays in kicks and hits the springboard high cross onto both. Dana tags in and Banks cuts her off with kicks and then misses the corner knees. Dana hits the enziguri and then gets distracted by Titus & Apollo yelling instructions and cradled by Banks for the win. Sasha Banks & Bayley defeated Dana Brooke & Ember Moon @ 5:50 via pin [*½] It was shot, there wasn't much to it, and what was there wasn't very good at all. Worst of all, Banks, Bayley, & Moon were a backdrop for a Titus Worldwide breakup.
– Dana seemingly leaves Titus Worldwide post match.
– Lashley met with Constable Fuck Face and was given a performance review, and has been ordered to a meditation session with Jinder Mahal
– Lita vs. Mickie James is official for WWE Evolution.
BREAKING: @WWE Hall of Famer @AmyDumas will return to the ring at #WWEEvolution to square off against former rival and 6-TIME #WomensChampion @MickieJames! https://t.co/h5pBEWGfb7

— WWE (@WWE) September 4, 2018
Jinder Mahal Meditates With Lashley: Mahal welcomes Lashley, and says he feels inner anger and violence and can help him. They all have a seat and grab a scarf as Lashley says. "My Maaaaaaaaaaaaan" to Mahal. Lashley quickly gets annoyed with Jinder and Kevin Owens arrives and attacks Lashley. Mahal joins in and Owens lays out Lashley with a superkick. Owens then apron bombs Lashley to stand tall. So you're telling me that Owens didn't really quit last week? I for one am shocked that they put absolutely no effort into the angle and has him return the next week. Well I guess that's a new feud.
– Triple H & Mick Foley will be on Raw next week. Also, we get Rousey & Natalya vs. Bliss & Fox.
– The Shield reportedly made bail on a holiday after 10PM ET. #SaudiMoney
Braun Strowman vs. Finn Balor: Dolph & Drew are out at ringside. Balor attacks with kicks, but Strowman quickly cuts him off and roars at him. Strowman then fights off a sleeper and delivers a head butt. He follows with clubbing strikes, and then hits a side slam. Strowman follows with a running boot, but Balor fights for a sleeper but gets slammed down. Strowman charges, gets dumped and Balor hits a double stomp from the apron. Post break, and Strowman has things grounded. He follows with head butts and tosses Balor to the floor. Strowman follows and runs into sling blade. Balor back in and attacks Strowman on the way back in, but Strowman cuts him off with a corner splash. Balor fights back with a dropkick, gets the sleeper, but Strowman escapes again and then misses a charge and posts himself. Balor fires up and wipes out the heels with a tope. Strowman tosses him back in and Balor hits an enziguri and heads up top but Strowman is up. Balor back to the sleeper, and then transitions to what is supposed to be a triangle, but it's not. Strowman powers out and hits the powerslam for the win. Braun Strowman defeated Finn Balor @ 10:35 via pin [**½] This was a solid main event, with the goal of making Strowman look like beast and Balor being tortured by Corbin. The closing segment was good stuff as the heels united and stood tall over the fallen Shield.
– Post match, the heels beat down Balor as sirens sound and the Shield arrives in the police van, which I assume they stole. Owens, Mahal, the ascension arrive and more arrive to attack The Shield. Strowman lays out Reigns with the steps and Rollins is tossed off the stage into the police van. Strowman hits Reigns again with the steps as the van door is slammed into Rollins' face. Drew lays out Ambrose with the claymore as Ziggler superkicks Rollins, and Rollins' arm is busted open and bleeding. Strowman powerslams Reigns on the floor. Strowman, McIntyre, & Ziggler stand tall in the ring.
– End scene.
– Thanks for reading.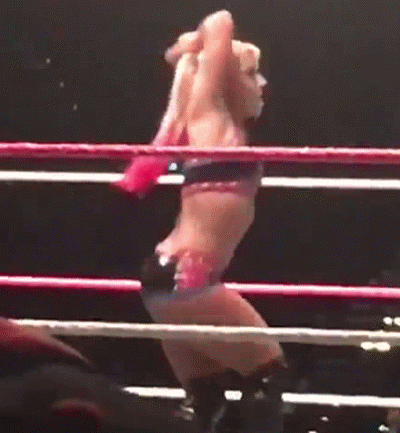 ~GLORIOUS~
5.7
The final score: review Not So Good
The 411
This week's Raw wasn't a bad show, as I enjoyed the opening segment, the tag title change, the Maverick/AOP pairing, the HBK/Taker segment and the establishment of the heel group to close the show. But outside of that, this week's show was more of the same, with largely poor wrestling, and just a lot of stuff happening that doesn't feel important and is only happening to fill the three-plus hour block of TV. It's far from horrible, but the bland and boring far outweighs the good stuff.
legend