Csonka's Top 51 Matches of August 2018: NJPW, WWE, ROH, EVOLVE, & More
September 3, 2018 | Posted by
WELCOME back, back to the column that makes lists and hopes that you enjoy them. This week's column will look back and the month of August 2018 and the top 51 matches I have watched for the month. I always hear a lot of people saying that they can't decide what to watch because they do not have enough time to follow everything, so maybe this will help those of you short on time find some stuff to check out. Have fun, and always, thanks for reading. Also, if you saw matches from companies I do not regularly catch; feel free to share them with the others. The more wrestling we share, the more fun we can have. Thanks for reading! As always, consider this my playlist of great matches, recommendations for the month. It's wrestling, we love it and will disagree. The only rules are "have a take, be respectful, and don't be a dick." FYI: I have started omitting results after requests from readers.
Note: Due to some horrible issues with being sick and not being able to sleep, I spent a lot of late nights catching up on a ton of recommendations, leading to a larger than usual list. August kicked ass.
* 51. From Rev Pro Live At The Cockpit 31: Aussie Open vs. Hunter Brothers [****]
* 50. From RevPro Live in Southampton 4: Chris Ridgeway vs. Kurtis Chapman [****]
* 49. From EVOLVE 108: Chris Dickinson & Jaka w/Stokely Hathaway vs. Tracy Williams & TK Cooper [****]
* 48. From Joey Janela's Lost in New York: KTB vs. Marco Stunt [****]
* 47. From AJPW Summer Explosion (8.18.18): Violent Giants vs. Kento Miyahara & Yoshitatsu [****]
* 46. From Stardom x Stardom (8.12.18): Momo Watanabe vs. Saki Kashima [****]
* 45. From wXw Shortcut to the Top: The 30-Man Shortcut to the Top Match[****]
* 44. From Dragon Gate: Gate of Adventure 8.07.18: KZY, Genji Horiguchi, Punch Tominaga vs. Willie Mack, Don Fuji, & Ryo Saito [****]
* 43. From Impact Wrestling 8.23.18: Sami Callihan vs. Pentagon [****]
* 42. From Lucha Underground 8.22.18: Pentagon vs. Cage [****]
* 41. From WWE Summerslam 2018: The Miz vs. Daniel Bryan [****]
* 40. From WWE Summerslam 2018: AJ Styles vs. Samoa Joe [****]
* 39. From Rev Pro Summer Sizzler 2018: Chris Brookes & Jonathan Gresham vs. Aussie Open [****]
* 38. From WWE Smackdown 8.07.18: The Bar vs. The New Day [****]
* 37. From MLW: Fusion 8.24.18: Pentagon & Fenix vs. ACH & Rich Swann [****]
* 36. From WWE Raw 8.27.18: Seth Rollins vs. Kevin Owens [****]
* 35. From WWE Raw 8.20.18: Roman Reigns vs. Finn Balor [****]
* 34. From ROH Re-United London 2018: Punishment Martinez vs. Jimmy Havoc [****]
* 33. From ROH Re-United London 2018: The Young Bucks vs. Jonny Storm and Jody Fleisch [****]
* 32. From ROH Re-United Doncaster 2018: The Young Bucks vs. Jay Lethal & Jonathan Gresham [****]
* 31. From ROH Re-United Doncaster 2018: Mark Haskins vs. Adam Page [****]
* 30. From EVOLVE 111: Joey Janela vs. Austin Theory vs. AR Fox vs. Darby Allin [****]
* 29. From EVOLVE 109: Tracy Williams vs. Chris Dickinson [****]
* 28. From EVOLVE 111: WALTER vs. Anthony Henry [****]
* 27. From EVOLVE 110: WALTER vs. JD Drake [****]
* 26. From EVOLVE 109: Matt Riddle vs. Austin Theory [****]
* 25. From NXT Takeover Brooklyn IV: Shayna Baszler vs. Kairi Sane [****]
* 24. From Night Sixteen. B Block Match: Tomohiro Ishii vs. Juice Robinson [****]
* 23. From NJPW G1 Climax 28 Night Fifteen, A Block Match: Kazuchika Okada vs. EVIL [****]
* 22. From NJPW G1 Climax 28 Night Fifteen, A Block Match: Hiroshi Tanahashi vs. Michael Elgin [****]
* 21. From NXT Takeover Brooklyn IV: Adam Cole vs. Ricochet [****]
* 20. From NJPW G1 Climax 28 Night Twelve, B Block Match: Kota Ibushi vs. Hirooki Goto [****]
* 19. From NJPW G1 Climax 28 Night Thirteen, B Block Match: Kazuchika Okada vs. Minoru Suzuki [****]
* 18. From NJPW G1 Climax 28 Night Twelve, B Block Match: Kenny Omega vs. Zack Sabre Jr [****]
* 17. From Rev Pro Summer Sizzler 2018: WALTER vs. Tomohiro Ishii [****]
16. From ROH Re-United London 2018: Jay Lethal vs. Mark Haskins [****¼]: This was an absolutely great match, and in my opinion, the match of the tour. It was structured differently than most Lethal matches, and thrived due to that. It felt fresh and different, and Haskins came off like a legit threat. The closing stretch was awesome, with great near falls, an invested crowd, and the feeling that Haskins actually had a real chance to win this, which is a great accomplishment. I said it before; Haskins would be a great get for ROH, even on a part-time basis, as he more than proved himself this weekend.
Reverse rana by @IAmDJZ! #EVOLVE111 #ClubWWN

➡️ #WWNLive.com pic.twitter.com/dlQSjPl0j4

— TDE Wrestling (@totaldivaseps) August 12, 2018
15. From EVOLVE 111: Shane Strickland vs. DJZ [****¼]: We're three in a row on great matches as DJZ delivers a banger against Strickland. The story early on was the champion taking his challenger way too lightly. DJZ go to control and not only looked good, but they made it believable that Strickland could lose in his first title defense. They worked a spectacular closing stretch, and Strickland has this awesome second gear he slips into when he's pissed/frustrated, where he just becomes extremely violent and that is what allowed him to overcome the game challenger. I wish DJZ got the chances to shine in Impact that he gets in places like EVOLVE & AAW, because he's really great.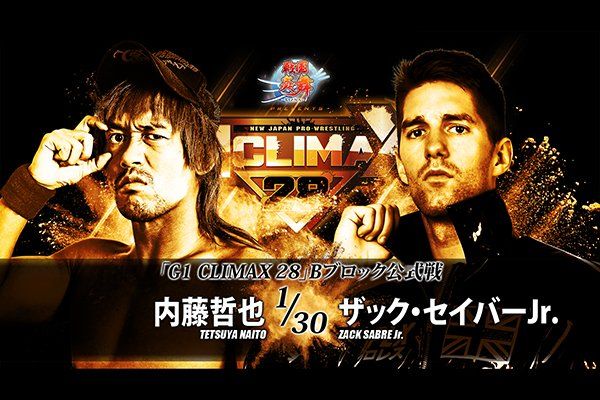 14. From NJPW G1 Climax 28 Night 18, Block B Match: Tetsuya Naito vs. Zack Sabre Jr [****¼]: This was a great match, filled with beautiful counters and great callbacks to their New Japan Cup match. This was not only great, but tremendously fun and they did an excellent job of creating drama throughout and down the stretch, but the ZSJ win came off as a huge surprise, as he ended Naito's G1 hopes. The work was great, clean, and came off as effortless from both. I want more from these two.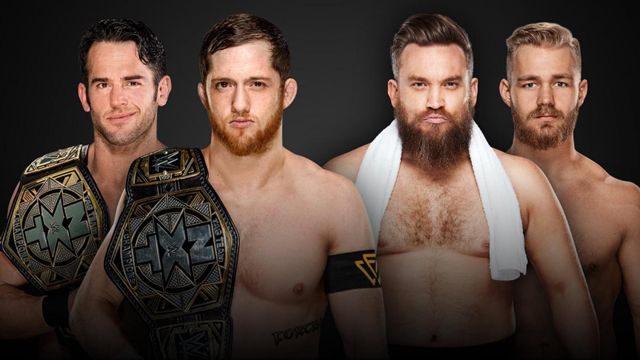 13. From NXT Takeover Brooklyn IV: The Undisputed Era vs. Moustache Mountain [****¼]: The boys did it again, delivering yet another great tag team match with spectacular work and drama, as well as callbacks to their previous matches. I loved that they didn't go for the immediate repeat of working on Seven's knee, and changed it up by working over Bate's knee this time around. These four can do no wrong, and while not quite as great as their last match, it still ruled and was an absolutely great opening match. Undisputed Era are making the case for tag team of the year with consistently great performances. This was a hell of a way to kick off Takeover, with a beautiful mix of old school tag formula and new school work.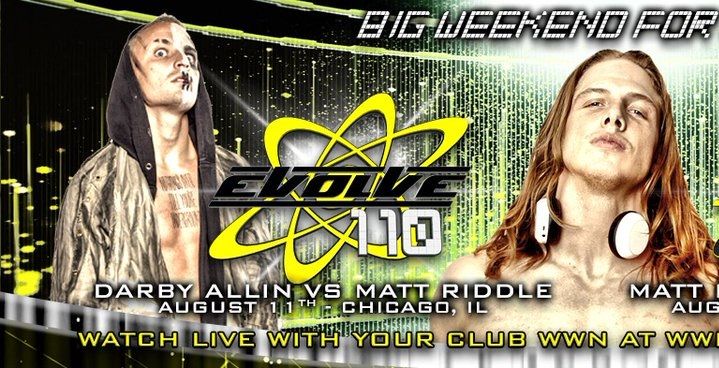 12. From EVOLVE 110: Darby Allin vs. Matt Riddle [****¼]: This is a huge and heartbreaking win for Allin, as this was originally set to be an EVOLVE title match. While not quite up to the level of their excellent efforts last weekend, this was an absolutely great main event, and with the clean and decisive win, as well as Riddle putting him over huge post match, Allin leaves this match as a made man. The work was great, the layout and drama worked, and Riddle dominating (as he should due to his stature in EVOLVE), only for Allin to survive long enough to completely frustrate and piss off Riddle, leading to him making a small mistake, leading to the Allin win was a great story. Allin continues to evolve, continues to improve, and has crowd support; he's a star for EVOLVE.
11. From EVOLVE 111: Matt Riddle vs. JD Drake [****½]: While I would have loved for Drake to take this one, he didn't need to judging by the post match reaction as Riddle left him alone and he got a standing ovation for his effort. This was absolutely awesome, playing off of and even improving on their first meeting with more hard-hitting action, a greater sense of urgency, and some absolutely tremendous drama down the stretch. Drake had been doing well so far in his singles career, and while he went 0-2 on the weekend, he put in two tremendous performances against WALTER & Riddle that showed that he can hang with anyone, and won over the crowds both nights; he's a made man in EVOLVE.
10. From NXT Takeover Brooklyn IV: Tommaso Ciampa vs. Johnny Gargano [****½]: Last man standing matches are tricky things, there are many more bland ones than great, due to the lack of near falls and fans many times showing little interest until the end. But with that being said, these two continue to be magic together and delivered an excellent main event. It had great drama, great heat, great throwbacks, and it even included that moment again where Gargano even teases a moment of forgiveness, but his anger got the best of him and that was his downfall as Ciampa survived due to Gargano's mistake and ultimate desire to end his former friend. While the "weakest" of the three matches to me, it was still excellent, as they delivered once again. I'm just not sure where they go from here since while excellent matches, they've had the same match almost three times.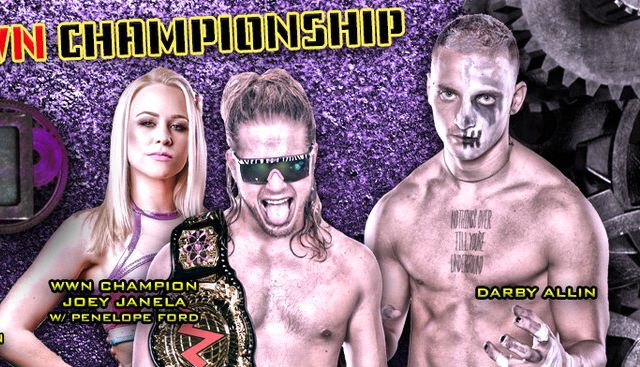 9. From EVOLVE 109: Joey Janela vs. Darby Allin [****½]: This was an absolutely excellent main event, and like I said yesterday, while Allin is an amazing underdog character, he' also blossomed into a great complete wrestler and showed it once again here. Janela has been a complete breath of fresh air to EVOLVE, bringing a superstar vibe and a completely different character to the promotion. This was just a flat out, excellent main event, it felt big time and important, with the crowd fully invested and into Allin's possible title win, trying to rally him throughout and buying into everything. Janela is not only carrying himself like a star but is delivering in the ring for EVOLVE. They have something special with Allin here, and when he finally wins the big one, the EVOLVE faithful are going to lose their shit. The peaks and valleys in terms of drama here were absolutely great. With Allin's loss here and Riddle winning earlier in the show, I see Allin beating Riddle at EVOLVE 110.
8. From EVOLVE 108: Matt Riddle vs. Shane Strickland [****½]: This was an extremely well built feud that came to its end here in a hardcore match in the old ECW arena. Everything they did to get here made sense, Strickland was the hot hand and delivered as soon as he walked in the door, and with Riddle on the way out, putting the title on Strickland made sense. The match was excellent, playing well off of their previous matches, and also playing into the stipulation extremely well without completely overdoing it and making it a garbage match. It took everything he had, but Strickland finally overcame Riddle, and considering what Riddle brought to the company, he deserved to go out like a Superman here tonight, and it was done in a way that they made you think Riddle may retain. Make sure to catch this one, it's one of the best EVOLVE matches of 2018.
7. From WWE 205 Live 8.21.18: Buddy Murphy & Tony Nese vs. Lucha House Party [****½]: I absolutely love professional wrestling, and part of that is due to the wide variety of action and match it can bring. While I have my personal preferences at times I feel when done right that any style can be great and connects with fans. With that being said, THIS RULED THE FUCKING SCHOOL! This was an absolutely balls to the wall, wonderfully chaotic spotfest in the spirit of the old WCW cruiserweight matches that I have absolutely been begging for 205 Live to let loose with. You can't do them all the time, but when done right like this, it's absolutely awesome. This match had it all, fast-paced action, power moves, LUCHA THINGS, and a hot crowd. The guys in the match were losing their shit, the crowd was into it and losing their shit, and I was losing my shit. This was just an absolutely awesome match with all four guys getting to shine, a reminder of how great Metalik can be, and also what 205 Live can be when they fully let loose. GO WATCH THIS NOW!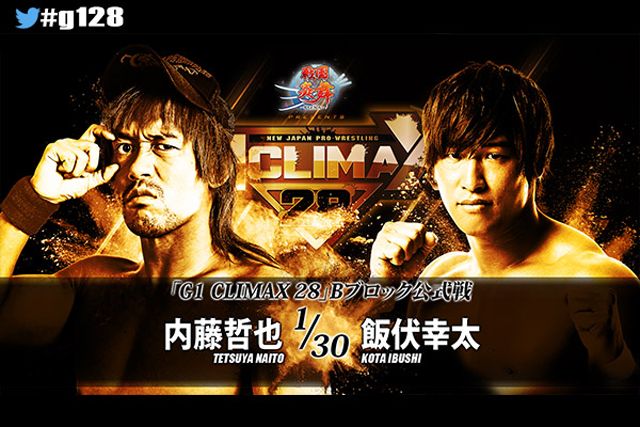 6. From NJPW G1 28 Night 14, B Block Match: Kota Ibushi vs. Tetsuya Naito [****½]: This was a great main event, and they had a lot to follow, but did a really great job. Poor Naito was working so hard to deliver, he almost ended up sharing a hospital room with Hiromu by landing on his head so many times. Anyway, they delivered here, outing together a great match with high stakes, but the Ibushi win allows him to control his own destiny as he holds the tiebreaker over Naito and still has the Omega match to come. It didn't quite have the drama of Ishii vs. Omega overall, but it was still really great and they did a great job of following an absolutely epic match (Ishii vs. Omega) that came before them.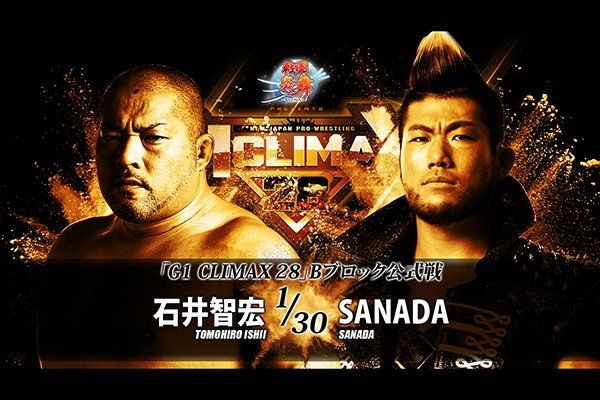 5. From NJPW G1 Climax 28 Night 18, Block B Match: Tomohiro Ishii vs. SANADA [****½]: This was an absolutely awesome match, with Ishii delivering once again. I really like SANADA and think he's an amazing athlete, but at times there is something missing from his matches, but I feel that it really all came together here tonight. This was an absolutely tremendous hard-hitting match, with a great layout that allowed both men to shine and while SANADA's deal is the fact that he's largely emotionless, he showed more here than usual as he tried to overcome Ishii, who just kept coming and fighting through everything he had. The crowd loved this, they worked so well together, with some excellent counter exchanges, and some great drama. SANADA may have lost but this is a match that while he did take the loss, he lost nothing because he looked so great and absolutely delivered the goods. I also loved the battle of a Choshu guy vs. a Muta guy, as they mixed in some of that with classic moves and counters. Make sure to catch this one for sure.
4. From Night Seventeen, A Block Match: Kazuchika Okada vs. Hiroshi Tanahashi [****¾]: This was absolutely excellent, with both men selling the high stakes of the match, playing off of their rich history, and working in some beautiful counters to signatures tuff. I loved not only the callbacks to their previous matches, but the fact that they beautifully teased Tanahashi losing again by costing himself by continually going for high fly flow, which has been his downfall so many times, because he just can't help himself but to go back to what brought him all of his success, but in many ways, it's caused him almost as many failures. They had the crowd the whole time and especially down the stretch. I know some will be too cool for school and say they knew it was a draw all the way, and I think most did, but I thought that this was one of the very best matches of the tournament.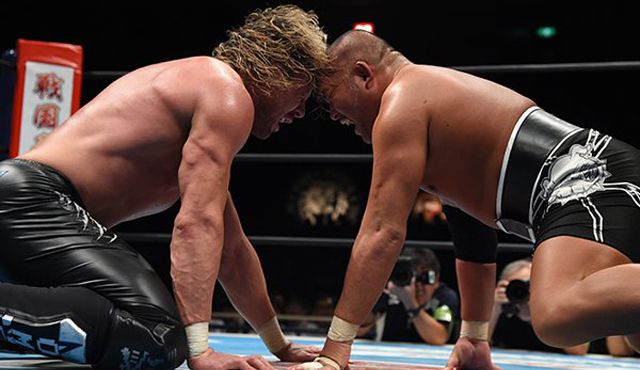 3. From NJPW G1 28 Night 14, B Block Match: Tomohiro Ishii vs. Kenny Omega [****¾]: This was an absolutely insane match and more than lived up to their previous meetings. They had a few rough spots early on, but easily worked past that and worked into just an absolutely awesome hard-hitting match with the action escalating perfectly throughout and the home stretch was insane. The crowd was locked in, biting on all of the big near falls, and both guys proved why they are such great big match performers. The best part is that it sets up a rematch down the line, which I am more than ready for. This was one of the very best matches of the tournament. Had the beginning been cleaner, I easily would have went the full 5.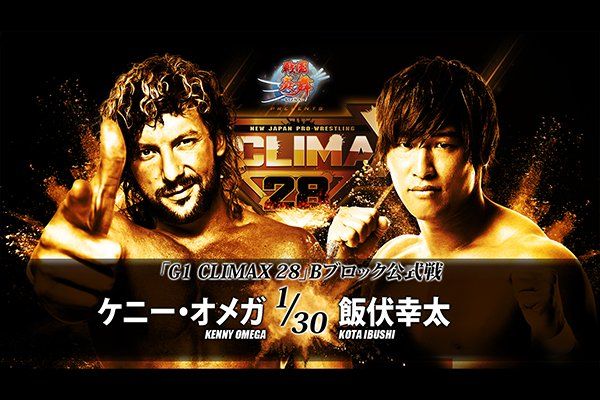 2. From NJPW G1 Climax 28 Night 18, Block B Match: Kenny Omega vs. Kota Ibushi [*****]: This was an absolutely amazing main event match, one that was years in the making, and one many thought we wouldn't get. It's been teased for so long, and when you get a match like this, expectations are high, and sometimes fail to live up to them. Thankfully that wasn't the case here, as they met and maybe even exceeded them. This match had a ton of history and emotion behind it, but they never labored down the match with it, doing long stretches of them contemplating fighting. It was all action, with both men going for broke as they sold their determination and desire to win the G1; Omega to win his second and make a third final in a row, and Ibushi to simply prove himself worthy. They let the work tell the story, to build the drama, and that was magnified by the excellent commentary work of Kelly & Romero, who again, have been absolutely tremendous all tour. It ended up being a blessing in disguise that Callis had to be away as Romero killed it all tour long and really added to things. The work here was excellent, single-minded, and with a complete sense of urgency in terms of both men putting it all out there and showing that winning was their only priority. The action started at a fine base level with Omega initially controlling and then for the next 20-minutes, it gradually grew and became even more intense, and the crowd followed suit. It never felt wrong and they [peaked at the right time. There are several contenders for best match of the tournament, you can make an argument for many.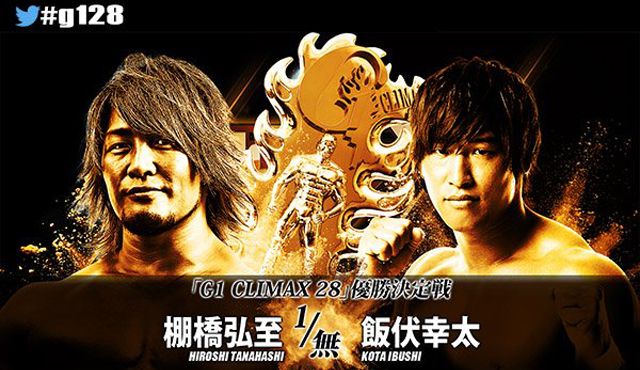 1. From The NJPW G1 Climax 28 Finals: Hiroshi Tanahashi vs. Kota Ibushi [*****]: Just when I think I have seen something great and something special, something new comes along and absolutely blows it away. We all know that Ibushi is a special performer, and when he's on there are few better, but at age 41, Hiroshi Tanahashi, looked at as the beaten down and fading ace comes along and shows us why he is an all time great. Not only is he the man that helped turn NJPW business around and start their amazing rise, but he still delivers in the big time matches, and why many have started to double him, we should all stop until he starts shitting the bed and gives us a reason to believe he's fading and his skills are diminishing. As for the match, this was absolutely unreal and up there not only as the match of the tournament, the match of the year, and possibly the best G1 final ever, but it was quite possibly one of the very best professional wrestling matches I have ever seen. From the pacing, the way they captivated the crowd, Ibushi flipping the switch into violence to answer Tanahshi's challenge, to the amazing babyface fire of Tanahashi, it was simply amazing, and they had me at the edge of my seat for the entire match. The crowd was locked in, the commentary was amazing, and it was a perfect storm and I don't use that term lightly. As for emotional investment, they also had me with that the entire time, as we watched Ibushi trying to prove himself when it mattered as Tanahashi previously challenged him to, to the old gunslinger battling through everything his young, stronger, and faster challenger had to give. But for everything Ibushi had to give, Tanahashi had an answer, survived, dug deep and finally overcame to ride as the ace one more time. In the end, Ibushi's arms were long enough to box with God, just not powerful enough to beat him. This was absolutely phenomenal and is essential viewing if you love wrestling. This was beautiful, this was art, this was professional wrestling at its very best.
– End Scene.
– Thanks for reading.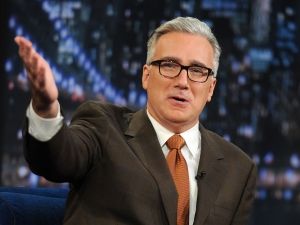 "Byyyyyyyyyyyyyyyyyyyyyye Felicia!"