Tremendous Tirades 8.18.13: WWE Summerslam
August 18, 2013 | Posted by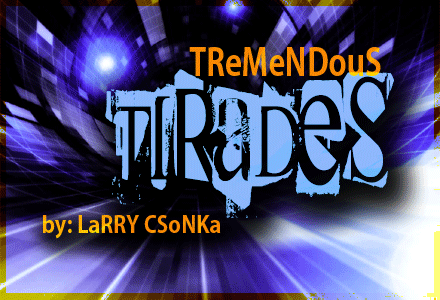 Introduction
As a reminder, this will not be another traditional recap, but instead it will be a mash up of the Rs, Instant Analysis and my usual Twitter ramblings I would do during the shows; completely uncensored and as the ideas flow unfiltered to the old keyboard. Remember, this is a review; and I am here to review the show. As always, I encourage discussion and even disagreement, just do so in a respectful manner. I will be doing the review for Raw and most PPVs and iPPVs going forward.
---
WWE SUMMERSLAM 2013
The Miz welcomed us to the show. Fandango danced with Summer. We got a video package to open the show.

Ring of Fire Match: Kane vs. Bray Wyatt: Booking wise I have a huge issue with this match. It is the first match of the feud, Kane got beat down a few times, and they have already gone to a giant gimmick match. It's like that flawed TNA booking where you start with a cage match or some shit and work back to the final confrontation in the ever-brutal SINGLES MATCH. So that bothers me, even if they use this as a way to write out Kane for his movie, it is just not the best way to go about things because their feud and interactions haven't been that brutal and violent to order a match of this magnitude. But hey, that's just me. Now let me get this straight, the gimmick was designed to keep people from getting involved, and the finish saw the people that were supposed to be kept out of the match, in the match and costing Kane the match. And this is why gimmicks mean next to nothing in 2013. Cage matches set to "keep people out" featuring run in finishes. Ring surrounded by fire to keep people from interfering, and they do anyway. When you constantly make gimmicks mean noting, people lose interest. As for the match, it wasn't good. Actually that is being generous, it sucked big time. It was all sizzle and no steak as JR would say. It was about the gimmick looking pretty and trying to get crowd reactions, but the match wasn't good and was certainly not the debut match Wyatt needed. They also didn't need the gimmick at all if they were just going to ignore it. I liked the after match angle, destroying Kane and carrying him out of the arena, but that was about it. Outside of the post match, this was a disastrous was to kick off the show. Closing note, Bray, you need to do your finish facing the hard camera.

Match Rating: DUD
So they run a promo, where Heyman announced that Punk vs. Lesnar will now be a no DQ match. Nothing like adding stipulations the night of the show, TNA would be crucified for this.

Cody Rhodes vs. Damien Sandow: Due to the booking of both guys for what seems like forever this feud has been pretty cold and not getting much fan reaction. Part of that is the booking of the guys, and also I think people wanted Cody to win at MITB; but when he didn't they just didn't care. But while the feud was cold, they still were getting a chance on Summerslam to deliver. The match wasn't very long, about seven minutes, but for the time they got I thought it was a solid match. I was really hoping that they would get more of a chance to deliver, but again, good for the time given. I hate that Sandow continues to lose, but I have discussed the booking of the MITB winners several times, so I will save you from that. On the plus side, if Sandow does cash in soon, Cody is an instant challenger. Also, with Sheamus on the shelf, if Cody can start to get better reactions, there is a spot for him to possibly move into. This was solid, but I was hoping for more as a fan of both guys.

Match Rating: **½

World Heavyweight Title Match: Alberto del Rio © vs. Christian: Pre-match, they continued the hard sell for Christian as the contender by showing his victory over Del Rio on Smackdown, the career video package and by also discussing that Christian defeated Del Rio to become world champion after Edge's retirement. It seems so simple, but it is an effective sell for the match and one that should be done more often. I really liked this match. I have been cold on Del Rio for some time, but this match was good stuff. Christian is a guy that is so easy to cheer for, and also knows how to work a very good match. You can debate him being a world champion guy all you want, but he can flat out deliver and he did so here. They had a very strong match, and a finish that played into the arm work from earlier in the match, which is always appreciated. Del Rio won with the arm breaker. The crowd was into it; they wanted Christian to win and were biting on the near falls well. This was a match the show needed and also one that Del Rio needed as champion.

Match Rating: ***¾
Miz interviewed Maria Menounos. Fandango and Summer appeared and danced, so Miz and Maria danced. Yup.

Natalya vs. Brie Bella: The Funkadactyls were with Nayalya, while Nikki and Eva Marie were with Brie. You may be shocked to hear this, but the crowd didn't care about the match as they chanted for JBL, Ryder and tables. The chicks on the outside brawled sloppily at one point; Natalya made the comeback and won with the sharpshooter. It was a match.

Match Rating: *
Earlier today, Ryback was a bully in catering. BE A STAR.
A video package for the Punk vs. Brock/Heyman deal runs.

NO DQ Match: CM Punk vs. Brock Lesnar: I was really looking forward to this match. Loved the beginning, no lock up bullshit, they hate each other, so they charged and started trying to kick each other's ass right away. Awesome. Punk really should have attacked the midsection early, to take advantage of the Diverticulitis, I mean that's common knowledge. Anyway, this was the kind of match I was expecting from these two, Punk with the more hit and run style, while Brock would just toss him around and brutalize him. The best thing about Lesnar matches is that they are limited in quantity, but they feel so much fresher and different than the regular WWE main event style match. Especially the Cena one and this one, the Triple H matches had some differences, but were too close to regular Triple H matches at times. They got time, they had the crowd, Heyman did his part on the floor as always and it simply worked well. Punk using desperation stuff like going Mike Tyson on Brock's ear was solid, and I loved the Brock counter of the GTS into the kimura. This led to Punk using his love of BJJ and transitioning into an arm bar and then into a triangle, which was nice. Brock MURDERED him with a powerbomb, but Punk held onto the triangle. For non-MMA fans, a lot of the time a slam of that sort will result into a triangle being locked in tighter since you cannot spike the head, so it made sense. They worked a brutal style before getting to the real aspect of NO DQ when a chair was introduced, which was awesome because they didn't rely on the stip as a crutch. As expected, and it should have been due to the story, Heyman would be a factor late in the match. He nearly cost Brock the match, but made the save. Some great near falls off of the GTS and a DDT counter of the F5, the crowd was into this shit big time. Once again Heyman got involved when Punk had Brock in the anaconda vice, leading to Punk leveling Heyman with a right and applying the hold to him. But just as Punk got some revenge, Brock Lesnar and the chair destroyed Punk, leading to an F5 on the chair and Lesnar scoring the win. Steve Cook and I discussed this on Friday's Business as Usual podcast, figuring that this finish would be about what happened. Punk gets revenge on Heyman after a great match, but falls to the beast. On one hand I have a small complaint in that Lesnar "needs saving," but I will say that it almost had to be done to play into the feud and Punk getting revenge on Heyman. Again, a very small complaint. As I said, I loved it because not only was it an excellent match, but also it just had such a different feel, which added to the special vibe it gave off. CM Punk stole the show at WrestleMania with Undertaker, and at this point, he put in a hell of an effort to steal this show with Lesnar. And when I think about it, Punk is in my top three WWE matches of the year with Taker, Jericho and now Lesnar. This was a big time performance on a big time show, and simply put was an awesome combination of wrestling and story.

Match Rating: ****½

MY GOD WHO CAN TAKE OUT BROCK LESNAR?
TED FUCKIN NUGENT
Dolph Ziggler and Kailtyn vs. Big E Langston and AJ Lee: Dolph Ziggler and Kailtyn scored the win in a match that was in a tough position as the cool down match. Thankfully the crowd was into it way more than I thought it would be after Punk vs. Lesnar. They didn't get much time, but they also used the time they did get well. Overall this worked well, Ziggler got his win and Kaitlyn got to lay out AJ again as she continues to chase the title. This was fine for its placement.
Match Rating: **
Miz was backstage, was interrupted by Fandango who tries to say his name, and was laid out by Miz.

WWE Title Match: John Cena © vs. Daniel Bryan w/Special Referee Triple H: As a wrestling fan, this match brings a smile to my face. Watching two guys that faced off in 2003 on WWE Velocity main evening Summerslam is quite awesome. Cena as we have seen has gone on to be the guy in the company, while Bryan put together a portfolio that was second to none during his time on the Independent scene. That is just cool in my book. I personally had a lot of high hopes for the match. Bryan is spectacular as a worker, and Cena has a history of delivering in big time matches with a variety of opponents. The only thing that worried me was the booking, which I think a lot of people would have agreed with heading into the match. The crowd was awesome for the match, and I particularly liked Bryan's section of submission moves. The guy locks his shit in and makes it look real, as seen by the face of Cena. They sold both the resiliency of Bryan, and didn't oversell the elbow issue of Cena, as to not make it an excuse. After a ton of great action, they paid off the prom from Raw as they slapped the shit out of each other repeatedly, and it was awesome! Also, they got that great near fall off of the small package I wrote about for weeks, which was another great pay off. And then Daniel Bryan connected with a charging knee strike (BOOM BA YAY) and…that was it! Cena went down, Bryan covered him and scored the win. John Cena showed respect, Triple H stayed out of the way, there was no shitty overbooking and Bryan got his moment to celebrate on one of the biggest shows of the year. I felt that this was every bit as good as Punk vs. Lesnar, two awesome matches on the show is always welcomed.

Match Rating: ****½
Randy Orton made an appearance, and then IT HAPPENED. Triple H pedigreed Bryan and Randy Orton handed over the briefcase, and pinned Daniel Bryan to win the WWE Title. On the podcast with Cook we discussed this as a listener had emailed me with this scenario, noting that it could lead to the heel turns of H and Orton, and a possible reformation of Evolution. Good on you for the call man.

The Tirade


Outside of the horrible opening match, the show had good to great wrestling. Christian vs. Del Rio was a very good match, and Punk vs. Lesnar and Punk vs. Orton are the upper tier of the best matches for 2013. They were both excellent wrestling matches, with drama, physicality, great crowd reactions and just everything you want in big time wrestling.

As for the main event angle, I can see why people are pissed. The Bryan angle was well done and felt as if it had the ultimate pay off with him defeating John Cena clean. They were happy, they were celebrating because that is what wrestling is all about, that big happy moment. And then they felt as if it got shit on. Now I am not a huge fan of the McMahon angle, but the plan is reportedly for Triple H to be the heel and for Vince to battle him on TV through Mania, with a conquering hero fighting on Vince's side against HHH. Again, not the biggest fan of the angle, but it does make sense. Also if Cena is taking time off, Bryan is now the top face to battle against Orton for the time being. I am not saying that I love it, but I understand it.

Overall I really did enjoy the show. It did not drag, they fought the temptation to add to the show, which was rumored, and overall the flow of the event was good and we had two excellent matches. For my money, this was the best WWE PPV of 2013.

Show Rating: 8.2

As a reminder, I will be going by the 411 scale…

0 – 0.9: Torture
1 – 1.9: Extremely Horrendous
2 – 2.9: Very Bad
3 – 3.9: Bad
4 – 4.9: Poor
5 – 5.9: Not So Good
6 – 6.9: Average
7 – 7.9: Good
8 – 8.9:Very Good
9 – 9.9: Amazing
10: Virtually Perfect

As a reminder, this is not a basic "how good was the show" number like a TV show, as I have always felt that a PPV is very different from a regular show. I have always judged PPV on how they built to a match, the match quality, crowd reactions to matches and angles, the overall booking, how the PPV leads into the future, PPV price and so on and so forth. I have added this in here for an explanation since so many have asked, and I have previously discussed it on podcasts. I understand that this may seem different, but that is how I grade. Obviously your criteria may be different.
---
Have you checked out the Csonka Podcasting Network? If you haven't, you should We run anywhere from 15-20 shows a month, discussing pro wrestling, the world of MMA, the NBA, general sports, popular TV series of the past, bad movies, battle rap, interviews, MMA & Wrestling conference calls and more! Around 10 different personalities take part in the various shows, which all have a different feel; so you'll likely find something you like. All of the broadcasts are free, so go ahead and give a show a try and share the link with your friends on the Twitter Machine and other social media outlets! Running since May of 2011, there are currently over 350 shows in the archive for you to listen to.

Larry Csonka is a Pisces and enjoys rolling at jiu jitsu class with Hotty McBrownbelt, cooking, long walks on the beach, Slingo and the occasional trip to Jack in the Box. He is married to a soulless ginger and has two beautiful daughters who are thankfully not soulless gingers; and is legally allowed to marry people in 35 states. He has been a wrestling fan since 1982 and has been writing for 411 since May 24th, 2004; contributing over 3,000 columns, TV reports and video reviews to the site.

Your heart is free. Have the courage to follow it…TO CSONKA'S TWITTER!

http://www.twitter.com/411wrestling
http://www.twitter.com/411moviestv
http://www.twitter.com/411music
http://www.twitter.com/411games
http://www.twitter.com/411mma
NULL