Coldplay – Music Of The Spheres Review
October 19, 2021 | Posted by
Coldplay – Music Of The Spheres Review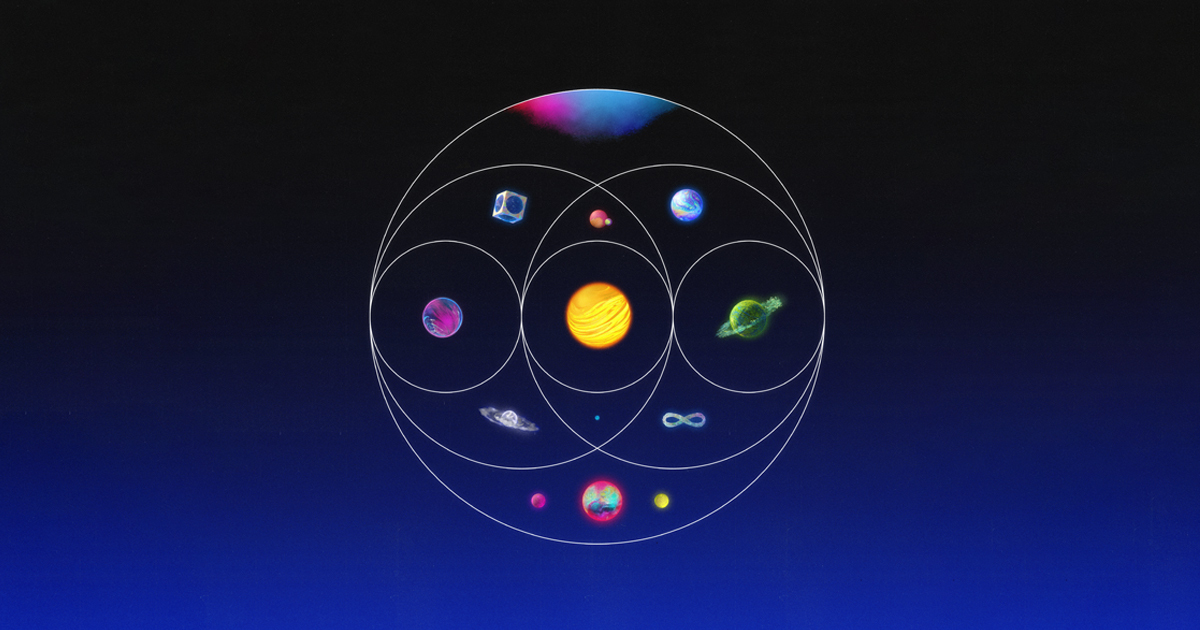 Coldplay appear to have performed an abrupt about-face. 2019's Everyday Life was a sparkling return to form: an artful, understated and humane vision of an arena-headlining band capable of turning humanitarian tragedies into empathetic anthems of unity. Like Coldplay's best work, this at times hit and miss collection, was gently experimental and focused on the intimacy of human connection across war torn cities and racial tensions. Alongside this return to intimacy, Chris Martin announced that Coldplay would not be touring the album, nor would they perform at Glastonbury: giant globe straddling tours were not sustainable and Martin felt he had become an overbearing presence at Worthy Farm.
Suffice to say, a lot has changed in the last two years. There will be those desperate to label Coldplay hypocrites as they embark on their latest in a long line of gigantic world tours. Whether the sustainable elements of their show manage to offset the carbon cost is almost beside the point, after being trapped indoors thanks to the Covid-19 pandemic, it is completely understandable that Coldplay would yearn to feel the collective energy of a 60,000 strong crowd once again. What's more jarring is the sound of Music Of The Spheres itself. The globally influenced indie-pop of Everyday Life is jettisoned in favor of big, bolshy and (occasionally) obnoxious trend chasing sonics. Perhaps the band have been craving a hit or are genuinely excited to collaborate with some of world''s biggest popstars, but whatever the case, Chris Martin appears oddly reminiscent of Paul McCartney as he aged out of the zeitgeist. Macca, for all his incredible talents, could never resist the lure of the charts and to this day ("Fuh You") he still chases the trendy sounds of 16-23 year old stars. Coldplay, for better or worse, have fully embraced the dad at the discotheque aesthetic on Music Of The Spheres.
There is something unsettling, if not galling, about the pounding and at times aimless synthetics that power of Music Of The Spheres. Sure, Coldplay have always been about uplift in even their darkest moments, but the arrangements on this record prove so surreally buoyant and happy-clappy that they verge on parody. It's as if Coldplay have become the house band for some megalomaniac dictator and must wear a wide-eyed smile at all times or face a firing squad. This isn't necessarily a bad thing. Coldplay have delved into day-glo euphoria before ("Every Tear Drop Is A Waterfall", "Charlie Brown"), but they have never sounded quite this vapid or uninspired before. The BTS assisted "My Universe" is perhaps the worst offender. The single is already a monster smash, but were it not for BTS' innate charisma, the track would sink like a lead balloon. The chorus is one note and generic, lacking the charm of Martin's best work, while the song-structure is almost painfully to the point, dispensing with a perfunctory verse as quickly as possible as it races toward a sloganeering hook. Jonny Buckland manages to spice things up by throwing in a delightfully kitsch 80's guitar lick, but sadly this surprising sonic choice isn't explored on a track that is content to pleasantly plod.
Similar flaws blight the promising "Humankind" as a nifty driving rock and synth arrangement is wasted on one of Martin's most wishy-washy hooks, which centers on a pun about "human kindness". The bridge hints at the grand cross cultural communion on which Coldplay have build their legacy, but it soon gives way to uninspired "woah-ohs". The same fate nearly befalls the genuinely thrilling "People Of Pride": a genuine attempt at a rock anthem that sees Buckland summoning a riff that sits at the intersection of Gary Glitter and latter-day Muse, with a hint of Marilyn Manson thrown in for good measure. The glam stomp is undeniable as Chris Martin takes on a hateful and murderously oppressive dictator. For two minutes it's a wonderfully unexpected departure from Coldplay's modus operandi and, despite the oddly literal lyrics, even the most forced, "Yeah, ooh-oooh" coda cannot undermine this glorious rock out and rebel moment. Sadly, this boisterous breakthrough is followed by the sickly saccharine "Biutyful". The opening vocals are auto-tuned into a sickly chibby form that feels like a gruesome parody of Grimes' heavenly sprite pop. The initial impression is so repellent, it's almost impossible to settle in an enjoy one of Martin's most humane and tender lyric sheets. The choice is more startlingly considering that this garish gimmick is paired with a delightfully understated arrangement that washes over the listener in a series of healing waves. Radical juxtaposition can be thrilling and revolutionary, but much like Justin Timberlake's Man Of The Woods, this is a mash-up that simply doesn't work.
Music Of The Spheres finds itself stuck between gears, never quite clicking into place, but not falling flat on its face either. The collaboration with We Are KING and Jacob Collier, "Human Heart", captures Coldplay at their absolute zenith by providing a powerful-and-yet-unfussy hymnal to human vulnerability. There is no garish or craven misstep to be found here, just a reflection on the frailty that unifies us all. Sadly, it's paired with "Let Somebody Go"; a potentially beautiful track that feels like a wasted opportunity. Martin's opening verse is sublimely vulnerable as he reflects on the breakdown of his marriage with the tender schoolboy charm of yesteryear. Sadly, this beautiful ballad is undermined by a typically anodyne and non-specific performance by Selena Gomez. Perhaps Martin wanted to show an appreciation for his partner's point-of-view or maybe they simply wanted another big name on the tracklist, but whatever motivated the decision, Gomez only serves to side-track and diminish an otherwise touching effort.
The album closes with two more subdued and instrumental driven works, "Infinity Sign" and "Coloratura". Representing a stark break with Music Of The Sphere's bombastic aesthetic, both arrangements are built on the back of softly shifting ambient sonics and overlaid with Martin's piano lead. They collectively thrive as palette cleansers, offering the listener an opportunity to take a deep breath after the mawkish assault of the previous 10-tracks. "Coloratura" is a stadium-sized farewell to those lost in the last two years and, while it is touching, the playing proves pleasant rather than remarkable. When Martin sings, "the place we dreamed about, the melodies inside yourself and love comes pouring out", it feels like Coldplay's answer to The Beatles "The End", except rather than opting for a punchy crescendo, Coldplay have chosen to drift through technicolored space. The trouble is of course, across 10-minutes, the playing ranges from moving in its tenderness to perfunctory and predictable.
Ultimately, Coldplay's ninth studio album is a strange one. It is already a bigger success than its predecessor and following a couple of miserable years, festival fields will absolutely eat up these sentimental and, at times, crass hands-aloft anthems. The band are too good at what they do to truly fail and the guest stars ensure that the album will be Coldplay's most zeitgeisty in years, but this harsh pop tilt feels dumbed down and indecisive. There are beautiful moments and pleasing surprises to be uncovered on Music Of The Spheres, an album that sees Coldplay undignifiedly groping for relevance.
5.5
The final score: review Not So Good
The 411
Coldplay have abandoned the artful indie of Every Day Life in favor of a brazenly sentimental assault on the pop charts. The results are at times a touch crass and under-baked, but Chris Martin & Co still know their way around a touching hook on the disappointing, but not dire Music Of The Spheres.
legend