Eminem – Music To Be Murdered By Review
January 24, 2020 | Posted by
Eminem – Music To Be Murdered By Review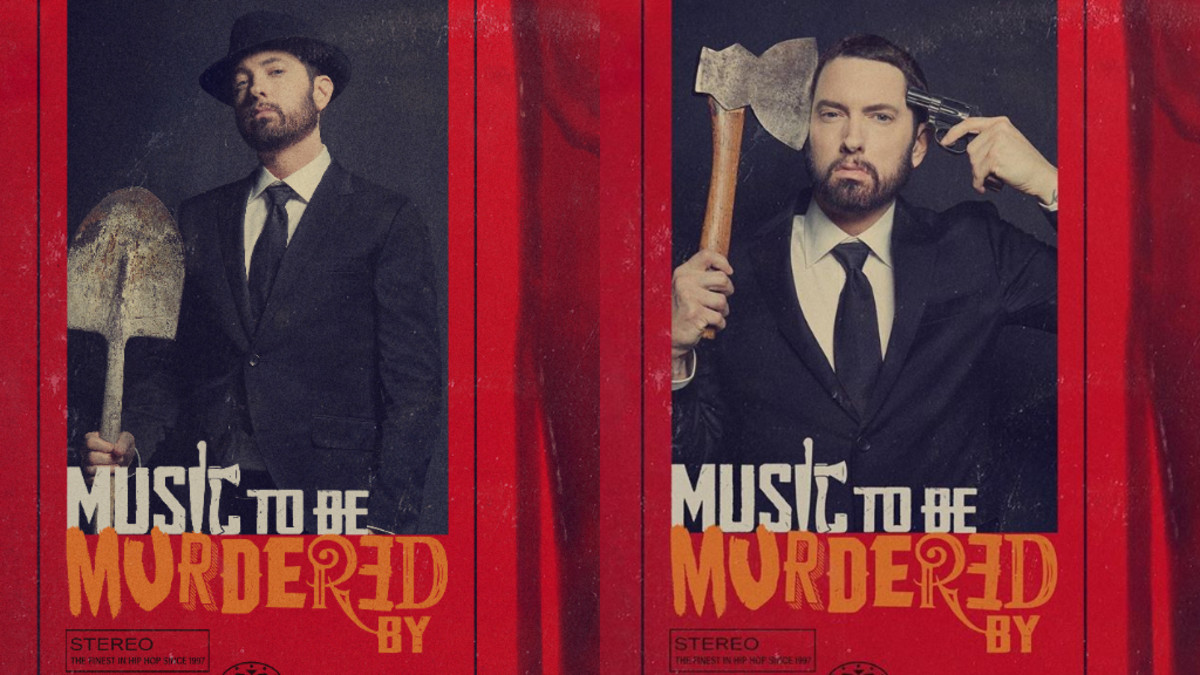 There is one point upon which Eminem's harshest critics and most devoted stans agree: for the best part of a decade Marshall Mathers has been spitting rhymes over some of the most turgid and atrociously mastered beats imaginable. It's not an issue of being dated or out-of-touch, Madlib and Large Professor's productions couldn't sound further from the cutting edge in 2020, but their beats still bang. Eminem, on the other hand, appears genuinely cloth-eared. Somehow, a living legend of the rap game (with an unrivalled rolodex at his fingertips) has found himself blighted by imbalanced, muddy and comatose instrumentals.
Em's revival has been subject to a whole host of critiques (the grating staccato, car revving, machine gun vocal cadance and the anonymous Skylar Grey hooks spring to mind), but nothing has been more frustrating than the sound of his album's on the ear itself. Music need not sound pleasant. In fact, sometimes the most daring albums are atonal and alienating (see You Will Never Be One Of Us by Daughters). Sadly, Eminem latter-day work didn't induce dismay or disgust, it merely sounded naff at best and outright distractingly at worst.
Why dwell on the dreary sounds of the recent past? Quite simply because Music To Be Murdered By, Em's 11th studio album, defiantly bucks this trend. Don't expect to hear these songs in heavy club or radio rotation anytime soon, but Eminem and his team of producers (including the returning Dr. Dre) have produced over an hour of highly listenable, genuinely likeable, catchy and, at times, down-right addictive music. This is cause for genuine celebration. Slim Shady still has his flaws and foibles, but for the first time in a decade, Eminem isn't crippled from the get go by abhorrent sonics.
According to the liner notes, Dr. Dre contributed to less than half of Music To Be Murdered By's productions, but the entire project bears his influence. The beats embrace space and clarity. There is genuine bounce on both the comedy tracks and bangers (a schlocky cartoon horror parody of West Coast G-Funk pervades) while the ballads and character studies let their samples or instrumentals shine. Simple loops and boom-bap beats tug at the heartstrings, giving Eminem both a plenty of room and a moving platform on which to weave his rhymes.
It might feel like the point is being belabored, but it's hard to understate how drastic and vital a change this represents. By affording himself some space as well as varying the pace, it feels as if a weight has been lifted from Eminem's shoulders. He no longer feels pressured to stay locked on an impossibly clunky beat. Marshall Mathers is a ferocious technician: a man obsessed with precision and the logic of laying a rhyme on the track. By stripping away the fripperies and clutter of the beat, Eminem is free to drift off on detours, slow his own tempo, talk to listener directly and show off the charisma of old. It's as if a switch has been flipped. Eminem is no longer a demonstration model mechanically showcasing the science of rap, he is an artist and a human being once more: someone relatable, angry, vulnerable, funny and real.
Make no mistake, Eminem indulges in plenty of bad taste – both deliberately to stoke a reaction (the tiresome Ed Sheeran assisted, #metoo baiting sex rhymes of "Those Kinda Nights") and reflexively (the unnecessary speed rapping crescendos that only serve to blunt the impact of the otherwise intriguing "Leaving Home"). In many ways, the Eminem's mistakes and misfires on Music To Be Murdered By prove strangely charming. The cringeworthy one-liners and overly contrived wordplay of "Unaccommodating", for example, feels less misguided (Revival) and desperate for old head approval (Kamikaze) than before – and more like good old-fashioned dad jokes. Not cool or credible in the slightest, but endearing for not caring in the first place. Whether good, bad or mediocre, each and every track feels it was made by an artist who is having genuine fun in the booth.
"Yah Yah" is wonderfully indicatively of this trend. Eminem clearly couldn't care less about cutting edge hip hop and he's all the better for it. Instead, he's grabbed a classic Busta Rhymes sample, scuzzed and chopped up the beat for whatever reason and gathered his best friends ("Royce Da 5'9") and most respected peers (Black Thought and Q-Tip) for a wild posse cut. "My era so original" is the nostalgic battle cry as the grey-hairs cut loose and stack the syllables with reckless abandon. Rather than trying to cut down his younger rivals (like he did on Kamikaze) – which only ever served to make Em look curmudgeonly and bitter – he instead celebrates the sound and culture of his youth. Old man yells at cloud is never a good look: veteran rapper reconnects with his youth and shares his swag with a younger generation is a far better headline.
Speaking of the mumble rappers that Eminem put on blast on Kamikaze – which lest we forget was a tentative step in the right direction after Revival – it appears that Em has buried the hatchet. He may have straight-up murdered Machine Gun Kelly ("I cleansed him of his mortal sins, I'm God and the Lord forgives"), but Music To Be Murdered By feels like an olive branch extended to the modern rap world rather than a victory lap. The cream of the younger crop, Young M.A. and Anderson Paak., feature, but so does the dearly departed Juice WRLD – the epitome of the style, gender and emotion bending sound of the GenZ. Despite a cluttered chorus, Em and Juice work well together. The young rapper's hook is as drowsy as it is smoothly addictive, while Eminem bounces like a demented lyrical arsonist on this preposterously buoyant beat. Like a carnival of bad taste, the first verse employs an im-plau-sa-bly stagg-ered herky jerk rhythm, while the second stacks slippery syllables at supersonic speed into implausibly tight spaces. In isolation both approaches would fall flat on their face, but as one fun loving slice of over-indulgence it works a treat. Em is tripping on the silliness of it all ("I got no plans to retire, I'm the man you admire").
Throwback fun, enjoyably atrocious jokes and transparent trolling might define Music To Be Murdered By, but there are a handful of stunning and sobering moments. "Darkside" is spellbinding: a slow lurch, powered by a weeping piano, the refrain of Simon & Garfunkel's "The Sound Of Silence" and a beautiful bridge where Eminem uses his untrained vocal to convey his vulnerability and uncertainty. Em is stepping into the shoes and the mindspace of one of America's mass murdering shooters; in this case, he's Stephen Paddock, the man who opened fire at 2017's Harvest Festival in Las Vegas. Eminem is perfectly placed to embrace the nihilism of the moment as someone who has routinely caused shock and offence for its own sake. It's therefore fitting that Marshal Mathers should deliver the following lines: "if you like to know the reason why I did this, you'll never find a motive: truth is I have no idea, I am just as stumped, no signs of mental illness, just tryna show the reason why we're all fucked".
Em draws a brilliant unspoken symmetry between himself as an artist stepping on stage ready to unleash his barbarous lyrics and Paddock preparing for his own macabre showtime ("I should get ready for the show now, wait is this the whole crowd? I thought this shit was sold out?…You can't murder a show no one's at"). Eminem refrains from preaching or patronizing, instead he masterfully laces his messages in the details of the narrative itself: "Cameras in all direction", "them benzodiazepines gone, now it's just magazines sprawled out on the floor" and "I'm a licence owner, with no prior conviction, so law says sky's the limit, so my supply's infinite". The latter is one of the rare cases where Eminem's tendency to use soft, disguised single syllable rhymes proves devastatingly effective – proof that all those technical gymnastic can and do serve a purpose.
Given the state of the world there is definitely room for Eminem, the former voice of a disgruntled and transgressive generation, to get inside the head of a new wave of murders and Internet obsessives. At times he sounds frightfully out of touch with pop culture (see his choice of comedic and musical reference points), but he still possesses an incredibly astute understanding of our lonely, angry, alienated and repressed youth. He is hip hop's original irreverent troll after all: the perfect cypher for meme age agitation. In this light, "Leaving Heaven" provides the perfect compliment to "Darkness" as Eminem details the woes and travesties of his upbringing and explains how he channelled his own darkness (being beaten and abandoned), not into murderous rage, but poverty and despair defying success.
Sadly these considered and introspective moments are few and far between on a largely enjoyable Alfred Hitchcock inspired murder rap album. Eminem continues to fall into a painful trap of indulging in world play for its own sake. Take "Stepdad" for example: a riotous take on a abused and mistreated son, who plots the murder of his mother's new husband. The chorus may be annoying, but Em's repressed underdog narrative is truly captivating. Unfortunately, it's hard to suspend your disbelief and immerse yourself within this teenaged revenge fantasy when Em keeps shoehorning in pre-written puns ("I'm talking euthanasia, like kids in Taiwan"). The same is true on the aforementioned "Leaving Heaven". When putting down his rivals, the rapper goes one step too far with the wordplay and kills the immediacy of the moment ("call them toy soldiers because they wind up on their back"). It's clever yes, but not in keeping with the moment, let alone the mood.
There's no two ways about it, the bad jokes and metaphors simply jar. When Eminem is talking about how he can murder MCs lyrically, it is depressing to hear him declare that he's fly like "a zipper". Imagine the young Marhsall Mathers saying that in a battle rap? At times you have to wonder if this is Eminem's next level trolling: declaring himself the greatest rapper of all time, rhyming at incredible speed, perfectly on beat, only to slowly and clearly state something as inane as: "J as in Leno, 'cause I got a huge mansion. No, huge man chin". There's only one thing worse than a cringeworthy joke, and that's having the very same abysmal joke explained to you. It doesn't help that the aforementioned stinker comes on "Little Engine", one of the album's weakest and most expendable cuts.
Album opener "Premonition" highlights the crisis of confidence at the heart of Eminem's 2nd chapter. He stridently declares that he's the best in the rapper in the world, but he's still hung up on the words of reviewers and his fans alike. He takes specific aim at Rolling Stone's 2.5/5.0 reckoning of Kamikaze, but it's in the following bars that the real insecurity emerges. Eminem seems incapable of understanding that different writers and fans can dislike his projects for completely different and, yes, at times contradictory reasons:
"They said I'm lyrically amazing, but have nothing to say/But when I had something to say, they said they hated the awake me/I lose the rage… I'm too tame/Fans keep pulling me one way/Haters pull me in another".
Stop caring! It is impossible to imagine the Kim murdering Slim Shady of Em's first run framing his every move in reaction to individual reviews and twitter takes. It's understandable that he cares about his legacy especially since he lost his critical darling status, but trying to be all things to all people is a recipe for disaster. This insight explains so much about his 21st century output; he's tried everything from mind-boggling complexity and childish jokes to self-serious subject matter and modern pop crossovers in an attempt to secure his place in the cultural pantheon. Unfortunately, the result has been music that sounds hesitant, confused, unnatural and, at times, false.
Music To Be Murdered By is still blighted by many of Eminem's familiar failings, but at least it sounds natural and coherent. It's genuinely refreshing that the approval seeking Em of "Premonition" disappears after the opening track and is replaced by the shovel wielding cartoon character pictured on the album's artwork. This is a project that no one specifically asked for and that, in itself, is endearing. At this stage of his career, Em is unlikely to drop the corny hooks, overwritten verses or completely unnecessary wordplay, but he can relax, have some fun and express himself on his own terms.
Eminem desperately needs a filter: a whole swathe of jokes should have been left on the cutting room floor (not because they are offensive, the Manchester bombing line works perfectly in a wonderfully maniacal flurry, but because they are cheesy momentum killers) and there are a host of songs that should have been saved for the Deluxe edition (the Ace Of Bass wankery of "Farewell", for example). Still, it's hard to complain when Em is rhyming at lighting speed, over bop-worthy-beats, in cadences and flows that sound genuinely pleasing on the ear – that might sound like faint praise, but it represents a big step forward in listenability.
Classic posse cut "I Will" captures Music To Be Murdered By's revitalized aesthetic perfectly. Sure, it might be full-to-overflowing with corny puns and brutally lame one liners, but I'll be damned if its throwback beat, zaney hook and pass-the-mic antics aren't a hell of a lot of fun.
6.5
The final score: review Average
The 411
Music To Be Murdered By is blessed with throwback beats that genuinely bang and while Em is still delivering cringe-inducing rhymes with alarming regularity, at least he's having a whale of a time doing it. There are tentative signs that Eminem is regaining his confidence, ditching the responsive over-thinking of recent years and stumbling upon some genuinely profound subject matter amid the usual insanity. The rapper's 11th album remains bloated and fleetingly embarrassing, but god damn it's a hell of a lot of fun.
legend