411's Countdown to WrestleMania 28: WrestleMania 6
March 11, 2012 | Posted by
INTRO
Hulkamania ran wild at WrestleMania V as Hulk Hogan regained the WWF Title from Randy Savage. But during this time a new "warrior" was making himself known. The Ultimate Warrior was running wild as well over the WWF and it was only a matter of time before the men would come face to face. They did so in that year's Royal Rumble match and the roof blew off the place as these two men stood toe to toe. The match was set, title for title, and only one man would reign supreme over the WWF…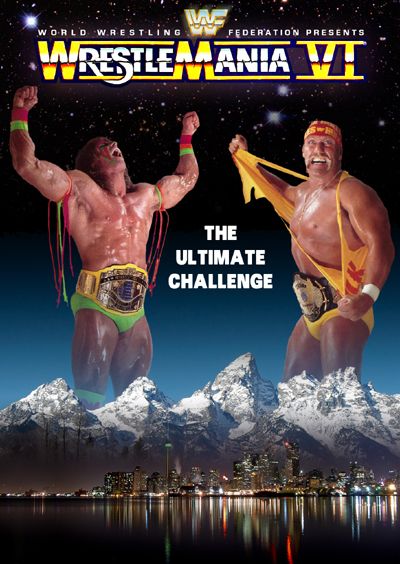 * "The Model" Rick Martel defeated Koko B. Ware @ 5:29 via submission
* Demolition defeated the Colossal Connection to become the NEW WWF Tag Team Champions @ 9:16 via pin
* Earthquake defeated Hercules @ 4:55 via pin
* Brutus "The Barber" Beefcake defeated Mr. Perfect @ 7:53 via pin
* Roddy Piper vs. Bad News Brown went to a double count out @ 6:37
* The Hart Foundation defeated The Bolsheviks @ 0:20 via pin
* The Barbarian defeated Tito Santana @ 4:35 via pin
* Dusty Rhodes & Sapphire defeated The Macho King & Sensational Sherri @ 7:37 via pin
* The Orient Express defeated the Rockers @ 7:37 via Count out
* Hacksaw Kim Duggan defeated Dino Bravo @ 4:15 via pin
* Jake "The Snake" Roberts defeated "The Million Dollar Man" Ted DiBiase @ 11:45 via Countout
* The Big Bossman defeated Akeem @ 1:50 via pin
* Rick Rude defeated Jimmy Snuka @ 3:55 via pin
* The Ultimate Warrior © defeated Hulk Hogan © to become the NEW WWF World Heavyweight Champion @ 22:54 via pin
Scott Rutherford
BEST MATCH: Hulk Hogan vs. The Ultimate Warrior [****] If you just got into wrestling 10 years ago and I said way back in 1990 that WM6 would be a one match card and that one match would be between these two, I would have been laughed at. However, history shows that these two indeed put on a match for the ages and stole the show. I'm not going to get into the political fall-put from Warriors win because this match is truly a great match and deserves to be treated as such. Sometimes pre-planning is a good thing and rumor has it they got together a few times leading up to this and worked the match with Pat Patterson in attendance to make sure things went well. They did and I still enjoy watching this match to this day.

WORST MATCH: Give me a second while I throw the dart at the rest of the card and see what it hits…Roddy Piper vs. Bad News Brown [-*****] My dart has good taste. I HATE THIS MATCH. It should have been decent but for god knows what reason Piper decided to paint half his body black and he's lucky that the judo-trained Brown didn't beat him to within an inch of his life. Terrible match. Horrible.

HIGHLIGHT OF THE SHOW: Andre The Giant turns face and gives us one last moments to cheer him on the greatest stage. While pools of money was made off heel Andre, it was sad that the man that brought so much joy had his legacy tarnished by the last couple of years of that run being jobbed out to Warrior so ruthlessly. Perhaps as a sign of respect he was giving a short run as tag team champion (mainly carried by Haku) and the chance to beat the crap out of Bobby Heenan one last time.

MVP OF THE SHOW: Hulk Hogan. I don't care what he did afterwards but in the ring on this night he did what was right for business and put The Ultimate Warrior over as strong as anyone could.

OVERALL SHOW RATING: 6/10 – A lousy card that was boring and predictable but saved by the great main event. That match still holds up today and is certainly historic and worth everyone's time to see how you can get two not so good wrestlers to work a really great match.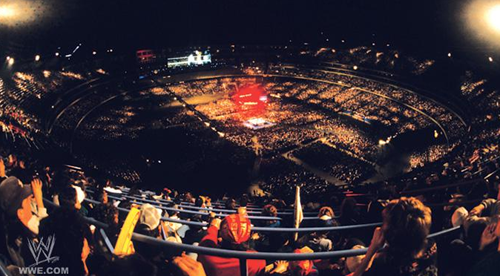 Joel Thomas
BEST MATCH: Hulk Hogan vs. Ultimate Warrior, ****½. Technically, the best match of the aternoon was the tag team duel between the Rockers and the Orient Express, but it was "The Ultimate Challenge" that truly exceeded all expectations and delivered a surprisingly smooth main event that somehow lived up to the hype. It's hard to express just how huge this match was at the time and the seemingly endless amount of hype that had preceded it for weeks. This was going to be a clash of titanic proportions between these two mythological icons who had basically vanquished all of the evildoers, and they went out there and blew the roof off the SkyDome as they had the crowd in the palm of their hand for over 20 minutes and told a great story. Completing his trilogy of legendary WrestleMania main events, the Hulkster was ready, willing, and able to pass the torch and he deserves major credit here for putting the Warrior over effectively, while also protecting himself at the same time without hogging the spotlight. They exchanged visual pinfalls while the referee was down, so Hogan got to look strong, but he made sure to make Warrior look stronger. The knee injury suffered by Hogan early in the match played into the finish when he missed the legdrop and began clutching at his knee, and the Warrior proved to be the better man as he scored the clean pin to capture the WWF World Title. Although Hogan kicked out as soon as the ref counted to three, the clean pin was an extremely surprising finish to a shockingly great match that defied all odds and became one of the most memorable WrestleMania main events of all time.

WORST MATCH: Hacksaw Duggan vs. Dino Bravo, ½*. Not so much bad as it was brutally dull and boring, this match was just a plodding slugfest that was really just a setup for Earthquake's post-match attack on Duggan. Despite carrying an American flag in Canada, Duggan was majorly over as a babyface and the crowd seemed to be into the match for the most part, but ugh, it was just no good. There is absolutely no reason to ever watch this match. Actually, there's no reason to ever watch any match involving Dino Bravo. It's puzzling how long he stuck around and how many pushes he got, although we can probably blame that on Pat Patterson. The mixed tag team match pitting Randy Savage & Sherri against Sapphire & Dusty Rhodes was a close runner-up, especially when Sapphire was in the ring, but it fell under the category of comedy and was exempt from Worst Match status.

HIGHLIGHT OF THE SHOW: Demolition threepeating as WWF Tag Team Champions and Andre the Giant turning face. Although the team was initially conceived as a Road Warriors knockoff, Demolition became a better all-around tag team and developed a huge following that was evidenced by the massive crowd pop that Ax & Smash received after their unprecedented third tag title victory. WrestleMania VI represented the peak of Demolition's popularity and it was their last hurrah as babyfaces, as they turned heel and fizzled out in the following months. It was also the last WrestleMania match for Andre the Giant, as he spent the entire bout parked on the apron and only came in for the finish–eating a superkick from Haku, getting tangled in the ropes, and watching helplessly as Demolition finished off his partner to regain the belts. When Bobby Heenan blamed Andre for the loss and had the gall to slap him in the face, the Giant swatted the Brain around and headbutted Haku to complete his return to the side of good and light. Andre the Giant was a babyface again, finally out from under the manipulative influence of the Brain, and all was right with the world. That's a WrestleMania highlight I'll never forget.

MVP OF THE SHOW: The 67,678 fans in the SkyDome. After two years in the deathly silent Trump Plaza, WrestleMania was back in front of an insanely rabid crowd of real wrestling fans who knew all the players and their storylines. They were into everything, they elevated the matches that were below average and made them watchable thanks to their enthusiastic reactions, and they were absolutely electric for the Hogan/Warrior showdown. While the Ultimate Challenge was meticulously booked and executed according to plan, it was the crowd in Toronto and their emotional response to the ebb-and-flow of the action that solidified the match as one of the all-time greats. The runner-up for MVP of WrestleMania VI would be Jesse Ventura in his last appearance on a WWF PPV for nearly a decade. Much like the crowd did with their reactions, Jesse's commentary added so much to the broadcast and covered up all the slow spots on the show as he bickered with Gorilla Monsoon, insulted countless babyfaces, and provided expert analysis when needed.

OVERALL SHOW RATING: 7.5/10 – Following a similar formula as WrestleMania V, WrestleMania VI was built around an epic main event and supported by a big Tag Team Title bout, a handful of really good matches and grudge matches, a few exhibitions to showcase up-and-coming heels, and some comedy to provide a bit of something for everybody. However, Hogan/Warrior wasn't quite as good as Hogan/Savage, and I didn't feel that anything on the WMVI undercard lived up to Warrior/Rude from the previous year. On the other hand, the crowd in Toronto was infinitely better than the library atmosphere that pervaded Trump Plaza and this show provided more of a shakeup to the status quo, as Warrior was officially crowned the new standard-bearer for the WWF and the successor to Hulk Hogan. Regardless of whether or not it turned out to be the right choice, it was a bold move and guarantees that WrestleMania VI will never be forgotten.
Colin Reinhart
BEST MATCH – Hulk Hogan vs. Ultimate Warrior: [****] One of the few Mania Hogan matches you could point to as a great match and match f the night. this was a battle of two seemingly invincible babyfaces and what resulted was a match that want down in lore as one of the best Wrestlemania matches ever.

WORST MATCH – Big Bossman vs. Akeem: [*] This was nothing more than a chance to try and get over Akeem's weird new gimmick

HIGHLIGHT OF THE SHOW – Ultimate Warrior becomes double champion:To add to the intrigue of Warrior beating Hogan, he became the first man to ever hold the WWE and Intercontinental Title at the same time.

MVP OF THE SHOW – Ultimate Warrior: It was up to Warrior here to supply the fighting babyface charisma against Hogan, but he still managed to not only win the WWE title, but hold it simultaneously with the Intercontinental title.

OVERALL SHOW RATING: 5.5 – While the main event of this show is golden, the rest of the card is filled with all kinds of boring and pointless filler bullshit. Check out the main event, maybe skim through the rest.
Sean Garmer
BEST MATCH: Hulk Hogan vs. Ultimate Warrior [*** ½* ] – This match certainly had its slow points, especially at the beginning with a test of strength that went on way too long. However, when it got going it was very good. You can tell Warrior was trying so hard to quicken the pace but Hogan just couldn't do it. They played the story here well, as Warrior gave Hogan a taste of his medicine with his own version of "hulking up." There were quite a few near falls and the bear hug would have looked more convincing if Hogan didn't open his eyes every time he got squeezed. I think this is Hogan's best Wrestlemania main event out of his early appearances. Warrior certainly looked motivated but they did the best they could considering both of them have pretty much the same moveset except their finishers. I also found it very interesting that Hogan tried to work as a heel to get the fans to chant for Warrior but eventually he had to give it up because they just chanted for him more. This match may have had a few more obvious plodding moments than you like to see out of a main event, but considering the two people involved, this was quite good and certainly delivered as a main event.

WORST MATCH: Earthquake vs. Hercules [DUD] – I'm sorry, I just don't like Earthquake at all. I feel bad for Hercules because I think if they tried more with him he could have been something. Jobbing him out to Earthquake on a PPV just seems absolutely stupid to me and I don't even see why this had to even be on the card.

HIGHLIGHT OF THE SHOW: Epic Confrontation # 3 At Wrestlemania – At WM 3 we had Hulk vs. Andre, at WM 5 we had the Mega Powers colliding, and at WM 6 we had a Title for Title Hogan vs. Warrior. This is another one of those "passing the torch" moments in Wrestlemania history, but alas with what happened to Warrior it kinda means nothing nowadays. Hogan had a good promo backstage talking about the match and what not, while Warrior went off on some crazy Galaxy and talked about uniting the Warriors and Hulk-A-Maniacs as one. Yeah, Warrior was never the sharpest tool in the shed when it came to verbalizing anything. These two had a very good match and I feel it lived up to the billing. This was the first time we ever saw a "Title for Title" match on such a grand scale and even though it was really the only highlight of WM 6, it was a damn good one.

MVP OF THE SHOW: Hogan & Warrior – These two were the reason everybody was buying this PPV and why 68,000 were in that arena. They went out and delivered a very solid main event that never got the split fan reaction that I think they were trying to get, but it still accomplished its goal. I loved the classy ending with Hogan handing Warrior the belt and the raising of the hand. It didn't feel as emotional as some other first time title wins have, but it was still another "Wrestlemania Moment."

OVERALL SHOW RATING: 4.0 – The only match that mattered may have delivered, but the rest of the card was really piss poor. One match was surprisingly decent in Brutus vs. Mr. Perfect, mainly because Mr. Perfect was selling for Brutus like HBK did for Hogan years later at Summerslam. Jake Roberts vs. Ted Dibiase for the Million Dollar Belt was good as well, but the countout finish was stupid to me. I would have been happier if Virgil had distracted the ref and Dibiase hit him with the belt for the sneaky win. There were about five or six matches that were about the same quality as a regular match we see on RAW today. The mixed tag match was a terrible train wreck, where did they get Sapphire from? Why the hell was the Hart Foundation match even on this show if they were going to have it end in one minute? And the tag title match was really Haku getting beat down because Andre was in bad shape at this point. This is one of those Wrestlemanias that has a ton of filler that is just trying to get everybody to the main event and that's basically it. The main event got almost all of that rating, with the other two matches I pointed out getting the other half a point.
-Remember to come back tomorrow for our review of WrestleMania 7!
TWITTER
Your heart is free. Have the courage to follow it…TO CSONKA'S TWITTER!
http://www.twitter.com/411wrestling
http://www.twitter.com/411moviestv
http://www.twitter.com/411music
http://www.twitter.com/411games
http://www.twitter.com/411mma