411's DGUSA Uprising iPPV Review 11.13.2012
November 13, 2012 | Posted by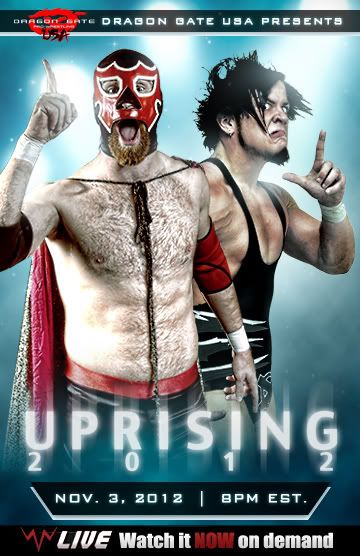 November 3, 2012
Voorhees, NJ
Commentator: Arda Ocal & Bryce Remsburg
Eita vs. ACH
What an incredibly fresh matchup that I can't wait to watch! I really hope they get a lot of time…oh this was a dark match.
Match Rating: I don't know because this incredibly intriguing matchup has yet to see the light of day and likely won't until the DVD is out (and DGUSA has such a great history of releasing DVDs in a timely manner!).
The Electric Cherry Starship Project (Jigsaw & Fire Ant) vs. The Dirty Ugly Fucks (Arik Cannon & Pinkie Sanchez)
Everyone did some nifty stuff in the early goings of the match. The rudos were eventually able to isolate Jigsaw, and they got the heat on him for a while. Eventually Fire Ant got into the match, and he hit Cannon with a slingshot senton to the floor. Jigsaw got a nearfall on Pinkie with a missile dropkick. Back in the ring, Cannon caught Fire Ant with a brainbuster for a nearfall. Pinkie then hit a big DDT on Jigsaw, and Fire Ant had to make the save. Pinkie hit Fire Ant with the Burning Hammer: 1…2…NO! Cannon killed Jigsaw with a lariat for a nearfall. Fire Ant and Jigsaw came back and hit Pinkie with a Ghetto Stomp/Jig 'n' Tonic combo: 1…2…3!
The Scene attacked Cannon and Pinkie after the match, but Marti Belle made the save.
This was a heck of an opener, as all four men looked motivated to deliver a fun match. Pinkie and Cannon are two talented guys who still have a lot to deliver in DGUSA if they are put in positions to succeed (like this match as opposed to how they are normally booked). Jigsaw and Fire Ant should be on every DGUSA/Evolve show. There are so many fresh matchups for Fire Ant. I think he could (and should) be a singles main eventer in Evolve.
Match Rating: ***
Akira Tozawa vs. Samuray Del Sol
This should be awesome.
Del Sol hit a slingshot somersault splash for an early nearfall. Del Sol was in control until Tozawa caught him with a double knee gutbuster. Tozawa worked him over after that. Del Sol eventually came back with a standing Sliced Bread #2, which halted Tozawa's momentum. Del Sol got a nearfall with a bridging German. Tozawa came back with a brainbuster for a nearfall. They ended up on the apron where Tozawa hit a Brogue Kick and a German. Ouch. Tozawa then hit a pair of tope suicidas. Back in the ring, they traded a bunch of kicks until they connected on Brogue Kicks at the same time. They got to their feet and Del Sol hit the Rising Sun: 1…2…NO! Tozawa came back with a Brogue Kick and a saito suplex: 1…2…NO! High Tension Suplex: 1…2…NO! STRAIT JACKET GERMAN: 1…2…3!
This match fucking ruled. Not much needs to be said, because it was just two talented dudes going out and having as good of a match as possible in the time they were allotted. Watch this match right now.
Match Rating: ***3/4
Jon Davis came out. Davis said he took out Gargano, and he should vacate his title. Cue the awesome Ronin music. And Johnny Gargano is here!
Johnny Gargano vs. Jon Davis [Anything Goes]
Davis was in complete control of the match. He hit a couple of lariats in the ring: 1…2…3. Weird.
That went less than a minute.
Match Rating: Squash
Davis set up a table at ringside, as the referees rushed Gargano to the back. Davis walked to the back, and then Gargano came back out. They started brawling all over the arena. At one point, they ended up back in the ring and Davis gave him a low blow. Gargano came back and superkick Davis out of the ring and onto the table. Referees helped Gargano to the back. Davis refused the help of the referees. This whole thing was awkward. These two need to have a proper match already.
Super Smash Bros. (Player Uno & Player Dos) vs. Ricochet & Rich Swann
SSB were the first team to get a prolonged advantage, and they worked over Swann for a bit. Ricochet and Swann managed to come back, and they worked over Uno for a while. Eventually Uno hit Ricochet with his delayed reverse STO. Dos and Swann tagged in, and they went back and forth for a bit until they took out their other opponents with stereo dives. Ricochet took out Uno with an insane Fosbury Flop variation. Uno held Swann in the Fireman's Carry while he gave Ricochet a Giant Swing. Impressive. Swann came back with a pair of stunners on SSB. Ricochet then hit a pair of running Ace Crushers on them. They all traded a bunch of moves until they all went down. Dos came back with the Double Pele. SSB then hit the Get Over Here Suplex on Ricochet, followed by the Alabama Slam/Backstabber combo: 1…2…SWANN MAKES THE SAVE! Unto got caught with a double superkick. Ricochet hit Uno with a Shooting Star Press: 1…2…NO! Dos ended up on Uno's shoulders. Ricochet tried to hit a crossbody, but Dos then reversed it into a fallaway slam. Uno then hit Ricochet with a moonsault, and SSB then hit the Future of Flight with Fatality: 1…2…3!
AR Fox came out and shit talked Ricochet after the match.
This match was a lot of fun. The atmosphere prevented it from reaching "greatness," but the crowd wasn't horrendous or anything. I'm glad SSB got the win, and they should be getting a title shot soon. Swann and Ricochet continuing to team would not be the worst thing in the world.
Match Rating: ***1/2
The Gentleman's Club (Chuck Taylor, Orange Cassidy, & Drew Gulak w/Doctor Colonel Angus & The Swamp Monster) vs. Cheech and The Scene (Caleb Konley & Scott Reed w/Trina Michaels & Larry Dallas)
This is apparently a tryout for Cheech to see if he is Scene material. Larry Dallas is back to wearing a sweater vest without anything underneath. That remains one of the best things ever.
This may surprise you, but there were a fair amount of shenanigans in this match. There was booze involved at one point. The Swamp Monster hit Cheech with a cartwheel kick. Cheech was the victim of a lot of the shenanigans. Swamp Monster humped Trina Michaels. Eventually, the Scene were able to cut off Gulak, and they worked him over. The heat went on for a while, but Gulak was eventually able to escape and tag out to Cassidy. Cassidy was passed out though, so he wasn't much help. Taylor got in and ran wild. Chuck called for a dive, but Gulak jumped in front of him and hit Cheech with a tope con hello. Chuck called for another one, but Cassidy hit an Asai senton. Chuck went for another dive, but Swamp Monster then cock blocked him. Chuck went for a tope rope dive, but Dallas knocked him down. Cheech went to the tope rope, but DOCTOR COLONEL NOLAN ANGUS LEAPED OUT OF HIS WHEEL CHAIR AND SPAT WHISKEY IN CHEECH'S EYES! LORD HAVE MERCY THE COLONEL CAN WALK! Taylor then hit Cheech with an Awful Waffle: 1…2…3!
The Gentleman's Club threw a party after the match. Larry Dallas was not happy with Cheech, but Marti Belle came out again. Trina attacked Bella, and there was a catfight. Belle then hit Trina with an X-Factor variation.
This was something. This was probably the most enjoyable match involving the Scene ever.
Match Rating: **1/2
El Generico vs. Sami Callihan [2/3 Falls]
Generico defeated Sami clean at Evolve 13, so this match is 2/3 falls…why? Why not?!?!
Sami appears to be a rudo here again. Generico immediately caught Sami with a Yakuza Kick. Generico went for a brainbuster, but Sami reversed it into a small package: 1…2…3! Sami Callihan wins fall number one.
The crowd did not like that. Not much happened in the opening minutes of the second fall. Sami got a nearfall with a small package. Sami went after Generico's knee for a while after that. Sami hit a tope suicida, and he tried to get the countout win. Sami went to the floor, and Generico caught him with an exploder onto the timekeeper's table. Generico almost got a countout win after that. Sami got back in the ring and hit a pair of facewashes. Generico came back with an exploder into the corner. Generico, while selling the injured leg, hit a brainbuster: 1…2…3! El Generico wins fall number two.
Generico hit a Blue Thunder Bomb: 1…2…NO! Sami came back with a figure four variation on Generico's injured leg. Generico eventually made the ropes. Sami went to the top rope, but Generico hit him with a Yakuza Kick that sent Sami to the floor. Generico hit a crossbody to the floor. Back in the ring, Generico gave Sami a Yakuza to his knee (shades of Sami!), and Generico then went for Stretch Muffler (more shades of Sami!). Sami reversed that into a Stretch Muffler of his own. Sami got a body scissors, and Generico had to tap! Sami Callihan wins fall number three.
This match was incredibly underwhelming. The story they told just wasn't interesting at all, and it doesn't even really make sense. Generico defeated Sami clean last time, but Sami was too "distracted" by things that had nothing to do with the match. Now, Sami is supposedly not distracted, so he is now capable of winning matches. One, this is a terrible storyline for a rudo (especially one who kind of turned tecnico two months ago). Two, Sami was supposedly so focused this time, but at points he was more worried about using Generico's moveset throughout the match instead of focusing on what he does well. That's not a story that makes any sense. If this paragraph didn't make sense, think of it as meta-analysis of the match. This match just didn't grab my attention at all. The crowd didn't help matters, but I can't blame them for this one. The crowd sucked for their Evolve 13 match, but in that match, both men went all out to deliver the best match they possible had in them. This match was an attempt to tell a story that wasn't gripping at all.
Match Rating: **3/4
AR Fox & CIMA© vs. Jimmyz (Ryo Saito & Genki Horiguchi) [United Gate Championships
Fox hit Saito with a kick-flip moonsault early on. Ocal mistakenly called it Lo Mein Rain. The champs were in control of the match for a while after that. The rudos tried to use the rubber band attack on Fox, but CIMA blocked it because he is CIMA. CIMA then used the rubber band attack on the rudos because he is CIMA. Back in the ring, the rudoes were eventually able to cut off Fox by going after the leg Fox injured the night before. The rudos got the heat for a while. Fox was eventually able to catch Genki with Thugbait, and CIMA then made a hot tag because he is CIMA. CIMA then held the rudos on the outside, and Fox hit the Lo Mein Rain. Fox landed back-first on the guardrail. Back in the ring, Fox hit Saito with a senton atomico, and Genki had to make the save. Saito (literally) caught Fox with a delayed German, and CIMA had to make the save. CIMA gave Saito a superkick and an Air Raid Crash: 1…2…NO! CIMA then held Saito on his knees, and Fox hit a 450 splash: 1…2…GENKI MADE THE SAVE! Fox hit Genki with the My Dick Explodes, CIMA hit the double knees, and Fox hit the senton cannonball. Fox gave Genki the Lo Mein Pain. Fox wiped out Saito with a dive (that the camera missed), and CIMA gave Genki the Meteora: 1…2…3!
CIMA gave his typical awesome post-show speech after the match. CIMA said Fox will become the Freedom Gate champion tomorrow. Sami Callihan came out and said CIMA should be more worried about "The Callihan Death Machine" tomorrow. Fox said Sami is going to have to go through him if he wants a championship. Awkward silence from the crowd. Sami left. CIMA pretended to have no idea what Sami said (or maybe he didn't have to pretend). CIMA and Fox have an awkwardly great, 80's buddy cop chemistry.
This was a really good effort (especially down the stretch), but this was clearly one of those matches that needed a hot crowd to make the match great. The crowd seemed somewhat invested (at least politely so), but the momentum of the match never reached a crescendo. Instead, the crowd just sort of plateaued at a certain point, and then the match went on for another 10 minutes. In another environment, this could have been one of the better DGUSA matches of the year.
Match Rating: ***1/2
The 411: I thought this show was noticeably better than Fearless, but DGUSA continues to feel like a lifeless promotion without much in the way of momentum. The biggest indictment of the promotion is that the crowds consistently has very little investment in the main stories (Jon Davis vs. Gargano, Sami Callihan's "arc"). That's why DGUSA (and Evolve) is usually at their best when they just get out of the way and let everyone have the best matches possible. When they did that on this show, I enjoyed myself (Tozawa vs. Del Sol was especially entertaining). The more they do that in the future, the better off their shows will be because then at least the shows will have a good chance of overcoming the crappy crowds.
Overall Recommendation: Slight Thumbs Up. Not a "must buy," but I think this show is a better value than Fearless (for the sake of comparison). Maybe the show will come across better on DVD.
Thanks everybody for reading! You can send feedback to my Twitter or to my email address: [email protected] Also, feel free to check out my own wrestling website, FreeProWrestling.com. Also, check out my Best of Chikara blog and an archive of all my 411 video reviews.


For more information on DGUSA, check out their:
Facebook
Twitter
DVD Store
Youtube Page
NULL