Csonka's EVOLVE 100 & 101 Main Match Previews
February 17, 2018 | Posted by
WELCOME back to column time with Larry! Today, I am going to discuss and preview the main matches for EVOLVE 100 & 101. The shows were set up well at the recent EVOLVE 98 & EVOLVE 99 events, which were a very good weekend overall for the promotion. Thanks for reading! It's wrestling, we love it and will disagree. The only rules are "have a take, be respectful, and don't be a dick."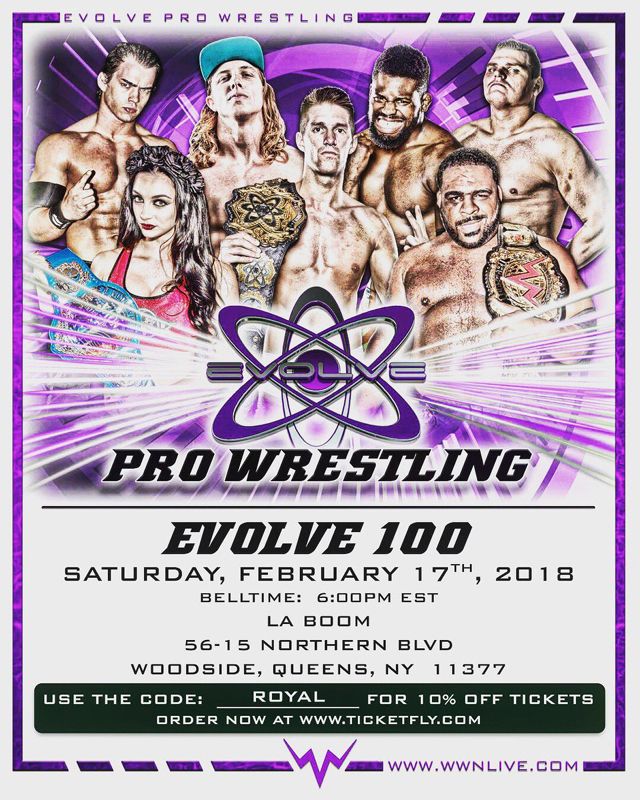 EVOLVE 100
*
Quick Pick – Darby Allin vs. Jason Kincaid
: Following his disappointing loss to Zack Sabre Jr in an effort to win the EVLVE title, Darby Allin is looking for a new direction, and a win over Kincaid would do the trick.
*
Quick Pick – Matt Riddle vs. James Drake
: Matt Riddle over James Drake, a great outing here against Riddle from Drake will do a world of good for him.
*
Quick Pick – Tracy Williams vs. Anthony Henry
: Williams has a big match the next night against Keith Lee, and should win here. This is a huge singles opportunity for Anthony Henry in EVOLVE.
*
Quick Pick – Fred Yehi vs. Dom Garrini
: Fred Yehi has been on a losing streak in EVOLVE, and while Garrini has been impressive, Yehi gets back on the winning track here.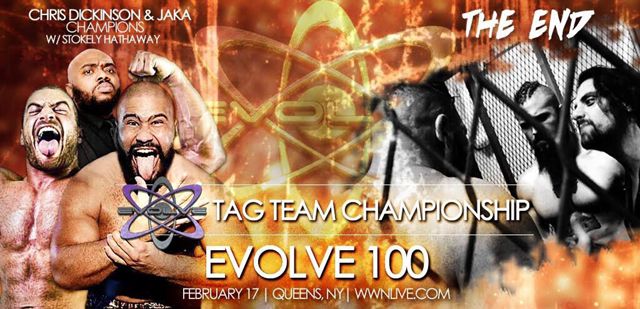 EVOLVE Tag Team Championship Match: Champions Chris Dickinson & Jaka defend vs. The End: Chris Dickinson & Jaka are the reigning tag team champions, and represent catch Point, brought to you by Stokely Hathaway. Chris Dickinson & Jaka coming into EVOLVE has been great, because they not only formed a high-quality tag team, but have also been delivering in singles matches as well. They are on their second run as champions, totaling around 220 days, and have really been a stabilizing force in the tag ranks. But they have been more focused on their singles efforts and fighting Hathaway's battle with Keith Lee. That has left them vulnerable, and The End (Odinson, Parrow w/Drennen) has seen this, constantly targeting the champions with sneak attacks and wild brawls. At EVOLVE 98, Chris Dickinson defeated Parrow in a no DQ match to get some revenge, but the war with Catch Point was far from over. At EVOLVE 99, Odinson & Parrow defeated Catch Point's Tracy Williams & Dom Garrini, adding toothier momentum and earning them the tag title shot. With the recent booking, I have the feeling that Chris Dickinson & Jaka's days as a full-time tag team in EVOLVE are coming to a close, and that they will be transitioning to singles performers, which will allow for The End to take over as the new dominant team in EVOLVE. WINNERS and NEW Champions The End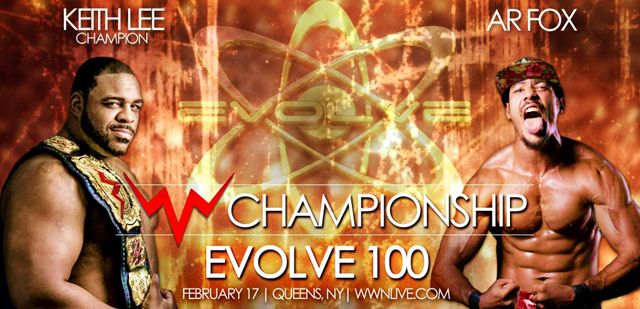 WWN Championship Match: Champion Keith Lee defends vs. AR Fox: AR Fox has made his return to EVOLVE, and has been really good and motivated in his latest run. He's picked up quality wins over Jason Kincaid, DJZ, and Matt Riddle. Fox has been focused on regaining his past glory in EVOLVE, and now wants to become Mr. WWN. He laid out the challenge to Lee, and earned his shot and gets it at EVOLVE's biggest show to date. Le has been great ever since signing with WWN, putting on a long list of great performances and breaking out as a must-see performer. He's been doing well as the champion, but is coming off of an intense title defense against Chris Dickinson, and a non-title loss to Jaka. Fox is on a roll and Lee feels vulnerable here, which is a credit to the booking of this match. There is some doubt going in, which should help with the drama of this match, But for as good as Fox has been, it doesn't feel like this is the time to change the title, especially with the company heading into the big Mania weekend shows, where Lee should be heavily featured. This has the chance to be a great match, with show-stealing possibilities. WINNER and still champion Keith Lee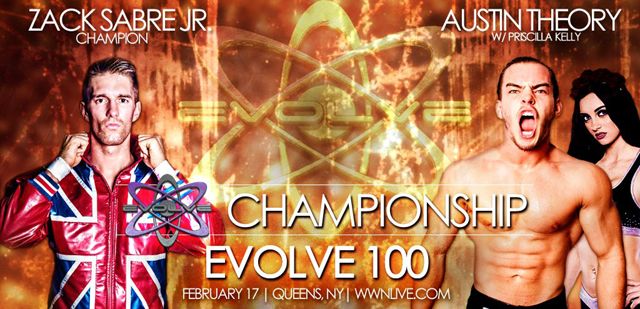 EVOLVE Championship Match Zack Sabre Jr. defends vs. Austin Theory with Priscilla Kelly: Austin Theory has been on a roll with Kelly at his side, dispatching with Jason Kincaid, and picking up back to back wins over Fred Yehi, and winning the FIP Championship. He's one of the new rising stars the company is focusing on, and has caught WWE's eye, scoring a tryout with the company. But the FIP title is not enough for the rising star, as he attacked Sabre after his successful title defense at EVOLVE 98 against Darby Allin. Sabre has been a great and dominant champion, holding the title for over a year. But he's coming off of a taxing loss to the big daddy WALTER at EVOLVE 99. Again, like the WWN title match, the booking to get here has been strong, as Theory has a ton of momentum, and it causes some doubt in the outcome. Theory has done really well with his push in EVOLVE, but this is his chance to really step up and have a breakout match in the company, facing off against one of the best in the world. Much like Lee, I don't see Sabre losing here heading into the big Mania weekend shows, where he will be a main attraction as the champion. The goal here, to me, is solidifying Theory as a star. WINNER and still champion Zack Sabre Jr.
EVOLVE 101
Special Challenge Match: Fred Yehi vs. Shane Mercer
: I think that Shane Mercer, along with Dom Garrini, have been one of the best prospects to come out of the new EVOLVE prelims system. Mercer has a good look, has been delivering and is a guy I can see becoming a fixture on the main card in the next year. Fred Yehi was one of WWN's top performers in 2017, and arguably their MVP. But Yehi has had a rough go of things as of late, losing at EVOLVE 86, 87, 98, and 99 in matches with Austin Theory (twice including his FIP title loss & rematch), Matt Riddle, and Timothy Thatcher. It's been a bad slide for him, and one that feels really out of place unless they are priming him up for a big redemption run. This match should be all about Yehi turning things around, while giving Mercer the chance to show what he has against an EVOLVE mainstay on the main show. If all goes well, this could be a breakout performance for Mercer.
WINNER: Fred Yehi
Grudge Tag Team Match: James Drake & Anthony Henry vs. The End: James Drake & Anthony Henry shocked EVOLVE, coming in and accepting an open challenge from Catch Point and winning the tag titles in their first night in their home base of Charlotte, NC. They have been a fun addition to the roster, and a much-needed boost to the tag team ranks. They lost the titles, and were looking to get them back, but
The End (Odinson, Parrow w/Drennen) caused issues, and too them out while targeting Catch Point. By the time we get to this match, The End may very well have won the tag titles the night before. I think that EVOLVE will keep mixing things up, and with the feeling that JAKA & Dickinson are heading for singles runs, Drake & Henry winning a non-title match here to set them up for a title shot over Mania weekend wouldn't surprise me at all. WINNERS: James Drake & Anthony Henry
Four-Way Elimination Match: Matt Riddle vs. Austin Theory with Priscilla Kelly vs. Darby Allin vs. Jaka: Going into this match, it appears that Matt Riddle will be the only one entering with any momentum, as the others will be losing the night before. I see this match as a set up for bigger things over Mania weekend, and due to that, only see two real prospects as winners, Riddle & Jaka. Riddle is the easy choice and may very well walk away with the win, which makes the most sense in many ways to position him for a big Mania weekend match. But on the other hand, he really doesn't need it, as any match with Riddle against a name is pretty big for the promotion (he's facing Daisuke Sekimoto at EVOLVE 103). And that brings us to Jaka, who as I mentioned above, I feel will be transitioned to a singles performer sooner rather than later. At EVOLVE 98, Jaka defeated WWN Champion Keith Lee, and due to that feels to be in line for a WWN Title shot. A win here could give him the momentum he needs, and that much-desired title shot over Mania weekend. WINNER: Jaka
Non-Title Special Attraction Match EVOLVE Champion Zack Sabre Jr. vs. Chris Dickinson: I see Zack Sabre Jr. defeating Austin Theory on the night before, gaining back some momentum after a hard-fought loss to WALTER. Sabre's matches for EVOLVE 102 & 103 aren't announced at this time, but he will be facing Munenori Sawa at the WWN Supershow over Mania weekend. Much like Jaka, I see Chris Dickinson being transitioned to a singes performer. While he's had some good singles performances, he hasn't had the breakout matches like Jaka. Dickinson has stated that this has been a match he's wanted for a long time, and will be heading into this match with a ton of motivation, facing one of the very best in the world. But while he may be motivated and may deliver a great match here, I don't think now is the time to give Dickinson a win over Sabre. The time feels wrong and Sabre has been a dominant champion, so his non-title losses should be very rare and for people you are all in on or have deserved it through great performances. WINNER: Champion Zack Sabre Jr.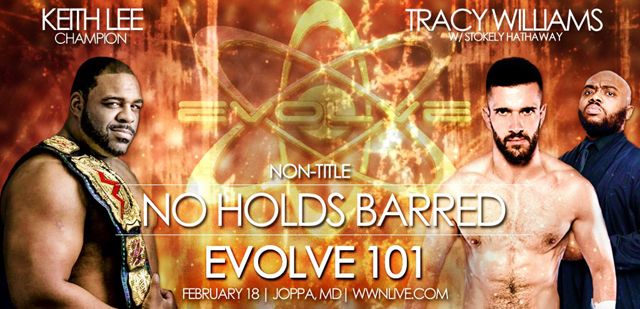 No Holds Barred Match – Non-Title WWN Champion Keith Lee vs. Tracy Williams with Stokely Hathaway & Dom Garrini: This is the latest chapter in Stokley Hathaway's attempt to takeout WWN Champion Keith Lee. Lee has been dominant, working through Catch Point as best as possible, but he did suffer a non-title loss to Jaka. At EVOLVE 99, after Lee's title defense against Chris Dickinson, Hathaway & Williams attacked Lee as the final set up for this match. Williams, the leader of Catch Point before "selling out" to Hathaway, has been a background figure in EVOLVE for a while now, and a victory here would likely earn him a shot at Lee's title. Williams has been an extremely consistent and reliable performer for WWN, and tends to step up in the big matches like this. The build has been good, Lee is on a role and with the stipulation giving them a ton of freedom, this could be pretty wild and great. But Williams doesn't feel like the guy to win and get a big mania weekend match with Lee, so I see Lee winning and keeping his momentum as champion. WINNER: Champion Keith Lee
411 WILL HAVE LIVE COVERAGE OFBOTH SHOWS THIS WEEKEND.
– End Scene.
– Thanks for reading.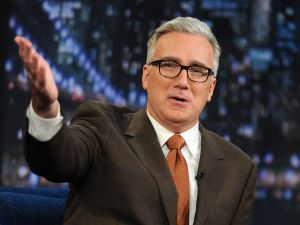 "Byyyyyyyyyyyyyyyyyyyyyye Felicia!"