Kayfabe! Timeline: The History of WCW – 1990 As told by Jim Cornette
July 13, 2017 | Posted by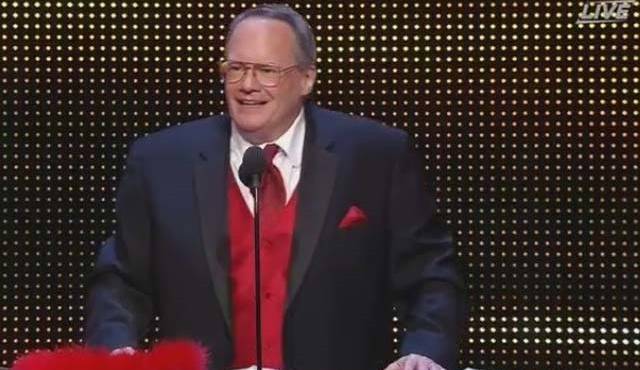 Kayfabe! Timeline: The History of WCW – 1990 As told by Jim Cornette
Kayfabe!
Timeline: The History of WCW – 1990 As Told By Jim Cornette
As if there is any real doubt that this was going to be another great entry in the KC/JC Library. Jim can read a phone book and be entertaining, let alone go step by step through the nightmarish year of 1990, detailing his dealings with Jim Herd, and seeing how the goodwill that WCW had built the year before was flushed away by Herd, and Ole Anderson's booking.
In fact, I'll tackle the only thing that can perceived as a negative aspect of this first, there is some overlap between this and the 1989 WCW Timeline. But, consider that the 1989 Timeline was shot in October of 2013, and that Sean and co. sat on it for over a year and a half before releasing it. So, it's not exactly unreasonable for Jim to have forgotten that he's already told a few of these stories, like the Road Warriors putting over the Midnight Express on their way out of WCW, or recounting the backstory to the Mil Mascaras/Cactus Jack match at Clash X. The only other thing that didn't sit well with me (and I'll fully admit that this may have been sarcasm and I didn't pick up on it), was when Jim was talking about Capital Combat, and Robocop, specifically the limitations of what Robocop could physically do. Jim remarks "Fuck Peter Weller, and anyone who looks like Peter Weller." All Peter Weller did, was star in a great 1987 Action Movie, so this tripe can't be blamed on him.
As expected, Jim came prepared with the, now out of print, Midnight Express 25th Anniversary Scrapbook, and copies of TV formats, booking sheets, and his datebook. KC, also makes sure to get plenty of close up shots of the booking sheets and datebook, that add a nice extra dimension that was lacking in the 1989 Timeline. Cornette even brings the memo containing Ric Flair's resignation from the booking committee, and the letter he got from Jim Herd after his blew his top and quit in 1990. He makes sure to mention his great zinger to Ole at Halloween Havoc when he refused to do the pumpkin angle.
Ole: Nick Gulas would have done it!
Cornette: Well Nick Gulas drew money!
And, of course, there's the stories that he tells, which is always what makes these Cornette editions so awesome. Yes, it probably takes him three hours to watch 60 Minutes, because he feels the need to either veer into a tangent or be as detailed as possible. But, it's easy to just sit in awe, while he talks about fans going after him, and him retaliating, ending with police hunting for them on the interstate, or just how miserable they were, basically being punished for tearing down the house with the Southern Boys. How Jim once had to drive almost four hours, one way, just for a three-minute interview segment. Jim actually stays relatively calm throughout. He tells everyone exactly what he thinks of Jim Herd, in no uncertain terms, and how he felt about Ole's booking, but, it's not like his YouShoot, or Breaking Kayfabe interviews, where he's damn near cutting promos on them. It's basically "Herd was a piece of shit. Ole was booking like it was still 1979." Of course, Sean brings up the story from the Observer about his heart attack scare, which was actually acid reflux. Jim talked about it a bit in his 2010 YouShoot, but gives much more detail here, including a hilarious sidebar where Stan Lane was so worried about getting a ticket, that he wouldn't jump a red light at 3:00 AM with no other traffic, in order to get to the hospital.
This takes somewhat of a downturn toward the end, since he quit at the end of October, so he can't really add much about the last couple of months. He does chime in about Al Perez as the Black Scorpion, and how Al was a great talent, but had a bad attitude, and thought he ought to have been World Champion, which sounds eerily similar to someone who thinks he's the greatest man that ever lived. He even somewhat compliments Herd for the idea of the Pat O'Connor Memorial Tournament, since Starrcade was in St. Louis, where Pat was a big deal, before going through the field of teams, which were admittedly awful for that concept, although I popped a bit for Victor Zangiev getting namedropped.
10
The final score: review Virtually Perfect
The 411
It's the usual sky-high standards that Kayfabe Commentaries and Cornette have set, and the visual aids this time around are a interesting, and amusing bonus.
legend