The Chrononaut Chronicles: WCW Clash of the Champions XXXI
May 27, 2012 | Posted by
The Chrononaut Chronicles: WCW Clash of the Champions XXXI

Thanks to the infinitely talented Kyle Morton for the logo. Check out his Etsy account, where he does custom artwork and commissions… you'll be glad you did!
The Chrononaut Chronicles
WCW Clash of the Champions XXXI – August 6, 1995
– The opening video lays out possibly the least inspiring Clash lineup ever: Colonel Parker's exotic combination of Meng & Kurosawa will meet Sting & Road Warrior Hawk in meaningless tag team action! Alex Wright will take on Diamond Dallas Page and nobody will care! Paul Orndorff will challenge the useless Renegade for the Television Title! Billed as a "Five Men and a Lady" match, Harlem Heat & Sister Sherri will face Bunkhouse Buck, Dick Slater, & Col. Parker! The valiant and emotional WCW World Champion Hulk Hogan will step into the Dungeon of Doom once again! And in a two-on-one handicap match, Vader will collide with Ric Flair & Arn Anderson! What more could you possibly want?!?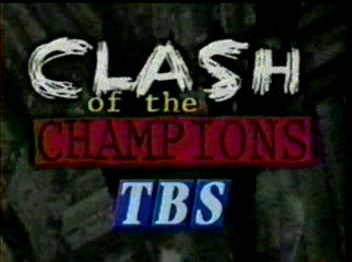 – LIVE from Daytona Beach, Florida! Tony Schiavone and Bobby "The Brain" Heenan are on commentary.
– Meng & Kurasawa (w/Colonel Rob Parker) vs. Road Warrior Hawk & Sting
Citing his violent behavior as conduct unbecoming of a champion, WCW Commissioner Nick Bockwinkel stripped Vader of the United States Title in April and held a tournament that resulted in Sting becoming US Heavyweight Champion after he defeated Meng in the final match. This ignited a feud between the two and led to Sting enlisting the aid of his old brother-in-paint, Road Warrior Hawk, while Colonel Robert Parker scoured the globe for new talent and discovered the lethal Japanese bonebreaker known as Kurasawa. Under his real name of Manabu Nakanishi, Kurasawa had competed in the 1992 Summer Olympics and went on to enjoy great success in New Japan Pro Wrestling after this assignment to WCW. Meng & Kurasawa are all over Sting & Hawk as soon as they step into the ring, but the facepainted duo clear their exotic opponents out to the floor. The early action is stiff in more ways than one as Hawk and Kurasawa alternate between selling and not selling, and it looks even worse when Hawk basically no-sells a vicious slam on the floor and then some kicks from Kurasawa. Hawk sells for Meng, but the second that Kurasawa comes back in, he gets up and starts no-selling again. Perhaps forgetting that he has a partner in his drug-induced haze, Hawk continues to go it alone as he lands a flying splash off the top turnbuckle and powerbombs Kurasawa for a near-fall, but Meng makes the save and Sting swoops in off the top with a flying clothesline on the Tongan terror. It's utter chaos with all four men in the ring, as Hawk engages in another awkward-looking confrontation with Kurasawa while Sting plants Meng with a DDT. Since he is likely the only sober member of his team, Sting has to direct traffic and calls the world's loudest spot when he yells out to Hawk for a clothesline after whipping Meng into the corner. The Stinger Splash follows the clothesline and Sting drives Meng out of the ring before he and Hawk double-clothesline Kurasawa. They finish off the Asian menace with a modified Doomsday Device and Hawk pins him to win the match in 7:23, but after the bell Kurasawa snaps the Road Warrior's arm with a seated armbar and exits the ring. Laying on the mat clutching his shoulder, Hawk spasms and screams in agony as Sting tends to him and WCW's crack medical team come out to assess the injury. After a commercial break, Gene Okerlund reports that Hawk may have suffered a hyperextension or, even worse, a snapped elbow. *¼ It was only bad when Hawk was in the ring, which was a majority of the match, but he did pull out the flying splash and a powerbomb. The post-match injury angle also made up, somewhat, for his no-selling shenanigans during the bout.
– In the locker room, Mean Gene interviews Col. Parker, Bunkhouse Buck, & Dick Slater regarding their match against Harlem Heat & Sister Sherri later. Although Dirty Dick takes great delight in planning to physically abuse Sherri, the Colonel has a more romantic interest and claims that he will have Sherri any time he wants her. Was Vince Russo ghost-writing for WCW?
– Diamond Dallas Page (w/The Diamond Doll) vs. "Das Wunderkind" Alex Wright
This Diamond Doll is indeed his real-life wife, Kimberly, and this is during the angle in which Diamond Dallas Page had recently gained possession of the princely sum of $13,000,000 and was spending it just as quickly as he got it. This is reflected in his sparkly ring jacket, and Heenan mentions a rumor that DDP had stolen the money from Kimberly but clarifies that he won it gambling in his adopted hometown of Las Vegas. His techno music conspicuously absent, Alex Wright gets a total non-reaction from the crowd despite the push he had received since his debut. Das Wunderkind outmaneuvers his larger opponent from the outset, rolling DDP up for a pair of two-counts while Heenan says that if he had 13 mil, he would buy WCW and fire Schiavone. And Okerlund. At least the company would have been in better hands if that had happened, and we wouldn't have had to hear about every week on Nitro being THE BIGGEST NIGHT IN THE HISTORY OF OUR SPORT. After getting dropkicked out to the floor, Page basically has to tell Wright to come out after him and Alex wipes him out with a running plancha over the top rope. They go back-and-forth and Alex edges ahead with a slingshot splash for two and a crossbody for another two-count, but DDP strikes back with a big right hand and drops Wright with a gutwrench into a stomachbreaker that earns a "10" from the reluctant Doll. Like every abused woman in the wrestling business should do, Kimberly suffers in silence and continues to do exactly what her man tells her to do. Hard to figure out why wrasslin' doesn't traditionally draw a strong female demographic, isn't it? Swinging neckbreaker scores another "10" (love that gimmick) and a two-count as Page takes control and chokes the German sensation on the ropes, but Wright traps him in a backslide for a close near-fall and mounts a comeback. Das Wunderkind dazzles the Jersey Shore original with a spinning heel kick and a high knee for a near-fall and lands a missile dropkick for yet another close count. His momentum is halted when Page manages to drop Wright face-first on the turnbuckle, but Alex maneuvers him into a bridging German suplex for a near-fall. Wright knocks Page through the ropes and follows him out by soaring over the top rope, but DDP moves and Alex splats on his back with a sickening smack. DDP rolls Wright back into the ring and…covers him for the pin at 8:14. Didn't see that finish coming. **½ Both guys looked good, as DDP was improving himself by constantly working out at WCW's Power Plant and Wright was talented enough to hit his spots and have a passable match. The finish seemed to come out of nowhere and I wonder if that was the plan or if Wright was legitimately hurt, because that was a hard bump he took on the floor.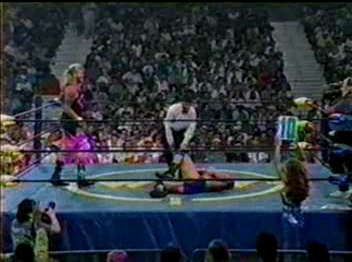 Match wasn't bad, but a 10? Bitch, please.
– Mean Gene interviews Ric Flair & Arn Anderson as they explain their strategy for the handicap match tonight: the Enforcer is going to wear Vader down and run him ragged before handing the reigns over to the Nature Boy. For his part, Slick Ric is confident that Double A will provide the protection he needs. Seems sort of counteractive to announce your gameplan on TV, but nobody ever accused most wrestlers of being particularly bright.
– WCW World Television Championship: "Mr. Wonderful" Paul Orndorff vs. The Renegade (w/Jimmy Hart) ©
Oh God, it's the Renegade. Earlier in the year, Hulk Hogan had promised to unveil the "ultimate surprise" to aid in his war against the Dungeon of Doom, but when negotiations with the actual Ultimate Warrior were unsuccessful, WCW decided to create their own version. They simply slapped some facepaint and tassles on an indie musclehead, gave him Warrior-like entrance music, and paid him to mimic the Warrior in an attempt to deceive their own fans. Out of all the shady bullshit that WCW had ever pulled, this had to be the absolute lowest in terms of respect for the audience. No, wait, it got worse. Despite his monumentally terrible "wrestling" skills, the Renegade beat Arn Anderson for the World TV Title at the 1995 Great American Bash and continued to be pushed well beyond his limited skillset and derivative persona. Tasked with getting the Renegade over again this evening in a rematch from Bash at the Beach, Paul Orndorff stomps him when he charges into the ring and ends up bailing out after a clothesline and a powerslam from the–ugh–TV Champion. When the Renegade plays to the crowd, they actually boo his pathetic Ultimate Warrior impersonation. While Renegade stands on the turnbuckles and pumps his fists, Mr. Wonderful sneaks back in and gently back-suplexes him down to the mat to take control, even dropping the boogie-woogie elbow at one point. Orndorff dumps Renegade out of the ring and keeps knocking him to the floor every time he attempts re-entry, while Jimmy Hart yammers away like a chihuahua in support of his protege. The Renegade finally slingshots back in with a crossbody on Orndorff to retain the WCW World Television Title in 3:59, just like that. ¼* That's one-quarter of one star. Pretty sad stuff here, since behind-the-scenes the Renegade character was basically a practical joke on the Ultimate Warrior, designed to make fun of him and cash in on his image at the same time. The whole fiasco was insulting in so many ways to so many people, including the fans, the wrestlers who had to put 'Gade over, Jim Hellwig who created the Warrior, and Rick Williams, the poor bastard plucked from obscurity to portray Renegade who was used as a pawn and ended up killing himself four years later.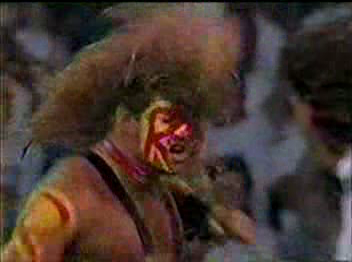 I wouldn't even hire this guy for a kid's birthday party.
– Mean Gene interviews Vader, who expresses his no-fear policy when he faces off against Arn Anderson & Ric Flair two-on-one. Vader promises that despite Flair's comments earlier, he will get his hands on the Nature Boy's scrawny neck and it will indeed be VADER TIME!
– Bunkhouse Buck & "Dirty" Dick Slater & Colonel Robert Parker vs. Harlem Heat (Stevie Ray & Booker T) & Sister Sherri
The pre-match video package recaps the storyline between the two factions, beginning with Col. Rob Parker leading Dick Slater & Bunkhouse Buck to the WCW World Tag Team Championship and a subsequent interview in which the Colonel decided that Sister Sherri required the company of a fine Southern gentleman and then forced a kiss on her. Sherri refused Parker's romantic advancements and claimed she could beat him, so the Colonel set up this "Five Men and a Lady" match and said that if Sherri & Harlem Heat win, they will earn a shot at the gold. The TBS Voiceover Dude brings up the question of whether Parker's interest in Sherri is genuine or if he is playing mindgames to distract her from managing her team properly. Parker comes out wearing his suit, minus the jacket and tie, as he explains that he's "ready for romance" rather than wrestling. How can you not love this guy? Wearing sunglasses, Sherri looks very serious and tries to go after Parker right away, but Harlem Heat physically restrain her and finally convince her to step out to the apron. The active wrestlers take care of business and we get the first Clash appearance of the as-yet-unnamed Spinaroonie after Booker T misses an elbowdrop. Sherri gets a shot in from the apron when Stevie Ray holds Dirty Dick's arms behind his back and Booker tags in and hits Slater with the Harlem Sidekick. Following a commercial break, Booker gets caught on the heel side of the ring and pounded by Dick & Buck while Schiavone announces that an Emmy-winning sports broadcaster will be debuting in WCW on the premiere episode of Monday Nitro on TNT. Buck pulls out a nice dropkick (!) and the Colonel tags in, but that quickly goes south (heh) and Stevie joins Booker in a double-suplex on Parker. The crowd creams their collective panties as Sherri gets the tag and dives in off the top turnbuckle with a flying bodypress for a two-count, then kicks and elbowdrops Parker. Sherri legdrops Parker in the groin and climbs up top again, but the Colonel rolls out of the way and Sherri misses the splash. She appears to be unconscious and Parker is hesitant to follow up as Schiavone notes that she might have hit her head. When Sherri does get to her feet, she pounces on Parker with a kiss and the referee administers the three-count at 11:01. Unable to handle such violent lovemaking, Parker flees the ring yet finds no escape from the wrath of an aroused woman in her 40s, as Sherri chases him up the aisle and tears at his shirt. Driven mad by lust and a bad bump on the head, Sherri chokes and kisses the Colonel on the floor before he can get away from her. Still unsated, she continues her pursuit through the curtains. *½ The match was just a backdrop for the Sherri/Parker storyline, which was one of those "guilty pleasure" angles that you know is bad, but you enjoy it anyway. They were both so good in their roles, especially Parker, and the sight of Sherri attempting to sexually assault him cracks me up every time. Plus it got Harlem Heat involved in their first major angle.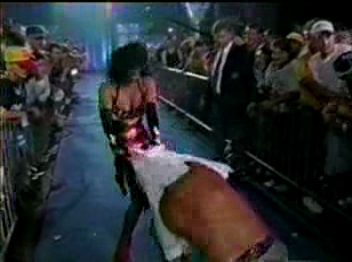 Attempted rape has never been funnier.
– Mean Gene interviews Hulk Hogan, with Jimmy Hart, regarding his trip to the Dungeon of Doom later. The Hulkster wants the Mouth of the South to stay behind and keep the WCW World Heavyweight Title belt safe, but doesn't seem concerned otherwise since he knows Sting and Randy Savage will be watching his back. He refers to the new 7'4″ Giant that surfaced recently as "Andre's son" and yeah, I was wrong earlier; THIS was probably the lowest that WCW had ever sunk. Paul Wight was large enough and talented enough to make his own name and they did not need to use Andre's name to get him over. I have a real problem with cashing in on dead people when they're not around to have a say in it. To add fuel to the Hogan-is-gay rumors, he pulls out a pair of bikini briefs and announces he'll be wearing them on the beach later tonight if Kevin Sullivan wants to send any more ghouls after him. Who knew the Hulk was such a slut?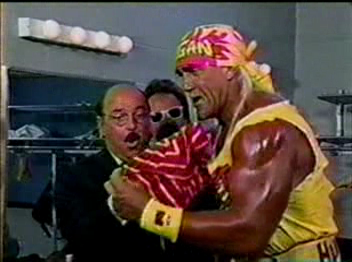 Okerlund looks far too happy to see Hogan's underwear.
– After WCW pats themselves on the back for donating a portion of the PPV buys from Fall Brawl '95 to the Muscular Dystrophy Association, Mean Gene interviews a young boy with MD in front of the crowd and brings out the Macho Man to meet him, but the child no-sells it and blithely repeats, "Oooohh yeeeahh" upon command. Ever the company man, Savage sneaks in a plug for Monday Nitro while talking to the kid, and Okerlund introduces a tribute video to Savage's nine-month WCW career.
– And now we go to WCW's remote cameras set up in the Dungeon of Doom. Imagine being the camera operators assigned to this job. Kevin Sullivan promises The Master that the slaughter of Hulk Hogan will take place tonight, as the Hulkster courageously enters the Dungeon alone and brags about holding the Taskmaster and his goons at bay earlier on WCW Main Event. In somewhat stilted dialogue, again reminiscent of the Mighty Morphin Power Rangers TV series, Hogan notes that he has fought giants before and he wants to fight the Dungeon's newest warrior. Walking up behind Hogan, The Giant spins the World Champion around and yanks the crucifix from his neck in a straight ripoff of what Andre the Giant did to Hogan in the buildup to WrestleMania III. The future Big Show roars that he will destroy Hulkamania because he is "The Son of a Giant" and grips Hogan by the throat, choking him down as Kamala, Shark, and Zodiac run in and begin stomping the Hulkster. Since Hulk's friends apparently weren't watching his back as closely as he thought, it's Vader who arrives on the scene and chases off the Shark and Kamala with clubbing blows to the face. Knowing his entire face could cave in at any given moment when standing within 10 feet of Vader, Zodiac retreats without taking a shot while Vader bashes the Giant with forearms and the two monsters stare each other down. Jimmy Hart, Randy Savage, and Sting finally show up to help Hogan escape from the Dungeon while the Giant calls them cowards and declares himself the One True Immortal. Promoted correctly, Vader/Giant could have been a huge match since Vader hadn't fought anybody bigger than himself since El Gigante.
I'm not sure who looks stranger.
– "The Enforcer" Arn Anderson & "Nature Boy" Ric Flair vs. Big Van Vader
During the entrance of Vader, once again known as Big Van Vader and carrying his mastodon headpiece that shoots steam, Schiavone explains the history between Vader and the Dungeon of Doom: the Taskmaster had sent Vader on a "Roadkill Tour" to prepare him for Hulk Hogan and then offered him the mystical powers of the Dungeon, which offended Vader because he had his own magical "power" and didn't need any help. Ignoring this silliness, Heenan surmises that the problem is Vader's mask is on too tight. Vader's issue with Ric Flair & Arn Anderson stemmed from the Nature Boy's interference backfiring against Vader one time too many, so Big Van essentially turned face and started feuding with the reunited Horsemen duo. Flair taunting Vader and then hiding behind his Enforcer never gets old. As stout and strong as he is, Anderson cannot overpower Vader as the former WCW World Champion beats him down in the corner, jars him with an inverted atomic drop, and clotheslines him over the top rope. Flair helps Anderson back up and encourages him from the apron, but Arn looks less than impressed at his partner's lack of participation and gets mugged by Vader again. Anderson manages to reverse an Irish-whip and plants Vader with his patented spinebuster, and now Flair calls for the tag as he struts up and down the apron. Instead of effectively following up on his partner's offense, Flair toys with Vader and pays for it when the Rocky Mountain Monster catches him in a pair of press slams. Slick Ric takes his famous bump over the turnbuckles and Vader clotheslines him off the apron as the crowd is pretty solidly behind the big man as a babyface. While Flair grabs Michael Buffer's chair at ringside to divert everyone's attention, Anderson blindsides Vader by clipping his leg from behind and Flair stomps the knee. Double A tags in and drills Vader with the DDT, then tags back out so that Flair can apply the figure-four. After the hold is broken when Vader makes it to the ropes, the Nature Boy foolishly decides to climb to the top turnbuckle and Vader hurls him down to the mat. A big back-bodydrop and a big splash earn the big man a two-count as Arn makes the save, and he must do so again with a double-axhandle after Vader flattens Flair with a massive splash off the top. Flair gouges Vader in the eye and makes the tag, but the ensuing double-team attempt fails as Vader fires off clotheslines for both Ric and Arn and powerbombs Anderson for the pinfall in 8:05. Afterward, Ric berates Arn for the loss and walks off without him. **¼ The match felt a bit rushed, but it furthered the break-up storyline between Flair and Anderson and it established Vader as a badass babyface.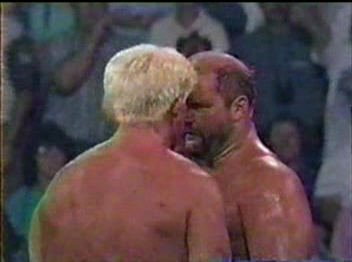 "I wish I knew how to quit you, Ric…"
– Mean Gene brings out Hulk Hogan and his merry band of sidekicks for a quick word about what transpired in the Dungeon of Doom earlier, as the Hulkster officially declares war and wonders what is going on with Vader. Vader comes out and informs Hogan that no man tells him what time it is. Is he saying that he doesn't follow Daylight Saving Time? Hulk still isn't sure about Vader, but says they have the same problems and declares war on the Dungeon again. Okerlund, Hogan, Savage, and Sting make noise to fill in the remaining seconds as the show goes off the air.

The 411: Anchored by a silly skit and not much else, Clash of the Champions XXXI ranks as arguably the poorest entry in the series. "Five Men and a Lady" provided an entertaining segment and the handicap match main event held some level of interest, but the rest of the show contained some of the worst big-time wrestling television ever. When the best match of the night airs on the pre-show, there is a big problem and to his credit, Eric Bischoff soon realized that the current midcard wasn't going to cut it as he scoured the globe in search of the finest workers money could buy. The debut of WCW Monday Nitro was on the horizon and the Monday Night Wars were about to begin.

 
Final Score:  3.0   [ Bad ]  legend