The Magnificent Seven: The Top 7 Most Prestigious American Wrestling Championships of All Time
October 4, 2014 | Posted by
If you're a regular consumer of Internet articles about professional wrestling, you're probably familiar with the idea of championships depreciating in value. Whereas title reigns used to be measured in years, there have been a quite a few periods in recent memory when weeks, if not days were a more apropos unit of measurement for reigns. Moreover over the decades we've seen a proliferation of championships that watered down the significance of particular championships, not to mention dubious titleholders (former world champions Vince Russo and David Arquette come to mind).
But over a broader span of time some championships have held their weight better than others, and stand out as, more often than not, worthy indicators of prestige and accomplishment. So, this week I'm looking at the top seven most prestigious American wrestling championships.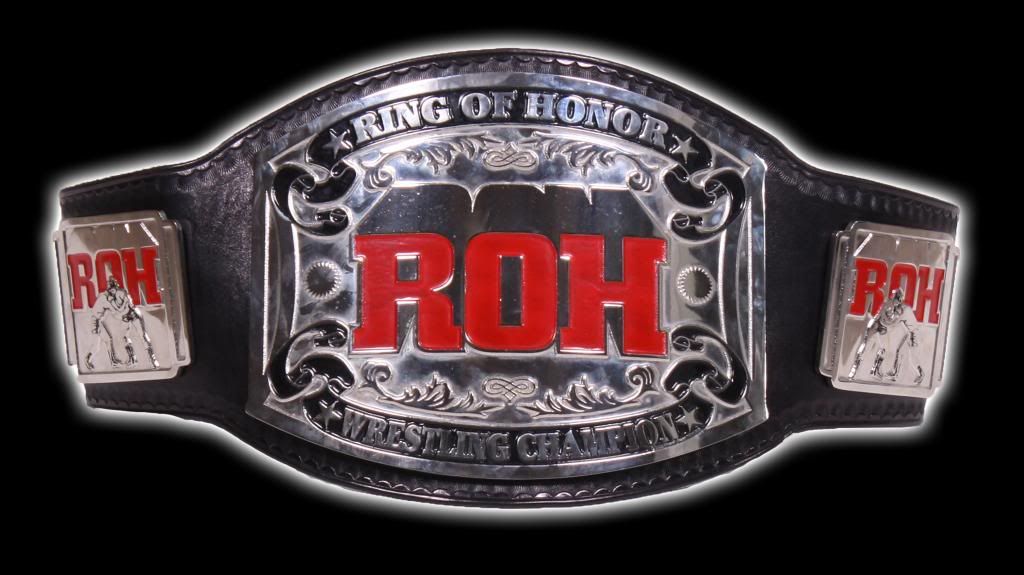 #7. The ROH World Championship
I hesitated to put the ROH Championship on this list. It's certainly lower profile than any other entry on the countdown, and less well-known than any number of titles that didn't make the cut. Just the same as I started to review inventories of former champions and their impact on wrestling, match quality, and longevity, it was hard to argue against the importance and value of the ROH World Championship. While I still hesitate to call ROH more than an indy wrestling company, it has nonetheless benefited from a history of good booking and access to the very best of wrestling's future stars. Consider the guys who have held this title (by their current names): Daniel Bryan, Austin Aries, CM Punk, Samoa Joe, Seth Rollins, and Kevin Steen. No, not every ROH champ has gone on to fame and fortune, but success at the top tier of ROH has become one of the most consistent predictors of success on the bigger stages of WWE and TNA. While I'll understand the argument that the TNA strap, for its broader platform, should rate above the ROH one, the difference in my mind is that for every homegrown world champion TNA more or less produced (e.g., Bobby Roode, Eric Young), there are WWE or WCW imports who got runs with the TNA strap on the downside of their careers (Sting, Mick Foley, Kurt Angle) and seemed to be there more to add value to the title, rather than the title adding value to their legacies. ROH did more to establish its own stars and to stay true to that formula for an extended stretch.
#6. The NWA/WCW Tag Team Championship
Tag team titles tend to be treated as secondary to singles belts in mainstream US wrestling, in which promoters tend to see more money in singles stars. Just the same, so many teams in wrestling history have thrived, almost in spite of that mindset. WWE has had its bright spots for sure, when teams like The Hart Foundation, British Bulldogs, Rockers, and Demolition warred over the tag titles, or even The Attitude Era in which The New Age Outlaws gave way to the Hardy Boyz, the Dudleys, Edge and Christian, and the APA. But for all of these bright spots, WWE's arguably more famous tag title has weathered blah periods when tag titles were all but forgotten, or held by one good team without a lot of viable challengers.
The NWA tag titles that more or less transitioned to the WCW ones were not without missteps and weak links, but nonetheless by and large were subject to heated competition and a nice diversity of teams ranging from the Brisco Brothers; The Rock Roll and Midnight Expresses; Arn Anderson and partners including Ole Anderson, Tully Blanchard, Larry Zbyszko, and the great Paul Roma; The Steiner Brothers; The Road Warriors; The Hollywood Blonds; Harlem Heat; The Outsiders; and Kronik. The bottom line is that, while WWE periodically lost track of its tag straps or threw teams together with varying degrees of success, the NWA and WCW, for all their mistakes, tended to keep the tag division a distinct entity with a reasonably deep roster almost all the time, and far more rarely succumbed to the WWE fallback option of using the tag straps as a booking device to fuse together two guys who were feuding against each other—instead selling pairs of guys who were deadly because they worked together.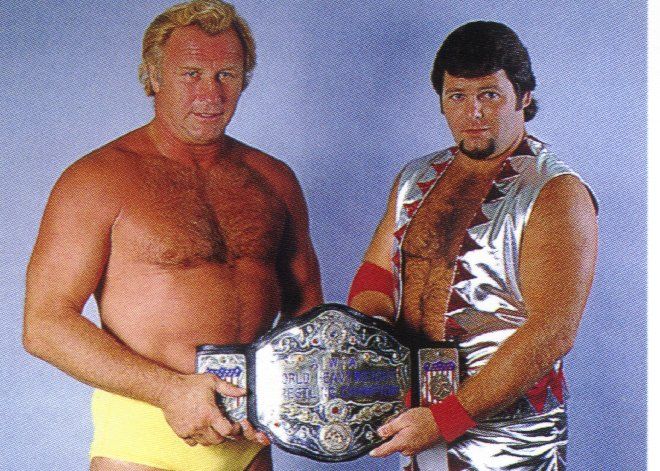 #5. The AWA World Championship
The AWA Championship is the traditional and now defunct strap to get the nod over similar titles from ECW, The UWF, WCCW, and comparable promotions for a combination of longevity, a mostly solid roster of past champions, and a sense that the people booking the strap legitimately took it seriously. Consider, for example, Verne Gagne's refusal to let Hulk Hogan carry the strap, because he wasn't wrestler enough to represent the company in that capacity. The AWA strap is that of Gagne, Nick Bockwinkel, Curt Hennig, Jerry Lawler, and company—a serious title held by guys with hall of fame credentials. Sure, it suffered from a misguided title run for Stan Hansen and for the booking ultimately succumbing to nepotism when Greg Gagne took the title, but even then there's a sensation that the company had its reasons, rather than honoring guys who, without question, belonged in the mid-card, or giving in to hot-shotting it's most prestigious prize to non-wrestlers or part-timers.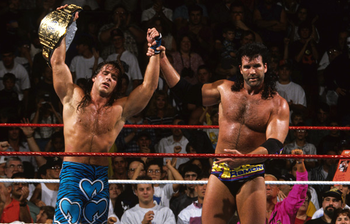 #4. The WW(W)F/E Intercontinental Championship
Secondary titles ain't what they used to be, it's true. But WWE's Intercontinental Championship carries the prestige of not only having been an important stepping stone for up and coming world champions (Randy Savage, The Ultimate Warrior, Bret Hart, Shawn Michaels, The Rock, Steve Austin, Triple H, Randy Orton, Jeff Hardy and many more) but also having been the highest championship so many all-time greats ever earned in WWE (including Pat Patterson, Ricky Steamboat, Rick Rude, Mr. Perfect, Razor Ramon, and Owen Hart). Moreover, it's been a title featured in more than its share of all-time classic WWF/E matches—Ricky Steamboat-Randy Savage at Wrestlemania 3, Bret Hart-Mr. Perfect at SummerSlam 1991, Bret Hart-Davey Boy Smith at SummerSlam 1992, Razor Ramon-Shawn Michaels at Wrestlemania X, Triple H-The Rock at Summerslam 1998. And even when the championship didn't belong to such celebrated names or wasn't involved in such auspicious matches, it often remained hot—a lightning bolt in the hands of the heat-seaking HonkyTonk Man, a comedic device for Santino Marella as he quested after the longest reign in history, a worthy prize for Chynna to attain and assert herself as an icon who exceeded most of her male contemporaries without going whole hog and giving her a world title run. Indeed, perhaps because it's never had the same spotlight as the World Championship, WWE has felt free to take some risks with the Intercontinental Championship, resulting in an intriguing and star-studded history.
#3. The NWA/WCW/WWE United States Championshp
Much of what I wrote about the Intercontinental Championship as a stepping stone and a prestigious reward for guys who never quite hit world title status is also true of the United States Championship. Better yet was the NWA's history of treating it like a legitimate number two prize in their promotion—a sought after title, and one that made its holder the de facto number one contender to the promotion's top prize. History saw the belt pass between the hands of so many greats, including Harley Race, Ric Flair, Ricky Steamboat, and Magnum TA. Heck, even in the WWE incarnation which dubiously absorbed the NWA and WCW lineages, the title has gone to champions who moved on to bigger things like John Cena, The Miz, Daniel Bryan, and Dolph Ziggler, in addition to being the prize for Zack Ryder's short-lived, meteoric rise. Like the Intercontintal Championship, The US strap has often been a worker's title, and I'd argue its overall history is a smidge more consistently impressive.
#2. The Big Gold Belt
This may be the most difficult championship on this countdown to accurately quantify, but I'm more or less equating it to the NWA World Championship during the Crockett days, the WCW World Championship, and the WWE World Heavyweight Championship (far from exact or entirely accurate, I realize, but I found it pretty difficult to parse things out beyond that point without driving myself completely insane).
There was a time when it would be hard to argue against calling this North American wrestling's biggest prize, when the NWA's directors voted to elect champions from across all the territories and men like Lou Thesz, Harley Race, Dusty Rhodes, and Ric Flair stood tall as the most celebrated champions. The WCW years added to the legacy for sure, with great champions like Sting, Big Van Vader, Hollywood Hulk Hogan, Goldberg, Diamond Dallas Page, and Booker T. Just the same, dubious runs for David Arquette and Vince Russo tarnished the belt a bit, and rapid-fire title changes that tended to happen via schmozz finishes took away some more luster in WCW's last few years. From there, the belt migrated to WWE where it was awarded to Triple H. There were times, particularly when the belt was featured on Raw, when it was treated as equal to or greater than the WWE World Championship, but when the belt more or less took up residence on Smackdown, it unofficially became the number two prize in the company—which bolstered its value above the vast majority of championships around the world, but also further cemented that it couldn't rank as number one.
#1. The WW(W)F/E Championship
The WW(W)F/E World Championship has the unique distinction of having consistently been treated as the top prize in what has most consistently been the premier wrestling company in North America (and arguably the world) for the last 50 years. And while some reigns have been greater than others, it's never been a championship to be booked too cavalierly. Despite some periods of frequent title changes, Vince McMahon's name may be the only one truly out of place in the register of past champions—and even his brief run came for good storyline purposes and McMahon was very arguably one of the biggest on-air stars in the company at the time.
Bruno Sammartino. Hulk Hogan. Randy Savage. The Ultimate Warrior. Bret Hart. Shawn Michaels. Steve Austin. The Rock. Triple H. John Cena. I'd argue that no championship in all of wrestling boasts a greater combination of household names, charismatic legends, and legit wrestling talents than the WWE Championship. And, for my lifetime, I don't expect that any championship will.
Which championship do you consider most prestigious? Which belts should have made the list but didn't? Let us know what you think in the comments section. See you in seven.
Read stories and miscellaneous criticism from Mike Chin at his website and his thoughts on a cappella music at The A Cappella Blog. Follow him on Twitter @miketchin.