The Top 10 Festival Headline Performances: Kanye West, Daft Punk
August 20, 2020 | Posted by
Headlining a major music festival, particularly one that the musician attended in their formative years, sits right alongside the platinum record on most artists end of career bucket list. Becoming a headliner is both a status symbol: a role reserved for the hottest new band in town (The Strokes in 2001), an iconic staple of the pop culture (Rage Against The Machine's 2008 return), a legend with an incredible back catalogue (Neil Young in any year) or an act whose live performance is so strong it surpasses their raw sales (Arcade Fire in the mid-2000s).
For those who earn the rite, headlining across the decades it is a way for an artist to shape and signpost the narrative arc of their career with a series of signature performances (often debuting new looks, sounds and directions). For others it is a momentary flicker. The exact moment when they captured the zeitgeist and were afforded the opportunity to stand shoulder to shoulder with the giants of rock and pop history (think Franz Ferdinand, The Darkness, Phoenix, Limp Bizkit).
It is as much of a curse as a blessing. Off the top of my head I must have seen somewhere in the range of a hundred headline performances over the years (I briefly worked as a festival awards judge in the UK) and truth be told most performances were underwhelming, simple so-so or outperformed by the act in the sub-headline slot. I've seen absolute outright disasters (Razorlight facing a Reading crowd who were actively chanting "Kings Of Leon! Fuck Razorlight" in 2010) and witnessed a host of technical issues that have rendered performers like Eminem and the Red Hot Chilli Peppers inert. Naturally enough, I've endured some true self made catastrophes – Guns 'n Roses turning up hours late, Fat Boy Slim phoning it in, The Sex Pistols mocking a distinctly non-punk crowd before running out of material, the works.
So while the Festival Industry may have expanded beyond all recognition in the 2000s, topping the bill is still fraught with peril and the art of headlining is anything, but routine.
Unfortunately, thanks to Covid, hardly any of the major annual music festivals have taken place and we will have to wait an entire year or longer to catch up on performances missed (I was supposed to be seeing Rage Against The Machine this Sunday and Kraftwerk a few months ago). But rather than dwelling on what we've missed, 411 is going to celebrate the great sets that we have seen.
Disclaimer: I'm only listing performances that I have witnessed live, in person, in the actuall field. So heads up, I've never been to Glastonbury or Coachella (I have been to all the other major UK festivals). I'm ruling out one-day events, so Pink Floyd at Live 8 or Blur at the Olympic Closing Ceremony will not be counted. Equally, the Lucca Summer Festival (which consists of stand alone concerts over two months) will also not be counted, so sorry Elton.
Honorable mentions? There are too many to mention! From Rage Against The Machine and Slipknot to Christine + The Queens and Neil Young or even Radiohead and Rihanna, I wouldn't even know where to begin.
10. The Rolling Stones / Muse @ Isle Of Wight 2007
Okay so this spot really should belong to solely to Muse, who followed up an incredible performance at Reading 2006 with an even more accomplished, brazen and triumphant performance at Isle Of Wight that proved a perfect bookend for the band's Black Holes & Revelations era (there was even a happy birthday singalong for Matt Bellamy thrown in right before "Starlight"). But seriously, how can I over look The Rolling fucking Stones? Seeing them with my sister, mother and late father is something I will always remember for both the wrong and the right reasons.
First of all, there was the army of camping chairs making the festival impassable for anyone who didn't want to simply camp out in front of the main stage for 12 hours, then there was the fact that they only played for an hour and fifteen minutes and, somehow, dedicated 10 minutes of that time to Keith Richards led material!!! None of it mattered of course, because The Stones are less a band and more of a frayed at the edges vibe at this point: a walking calamity that have the capacity to rip into some of the best songs in music history. So you live with a dubious tuned version of "Can't You Hear Me Knocking" or, as Glastonbury discovered, a suitably messy and never ending rendition of "Midnight Rambler" to be blown away by a seductive "Miss You", a raw "Honky Tonk Women" or a bizarrely jazzy and laid back airing of "Sympathy For The Devil".  No one had clued The Stones in on the professionalism expected of 21st Century headliners and they are all the better for it. The result was a set entirely on the artist's own terms and, while it was bizarre to see Paolo Nutini join them on stage to cover Robert Johnson, it was thrilling to see Amy Winehouse run out for a messy, but wonderful rendition of The Temptation's "Ain't To Proud To Beg".
If The Stones were a rock and roll calamity on Sunday Night, then Muse headlined a stage that had already been graced by Amy Winehouse at the height of her powers and Kasabian on the fast track to superstar status. Still, Matt Bellamy and co never threatened to be upstaged; their virtuosity remained undiminished even as they married their bombastic assault to an array of a now classic pyrotechnics and visuals tricks. The theatrics were secondary however to the towering power of Bellamy's lead guitar which retained the feral edge of their early years while hinting at the preposterous ambition that would soon consume the band's sound. The perfect middle ground between what had been and what was yet to come, 2007 was Muse's zenith. There was no fat to trim and Muse still had the energy of a band on the rise. Back then "Knights Of Cyndonia" was the band's rampaging opener – a long foreboding introduction to the pomposity that was to come – and it was left to "Stockholm Syndrome" to bulldoze the night sky into oblivion before "Take A Bow" ensured the crowd burned in hell for their sins.
9. Pulp @ Wireless Festival 2011
This is a bittersweet entry. As you can tell from its placement on this countdown, Pulp's performance at Wireless was magnificent – the highlight of their reunion tour, better by far than their excellent return performance at the Isle Of Wight Festival that same summer. So where does my bitterness come from?
Well I saw this Pulp show instead of going to see Prince play a staggering 3-hour career spanning set at Hop Farm in Kent. Prince has since passed away and I never had the pleasure of seeing him live – so bizarrely, one of the best sets I've ever seen will always feels like a tragic mistake (both sets drew five star reviews in the UK press).
Still, this isn't Pulp's fault and their performance at Wireless remains special because Wireless was their true, long awaited, reunion show. Jarvis Cocker acknowledged as much after their blistering opener "Do You Remember The First Time?". This was the first show Pulp advertised when they announced their reunion, the first chance to get tickets to see them back on stage and, as such, it was packed full of diehard fans. Jarvis almost apologised that the show ended up happening in the middle of their touring schedule, but that didn't stop the crowd from reacting as if, well, it was "the first time".
The set was pure pleasure, from live rarities like "Mile End" to a series of carefully honed set pieces (Jarvis leading a fish eye camera through the crowd for "I Spy", the light show simulating a resplendent dawn during "Sunrise") every aspect of this set sang harmonious. What's remarkable is how big and polished these anthems sounded in 2011. In an age when indie music was entering a headlong retreat, here was a reminder of an time when the razor sharp lyricism and sublime melodies of "Something Changed" or "Mis-Shapes" could be considered "lesser hits". Pulp were the working class, but intellectual subconscious behind the booze addled excess of Britpop and, with time and space to reflect, Cocker was allowed to take his place among the hit-writing elite. "Babies", "Bar Italia", "Sorted For E's & Wizz", "Underwear", the sing alongs kept coming to the point where "Disco 2000" and a barnstorming "Common People" felt more like the norm than the exception.
The undoubted highlight, however, was Pulp's anti-pop, non-concise moment of lurid theatricality. "This Is Hardcore" sprawled and spread itself across the festival field, with Cocker acting out every perverted line and lurid throb of the horns. It was an epic and an oddity, perfect for Pulp: the arch raised eyebrow of Britpop who never could quite play it straight.
8. Paul McCartney / The Strokes / Jay-Z @ The Isle Of Wight Festival 2010
The 2010 edition of the Isle Of Wight Festival was masterfully compiled: a festival of stark contrasts that somehow harmonized into a perfect start-to-finish product topped of by three headliners whose performances couldn't have been more diverse. Jay-Z followed a barnstorming Florence and The Machine performance with a cool and composed set that never felt overly slick. Buoyed by a batch of new hits ("On To The Next One", "Empire State Of Mind", "DOA") and backed by a tight live band, he held a supposedly rock and pop crowd in the palm of his hand. It might not have rivalled the more transgressive and daring sets Hova would develop in years to come, but when Kanye West strode onstage to celebrate his birthday during "Run This Town", this felt like Jay's pinnacle in the global pop culture.
The Strokes don't go for sing-alongs, crowd interaction or spectacle, they can barely be bothered with a light show. Instead, they put their head down and play with a metronomic precision and a laconic New York Cool. Following a performance by Blondie (the support Julian himself had chosen) as well as Biffy Clyro and Vampire Weekend, The Strokes performed with such sleazy assuredness that it hardly mattered that their long awaited return featured no new material. They shut up and played the (anti)hits. (note: I did see a slightly better Strokes headline performance at Wireless Festival in 2006 which included Julian playing "New York City Cops" upside in the crowd).
After two headliners that exuded aloof New York City cool, it was time for a distinctly twee British icon to close proceedings. Following a bonkers performance by P!nk (she really is tremendous live), Sir Paul set about warming hearts and sending the crowd home happy. After a tender start that saw tributes and apologies to both Lennon and Harrison, McCartney ripped deep into his back catalogue to produce a second hour run that few in rock, pop or rap could hope to rival. From the delicacy of "I'm Looking Through You" and "Blackbird" to brutality of "Helter Skelter" and "The End", Paul and his ferociously talented band delivered a masterclass in closing a festival (seriously, just listen to that spontaneous ovation at the end of "Live And Let Die").
7. Black Sabbath @ Download Festival 2012
Long term readers of 411's end of year live lists will know that I have been waiting three years to see Ozzy Osbourne and Judas Priest play together at the O2 (Covid is the latest in a long line of delays), but fear not, I can endure. After all, I had to wait a very long time indeed to see a reformed Black Sabbath after missing them in 2005.
The eventual performance was more than worth the wait. Introduced to the stage by a wonderful video full of archival footage that cheekily primed a young audience on all the band's key riffs, when Sabbath took to the stage it was clear the darkness and edge of old had evaporated. Ozzy was all smiles, a national treasure intent on enjoying himself rather than trying to posture, pose or recreate his past. Sabbath themselves remain wonderfully understated, less metal Gods and more Birmingham local lads done good: content to put their head down and bludgeon their audience with the heaviest grooves in rock history with minimum fuss.
And therein lies one of the most potent contrasts on the live circuit as a friendly love-in turns into a rib-cage-rattling onslaught of primal sludge and instantly chant-able riffage. "Changes" is wisely ditched from the setlist, "Sweet Leaf" is the sole moment on subtlety in a set that aims to recreate the brooding trudge and mystical spaciness of Sabbath's self-titled debut. "N.I.B." is glorious live, but it's the tracks that critic's dismissed in 1970 ("Fairies Wear Boots", "The Wizard" and of course "Black Sabbath"), that sound unremittingly glorious as they suffocate the evening air.
The perfect festival closers, Black Sabbath provide a beery, arms-around-shoulders, sing along farewell and a demonstration of the raw heaviness of this most perverted and maccabre mutation of the blues.
6. The Police @ Isle Of Wight Festival 2008 
Isle Of Wight Festival performances tend to get a little bit of a boost in my rankings as they are tied of memories with both my best friends and my family. The festival isn't very rock and roll, it's very mild and mainstream in its eclecticism, but that made it perfect for bringing the generations together. Back in the 2000s the festival also had a habit of pulling out left-field and yet undeniably legendary headline selections: The Police, Tom Petty, Neil Young, even The Sex Pistols.
The Police were perhaps the strangest of the bunch, in part because for all their incredible hit-making and technical accomplishments, no one really thinks of The Police as a festival band. They are arena and stadium headliners who have the luxury of playing to legions of their own fans on their own terms, like reggae-influenced alternative to U2. They have that whiff of corporate naffness that belies an unrivalled back catalogue in terms of both Top 40 smashes and knotty, artful compositions.
Unleashed on a festival field the result was a dynamite set full of the biggest sing alongs you will ever hear ("Message In A Bottle", "Don't Stand So Close To Me", "Roxanne", "Every Breath You Take", "Every Little Thing She Does Is Magic", etc) and songs that just undeniable rip or groove ungodly deeply ("So Lonely", "Next To You", "Driven To Tears", "Walking On The Moon"). Sting is of course an incredible vocalist who shines on stages this big: both a soul-smith and model professional as well as one of the great bassists in rock history (he would also prove an incredible Art Garfunkel on his joint tour with Paul Simon). The Police are nothing to be sniffed at either, despite their cod-raggae and new wave affectations, Andy Summers is a lithe and lyrical guitarist and Stewart Copeland is adept at leading the band through a host of rhythm, tempo and textural changes.
The Police should play festivals more often, not only to remind the world of their songbook, but to show off their raw virtuosity and challenge the misconceptions about their capabilities. Just check out the above version of "So Lonely" – that needs to happen at Glastonbury or Coachella before they get too long in the tooth.
5. Bruce Springsteen + The E Street Band @ Isle Of Wight Festival 2012
Artists really shouldn't be getting better this deep into their career, but Bruce Springsteen obliterated my memory of an excellent performance at Hard Rock Calling 2009 when he took to the Isle Of Wight Stage. Part of this performance's brilliance lied in Bruce's decision to ditch fan requests. There is a joy to rarities and oddities that come with letting the crowd hold aloft little cardboard signs with classic songs adorning them, but there is also merit in allowing an artist with Springsteen's understanding of live dynamics to craft a three hour long journey in sound and spirit.
Given total control, Springsteen and The E Street band thrived by creating these gorgeous mini-suites that led from the depths of depression to tender moments of airy joy. The set opened with determination in the face of adversity with the Boss bulldozing through a joyous "No Surrender" before tackling songs of urban decay that felt fitting in the wake of the financial crash. "Wrecking Ball" roared into spirited readings of "Death To My Hometown" and "My City of Ruins". The true pits of despair were reached with a wrenching run through of Nebraska's magnificent "Atlantic City", but if the theme of selling out to dark forces in order to keep the dream alive threatens to depress, then The Boss lightened the mood with the jaunty blue collar rock of "Working On A Highway".
Like an album come to life, narrative sprung forth at every turn, culminating in the transcendent combination of "The River" – which saw Springstreen isolated and alone telling his tale of a young pregnancy sealing a young couples fate – and "The Rising", where The E Street Band stand together to rebuild in 9/11's wake. It was a powerful and show stopping combination that warranted the gleeful outpouring and tempo change that "Out In The Street" more than delivered.
With a phenomenal main set in the bag, The Boss was free to send the crowd home happy and boy did he over-deliver. "Born In The USA" (for the first time since 1996), "Born To Run", "Glory Days", "Dancing In The Dark", "Tenth Avenue Freeze-Out" and Twist and fucking Shout – now how's that for an encore. The 3-hour set flew by so fast that my mum forgot to monitor her diabetes (i.e. sugar levels) and we had to take her to the medical tent during "Tenth Avenue Freeze-Out". Despite the shock, as the doctor was treating her, she was still happily singing along to "Twist And Shout" – this, it turns out, was a set worth risking your health for.
4. Metallica @ Reading Festival 2008
So because I am basically allergic to the entire Download Festival site – seriously, I made it through Donnington to see Black Sabbath, but at the risk of sounding like the biggest geek in history, I just can't stop sneezing whenever I go there – my first time seeing Metallica headline a festival came at Reading 2008. Suffice to say they were worth the wait and this remains the finest performance I have witnessed from the Bay Area Thrash icons. Sure, they had a friendly and more knowledgeable crowd at Sonisphere when they were backed by the rest of the Big Four, but the sound and setlist weren't perfect for that performance (Lars' drums were insanely loud in the mix).
Reading was proof that there was no time like the first time. It was the right time for Metallica too, having fallen under the stewardship of Rick Rubin the band were harkening back to the …And Justice For All era and had cut any post-92 material from their setlist. The notable exceptions were of cause Death Magnetic cuts "The Day That Never Comes" and the debuting "Cyanide", but it's worth pointing out how thrilling (and newsworthy) it was to hear these tracks performed for the first time and to note how well they fitted alongside their classic thrash counterparts. The former  turned out to be a genuine highlight. The result was a near dream set list at the most unlikely of venues for the Metal icons.
Being a rock rather than a metal festival, I'd foolishly expected to hear the likes of "The Memory Remains", "St. Anger" and "Fuel", but instead I was treated to a barrage of blistering solos and remorseless thrash. Each of the band's five classic albums was given a good airing and, as a Kill 'em All fan, I was thrilled to hear the raw proto-punk energy of "Motorbreath", "No Remorse" and "Seek & Destroy" crackle out of the stereo system. Not only were Metallica noticeably louder and more professional than anyone else on the bill that weekend, they were better showman too. Sure they verged on outright cheesiness, but sometimes that's what you need. It was genuinely hilarious to hear James scream, "Who cares about you? Who cares about Reading?" before whispering, "Metallica cares" and then launching into "So What" by the Anti-Nowhere League.
Picking individual highlights feels pointless from such a stacked and accomplished setlist, but it's hard to looking beyond an incredible opening suite that proved beyond a shadow of a doubt that a bunch of old metalheads could conquer an increasingly indie festival without either pandering or dumbing down. The raw "Creeping Death" led into the bombast of "For Whom The Bell Tolls" and air guitar heroics of "Ride The Lightening" and the chunky grooves of "Harvester Of Sorrow" before a show stealing rendition of "Sanatorium (Welcome Home)" tied all the above together in a beautifully bloody bow.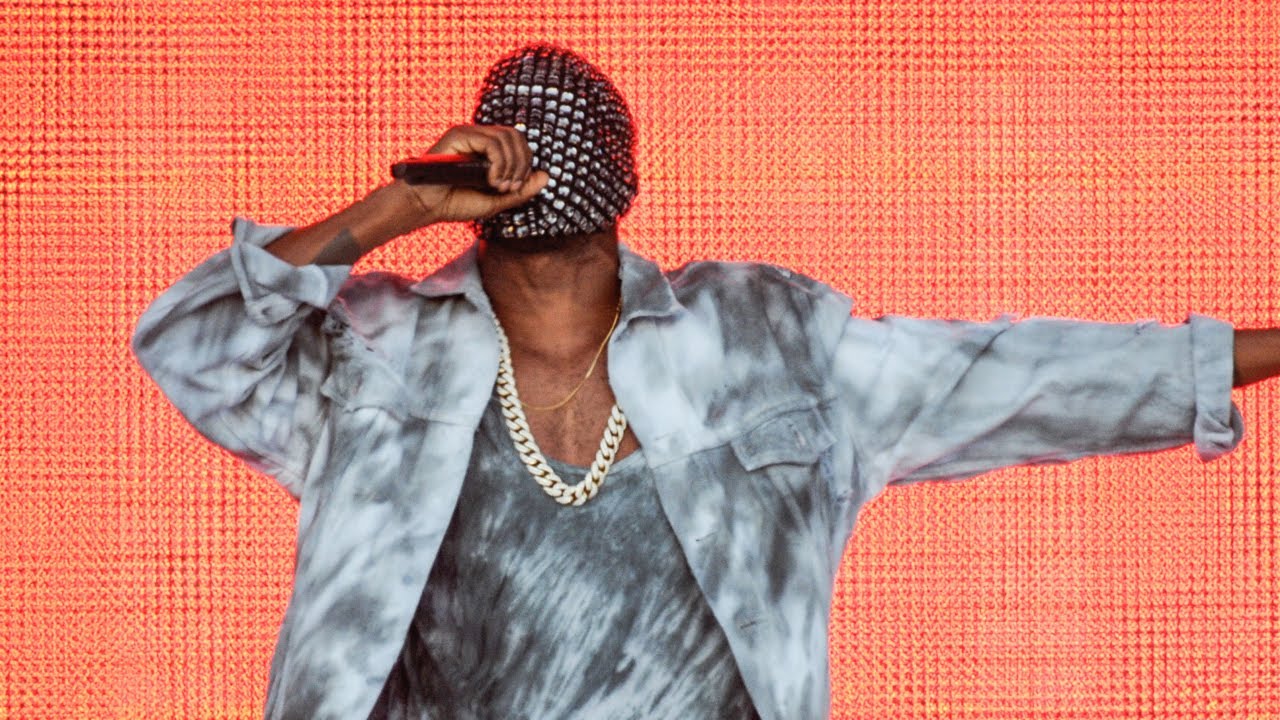 3. Kanye West @ Wireless Festival 2014
Yes, Kanye did rant (with some justification) about the way Nike locks top level  black artists and designers out of the upper echelons of their profit machine for a good 15 to 25 minutes during "Runaway" – but truth be told, that's just part of the experience.
At Wireless 2014, Kanye was in his absolute pomp. Yeezus had arrived and blessed him with a series of vicious, snarling live anthems that positively sucked-the-air-out-of-the-room ("New Slaves") and sent bodies flying into bodies ("Black Skinhead"), respectively. He'd yet to go down the rabbit hole, he was still in total control and this Wireless set was his vision executed to absolute perfection. One artist alone, face covered with a jewelled balaclava, no guest vocalists and no nods to rock, pop or jazz in his arrangements as he fired through his back catalogue with a relentless intensity.
The crowd were in the palm of his hand from the jump. The shout along to "Clique" (played with the backing track dropping out for the chorus) was deafening and strangely hypnotic, less like a pop concert and more like a Nuremberg Rally with pumping outstretched arms soundtracked by deafening-yet-metronomic shouts of "Clique, clique, clique". From there on in it was a hit parade. The set can roughly be divided into two halves, pre and post "Runaway". The first half was a strident and remorseless a mix of minimalist provocation ("I Don't Like", "New Slaves") and resplendent dominance ("Power", "Can't Tell Me Nothing"). After "Runaway", itself a chilling, spellbinding and self-loathing singalong, Kanye entered a world of pure showbiz entertainment.
The final post-rant flurry was joyous. There were still heavy hitters to be found ("Jesus Walks", "Diamonds From Sierra Leone"), but the mood was one of buoyant celebration as "All Falls Down" bled into a triumphant medley of "Touch The Sky", "All Of The Lights" and "Good Life". If Kanye's opening was a chilly and macabre statement of artistic dominance, his closing was pure crowd service, big sing alongs, bright lights, booming beats and broad smiles.
Of course, Ye was hear to make an artistic statement and his encore was not a hit, but a brutally bombastic run through of "Blood On The Leaves". His shocking inversion of Billy Holiday's protest anthem to decry not the horrors of lynchings ("Strange fruit hanging from the poplar tree"), but the strains of maintaining a mistress as a celebrity. It was the ultimate triumph of bad taste lyrical content, avant garde production and a horn driven drop destined to rip festival fields asunder. West was so taken aback by the crowd's response that he reloaded the track and played it from the top.
West had reached his pinnacle. He should have recreated this exact moment at Glastonbury a couple of years later – and for one scintillating hour he did – but alas, that set gave way to a sense of indulgence that never surfaced at Wireless.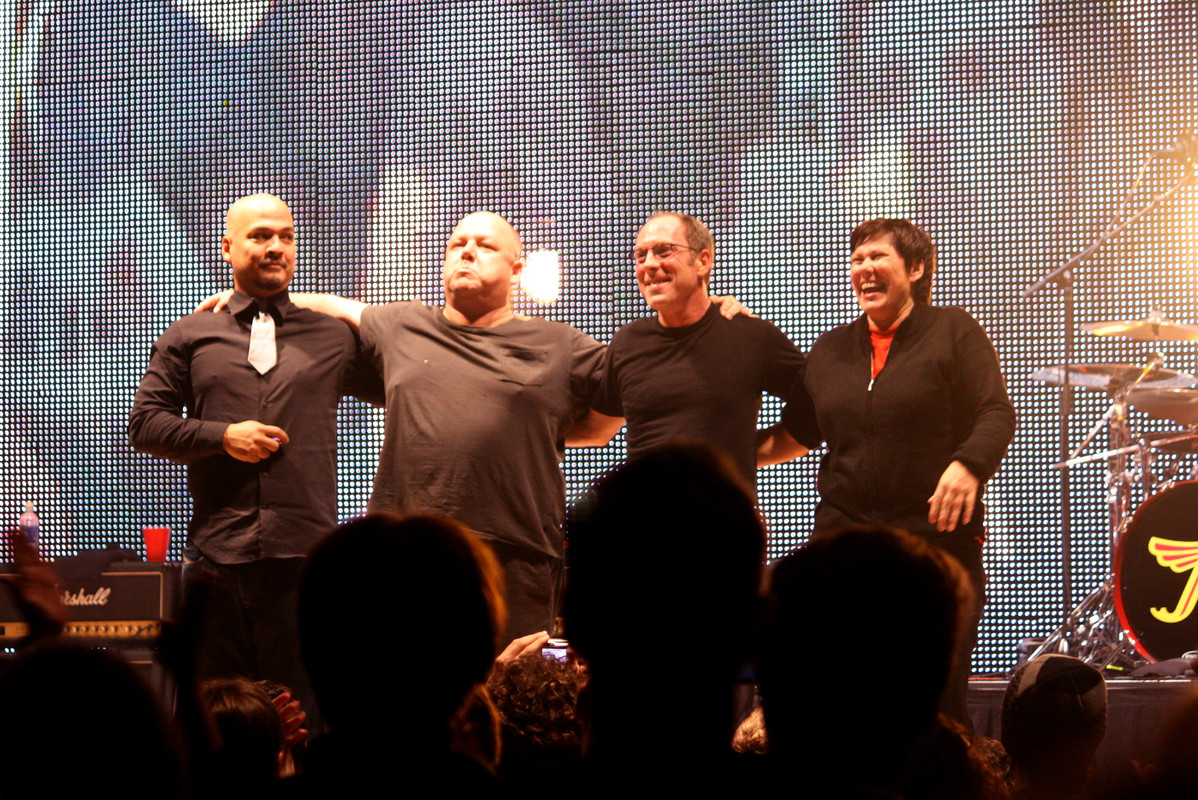 2. The Pixies @ Reading Festival 2005
In 2020 I may have listened to an implausible diverse collection of records and had the honor of interviewing a swathe of guitar heroes, but back in 2005 I was an eager fan who attended music festivals as much to discover older artists as new.
Among the younger attendees of Reading (a festival that famous captures the 16-22 alternative audience) it's safe to say that not many people knew who the Pixies were and a large chunk of the audience opted to watch an up-and-coming Kasabian instead. Their loss. Still, I can't act the snob, I only knew "Tame", "Monkey Gone To Heaven", "Here Comes Your Man" and "Where Is My Mind?" at the time and had next to know idea what to expect.
Suffice to say, taking advantage of the smaller than usual headline crowd, I was able to creep towards the front and witness a career spanning 28-track set that included pretty much all of Doolittle. However, The Pixies certainly started with a curveball: "U-Mass" from Trompe Le Monde followed by a The Jesus And Mary Chain cover. Rather than alienating a newcomer, I was blown away by the band's talent and their effortlessly prowess as live performers. They exuded a nonplussed, "honestly we cannot be fucked with this" aura, but they performed with an incredible blend of rawness and precision.
The Pixies offer a masterclass in dynamic juxtaposition. Howling, screaming and softly cooing against chilly night air, Frank Black's vocal remains unparalleled live. Sadly, he doesn't scream these days, but back in 2005 he ripped hard into every syllable as he flickered between unhinged angst and smooth 50s pop control. Joey Santiago's riffs were both made for the biggest spaces (ringing out like The Edge's finest) and the dirtiest of dive bars (clanging wilfully out of tune) while Kim Deal is all icy understatement and sumptuous basslines. The set quickly turned in to a triumph as The Pixies tore through the genres and scenes of yore with a cool detachment. Black and Deal are nonchalant throughout, joking with each other as if sitting on the couch and watching the crowd on TV.
The set closed with an encore that captured the two extremes of their sound. With minimal backing Frank split eardrums with his booming lead on "Hey" before Deal softly grooved through her ode to big dicked lovers, "Gigantic". Humor, heart, brutality and the joy of discovery, i.e. the perfect headline set – well almost…
1. Daft Punk @ Wireless Festival 2007
It's Daft Punk. You expect the Frenchmen turned robots to be great live, but you cannot be prepared for how phenomenal they truly are. This specific tour would inspire the American EDM wave (somewhat regrettably) and the kind of graphics and theatrics that now dominate the live scene and festival circuit.  So, in light of this tour's unintended legacy, it needs to be said clearly and without caveat that Daft Punk's triumph had nothing to do with drops and absolutely nothing to do with theatrics.
Sure, the robots played from a top of a Pyramid that displayed beautiful graphics in time with the music, but Daft Punk's brilliance lies in their ability to take their audience on a long migratory journey that draws out the commonalities of their sound, painting a picture that cannily combines 70s kitsch with 21st Century electronic aloofness. Ever wondered why Daft Punk bothered putting "Crescendolls" or "Steam Machine" on an LP? Well their live show answers these questions as these strange snippets of abstract sound are beautifully reinterpreted to buttress the festival-sized sing along "Television Rules The Nation" and the skittish white funk and space-aged detachment of "Too Long".
Daft Punk never simply play the hits. Their headline set is one ever spinning mix that is as likely to drift and vibe as it is to send the listener into a state of euphoric, singalong driven bliss. "One More Time/Aerodynamic" naturally provides an incredible mid-set high, but before you can even figure out where you are (let alone where your friends have disappeared to), Daft Punk have launched into the strange blend of "Prime Time Of Your Life / Brainwasher / Rollin' & Scratchin'".
Picking a highlight is tricky, because the entire set is a wonderland of communal highs and nonstop dancing. Still, Daft Punk have crafted this journey so organically that it's hard to look beyond the ultimate crescendo, "Human After All". When those lines boom out of the soundsystem Daft Punk have more than made their point. From their inhumane electronics and crafty sampling, they have forged the most human of collective experiences. The fact that they can encore with a blistering blend of "Human After All (reprise) / One More Time (Reprise) / Music Sounds Better With You" is just gravy.
I can honestly say I've never seen more happy smiling faces in all my life.
---
So now it's your turn to tell me about the greatest headline sets you've ever seen.
Oh and feel free to request some top 10 topics