411's Countdown to WrestleMania 28: WrestleMania 19
March 24, 2012 | Posted by
INTRO
WrestleMania XIX is a fascinating one for many reasons. For the first time ever we would see the company's "two" world titles being defended as HHH battled Booker T and Kurt Angle battled Brock Lesnar. If that wasn't enough, Vince McMahon would step back onto the WrestleMania stage and battle his own creation, Hulkamania! Shawn Michaels would also return to the WrestleMania ring, and would do battle in what some thought of as a match we would never see, facing off with Chris Jericho. Finally, we would have the final part of the WrestleMania Trilogy, as Steve Austin did battle with the Rock! There was a ton to look forward to on this show, but how does it stand up to our panel of reviewers?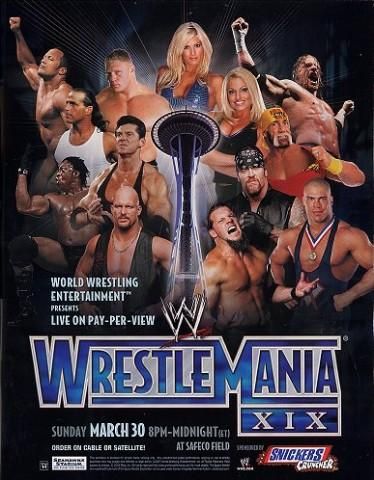 * WWE Cruiserweight Title Match: Matt Hardy © defeated Rey Mysterio via pin @ 5:39
* The Undertaker defeated The Big Show and A Train @ 9:46 via pin
* WWE Women's Title Match: Trish Stratus defeated Victoria © and Jazz to become the NEW Women's Champion via pin
* WWE Tag Team Title Match: Team Angle © defeated Los Guerreros and Chris Benoit and Rhyno via pin @ 8:46 via pin
* HBK defeated Chris Jericho via pin @ 22:30 via pin
* World Title Match: HHH © defeated Booker T @ 18:47 via pin
* Hulk Hogan defeated Vince McMahon @ 20:37 via pin
* The Rock defeated Steve Austin @ 17:53 via pin
* WWE Title Match: Brock Lesnar defeated Kurt Angle © to become the NEW WWE Champion @ 21:07 via pin
Greg Demarco
BEST MATCH: Shawn Michaels vs. Chris Jericho [****] – It's amazing that this match happened in 2003, considering the great run these two had several years later. As a fan I wanted to see Jericho get the win, considering he was the first ever Undisputed Champion and had quite the rough WrestleMania X8. This match had great wrestling, great storytelling, and a great moment at the end (the fake embrace from Jericho that ended in a low-blow). An argument can be made for Angle-Lesnar, but I am going to stick with HBK-Y2J here.

WORST MATCH: The Undertaker vs. Big Show & A-Train [**1/2] – Originally scheduled to be a tag team match with Nathan Jones paired with 'Taker, he was taken out pre-match and Taker went it alone. That did hurt the believability as he was facing two monsters and was not Zombie Taker, but Biker Taker. Still, this was not a horrible match by any accounts. That's just how damned good this card was.

HIGHLIGHT OF THE SHOW: The 5-match stretch at the end. – I could point to several moments on this card, including Lesnar's Shooting Star Press, Booker T's Harlem Hangover, The Rock finally beating Steve Austin at WrestleMania and the return of Roddy Piper. But those final five matches featured an amazing stretch. HBK-Y2J kicked it off, followed by Triple H-Booker T, Hulk Hogan-Vince McMahon, The Rock-Steve Austin & Kurt Angle-Brock Lesnar. Each match was over 18+ minutes, and this was a true Quintuple Main Event.

MVP OF THE SHOW: Kurt Angle – This is such a hard choice, as so many men delivered amazing performances. Kurt Angle gets the nod over an amazingly talented group of wrestlers for the sole reason that he showed how much of a veteran he was after less than five years in the business when he covered for Lesnar's knockout SSP, carrying through the end of the match that Lesnar still doesn't remember.

OVERALL SHOW RATING: 10 – Safeco Field was an appropriate home for WrestleMania XIX, because it was a home-run. Five great matches to close the show, and the worst match still being in the "good" category. Roddy Piper gave us a surprise return, and this was a night all about wrestling. This is the card that all WrestleManias aspire to be.
David McGregor
BEST MATCH: Vince McMahon v Hulk Hogan: [8 out of 10] Ok this may not be the best match of the night under traditional standards, but everyone else will no doubt pick Jericho v HBK or Lesnar v Angle. I thought this match was by far the most intriguing in the lead up to Wrestlemania 19 and definitely was built like a true dream (nightmare?) match. The whole 20 years in the making campaign was brilliant and even though it wasn't a great in ring contest, it was another brilliant over the top McMahon match. It also gave us more Wrestlemania moments, from Vince looking at Hogan with blood dripping down his face to Roddy Piper returning and kicking ass. I just thought this was a fun and memorable match and probably the most likeable Hogan has been in a long time.

WORST MATCH: Triple H v Booker T: [2 out of 10] This one was just cringe worthy, did the WWE seriously think this was a good idea? Why make the angle about race in the first place, especially if they are going to have the rich white guy win in the end? This one just defies belief, an embarrassment on the careers of everyone involved. This is mostly here due to the angle as the match itself was boring but not terrible. But the angle definitely dominates the feud, and is the main reason why this is considered one of the worst feuds of all time. Idiotic booking and a dull match absolutely makes this one the worst of the night.

HIGHLIGHT OF THE SHOW: Rock finally beats Austin: In hindsight there was a lot of finality to Wrestlemania 19, mostly due to Austin having his very last match at the event. But that match was also the end to the amazing series of matches between Austin and Rock, which were some of the biggest and best of the Attitude Era. These men managed to have the same match main event 3 separate events, without a gimmick attached to any. In that final encounter Rock was able to beat Austin in one of their greatest matches, a classic moment between the two largest stars of the Attitude Era.

MVP OF THE SHOW: Kurt Angle: Angle risked a permanent paralysis to give Brock Lesnar his career defining moment on the grandest stage of all. He may be a little crazy now but Kurt Angle has to be given all the credit in the world for his performance at Wrestlemania 19. Very few men could walk in with such a debilitating injury and put on a show stealing performance like Angle did. HBK put on a great show and Rock may have finally beaten Austin but no one could hold a candle to Kurt Angle wrestling 20 minutes with a broken freakin' neck!

OVERALL SHOW RATING: 8 out of 10 – An odd mixture of past and present during Wrestlemania 19 made for a great event, even with a tremendously racist angle involving the World Champion of the A Brand. The only reason this isn't the full 10 is because of rubbish like Undertaker v Big Show and A Train, in what would have been the worst match of the legendary streak if Giant Gonzales hadn't kept a strangle hold on that title for many years. This is also quite an important show as by the very next year people like Austin and Hogan weren't the focus of the show and Triple H was losing his grip on the World Title (albeit for a short time), and new stars were in the process of being made. A historic show that is entertaining from start to finish, well almost.
Nick Bazar
BEST MATCH: Shawn Michaels vs. Chris Jericho [****1/4] If the Unsanctioned Match at Summerslam 2002 wasn't enough to convince you that Shawn Michaels still had it after a four-year absence, then his classic against Chris Jericho at Wrestlemania 19 was concrete proof that the Heartbreak Kid was back. The story was simple and they executed it flawlessly: a young wrestler trying to prove to his idol that he had surpassed him. As a life-long diehard Michaels fan, this match was enough to justify the price tag of the entire show.

WORST MATCH: The Undertaker vs. Big Show/A-Train [**] Even though I'm labeling this the worst match of the show, it still wasn't even that bad. Originally scheduled as a tag team match with Nathan Jones as Undertaker's partner, this is probably one of the few matches that has benefited from the "Handicap" stipulation. In the end, it was just your run-of-the-mill power match.

HIGHLIGHT OF THE SHOW: When people talk about Wrestlemania 19, the first thing that comes to mind is Brock Lesnar's sick Shooting Star Press on Kurt Angle during the main event. Not sick because he nailed it perfectly, but sick because he missed his mark completely and landed directly on his neck. I know I wasn't the only one who thought "The Next Big Thing" had broken his neck when watching live, and I'm still impressed that Angle was able to walk him through the alternate finish.

MVP OF THE SHOW: Kurt Angle. According to Angle, Brock Lesnar was uncharacteristically nervous prior to this match. It was his first Wrestlemania, and it was slotted for the main event of all things. On top of that, the scheduled time for the bout was shortened from 30 minutes to about 22, and Lesnar was anxious to rush through certain spots or just skip them altogether. Luckily, he was in there with Angle who walked him through a very good match with a bum left arm and a severely injured neck.

OVERALL SHOW RATING: 9.5 – Personally, this is my favorite wrestling card of all time. Take away the ridiculous Miller Lite pillow fight and you have a perfect 10 here. The third and final meeting between Steve Austin and The Rock, an under appreciated World Heavyweight Championship match between Triple H and Booker T, an epic brawl between Hulk Hogan and Vince McMahon, a classic between Shawn Michaels and Chris Jericho and a terrific straight-up wrestling main event between Kurt Angle and Brock Lesnar-what more could you ask for?
-Remember to come back tomorrow for our review of WrestleMania 20…
TWITTER
Your heart is free. Have the courage to follow it…TO CSONKA'S TWITTER!
http://www.twitter.com/411wrestling
http://www.twitter.com/411moviestv
http://www.twitter.com/411music
http://www.twitter.com/411games
http://www.twitter.com/411mma