411's WrestleMania 34 Preview (Part One)
April 8, 2018 | Posted by
~THE STAFF~
* 411 columnist, Mr.
Mike Chin
.
* 411 reviewer, Mr.
Kevin Pantoja
.
* 411 columnist, Mr.
Steve Cook
.
* 411 contributor, Mr.
Rob Stewart
.
* 411columnist, Mr.
Justin Watry
.
* 411 contributor, Mr.
Mitch Nickelson
.
* 411 contributor, Mr.
Jake Chambers
.
---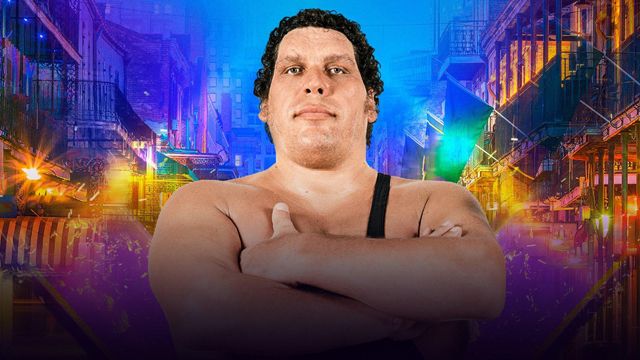 Andre the Giant Memorial Battle Royal
Jake Chambers
: As a kid I watched the closed circuit screening of Wrestlemania 2 at Maple Leafs Gardens in Toronto, and let me tell you, there was no match I was more hyped for than the Battle Royal. I loved battle royals, still do. Everything about that match was so dynamic and exciting to me, while also feeling like it went about a thrilling 45 minutes. So imagine how exhausted and exhilarated I was when my favourites, the Hart Foundation, were left at the end with that annoying, slow old guy Andre the Giant. In my gut, this was a lock; one man can't beat a tag team, not even a giant. What did I know about the history of Andre at the time? Definitely not enough to justify him winning his only Wrestlemania battle royal before having an annual one named (now understandably) in his honour. It is startlingly impressive to think about how forward thinking the WWF brain trust was back then to have future main event-er Bret Hart in the ring at that point with an uber-legend. When you really think back on the history of Wrestlemania, for all the micro issues fans and pundits criticize the WWE for, the company often gets the macro decisions right. So where does that leave THIS after-thought of a battle royal tradition from the recent string of mediocre Wrestlemanias? Cesaro winning with a reclamation of the classic Benoit battle royal elimination of Big Show, then Show himself getting a legacy win the next year; Baron Corbin and Mojo Rawley claiming the trophy next and no one taking them seriously afterwards. There is no real culture to the winners here, so it's hard to say who will come out on top. But if the WWE wants to do something important again and use this match to showcase a wrestler who might really be a Wrestlemania main event-er in 10 yearsthen I think there's a special someone who should drop in to this match after a major victory at Takeover the night before.
WINNER: Johnny Gargano
Mitch Nickelson: There could be some fun here. Matt Hardy will likely give a little Broken Brilliance and Tye Dillinger will make his once every four month televised appearance, so those are things that will make me smile a little. Previous Andre Battle Royal Winners build the case that this accolade doesn't mean much. I guess I still have to make a prediction so how about Big Cass? He should be back soon, right?
WINNER: Big Cass
Robert Stewart: I can't believe they still do this every year, but at least it's a decent paycheck for everyone for making it to 'Mania, and it gives an NXT call-up or two a chance to pop the crowd. I've heard the rumors that THIS TIME this will matter because of the Andre The Giant biopic that is coming out. I disbelieve those rumors. It'll happen and be quickly forgotten like the rest. I mean, hell… it's still just on the pre-show. How much can they care?
WINNER: Matt Hardy, because I want to see the trophy become a fixture on the Hardy Compound.
JUSTIN WATRY: For those keeping score, the Andre The Giant Memorial Battle Royal winners include Cesaro, Big Show, Baron Corbin, and Mojo Rawley. For those keeping score, none of those four did much after the victory. For those keeping score, WWE has (again) given not many flips about this match despite a ridiculous rumor earlier in the year about a certain "big name" entering. Usual guessing equals news brilliance there. As an official prediction, I will go with Baron Corbin. He can brag about being the first ever two time winner and gain some kind of momentum again after his failed Money in the Bank cash in last year and United States Championship loss. As a REAL prediction though, somebody like Samoa Joe or even Jeff Hardy works for me. Get the Kickoff Show buzzing early…
WINNER: Baron Corbin or surprise entrant
Steve Cook: Was I the only one hoping that the Louisiana State Athletic Commission's rule against tossing competitors over the top rope meant that we wouldn't be subjected to this again? Anyway, this gets a bunch of people on the card, including the guy I think will win that got a big contract for reasons I'm still not 100% sure of. If I know anything about sports though, it's that if you're getting big money you'll keep getting chances.
WINNER: Dolph Ziggler
Mike Chin: The upside of the way this match has been booked is that, with nothing at stake, and no track record of pushing the winner, it really is wide open and unpredictable who might win this bout. I'm picking Dolph Ziggler this year as a lifetime achievement nod. With the recent discussion around him never having had a one-on-one match at 'Mania, and his screwy, aborted end-of-2017/early-2018 push, this could offer The Show Off his WrestleMania moment, such as it is.
WINNER: Dolph Ziggler
Kevin Pantoja: I want to preface this by saying that I'm more excited for this WrestleMania card than any other I can recall. It's insane. Anyway, the battle royal is usually a tough call, because it can go to anyone. I doubt anyone expected Mojo Rawley to win last year and nobody knew Baron Corbin would be in at WrestleMania 32. Looking at the field so far this year, I'm actually all for the Revival winning as a unit. I don't think that happens, though. I'm gonna say Dolph Ziggler wins, but then kind of disses it the way he did with the US Title.
WINNER: Dolph Ziggler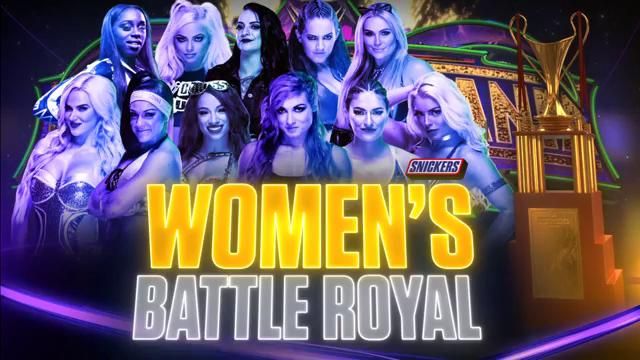 WrestleMania Women's Battle Royal
Jake Chambers
: To call this the first women's battle royal in Wrestlemania history does discount the Wrestlemania 25 Diva's Battle Royal. The WWE and the current Women's division is kind of like Apple every time they release a new iPhone: it's scorched earth on whatever came before – the Women's revolution is THE shit, but forget the Divas, they were pieces of shit. But that's not fair. There were some good wrestlers in that first battle royal, like Michelle McCool, Molly Holly, and Gail Kim, not to mention some very attractive and cool looking ones too, like Joy Giovanni, Maryse, and Tayrn Terrell – which WAS kind of the point of that division at the time. And I'd argue a lot of the Divas, like Melina, Candice Michelle and Kelly Kelly, were as "over" as the most popular wrestlers who will be in this 2018 battle royal. That's not to knock what I think will probably be a fun match, it's just to remember that there was some good stuff in the days of the "Divas" division too. And who deserves the win here more than the wrestler who was ahead of her time as part of that Divas era, and is just as good now as ever.
WINNER: Mickie James
Mitch Nickelson: This pre-show battle royal has a newness to it that the Andre one lacks, so my intrigue is slightly more piqued for this one. The Sasha/Bayley feud will get fleshed out a little more here, even though it's a shame that they couldn't have gotten their own singles match. Becky Lynch is super likable, so I'll go with her taking home the goofy looking trophy. This will be one of those feel-good moments to make the crowd happy early.
WINNER: Becky Lynch
Robert Stewart: I'm more excited for this battle royal than the men's one because, whereas almost the entirety of the prominent male roster is in use elsewhere, there are still a lot of upper echelon women being put in here. Sasha, Bayley, Becky Lynch, Carmella and her briefcase. It's just a field with more overall forward mobility than the men's match. The bookie betting favorite here is… Carmella? Can that be right? Man, Vegas usually knows this stuff, but I don't buy it. What's the cause to have her win?
WINNER: Ember Moon
JUSTIN WATRY: Regardless of what the battle royal is called, I am just reminded of the cluster from WrestleMania 25. Obviously a different era with different talent but still. The Women's Royal Rumble from January was awesome. However, I do not have the same high hopes come Sunday. Three names come to mind as potential winners. Becky Lynch from Smackdown LIVE, Bayley from Raw, and her friend/enemy Sasha Banks. There is always the chance of a shocking participant…eliminating that possibility I am expecting Sasha and Bayley to implode at some point. Plus, I want to see a TON of focus on Becky Lynch. It is high time she actually does something noteworthy. To have those three fight again will be fun to see. Despite my better judgment, I will go with Sasha using dirty tactics to best Bayley and win the battle royal. Those two deserved a one on one spotlight, so them as the final two is the next best thing.
WINNER: Sasha Banks
Steve Cook: At least this battle royal has some purpose, as the Bayley/Sasha Banks feud will continue during it. My guess is they end up costing each other the match in favor of the other Horsewoman, who could really use something to do & would be a fitting winner of the very first edition of something that will go on for the rest of my life probably.
WINNER: Becky Lynch
Mike Chin: There's no real reason to think winning the women's battle royal at WrestleMania will matter more than winning the men's, but this being the inaugural year, winning might not be completely meaningless. While Sasha Banks and Bayley are, justifiably, in the spotlight, I'd suggest they're the participants that could make the least use of this win, and it may be just as well if they cause each other's eliminations to add fuel to their budding rivalry before its blown off elsewhere. While it's a bit of a crapshoot from there, I'm giving the nod to Ruby Riott as a talent WWE is serious enough about to let lead a stable. She could use a win like this to either give her some momentum before moving to Raw (I could see the whole Riott Squad jumping and causing trouble for new champ Nia Jax), or shore up her spot as a top contender among Asuka, Charlotte Flair, and Carmella on SmackDown.
WINNER: Ruby Riott
Kevin Pantoja: Like the men's battle royal, this is hard to call. The only real storylines coming in are the rivalry between Sasha Banks and Bayley, as well as the stables (Absolution and Riott Squad) that are involved. Ruby Riott is actually a very strong pick to win this whole thing. I think Sasha and Bayley will cancel each other out, as well. I'm going to make a pick that never works out for me, but since this feels like it could go any way, I'm picking with my heart. Becky baby.
WINNER: Becky Lynch
WWE Cruiserweight Championship Tournament Finals: Cedric Alexander vs. Mustafa Ali
Jake Chambers
: Back at Wrestlemania 14, Taka Michinoku was the first ever Light Heavyweight WWF Champion, and was the tip of the spear for WWF's best jab at the insane WCW Cruiserweight division at the time. His match at the show against Aguila (AKA the always awesome Essa Rios) was oddly pointless, but exceptionally cool. That division never took off, although the belt lingered on the periphery of the federation for years. The WWE is now its own competition. 205 Live isn't going to be an assault on New Japan or Lucha Underground, but the show does have to compete within the WWE universe to exist. And the once sickly 205 Live has certainly been getting some late round energy, down by points and coming out throwing big haymakers. This match on paper looks like one that would appeal to your mainstream fan about as much as Taka vs. Aguila did, but it is their chance to put the belt on 205's secret weapon and let him try to be the unlikely saviour of this wobbly, underdog, punch drunk division.
WINNER: Mustafa Ali
Mitch Nickelson: There was a brief period at the end of the Enzo Amore run and the start of the Drake Maverick entrance in which I quit watching 205 Live. I stuck with the show since that first tournament that crowned TJP the inaugural champ but then it really got boring there for a while. Thankfully, the brand returned to being a showcase of the wrestlers' incredible talents and I realized how much I was missing. As for the Finals of this current tournament, I'm feeling Mustafa Ali way more as the new champion. I feel that he's got more potential as a character. His promos, especially the not-in ring stuff, feel raw and real in a way that stands out among his peers.
WINNER: Mustafa Ali
Robert Stewart: I know this will probably prove an unpopular thing to say, but I'm happy this is on the pre-show. IDEALLY, it should make Wrestlemania Proper, but there's not a bout on the main card that I'd bump for this (unless we count, like, Cena/Undertaker which may or may not even be a thing). Besides, this is perfect for amping up the crowd right before the main show starts (assuming this goes last on the pre-show, that is). Let Cedric and Mustafa go out there, put on a great show, and send Cedric home from Wrestlemania with a title. Then the crowd is warmed up for more action.
WINNER: Cedric Alexander
JUSTIN WATRY: Three confessions. First, I have only seen two episodes of 205 Live since the show started. I just don't have the time or interest. Even with this reboot. Secondly, since the beginning of the tournament, I had Cedric Alexander pegged as the ultimate victor. Made the most sense for the brand, and he is very talented. Thirdly, I am 100% okay with this being on the Kickoff Show and thought it would land there from the onset. Anybody thinking otherwise hasn't been paying attention. With all of that being said, Mustafa Ali's promos have made me a believer. I am changing my two month pick a few days before the event. Ali has the story behind him, and it would be such a cool moment. With seven hours, I hope these two get plenty of time. I was live in Orlando last year for Neville vs. Austin Aries and am well aware of the cruiserweights' potential.
WINNER: Mustafa Ali
Steve Cook: Everybody's telling me how great 205 Live is these days now that the cruiserweights are feuding over the spirit of competition & not the affections of Alicia Fox. Alexander is a more complete performer than Ali or most of the cruisers on the roster, so he seems like a smart choice to be champion, unless they want to target the 189 million people in Pakistan that would surely root for Ali just because of his ethnicity.
WINNER: Cedric Alexander
There's little doubt that this one gets relegated to the pre-show, and that may be for the best, as they probably wouldn't get ten minutes if they were wedged onto the main card. 205 Live has opened up nicely since Enzo Amore was released and Triple H took the reigns. I'm picking Cedric Alexander, as the guy who looked primed for a push under the old regime, though a case could be made for either man.
WINNER: Cedric Alexander
Kevin Pantoja: Not enough people are talking about it, but 205 Live has been amazing since Enzo Amore left. I'm not blaming him, by the way. The show has just so happened to take a completely new direction since he got fired and it has worked out so well. Consistently great matches with top notch storytelling. The top two babyfaces on the brand get a match at WrestleMania and, if given time, it'll be awesome. It could go either way, but I'm thinking Cedric Alexander wins. I think there's a better story to be told with Mustafa Ali if he loses. Also, I'm hoping Neville finds a way to return the night after Mania.
WINNER: Cedric Alexander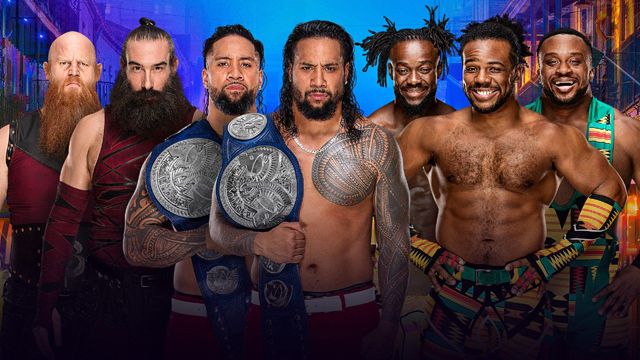 Smackdown Tag Team Championship Match: Champions The Usos vs. The New Day vs. Bludgeon Brothers
Jake Chambers
: When Raven went into the classic Wrestlemania X-7 as Hardcore champion, few people were expecting much from his match with big men Kane and The Big Show. And that match didn't blow away those expectations, but neither is it forgettable. It was a short and wild nice marquee moment on the resume of three top-tier stars of that era. The Usos, New Day and Bludgeon Brothers essentially have the same spot to fill here, as they're not being asked to put on an epic TLC match but rather shine with a few minutes of violent and unpredictable action. All the participants here are key figures in this medium-paced time period of WWE in-ring history, and have surprisingly broken out of those restraints on a few occasions. Two of these teams, though, are sitting in rarefied A-level tag team status, and one desperately needs the rub to get up there with them, not because of their ability but due to a silly-looking gimmick they have been trying painstakingly to make work. Plus, those hammers would have been badass back in the Hardcore division!
WINNER: Bludgeon Brothers
Mitch Nickelson: Personally, I would've been on board if Harper & Rowan just came back as the Harper & Rowan that used to pal around with Bray Wyatt. The goofy sledgehammers and red and black getups are a tad too corny. On the bright side, at least they're getting a chance again. It's strange that they've never been main roster tag champs together, even though Luke once Freebirded the SmackDown straps with Bray and Randy Orton. They'll help freshen up the blue brand's tag division, even though there's nothing wrong with simply letting The Usos & New Day go back and forth for another year.
WINNER: Bludgeon Brothers
Robert Stewart: On a card with a lot of stellar matches and huge upside… this match has massive potential. We all know what Usos/New Day is capable of, and we've seen of late how fun Harper and Rowan can be now that they are allowed to be a destructive force. If there is any amount of time given to this, we could have the show stealer right here. Props, of course, for The Usos who have truly come into their own and rightfully deserve to be make the main card of Wrestlemania for the first time ever (and for The New Day for continuing to tune and adjust their gimmick so that they stay fresh and popular all these years later, though they have never won at 'Mania, if I recall right). Even with that respect pointed out, Harper and Rowan just feel "due" here. They've never had their run with the belts, and while I suppose they COULD win them later, why not go whole hog with them and let them win at the biggest event on the calendar?
WINNER: The Bludgeon Bros.
JUSTIN WATRY: Honestly don't really care. The Usos should get their WrestleMania spotlight…but The Bludgeon Brothers shouldn't be defeated. That is where The New Day can actually be useful. Take the pinfall loss. That isn't just paranoia…
WINNER: The Usos
Steve Cook: The Usos finally get on a WrestleMania main card & it's well-deserved with the work they've put in the last couple of years. They also deserve a victory. The Bludgeon Brothers look pretty unstoppable at this point, but that's why New Day is there, to take the fall & still be over because they're New Day.
WINNER: The Usos
Full disclosure, based on time constraints, I'm submitting my thoughts a full week before WrestleMania, and so don't have the word yet if the rumored TLC stipulation for this match were to go through. Particularly if that does happen, I expect this one could well steal the show. This match feels refreshingly open-ended. Do The Usos win to put a cherry on top of their truly impressive year presiding over the SmackDown tag division? Does New Day get the nod as the commercial, mainstream of WWE's tag teams? In the end, I'm going with The Bludgeon Brothers as the newest of the teams, which has delivered in their new gimmick, and would free up either or both of the other teams to jump to Raw and freshen up against new competition. Additionally, I hold fast that I'm pulling for The Authors of Pain to get called up to the blue brand to wage hoss warfare with the Harper and Rowan.
WINNER: The Bludgeon Brothers
Kevin Pantoja: Goodness, this card is loaded. The Usos and New Day have had the best series of tag matches in history. Meanwhile, though their gimmick is strange, the Bludgeon Brothers are a great team. Remember their matches with the Usos in 2014? Quality stuff. I'm hearing this may become a gimmick match, which sounds even better. As much as I think the New Day regain the titles here, I'm gonna say the Usos retain. They finally get on the main Mania card and do it with a win. They are currently the best tag team on the planet.
WINNER: The Usos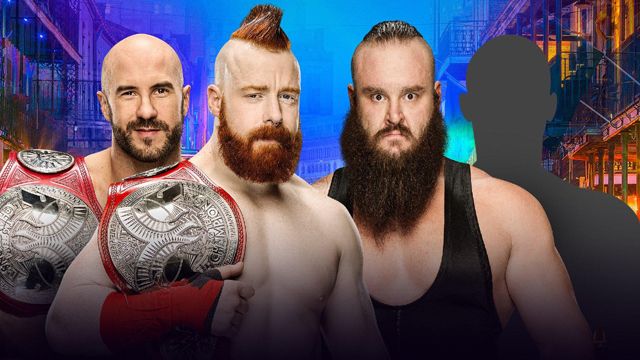 Raw Tag Team Championship Match: Champions The Bar vs. Braun Strowman & A Partner TBD
Jake Chambers
: Rarely do champions wake up Wrestlemania morning not knowing exactly who they'll be defending their belts against. One great tag team went through that back at Wrestlemania XV when Owen Hart & Jeff Jarrett were set to put the titles on the line against the final two wrestlers in a pre-show battle royal (D'Lo Brown and Test, in the end). The champions prevailed in a chaotic 4-minute sprint that the Attitude era was known for, complete with leggy distractions. The mythical Owen Hart was on the other side of the coin a few years earlier at Wrestlemania XI when he had the chance to challenge WWF Tag Team Champions the Smoking Gunns alongside a mystery partner who turned out to be the incomparable Yokozuna. While double the length of the XV match, and featuring slightly less sexy distractions from Mr. Fuji, this time the element of surprise worked in the favour of the challengers. So where does that leave Braun Strowman and whoever he drags to the ring for this match against the deadly capable Sheamus and Ceasaro? Whoever it is, I think it's gonna sway more towards chaos than control, and based on the previous examples I'd say that means the champions have a good chance to surprisingly retain.
WINNER: The Bar
Mitch Nickelson: I'm still holding out for Samoa Joe to be Braun's tag team partner in this one. Those two would be fun as a smash mouth team of monsters, wrecking everything for a few months. Then when they've had enough fun they can implode, lose the titles to The Revival or whomever, and feud against each other. I wouldn't mind a comical pairing if it's not Joe. He's got chemistry with Elias, but I'd mostly hope that they'd bring back James Ellsworth for that role. He'd be funny in that spot. Regardless, I see Braun winning no matter who is counterpart is.
WINNER: Braun & pal
Robert Stewart: I don't know how I feel about Braun being required to have a partner here. I absolutely hated the idea of Braun winning the tag titles by himself, but I liked the idea of it being a match on this card. I thought he could run wild on The Bar before eventually The Bar cheats to retain (or even just goes at him with chairs to take the disqualification loss), and Braun could come back at a subsequent show with a partner to watch his back. That said, the build to this has been fun, especially with Brains Strowman on the go-home Raw. It's truly a crime Braun didn't get inserted into the Universal Title match so that whole affair could have had some drama surrounding the finish, but this is a fun use of his time if WWE was so dead-set against the idea. Cesaro and Sheamus have really helped return the luster of these belts, and seeing legit main event star Braun covet them only adds to that. Am I spending a LOT of time avoiding speculating on who Braun's partner will be? Yep! Because I have no idea. I truly hope it isn't Bray, though. What a waste that would be. I think it will just be a returning legend for a pop. Like DDP or something, I don't know. Sting. Someone like that. Either way… a partner could be Braun's Achilles Heel.
WINNER: The Bar
JUSTIN WATRY: Originally, I thought Samoa Joe would be the ideal tag team partner for Braun Strowman. They can win the belts or instantly turn on each other. Either scenario is fine. Then I took that back. No longer think it is Joe. Nor do I put any stock into Curt Hawkins or Elias. Waste of time and no intrigue. Then I thought "Oh no! It is going to be James Ellsworth, is it???" Braun has been showing a more comedic side as of late. Even that may be too much though. Please no. Then I thought Bobby Lashley to form some kind of power duo. That feels like a RAW after WM Moment though. THEN I thought it just might be Bray Wyatt under a kinda/sorta new persona after his "deletion." Really though, that would be underwhelming and fall flat. Then I thought it didn't matter. The Bar were just going to retain anyways. This is just a spot for Braun to get on the show, do a couple of huge moves and then set up his Smackdown LIVE move in a few weeks to be a top star for the blue brand. Then I though…alright, enough of that. You know who I think the tag partner is going to be? Somebody completely out of left field. A Rob Van Dam or a Rey Mysterio – something like that. WWE has something up their sleeve here. It won't just be Kane or Big Show. There is something happening here…
WINNER: Braun Strowman (maybe via DQ)
Steve Cook: I'm leaning towards Big Show ending up as Braun's tag team partner & forming The Braun Show. Whoever it is will end up being one-half of the Tag Team Champions because Braun is a force of nature that can't be stopped.
WINNER: Braun & TBD
Mike Chin: I'm happy The Bar has a match at WrestleMania, and that it's not three or four team cluster situation. I'm happy Braun Strowman has been booked into a position with some intrigue, as I imagine just about any one-on-one match would feel non-competitive, because Brock Lesnar and Roman Reigns are the only guys who've been treated like they could be threats to him. I'm happy for the possibility of a big return for Strowman's partner, with the rumor mill suggesting Rey Mysterio, and names like Samoa Joe, Bobby Lashley and Drew McIntyre as dark horses. With all of those pieces in place, though, it's a shame that the best team WWE has had this year are such undeniable underdogs going into WrestleMania, a shame that Strowman doesn't have a more meaningful step in his career progression in place, and a shame that all parties involved probably won't get much more than five minutes of ring time at the biggest show of the year. One way or another, Strowman wins as whatever tag team angle WWE has lined up for him offers a placeholder before he gets back into the world title picture for one brand or the other.
WINNER: BRAUUUUUUN
Kevin Pantoja: This is hard to predict, because I think it all depends on who Braun's partner is. If it's someone like Samoa Joe, they will have a goddamn barnburner of a match and could work as dominant champions. However, if he ends up with someone like Elias (who I think should host the show) he could get livid when that guy takes the loss. I'll go out on a limb and say team Braun wins, but they only hold the titles for a bit and Braun wins a top singles title by SummerSlam.
WINNER: Team Braun
Raw Women's Championship Match: Champion Alexa Bliss vs. Nia Jax
Jake Chambers
: Sometimes at Wrestlemania you tend to fall under the impression that all title matches are the culminations of feuds where the hero triumphs over the villain and walks away with the cathartic spoils. But that's not always the case. Just ask Big Bossman, who won his match with IC champion Mr. Perfect back at Wrestlemania VII, but only by disqualification and thus not getting the belt. The archetypes here feel similar, Nia Jax the perennial loser who you are kind of fooled into thinking is a threat, and Bliss, a rare talent who elevates her championship with next-level cocky charisma. Just as it now makes sense that Perfect kept the title in a match he seemed destined to lose at the time, when we look back at this one I think we'll all agree the right person won too.
WINNER: Alexa Bliss
Mitch Nickelson: This has been one of the better built storylines for WrestleMania. Even though a 'mean girl' storyline isn't my first pick for the basis of a wrestling feud, at least both of these ladies have played their parts well. It'll be satisfying for Nia to finally get the chance to slam Alexa around and take her title. I'm calling for title changes in both of the Women's matches, but to be honest I feel like one of these matches will end up being a retention. I'm not sure which one, which means that's a prediction I'll balk on.
WINNER: Alexa Bliss
Robert Stewart: I'm glad Bliss made it all the way to 'Mania with her belt in tow, because she has really been a shining star of a strong Raw's Women's division. Her post-Elimination Chamber promo win was beautiful, and everything she's touched… *remembers the Bayley "This Is Your Life" stuff*… ALMOST everything she's touched has gone gold. Internet booking has this as a squash for Nia to complete the bully comeuppance story they are telling, but that would be such a shame and would squander the development Bliss has made as a cunning, never-say-die champ who always has the right tools in place to keep her strap. I'd like to see her find some way–any way–to sneak out of Wrestlemania still the women's champ of Raw. Nia has been fine and has shown growth and improvement, but her time could come further down the line. Bliss the performer deserves this spotlight W (even if Bliss the character does not).
WINNER: Alexa Bliss
JUSTIN WATRY: There are a lot of unpredictable matches on this card. I am fully expecting to be wrong on a bunch of bouts come Sunday, and that is fine. I love the fact that the biggest event of the year is difficult to predict. This is one where I feel very confident though. Alexa Bliss is losing and losing handily. I am not going to say it lasts less than a minute like I did for Sheamus/Daniel Bryan in 2012, but it may be close. Nia Jax will squash her like a bug and become the new RAW Women's Champion. Here is where the twist occurs though. Even though Carmella holds the SMACKDOWN LIVE MITB briefcase, I say she cashes in afterwards. Why not? Keep her far away from Asuka/Charlotte. Seriously, I do not even want a tease of her getting involved with that show stealer. Ship her over to the red brand and create a little chaos. If not here, the Superstar Shakeup?
WINNER: Alexa Bliss loses
Steve Cook: The story indicates that Alexa should lose in short order. I think she will. I also think the fans will get mad because they think she deserves better. She's a great character, but she's also a character that deserves to get squashed by Nia. There's nothing wrong with that.
WINNER: Nia Jax
Mike Chin: While I'd much rather see Sasha Banks and Bayley get this spotlight, Bliss deserves a spotlight of her own, too, and I'm glad WWE is giving both women's championships a more straightforward feud rather than wedging three, four, or more women into each match. Nia Jax as a face monster is fairly fresh, too. I foresee the feel-good squash match a la Chyna vs. Ivory here, with Little Miss Bliss getting her comeuppance, and Jax finally getting a moment.
WINNER: Nia Jax
Kevin Pantoja: I'm not trying to sound like some kind of mark, but why isn't this Sasha/Bayley? Don't get me wrong, I like Alexa Bliss and see the value of Nia Jax. Their storyline just doesn't feel like a big deal. Alexa is a mean friend and Nia's mad. That's about it. There are layers to the Sasha/Bayley feud and it has a long back story. With that out of the way, I'm thinking Nia squashes Alexa.
WINNER: Nia Jax
Shane McMahon & Daniel Bryan vs. Sami Zayn & Kevin Owens (If Owens & Zayn win, they're back on Smackdown)
Jake Chambers
: There's a nice little dream match hidden in the Wrestlemania video archives that few people ever really talk about. This was a mid-card, heel vs. heel tag team match at Wrestlemania 13 that ended in a double count-out, so it hardly stands out in the record books, but look at who was on those teams: Owen Hart & The British Bulldog vs. Vader & Mankind. Owens and Zayn, much like Hart and Smith, are as close as family – friends or enemies, they've spent their entire wrestling careers together, and have risen to being cult favourites and lovable mainstream bad guys. Vader and Mankind have little in common with Bryan and Shane, other than they are not a typical team and they've made outstanding cases for being on any self-respecting wrestling fan's all-time favourites list. To see these four men in the ring together is not so much about the action or who wins in those 10-15 minutes, but just about the tingle you'll get with every perfectly executed interaction between such hallowed figures in wrestling lore. It won't be a classic, but it will be fun no matter who wins… yet I'm not liking one guy's chances based on pro-wrestling logic: he just came back from an injury, and he won two high-profile matches in this stadium four years ago, one of which was over the COO of the company. Ask Mick Foley what those receipts are like!
WINNER: Owens & Zayn
Mitch Nickelson: I think there's a turn on the authority side of this tag team contest, but I'm unsure if it's going to be Shane or Daniel. Personally, I'd rather see Shane temporarily align with Kevin & Sami against the returning Bryan. Since Shane's the top boss, he can fire his GM after the two Yep Movement guys score the win. This will open up the door for Bryan to move to Raw as only a wrestler, where he can get a run against their top talent. This will at least be a highly fun match, given how over all of these men are with the audience.
WINNER: Kevin Owens & Sami Zayn
Robert Stewart: Hard, hard match to call, and I'll tell you why: when Daniel Bryan fired Sami and Kevin, he specifically said "This isn't forever, but it is for now". The most sensible conclusion SEEMS to be that Kevin and Sami win to get their jobs back and further the storyline they have with Bryan and Shane, but it's possible they lose and just return in a month or so. And yes, I suppose there is the idea that Shane could turn on Daniel, let Sami and Kevin beat the American Dragon, and then McMahon joyfully rehires them, but boy… what a shit ending that would be. Bryan loses his return match (at Wrestlemania!), Shane makes a turn to side with two guys he has DESPISED for months, and Kevin and Sami look like suckers for needing a hand-out. Nobody comes out of that turn looking any better. So while it may be where WWE goes, I am a bigger supporter of the notion that Bryan gets his big stage return win, Sami and Kevin come back with a vengeance in a month, and Shane and Bryan build to a more sensible turn angle.
WINNER: Shane McMahon and Daniel Bryan
JUSTIN WATRY: I'm actually fairly intrigued by the idea of Shane McMahon turning on Daniel Bryan and making his life a live h e double hockey sticks on the blue brand for the summer. Another blah McMahon vs. Face feud, but it is Bryan. Fans love that kind of thing, as we saw from 2013 and 2014, it will be amazing. That is the shocking outcome. The easy and simple outcome is Bryan and Shane are on the same page and send Kevin Owens and Sami Zayn packing back to Raw. That is what I will predict but am open to anything. I'm not THAT caught up in the "Bryan must win his comeback!" sentiment. Remember there is no off season. The story does not just end at Mania. It always keeps going. New Orleans will treat this like YestleMania II!!! I'm ready.
WINNER: Daniel Bryan
Steve Cook: I've been expecting Kevin & Sami to win this since it was announced, but I've had a change of heart for a couple of reasons.
-Bryan shouldn't lose his return match
-Shane can turn on him even if they win
-The fans won't buy Bryan turning on Shane for a minute
-Kevin & Sami can still come back because SD will have new management
WINNER: Shane & Bryan
Mike Chin: I like the stipulation for this match, because I do feel it adds stakes and drama—the smokescreen that Daniel Bryan might actually lose his comeback match. But no, Bryan wins here, and the real question here is whether Shane works any minutes at all in the ring, or if he's just there for window-dressing and WWE has Bryan run wild essentially on his own. And for those who would predict Owens and Zayn because of the superficially high stakes stipulation, I offer the following. A) WWE hasn't even tried to hide the fact that they're only off SmackDown if they lose and could just as easily jump to Raw (which is probably for the best to officially end their angle with Shane) and B) let's not forget the lessons a big Shane McMahon stipulation taught at WrestleMania 32, when he had to beat The Undertaker to become an authority figure. The stipulations don't matter, and we'll get what we get in the aftermath. One way or another, Owens and Zayn will be fine.
WINNER:Daniel Bryan and Shane McMahon
Kevin Pantoja: Another match that could honestly go either way. On the one hand, it would make sense for Owens and Zayn to win and get their "jobs" back, pinning Shane McMahon. Or, maybe Shane turns heel. On the other, it's hard to imagine Daniel Bryan losing his return match. He could get the win and then Owens and Zayn show up on Raw the next night, since the stipulation seems to be about them being banned from Smackdown. I'm thinking Owens and Zayn win, and either Bryan doesn't get pinned or he gets screwed and it kickstarts his first feud back.
WINNER: Sami Zayn & Kevin Owens
CONTINUE TO PART TWO OF OUR WRESTLEMANIA 34 PREVIEW!
MAKE SURE TO JOIN 411 AT 5PM ET ON SUNDAY FOR OUR LIVE COVERAGE OF THE SHOW