411's WrestleMania 34 Preview (Part Two)
April 8, 2018 | Posted by
~THE STAFF~
* 411 columnist, Mr.
Mike Chin
.
* 411 reviewer, Mr.
Kevin Pantoja
.
* 411 columnist, Mr.
Steve Cook
.
* 411 contributor, Mr.
Rob Stewart
.
* 411 columnist, Mr.
Justin Watry
.
* 411 contributor, Mr.
Mitch Nickelson
.
* 411 contributor, Mr.
Jake Chambers
.
---
BE SURE TO CHECK OUT PART ONE OF OUR PREVIEW IF YOU HAVEN'T ALREADY!
Smackdown Women's Championship Match: Champion Charlotte Flair vs. Asuka
Jake Chambers
: Being undefeated and winning the Royal Rumble worked for another "Japanese" star who went on to Wrestlemania and won the WWF Title: Yokozuna back at Wrestlemania IX. Asuka's got all the similar momentum on her side, even though she's also going up against a Bret Hart-level performer in Charlotte Flair. The winner feels obvious, but let's all just hope the rumours of that racist Hulk Hogan's return doesn't mean he's coming out here to do what he does best and surprisingly take down another un-American foreigner!
WINNER: Asuka
Mitch Nickelson: As I said under the Raw Women's Title Match, I could totally see Charlotte retaining here. Asuka has to eventually lose, why not do it on the biggest stage possible against a competitor the level of Charlotte? This wouldn't be as big as Undertaker's Streak being broken or anything, but Charlotte winning with her title on the line against the undefeated winner of the first Women's Royal Rumble would be quite a win. In fact, that would be a big claim to brag about if she had any plans of a big match with Ronda Rousey any time soon. But even though I've been arguing the case for Flair to go over up to this point, my official pick is actually Asuka. I think WWE will mostly stick with predictability on this card, and that's a not a bad thing. Especially for this match.
WINNER: Asuka
Robert Stewart: I've been lobbying since the women's Royal Rumble match was first announced publicly for Charlotte/Asuka to main event WrestleMania this year. It's clearly not going to happen or they would have made that public for the huge spotlight it would garner, but I think it really deserves to. They haven't built up much of a story between them, but when you have the cornerstone of the women's division against the undefeated dynamo star that Asuka has been… it should sell itself. I'm expecting a hard-hitting, no-nonsense encounter that should be a spectacle to behold. Charlotte's size and power and championship pedigree versus Asuka's tenacity and sheer inability to lose. This is going to be good. Will there be a Carmella sighting? She did just recently break the record for longest time spent with the briefcase; I'd love to see her cash in after a hard-fought title match only for Asuka to one-kick her. Who knows?
WINNER: Asuka (and then Asuka again, against Carmella)
JUSTIN WATRY: Asuka will win. I have to keep telling myself that because that has to be the endgame here. She was dominant in NXT and has been dominant on Raw. I love the fact that she is facing Charlotte. That is the best possible match for the division and could easily not be out of place in the main event. My expectations for this dream match are sky high, maybe even more than AJ Styles vs. Shinsuke Nakamura. Anything less than an all-time great will be disappointing. Charlotte is as good as anybody to end Asuka's streak and would make sense to keep the titles on the correct brands…but no, Asuka is the pick. We can figure out the titles and brands afterward. Asuka and Charlotte have a classic with the streak continuing. She will have to lose at some point but not yet. Won the NXT Women's Title WM32 Weekend, wins the SD Live Women's Title at WM34.
WINNER: Asuka
Steve Cook: If anybody is ready for Asuka, it's Charlotte. New Orleans has seen streaks end before. I just don't see it happening here.
WINNER: Asuka
Mike Chin: While WWE hasn't done a ton to really build the rivalry behind this match as a story, the simple plot of an undefeated juggernaut wining the Royal Rumble, and challenging the preeminent face of women's wresting is a good, straightforward one. I fully expect the rumors hold true, and Asuka's streak to remain intact until she can collide with Ronda Rousey. Meanwhile, the bar for this match will be if the two can eclipse matches like Trish Stratus vs. Mickie James and the WrestleMania 32 triple threat to arrive at the greatest women's match in WrestleMania history. I'm going to go ahead and predict that they do just that.
WINNER: Asuka
Kevin Pantoja: I've made it very clear that I don't think Charlotte is anything special. She lacks personality and promo skills, while also being terrible at some of the basic aspects of the ring, like selling. That being said, she carries herself like a star and has a great presence about her. This match with Asuka legitimately feels like a big deal. It should be very good and, as much as I could see WWE going with her as the one who ends Asuka's streak, having it end here is pointless. 900 days and all just to lose her biggest match?
WINNER: Asuka
WWE United States Championship Match: Champion Randy Orton vs. Bobby Roode vs. Jinder Mahal vs. Rusev
Jake Chambers
: Randy Orton has been in a ton of multi-man matches at Wrestlemania, from the Evolution vs. Rock N Sock Connection match, A Money in the Bank Match, 3-Way against Angle and Mysterio, WWF Title Match 3-Way against Cena & HHH, the Legacy 3-Way, his six-man against the Shield, and the Undisputed Championship 3-Way against Bryan and Batista. The man is basically the king of Wrestlemania multi-man matches, except, well, the fact that he rarely wins. The year he did defeat former stablemates Cody Rhodes and Ted Dibiase (Jr) he was clearly the only A-level WWE guy in there with two B-level mid-carders. Feel familiar?
WINNER: Randy Orton
Mitch Nickelson: I saw a Triple Threat Match between all three of these guys minus Rusev recently at a House Show in Huntington, WV and it was my favorite match of the night. They built a fun contest that showcased the expected exciting sequence of finisher after finisher in the closing minutes. Adding Rusev to the mix can only increase the excitement, so this could end up being one of the stronger matches on the card. My heart wants Rusev to walk out the new U.S. Champ, but my head tells me it's probably going to be Bobby Roode instead.
WINNER: Bobby Roode
Robert Stewart: I'm not near my calendar, but I am pretty sure this show is taking place on Rusev Day! Look, Rusev Day jokes are still great, and I am not tired of them yet. How has WWE not let Bobby Roode go heel yet? Being a babyface is KILLING him on the main roster. He's just another body in this persona and is well on his way to burning out all of his good will. They are going to let a star go completely to waste if they don't right that ship. Orton is walking in as the champ… I could legitimately see any of these guys leaving as the champ… maybe least of all Roode because the belt seems the least purposeful on him. I'm hoping against hope that the reason Rusev is here is to win because management knows the pop for his winning a title at Wrestlemania at this stage in his career would be deafening. Go with that feeling, WWE. Ride that.
WINNER: Rusev
JUSTIN WATRY: Jinder Mahal isn't winning. Unless it comes with a heel turn, Bobby Roode isn't winning. Rusev being added late to be the eventual winners is an interesting thought but wishful thinking. My money is on Randy Orton, He had to deal with quite a lot of garbage for the past 12 months. It is hard to even remember he won the Royal Rumble in 2017 and captured the WWE Championship 12 months ago. Mr. RKO has probably earned this victory. Let Roode get super frustrated and snap in the coming weeks. Jinder feels like a RAW guy soon, and Rusev was only put in this thing to shut up the fans and HOPEFULLY prevent an annoying chant taking over the entire freakin' weekend.
WINNER: Randy Orton
Steve Cook: Randy has his RKO. Bobby has his entrance. Rusev has his day. Jinder has 1.3 billion people on his side. Seems like an easy choice to me.
WINNER: Jinder Mahal
Mike Chin : I like Bobby Roode—I really do, and I'm glad he's in the picture for a secondary title at WrestleMania. However, his NXT run wasn't as good as the smoke and mirrors of his superior entrance would have us believe, and his face work on the main roster has wound up feeling pretty flat. Pitting him against my pick for the least credible world champion in WWE history (Mahal), and Randy Orton coming off an incredibly underwhelming year, and I didn't exactly have high hopes for this match. In general, I don't love shoehorning guys into multi-man matches at the last minute, but this match really needed someone to spice things up, and it felt criminal to leave Rusev off the WrestleMania card when he's at his most over. I'm going with my heart over my head here, and picking Rusev to take home the win.
WINNER: Happy Rusev Day!
Kevin Pantoja: This was the one match on the card that I had ABSOLUTELY zero interest in. However, Smackdown made a rare good decision and added Rusev to the match. That changed everything for me and now, I'm looking forward to this. I can't imagine he wins, but he still makes up for the blandness of everyone else. Plus, Aiden English gets to sing at Mania! Again, it's tough to pick a winner. Roode losing just to win it back seems like the kind of booking decision I've come to expect. Jinder was the best part of this before Rusev was added. However, I think Orton retains, purely because I don't have many champions retaining.
WINNER: Randy Orton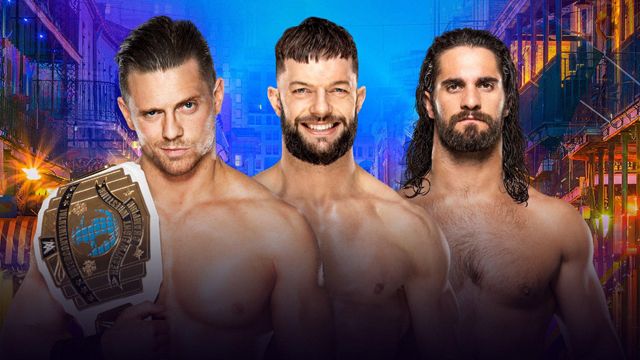 WWE Intercontinental Championship Match: Champion The Miz vs. Seth Rollins vs. Finn Bálor
Jake Chambers
: Three fantastic performers in a match for the Intercontinental Title: one a gifted natural who made his fame outside of the WWF first, one a naturally awesome heel stuck as a babyface, and one who can smile but couldn't talk himself out of a wet paper bag. No, I'm not talking about this match, but the Wrestlemania 2000 3-way between Kurt Angle, Chris Jericho and Chris Benoit. That one, of course, was a double-title match including the long defunct European Title, but the personality types involved are extraordinarily similar. Despite being the best of the three, Angle came out of that match minus the two titles he came into it with, and I figure The Miz is destined for the same fate here. Who wins though? Well, you can't give the IC belt to the guy who is going to rightfully turn back to heel on the RAW after 'Mania, can you?
WINNER: Finn Balor
Mitch Nickelson: I'm excited about how good I think the U.S. Title Match will be, but I'm even more so for this Intercontinental Championship Match. These are three of the best competitors in all of WWE right now, and Seth and Finn just proved last Monday how incredible they are. Also, The Miz is already in contention for Super Dad of the Year, which makes me happy. I think Miz might be due for at least a few weeks of Daddy/daughter bonding time post Mania, so he's not keeping his belt. Between the other two, I see Finn in the spot of midcard title guy for the next few months way more than I think Seth will be.
WINNER: Finn Balor
Robert Stewart: If Seth is still looked at as the immediate post-Mania challenger to Roman's Universal Title, he seems the odd man out here, but still… these plans change with the breeze, and he could conceivably do a lot of good with the IC belt. Hell, Balor would be a good challenger right out of the gate for Roman, too (like Rollins, he has beaten Roman clean before and would have the credibility to be plugged in against Reigns), so that would open the door back up for Seth here. The Miz has been a godsend to the Intercontinental Title the last several years, but he's got to lose it at some point, right? That's the point of being a great, obnoxious champion heel. Honestly, these three are all in my top five main roster favorites from the last few years, so I'll be glad to see any of them come out on top; I just want a terrific contest and continued relevance for the Intercontinental Championship.
WINNER: The Miz. It just feels like when it seems he should lose, he always wins
JUSTIN WATRY: Three predictions. First, I want to see The Demon at WrestleMania. That gimmick should only be used in special cases. This definitely applies. Second, I believe two of these men may be headed to Smackdown LIVE in the upcoming Superstar Shakeup. Miz should have never left the blue brand last year and with Bryan now back in the ring, it only makes sense for him to head back. Then you can move Rollins OR Balor to be at the top of the card as a good guy. That means losing the IC Championship for Miz though, sadly. Thirdly, I hope we get some kind of classic triple threat. Something that will stand the test of time and treat the championship with respect. Who wins in the end? Not a clue. I am actually pulling for The Miz but fully suspect a loss…we'll see.
WINNER: The Miz
Steve Cook: This is my sleeper pick for Match of the Night. Rollins & Balor have excellent chemistry together & Miz plays his role as well as anybody. I find it hard to pick against him here because he's won everything else lately & "over-excited dad" is a great addition to his heel persona.
WINNER: The Miz
Mike Chin: On paper, this one is wide open, and I feel it has potential to be quite good. When it comes to narrowing in on a winner, though, the match looks tailor fit to put over Balor. Miz is on his way out for paternity leave. Rollins looks geared up for another main event, or at least upper card push. The Intercontinental Championship will be a nice step in rebuilding Balor and giving him something meaningful to do before he does or does not get the opportunity to move up the card again.
WINNER: Finn Balor
Kevin Pantoja: My most anticipated match. Their match on Raw in 2017 was one of the most underrated and overlooked matches in history. It was fantastic and had a wonky finish involving run-ins from Samoa Joe and Bray Wyatt. That won't be the case this time and I'm so ready for this to steal the show. Miz is a new dad and, as much as I'd like to see him set the record for longest time as IC Champion, I think he takes a bit of time off after Mania. Finn Balor could use the big win the most, having done a whole lot of nothing other than beat AJ Styles since SummerSlam 2016. But, I've got my money on Seth Rollins winning. He wants to be "the man" of Raw again and watching him and Roman attempt to one up each other as the champions of the brand could be fun.
WINNER: Seth Rollins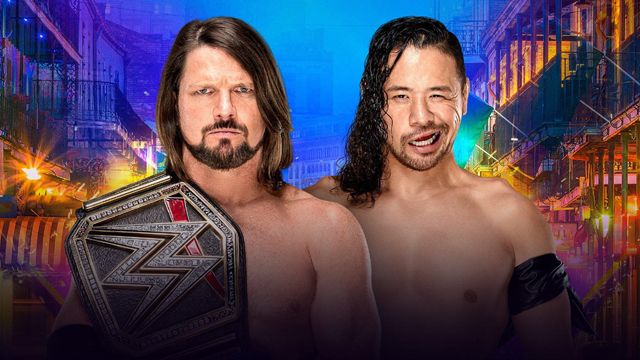 WWE Championship Match: Champion AJ Styles vs. Shinsuke Nakamura
Jake Chambers
: Wrestlemania 20 featured a main event that fans seemed to literally will into existence. And, yes, I'm talking about the passionate relationship the fans had at the time with Chris Benoit, who went on to become a real life murderer who we all really should try our best to forget. We experienced a similar phenomenon with Daniel Bryan 10 years later, and now the power espoused in "The Secret" seems to have brought us a match that makes no sense to the WWE narrative or their bottom line. This exists simply because the fans wanted it so badly; to see (what they believe) is a real, epic wrestling match between two of the all-time best. And history makes me think the WWE is going to give it to them. Why not? The Wrestlemania 20 main event destroyed all expectations, Bryan's performance at WrestleMania 30 was once-in-a-lifetime, so WWE is capable of producing legendary pure-wrestling matches if they want. In those two cases though, the winner was a foregone conclusion, this time, not so much. If you're going with the eye test though, you gotta say that there's clearly one wrestler here who looks strikingly similar to Benoit and Bryan, right?
WINNER: AJ Styles
Mitch Nickelson: Call me crazy, but I think this could be a pretty decent match up. I'm kidding, of course it will be awesome. I do think Shinsuke will walk away as the new WWE Champion but I wouldn't be upset if AJ retained. He's AJ Styles, so he can be the top champion for the next couple of years and it would be hard to view that as a bad thing. It'll be interesting to see what a WWE Title reign looks like for Nakamura. His English is still limited, which isn't a problem to you or me but you know that's got to be a big hesitation for WWE top brass. Hopefully they'll realize that as long as he puts in the time inside of the ring, he doesn't actually need to spend so much time yapping on a microphone.
WINNER: Shinsuke Nakamura
Robert Stewart: It still feels weird that this is a high-profile, world title match at WrestleMania, right? I guess that's the good side to Roman/Brock being the Universal Title Match… it serves as enough of a security blanket that it lets Vince toy with putting AJ STYLES and SHINSUKE NAKAMURA in the other title bout. Main roster Shinsuke has felt… uninspired for a lot of his run (but he's had PPV matches against brooms like Baron Corbin and Jinder Mahal, so… wouldn't you be?), but he's GOT to be able to get up for THIS, right? This is the match the whole world wants to see; it's the match that everyone knows has epic potential either because they've seen it for themselves or they've heard of their past encounters. Either superstar could win here and feel "right". And either could defend the title down the line against Daniel Bryan (eventually)! I think WWE is more firmly behind AJ than they are Nakamura at present, so…
WINNER: AJ Styles
JUSTIN WATRY: Speaking of classics! This card is so stacked it is unbelievable how many potential show stealers there are or how many matches could go on last. Styles vs. Nakamura for the WWE Championship at WrestleMania 34 is something I predicted last April, so clearly I'm happy this is a reality. Nakamura won the Rumble. Styles has the gold. While my gut tells me Styles will retain and retain, the other part of me knows history. History is that Nakamura debuted WM Weekend in 2016, was called up post WM Weekend in 2017 and is not destined to be WWE Champion WM Weekend in 2018. That is long-term planning and something not done by coincidence. The company is well aware of his talent and what he means to the bottom line. Forget about the few losses on his record. Seriously. The dude lost a few times in 2017, and the world was something coming to an end or something. Good grief. It is embarrassing what the supposed "smart" fans are like sometimes. Styles can lose here, rest up for a few weeks and be back for a rematch next month. How the Superstar Shakeup alters his future is anybody's guess. Until then, we will have a new WWE Championship in New Orleans on April 8th, 2018. Knee. To. Face.
WINNER: Shinsuke Nakamura
Steve Cook: Will this match live up to the hype? I fear it may suffer due to severely high expectations, as anything lower than Match of the Weekend will be a tremendous disappointment to many. Styles is pretty much at the point where he can win or lose any match against anyone & it won't affect his standing. Shinsuke really needs a major win on this stage to justify the hype surrounding him. I think he gets it.
WINNER: Shinsuke Nakamura
Mike Chin: I'm so pleased this match is happening, even if it is only a token booking for hardcore fans, and likely not to be treated like a proper main event. Here's hoping they get at least fifteen minutes, and ideally closer to half an hour to tear the housed down for the match of the night. As for the winner? Nakamura feels like a pretty easy pick here to give him the world title push WWE has seemed vaguely interested in test-driving for the last year, besides freeing up Styles to jump to Raw.
WINNER: Shinsuke Nakamura
Kevin Pantoja: Like the Universal Title match, this was a predictable piece of the Mania card, but should deliver in the ring. After his debut against Sami Zayn, Shinsuke Nakamura has been wildly mediocre. That's two years of lackluster performances. However, he's remained over. Meanwhile, AJ Styles has been excellent (as always) against everyone not named Kevin Owens. If there's ever a time for Nakamura to put in effort again, it's in a WWE Title match at WrestleMania. Their Wrestle Kingdom match was tremendous and I'm expecting more of the same. AJ is the best in the world and when Nakamura wants to be, he can be right up there, too. I think he wants to be. AJ should retain, but I don't see Nakamura losing yet another big match.
WINNER: Shinsuke Nakamura
John Cena vs. Undertaker
Jake Chambers
: When The Rock "hosted" Wrestlemania 27 we all suspected it was setting up something for the future. What he didn't do was book himself into a match that night or walk away with the WWE Title, but it did kickstart a pretty well-done one-year storyline that culminated at Wrestlemania 28 with the "Once in a Lifetime" Rock vs. Cena classic. Expect the same here. The WWE might be teasing a match, but it's likely just going to be some kind of confrontation that is Chapter 1 in a new feud that ends at Wrestlemania 35, finally, with a match between Cena and the Undertaker, where both men put their careers on the line!
WINNER: N/A
Mitch Nickelson: I'm sure many feel this way, but I don't foresee an actual match taking place here. Taker will come out with the bike and he'll get a Kid Rock performance as he goes vroom vroom. It'll be pretty cool, too. I'm no huge Kid Rock fan but his Undertaker theme song was rad. Undertaker will brawl a bunch with John and that should be a good change of pace for the show. What would be sort of funny is if John realized that he waited too late to purchase his tickets and was stuck somewhere in the nosebleeds. The Undertaker would then be forced to walk for several minutes through the crowd just to get to wherever Cena's seat is. Undertaker will take whatever victory he can here, even though I don't think any ring bells will get struck.
WINNER: The Undertaker
Robert Stewart: I didn't want Undertaker to keep wrestling after Lesnar ended the streak. I certainly don't want Undertaker to keep wrestling now that he has two Wrestlemania blemishes. At this point there's no mystique–there's just a very old man with a long history who hasn't put on a particularly good match in five or six years. I feel like this is a no-win situation for Cena; as great as he is, there's just not enough left to 'Taker to drag to anything really worth watching, and win or lose, there's no rub in sight for either man. The aura of "OMG, CENA VS UNDERTAKER" will wear off after a few minutes, and then we'll just be left with whatever they put together. I guess this match isn't set in stone; they've put off confirming it, so hey… maybe it WON'T happen. But if it does… god, can THIS be his last match already?
WINNER: The Undertaker
JUSTIN WATRY: I am not even sure this match is officially happening. They could easily pull a King of the Ring 2001 scenario where just a confrontation is advertised, not a match. WWE has NEVER promoted John Cena vs. The Undertaker for Mania. Never. Even in all the promotional material and leaked stuff, there is nothing listed. I think what we will get is John Cena sitting ringside having a blast for the first two hours or so. Maybe an interview or something…then the GONG SOUNDS! He immediately hops in the ring, and the showdown is on. Whether the bells rings or not? Eh, I mean we could get another year long build story line for WrestleMania 35. This bout certainly would be worthy of it. My gut instinct is we get the match on Sunday though. Very strange way to build the feud – looks to have worked to WWE's credit. Fans are 100% invested in what happens. Will it actually take place? Do we get a staredown? Will WWE announce it beforehand? What Undertaker are we getting? Does Cena really just go as a fan? Lots of questions. I give kudos to the company for thinking outside of the box. The Mania show is already loaded with star power; they can afford to take a risk here and be fine. As for the winner, logic and common sense tells you Cena will beat Taker. He is younger, has the big Hollywood crossover appeal in 2018 and is surely going to be around more in the future. CLEARLY Cena will be victorious after weeks of calling out The DeadMan, right? Screw it. I'm going with The Undertaker. One last ride.
WINNER: The Undertaker
Steve Cook: I've been in the "there won't be a match" crowd since the beginning & I'm sticking with it. My hope is that either Undertaker doesn't show up at all or he appears as Braun Strowman's mystery partner. I figure we'll get some kind of staredown or other WrestleMania Moment to pop the humanoids.
WINNER: The WWE Universe~!
Mike Chin: I'm reading this match as The Undertaker looking to have one true last match to go out on a high note after his main event with Roman Reigns was such a flop (and his preceding three WrestleMania outings offered nothing to write home about). John Cena is a pretty ideal opponent for that scenario, as a star with a big enough name to feel epic, and the talent and experience to more than likely facilitate high-three to four star match. In a sense, the outcome of this match could be anyone's ball game. It will likely as not be The Dead Man's last ride, but Cena is also getting more and more part-time. In the end, I call The Undertaker winning to preserve how special beating him at WrestleMania is and because Cena is enough of a bullet-proof star that he can totally weather the loss and in no way needs the win. The bigger question—if WWE actually does mean to downplay Brock Lesnar, if he actually is on bad terms and on his way the door, might Undertaker-Cena main event?
WINNER: The Undertaker
Kevin Pantoja: Here's the definition of something that probably won't be very good in the ring, but still be quite the spectacle. Just seeing these two together at WrestleMania will be wild. Cena has come off kind of poorly in this. It's like, "I can't make it onto the WrestleMania card on my own, so I'm gonna call out the old guy sitting on his couch." However, it has been entertaining. Cena will win. But, I lose interest if we get American Badass Undertaker.
WINNER: John Cena
Kurt Angle and Ronda Rousey vs. Triple H and Stephanie McMahon
Jake Chambers
: The WWE once had a transcendent star at their disposal and crafted a tag team WrestleMania main event to take advantage of that opportunity. Of course, I'm talking about the first ever Wrestlemania main event that made the WWF a household name thanks to the participation of the nuclear hot Mr. T at the time. In 2018, Rousey doesn't have that level of star power, but she's only a few years removed from being pretty close. The WWE is sitting precariously at another corporate crossroads, however, as they are looking to attract as much attention as possible right before negotiations on their new TV deal. All signs are pointing towards Fox (desperately) looking to pony up the cash to put WWE RAW on prime time network TV. Whether they are willing to pull that trigger, or offer the number WWE is looking for, might actually all depend on how well Rousey does here. If she's a competent component of an entertaining match, then the WWE could be heading to the bank, but if she's a botch machine who makes the hair-trigger smart fans in attendance turn on her awkward performance, look for Fox to get cold feet. Regardless, there's only one option for a winner, just as there was back at that first Wrestlemania.
WINNER: Kurt Angle and Ronda Rousey
Mitch Nickelson: There's just no way that Ronda Rousey is losing her first match in WWE. She's getting the win and Stephanie has probably been putting in the overtime in an effort to run their match over and over again. They want Ronda looking like a million bucks in the ring and will put forth crazy effort to pull that off. This should be a hot match with lots of fluff. I expect a table or two and maybe a run-in. But the end result will be that Ronda's hand will be raised in victory with 70,000 screaming fans cheering her on. That's the visual that will make SportsCenter and whatever other outlets exist that care.
WINNER: Kurt Angle & Ronda Rousey
Robert Stewart: What on Earth happened to Kurt Angle? He was one of the best talkers in the biz for most of his career, but now it's like his lips can't get out of his tongue's way. Is he just incapable of doing scripted promos? That could be it, I guess. He sounds like a confused child most of the time. I know this match is going to get far more time than I'd like it to. I just hope it's kept under 15 minutes, but there's a part of me that worries that Triple-H has dreams of a 30 minute marathon here. I'm not inherently anti-Rousey, but I'd rather they built her in the actual women's division for a match there. This just seems like WWE thinks they are going to be forgiven for 6 years of Steph neutering everyone on the roster by having her take a few bumps. Meh.
WINNER: Ronda and Kurt
JUSTIN WATRY: This is it. I have written multiple columns about Ronda Rousey (on other websites) in the past month. Everything has led to New Orleans, where make no mistake folks – SHE is selling this pay-per-view event to the world. Ultimately, I do NOT believe this tag team 'special attraction' bout closes the show, but it would not shock me if it did. I also wouldn't argue against that decision either way. Kurt Angle and Triple H are background players in this entire scenario. A bit surprising but the right call in the end. Stephanie McMahon is the perfect heel for fans to root against and wanting to see her arm broken in half is the exact payoff WrestleMania delivers. HHH returning to the ring after a few months is cool and all, as is Kurt Angle back in a WM bout. Those are nice stories in and of itself, which makes Ronda Rousey that much bigger of a deal. I am not expecting a mat technical classic nor should anybody else. We know what this spectacle is, so take it as that and enjoy the ride. Don't wait for the bell to ring and demand flawless wrestling. Sorry, you have the rest of the card for that. This is welcoming Rousey to WWE and FINALLY seeing Steph get her comeuppances. Let's get rowdy!
WINNER: Ronda Rousey tears off Stephanie McMahon's arm, shoves it down her throat as she screams for her husband Triple H tapping out to Kurt Angle
Steve Cook: This has a high potential to be bowling shoe ugly. It needs to be short. It probably won't be. Ronda needs to be dominant. She probably won't be. Kurt needs to stay alive. He can probably do that. I imagine Ronda wins unless they're already tired of her shit backstage.
WINNER: Kurt Angle & Ronda Rousey
Mike Chin: It's interesting that despite cutting her share of WrestleMania promos and taking a reasonable number of WrestleMania bumps, after eighteen years, this will be Stephanie McMahon's first WrestleMania match. There's a much more important WrestleMania debut happening here, though, and let's make no mistake about the fact that this match is all about establishing Ronda Rousey in a protected environment. Expect Triple H and Kurt Angle work the majority the match. Expect Rousey to make McMahon tap, and maybe break her arm in the process.
WINNER: Kurt Angle and Ronda Rousey
Kevin Pantoja: This will be interesting. Stephanie McMahon is no wrestler, but managed to get a pretty good match out of Brie Bella a few years ago. Kurt Angle and Triple H will do what they do, so that's to be expected. Ronda Rousey is the one to watch, to see how well she's come along. Working with veterans like this will only help. Hopefully, HHH doesn't try to make this one of his failed "Mania epics" where he goes way too long. Keep it tight and it should work better. Ronda and Angle win because, duh.
WINNER: Kurt Angle and Ronda Rousey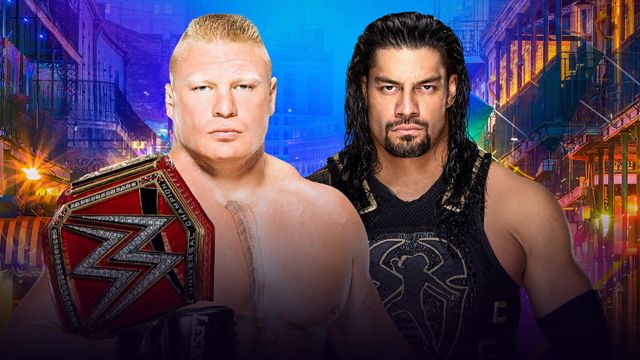 WWE Universal Championship Match: Champion Brock Lesnar vs. Roman Reigns
Jake Chambers
: There are a lot of obvious matches to reference in comparison to this one: Lesnar/Reigns I, Lesnar/Goldberg II, Cena/Rock II, Lesnar/Goldberg I. However, I think there might be another past main event that might give us a premonition of what we may see at the end of a long Wrestlemania 34: Hogan vs. Sid from WrestleMania VIII. In that case you had a tired Hulk Hogan, whose Real American gimmick had run its course, facing an heir apparent in Sid Justice who was clearly chosen to dethrone the legend and take his spot moving forward. Just like Reigns, Sid was not a newcomer at the time but rather a seasoned main event-er just entering his prime; but also like Reigns, Sid didn't really feel like he was genuinely going to be the "face" of the future. So what did the WWE do: they messed with that ending. We've seen these odd serves a few times to end Wrestlemanias: IX, X-7, 27, and the infamous 31 also with Reigns and Lesnar, and I think they've GOT to do it again here. Something must happen to end this Wrestlemania following what is likely to be a heavily disliked match by an exhausted live audience who won't be genuinely investing in either wrestler long term. Whether that's Daniel Bryan somehow being inserted into the match, the Cena/Undertaker storyline bleeding into the ending, or even The Rock coming out to set up another one-year build for a match with either one of these competitors; they've gotta do something. Hell, bring out Papa Shango, you know the crowd would lose it for that too! They can't end the show with lame-duck champion Lesnar winning or a repeat crowning of Reigns as the "big dog" champion like Wrestlemania 32. In my bones as a life-time WWF/E fan who has watched every Wrestlemania in real-time, this just feels like a show that needs an "angle" ending to me. But how do YOU end a Wrestlemania in 2018? The weekend is an exhausting, blistering, headachy, convergence of spectacle, history lessons and new age moves; remembering the rungs on the ladder that got you here, ladder rungs fought over for championships hung high, streamers like streams and fireworks like cackles; content parades, big float, big match, big moves, kick outs, super kicks, Superman punch – we've seen it all, give us more of more of the same: coffee, waffles, nachos, planes; the stars twinkle with a little more goldust, tears milky way as couples hug, kids stand upside down, dudes high five, your auntie's husband shaking his head, granny in the ring, top off; fading to black not as simple when the story never ends, tomorrow is another salvo in the 30 years war, only over if your card's declined, so let's stay up, press play, watch another: Hogan, Piper, Andre, Savage, Warrior, Flair, Bret, Yoko, Diesel, Shawn, Austin, Rock, Foley, HHH, Angle, Brock, Eddie, Batista, Rey, Orton, Edge, Miz, Punk, Bryan, Rollins, Reigns – Undertaker and Cena – dark and light, hate and love, asleep and awake: Bloodsport, Lit Up, Golden Lovers, Twitch, Lucha, Crash, Mercury Rising, Takeover, Spring Break, Mania: crazy. Wrestling is life, and life is good.
WINNER: All of us.
Mitch Nickelson: Roman winning is one of the safest picks of the night, but screw it. I'm picking what I want to see. WWE has been trying to get Roman over for far too long and they've pulled those same tactics in the build for this match. Brock is the guy who doesn't really care about the wrestling business, and seemingly is Dana White's current best friend. What I hope is that all of the UFC stuff is a ruse and Brock's actually staying in WWE for a while longer. I'm hoping that we get an unexpected beatdown from Lesnar against Reigns, sort of like that one match he had against John Cena that was a massacre. WrestleMania would go off the air with a satisfied live audience, even if it does mean we have to endure an even longer title reign from Brock. Out of all of my picks, this is the one that I expect to get wrong the most. But this is a result that would make me happy.
WINNER: Brock Lesnar
Rob Stewart: What is there to talk about here? The match will be good. It will be brutal and violent and the ring will shake with the hatred both men seem to have for the other. And then Roman is 100% going to win. On a show with so many "I could see this going a few different ways" contests, there is only one ending here. No drama. But the match will be fun, sure. Wrestlemania 31 was fun. This will be fun. There's no way Brock wins. You can do a match with a predetermined outcome and still have it be great if the fans are invested in the win. Nobody will be here. On no planet does this deserve to be the main event.
WINNER: Roman Reigns
JUSTIN WATRY: Brock Lesnar, staying or going, is losing on Sunday night. Roman Reigns, for all intents and purposes, is already The Big Dog in the entire business. However, that will be re-established at WrestleMania. The man has actually never held the Universal Title and is due for a long championship reign on top – something he has never had. Like 2015, this will be hard hitting and much deserving of the main event spotlight. Lesnar will likely bleed within the first few minutes, Reigns will take a beating, plenty of F-5 moves will be hit, and Spears will be aplenty! In the end though, Roman will reign. That is the story being told here and is the right way to send The Beast packing for awhile. He may be back (Paul Heyman too) but for now, a split from WWE will do everybody some good. Biggest event of the year folks! Doesn't get much better than this…
WINNER: Roman Reigns
Steve Cook: This will go on last. Roman will win. Some fans will cheer. Many will boo. You know what you're getting at this point.
WINNER: Roman Reigns
Mike Chin: While it's en vogue to downplay this match, because it's cool to boo Reigns and because Lesnar had an uneven year, let's be real. These two way over-delivered at WrestleMania 31. Like him or not, Reigns has grown significantly as a performer since then. And when he's motivated, Lesnar is still a one of a kind professional wrestler who can do things no one else in WWE can. Three years ago, WWE had booked itself into a corner in which a Lesnar win would have felt deflating and left him with no clear direction, while the idea of Reigns being the one defeat him also still felt unearned and contrived. Like it or not, in 2018, these two have the tools to build a special match, a far better build behind them, and Reigns as ready as he's likely to emerge as the definitive top guy in WWE.
WINNER: Roman Reigns
Kevin Pantoja: THE BIG DOG. I'm ready for him to reign as Universal Champion. People can bitch all they want about him, but he's been one of the best wrestlers for the past year or two. The only two PPV matches of his on big shows that I didn't like were with HHH and Undertaker to close out two long Manias. However, his great Mania match came against Brock. Roman needs to win here, to give us a consistent champion. I'm over Brock and have been for a while. ALL HAIL THE BIG DOG
WINNER: Roman Reigns
MAKE SURE TO JOIN 411 AT 5PM ET ON SUNDAY FOR OUR LIVE COVERAGE OF THE SHOW