Column of Honor: 12.28.09: Final Column 2009 Part One
December 28, 2009 | Posted by
Well, it certainly has been an interesting and often-times bumpy road in the world of Honor to get to where we are at the end of 2009. There have been ups and downs, highs and lows and at several times, a good dose of apathy as well. This was Ring of Honor's first full year without the most important creative mind of their first seven years, Gabe Sapolsky, at the helm. In his place was a new-era of Ring of Honor, led by booker Adam Pearce and directed by owner Cary Silken, boldly entering the television era, sometimes succeeding with fantastic main events and title programs, and sometimes falling flat on its face.
Final Column is my year-end feature dedicated to covering the lifespan of Ring of Honor during this past calendar year. It is both unrepentant in recognizing where the company succeeded and unafraid to remark about its blemishes. The best of the best of the company, and the worst of the worst, are right here and on the record for posterity throughout this multi-part series.
Since I have spent the past year watching more than just ROH, later on I will also touch upon both the mainstream wrestling companies (WWE, TNA) and other independent products (CHIKARA, PWG, Dragon Gate USA, SHIMMER). I write about these companies in terms of my opinion about them and my favorite matches and wrestlers from the company, and that's what it should be taken for, no more and no less.
I am sure that the anti-independent wrestling contingent will have a say on the comment section for these articles. While they certainly have that right, this column is dedicated to the 411Mania readers and wrestling fans who can appreciate BOTH mainstream and independent wrestling. It is for those who can recognize that the landscape of professional wrestling is very large and should be reported on regardless of the size or name recognition of a promotion. Wrestling, no matter the initials of the promotion, is filled with both greatness to enjoy and crap to deride.
So it's in that spirit that I hope everyone enjoys the column and can recall the last year of wrestling action fondly…or perhaps not so much. Either way:
Welcome to the final Column of 2009.
–Ari—
***********
Ring Toss
-Ring of Honor Yearbook:
Champions of 2009
Wrestlers of 2009
Top News Stories of 2009
---

=ROH Call of Champions: 2009=
As of 12/28/09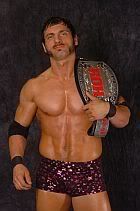 ROH World Title
Nigel McGuinness (10/06/07 – 04/03/09)
Jerry Lynn (04/03/09 – 06/13/09)
Austin Aries (06/13/09 – current)
McGuinness wound down his lengthy title reign with one mark already assured—he was going to surpass Bryan Danielson on the longevity list. However, before he could overtake Samoa Joe's twenty-one month title history record, injuries overtook him. McGuiness bravely defended the title against KENTA at Seventh Anniversary Show despite his injured bicep and that becoming a focus of attack during the entirety of the match. Then he hurt his other arm. Jerry Lynn was on the comeback trail and was in the right place at the right time to capitalize, taking the title in Houston, Texas during ROH's first show in that area. Lynn would defend against a diverse sequence of opponents, including Strong, Hero, Cabana and Jay Briscoe. His most notable defense in that short period of time was the Four Corner Survival against Danielson, Aries and Black on HDNet. However, Aries would worm his way back into title contention and took advantage of opportunity and controversy by winning the ROH Title in what was supposed to be a singles match but ended up a Triple Threat elimination match that also included Black. After Black upended Lynn to guarantee there would be a new ROH World champion, Aries poured on the offense until Black could not kick out, thus becoming the first-ever two-time ROH World Champion. He celebrated thoroughly with Kenny King and Rhett Titus carrying him on their shoulders and parading around the Hammerstein Ballroom. He would continue to hold onto the title throughout the rest of the year, avoiding top contenders when he could and defending the title through a combination of mind-games and his deep playbook of hard-hitting moves when he had to do so.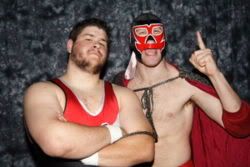 ROH World Tag Team Titles
Kevin Steen & El Generico (09/19/08 – 04/10/09)
American Wolves (Davey Richards & Eddie Edwards) (04/10/09 – 12/19/09)
The Briscoes (Jay & Mark Briscoe) (12/19/09 – current)
The tag team of Steen & Generico was already one of ROH's most popular and fan-friendly acts to close out 2008. They finally captured the belts in September at the Driven 2008 Pay Per View from The Age of the Fall's Jimmy Jacobs and Tyler Black. After two years of struggling to win the straps, they did it. Now they were charged with defending the belts. It became clear that their main rivals for the belts in 2009 would be The American Wolves of Davey Richards and Eddie Edwards. That team had started slowly at the end of 2008 but quickly made a statement that they were not to be ignored when they attacked ruthlessly El Generico backstage, injuring his knees. They followed up that attack with more antagonism against both Steen & Generico and The Briscoes at Final Battle 2008. After several initial losses in title matches against Steenerico, The Wolves broke through and defeated Steen & Generico in a tables match that was taped for HDNet. They would spend the remainder of the year defending the belts against all comers, including combinations of teams involving Bryan Danielson & Tyler Black. The Young Bucks also offered some stiff competition late in the year, including an excellent effort on HDNet. Of course, there would be several hard-fought defenses against constant rivals Steen & Generico. The Wolves put that feud to bed when they retained the titles at Glory By Honor VIII, but they still had The Briscoes to contend, as they returned with a vengeance in late 2009. The Briscoes would unseat The Wolves at Final Battle 2009 and become a record-setting six time tag team champions entering 2010.
Tournaments
Survival of the Fittest 2009 (Held: 10/10/09) Winner: Tyler Black
Tyler Black made a huge mark that early October weekend. He returned from injury and launched himself right back into contention for the ROH World Title by winning SOTF '09. He defeated Kenny King in a qualifier and then won the finals, last eliminating Roderick Strong. Black blasted Strong with four superkicks before being able to put down the toughest challenge of the night. Winning the tournament awarded Black a guaranteed future title shot and he cashed in that shot against Austin Aries at Final Battle 2009.
Pick 6 Contenders Series (Held: 11/05/09 & 11/06/09) Winners: Tyler Black, Delirious, Colt Cabana, Roderick Strong, Kenny Omega, Jay Briscoe
One of Jim Cornette's first actions as "Executive Producer" of HDNet was to create a contender's ranking system that would prevent ROH World Champion Austin Aries from ducking the best and most deserving competition in the promotion. Cornette would debut the "Pick 6" through six qualifying matches. The winners of these matches would get on the first-ever list and be in the direct line for a future title shot (presuming they could keep or improve their position on the list). In addition, the winners of the qualifiers would also receive an extra cash bonus of $2,500 to spend as they saw fit. Which begs the question, what did Delirious spend all that money on anyway?
---
=2009's Honored Guests=
Bushwhacker Luke
Kamala
Kim Chee
Blue Demon Jr.
Alex Kozlov
KENTA
Katsuhiko Nakajima
Bret "Hitman" Hart
Lance Storm
Rocky Romero
Jack Evans
Teddy Hart
=In 2009 We Said Hello (or Hello Again) To…=
Prince Nana
Bison Smith
Sterling James Keenan
Mike Quackenbush
Matt Cross
Sal Rinauro
Chasyn Rance
D-Lo Brown
Dark City Fight Club: Jon Davis
Dark City Fight Club: Kory Chavis
Francisco Ciatso
Shawn Osbourne
Brad Attitude
John Kermon
Andy "Right Leg" Ridge
The British Lions: Tommy Taylor
The British Lions: Chris Gray
Papadon
"Spyder" Nate Webb
Shima Xion
Brandon Morino
Brandon Day
Neveah
Nikki Roxx
The Phoenix Twins
Jimmy Rave
Colt Cabana
LuFisto
Super Smash Brothers: Player Uno
Super Smash Brothers: Player Dos
Frankie the Mobster
"SkullKrusher" Rasche Brown
Egotistico Fantastico
Eddie Kingston
Ricky Reyes
Joey "Magnum" Ryan
Tony Kozina
The Young Bucks: Matt Jackson
The Young Bucks: Nick Jackson
The Set: J-Sinn
The Set: Lance Lude
Sonjay Dutt
Shawn Spears
Little Guido Maritato
Petey Williams
Tyson Dux
Pelle Primeau
Kyle O' Reilly
Jim Cornette
Steve Corino
The Flatliners
=And in 2009 We Said Goodbye To…=
Go Shiozaki
"Sweet & Sour" Larry Sweeney
Jimmy Jacobs
Nigel McGuinness
Bryan Danielson
D-Lo Brown
Jimmy Rave
Brent Albright
---
=ROH's Top News Stories of 2009=
ROH Signs Television Deal with HDNet
The year began with a ground breaking new deal for Ring of Honor, signing a six-month agreement (later renewed for longer terms) with HDNet to bring a one-hour television show to the digital, high-definition only sports and entertainment channel. ROH would hold separate television tapings and record three episodes per set, using The Arena in Philadelphia (where a decade ago the original ECW taped their Hardcore TV shows) as their home base. The tapings used HDNet's equipment and production trucks / crew to improve drastically the quality of the video and the look of the product. However, despite the visual improvements (which were easily noticeable), the initial tapings and several afterwards were marred by bad audio capture of the crowd in attendance such that they came across on-air as flat and often times, stone cold silent. The initial tapings were February 28th and March 1st and the first airing occurred on March 21st, 2009.
The shows quickly found a formula, featuring a solid opening match, one or two squash matches and usually a very strong main event. Only the main event closely resembled the ROH style which became the calling card of the marquee matches on their house shows. Mike Hogewood, a college sports announcer, was brought in to be lead commentator alongside Dave Prazak, who would provide the backbone to the show with his wrestling knowledge and background. The choice to use Hogewood was criticized at first, including by this writer. However, Hogewood grew into his role, with his easily apparent enthusiasm for the product and willingness to learn and to grow with the show. Initially, there were small interview or promo segments to debut and put over the talent, while in more recent months HDNet has used more video packages (now having an adequate "B-roll" stock of footage) while retaining Kyle Durden as the backstage interviewer who talks to the main event wrestlers featured on a given show.
While ROH frequently features more wrestling action in the ring compared to WWE and TNA programs, the last nine months of shows has been hit-or-miss in terms of quality and fan response. The show is at its best when it limits squashes and concentrates on an incredible main event such as the recent tag team title match between the American Wolves and The Young Bucks. However, there is no doubt that as good (and as great) as the main events can be, that the rest of the show depicts a watered-down for television ROH product. Some of the negatives have been time constraints and an early focus on wrestlers who were either too green (Sami Callahan) or ended up leaving or being dropped by the company (Brodie Lee, Jimmy Jacobs and D-Lo Brown).
ROH began to prepare for the departure of mainstays Bryan Danielson and Nigel McGuinness by building up Austin Aries, Roderick Strong, Tyler Black, Jerry Lynn, Kevin Steen & El Generico, Chris Hero, The American Wolves and Delirious as the main stars of the show. Focusing on these talents has proven well for them, as these are usually the wrestlers contributing to the best matches on the show on any given week.
In September, ROH announced that they had signed Jim Cornette to become their "Executive Producer" of the HDNet show. He is serving as an on-camera representative of the company as well as helping talent and booking backstage by providing ideas and suggestions. Cornette is promising to stick around to help ROH grow and become more than what it is now as evidenced by his commentaries and a recent "contract" with fans.
ROH will continue to use The Arena as their base of operations for these television tapings into 2010, despite low ticket sales and frequent papering of these events to the families in the Philadelphia area.
ROH Ends its Series of Pay Per Views, Rumors of Financial Trouble Persist
Ring of Honor had renewed its Pay Per View deal with G-Funk Media in 2008, adding six more shows for the next year. However, ROH did not choose to renew their deal at the end of that contract. Thus, the era of Ring of Honor on televised cable / satellite Pay Per View ended with a total of twelve shows in two years. The last official show was Take No Prisoners 2009 and the last ROH PPV match was Austin Aries & Katsuhiko Nakajima vs. Tyler Black & KENTA.
Generally speaking, Pay Per View buys in the first year started off very strong, upwards of 10,000 buys. However, buys steadily declined and the last set of shows were about half of that, according to Dave Meltzer's Wrestling Observer. There was even the debacle in Canada where one Pay Per View received only 36 buys –even in that country's limited on-demand system that's a horrible number. They were dropped from Canada on-demand systems for a time, but brought back on for the last few shows.
News also came out that Ring of Honor DVD sales were dropping at an incredibly fast rate. There are many reasons for that decrease, first among them the economy affecting the amount of discretionary spending for many people not just in America, but worldwide. There was also the overall decline in the DVD market, which affected not only ROH but even WWE, the number one wrestling company in the world. Some people blamed the lower DVD sales on the torrent sites, which allowed for easy and free access to download ROH and other wrestling shows. Another piece of the puzzle is the change in booking—that those who followed the Sapolsky book in the past seven years either left when he did or soon after, while others soon followed because they didn't like the product they were seeing at the time. No doubt that in the first half of the year that ROH was dealing with these side-effects of their changes at the end of 2008 and that it was not for the better.
At the same time, ROH was also telling its wrestlers that they wouldn't be booked on every show. Instead, ROH began to incorporate a rotation for its roster. It kept a core of the same wrestlers on every show, but if you paid enough attention you could tell who was being rotated in and out. ROH also returned to their previous system of focusing on local talent for specific areas they ran—local talent was used specifically for the Chicago & Midwest, for Canada, for the South and for the Northeast. Some of these talents eventually did receive more opportunities and more frequent bookings—such as Dark City Fight Club (who made their name in Florida) and Super Smash Brothers (from Canada).
A Shaky Start
The beginning of the year did not hold Yuletide and joy for Ring of Honor. January has usually been a shaky start of the year in the past and this year was no exception, perhaps even worse than before.
The major faults of the new ROH were quickly exposed in that the undercards of the shows were far weaker than ever before, with shows usually having to be saved with the top two or three matches. Before, ROH more often than not could have great matches up and down the card, but it seemed more than ever that shows and matches were being slowed down and paced for that not to happen.
Worse than that, the increase in the amount of unsatisfactory finishes led to growing frustration about the product being presented. There were more matches that had solid or better wrestling action, only to have someone interfere in the match and have that lead to the finish. There were also weird finishes like the simultaneous tap out and pinfall during the Castagnoli vs. Albright match—serving more to deflate the fans in attendance rather than add intrigue to a program. These were finishes done in WWE and TNA and not a lot in ROH. It was a lot for fans of the product to try to adjust to the decrease of clear winner and losers or screwy finishes.
The prime example of how ROH went too far with the exotic and strange finishes would be the Tyler Black versus Nigel McGuinness title match at Injustice II in Edison, New Jersey. The ultimate in excess of junk that brought down the presentation of a match included no less than ten run-ins (including from those who had no connection whatsoever to those participating in the match), multiple promos within the match, restarts and a sixty minute draw that was only forty-nine minutes. It was clear what the angle was supposed to be about, but it was clearly not what the fans wanted to see.
The woes continued at the "B-shows" (as so "helpfully" identified by promos from Austin Aries) of the tour circuit. While ROH had its share of shows under Sapolsky watch that were not to the quality of the marquee events like a Death Before Dishonor or Final Battle, this year in particular seemed to expand the divide between the top of the line shows and the minor, mediocre shows. Events in Danbury, CT and Montreal for instance, were filled with weak matches or main events that would only be in the middle of a pack in a New York show. Essentially, these shows were no "must-buy" and so fans mostly did not buy them. Mediocre shows only induce apathy in the fan base, which is anathema to the livelihood of any wrestling promotion.
Finally, many fans began to reject the story of Jerry Lynn on the march back to the top of Ring of Honor. While Lynn was still a fantastic wrestler and had several great matches against Nigel McGuinness and Bryan Danielson, fans didn't like the fact that he was being pushed so hard to the top, that his story had echoes from the movie The Wrestler and that he was being pushed ahead of other wrestlers. Lynn would win the title from an injured McGuinness at Supercard of Honor IV and the mix of boos and cheers he would receive would continue. There were loud cheers and signs of relief from fans in New York when Lynn was the first eliminated in the triple threat match during Manhattan Mayhem III, because it meant that Lynn would no longer be champion.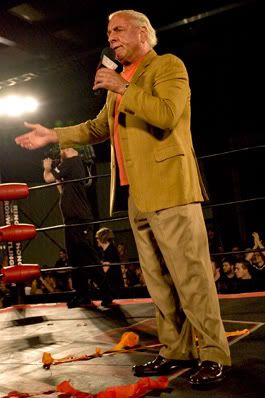 The Nature Boy Cometh, and The Nature Boy Go-eth
When all-time wrestling legend "The Nature Boy" Ric Flair retired from in-ring action in 2007, he had briefly hung around WWE doing the odd-television appearance as well as being their ambassador to the mainstream press and world-at-large. However, Flair felt he could make a better living accepting independent signings both here and abroad. WWE did not want him to take those bookings and work for them at the same time, so Flair decided to leave his contract and work solely on generating income through appearances, signings and working on outside projects like a reality show, his finance website and doing shoot interviews for loads of cash. That meant that WOOOOOOO!— Ric Flair was on the open market and accepting bookings.
Ring of Honor wasn't the first to approach Flair with an offer, but it ended up becoming one of his higher-profile series of appearances. The terms of the initial agreement was reported to be five live appearances, which included an autograph session (where fans would be charged an ostentatious thirty-five bucks an autograph) and in-ring promo to put over the Ring of Honor product.
The initial reception from fans and the internet media was positive—this was a relatively huge get for Ring of Honor. While the promotion had brought in many of professional wrestling's biggest names over the last seven years, including Flair's peers such as Ricky "The Dragon" Steamboat and "The American Dream" Dusty Rhodes—Flair was undeniably in the top five of biggest names ever in the business, and coming off of his emotional retirement scene in WWE had a boatload of positives he brought to the table—he was in demand, could still cut a great promo and was willing to work with them to promote the name brand value.
Flair's first appearance at the Stylin' & Profilin show named in tribute to him seemed to be a success in every way—increased attendance due to Flair's appearance and not only did Flair do his scheduled signings but he also appeared not once but twice on the DVD, including cutting what looked to be the beginning of a program with then-champion Nigel McGuinness. Flair even chopped McGuinness at the end of the show to give the fans something special to talk about on their way home.
The appearance went so well that soon Flair was signed up to further appearances for later in the year. He then agreed to terms with ROH to appear on their new television series on HDNet. He would serve in the role of "ROH Ambassador", essentially meaning some sort of spokesperson / authority figure. Having Flair's name attached to the HDNet show was looked at as a boon to the company—that any wrestling fan who heard Flair was on their program and had access to their channel would instantly want to watch the show.
However, even in the beginning stages of Flair's involvement with the company, there were cracks in the foundation of the relationship. First of all, Flair cut several promos that were included in Videowire features. These were generic build ups that had Flair, looking quite elderly and unkempt while holding a ratty-looking microphone and cutting a generic "come and see me" promo. You could play fill-in-the-blank and insert the initials of any promotion and get the same result–and in fact that is what Flair did for ROH and several other independent companies he worked for during this time. Fans were not pleased by the appearance that Flair did not seem to be giving ROH anything extra than what he was doing for other promotions. They remarked that Flair did not seem to have any knowledge about ROH, calling it "The Ring of Honor", as well as claiming that NOW that Flair was a part of the promotion, it was really "big time". Fans felt that comment was a slap to the face of what they felt was while not obviously as large or mainstream as WWE or even TNA certainly better than what Flair suggested about the company.
There were further rumors that as part of the deal Flair cut with ROH that his soon Reid would receive a tryout with the company and would be used in conjunction with Daddy Flair's appearances. Flair intimated as much in his end-of-show promo with McGuinness that he would bring in his son to wrestle him. This seemed to be an odd comment, because McGuinness, as ROH Champion, was clearly involved in other programs and would have nothing to gain by working a match against Reid.
Any notion of Reid appearing for ROH would be put to bed when he was arrested in the spring for alleged drug use and possession. It was obvious ROH wouldn't want any backlash or negative press after such an incident stemming from using Reid on their shows. After that, it seemed Flair was less and less interested in working for ROH—being lured more by the opportunity to work and appear for WWE in the build to Wrestlemania 25. This would lead to the amazing scenario where Flair actually was appearing for both ROH and WWE television shows at the same time—the previously taped segments on HDNet as well as working a program with Chris Jericho, Mickey Rourke from The Wrestler and other WWE Legends.
Flair's decision to work again with WWE and his loyalty to them meant he did not want to appear on any other television products, including ROH. He stepped down from his role as ROH Ambassador. Flair would fulfill his contractual obligations for the DVD house shows, signing autographs for fans and cutting the same promo over and over again about how he would kiss all the girls and how he loved ROH, the wrestlers in the back and its fans. He said it every time and every time the fans loved when he said it, but it was obvious by his actions and his behavior that it was more of a put-on than anything else.
The two clearest moments that demonstrated how little Flair cared about the welfare of Ring of Honor would be: first, his refusal to pay back money he was given in advance of appearing on HDNet in the Ambassador role that was then canceled; second, the debacle in New York City where he was scheduled to appear as a special guest referee for the main event ROH World Title match of Austin Aries versus Jerry Lynn. Instead, Flair's role was reduced to outside ring enforcer because Flair did not want to be physically involved in any wrestling action unless it was for WWE. Then, having completed his scheduled signing and an in-ring promo where Flair once again went out there and talked of how much ROH was the best and he loved the fans, he walked out the door half-way through the show, not to be seen again that night in New York City (see Part Four of this feature).
Flair would fulfill the remainder of his dates with Ring of Honor without incident. Ultimately the entire series of appearances had begun with such promise and devolved from there. Even those who supported the move to bring in Flair (such as this writer) would come to see Flair's involvement with Ring of Honor as completely disappointing.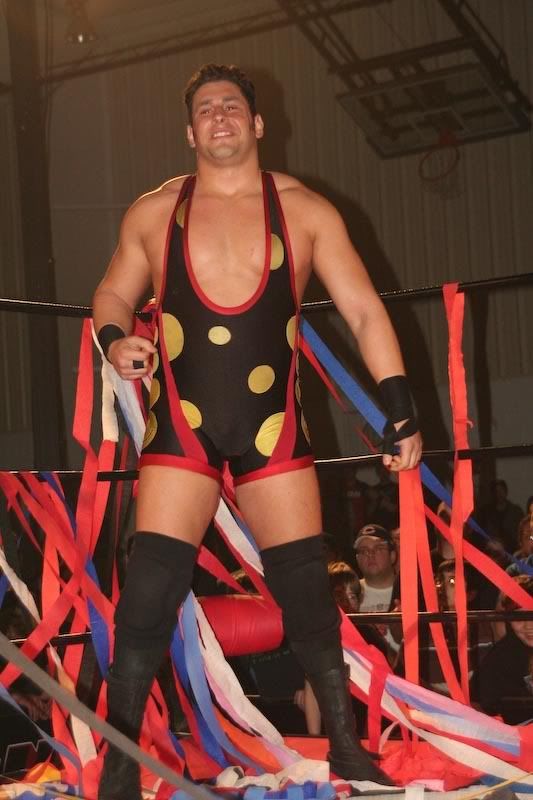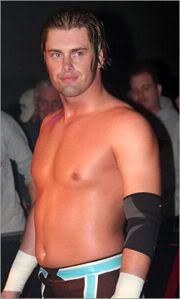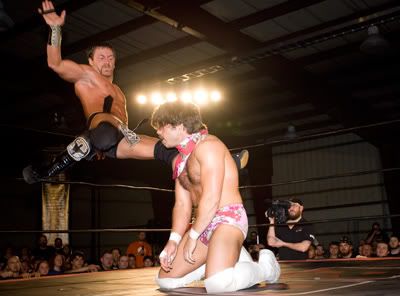 Many Happy Returns—2009 (Cabana, Rave, Dutt, Williams)
Every year there are a few wrestlers who leave Ring of Honor and some who come back to the fold. It's the circle of life on the independent wrestling scene, and as the song goes, "it moves us all." By all, of course, I mean Colt "Boom Boom" Cabana, Jimmy Rave, Sonjay Dutt and Petey Williams, each of whom had previously appeared for Ring of Honor in the past and who returned in 2009 to varying degrees of success.
Colt Cabana left ROH in April 2007 to try to take his shot at making it in WWE, where his long-time friend and former partner in The Second City Saints, CM Punk, had landed on solid-enough ground (and would eventually become a three-time World champion). Cabana spent a year-plus in WWE developmental leagues Ohio Valley Wrestling and Florida Championship Wrestling as "Boom Boom" Cabana and retained much of the personality that got him over with the independent crowd. When he was called up to the big time, he was renamed…Scotty Goldman, which while close to his real name, has about as much personality and pizzazz as "Bob Smith". He had one wacky in-set interview, jobbed a few times to Vladimir Kozlov and Umaga, and off he went back to developmental. He found a nice spot as a color commentator, mixing in his humor with on-the-mark insight. When WWE found itself in a need for new commentators for its Superstars show, it seemed only natural that Colt would be brought up in that role, but instead, he was soon "future endeavored" out of the promotion. The night after he was released, Cabana showed up for Pro Wrestling Guerrilla. A month later, he was back in Ring of Honor.
As he would exclaim, Scotty Goldman was gone and Colt Cabana was back…but was he better than ever? Despite the initial success of the return angle in New York City (during Seventh Anniversary Show), a run of good matches in his first few weeks and some excellent comedy segments with Brent Albright as the straight-man, something has been decidedly average about Cabana's return. His in-ring efforts have swayed away from a mix of comedy and British style chain wrestling wholly towards comedy wrestling. Cabana doesn't seem to have the same crispness in the ring that he had before he left in 2007 and matches against Nigel McGuinness and Austin Aries on HDNet fell flat. ROH also overplayed its hand by booking Cabana in multiple title matches in his hometown of Chicago. While Cabana loves his hometown and the feeling is mutual, there was little intrigue in those title matches because Cabana was never a serious contender for the World title. Colt remains an entertaining presence on television shows and backstage interviews, but he will need to regain his groove and find the "Professional Wrestler" (as it said on his tights when he returned) inside of him once again to be the best he truly can be inside the ring.
Rave, Dutt and Williams each wound their way out of TNA. Rave's tag team run with Lance Hoyt (now in WWE ECW as Vance Archer) fizzled out. Sonjay Dutt won the heart of So Cal Val, who was Macho Man impersonator Jay Lethal's girl until Dutt stole her away or she decided to join him, or she dumped Jay, or…whatever. However, at the end of that interminable feud, there was no follow up for Dutt, and he soon disappeared off TNA television. Petey Williams went from the leader of Team Canada, to "Mr. Nice Guy" Petey Williams (okay that wasn't his real nickname, I made it up), to "Maple Leaf Muscle", idolizer and protégé of Scott Steiner. Later, Williams lost a resulting feud against Steiner for the rights to wear the steel chain mesh outfit (…it's TNA, don't ask) and soon enough was let go by TNA as a part of "cost cutting" which resulted in them spending tons more money on a contact for Survivor "reality" "star" Jenna Morasca (again, it's TNA, don't ask).
When Rave left ROH in 2007 the fans, weirdly enough, were super over for him. I don't know if I can really explain it, but for whatever reason, Rave's appearances after he returned from injury caused the fans to react wildly. I think something major could have been done with that, but Rave had his problems with ROH and how they dealt with his jaw injury and subsequently left for TNA. When he returned to ROH, he settled back quickly into his previous role of the "The Crown Jewel" of Prince Nana's Embassy. However, The Embassy, just like before, never rose above the mid-card ranks even though there was an opportunity to use them in major angles, just like before. Rave had a mini-feud with Colt Cabana and a mini-feud with Necro Butcher…and then…he disappeared again. He lost the Dog-Collar stipulation match in Chicago to Butcher and has yet to return, presumably selling the injuries and the cost of that feud, but also presumably because he had a falling out with ROH management again, for whatever reason on either side.
Sonjay Dutt wrestled a handful of shows for ROH in 2003 and 2004, but was mostly involved in lower card exhibition matches and not in any major angles. He returned to ROH initially as a babyface, having solid but unremarkable matches against Chris Hero and Bryan Danielson. He had a spectacular performance against Roderick Strong in New York City during Manhattan Mayhem III, wherein fans began to see more of a heel edge to him, impersonating taunts of wrestlers from WWE and TNA in-between wowing the crowd with his highflying moves. Finally, Dutt went full heel with his "Playa from the Himalayas" character. He set his sights on Daizee Haze and antagonized her and Delirious. That feud looks to continue in 2010. Dutt has found a place for himself in ROH with solid to very good matches and there is a lot of room for his character to grow and to be used in future ROH storylines.
Petey Williams only appeared a handful of times for ROH, most notably a singles bout against AJ Styles during Death Before Dishonor III. Williams' situation in 2009 and how it played out is almost the opposite of Dutt. He began with some really nice performances in his return matches, contributing very well to a six-man match that also included champion Austin Aries. He impressed the crowd with his efforts and they popped huge for his Canadian Destroyer move. A Williams-Aries feud seemed to be a good direction to go, at least in the short-term. However, the mistake made was to book the title match for New York City, where Williams had never wrestled for ROH and where many fans were unfamiliar with how he was being used in the company (the DVDs featuring his appearances were just a few weeks removed from their release). Combine that with a horrible promo on the show to set up the match along with the utter predictability of an Aries' title retention led to the fans turning on Williams and the match in a most unique manner-chanting "Twinkies" at referee Todd Sinclair for the duration of the bout. ROH would have been better served to have the title match in Detroit or Canada. Williams was used for the Survival of the Fittest tournament but has not been seen since, and that may be due to the lack of a direction for Williams in ROH post-Twinkiegate.
The Tag Team Division Shines With Deep Talent Pool, Awesome Matches
One of the more positive developments for Ring of Honor in 2009 was its tag team division. Tag team wrestling as a whole had a far larger spotlight in the wrestling world compared to previous years. WWE used the tandems of The Miz and John Morrison and then Chris Jericho and The Big Show as the backbone of their division—resulting in some of the best tag team matches in WWE in quite some time. TNA incorporated the IWGP tag team titles and focused on a more international competition in their tag roster, given the rise to power of The British Invasion.
Likewise, this was one of the strongest years for Ring of Honor's tag division, resulting in some of the best title defenses of all-time ROH history. It began with the formation and rise to power of Davey Richards and Eddie Edwards as The American Wolves. They became the go-to team for the best tag wrestling and the most dramatic title matches. Along the way ROH also brought in other compelling, able tag teams: Matt & Nick Jackson (also known as The Young Bucks) were the speedy highflyers who could defeat anyone with their ingeniously innovative tag team combinations; Jon Davis & Kory Chavis (formerly Rainman) were tearing up Full Impact Pro as a bruiser team known as Dark City Fight Club. They were immediately impressive and as a result found constant bookings throughout the year. Other teams providing depth and interest were CHIKARA and IWS stand-outs Super Smash Brothers along with Mid-West team The House of Truth (Josh Raymond and Christian Able with manager Truth Martini). Kenny King and Rhett Titus formed a bond based on their good looks and desire to win and they soon gelled together very well (don't think about that visual too much now). The Embassy returned to ROH and thus Jimmy Rave would sometimes find himself teaming up with other members of his stable in tag action. Also, we had sometime pairings of Colt Cabana and Brent Albright as an "odd couple", Albright and Stevens as a "powerhouse" team and Necro Butcher and anyone who would be willing to join up to take on The Embassy.
Along the way, Kevin Steen & El Generico continued to make great strides in their roles as the top babyface team. The Age of the Fall had a strong presence in the first half of the year. The Briscoes returned to the tag division and re-established the team as a force to be reckoned with. In addition, the occasional pairings of Bryan Danielson and a partner would provide excellent main event challenges against The Wolves and other top teams.
Even with all that diversity and talent on the roster, the top of the division remained relatively stable. Steen & Generico held the belts as the top good guys and then The Wolves ran the field the rest of the way as the top antagonist force until losing to The Briscoes at the very end of the year.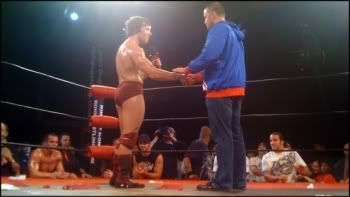 ROH's Two Biggest Names, Danielson & McGuinness, Leave ROH for WWE and TNA
There was much speculation when word got out that Bryan Danielson and Nigel McGuinness had not renewed their contracts with Ring of Honor that either or both men would sign a contract with one of the bigger promotions (WWE or TNA) by the end of the year. It seemed like it could happen at any moment…but when their contracts expired, they were still in the promotion. However, you could tell that ROH expected that at least Danielson could leave at any moment, as not only was there less emphasis on him on the DVD shows, but he was mostly used on the HDNet program to put other wrestlers over, such as what ultimately happened in his series against Tyler Black, but also in tag matches against The American Wolves.
Then, HDNet moved the ROH show to Monday an hour before WWE Raw and in a stunning display of audacity used the tag line "the only hour of professional wrestling on Monday Night." THAT got some attention from WWE and then next thing you knew, there were reports of WWE trying to get its hands on as much Ring of Honor talent as possible. Rumors began flying that they were about to do to ROH what they did to ECW when that company began a run on national television in mid 1999—take the top talent from that company and leave it a shell of its former self.
WWE signed "American Dragon" Bryan Danielson to a contract in late August. This signing made a lot of sense given Danielson's ties to several performers in the company, that the agents knew of Danielson's reputation and that he had even signed a developmental contract with them years ago. ROH began to promote their September shows with the moniker "The Final Countdown Tour", billing the finals stops for Danielson's storied near eight-year long run with the company.
The next week McGuinness agreed in principle to terms with WWE as well, and fans were bracing to hear that other such as Richards, Hero or The Briscoes would be next.
"The Final Countdown Tour" ended up being one of the more successful runs for both ROH and Danielson. For the former, there was now a lot of renewed interest in the company, both to see Danielson's performance but also to see how they would respond to the loss of arguable their two biggest names on roster. As to the latter, Danielson hit a creative peak in ROH and in other promotions for whom he made final appearances. September 2009 could go down as Danielson's finest month of his career. It seemed as if he was determined to leave the independent wrestling world with the best he had to offer—brilliant matches against Austin Aries, Roderick Strong, Davey Richards and an emotional finale against Nigel McGuinness in New York City. Danielson left it all in the ring, so that regardless of how he was going to be used in WWE, no one who saw him could ever deny he was "the best in the world".
For his part, McGuinness did the best he could in those final appearances, but it was clear he was still recovering from injuries that put him out for two months (and realistically, it should have been longer) and trying to manage as best as he could. He had a so-so match with Colt Cabana and a good but ultimately disappointing match against Roderick Strong, but he redeemed himself with another praiseworthy showing against Bryan Danielson.
Perhaps more importantly, Nigel was class in his farewell promos, especially in Chicago and New York. He also left HDNet on a brilliant high note, taking his "hating the fans" character to the natural end by walking out on them after the loss to Cabana. There was the perfect final shot of McGuinness, walking out of The Arena and into the rainy, dismal night.
The farewell celebrations from Danielson and McGuinness as well as the tributes from Austin Aries, Davey Richards and the rest of the ROH roster were also exceptionally class efforts, emotional, special and genuine. Strong, Aries and Richards each broke character after their final matches with Danielson to tell him how much he meant on a personal and on a professional level. The crowd followed suit with loud ovations and chants. The only one who went back into character was Aries, who in a delightful final heelish touch to his tribute smashed Danielson with the microphone after embracing him just a second earlier.
Danielson's promos were very memorable for both his humbleness and his genuine eagerness to talk to the fans and express his gratitude for their response to him over the years. He would claim he was just a "boring wrestler", but the truth was far from that. He was one of the most perfectly suited wrestlers for Ring of Honor and its audience, and the connection he forged with them whether as a face or as a heel was the definition of true professional wrestling magic.
In these farewell promos, Danielson would often claim that he was not delivering the best matches in 2009 compared to some of the other wrestlers on roster. The New York crowd finally put that idea to rest the best way they knew how—with loving chants of "Bullshit!" echoing through the Grand Ballroom. Danielson had to laugh and smile and the fans loved calling Danielson's bluff. Every farewell speech would end the same way, the best way possible, with Danielson calling for the music man to play his favorite song. Together, Danielson and the fans played out the night to Europe's "The Final Countdown".
In an interesting twist to the story, Nigel McGuinness would not sign with WWE after all. Instead, he would come to terms with TNA after it seemed that he did not pass WWE's exhaustive battery of medical tests. Nigel's history of concussions and recent limb injuries may have been the culprit, especially now that WWE's pre-screening process has been toughened as a response to the last few years of heavy criticism of their Wellness practices. Nigel claimed it was more of the right business decision for him at the time. In a way, he would be right. Nigel made immediate iMPACT as he debuted for TNA as "Desmond Wolfe" and would be thrust into a heavy program against one of that company's best in Kurt Angle. McGuinness / Wolfe looked renewed, refreshed and most amazingly, fit right in with TNA's upper crust. His match with Angle at TNA Turning Point was given heavy praise. While Hulk Hogan's presence in TNA in 2010 throws a monkey wrench in the works, Wolfe should continue to do well in TNA due to his talent and will to succeed.
Danielson has yet to be called in for work in WWE and it remains to be seen what brand he will be placed in as well as if he plays a character mostly like what he did in ROH (ala CM Punk) or if he will be given a character to play. In a bonus interview available on the Glory By Honor VIII DVD, Danielson seemed eager to take these challenges head on.
Dragon Gate USA Forms with Sapolsky as VP, EVOLVE to come in 2010
Former ROH booker Gabe Sapolsky took the months after he was fired from the company to take a step back and learn from his experience. He was constantly blogging through Myspace and in his writings seemed to indicate he believed everything about his situation would work out for the best.
In the late spring, Sapolsky and Dragon Gate in Japan announced a partnership to bring their product to America in the form of an off-shoot promotion to be called (obviously) "Dragon Gate USA". The idea would be to feature a small grouping of the Dragon Gate wrestlers coupled with American independent talent. Dragon Gate already had name brand awareness, especially through their involvement in several important Ring of Honor shows in years past. They had a good reputation for providing excellence in the ring that crossed language barriers.
Sapolsky would be the American Vice President and would serve as booker for the promotion. His reputation of past success immediately helped to generate excitement among those fans that followed ROH and independent wrestling. This would continue through constantly updating the development of the promotion through the social networks and releasing mission statements about how DGUSA would be about quality over quantity and provide a premium product. There would only be between six-to-seven shows a year and only six or seven matches a show (although the third show had more than that).
Interestingly, DGUSA quickly signed a Pay Per View agreement with G-Funk, the same company that ROH was using for its Pay Per Views but had dropped around the same time. It was reported that these two events were not related and that G-Funk actually hoped to have both wrestling products under its umbrella, so that it could alternate PPVs from month-to-month. However, what this showed was that DGUSA was not afraid to use PPV format, unlike two years previous when Sapolsky was unsure that ROH should make the leap to that concept.
Also, DGUSA was bold enough to run shows on the same day as Ring of Honor. The debut show Open the Historic Gate ran in Philadelphia while ROH was in the middle of its Death Before Dishonor VII weekend. DGUSA also reached out to several talents that were wrestling for ROH, including using The Young Bucks (already affiliated with the main Dragon Gate promotion), Davey Richards and "American Dragon" Bryan Danielson, who was to be the principal American wrestler for the promotion until his signing with WWE. Richards instead has stepped up to fill that role. ROH and Dragon Gate USA will go head-to-head during Wrestlemania 2010 weekend in Phoenix, Arizona as both companies will run two shows that weekend, with the first shows running at the exact same time. Richards has already committed to Dragon Gate for that first show (The Young Bucks, barring their signing with TNA will also appear for DGUSA). Thus it seems there may be a competition for the usage of wrestlers for that weekend and especially a battle for ticket sales.
Each of the Dragon Gate USA shows seemingly has been a success, creatively and thus far, monetarily. DGUSA has excelled in the ring, producing at least two top-flight main event level matches per show (such as Davey Richards vs. SHINGO and Naruki Doi vs. Danielson for Open the Untouchable Gate) and a card of really good-to-great matches that round out the card. The Japanese wrestlers have integrated themselves well with the American independent wrestlers and have been easily accepted by the fans, although in part that is because its audience already has a pretty keen awareness of who these guys are and what they are about.
However, while these shows and the premium DVDs easily deserve the high praise that they have received, the promotion has not been wholly perfect. There is a "sameness" to the matches in that most of them have been very fast-paced (but high-quality) spotfests. Too much of the same thing tends to blend together and that is what has happened on these Pay Per Views. It is exceptionally difficult to pay attention to a show set up this way for two hours and not become numb to the action at some point. As well, DGUSA is running into the same production problems that ROH had on its Pay Per View product. There is the same poor lighting and audio (although like the ROH shows these seem to improve on the DVD transfers), curt transitions from segment-to-segment and not enough breaks between the breakneck pace of wrestling matches that tend to tire out the viewer.
In addition, Sapolsky has shown that while he can still put together some awesome combinations of wrestlers and knows how to get the most out of those matches by putting over rivalries born out of competition, he is running into some trouble with angles and promos that are outside the venue of the question of "who is the best between these wrestlers?" An angle with Jimmy Jacobs and Mustafa Ali on the second show (which did not air on PPV but is available as a bonus on the DVD) seemed way too reminiscent and derivative of The Age of the Fall. Meanwhile the "Brian Kendrick is an artist" angle that ran on the third show was a complete flop and was not understood by the crowd in attendance, or seemingly wanted. It is interesting to note that the audience that comes to see the DGUSA shows wants to see more wrestling and less angles and promos.
Perhaps that is a part of the reason for why EVOLVE is about to begin. This will be a promotion run by Sapolsky, FIP owner Sal Hamoui and Davey Richards. Sapolsky will be following the same concept in starting up this company as he did DGUSA—concentrate on running fewer shows per year but getting the most out of each of them. He also has been slowly releasing different tidbits of information, learning from the "viral" advertisement strategy that he and Jimmy Jacobs utilized for the Age of the Fall angle in 2007.
The concept of EVOLVE is exceedingly similar to Ring of Honor in the early days—competition and sportsmanship, with wrestlers who do or do not follow those ethics. There will be separate singles and tag team divisions and little to no crossover of each. As well, there will be strict record keeping, so it seems that statistics and win percentages will key into who will qualify for title shots. There also seems to be a focus on younger independent competition, those that haven't quite received their full chance yet. The first show runs in Rahway, New Jersey on January 16th, 2010.
It remains to be seen how successful the EVOLVE and Dragon Gate USA promotions will be in 2010, but the involvement of Sapolsky in these promotions forces the independent world to take notice of them.
ROH Signs iPPV deal for Final Battle 2009 with GoFightLive.TV
Around September, Ring of Honor made several posts through its social networks asking for feedback from its fans regarding on-demand services and what form they would like to see it take. A few months later, Ring of Honor was jumping back into the world of Pay Per View, but not through television and cable. Rather they were doing it through the relatively new world of internet Pay Per View streaming services. ROH signed an agreement with GoFightLive.tv, a pay –for-streaming website, to deliver its content online, beginning with its first ever live broadcast of a ROH wrestling show. Final Battle 2009 would emanate live from New York City and would be available for purchase by those on the World Wide Web. ROH had two price points–$14.95 day of the show and smartly giving a discount of two dollars if you pre-ordered before then.
In addition, Ring of Honor then announced it would release five of its best shows that were now hard to obtain DVDs as the start of an on-demand feature, again available through GoFightLive .The shows included landmarks like Glory By Honor IV (Danielson's ROH World Title win; Mick Foley's farewell), Death Before Dishonor IV (the finale to ROH vs. CZW in the Cage of Death) and Glory By Honor V Night 2 (the debut in the Grand Ballroom with the match of the year involving an injured Danielson defending the World Title against KENTA). These shows would be available for $4.95, a fraction of the cost for the actual DVDs at this point in time.
The best part of these offers would be that fans can order and have unlimited, non-time restricted access to the shows from thereon in—you bought it; it's in your media portfolio through that website from now until Armageddon (or 2012, depending on what you believe).
ROH did a great job hyping up the iPPV concept and advertising it to its consumers. Early reports have their target goals of iPPV buys (1,000, which is a considerable number) as close to accomplishment. However, not all was rosy for this concept. Even though ROH promised to deliver a professional quality production and presentation, there were some definite rough patches. There were severe technical difficulties with the audio, both in terms of the commentary team unable to be heard as well as lagging in the stream of the presentation. Backstage segments and promo packages were interrupted by the audio feed from the house mic as the show was going on live. While some fans watching at the time claimed not to have any problems with the video feed, others commented their video was also lagging, or would break up, or at times would not be available to them. In that respect, it's a good thing that the show would be archived by the GoFightLive team, as customers who purchased the show could go back and watch again, hopefully with better luck in terms of a consistent stream.
There are clearly some issues that need to be addressed with this concept if ROH wishes to move forward with it in 2010. There is some great potential to add on iPPV as another revenue stream, proven by the tacit acknowledgement of other promotions who are now looking to develop their own iPPV-like formats in the future. This is one example where ROH was ahead of the curve, and yet may have dropped the ball due to presentation problems and of course the controversial finish to the show.
A (Cautiously) Stronger End
Ring of Honor began to regain momentum on its DVDs and television tapings from about July onwards, featuring stronger cards, better angles, improved set-up and formatting of the television series and more importantly, a reduction in the horrible finishes that had been done in the first few months of 2009.
Death Before Dishonor VII weekend was a huge creative success, with great matches galore and focused on the return of Lance Storm. He would come out retirement to do battle against Chris Hero on back-to-back nights, first in a tag match and then in singles competition. There was even the first of several appearances of Bret "The Hitman" Hart in Ring of Honor, serving much the same purpose as Ric Flair in that he did autograph signings and cut brief promos in the ring about his career. These appearances generally worked out far better for ROH than the Flair situation.
ROH was also finally bringing in the good and heralded independent talent from other promotions to bolster their ranks, especially helping to expand the tag division. The Young Bucks debuted and immediately made their mark on the tag team division, just as they had been doing for most of the year in PWG. The Super Smash Brothers were used and their solid teamwork confirmed a place for them on the roster. The House of Truth and Up In Smoke (Cheech & Cloudy) also found regular bookings. The talent clicked together and was able to showcase themselves in matches up and down the card.
The Final Countdown Tour was a huge success, with Bryan Danielson delivering some of the finest performances of his career as a final farewell gift to the fans and the company. Nigel McGuinness had some very classy send-offs and came through for the fans in their final match. The Steenerico vs. American Wolves feud reached a fever pitch. ROH brought back Survival of the Fittest and it ended up being one of the finer versions of that tournament. They delivered on huge shows in Detroit, Michigan and Mississauga, Ontario. Jim Cornette returned to ROH as the "Executive Producer" of ROH and promised fans he would do what he could to help the product. Immediately following that ROH had its best episode of the HDNet series to date and they did it by only including two matches. Two excellent matches, mind you, that epitomized ROH at its finest and what it could really deliver week-in and week-out if it was only formatted that way on a regular basis.
Overall, ROH wound up its 2009 in a stronger fashion than it began the year…until the controversial one hour draw in the ROH World Title match at Final Battle 2009. The undercard itself was a very good effort with some interesting new programs beginning (Steen's heel turn, the Kings of Wrestling reformation), with a main event that it seems fans either loved or hated, but was certainly rejected by the New York City fanbase in attendance that night.
Where this leaves ROH for 2010 is a bit uncertain. ROH is only running two house shows and a set of television tapings in the next two months, a far slower schedule compared to the same timeframe from previous years. Their March and April will be far busier, including their two night stand in Phoenix during Wrestlemania weekend.
The reduced schedule is a positive in that there is a bit of a reset and ROH can now concentrate on sorting out its Pick 6 contenders rankings and what they want to do with that, setting up the major programs and angles for the year. However, it is incumbent on ROH to serve the fans right and keep them happy and interested in the product, so they will have to work hard on building the hype and attention for the few shows they have booked.
---
Final Column 2009 continues with PART TWO RIGHT NOW with the more of the ROH Yearbook for 2009. The storylines and grudges of the year, the funniest and strangest moments, the best promos and vignettes, even the best DVD covers. Click on over.

NULL