Csonka's ROH Survival of the Fittest 2018 Preview
November 4, 2018 | Posted by
WELCOME back to column time with Larry! Today, I am going to discuss and preview the ROH Survival of the Fittest 2018 event. . The first-round match winners will compete in a multi-man elimination match at the end of the night to earn a shot at the ROH World Title. Past winners include Michael Elgin (x2), Bryan Danielson, Roderick Strong, Delirious, Chris Hero, Tyler Black, Eddie Edwards, Jay Lethal, Adam Cole, Bobby Fish, and Punishment Martinez. Today, I will give my predictions, and break down the show match by match, trying to accurately predict the tournament, which I admittedly may colossally fail at. Feel free to make your picks in the comment section. Thanks for reading! It's wrestling, we love it and will disagree. The only rules are to "have a take, be respectful, and don't be a dick." Thanks for reading.
My Survival of The Fittest primer is here.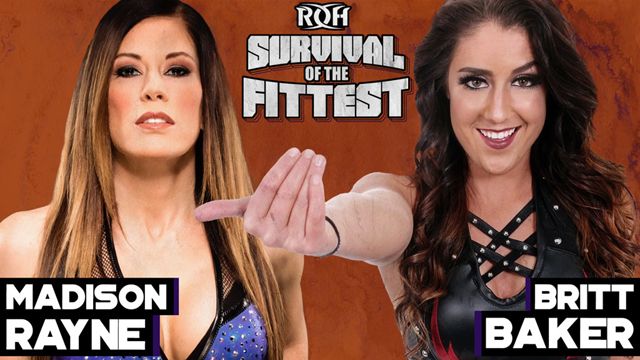 Madison Rayne vs. Dr. Britt Baker: This is a late addition to the card, and may end up getting short changed on time due to the Survival of the Fittest tournament. This will likely be a solid match, with Madison Rayne winning as she just signed with ROH and looks to be a featured player moving forward. WINNER: Madison Rayne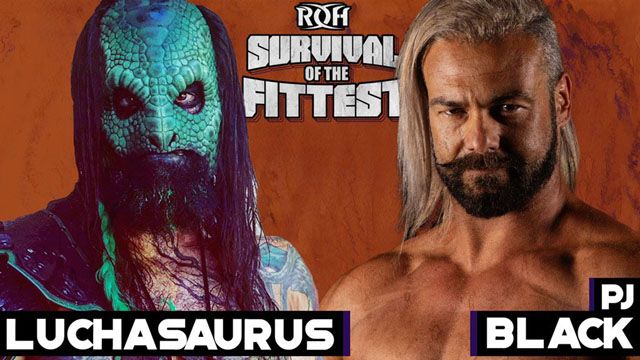 Survival of the Fittest Qualifier: Luchasaurus vs. PJ Black: This match is a battle of newcomers and former Lucha Underground stars as Luchasaurus battles PJ Black. I love the Luchasaurus, he's greatly improved, and in a post Punishment Martinez ROH, I think he has a place in ROH as a new and agile big man. I think that he advances here and hopefully latches on with ROH as a regular going forward. WINNER: Luchasaurus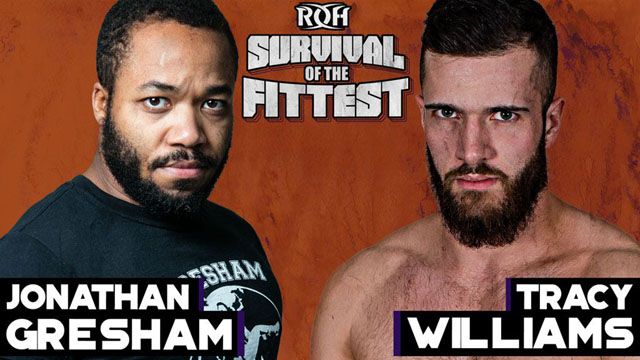 Survival of the Fittest Qualifier: Jonathan Gresham vs. Tracy Williams: I both love and hate this first round match up. I love it because stylistically it's perfect to introduce Williams to the ROH audience. Williams is a grappling heavy worker who will have a chance to get over working with Gresham, since he works a similar style and is over with the ROH faithful. I think this is the best match up to debut Williams in, but unfortunately I think it means a loss for him because Gresham moving on feels like the best move and will work well in the multi-man final. WINNER: Jonathan Gresham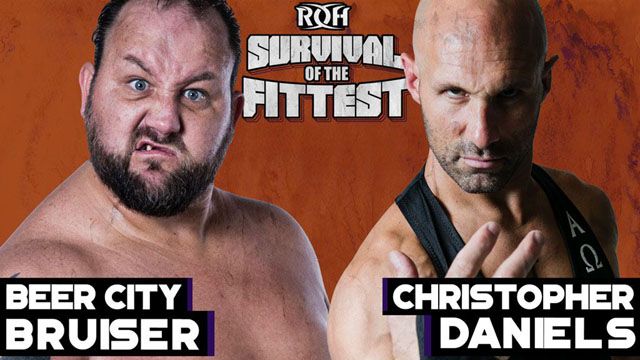 Survival of the Fittest Qualifier: Christopher Daniels vs. Beer City Bruiser: If Daniels is going to tease the miracle run, he'll have to defeat the bruiser here. Daniels, even at age 48, is still a good and consistent performer and Bruiser can be fine with smart workers, so I have hope that this will be at the very least solid. While Daniels may not win the whole thing, I think him winning here to at lest tease him possibly winning is the right play here and I have him advancing. WINNER: Christopher Daniels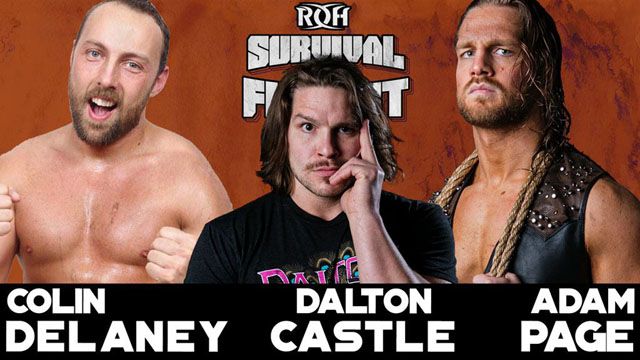 Survival of the Fittest Qualifier: Colin Delaney vs. Dalton Castle vs. Adam Page: Well this one really throws a monkey wrench into the works as I had both Castle & Page as guys who could easily win the whole thing, and now one of them is going to be out unless lizard man loses his mind, has Delaney win and eliminates them both. On one hand I can see Page winning and moving on. he's younger, they are banking on him as a future star and the tournament win may be part of the plan to keep him. Castle is a few years older but injury wise has more mileage on him. I think that this one is a complete toss up between Page and Castle, but I'll go with the former champion here. WINNER: Dalton Castle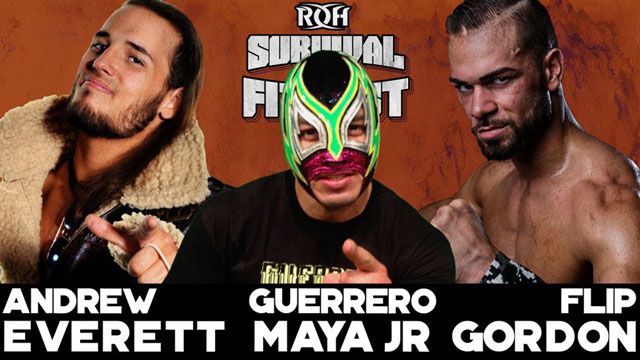 Survival of the Fittest Qualifier: Andrew Everett vs. Guerrero Maya Jr vs. Flip Gordon: This one has a ton of potential to be a really fun, fast-paced, highflying sprint of a match with the guys involved. While Flip Gordon is a popular ROH name, he recently lost an ROH World Title match, and with his angle with Bully Ray still ongoing, I don't see him winning here, which means an outsider will pick up the win. Guerrero Maya Jr would be a fun addition to the final match, but I think that Andrew Everett takes this one and moves onto the final as the company takes a good look at bringing him in as a regular. WINNER: Andrew Everett
Survival of the Fittest Qualifier: Stuka Jr. vs. Silas Young vs. Marty Scurll: Silas Young is coming off of an ROH Title match loss, which rules him out for me. Stuka Jr. winning wouldn't surprise me here as a curveball, and to play nice with CMLL, but Marty Scurll winning feels like the right call. The match from a stylistic standpoint feels like a complete crapshoot. It could easily be a complete mess as the three have completely different styles. Hopefully they can work well enough together to have a solid match, but Marty Scurll winning makes the most sense to me. WINNER: Marty Scurll
Survival of the Fittest Finals: Luchasaurus vs. Jonathan Gresham vs. Christopher Daniels vs. Dalton Castle vs. Marty Scurll vs. Andrew Everett: It could be a real crap shoot as to how I did when we arrive here. I could have nailed it, I could have put up a big old goose egg, or maybe just got a few. It's hard to predict tournaments and even harder to get into the mind of the lizard man's booking. But if I come close, I think that the likely winner will be one of these three men: Christopher Daniels, Dalton Castle, or Marty Scurll. Castle & Daniels are former ROH Champions, Castle has the comeback story working for him and Daniels has the contract-ending angle to play off of. Scurll will be with the company into 2019 as his contract I believe runs into the summer, and previously challenged for the title and is over huge. It may be a long shot, but I'm going with Christopher Daniels to give him another ROH accolade and to play into his current storyline. He may not hold gold when his "contract ends" but he could beowed a title shot. WINNER: Christopher Daniels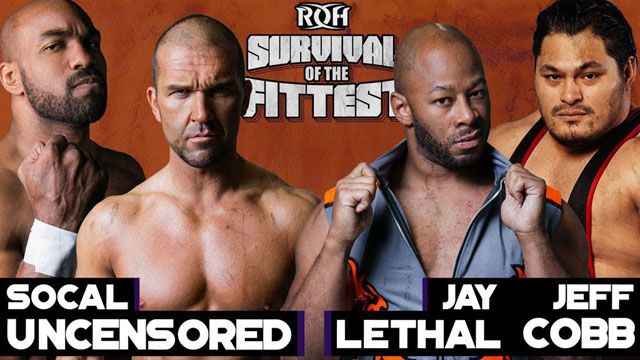 Kazarian & Scorpio Sky vs. Jeff Cobb & Jay Lethal: This is an old ROH match they love to run, the champions vs. champions match. As we build to Final Battle and the Survival of the Fittest tournament takes center stage, this is a fun addition to the card and with the talent involved, has the potential to be a banger. SCU are great, Lethal & Cobb are great, and it's certainly a match that could and likely should steal the show. While SCU just won the titles, I think that they take the loss here unless Matt Taven gets involved and costs Lethal the match, which feels likely to me. While it shouldn't be an upset, I'll go with the tag champions due to their experience advantage and the likelihood of a shenanigan-filled finish. WINNERS: Kazarian & Scorpio Sky
Champions Cody & The Young Bucks vs. The Kingdom: Cody & The Young Bucks have no clear path heading into Final Battle and with their contract status up in the air, a title change wouldn't completely surprise me here. But keeping the titles on them would get them on Final Battle in a match and ROH will certainly want them on the card. Plus, if Taven is challenging for the world title, he doesn't "need" the trios titles, even if it would help the Kingdom as a whole. The Kingdom have been really good and consistent on these shows, and the Bucks always are great on them, so this should be good and may even be great. I'll go with the champions here. WINNERS: Champions Cody & The Young Bucks
– End Scene.
– Thanks for reading.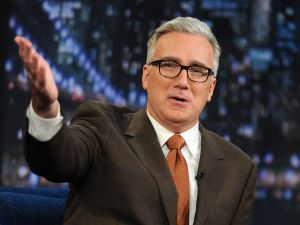 "Byyyyyyyyyyyyyyyyyyyyyye Felicia!"