Csonka's TNA Impact Review 9.23.15
September 23, 2015 | Posted by
Csonka's TNA Impact Review 9.23.15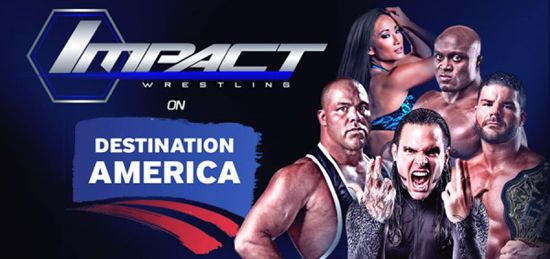 TNA Impact Review 9.23.15
OFFICIAL RESULTS
– Chris Melendez defeated Eric Young @ 5:30 via pin [*]
– Knockouts Title Match: Champion Gail Kim defeated Jade @ 4:30 via pin [**¾]
– X-Division Title Match: Champion Tigre Uno defeated Kenny King @ 5:25 via pin [**¾]
– World Title Match: Champions Ethan Carter III defeated Rockstar Spud @ 5:28 via pin [**]
– Five Way #1 Contender's Elimination Match: Galloway defeated Lashley, Edwards, Richards and Bram @ 14:10 via pin [***]
---
* Opening video package.
DIXIE TALKS: We have the TNA roster surrounding the ring, as Galloway, Bram, Lashley and the Wolves are in the ring with Dixie. They were team TNA last week and were able to fight off the GFW invasion to keep control of the company. Dixie thanked them and then Galloway gave his big "we love wrestling" speech, and put over the wrestlers and fans as equals. Dixie says she owes them all something, and they will get to fight for the right to main event Bound For Glory in a TNA Title match. That seems like fair compensation for their hard work, a chance to main event the company's major PPV in a title match. It's simple and I can buy it. Carter then called out Eric Young, who said he couldn't be fired because he has an iron clad contract with TNA. Dixie says that a lot of people are looking to take out Young, and then brings out Chris Melendez. Melendez gets another match tonight with Young in a lumberjack match. I really liked the start and lead in to the #1 contender's match, but they lost me by going back to Melendez vs. Young again. It isn't working, at all TNA.
Lumberjack Match: Eric Young vs. Chris Melendez: Young controlled the match for about four minutes, and then we got a ref shove and eye poke. Young used the prosthetic leg on Melendez, and then looked for a piledriver off the ropes. Melendez fought back, sent Young to the match and then hit a missile dropkick and covered for the win. So we basically got a squash match with the underdog hitting one move and scoring the win. He also apparently got his leg back. They made this a lumberjack match and the stipulation really wasn't used at all, they wrestlers were there to raise him up on their shoulders for the big celebration. Sorry, this did nothing for me because the feud has not been good, and while Young is a great heel, I have just not been into the Melendez journey. With all due respect to him, he's not a good pro wrestler, can't talk, and just doesn't do anything to make me care. It's best for all of us to move on from this.
* Taryn Terrell met with her Dollhouse, and is sending Jade after Gail Kim.
* Ethan Carter III is making Jeff Hardy's life hell, and it is fun.
Knockouts Title Match: Champion Gail Kim vs. Jade: Could someone enlighten me as to why Jade is getting a title shot? She hasn't won a singles match in a long time or possibly ever in TNA, and Kim beat her and Belle by herself so why should I look at her as a threat in any way? This is poor booking here, plain and simple; just make it a non-title match and that clears up a lot and allows it to just be about Terrell sending one of her henchwomen after Kim. With that being said, they had a very enjoyable back and forth match. It wasn't anything overly flashy, just a good and clean match that delivered in the spot they were given. Kim is still so good, and now has made me want to see extended matches with Brooke and Jade down the line. Rebel and Belle attacked post match and beat down Kim. Velvet Sky and Madison Rayne then hit the ring to make the save. The beautiful People and Dollhouse cleared out, and Awesome Kong came out for a standoff with Kim to hype their PPV match. This was an overall good segment, that was hurt by the shoddy booking of it as a title match when it was not deserved.
* Spud commented on his title match vs. EC3 tonight.
X-Division Title Match: Champion Tigre Uno vs. Kenny King: Much like the last match, on what planet does Kenny King deserve an X-Division Title shot? I get that this is wrestling, but there has to be some legitimacy to it when it comes to the title. Make me believe that the guy fighting for the title deserves the shot he has received. King came back, lost to Bram and a six-man and somehow has received a title shot. This would have been SIMPLE to get to and have it make SOME sense. On the September 9th edition of Impact, Robbie E, Micah and Tigre Uno faced off with Eli Drake, Jessie and Kenny King. If King wins that match by beating Uno, PRESTO, you have a built in title match. What happened? Robbie pinned Jessie for the win. Great forward thinking TNA, you may as well piss on the damn X-Division on live TV and get it over with because it's obvious that you have no desire to put any effort into it anymore. It's so hard to care about the match when the booking of it is a complete joke. This was a typical 2015 TNA X-Division match; they worked hard, they didn't get much time and we were given no real reason to care. Uno retained with the frog splash
World Title Match: Champion Ethan Carter III vs. Rockstar Spud: To keep things rolling, I am not a fan of Spud getting this title match. They have a history and they could have just done a regular, non-title match to play off of that. Spud's last few months have not been good; starting June 10th – lost TNA Title Match to Angle, July 15th lost in a X-Division title match, July 22nd lost to Eric Young, August 5th defeated Austin Aries, August 12th got the shit beat out of him by Bobby Roode in a non-match. He then was back last week for the angle to get here. Not everything has to be a title match TNA. Carter controlled early, made a fiery little comeback and started to annoy Carter. Carter picked up the clean win in a fine, but forgettable match. It lacked the heat of their previous encounters, likely due to Spud's recent booking. Carter had Tyrus heart punch Spud, and then demanded that Jeff end his career. Jeff didn't want to do it, and refused. Carter threatened to fire him and end his career, and then Matt tried to make the save and got beat down by Tyrus. Carter demanded that Jeff end Matt, so Matt low blowed Tyrus and Jeff punched EC3 to clear the ring. I really liked what they did last week with the angle, but this felt really fast tracked this week and lost the quality due to that.
* Carter rants about Jeff, and plans to fire him later tonight.
The Revolution Explodes: Storm is in the ring with Manik and Abyss, discussing his construction of the Revolution to help the weak. He says the Khoya situation is still going on because of the failure of Abyss and Manik, he doesn't say their name but keeps staring at them. Abyss tells Storm to piss off and that he won't be in another man's shadow because he is a TNA original, he helped to build this place with his blood, sweat and tears; he gave it all. Storm didn't make him, he made himself and if Storm touched him again he will kick his ass. He bailed at this point, leaving Manik alone with Storm. Manik then stood up to Storm, and when Storm said Khoya, Manik said his name was Mahabali Shera. Storm then ran him down, but Manik stood up to him and said Storm didn't make him. He unmasked and left. Mahabali Shera arrived and wanted to fight Storm, but Storm bailed. Ok, this was a fine segment, not great, but the end of the Revolution is fine with me. TJ Perkins (formerly Manik) is such a great and underutilized performer, and I hope he gets some run.
* Galloway met with the Wolves, and thanked them for fighting for TNA. They agree that all bets are off tonight because they are fighting for a title shot.
* Matt and Jeff discuss the situation Jeff is in, and the fact that he needs the check to feed his family.
Five Way #1 Contender's Elimination Match: Drew Galloway vs. Lashley vs. Bram vs. Davey Richards vs. Eddie Edwards: These guys won last week's match to save TNA, so this is their reward. The winner goes onto Bound For Glory to face EC3 for the world title. Frantic beginning, with everyone brawling and looking for an advantage. The Wolves worked together for a bit, hit some dives and worked over Bram. They hit several double team moves and pinned Bram to eliminate him at 3:35. We went through the commercial and came back to Lashley working over Richards in the ring. Lashley was in freak strength mode, but the Wolves worked together again to fight him off. They worked the double teams on him, and then they got clover leafs on Lashley and Galloway. They then decided to face off and fight instead of working together, which was working well. Lashley and Galloway then hit their moves (spear and future shock) and pinned the Wolves @ 10:00. We're down to Lashley and Galloway, and they went back and forth for a while. Lashley started to run wild, but then missed the spear for a near fall. Galloway then hit the running boot and picked up the win. This was an overall good main event match, although I am not convinced that the right guy won. This was also the best match on the show. They shook hands post match.
* Galloway praises his opponents and is excited to get his title shot at Bound For Glory. When he wins the title, it will be for everyone that has a dream.
Will EC3 Fire Jeff Hardy?: Carter claimed that he was not the bad guy, Jeff Hardy made an agreement and broke it. But he is giving him one last chance to beg for his job. Jeff vandalized the EC3 sign, which EC3 did not appreciate. Jeff gave a promo, discussing that the creatures do not live in his reality, and that they make their own. EC3 says if he fires Jeff he loses his income and can't support his family, and also can't create for his creatures. He then tells Jeff to get on his knees and kiss the title as if he was kissing the king's ring. Jeff dropped to a knee and EC3 wanted him to recite an overly complicated apology, which was funny. Jeff then quit and said he won't work here anymore. EC3 then yelled at Jeff and said he can't quit because he is fired.
* Next week, Dixie will drop a bombshell on EC3 in the form of a special referee at Bound For Glory. EC3 and Tyrus will face Galloway and Hardy, Shera will face Storm and the TNA roster will go after Eric Young.
* End scene.
* Thanks for reading.
* Updated Bound For Glory card…
– Kurt Angle vs. TBA
– TNA X-Division Ultimate X Title Match: Champion Tigre Uno vs. TBA vs. TBD vs. ???
– TNA Tag Team Title Match: Champions The Wolves vs. Trevor Lee and Brian Myers
– TNA Knockouts Title Match: Champion Gail Kim vs. Awesome Kong
– TNA World Title Match: Champion Ethan Carter III vs. Drew Galloway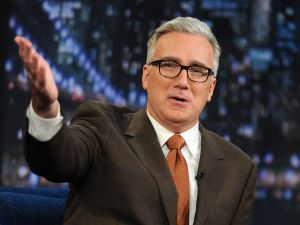 "Byyyyyyyyyyyyyyyyyyyyyye Felicia!"
5.5
The final score: review Not So Good
The 411
Overall I was not a fan of this week's show. The booking of the title matches was a sticking point with me, because it largely made no sense. Spud I can forgive to a degree, but there was no reason what so ever for Jade, King or Spud to have title shots on today's show. Also, the Hardy stipulation felt rushed with it's end this week, which is a shame because it started well. I liked the main event match, and appreciate that they build to Bound for Glory and announced matches, because they needed to do that. Unfortunately they half-assed the X-Division announcement; hopefully they bring in some fresh names to make it worth it. The matches were largely average, with booking that ended up irritating me because it lacked any logic. I hope that next week is a stronger show, with some booking that makes sense.
legend