Csonka's Top 38 WWE Matches of 2017
January 7, 2018 | Posted by
WELCOME back, back to the column that makes lists and hopes that you enjoy them. This week's column will look back at the best of WWE matches from 2017. I always hear a lot of people saying that they can't decide what to watch because they do not have enough time to follow everything, so maybe this will help those of you short on time find some stuff to check out. Anyway, I hope that you enjoy today's preview, and feel free to share your thoughts. It's wrestling, we love it and will disagree. The only rules are "have a take, be respectful of other's opinions and don't be a dick."
* 38. From WWE Raw 2.13.17 – Bayley defeated Raw Women's Champion Charlotte @ 17:30 via pin [****]
* 37. From WWE Raw 5.01.17 – The Miz defeated Seth Rollins and Finn Balor @ 22:55 via pin [****]
* 36. From WWE Backlash – WWE United States Championship Match: Champion Kevin Owens defeated AJ Styles @ 21:10 via countout [****]
* 35. From The WWE UK Championship Special 5.19.17 – Pete Dunne defeated Trent Seven @ 15:55 via pin [****]
* 34. From WWE 205 Live 2.07.17 – #1 Contender's Elimination Match: TJ Perkins vs. Noam Dar vs. Jack Gallagher vs. Cedric Alexander vs. Mustafa Ali [****]
* 33. From WWE 205 Live 5.23.17 – Street Fight: Akira Tozawa defeated Brian Kendrick @ 14:30 via pin [****]
* 32. From NXT TakeOver: San Antonio – Champion Shinsuke Nakamura vs. Bobby Roode [****]
* 31. From WWE WrestleMania 33 Raw Tag Team Championship Ladder Match: The Greatest Tag Team in All of Time and Space The Hardy Boys defeated Champions Luke Gallows & Karl Anderson, Enzo Amore & Big Cass, and Sheamus & Cesaro @ 11:15 [****]
* 30. From WWE Survivor Series – The Shield defeated New Day @ 21:35 via pin [****]
* 29. From WWE No Mercy 2017 – RAW Tag Team Championship Match: Champions Dean Ambrose and Seth Rollins defeated Sheamus & Cesaro @ 15:55 via pin [****]
* 28. From NXT Takeover: Brooklyn III – NXT Women's Championship Match: Champion Asuka defeated Ember Moon @ 14:52 via pin [****]
* 27. From NXT Takeover WarGames – NXT Championship Match: Andrade "Cien" Almas defeated Champion Drew McIntyre @ 14:56 via pin [****]
* 26. From WWE Summerslam 2017 – Fatal 4 Way WWE Universal Championship Match: Champion Brock Lesnar defeated Roman Reigns, Samoa Joe, and Braun Strowman @ 20:59 via pin [****]
* 25. From WWE Summerslam 2017 – Smackdown Tag Team Championship Kickoff Match: The Usos defeated Champions The New Day @ 19:30 via pin [****]
* 24. From WWE Smackdown 2.14.17 – WWE Champion Bray Wyatt vs. John Cena vs. AJ Styles [****]
* 23. From NXT TV 6.28.17 – NXT Women's Championship Last Woman Standing: Champion Asuka defeated Nikki Cross @ 18:45 [****]
* 22. From WE Survivor Series – Brock Lesnar defeated AJ Styles @ 15:25 via pin [****]
* 21. From WWE TLC– Finn Balor defeated AJ Styles @ 18:20 via pin [****]
* 20. From NXT TakeOver: San Antonio – Roderick Strong defeated Andrade Cien Almas @ 12:00 via pin [****]
* 19. From NXT TakeOver: San Antonio – The Authors of Pain defeated Champions Tommaso Ciampa & Johnny Gargano @ 14:30 via pin to become the new champions [****]
* 18. From NXT Takeover WarGames – WARGAMES: The Undisputed Era defeated The Authors of Pain & Roderick Strong and Sanity @ 36:37 via pin [****]
* 17. From NXT TV 11.22.17 – WWE UK Title Match: Champion Pete Dunne defeated Johnny Gargano @ 9:20 via pin [****]
* 16. From NXT TV 1.11.17 – NXT Tag Team Title Match: Champions DIY (Gargano & Ciampa) vs. The Revival (Dash & Dawson) [****]
15. From Night Two of The WWE UK Championship Tournament – Semifinal Match: Pete Dunne defeated Mark Andrews @ 10:55 via pin [****¼]: This was one of the best matches of the UK tournament, with both guys going full throttle and coming away looking like stars. Dunne is a badass and had to use everything at his disposal to finally put away the underdog, Andrews. Beautiful stuff.
14. From NXT Takeover: Orlando – Champions The Authors of Pain defeated the Revival & DIY @ 23:40 via pin [****¼]: This was a great tag match, that would have been better with a layout change. The early story of DIY and The Revival being reluctant allies to try and slay the monsters worked really well, but it peaked a bit too soon, and the DIY elimination hurt the overall heat and flow of the match. I think if DIY sticks around and we get a hotter finish, that this becomes a real MOTY contender. Still, this was an overall great title match; the AOP are only in their early 20s and haven't had the benefit of working the loops with a ton of great and experienced teams, but have more than done their part.
13. WWE UK Title Match (UK Special 5.19.17): Champion Tyler Bate defeated Mark Andrews @ 24:20 via pin [****¼]: This was a great match, worked in a completely different style than Seven vs. Dunne from the same show. Face vs. face matches can be really tough to pull off, but I thought that they made it work excellently here. The hot crowd helped, and they just worked the right pacing, layout and peaked at the right time. Andrews more than held his own and came off great here, and is a guy I wish we'd see more on WWE TV. Bate is amazing to watch, the kid is 20 (yes I am old enough to call him a kid he could be my son), but works with such confidence and poise that you'd think he was a 10+ year veteran.
12. From the WWE Royal Rumble – WWE Universal Championship No DQ Match: Roman Reigns vs. Champion Kevin Owens (Chris Jericho suspended above the ring like a sexy piñata in a shark cage) [****¼]: Going into the match, you knew that there would be smoke, mirrors, and shenanigans due to the stipulation. And there's nothing wrong with that, because these two tore it up and delivered an amazing outing. I have been critical of the Reigns vs. Owens matches; they have felt slow, lazy and just lifeless most of the time. That thankfully changed here tonight and they finally lived up to their potential and put on the match I knew they could. It had a great energy, a good pace, a sense of hatred and violence. I thought that they used the stipulation extremely well, both guys worked like they desperately wanted to steal the show and they delivered in the big time spots. With a clean finish, this would have been even better.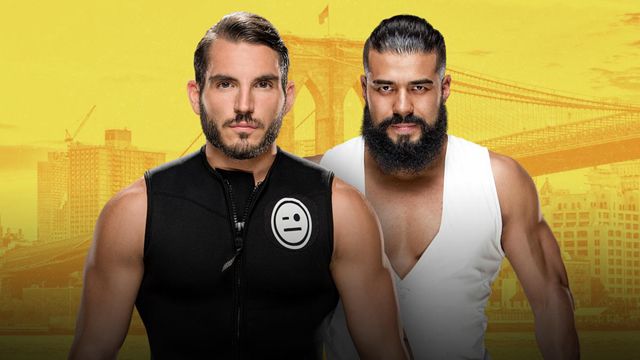 11. From NXT Takeover: Brooklyn III – Andrade "Cien" Almas defeated Johnny Gargano @ 13:25 via pin [****¼]: This was an absolutely great match to kick off the Takeover show, with both guys working at the top of their games from the opening bell. They constantly built the action; they had the crowd behind them and reacting to the near falls in a big way, which only added to the match. The finish was really creative, as Gargano was on his way to victory, but Vega mind-fucked him with the DIY shirt, showing that Ciampa will be a ghost that haunts Gargano even when he's not on TV. Almas needed that win and that great performance; Gargano proved that he's a top guy, even in the loss, and a tremendous babyface. This felt like one of those great sub 15-minute G1 sprints, with top guys busting ass and giving it their all.
10. From NXT TV 12.06.17 – NXT Title Contender's Match: Johnny Gargano defeated Kassius Ohno @ 11:45 via submission [****¼]: This was a GREAT match, and despite the fact that both men weren't setting the world on fire as far as wins go, they still had enough equity with the NXT fans to captivate them from bell to bell with a smartly paced and well-worked match. Ohno's offense is so believable, and with the angle where Gargano was on the downslide and questioning himself, made for some great near falls. They created great drama, working a physical and hard-hitting match with a decisive finish that played very well with the live crowd and also transitioned well to TV. Rumors of Kassius Ohno's demise are greatly exaggerated; he is still really good. Jonathan Wrestling is one of the best on the entire roster and is such an easy babyface to root for and become invested in. This would have been right at home on any Takeover show, and would have been the best match on a lot of WWE PPVs this year.
9. From NXT Takeover WarGames – Aleister Black defeated The Velveteen Dream @ 14:45 via pin [****¼]: This was an absolutely great match that had the crowd the whole time, and way over delivered in my opinion. We knew that Black was great, but Dream really stepped up tonight and delivered in a star-making performance; the crowd loved him. This was just great work from both guys, with a mix of fun character work and then they picked it up big time, and simply delivered. This was also a great example of how a guy can get over huge, even in loss. Dream has so much potential, especially considering he's only been working around three years; he does so many little things well, it's almost scary.
8. From NXT Takeover: Chicago – NXT Tag Team Title Ladder Match: Champions The Authors of Pain defeated DIY @ 20:22 [****½]: This was GREAT; they all did really well here as the Authors came off like beasts, but DIY had plenty of hope spots and near grabs to make the drama work and also make you feel DIY could overcome the monsters. The Authors are so young and have been progressively improving and also delivering on the big shows. They have a ton of potential.
7. From The WWE Elimination Chamber PPV – Elimination Chamber WWE Championship Match: AJ Styles vs. The Miz vs. Dean Ambrose vs. Bray Wyatt vs. Baron Corbin vs. John Cena [****½]: This was an absolutely great match on a show that really needed it. We got a ton of great stuff from Cena and Styles, who continue to have absolutely great chemistry. The Corbin/Ambrose stuff ended up really well done, it allowed Miz to be a weasel and pick up a pin while also allowing Corbin to destroy Ambrose and set up an IC Title feud. I thought that the layout was especially strong, keeping the crowd invested, and also keeping a really good pace during the 30-plus minute match; it never felt slow, I was never bored and also felt that Wyatt out in a great performance in the victory. Not only did he win, but I also felt he came out feeling like an actual force to deal with and looked like a player. It didn't last long.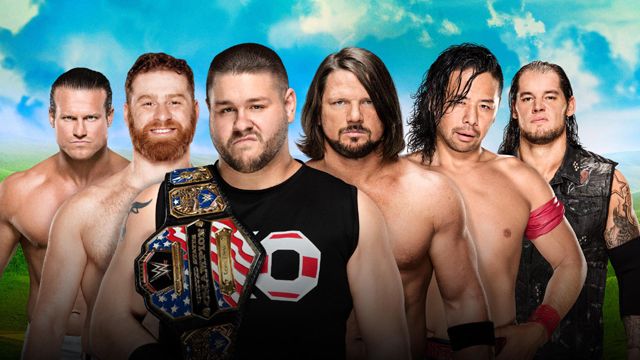 6. From WWE MITB – Men's Money in the Bank Ladder Match: Baron Corbin won @ 29:50 [****½]: After a slow first portion, the final ¾ of the match was just excellent; from the weaving in of the recent feuds, the continuation of Sami and Owens trying to ruin each other, the comeback of Nakamura which gave the match amazing life and gave the crowd something to invest in and then the great face off of Styles & Nakamura (serving as a tease of the future match) to Corbin pissing in everyone's corn flakes, ruining the Styles & Nakamura party and stealing the win. Everyone played their role well, and at the end of the day, they produced one of the very best MITB matches with fun big spots and some great drama throughout. They have a lot coming out of this besides the Corbin win; Styles vs. Nakamura, Styles vs. Owens, Nakamura vs. Owens, and of course Sami vs. Owens.
5. WWE UK Championship Tournament Finals: Pete Dunne vs. Tyler Bate [****½]: They let these guys go out there to deliver a star-making performance; if Bate had lost, due to the angle and high-quality match, he was still a made man. But this was a clear effort to make a star out of him, and with all they had done with Dunne, he is also a star coming out of this, performing as a top-notch heel and delivering in two awesome matches. I can be picky when it comes to selling, but outside of the two big power-up spots, Bate sold the arm and shoulder very well, and those power up/desperation spots added to and did not take away from the match.
4. From NXT TV 12.20.17 – Champion Pete Dunne defeated Tyler Bate @ 22:55 via pin [****½]: Fucking hell that was excellent. We all know that these two have amazing chemistry, but doing it three times in the same year is usually really hard, but 2017 we have had some excellent trilogies (Okada vs. Omega, Naito vs. Tanahashi, Ishii vs. Omega) and we can add Bate vs. Dunne to that mix. This started slowly, and did a great job of slowly and consistently building throughout the match, while also paying tribute and properly playing off of their previous two matches like all trilogies should. They had an absolutely tremendous homestretch, as they just kept upping the intensity, the drama and hitting the climax at just the right time. Add a late addition to the year-end match listing with this bad boy. These guys kick ass.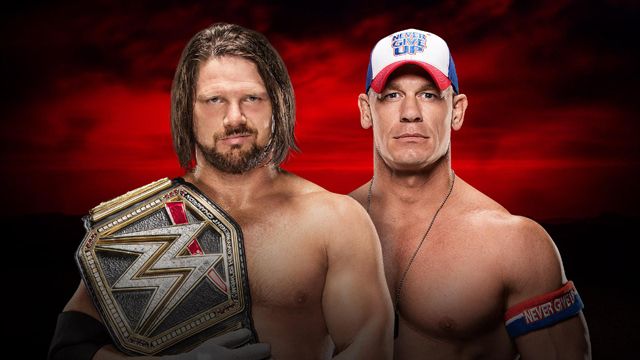 3. From The WWE Royal Rumble – WWE Championship Match: John Cena vs. Champion AJ Styles [****¾]: This kicked all of the asses, they completely emptied the tank and hit each other with anything and everything, making this feel huge, like they were both desperate to have this title. The crowd was great, the near falls were great and Cena's subtle facials, showing his frustration and teasing possible heelish tactics added so much to this. Styles was put over huge in defeat, he doesn't lose anything because he survived so much of Cena's best, kept coming and almost won. They also played well off of their past matches, with some great cal back spots. These two guys have amazing chemistry, and I want to see more. Styles continues to show why many considered him one of the best for so long, delivering again. Also, Cena once again steps it up and delivers in the big match setting. I absolutely loved this.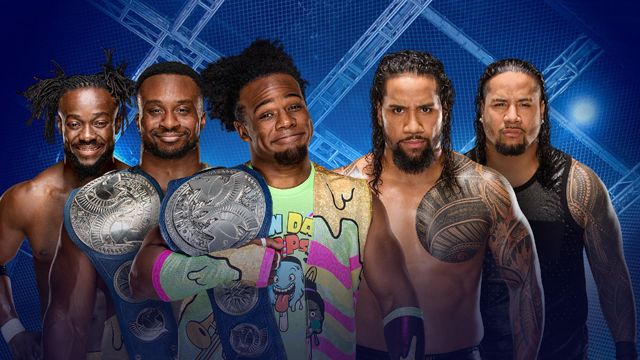 2. From WWE Hell in a Cell 2017 – The Usos defeated Champions The New Day (Woods & Big E) @ 23:03 via pin [****¾]: This was fucking great, filled with hate, drama and just awesome action. The New Day were awesome babyfaces here, and this was the best overall use of the HIAC in a long time, and one of WWE's best matches of the year. It was everything HIAC should be, yes I still get that people want blood, but I think when you work with intensity and hate like they did here, you can get away without it. They all delivered, and even Kofi added to the match on the outside, selling the pain of watching his partners take an ass kicking when he couldn't do anything about it is an underrated aspect of the match. These two teams hada great 2017.
1. From NXT Takeover: Chicago – WWE UK Title Match: Pete Dunne defeated Champion Tyler Bate @ 15:40 via pin [*****]: I loved every second of this. They took everything that they did in their UK tournament final match (which was excellent), streamlined it and made it even better in front of an absolutely insane crowd, great action and pacing with both men doing everything in their power to win; that felt really special. This was easily one of the best matches in NXT's history and a perfect example of what a sprint can be. These men are special talents. Easily the WWE match of the year, and a must-see match.
– End scene.
– Thanks for reading.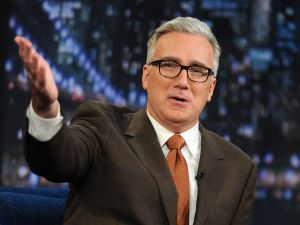 "Byyyyyyyyyyyyyyyyyyyyyye Felicia!"