Csonka's WWE Raw Review 11.12.18
November 12, 2018 | Posted by
Csonka's WWE Raw Review 11.12.18
Csonka's WWE Raw Review 11.12.18
OFFICIAL RESULTS
– Raw Tag Teams Battle Royal: Braun Strowman made the entire division his bitches in @ 2:37 [NR]
– Tamina defeated Ember Moon @ 8:35 via pin [*]
– Finn Balor defeated Dolph Ziggler @ 12:20 via pin [***]
– Raw Tag Teams Battle Royal: Roode & Gable won @ 3:05 [*]
– Survivor Series Team Qualifier: Lashley defeated Elias @ 2:20 via countout [NR]
– Sasha Banks vs. Bayley went to a no contest @ 8:40 [**½]
---
– Follow all of my reviews at this link.
– You can check out my top 49 matches of OCTOBER list at this link.
– My WWE Evolution 2018 review is at this link.
– My WWE Sweet Saudi Money II: Blood Money review is at this link.
– This is the final Raw before Survivor Series.
Raw Tag Teams Battle Royal: All the Raw teams are in here, and the winning team captains the Raw team in the Tag Team Survivor Series Elimination match that's not needed. Braun arrives 48 seconds in and starts killing geeks because that's how the Raw tag division is treated now that the titles are "off the stars." He then does laps, murdering fools with shoulder tackles. Braun says he isn't leaving until Corbin gets these hands. Braun Strowman made the entire division his bitches in @ 2:37 [NR] Stephanie arrives and knows he's pissed, but that doesn't mean he can hold Raw hostage. She wants him to channel his anger for Sunday's Survivor Series match so that Raw can win. Braun doesn't give a damn about Shane or representing her at Survivor Series. She orders him to give a damn, so Braun says she may look at him like a mindless meat castle, but he's knows what she's doing and wants Corbin out here right now. Stephanie makes a deal with him, and if he helps Raw win at Survivor Series, He gets whatever he wants. Braun wants a rematch with Lesnar, but before that he wants Baron Corbin and wants to pick the stipulations. Stephanie agrees to all of this, but says he can't touch Corbin until after Survivor Series and prove he's a team player and he get everything he wants. If he doesn't, Braun promises to destroy WWE HQ. Ronda Rousey arrives now. Steph tries to play nice and Rousey takes the mic and tells her to quit the pep talk. Rousey has been waiting for a challenge like Becky Lynch since she arrives. Baron Corbin now arrives. Corbin says they need to focus on beating Smackdown. Braun wants to kick his ass as Corbin works into his pep talk, and says they can't be over confident and Rousey judo tosses him and leaves. Stephanie begs them not to fight as Braun promises to neuter him after Survivor Series. Well it started bad as Braun single-handedly killed the tag division, making it impossible to care about them at Survivor Series. The rest was solid build to Survivor Series and after with Braun.
Ember Moon vs. Tamina w/Nia Jax: Jax distracts Moon allowing Tamina to attack. Moon avoids a charge and follows with rights and kicks. The enziguri follows, and Moon covers for 1. Bliss watches on as Moon lays in more kicks and a flatliner. The apron dropkick follows and Jax distracts her so that Tamina can attack. Post break, and Tamina has things grounded. She then covers for 2. Moon tries to fire up, lays in kicks, and follows with rights. She counters a suplex, takes out the knee and hits an enziguri. Moon tries a suicide dive and bounces off of Jax. Back in and the springboard high cross follows for 2. The corner elbow connects, Moon up top and Jax distracts her, superkick by Tamina and she heads up top and hits a bad looking superfly splash for the win. Tamina defeated Ember Moon @ 8:35 via pin [*] Not good, Moon was working for three women and couldn't save this. She feels so wasted right now, but that's what she gets for being so over at Evolution, sacrificed to Rock's cousins or whatever they are.
– Post match, Moon gets beat down again.
– We get highlights of the Rollins/Ambrose drama, including Rollins losing the tag titles to AOP.
– Corey now has a special interview in the ring with Seth Rollins. Graves asks him about his match at Survivor Series, and Rollins says that he's hyped for his match with Nakamura, but doesn't give a damn about it. Rollins says he will be focused on Sunday, but tonight, he wants answers from Ambrose. Graves save Ambrose speaks with actions, and Rollins knows he's not stupid, but says he's not man enough to explain himself. Ambrose, sitting on a car by a barrel fire, appears on the screen. He doesn't owe anyone anything, because they don't deserve it. He mocks the fans for their response to his actions and says he's always been the same guy but was too selfish and self-absorbed to see what was happening around him. He may be remorseful and may want forgiveness, no, that's not it. He used to think the Shield made him string, but instead, they made him weak. Always having to watch their back, but it's a new day and a chance to be reborn. He burns his Shield gear. Rollins looks like he may cry but then heads backstage. This was a pretty good segment to move along the Rollins & Ambrose angle.
– We now look back on Drew putting Angle down last week.
– Kurt Angle, however, is not dead and arrives… nope, it's Dolph teasing us. Drew is with him. Drew says he told us he'd take over, and we need to believe him now. He broke the Shield and then broke Kurt Angle. Angle went into their match, an icon, Hall of Farmer, and Olympian and left an embarrassment. Angle gave him everything, but when he looked into his eyes, Angle's will left him. He kept fighting, crawling, and then started crying. Drew has never been more disgusted in his entire life and was more than willing to humiliate Angle and he earned that moment. Raw is his show now and he will mold it in his image, and there is no more room for weakness or nostalgia acts. Finn Balor arrives. Drew says Balor has guts coming out following last week's ass beating. Balor couldn't just listen to him talk because he crossed a line last week. He could have just beaten Angle and not humiliated him. Drew says dignity is not a right and he could have done worse. Drew says Balor is what is wrong with this place because he's too concerned with emotions and feelings. Balor says he's sick of him being a bully and challenges him to a match right now. Drew agrees, but says it will be Balor vs. Ziggler. If Balor wins, Drew will consider lowering himself to Balor's level. Drew then kills Balor with a head butt.
Finn Balor vs. Dolph Ziggler: Ziggler attacks right away, immediately grounding things. Balor fights to his feet, but Ziggler drags him back down. He follows with an elbow drop for 2. Ziggler now hits a dropkick and that gets 2. Ziggler follows with rights, and grounds things again. Balor fights to his feet, but Ziggler cuts him off until Balor lays in rights. The basemen dropkick follows, but Ziggler cradles him for 2. Balor hits an enziguri, heads up top and Ziggler cuts him off. Post break, and Ziggler hits a neck breaker. Balor lays in chops, and the PELE. Balor follows with more chops, and then an enziguri and standing double stomp for 2. Sling blade follows, but Ziggler cuts him off with a DDT for 2. Balor blocks the superkick, but Ziggler hits a fameasser for 2. Balor battles back, hits John Woooo and dumps Ziggler and dropkicks Drew. He dumps v again and the tope wipes out both. Back in and Balor up top, misses the double stomp and Ziggler cradles him but Balor counters and pins Ziggler. Finn Balor defeated Dolph Ziggler @ 12:20 via pin [***] This was a good back and forth match with a really fun closing stretch. Also, Balor actually escaped without the expected beat down.
– Stephanie congratulates Balor on his win and standing up to Drew and adds him to the Survivor Series team. Corbin isn't happy and Drew arrives and complains. Stephanie gives them all a pep talk, and knows they can destroy Shane and Smackdown. After they win, they can tear each other apart.
– They hype Lynch vs. Rousey. Rousey now comments, saying that Becky can dish it out. She wasn't trying to knock Becky's accomplishments, but was pointing out how insane it is that Becky thinks she can take her arm. Rousey calls her a millennial with a big ego and Rousey says she isn't Charlotte. Being offended doesn't make you right. Rousey earned every fan she has and have been with her since day one. Great fire from Rousey again here, but that millennial talk shows you how WWE views Becky, which is as a whiny, entitled heel who wants things to come to her as opposed to taking things her way. Nia arrives and Tamina is with her. They wish her well at Survivor Series.
– Ruby Riott apologizes for breaking Jim Neidhart's sunglasses last week, and humiliating Natalya. She loved every second of it because she's a big faker. She didn't take things far enough, the keep fighting for all they have, and wanted Natalya to feel real emotion, to cry like a baby, and she did. Jim wore those glasses because he was ashamed to look at his own daughter. Natalya arrives and attacks, but they cut her off and beat her down. They hit a shitty looking Hart attack on Natalya. Can we put a moratorium on the fake/humble apology stuff for a few years please? It's a crutch now. No match, not a good angle. It's variations on the same shit every week, can't wait for another trios tag with Bayley & Banks added in. Hell, their 2018 has been so bad, from the break up to not breaking up feud, to being the backdrop in a Titus Worldwide breakup storyline then transitioning into being a backdrop to a storyline about broken glasses. Remember when they were putting on the best WWE women's matches ever and stealing the show at Takeovers? WWE doesn't.
Raw Tag Teams Battle Royal: Take Two: All the Raw teams are in here, and the winning team captains the Raw team in the Tag Team Survivor Series Elimination match that's not needed. They brawl, Slater & Rhyno are eliminated. The Revival are eliminated by the Luchas. The Ascension, who are still employed, attack the Luchas and dump them. They ten eliminate the B Team. Gable & Roode are left with them, Gable hits a pretty moonsault and gets the hanging arm bar, allowing Roode to dump Konnor. Roode & Gable won @ 3:05 [*] It was rushed, got no teal time, and no one cared since Braun already killed the geeks earlier tonight.
– The Survivor Series rules tag teams match will be on the pre-show.
Brock Hops & Paul Talks: Paul does his usual shtick. He praises Braun for almost beating Brock, but then reminds us he ate 5 F5s and lost. He also congratulates Braun for getting his way into another title shot. He then congratulates Styles (loud Styles chants) because the fans believe Styles has a fighting chance based on last year's match. On Sunday, Styles will check into suplex city and take his beating. Styles came close last year, and Brock wants to beat the living hell out of him because of that. Brock wants to suplex, F5, and beat Styles on Sunday. Suplex city, F5, and the end. That's not a prediction, that's… Jinder Mahal of all people arrives. I guess he wants his match he missed out on last year. Mahal tells them not to underestimate Styles like he did last year when he lost focus and lost the WWE Title. He's here to offer his services to focus Lesnar on Sunday's match. Brock invites him in to the ring to hear about his mantra, and tells Paul to listen since he's Jewish. Jinder goes into his bullshit; Brock plays along for a moment and then murders Mahal and the Singhs, nearly breaking the neck of one of them. Brock then press slams a Singh onto Mahal on the floor, Mahal didn't even catch the poor bastard. Brock then hits an F5 on the floor. Good hype from Paul and Brock killing guys is fun, but the poor Singhs may need time off after that since they almost died a few times. Between this and the Orton beatings, those good brothers need bonused and fast.
– Elias interrupts Lashley's pre-match posing routine and is on the phone with child protective services, claiming Lashley kidnapped a child a few weeks back and has held him hostage for weeks. Lashley says Elias is not funny and dares him to come to the ring. Elias says Lashley sucks, and will shut that toddler's mouth who he tried to help. He then jams on his way to the ring.
Survivor Series Team Qualifier: Lashley vs. Elias: JIP because this is so important. Lashley grounds things, and then slams Elias down. He misses an elbow drop and then follows with rights. Elias battles back, hits a clothesline and follows with kicks. Elias takes out Lio and Lashley cradles him for 2. Elias then dumps Lashley and follows with an apron knee strike. He posts Lashley but Lashley slams him to the steps. Lio holds onto Elias' foot and that's a countout. Lashley defeated Elias @ 2:20 via countout [NR] Well, at least Elias wasn't pinned.
– Post match, Elias tosses Lio from the ring onto Lashley.
Alexa Bliss Names The Raw Women's Survivor Series Team: Bliss arrives and is here to name her team. Mickie, Nia, & Tamina are with her. Bliss says Raw will prove that they are the A Show on Sunday and she demands victory. She says Natalya is on the team along with Mickie James, Nia Jax, Tamina, and says the final member is the winner of the next match (Banks vs. Bayley).
Sasha Banks vs. Bayley: They lock up, Banks lays in chops and hits a lucha arm drag. Bayley gets a series of cradles for 2 and then follows with a sliding clothesline. Banks hits a knee strike and sends Bayley to the floor. Bayley cuts off the dropkick and she now hits a knee strike. Banks hits a RANA on the floor, back in and Banks flies in with meteora for 2. Bayley knocks her to the floor, and follows. Banks cuts her off and posts Bayley. Banks hits the charging knees against the post and then misses the second try. Back in and Bayley rolls her up for 2. Bayley hits the stunner in the ropes, but Banks fires back with a knee strike but runs into a Bayley to belly on the apron. Post break, and Bayley looks for the top rope elbow drop an eats knees. Banks gets the banks statement but Nia, Mickie, & Jax all attack. Sasha Banks vs. Bayley went to a no contest @ 8:40 [**½] It was all a trap a Bliss names Ruby Riott to the team. The match was going along well until the non-finish, which while annoying, fits Bliss' personality perfectly as she screws over the friends and ultimately makes them fight for nothing.
– In the back, Becky is ripping off Rousey's arm in the locker room. Becky makes he way to the ring and the Smackdown women arrive for the sneak attack. Charlotte is with them as the big brawl follows. Alexa Bliss tires to make the save, but the IIconics and Mandy Rose are also here and Smackdown Becky's nose is busted open. Rousey now arrives and Becky bails as Rousey fights with one arm and Becky attacks with a chair shot. Smackdown runs wild and stands tall as Becky beats on Rousey with chair shots to "one more time" chants. Blood covered Stone Cold Becky Lynch running wild to the biggest reaction on the show was awesome.
– Stephanie throws a fit and yells at Corbin. I am sure this sets up the Raw men invading tomorrow on Smackdown.
– End scene.
– Thanks for reading.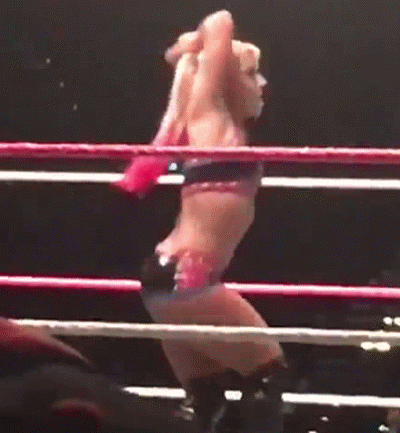 ~GLORIOUS~
6.0
The final score: review Average
The 411
The go home Raw for Survivor Series was in many ways much of the same, Some solid and even good build for the PPV, mostly forgettable wrestling, but the closing angle with Becky Lynch was fucking great. She's a star, she's over, and was a complete badass in every way. The closing shot of her looking down on Rousey, who was shooting back a death stare was excellent. Let these two main event on Sunday. There isn't much to take away from this show, but the ending was really amazing and the main roster doesn't make me care about feuds very often these days, but there's nothing more I want to see on Sunday than Becky vs. Ronda.
legend