Csonka's WWE Raw Review 3.11.19
March 11, 2019 | Posted by
Csonka's WWE Raw Review 3.11.19
Csonka's WWE Raw Review 3.11.19
OFFICIAL RESULTS
– Seth Rollins defeated Shelton Benjamin @ 10:20 via pin [***]
– IC Title Match: Lashley defeated Champion Finn Balor @ 10:59 via pin [**½]
– Aleister Black & Ricochet defeated Bobby Roode & Chad Gable @ 4:35 via pin [**¾]
– Nia Jax vs. Natalya went to a no [email protected] 0:25 [NR]
– Kurt Angle defeated Apollo Crews @ 3:05 via pin [**]
– <>Falls Count Anywhere Match: Drew McIntyre defeated Dean Ambrose @ 14:22 via pin [***¼]
---
– Follow all of my reviews at this link.
The Shield Kicks Things Off: This is allegedly the Shield's farewell address. Reigns says if last night was the last night then he has no regrets as he got to do what he loves with who he loves. Ambrose has business to take care of and Reigns teases a singles match for tonight. He then says that Seth has the real business to deal with, and Reigns says Rollins will slay the beast and win the title. They close with a good old-fashioned fisting. Rollins stays in the ring and says the Shield burned it down last night… and is interrupted by Paul Heyman. They banter, as Rollins says Styles, Balor, & Bryan took Brock to the limit. He says Brock has an issue with smaller guys, but the others weren't him. He's bringing the title back to Raw. Paul says that Brock didn't have time to prepare for those other matches. But Rollins just runs his mouth, and Paul runs a Brock video package. Paul says Brock has had fantasies about the sick things he'll do to Rollins. Shelton Benjamin arrives and delivers Germans on Rollins. I like this, the Shield portion was short ad sweet, they hyped Lesnar vs. Rollins, and Paul enlisting Lesnar's former OVW tag partner to attack Rollins was fun and unexpected.
Seth Rollins vs. Shelton Benjamin: Heyman is on commentary. Benjamin attacks and controls early on, grounding the action. Rollins fights to his feet, picks up the pace and follows with chops. The dropkick connects, and they work to the floor. They brawl, back in and Rollins hits the blockbuster. Benjamin avoids the double stomp, Rollins umps him but Benjamin cuts him off with a knee strike for 2. Post break and Benjamin has things grounded. He dumps Rollins and slams him to the barricade and follows with a clothesline. Back in and Rollins counters the powerbomb and hits a RANA. Rollins follows with chops, hits sling blade and hits an enziguri and springboard clothesline for 2. Benjamin cuts him off with a German, but Rollins cuts him off with a superkick and blackout for the win. Seth Rollins defeated Shelton Benjamin @ 10:20 via pin [***] This was a good match and Heyman was great on commentary.
– Brock will be on Raw next week.
Champion Finn Balor vs. Lashley: Lashley attacks at the bell, chokes out Balor and grounds things. Balor picks up the pace, but Lashley quickly cuts him off but Balor dropkicks him to the floor. The PK follows. Post break, and Lashley has Balor grounded; the flatliner follows for 2. Balor manages to dump Lashley, but Lashley pulls him to the floor and slams him to the apron and covers for 2. Lashley follows with rights, and takes things back to the ground. Balor fights to his feet, and hits a dropkick. Balor follows with running strikes, chops, and then the standing double stomp. Lashley cuts him off, slams him to the corner, but Balor cradles him for 2. Sling blade follows, and then John Wooooooooooo. The bell rings, it's Lio Rush. Balor is distracted, but takes out Lio, but then springboards into a spear and Lashley wins. Lashley defeated Champion Finn Balor @ 10:59 via pin [**½] This was a solid match with a shitty distraction finish.
– Corbin talks about his match and issues with Reigns. He wanted Reigns gone, and there is no way he's 100%. Corbin claims he carried Raw in Reigns' absence.
Ronda Rousey Talks: Rousey tells the crowd to shove their applause, and calls them bitches. They deserve Becky because she's a coward. She's here to embarrass them at Mania, which is why she got Charlotte DQ'd last night, so that she can expose them and walk through them. She'd be embarrassed to break a sweat and says her opponents are jokes. Dana Brooke still has a job and arrives. She's sick of Rousey's bullshit and loves WWE. She fights for chances and doesn't get matches, but she wants a chance and wants a match. Rousey attacks and kicks her ass. Rousey tosses her around and Piper's Pit follows. Rousey slaps a ref and bails. Rousey 's promo was short, filled with fire and got her point across. Killing Dana came off well.
Aleister Black & Ricochet vs. Bobby Roode & Chad Gable: Gable and Black begin. He dumps Gable, and then runs into a spinebuster by Roode. Gable tags back in, he and Roode work double teams and Gable covers for 2. Gable grounds the action, Roode back in and he lays the boots to Black. Black fights back, and gets a sunset flip for 2. Hot tag to Ricochet, he runs wild and but gets cut off with the blockbuster/German combo. Ricochet battles back with a lariat and tags in Black. Benadryller by Ricochet, takes out Gable, and Black mass finishes Roode. Aleister Black & Ricochet defeated Bobby Roode & Chad Gable @ 4:35 via pin [**¾] This didn't last long, but it was pretty good.
-Post match the Revival lay out our winners.
Alexa Bliss Announces The Host of WrestleMania: Bliss arrives and announces that the host of WrestleMania will be herself. Yup.
– Braun talks about almost killing the one SNL geek last week. He's informed his car has arrived, which perplexes Braun. Braun finds a car with a big bow on it. It's a sweet convertible, and is from the SNL geek. Braun rips off the door and complains he can't even fit in the car. He rips off the hood and breaks off the front.
Get a crash course in #WWE action like never before with the new #WrekkinSlamMobile available now at #WWEShop! Take the slammin' action outside of the ring & buckle up for a ride you won't forget.https://t.co/NzgH8HyF9m pic.twitter.com/nBzjjg4FRn

— WWEShop.com (@WWEShop) March 12, 2019
– Elias plays a tune. The hometown crowd loves him, and then trashes the crowd. No Way Jose, cosplaying as Façade, arrives and dances to the ring. Elias attacks and kicks his ass.
– Harlem Heat, minus Big T, are going into the Hall of Fame.
– Lacey Bomb.
Nia Jax vs. Natalya: Natalya brings out Beth Phoenix to be in her corner. Tamina is also at ringside. Natalya attacks at the bell, but Jax cuts her off. Tamina and Beth get involved for the DQ. Beth cleans house and stands tall. Banks & Bayley attack the Samoan Sisters once they get backstage and they brawl. Nia Jax vs. Natalya went to a no contest @ 0:25 [NR] More build for a possible Mania tag match. Thank you WWE for keeping a Nia Jax match as short as possible.
– Batista arrives.
Triple H & Batista Go Face to Face: HHH has the leather jacket on, so he's serious. Batista arrives, but stays on the ramp, joined by personal security. HHH asks him to come to the ring, and mocks his security. Batista says he's not stupid, he learned from HHH & Flair. He says HHH underestimates him and that they will do things on his terms. HHH refuses to give Batista what he wants and mocks him for quitting WWE. HHH then calls security the guardians of the independent scene. Batista says he quit to get away from HHH holding him down. Batista promises to hurt who HHH loves if he doesn't get what he wants. Batista says HHH wants it bad, and wants a match at Mania. HHH says he's on. Batista thanks him so he can end his career on his terms and to end HHH's career, also on his terms. HHH tells him to dig deep, find the animal, because the match will be on HHH's terms. No rules, no restrictions, and no holds barred. Batista leaves. This was a good segment to set up the Mania match, with both guys showing good fire.
Kurt Angle Talks His Future: Angle arrives and has his gear on. Angle talks about competing in the Olympics, his path to WWE, and faced them all. Pittsburgh has always been his home. At Mania, he will compete in his farewell match (vs. Shamrock in the lion's den?). He thanks WWE and the fans. And tonight he will have a final match in Pittsburgh.
Kurt Angle vs. Apollo Crews: they lock up, work into some back and forth and Angle grounds things. Crews follows with rights, but runs into an overhead suplex. Crews follows with a dropkick and suplex for 2. Crews grounds things, but Angle fights back and hits rolling Germans for 2. Crews counters the Angle slam, hits an enziguri and standing moonsault for 2. Crews up top, misses the frog splash. The Angle slam connects and that's that. Kurt Angle defeated Apollo Crews @ 3:05 via pin [**]
This was short, but ok. Nice to see Angle win in Pittsburgh as he finishes up.
– Drew attacks Reigns during his entrance and beats him down. He posts him and they brawl at ringside until Drew hits the claymore. He hits another, sending Reigns into the post. Drew tells him this is just the beginning, which should set up Reigns' Mania match. Rollins arrive to check on Reigns, and Reigns says he's good. Backstage, Rollins and Ambrose take Reigns to the trainer. Ambrose runs into HHH and says he wants Drew right now, no DQ, no count out, and falls count anywhere.
Drew McIntyre vs. Dean Ambrose: This is no DQ, no count out, and falls count anywhere. They immediately brawl on the ramp, with Ambrose running wild early on. They brawl into the crowd, trading chops in the stands. Drew takes control and they fight in the press box. Ambrose attacks with a double sledge off the table. Post break, and they are still fighting in the stands. They make their way down the steps, trading strikes as they make it to ringside. Drew cuts him off with an overhead toss. He grabs the steps and nails Ambrose, covering for 2. The suplex follows and Drew covers for 2. They brawl back into the crowd, and Ambrose hits a low blow. Drew fights back with chair shots, Ambrose fires back and puts Drew on a production box and rolls him into another. The elbow drop follows for 2. They brawl up onto the stage by commentary and Ambrose gets a roll up for 2. Drew takes him down, and then clears off the announce table only for Ambrose to suplex him onto it. Ambrose follows with rights, low blow by Drew and he lawn darts him into the LED board. He does it again and covers for 2. They trade slaps, Drew traps him in the railing for the steps and kills him with the claymore for the win. Drew McIntyre defeated Dean Ambrose @ 14:22 via pin [***¼] This was a good brawl, with Drew following up on the Roman attack with a brutal destruction of his buddy Ambrose, which may have been Ambrose's write off.
– Post match, Drew hits another claymore.
– End scene.
– Thanks for reading.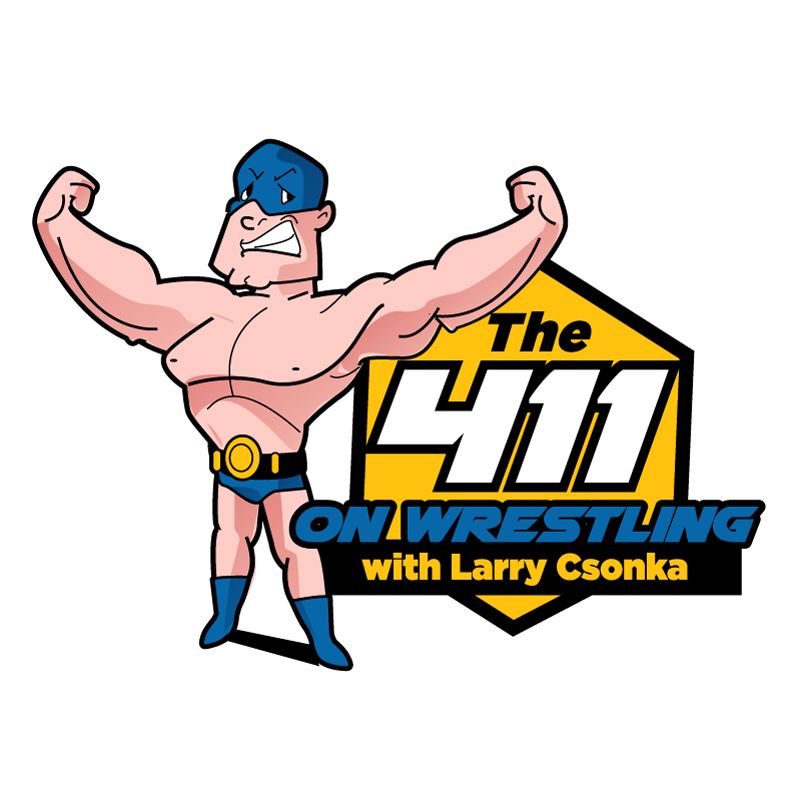 The 411 on Wrestling Podcast returns after a long hiatus to the 411 Podcasting Network. On today's show, 411's Larry Csonka discuses Jushin Liger's retirement, Tommaso Ciampa's neck injury, previews the WWE Fastlane PPV, and discusses his recent medical issues, which led to his absence in early 2019. The show is approximately 33 minutes long.
Intro
Liger – 3:30
Ciampa – 6:20
Fastlane – 9:40
Personal Update – 23:45
~GLORIOUS~
6.5
The final score: review Average
The 411
This week's Raw was a really solid show, with the build for WrestleMania starting to take more shape and Drew coming off as a player heading to a likely clash with Reigns.
legend