The 8-Ball 04.05.12: Top 8 Best Musical Performances by Wrestlers
April 5, 2012 | Posted by
Welcome, ladies and gentlemen, to the 8-Ball. I am your party host, Ryan Byers, and, for the past several weeks in this column, we have been going over lists related to Wrestlemania. However, the big event has now come and gone, and, frankly, I'm ready to move on to something else. So, this week's topic has nothing to do with Wrestlemania and has everything to do with having a bit of fun with one of the lesser-explored aspects of professional wrestling.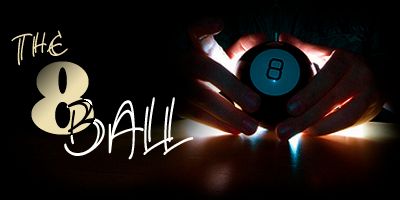 Top 8 Best Musical Performances by Wrestlers
Wrestling and music have been connected now for literally decades. We're all used to entrance music accompanying our favorite grapplers as they head into battle, a practice that guys like the Freebirds and Sgt. Slaughter claim to have invented, even though the reality of the situation is that Gorgeous George had music set to his entrance all the way back in the 1950s. In the 1980s, though, singing and slamming started to merge in a way that they had never merged before. In the United States, Vince McMahon put his roster up to producing The Wrestling Album, while non-WWF acts like Adrian Street and Sweet Daddy Siki started putting out their own music videos. There were even wrestling and music connections bleeding into the Japanese scene, with joshi tag team the Crush Gals releasing albums that did fairly well on the pop charts.
Before long, it seemed like you couldn't go six months without some wrestler somewhere releasing some track that featured his vocals. This week, we pay tribute to the eight BEST musical performances by professional wrestlers.
(Disclaimer: When I say "best," I do not necessarily mean "best" from a technical, musical standpoint. I'm talking about sheer entertainment value, even if the people singing don't have great voices.)
8. "A Jingle with Jillian" by Jillian Hall
In my book, Jillian Hall is one of the most underrated acts in professional wrestling over the course of the past five years. No, I'm not kidding. She was part of the WWE women's division, so she didn't have an opportunity to show much in the way of in-ring skill (even if she had it, she wouldn't have gotten the opportunity to show it), but she was an absolute master of taking a segment with a limited amount of time and doing some small thing that upped its entertainment value tenfold from what it would have been if you just read about the segment on paper. In that regard, I almost considered her to be the female version of Santino Marella, which makes sense given that the two would have had some overlap in their stints training at Ohio Valley Wrestling. Though Jillian was pretty good from the get go, she only got better when the company gave her the gimmick of an off-key pop singer, which was supposedly a parody of Hulk Hogan's daughter Brooke and her efforts to become a pop star, given that the company was not on the best of terms with the Hulkster at the time Jillian was given the character. The gimmick peaked on December 11, 2007, when, after weeks of awfully singing snippets of pop songs on Monday Night Raw, the company released a five-track digital LP through iTunes entitled "A Jingle with Jillian." "Jingle" saw Ms. Hall cover five Christmas standards in studio, which involved not just Jillian herself but also, when called for, comparably off-key backup singers. It was ridiculously entertaining, and even managed to hit number twenty on the UK holiday charts in terms of sales. Also, for those of you who have not sung before, I should note that it is actually very *difficult* to intentionally do a bad job once you know how to sing even moderately well. That means, in order to be awful, Jillian actually had to have a fair deal of talent.
7. Toshiaki Kawada in HUSTLE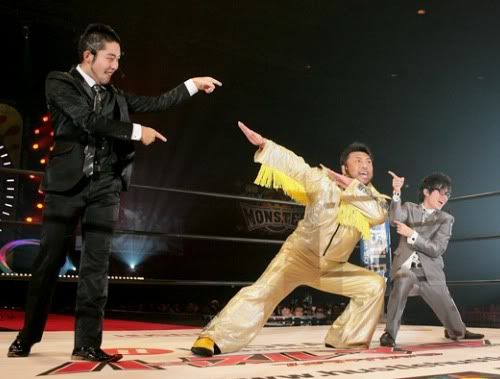 Throughout the 1990s, Toshiaki Kawada was one of the scariest mofos in all of professional wrestling. The series of matches that he had with Akria Taue, Jun Akiyama, Kenta Kobashi, and Mitsuharu Misawa is the stuff of legend, and it made All Japan Pro Wrestling perhaps the most consistently revered in-ring product in the history of the sport. All of those wrestlers were known for a stiff, realistic style, but it was Kawada in particular who had a style and a persona that left you thinking he was a dangerous man not to be messed with. He put that style to work in AJPW until 2005, even staying loyal to the company in the 2000 split that saw the vast majority of their native Japanese talent jump to the newly formed Pro Wrestling NOAH. Yet, all good things must come to an end, and, in 2005, Kawada became a freelance wrestler. The promotion that he made the most appearances for as a freelancer was actually a little bit of a surprise. Rather than joining his former colleagues in NOAH or looking for new challenges in NJPW, Kawada became associated with Dream Stage Entertainment, the company best known for operating MMA brand PRIDE, though they also had a professional wrestling project known as HUSTLE. HUSTLE was described as "Fighting Opera," an over-the-top version of sports entertainment that makes the ants and invisible grenades of CHIKARA look like serious business. Thus, it shouldn't come as much of a surprise that HUSTLE's plans for Kawada involved turning him into a lounge singer. No, really. The grizzled badass put in a bridge that replaced his iconic missing front teeth, picked up a microphone, and, during every show, crooned a little something. The surreal nature of having one of the world's most frightening wrestlers morph into a Richard Cheese-esque character made this act an entertaining one almost virtually every time out.
6. "Beware" by Konnan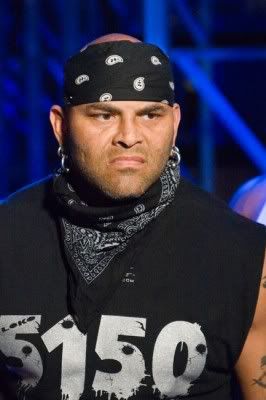 If you only follow American professional wrestling, you might not realize that Konnan is arguably one of the biggest professional wrestling stars of the last twenty years. Though he was kept to the midcard in WCW, prior to that, he was essentially the Mexican equivalent of Hulk Hogan or Steve Austin, becoming a significant mainstream star and selling out arenas across Mexico (and even a few in southern California). As a result of his popularity, K-Dog received a starring role in a soap opera south of the border, and he was featured as a performer on at least one major rap album. When he came to the United States, Konnan attempted to continue the integration of hip hop into his wrestling career, eventually adopting the look of a Latino gangster and, while a babyface in WCW, releasing a track called "Bow Wow Wow" with rapper Madd One, which got a fair amount of play on Monday Nitro in music video form. (Including an excellent parody by Disco Inferno, but that's another topic for another time.) Konnan's ties to hip hop continued throughout his run in the States, including being hooked up with Master P when P had his run in WCW, as well as rapping on the entrance track for the 3 Live Kru when he made his way to TNA Wrestling. However, when it comes to Konnan's rap and wrestling crossovers in this country, I consider his peak to be "Beware," also known as the theme for the Latin American X-Change, perhaps one of the most entertaining acts that TNA has ever produced. Konnan, backed by uncredited rappers, does a great job of giving "Beware" a lyrical and tonal combination which evokes the revolutionary sentiment that was the basis for the LAX gimmick. It fit the wrestlers like a glove, and Konnan's performance helped the tie-in greatly.
Plus, he even managed to work a reference to his close personal friend Rey Misterio into the lyrics, despite Mysterio being a WWE performer at the time the song was recorded. That's pretty cool in and of itself.
5. "It Doesn't Matter" by the Rock & Wyclef Jean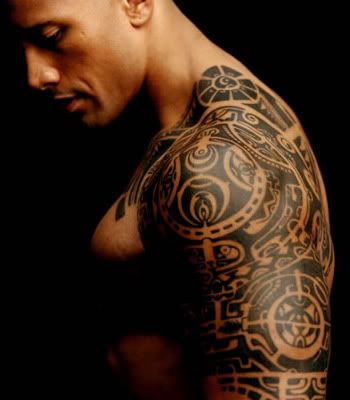 I remember watching MTV in 2000, seeing this music video come on, and thinking to myself, "Holy crap, wrestling has MADE IT!" Even though I knew by that time that the nWo and Steve Austin had revitalized the popularity of the pseudo-sport, it was still a bit of a shock to see how far the product had come after making it through the lean years of the mid-90s when nobody would be caught dead watching the WWF. After all, here was the Rock, a third generation wrestler who had previously been subjected to chants of "die, Rocky, die" even from the people who supposedly like pro wrestling standing alongside Wyclef Jean, who at that point was one of the hottest acts in any genre of music, in a music video airing on Total Request Live with videos from pop culture powerhouses of the era like Britney Spears and the Backstreet Boys. Granted, "It Doesn't Matter" wasn't as big of a hit as Wyclef's other singles, but it still hit Number 25 on the U.S. rap charts and Number 3 on the overall U.K. singles charts. And, granted, the Rock's involvement is probably more accurately described as being sampled than it is as a "musical performance," but the fact of the matter remains that this was a huge coup in terms of mainstream recognition for professional wrestling, and that alone means that it should make this list.
Plus, the song was pretty catchy, too, even if the lyrical structure was a little bit odd in that it began as a cautionary tale about not being too proud of your material wealth and then morphed into Wyclef going on a weird tangent about how your older relatives always try to teach you dances from back in the day.
IT DOESN'T MATTER about your Bentley!
4. "Land of 1,000 Dances" by the 1985 WWF Roster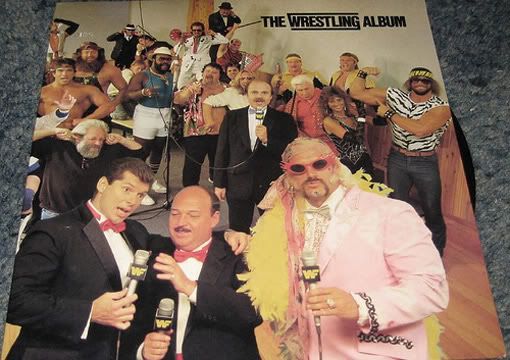 As noted above, 1985's The Wrestling Album was the WWF's first real foray into having wrestlers record music. They made many other efforts in subsequent years, including Piledriver: The Wrestling Album 2 in 1987, Wrestlemania: The Album in 1993, WWE Originals in 2004, and many other singles throughout the years. However, the majority of the company's attempts at making their stars into recording artists have been both critical and commercial flops, with songs like Bret Hart's "Never Been a Right Time to Say Goodbye" and Rikishi's R&B love ballad "Put a Little Ass on It" (no, seriously) becoming fodder for websites like Wrestlecrap. When it comes to The Wrestling Album, though, it seems that there's not nearly as much hate, and, dare I say it, some fans actually speak of it with a degree of nostalgic reverence. So, what's the difference? From my perspective, when the WWF put together The Wrestling Album, they were not taking themselves seriously at all. They knew that this was supposed to be goofy, campy, over-the-top fun as opposed to a serious musical endeavor. However, starting with Piledriver and DEFINITELY by the time that they got to Wrestlemania and Originals, the company was actually trying to market at least some (if not all) of its wrestlers' songs as serious, good music. It was just a completely different mindset, and the mindset behind The Wrestling Album made it fun, while the paradigm shift lead to the latter albums from the company being torture to get through.
And, that spirit of fun is encompassed in no one song better than it is in "Land of a Thousand Dances," which featured most of the biggest stars from the era contributing lines and literally 99% of the roster from the period taking to the stage and lip syncing for the music video. The song, which had previously been recorded several times but was most popular when done by Wilson Pickett in 1966, was a perfect fit, as it allowed the wrestlers to spout lines without having to actually sing and also allowed a few of the lyrics to be easily altered to fit in a little bit better with the WWF of the era. If you're a wrestling fan, I think it's virtually impossible to watch the music video without smiling, and that alone is a good enough reason to put it on this list.
3. "Pencil Neck Geek" by Freddie Blassie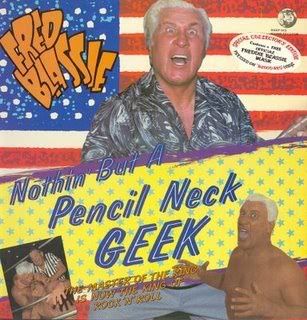 And here we get into some of the deep cuts. I wrote about Freddie Blassie several weeks ago when I did my countdown of Most Prestigious Titles, and part of the reason that I did so was because I think that it's a shame that Blassie's wrestling career is largely forgotten in today's mainstream wrestling history. Because of the lack of usable footage from his wrestling days, the story that most people know about Blassie these days is that he was a manager in the WWF who used to wrestle somewhere, though most fans would be hard pressed to tell you when or where his in-ring career occurred. However, Blassie legitimately was one of the biggest wrestlers of the 1960's due to his work in California, New York, and Japan. In fact, he was even tapped for a guest appearance on an episode of the highly popular Dick Van Dyke Show in that decade. We're not here to talk about Blassie's acting chops, though. We're here to talk about Blassie's singing. That portion of his career came in 1975, when he hooked up with rockabilly singer Johnny Legend and laid down two novelty tracks, the more popular of which is "Pencil Neck Geek." Blassie, by his own admission in his autobiography, had absolutely no clue what he was doing in a recording studio and followed Legend's instructions very closely. Apparently the Classy one is very good at following directions, because the end result was a spoken-word "song" in which Blassie explained the origin of one of his catchphrases through the story of an unfortunate geek who was born down the street from him when he was a child.
The song, even when listened to today after standards for comedy have changed a fair deal, is still hilarious. It garnered a fair amount of attention and a cult following as a result of airplay on the Dr. Demento (no relation to Damien) radio show. The Demento airplay in turn has allowed the song to live on thanks to numerous compilations of the show's material that have been released over the years. In fact, the song was so popular that there were even attempts to continue Blassie's recording career, as he got a full album on Rhino Records in 1983 entitled I Bite the Songs, the name being a reference to the fact that, as a heel, Blassie was known for filing his teeth and biting his opponents. Nothing was quite able to top the magic of "Pencil Neck Geek," though, and it is what lands at number three on our list.
2. "Sexy Boy" by Shawn Michaels/Sensational Sherri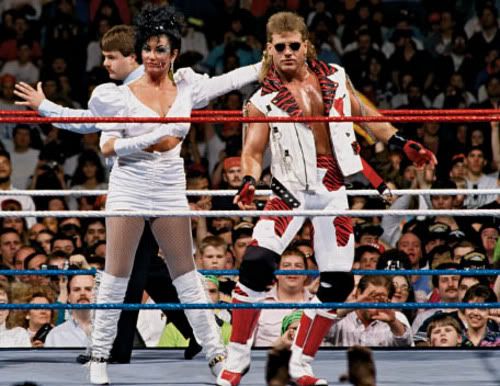 "Sexy Boy" has been in continual use in WWE for almost twenty years. Think about that: Twenty years. Virtually nothing lasts for twenty years in WWE, yet this song has managed to do so.
It all started when Shawn Michaels turned heel on Marty Jannetty in the early 1990s. As soon as Shawn put the other Rocker through the Barber Shop window, the company didn't just turn him and leave him hanging out there with his old Rockers look and persona. They completely revamped him from the ground up. He got a new set of ring gear, which made him look uncomfortably like a male stripper. He got a huge upgrade on his already-glorious mullet. He got Sensational Sherri, literally one of the best managers that WWE has ever employed, male or female. And, most notably for the purposes of this list, he got "Sexy Boy," perhaps the single most iconic original piece of entrance music that has come out of professional wrestling. The original version, which is not quite as well remembered as the remake, featured Sherri on vocals singing about how Michaels belonged to her and her alone. However, the on-camera relationship between the newly-crowned Heartbreak Kid and "Scary Sherri" did not last for too horribly long, as Michaels threw her in front of a mirror shot by Jannetty, leading to an ill-fitting face turn for Sherri a few months later. Even though they broke up the duo, the company realized that it still had a good thing in "Sexy Boy," and they immediately had Michaels re-record it, with the lyrics changing from third person to first person. From there, no matter how many times his gimmick changed and no matter how far away he got from being a "boy," the music was associated with Michaels for the rest of his career, brief breakaway for the original DX theme notwithstanding.
And, the whole time, fans have loved it, regardless of whether Michaels was a face or a heel. I defy you to find somebody who has watched wrestling while Michaels has been active who has not at least, on one occasion, hummed this song and danced around to it while emulating HBK's entrance routine. Hell, Kurt Angle did it on national television (with accompaniment from Sherri) while building up his Wrestlemania match with Shawn, so there's no shame in you admitting that you did it while nobody was looking in your bedroom/bathroom/study/etc.
1. "Badstreet, U.S.A." by Michael P.S. Hayes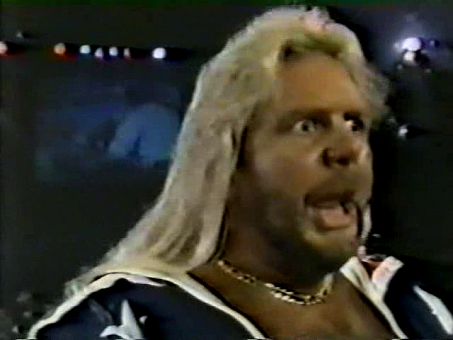 I don't often do this with lists, but I think that this is a situation in which I don't have much to say because the entry essentially speaks for itself. Click play on the video above, and listen to the glory that is "Badstreet." No other song recorded by a professional wrestler for use in professional wrestling has come closer to sounding like a "real song," and no song recorded by a professional wrestler has sounded so badass.
That'll be it for this week. Until next time, remember that we live in the last house on the right . . .

NULL