The Piledriver Report 7.10.14: The Danny Cage Monster Factory Interview
July 10, 2014 | Posted by
Want to be a wrestler? This has been the question that has been asked by the legendary professional wrestling training center called the Monster Factory for the last thirty one years. The Monster Factory, which resides on 541 Mantua Avenue in Paulsboro, NJ, is a wrestling institution. As owner and head trainer, Danny Cage, calls it, "the Harvard of pro wrestling."
It's not just hyperbole either. The Monster Factory has one of the best reputations in the business. When Sheamus wanted to break into the business, upon bumping into Bret Hart, the "Hitman" told him to "get to Larry Sharpe and the Monster Factory." Tatanka came to the Monster Factory because he met Buddy Rogers in Florida, who told him to "get to the Monster Factory in NJ."
Of course, Buddy Rogers had intimate knowledge of the Monster Factory. The school was founded in 1983 when the "Nature Boy" teamed up with "Pretty Boy" Larry Sharpe. Rogers would leave the school, and Larry Sharpe's Monster Factory would take off. Over the years, the Monster Factory has trained a who's who of professional wrestling. Balls Mahoney, Bam Bam Bigelow, King Kong Bundy, the Big Show, Chris Candido, Cliff Compton (Domino in the WWE), D-Lo Brown, the Godfather, the Headbangers, the Pitbulls, Raven, Sonjay Dutt, Tatanka, and Sheamus have all spent time training at the Monster Factory.
Today, the Monster Factory is more than just a professional wrestling school. It's arguably the best wrestling performance center outside of the WWE's NXT facility down in Florida. According to Danny Cage, "we train you from soup to nuts. Everything from promos, to how to carry yourself in the ring, proper technique. We just got done talking about (it in training); you're running your own business, so it's very important. It's not just moves in the ring, that's secondary."
Danny is being modest, because the Monster Factory is much more than that. Aside from their standard training sessions each week, the school offers seminars run by former and present wrestling personalities. They host birthday parties for children where the students can practice working in front of a crowd. The Monster Factory also runs their own wrestling promotion called Monster Factory Pro Wrestling. The federation features monthly wrestling cards where they sprinkle in current students along with outside talent to put on matches for an excited group of fans. The school is also heavily active on the web and in social media, like You Tube, Facebook, and Twitter.
ONE BOY'S DREAM

To look at the current Monster Factory, you need to start by looking at Danny Cage. "As a kid, I always wanted to be a wrestler. When I was twelve or thirteen years old, I was going through some rough times with my family. My parents were going through a divorce, and they hated each other. They were screaming and yelling, and getting into fist fights. We had money. We had a nice house with a pool. We went to Florida every year. It doesn't matter if you're in a trailer park or a mansion. When you see your parents' fighting, it has an effect on kids. I was really depressed, but always loved wrestling."
Cage continues, "I saw this thing on the Monster Factory, and said 'that's my goal. That's where I'm going.' I started following everything on the Monster Factory. I'd call up Larry (Sharpe) and listen to his recordings over and over again. That was my therapy. Whenever my parents would be fighting, I snuck a phone into my room, and I'd call up the number just to hear the matches. I didn't care if it was the same recording over and over again. That's what got me through. I wanted nothing but the Monster Factory."
Danny is humble as he mentions, "That's why I think it's so weird and surreal that now I own the place that pretty much saved my life. I owe it all to Larry. He doesn't realize it. He's like, 'Well, it's no big deal.' That's why I tell the kid's (students) 'when you go out there and have your match, you don't know what impact you are having on those kids. You're creating memories for them. It could be the difference between that kid going out and getting drunk and committing suicide, or getting in trouble getting into fights, or have something to look forward to. Whether it is at the Monster Factory birthday parties or a show or listening to the podcast, or any of that stuff. We're creating memories for these kids. That's what keeps me going the most."
THE DREAM HITS A ROADBLOCK
"I want you to go to college" was Danny's father's response to the news that his son wanted to be a wrestler. Danny's response was "No, I want to wrestle. I just need the money. If you're gonna pay for college, why can't you just pay for this. This is what I want to do." His father told him, "You prove that you want to be a wrestler. Move to Florida with me, train for a couple of months, show me that you want to do it, and you're willing to do it, and I'll pay for wrestling school if you make the try-out."
Danny continues the story, "So I went there. I was 20 years old, two years out of high school. I went, trained, got in great shape, and came home (to NJ), and killed the tryout. I had my first tryout in 1994. I went to the one (Monster Factory location) in Clementon (NJ) at the Marketplace. Larry asked, 'When do you want to join?' I said, 'I'll join tomorrow. My dad's paying for the whole thing.' I got home, called my dad, and said, 'Dad, I made it. I made the tryout. If you want to just cut a check?' He said, 'Wait a minute! I'm not paying for that shit. I didn't think you'd make it.' I couldn't believe it. I was devastated, lied to. It was a big shot to take. I was like 'screw it. It was not meant to be."
Danny started doing odd jobs, until he moved to North Carolina in 1997 to help out a friend that he grew up with. While down there, Danny attended an event that would change the direction of his life. Cage explains, "I went to an SCW (Southern Championship Wrestling) show. On it was Cueball Carmichael, Joey Matthews, and Steve Corino might have been on it. A couple of other people (were on it), and this guy Toad. I bumped into him when I was working door (bouncing), and I said 'I tried out at the Monster Factory, and I'm thinking of going back and doing it.' He looked at me and said, 'You have a better look than I do, a better build than me. You're a good looking kid. I don't know why you don't do it.' I was talking to my friends, and they were like 'Just do it,' so I called Larry when I came back in 1998. I told Larry, 'I did a tryout in '94. I want to come train there. He said, 'I don't need to put you through a tryout then. Come on in. Let's get started.' I started in maybe September of 98."
A DIFFERENT PATH

Once graduating from the Monster Factory, Danny Cage came back to the Monster Factory a couple of different times. Cage explains, "I hurt my back in 2002. Came back in 2005, where I had my last match with QT Marshall. Then I was done until about 2011. A buddy of mine wanted to start a wrestling school. He asked me to help train his kids. He said that he can't offer money. I said I would do it for the love of the sport."
"(One day) He (my friend) was like, 'Larry contacted me, and he wants to come in to talk.'" Danny's friend wasn't sure why Larry Sharpe wanted to talk, but Danny had a pretty good guess. "I said that he probably wants to make us the Monster Factory. He wasn't happy with the other guys over at the other building that he's running (the Monster Factory) at." Danny and his friend met with Larry, and later that night, Mr. Sharpe asked Cage, "When can I get together with you two?" Danny replied, "Well, I'm not really involved. I'm just helping out. I don't own any of this." If I'm gonna make this the Monster Factory, you're involved because I know you. I know the character of you. Everything you say, you deliver on, so you're a part of it."
After working together as a trio for a couple of months, there were two different philosophies forming in the business. Larry and Danny believed in one direction. Whereas, Danny's friend believed in a different direction. Eventually, Danny's friend stepped aside leaving Danny Cage and Larry Sharpe in charge of the Monster Factory.
A NEW MONSTER FACTORY, A NEW BUILDING
During this time, Danny and Larry were approached by Paul Marino, the coach of Paulsboro High School's wrestling team, and the school's principal about moving the Monster Factory to a building that they owned in Paulsboro. At the same time, Larry was making Danny more than just an equal partner of the school. "Larry put everything in my name, and said to me, 'You're running everything. You're doing really great with it. Just put it in your name. It's gonna be yours anyways.' I put everything in my name, and he told me, 'I think I have a new building for you and I want you to come look at it.' I walked in, and I fell in love," informed Danny.
Cage continued, "It's great. It's got a weight room, air conditioning, heating. It's got showers. We put those showers in later, but it had a spot to put in showers. (There are) full amateur mats on the ground, a sound system, and plenty of parking. It's right in the middle of town. The thing is that ironically the Monster Factory started in Paulsboro, now it's back in Paulsboro. Larry grew up in Paulsboro, and wrestled in Paulsboro. It all came full circle, so that's unbelievable to me."
Danny Cage took over full ownership in 2011 from Larry Sharpe. Despite no longer being a part owner, Larry's presence was still being felt throughout the Monster Factory. According to Danny, "Larry helped me out and guided me through everything, and kind of smartened people up to me, because if I just came in and said, 'I'm running the Monster Factory,' people would have thought, 'Oh boy, look at this place.' We still said that we're partners even though I owned everything. He was still calling me his partner, so people knew we were on the same terms. It wasn't like I was his secretary or something." It was at Legends' shows that Larry Sharpe spread the word that the Monster Factory was now under Danny's control. Men like Jimmy Hart, Paul Bearer, JJ Dillion, Howard Finkel, and Gerald Brisco were all told that Danny Cage was the man in charge of the Monster Factory.
DO YOU WANT TO BE A WRESTLER?

"How do I become a Monster Factory wrestler?" The first step in joining the Monster Factory starts with you! If you are interested in trying to join the Monster Factory, you need to contact Danny Cage to set up a tryout. You can call him at 609-471-7904, or go to the website www.monsterfactory.org to drop him an e-mail, or drop him a direct e-mail at [email protected] There is no set tryout dates for the school. When you call, you and Danny schedule a date that's convenient for both of you. A tryout costs $50.00. If you get accepted into the school based on the tryout, your tryout fee will be applied to your initial tuition deposit.
Make sure that you are in shape when you arrive for the tryout, because the Monster Factory only accepts serious candidates, and they aren't in the business of being a checkmark on someone's bucket list who wants to say that they were in a wrestling ring.
"We had a guy who came in here on Monday (June 30th), tried out, and turned him down," Danny said. "I told him, 'You come back in three months. You have money, and you look like you want to train here, and I'll train you.' He was very out of shape. He was 31 years old. He was in poor shape. I'm not here to fulfill anyone's dream. We have plenty of students. I want students that are going to take it seriously, not just fulfilling somebody's fantasy of trying to be a wrestler. That's why I told him to come back in three months, 'look like you're in shape, and you lose the weight that you need to lose, and you look like a wrestler. Then, I'll train you," Cage told me.
The tryout consists of a skills test that every wrestling school uses. Buddy Rogers started it in 1983, and Larry Sharpe continued the test throughout the Monster Factory's existence. Today, Danny Cage continues this traditional tryout routine. According to Danny, "It's a skills test to see how you can handle yourself. Also, I want to see how they are physically."
If you have a successful tryout, your first initial down payment is $500.00. However, after the $50.00 tryout fee is added, your initial fee drops down to $450.00. From then on, you need to pay $200.00 a month until you pay off the total dollar amount of your tuition, which is $3,500.00. The Monster Factory membership isn't a six month or a year membership. This is a lifetime membership. The classes run on Monday, Wednesday, and Friday nights, with occasional classes and special events on Saturdays and Sundays. The doors open at 7pm, where you have full use of the weight room. In-ring training doesn't begin until 8:30pm, so you can get a nice pump going before class starts.
The training staff consists of Danny, Brian Heffron (The Blue Meanie), and William Wiles (Belvis Wesley, a.k.a "Beautiful Billy" in Extreme Championship Wrestling). Danny runs the training on Mondays and Fridays. Heffron and Wiles have the reins on Wednesdays, while Danny is there to help out. The school also brings in guest trainers like QT Marshall and Rhett Titus. The Monster Factory doesn't just train wrestlers. They also train managers, valets, bookers/promoters, and referees. Danny explained, "With promoting and booking, we go over the psychology of the way the show should be run, the way you lay it out. You also got to work it into a budget, bringing in the names, transportation, and stuff like that. As far as referees, we only have one referee right now, Steve Chaz. We have all of the wrestlers learn it. Drake Young just proved he was a great indie wrestler, and he just got signed to the WWE as a referee. If you love the business, you'll take what it gives you. If they say, 'Do you want to sweep the ring for $60 grand a year?' You should be like, 'Yup.' Any way you can get in the door."
The day to day training varies at the school. Cage stated, "It depends what we have to work on. We used to judge what we have to work on (based on) how the last show was, and what we saw. I'll look at it (tapes of the matches) at home, and I'll take my notes. I'll talk to the people (students) individually or I'll bring it in front of the other people at the training center at the Monster Factory on what we have to work on. That's why it's great to have the shows. We can really see in front of a crowd what we have to work on. Like tonight (Wednesday July 2nd), we were gonna work on different maneuvers into pinning combinations, and counters into pinning combinations."
While at the Monster Factory, Danny Cage revealed a new direction that the trainers will be taking in their training techniques. "Usually, it (training sessions) was a hodge podge of things, but now we're gonna get down into more of a laid out (plan). We are going to try it now. (Example) Friday is character development, and stuff like that. Monday is this (particular task) day, and Wednesday is this day."
THE SEMINARS
In addition to the training provided by Danny, the Blue Meanie, and Belvis Wesley, they bring in different guest trainers several times a year to teach their students different things. They have brought in Kevin Kelly to teach about promos. The Powers of Pain came in. As did Bob Evans (from Ring of Honor), QT Marshall, Colt Cabana, Cliff Compton, and Thrasher from the Headbangers. Stevie Richards did a seminar teaching the students DDP Yoga. More seminars are coming to the Monster Factory. According to Danny, "We're bringing in Joel Gertner in August. I'm in talks with Rip Rogers to come in December, and Les Thatcher for either September or October."
The decision of who to bring in varies. Danny explained, "A lot of it is word of mouth. For example, Bob Evans. Joe Gibson (the current Monster Factory champion) is friends with him, and he went to a couple of Ring of Honor seminars, and said 'Bob Evans is great. You guys would get along great.' I brought him in, and we hit it off great, which it turned into a whole relationship with Kevin Kelly and Ring of Honor. I'll be going to their seminar in July and talking to them and trying to get some things done, so we can work with each other in the future."
These seminars are carefully planned out between the Monster Factory staff and the guest trainer. "They'll (guest trainer) go over it with me and ask, 'What do you want to work on?' I'll tell them, 'What we usually work on is psychology. It's (the seminars) more reaffirming what we say, which is great. We (Danny, Brian, and Bill) just sit back, and let them (guest trainers) do their thing. An example is when I had Cliff Compton in for his seminar, he just told them how he wound up getting his job with the WWE by putting himself out there," says Danny.
The Monster Factory offers one of the most unique seminars that any wrestling school can offer. Since 2013, Danny has brought in one of the WWE's top lieutenants, Gerald Brisco, into the school to evaluate the students of the Monster Factory. Social media had a big impact on building Danny's relationship with Brisco that led to bringing him to the school. Danny recalls, "I became friends with Jerry through Twitter, just because he liked amateur wrestling, and I wrestled amateur. We just got to bullshit, and I just hit him up and asked, 'How do we get you into the Monster Factory for something?' He messaged me his cell phone (number), and I said, 'OK, I'll contact you in a couple of weeks.' I waited like a month til I got everything set up. I told him what I wanted to do. He said, 'Do you have guys that the WWE would be interested in?' I said, 'We have a lot of guys the WWE would be interested in.' That was in May 2013 that we had the first one. He came in, and he liked Luis "The Punisher" Martinez and Tommy Maclin at the time. He submitted both of their names, but only Tommy Maclin got picked to go for a tryout at NXT, and he's there right now wrestling under the name Steve Cutler." (Writer's Note: Steve Cutler made his NXT television debut on the WWE Network this past Thursday) This past May, Gerald Brisco returned for another visit. It is yet to be determined if any students get signed to a developmental deal after Brisco's latest evaluation.
HAPPY BIRTHDAY, FROM THE MONSTER FACTORY
One of the most unique aspects to the Monster Factory business is that they hold children's birthday parties on the weekends. Danny talks about these parties, "When I was going to the Monster Factory (as a student), I thought, 'Oh man, these are horrible. Why are we doing these things?' They really weren't run the way I would like them. The kids got in the ring, and played. When I came on board (as trainer and part-owner), I set it up more interactively. Wrestlers got in there (the ring), and got clotheslined by the kids. I put different party packages in, because not everyone can afford (it). I made it to fit everybody's budget where you got parties for $200.00 all the way up to $500.00. They're all an hour and a half. We do invitations, plenty of videos and photo ops. We bring in the Monster Factory wrestlers. Even one, the Blue Meanie wound up doing. They're really great. It's awesome, because you're (the students) getting to wrestle in front of these kids. With some of the packages, you are getting tickets to the show, and now the kids will be able to watch a show with the wrestlers that they just interacted with, which is awesome."
Danny continued, "We run them on Saturdays, every Saturday that we don't run a show. We run them from 11:00am. Then, we have one at 1:00pm, and another one at 3:00pm, one at 5:00pm, and one at 7:00pm. This way we have a whole day full of just birthday parties, and it gives the opportunity to the wrestlers to work with kids and work on crowd psychology and all of that stuff, so it's really great."
THE WRESTLING SHOWS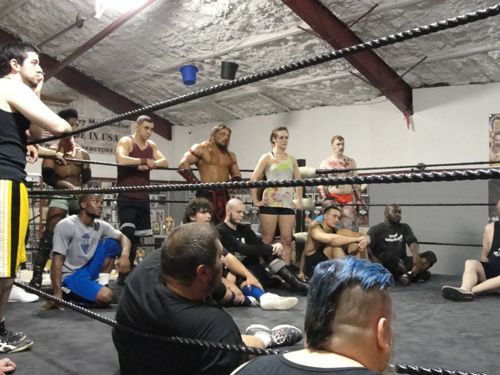 When you attend the Monster Factory, you don't just train at the center for six months to a year, get handed a DVD of your work, and get pushed out the door. The lifetime membership gives you the opportunity to work monthly matches in front of a live audience when you are advanced enough in your training. When you have your first match depends on how quickly you pick things up in training. According to Danny, "I've seen it be from three months to eight months. It really depends on the person. I had my first match two months in. Mosh from the Headbangers had his first TV match three weeks in."
However, even if you are physically ready to perform, it doesn't mean that you will immediately see in-ring action. There is one thing that you will need before you can step foot in the ring for a Monster Factory show: gear. Cage explains, "I won't put anybody in the ring without the proper gear. We don't buy their gear. They're responsible for getting their own gear. We have a couple of guys who are ready now, but they don't have full gear, so they have to wait. I'm not trotting someone out in their gym shorts looking like just somebody walked off the street. They have to look like a professional. You don't play football in a pair of jeans. You play in gear."
Danny talks about these shows, "The Monster Factory has always ran shows back in the day when I was there (as a student). Larry was partners with Dennis Carluzzo when they were the WWA federation. When I took over, Larry was like, 'What do you want to call the federation? Do you want to call it Outlaw? Renegade?' I said, 'Why would you want to run away from the Monster Factory name?' Someone said, 'Yeah, we can call it MFPW: Monster Factory Pro Wrestling. Why would you run away from the Monster Factory name? You don't call Pepsi-Cola P.C."
Beside current students, Danny Cage likes to book outside talent, including former Monster Factory students to these monthly shows. These additions not only attract crowds to the shows, but they are instrumental in the development of the current Monster Factory roster. Danny said, "It's great. When the Headbangers were in, I said, 'Show them (my students) how easy it is to do a tag match.'"
These former students remain loyal to the Monster Factory brand, and there's a reason for that. "It's a tradition. Everybody has their stories. It's been around since 1983. We teach things the right way. When people (students) go to the WWE, they're like, 'Oh my God. This is just like you were talking about. Everything that you're saying is what they're saying.' We keep in touch. We don't ever bad mouth anybody. Business as usual. We just move on and keep doing what we are doing. If anyone has a problem, we don't care. We're just here to train wrestlers and make careers. Back when I was at the Monster Factory (as a student), we weren't bringing in people to come look at us. We weren't having Larry get in touch with that many people. It was pretty much, you want to go wrestle somewhere, go. I'm trying to make this more like a recruitment center for, whether it is Ring of Honor, the WWE, Big Japan, or New Japan. Any place anyone can go to wrestle, I want this to be the place their (other organizations) are getting them from." Danny commented.
PODCAST
Several months ago, Danny Cage joined the world of the podcasts at www.blogtalkradio.com/monsterfactoryradio. Cage explained the decision to start a podcast, "A lot of times people would want to hear my opinion on different things. They'd say that I should put out videos. I should do this. I should do that. I just said, 'Screw it. I've got a lot to say, and I can't always say it during class. This way, everyone can hear it. Plus, they can hear the boys (guests on the podcast) talking and just being themselves and the funny stories we have. Like with Cliff Compton, we were telling all kinds of funny stories. The Headbangers were hilarious. We've also had on QT Marshall, and Bob Evans. Jesse Sorrenson was on it. Sorrenson had some great stories about the whole TNA thing. I did one just driving to Florida to visit one of our students at the WWE. I did my first one ever just sitting in my basement talking about the business in general. I recently did one with the Blue Meanie and Belvis Wesley. In the future, I hope to have Rip Rogers on when he's here. I'm going to do one with hopefully, Les Thatcher. I think that would be great. I'm definitely going to be doing one with Joel Gertner. Mike Mondo's going to be coming back. I'd love to get one with him."
Danny doesn't want to be the only person in the Monster Factory to jump on the latest podcasting craze. He would like his students to get involved, as well. "I gave them the opportunity to have their own podcast. I gave the opportunity to Clutch Adams, Good News Hughes, and LSG (Leon St. Giovanni) to have their own podcast. I told them they should start recording it on their travels since they travel with each other three hours a day. I told Anthony Bennett and Mike Spanos that I'd give them a podcast too," explained Cage.
THE STUDENTS
With a lifetime membership as part of joining the Monster Factory, the number of members to this wrestling fraternity is in the thousands. As for the current group being trained, there's between ten to fifteen students that train there on a regular basis. Danny reflects on his current crop of students, "We have a great group. Very proud of them, a bunch of hard workers. Young kids, hungry. I can name all of them. There's not one student I don't think that doesn't have a shot (to make it). Every one of them has something, brings something to the table that's unique. That's what I love about them."
WHAT THE STUDENTS ARE SAYING

Atu, has been in the business for five years, and has been training at the Monster Factory for about a month. Atu believes, "This is the place to learn and grow, if you want to be good in the industry. I've been to other places that shall remain nameless, because this isn't about throwing people under the bus and burning them. But, some places should be burned and buried. They're bad for business, where this (the Monster Factory) is good for business. The name speaks for itself. They've been around for thirty years. You can Google it, and look at who they turned out from Sheamus to the Big Show to Bam Bam Bigelow, Cliff Compton. The list goes on and on. It's the place to come and learn if you're serious about your craft."
Atu continues, "(My experience) It's been excellent. It has to be excellent, because professional wrestling is hard as shit. It's hard. It's tough. It hurts. I'm in pain every day. If I'm going to be training, and I'm not some spring chicken who's 20, if I'm gonna be getting bumped around, getting beat up and bruised, I need to make the most of my time. I come here because they have guest trainers like Rhett Titus, QT Marshall. They have guys like Kevin Kelly come in, Gerald Brisco. There's the Blue Meanie, Bill Wiles, all of these types of guys. That's why I come. Other than that, I would stay at home, and not be in pain."
Good News Hughes had his first match in August 2010 at the Ace Pro Wrestling Academy in Union City, NJ. Hughes talks about his experiences in comparison to the Monster Factory, "It wasn't all I hoped, and I moved on from there searching for other places. I've been everywhere. I've seen everything. I've been to most of the schools in the Northeast. In August of last year, I found the Monster Factory. I've been there, and don't want to wrestle anywhere else. I love it there. I fell in love when I got there (to the Monster Factory). Through people, I've made connections there. I love it. The reason why is, because I've been taught the right way, and they don't sugar coat anything. I get told what I need to be told, so I can make the proper improvements."
Hughes continued, "My experience there has been far greater than wrestling. I've learned so much about life, because Danny, Meanie, and Bill are so knowledgeable, not just about pro wrestling, but on life. They've been through it all. They've seen everything. I hope that I can learn from their mistakes, so I don't have to do the same mistakes they went through. It's been phenomenal. Driving in a car for an hour and a half each way, three, four, five times a week to get to training with three guys, Clutch Adams, Leon St. Giovanni, and myself. It's been a great bonding experience with guys that are really closer to me than my actual family."
"I want to further myself, and make it to greater places where I can be making legitimate money in this business, and supporting myself through this business. The three trainers (Danny, Meanie, and Bill), they have there are fully committed to helping me get to where I want to be. Whereas, other trainers (in other schools) in the past have just been fully committed to getting me on their shows," Hughes concluded.
Leon St. Giovanni had his first professional wrestling match in 2011. However, he didn't join the Monster Factory until last October. "It's been about eight months, nine months now. It's been a great experience thus far. I don't really want to wrestle anywhere else. It's the best place around here," said the man known as LSG.
Leon expounds further, "I think the two biggest lessons I learned are lessons in dedication and commitment. I don't think there is anything in my life that I committed to as much as this. The last eight plus months have been the most vigorous, but most rewarding. The experience is priceless. Driving up and down the Turnpike three or four nights a week with these guys (Clutch Adams and Good News Hughes) is something I can't describe to most people. Its nights like this, talking in the car to each other, and enjoying wrestling, enjoying being a part of the business. That's why I do it. Being around these guys is a big reason why I push myself."
When it came to putting his feelings about the Monster Factory into one statement, Leon said, "The Monster Factory has its shit together. It's as simple as I'm going to put it."
Clutch Adams started at the Monster Factory in October of last year, and just had his first match on January 25th of this year. As one of the youngest students in the Monster Factory, Clutch has a fresh perspective on the wrestling industry. Clutch discusses choosing the Monster Factory to begin his journey into professional wrestling, "When I wanted to go to wrestling school, I didn't know where. I didn't even know how to begin to go forth with that. I started looking on the computer, and I went to Google and typed in schools closest to where I lived in Central Jersey. The Monster Factory popped up. It was one of the closest (to where I live). I saw all of the guys like the Godfather, the Headbangers, the Big Show, Sheamus, D-Lo Brown, and Bam Bam Bigelow. All of these guys have been trained by Larry Sharpe, and trained by the Monster Factory. It's obviously a legit place. They produce stars and I felt that was the best place for me to go."
Adams continues, "It's been awesome. I love it (the Monster Factory). I love every minute of it. I love going to training. I love working in front of a crowd. I just love learning about wrestling, because it's what I'm truly passionate about. I feel like I learned a lot in the eight months I've been there. Like the other guys (Good New Hughes and Leon St. Giovanni) said, I feel I've grown up a lot and learned a lot in real life too. It's not just about wrestling. Danny Cage, the guy who runs it, he's a great guy. He really wants us to succeed. He can be a hard ass sometimes, but he just does it because that's what he has to do. That's what brings out the best in us. He knows that and wants us all to be successful. He does it also for the love of it. He really has our best interests at heart. He just wants us all to do what we have to do. All of the guys at the Factory are like my family, I love them all."
WHAT IS IT ABOUT THE MONSTER FACTORY?
What is it about the Monster Factory that makes it the most famous and recognizable professional wrestling school in the industry? Danny Cage explains, "The Monster Factory's the Monster Factory. It's not just the name. It's not just the brand. It's the whole mentality. The way I train is the way Larry trained people. People say that Larry didn't even train me, because Thrasher was the trainer. Thrasher was training people the way Larry trained them. Not only that, I'm adding to it. With Meanie and Bill, is the amateur and the business side, and the etiquette, and everything else. When I was here (as a student), you just got taught how to wrestle, and do some promos. We (now) cover everything from how to behave yourself in the locker room to making contacts with people, networking, being your own business, and accountability. If someone doesn't do something right, they're in deep shit."
With over thirty years under their belt, the Monster Factory is still going strong. Danny Cage, The Blue Meanie, and Bill Wiles are continuing the tradition that Larry Sharpe left behind. Superstars of the past, like Bam Bam Bigelow, Raven, and Sheamus have created a legacy for the school. The students of the present like Clutch Adams, Mike Spanos, Joe Gibson, Leon St. Giovanni, Good News Hughes, Marc Cruz, Shaheem Ali, Atu, and Anthony Bennett, the future of the Monster Factory, and the wrestling industry couldn't be brighter.
*****Follow the Monster Factory on YouTube at Monster Factory Pro TV, on Instagram at @4Monsterfactory, on Facebook at The-Monster-Factory, and on Twitter at @4Monsterfactory.
Follow Atu on his highly entertaining YouTube channel under the name ARKIM where he talks training, nutrition, and pro wrestling.
Follow Good News Hughes on Facebook at facebook.com/mrgoodnewz, on Twitter at @goodhughesnews, and on Instagram at @goodnewshughes.
Follow Leon St. Giovanni on YouTube at youtube.com/leonstgiovanni, on Facebook at facebook.com/leonstgiovanni, on Instagram at @leonstgiovanni, and on Twitter at @leonstgiovanni. Leon can also be found on Tinder.
Follow Clutch Adams on Twitter at @clutch_adams, and on Instagram at @clutch_adams.
To see matches featuring these students, and many others, you can go on my YouTube channel, by searching for the Ronny Sarnecky channel.