411's Instant Analysis 11.18.12: WWE Survivor Series 2012
November 19, 2012 | Posted by
Hey kids, I'm Scott, and this is 411's Instant Access: WWE Survivor Series 2012. Instant Access is the companion piece to 411 Live Pay-Per-View Coverage and features immediate reaction to wrestling pay-per-views. The focus in Instant Access is on first thoughts and initial reactions instead of play-by-play with the goal of providing you with instant access to one TWO writers' thoughts on the show. Here's the team for Survivor Series:
• Scott Slimmer, author of Don't Think Twice.
• Michael Ornelas, author of The TV List.
Okay kids, enough with the explanations. Let's get to the wrestling.
Match Result: Jinder Mahal defeats Zack Ryder with the Full Nelson Slam.
Match Length: 6:09
Match Analysis:
Slimmer: I can't remember if I've done this rant in Instant Access or not, but in case I haven't, let me reiterate how much I loathe 3MB. I completely understand the logic behind putting three jobbers in a stable in order to give them a push, but my problem is that these three particular jobbers would NEVER form a stable. Drew McIntyre and Jinder Mahal were both egotistical snobs who would barely deign to have a conversation with Heath Slater, let alone join his stable and become his damn backup band. 3MB would have made so much more sense with Heath Slater, Curt Hawkins, and Tyler Reks, but hey, what's done is done. This was a fine match for the pre-show, and given that WWE seems to be behind 3MB at the moment, it made perfect sense to have them pick up the win. I could see 3MB burning time with Marella and Ryder for a while, but they're going to have to move on at some point if this is a serious push. Smackdown currently has the strongest tag team division that WWE has seen in years, so I wouldn't be surprised to see 3MB in action with Justin Gabriel & Tyson Kidd or even Rey Mysterio & Sin Cara at some point soon.
Ornelas: Heath Slater and Jinder Mahal are so far down my ladder that it's going to be awhile before I care about 3MB. BUT, they are showing personality and Slater annoys me a lot less than he did a year ago (but that's not saying very much). I don't think the end result here was ever in doubt, but it was still a good warm-up for the crowd – there was never a dull moment.
Match Rating:
Slimmer: *¾
Ornelas: **¼
Average Match Rating: **
Traditional 5-on-5 Survivor Series Match
Brodus Clay, Justin Gabriel, Tyson Kidd, Sin Cara & Rey Mysterio w/ The Funkadactyls vs. Tensai, Primo, Epico, Darren Young & Titus O'Neil w/ Rosa Mendes
Match Result: Team Mysterio defeats Team Tensai (Mysterio, Sin Cara, Gabriel, and Kidd survive).
Match Length: 25:00ish (stopwatch issues)
Match Analysis:
Slimmer: This was a fun traditional 5-on-5 Survivor Series match, and I love the fact that it allowed four more of WWE's tag teams to see action on the main card. Having Brodus Clay and Tensai fill out the teams was a smart move, because they served as perfect foils to the speed and agility of the high flyers on both teams. I'm still waiting for Darren Young & Titus O'Neal to start consistently picking up wins, but I understand wanting to have the faces win this match before having the heels win the other 5-on-5 match on the card. Having Mysterio, Sin Cara, Gabriel, and Kidd all survive was a great way to end a fun match, and it again highlighted WWE's current support of the tag team division. This certainly wasn't a match with far-reaching booking implications, but it was definitely the kind of match that longtime Survivor Series fans would enjoy.
Ornelas: This was a great way to start the show. I'm glad we ended up with a second elimination match on the PPV, because these are always fun. This match dragged a little bit in the middle, but not enough to hurt anything. When you have Kidd, Gabriel, Rey, Cara, Primo, Epico, or the PrimeTime Players in a match, you know it's going to have good energy. It's hard to rate these matches because we see them so seldomly, but for the first I've seen in a year, it gets a good grade. This match also made me sad that more isn't done with Gabriel and Kidd, as a team or individually.
Match Rating:
Slimmer: **¾
Ornelas: ***¼
Average Match Rating: ***
Match Result: Eve Torres defeats Kaitlyn with the Heart Breaker.
Match Length: 7:01
Match Analysis:
Slimmer: I'm sort of going to give Eve and Kaitlyn a pass tonight. I didn't particularly care for this match, but I've seen quite a bit of praise for it online. This may not have been my cup of tea, but I honestly am happy that somebody out there is enjoying the Divas division once again. No match is going to please everybody, so I'll just call this a match that didn't suit my taste. However, given that Eve still hasn't gotten her comeuppance for the way she won the title, I would assume this feud will have to continue in one form or another until either Kaitlyn or Layla wins the title.
Ornelas: As unbelievable as it sounds, this match actually had a very well-told story. They played up the "this is personal" aspect to the max. Kaitlyn even wore street gear for the occasion! Unfortunately though, the match was a little slow because of the methodical nature of the fight. It was a little punch/kick heavy on Kaitlyn's part, but she's getting there. Eve is also one of the more improved Divas in some time.
Match Rating:
Slimmer: *½
Ornelas: **
Average Match Rating: *¾
Match Result: Antonio Cesaro defeats R-Truth with the Neutralizer.
Match Length: 6:54
Match Analysis:
Slimmer: I'm always glad to see Antonio Cesaro on PPV, and I suppose this was a decent enough match to keep him busy this month, but my problem is that it never felt like he was in any jeopardy of losing the match or the title. This was clearly a throwaway match and a throwaway feud, and ultimately those kinds of matches and feuds really don't do Cesaro any good. WWE used to know how to book important and compelling mid-card title feuds (i.e., Hart, Perfect, Michaels, Razor, etc.), but lately the mid-card titles just seem like ways to keep guys busy until maybe they're ready for the main event. I'd much rather see Cesaro burn time with the United States Championship that be buried or forgotten, but it's just a shame he isn't being given the chance to really showcase his skill along the way. Almost as worrisome is the fact that I have no idea who he feuds with next now that he's gone through Truth. Last month I said that Truth was the only guys that made sense for Cesaro to feud with, and now I'm flat out of ideas. Part of the problem is that many of WWE's mid-card faces and heels are tied up in the tag team division, but I applaud the effort that WWE is putting into rebuilding their tag team credibility. It's just unfortunate that the mid-card titles had to be put in a holding pattern in order for the tag team division to get a chance to shine.
Ornelas: I love Antonio Cesaro, but these guys worked the wrong kind of match given the match that it followed. The waistlocks/torso work on R-Truth really took the crowd out of the match for a bit. They finally started cheering for R-Truth, but the match didn't really pick up in a meaningful way after that. There was R-Truth's nearfall and the Neutralizer, but that's all there really was to the finishing sequence. I was disappointed with this one. It wasn't bad by any means, just forgettable and unengaging.
Match Rating:
Slimmer: **¼
Ornelas: **¼
Average Match Rating: **¼
Match Result: Sheamus defeats Big Show via disqualification.
Match Length: 14:46
Match Analysis:
Slimmer: Big Show and Sheamus stole the show last month at Hell in a Cell, and they were definitely one of the highlights of the card this month as well. We've seen the little man vs. big man story told for decades (i.e., Shawn Michaels vs. anyone over 220 lbs.), but rarely have we seen the story told so compellingly with a "little man" who goes 267 lbs. Matches between Sheamus and Big Show could easily devolve into slow, plodding snoozefests, but I applaud both guys for realizing that they could best showcase Show's size and strength by allowing Sheamus to play such an untraditional role for a guy of his size. The result is that Big Show seems more dominant now that he has at any other point in his WWE career, and it truly seems that no one could defeat him in a fair fight. Of course, that very fact is the reason many assume it will be Dolph Ziggler and his MitB contract that will finally take the belt from Show. I'm definitely one of the many who believe that Ziggler will be the next World Heavyweight Champion, and honestly I'm a bit confused as to why it didn't happen tonight. Sheamus beat Show senseless after the match and put him in a perfect position for Ziggler to cash in the contract. I know that Ziggler had a big tag team match later in the night, but it would have been perfectly in character for him to cash in, win the title, and then totally abandon his team. That would have been a brilliantly heelish move by Ziggler, and the Survivor Series match had already seen to many roster changes that it really wouldn't have hurt anything on that end. However, that one misstep aside, I still think that Ziggler will be the man to take the title from Show, and after Ziggler's big win tonight, I think it may happen sooner rather than later.
Ornelas: These two probably are up there in terms of chemistry had between two big guys. I'd argue that this was better than their match at Hell in a Cell. It didn't need as many nearfalls (although I totally thought Sheamus had it with White Noise), it was just an aggressive battle the whole time. Add to that a crowd that was eating it up, and I'd argue that this will be the most underrated feud of 2012. I thought the muddled finish worked well and hey – it's probably going to give us another PPV match between these two, and I'm more than okay with that. That, and I just beat WWE '13, so ref bumps and chairs are fine by me right now.
Match Rating:
Slimmer: ***½
Ornelas: ***¾
Average Match Rating: ***¾
Match Result: Team Ziggler defeats Team Foley (Dolph Ziggler sole survivor).
Match Length: 23:45
Match Analysis:
Slimmer: So, Team Foley vs. Team Ziggler. I wonder if two Survivor Series team captains have ever had less of a feud between them than Foley and Ziggler. This match sort of made sense when it was Team Foley vs. Team Punk, but the loss of Punk, Ryback, and Rhodes really diluted its impact. What we got was certainly a fun traditional Survivor Series match, but much like Team Mysterio vs. Team Tensai earlier in the evening, it was a fun match that really didn't mean anything. And hey, look, there's really nothing wrong with fun matches that ultimately don't mean anything. You can probably count on one hand the number of traditional Survivor Series matches that actually had long-term booking implications, but there have a been a whole lot of them that were just fun as hell. Ziggler picked up a big win, and it was made to seem even more impressive by the announce team repeatedly underscoring Orton's dominance at Survivor Series. Look for Ziggler to build on his momentum by cashing in his MitB contract sometime soon. Also, if the rumors of an Orton heel turn are to be believed, then we may see the tension between Miz and Orton from this match explode into a feud with a face Miz and a heel Orton.
Ornelas: This was an interesting match that sadly never really felt like it clicked. There were some cool sequences, but it lacked cohesion and intensity. I really wish there was something on the line here – the best one of these matches was in 2001 when Team WWF fought The Alliance for control of the company. And the crowd was red hot. I don't see why, as a commenter in another thread said, we couldn't have kept Punk and Ryback in the match and had the WWE Championship on the line (if Punk's team won, he'd retain, etc.). I also feel like Miz was absolutely wasted in this match – they could have used this contest to put him over as a huge babyface hero. He didn't even have to win – just let him be the last survivor or at least dominate the early parts of the match. Instead, he only got a couple minutes of in-ring time and then was eliminated before the final act of the match. I will say that Orton's RKO that put away Del Rio was pretty sweet, and Dolph got a nice rub (even if he was lying down, selling for Orton for most of the final minutes). The match picked up after the first few eliminations, but I expected a lot more from this contest.
Match Rating:
Slimmer: ***¼
Ornelas: ***½
Average Match Rating: ***½
Triple Threat Match for the WWE ChampionshipCM Punk (Champions) w/ Paul Heyman vs. John Cena vs. Ryback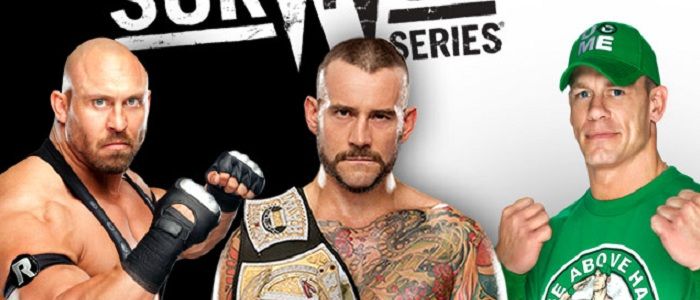 Match Result: CM Punk defeats John Cena after Shell Shocked from Ryback to Cena.
Match Length: 17:57
Match Analysis:
Slimmer: I think it's safe to say that the great Ryback experiment is over. Ryback has an amazing look, and I will always – ALWAYS – mark the fuck out when he gets the chance to kill jobbers. Honestly, in all seriousness, I could watch him kill two jobbers a week for the next five years and love it every time. That being said, he was thrown into the main event way too soon, and we've seen the result over the past two months. He did the best that he could, and Punk worked with what he had, but the results just weren't up to the standard that Punk has set with Cena and Bryan. Comparing Ryback to the face of a generation and one of the most gifted technical wrestlers on the planet may not be fair, but it's the kind of comparison that Ryback has to face in today's main event scene. Honestly, it's a shame Ryback couldn't have been around twenty years ago. Imagine Ryback vs. The Ultimate Warrior. The match would be about four minutes long, and I don't know who the hell would win, but every second of it would have been amazing. Anyway, the biggest news coming out of this match was the debut of Dean Ambrose, Seth Rollins, and Roman Reigns. Ambrose and Rollins are indy darlings that many fans have been begging to see called up to the main roster, and Reigns comes from a family with one hell of a track record in WWE. The motivation behind their actions tonight will almost certainly be a major component of WWE storylines moving forward. Finally, barring a surprise title match tomorrow night on Raw, it looks like CM Punk will hit one full year as WWE Champion. My guess is that he'll survive a title match against someone (Cena again?) at TLC and then head into the Royal Rumble to face the Rock.
Ornelas: You know how I know CM Punk is a wrestling great? I actually watch the feud recap videos before his matches. He's the only wrestler out there right now that can capture my attention even after already seeing everything once. And I haven't missed a Raw, SmackDown, Superstars, NXT, ECW, Main Event, Saturday Morning Slam, or WWE PPV in four years (more out of compulsion – I think they are absolutely oversaturated right now). As for the match itself, this was a great triple threat match. I know people complain about the formula that happen in all triple threat matches – throwing someone outside and then having two wrestlers go at it – but it's just good psychology. Eliminate and isolate. This matched shined when it came to eliminating one wrestler so that they the other two could focus on one another. Also, Ryback didn't look out of place in the longer match. I know it's still not a long singles match, but one step at a time, right? This match had it all – exciting spots, great psychology (except for Punk's stalling to do the Macho Man pose before the elbow drop that broke up the STF), nearfalls, backstory, an invested crowd, and an interesting finish. Now, had a clean finish occurred, I probably would have given this an extra 1/4*, because I was leaning that way. I DO like who interfered though, so I'm feeling good about where it's going.
Match Rating:
Slimmer: ***
Ornelas: ****¼
Average Match Rating: ***¾
Final Thoughts
Match of the Night:
Slimmer: Big Show vs. Sheamus (***½)
This wasn't a great match, but it was a solid match on yet another underwhelming show. Show and Sheamus work together incredibly well, and I'll be more than happy to see them face off one more time at TLC.
Ornelas: CM Punk vs. John Cena vs. Ryback (****¼)
While I loved the World Heavyweight Championship match, this match just had a flow to it that sucked me in. It's also probably because for every day that Punk holds on to his WWE Championship, the stakes of loss seem higher. The year-long streak has felt like a big deal and major kudos to WWE for that. In the past few months, I think the WWE has really started treating their top prize properly, and it's led to some absolutely electric PPV atmospheres. Or maybe that's just me marking out at home. Anyway, I've already said my bit about this match – the run-in hurt its rating, but I'm intrigued by it and thought that everything that came before it was great wrestling. Ryback looks like a top guy to stay now, as well.
Trash of the Night:
Slimmer: NONE
Here's the strange thing about this show – none of the matches were great, and most of the matches were forgettable, but there was nothing actually wrong with any of them. Nothing here was trash; it was mostly just filler. That's not good news for the show as a whole, but it does save any one match from TofN dishonors.
Ornelas: AJ and Vickie Guerrero's Face-off
I know it's not a match, but I really don't see why this needed time on PPV. It gave Tamina a good place to make an impact, but it wasn't a good segment. AJ has come a long way as a talker – she's comfortable and believable. Vickie Guerrero is a heat machine. But they don't really have chemistry in promos together so this was just a big flop to me. I'd also blame the writing. Even the jokes seemed lazy. I don't complain about my wrestling much, but I didn't like this.
Final Analysis:
Slimmer: Along with Hell in a Cell last month, this was another middling and forgettable PPV from WWE. Most of the matches were enjoyable in one way or another, but I expect something more than "vaguely enjoyable" for my $44.95. Unfortunately, there's a pretty good chance that WWE will tread water for another month before finally kicking it into high gear at the Royal Rumble in January.
Ornelas: This was a good PPV that I'm happy I got. There are some exciting things to look forward to, and there wasn't really all that much that I wish I hadn't seen. I didn't like the AJ/Vickie stuff and the Foley/Ziggler Survivor Series match disappointed me a little bit, but even that was still pretty good. This wasn't the best PPV in the world, but both top championship matches delivered in spades, so I'm giving this one a thumbs up.
Verdict:
Slimmer: **
Ornelas: ***½
Average Verdict: **¾