411's NXT Great American Bash Preview
July 30, 2023 | Posted by
Hello 411 guys, gals, enbies, and everyone else! Welcome to 411's NXT Great American Bash preview! I'm Jeremy Thomas and WWE brings its Tuesday night brand to Cedar Park, Texas on Sunday for its latest PPV (I still hate the term PLE). Tonight's show will see all the NXT titles defended in some anticipated matches as well as a Weapons Wild match, Gable Steveson's in-ring debut and more. NXT has been doing some pretty good work as of late in building and developing its stars, and there's some potential for fun matches on this card. There's plenty to get into, so let's get right down to it!
Kickoff Show Match
Dragon Lee, Nathan Frazer, Yulisa León, and Valentina Feroz vs. The Meta-Four
Image Credit: WWE
I will admit to not being a huge Noam Dar fan. Dar is obviously talented in the ring, but his gimmick has been sort of a generic arrogant "all about me" heel type with a talk show that is the least interesting of several such characters in WWE history, or even right now (see: Grayson Waller, The Miz). Meanwhile, Jakara Jackson, Lash Legend, and Ora Mensah haven't exactly broken out either. And yet, the most recent storyline where Dar went depressed to the point of catatonia over losing the Heritage Cup ended up being more entertaining than it had any right to be. The Meta-Four somehow work as a group better than the individuals in it — not to say they're the best thing going or anything like that, but they work as a vaguely comedic midcard stable. On the other side of this equation, you have four talented performers in Dragon Lee, Nathan Frazer, Yulisa León, and Valentina Feroz. Leon and Feroz haven't had much of a chance to get momentum behind them despite being NXT veterans at this point, and I'm happy to see them in a storyline and match on the PPV.
All that said, the build around this is the NXT Heritage Cup, which Frazer won from Dar when Mensah was subbing in for the now-former champion due to an "injury." Frazer holds the title, and a win by the babyfaces here doesn't give Dar much of a chance to argue for a shot at the cup. This should be a fun little Kickoff Show match — the first time we've had a WWE pre-show match in a while — that sees the heels pick up the win.
WINNER: The Meta-Four
Gable Steveson vs. Baron Corbin
Image Credit: WWE
After almost three years of hype, Gable Steveson is finally making his WWE in-ring debut. Steveson's road to here has been a bit bumpy according to reports, something that's been complicated by uncertainty regarding whether he would be fully committing to WWE. That appears to be resolved, so here we are. I'm interested to see how much they are willing to invest in Steveson, as it will say a lot about what they think about his progress. Putting him in the ring with an experienced veteran like Corbin is a good choice. I don't expect that this will be a great match; Steveson still seems green as hell and Corbin has a renewed vigor, but carrying talent in the ring has never been his thing. But it booked right it can work around those issues. WWE is in a tough spot here with this booking though, as Corbin just recently rebranded himself but Steveson is a major prospect for them. My bet is that Steveson picks up the win, as a loss is easier to take from someone like Corbin than a highly-touted guy like Stevson.
WINNER: Gable Steveson
Weapons Wild Match
Roxanne Perez vs. Blair Davenport
Image Credit: WWE
The heated feud between Roxy and Blair has been one of the storylines with more momentum in WWE. It has its roots back when the mystery attacker (since revealed to be Davenport) began attacking the likes of Nikkita Lyons, Wendy Choo, and Sol Ruca backstage before assaulting Roxy back in May after a match. Since then, the two have been more or less at each other's throats. The rivalry also plays into Roxy's storyline about her anxiety and depression, as Davenport has taken shots at her rival's being soft and has generally bullied her in interview segments. The storyline has led to Perez being able to show a more aggressive side to herself and while she doesn't always sound the most believable in terms of that on the mic, she is selling it everywhere else and it's given her character a needed extra edge. As long as this has been going on, it seems like now might be time to end it and logic dictates that with Davenport having so much control in the feud to date, Perez has to get the win to get her heat back. Davenport can easily take a loss and a win here would set Perez up to potentially challenge for the Women's Championship.
WINNER: Roxanne Perez
NXT Tag Team Championship Match
Gallus vs. Tony D'Angelo & Stacks
Image Credit: WWE
Man, WWE has been committed to the goofiness of The D'Angelo Family , haven't they? Tony D'Angelo and Stacks have had an interesting road in NXT, and somehow have managed to transition their way into being mobster babyfaces — and ones that are fairly over, at least with the Capitol Wrestling Center crowd. And while I don't love the gimmick, I have to give credit to the two for really leaning into it and having fun, which is a big part of why the audience has gotten behind them. While they've been working quite well in the tag team mix, for all the storyline time they've been given there hasn't been the right opportunity to see if Tony (or Tony and Stacks) can handle a title run. But now seems like that time.
I won't get into the ludicrousness of the whole storyline that got us here, other than to say that it's knowingly dumb and that blunts the edge of it a bit. But Gallus, has had a solid run with the NXT Tag Team Championships and it does seem like it's time, with the division heating up and a lot of heel teams in the mix, for a change. Everything has been set up for this to culminate with a title switch and if it doesn't happen here, I'm not sure where The D'Angelo Family fits on TV. We'll probably have some crowbar shenanigans, but in the end Tony and Stacks should be our new champions.
WINNER: The D'Angelo Family (NEW NXT Tag Team Champions)
NXT North American Championship Match
Dominik Mysterio vs. Wes Lee vs. Mustafa Ali
Image Credit: WWE
One of the biggest surprises in recent NXT memory was Dominik Mysterio capturing the NXT North American Championship. Don't get me wrong, the Judgment Day has been firing on just about all cylinders right now and whatever we have to say about Dirty Dom, no one can deny that he is an absolute heat magnet. But Wes Lee's North American Title run was going strong and I honestly didn't expect them to take the title off of him. But considering that it has allowed Judgement Day to stay on NXT and continue to spike the ratings, it makes sense. And to their credit, WWE has been doing their best to get Dom and NXT over as champion on Raw and Smackdown; complain about Sami Zayn and Butch losing all you want, but it didn't hurt them and has given NXT a spotlight on the more-watched shows.
That leads us into this match, which not only features a fired-up Lee trying to get his tile back but Mustafa Ali. Ali has had his sights on the North American Championship since he arrived in NXT in late May. He immediately got involved in Lee's situation with Tyler Bate and Joe Gacy, and he's been hovering around Lee like a gadfly has yet to get a title match. He was set to face Lee solo at the Bash, but Mysterio's win changed that and has added some extra tension between Lee and Ali. WWE could go several ways here, as all three men are viable contenders. Lee getting his title back wouldn't be the worst idea as he's done some good work with the title, while Ali deserves a title reign at some point and the North American Title would be perfect for him. But keeping the title on Dom also gives Judgement Day a reason to keep showing on on NXT. As close as this is for me to call, I think that Dirty Dom escapes with his title to at least extend it a little longer — especially since it doesn't hurt to have Dom spending time on the developmental brand.
WINNER: "Dirty" Dominik Mysterio (STILL NXT North American Champion)
NXT Women's Championship Submission Match
Tiffany Stratton vs. Thea Hail
Image Credit: WWE
While there's a good amount of talent on this card, nothing feels so much like a representation of NXT's future than the Women's Championship match. A lot of the rest of the matches here feature talent that seems on the verge of potential main roster call-ups or talent that, while fine, will not be representing the top of NXT any time in the foreseeable future. Tiffany Stratton and Thea Hail, on the other hand, both seem like talent who will be part of the NXT brand for a good long while and likely in the mix as top stars. Both of them are very young in their careers (and simply quite young), but are already showing a ridiculous amount of potential. Stratton has felt like a future Women's Champion since day one, and her crowning was an inevitability. Hail is a ridiculous 19 years old and has shown an incredible knack for character, taking her walking personification of Red Bull and one of the singlemost over acts in NXT.
This match was set up when Hail won a battle royal to earn a shot at Stratton, and made her tap out out of sight of the referee before she eventually lost. She has proven to be a thorn in Stratton's side, who is now being targeted by "You tapped out" chants in the Capitol Wrestling Center and was badgered into accepting the match. The match will be a submission match, which gives Hail an edge since the Kimura has become her signature move. While a Hail win would drive the NXT audience nuts in a good way though, it's too early in Stratton's run to have her lose and Hail, while looking generally good in the ring, still has some growing to do. There will be plenty of time for Hail to win the title; for now, this should end with Stratton retaining and moving onto another challenger.
WINNER: Tiffany Stratton (STILL NXT Women's Champion)
NXT Championship Match
Carmelo Hayes vs. Ilja Dragunov
Image Credit: WWE
When it comes to guys who will eventually shine on the main roster, it's hard to think of two NXT stars that fit the description more than Carmelo Hayes and Ilja Dragunov. Say what you want about them being too small or not Vince McMahon's cup of tea; they are both incredibly talented in the ring and can deliver on the mic as well. Both Ilja and Melo have charisma at a level you can't teach, and I see them both potentially destined for Raw or Smackdown and at the very least a mid-card level of success at some point.
That said, we're not there yet and thus we have them battling it out for Melo's NXT Championship at the Bash. The storyline for this hasn't been the most original — we have the boilerplate "babyfaces gets a title shot against another babyface, miscommunication adds heat between them, they can't get along" situation. We've seen it all before, but they're both at least selling it well. The wrinkle here is Trick Williams, who has been increasingly at odds with Melo over how he's handling Dragunov. Williams has breakout star potential in NXT, but right now he is stuck in a position as Melo's buddy. The path seems inevitable for a heel turn from Trick at some point, and the only question is whether he costs Melo the title or turns later. Melo vs. Trick could easily work without the championship involved, but Melo is also still only a few months into his reign, and if Trick does turn it is a ready-made title feud with a storyline. Ilja has already done most of what he can do in NXT and a main roster move seems quite possible. I think Hayes retains here, though perhaps in a way that ultimately pits him against his best friend.
WINNER: Carmelo Hayes (STILL NXT Champion)
And that's all we have for NXT Great American Bash! It's a very solid-looking card for NXT and I'm not putting it past HBK to give us a surprise or two; either way, the matches should be fun. Thank you as always for reading and remember that we will have live coverage of the show courtesy of Scott Slimmer right here on 411mania.com. I'm outta here — anytime someone lingers for too long around the CWC, they get attacked by Dijak and I like not having my head booted off…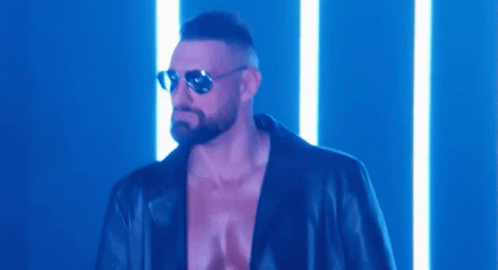 Image Courtesy of WWE