411's WWE Raw Report 2.01.16
February 1, 2016 | Posted by
Welcome to 411's WWE Raw Report 2.01.16
PAUL TALK… BROCK SMASH?: Paul Heyman and Brock Lesnar make their way to the ring to kick off the show this week. Brock has a new spiffy, Alabama themed Suplex City shirt. Heyman says that they have a lot of business to attend to. At the Rumble, Bray Wyatt and his disciples worked to eliminate Brock from the WWE Title picture. And when Brock wants to, he will get revenge, for thou does not intentionally provoke Brock Lesnar. As for Fast Lane, Stephanie McMahon did what was "Beast" for business when she made a brother vs. brother vs. beast match between Ambrose, Reigns and Lesnar. The winner goes to Mania to main event against Triple H in a WWE Title match. Brock has authorized Heyman to say that at Fastlane, Brock will take Ambrose and Reigns to Suplex City, he will F5 both of his opponents, stack them on top of each other and pin them both to go on a main event Mania. He will then defeat and conquer the billion-dollar trophy husband and become the champion again. Heyman isn't selling Ambrose and Reigns short. But Roman Reigns needs to explain how things with Lesnar work with Lesnar, because he has been there. Heyman goes onto call Ambrose insane in several different ways, bringing out Ambrose. Ambrose calls Heyman porky, and says he has never been in the lair of the beat before, but it's cozy. He told himself that this may be a bad idea, and he may look crazy but he's not crazy and not stupid and most certainly not scared of Lesnar. He does have all of the respect in the world for him. He needed to come face to face to tell Lesnar that he wanted the title, and will fight his own other and the beast for it. He knows Lesnar will give him a beating, "take me to suplex city baby" and you can drop me on my head, throw me through a wall and all around the ring. Ambrose says Lesnar will have to give the worst beating he's ever given out, because he will survive and go on to win the title from Triple H. He needed to tell Lesnar that, out of respect, and had to see what all the fuss was about.
– Alberto Del Rio is out on commentary. Kalisto and Del Rio will rematch at Fastlane.
Non-Title Match: US Champion Kalisto vs. Rusev w/Lana: Lana must have been a good girl this week, she gets to come out to ringside. Rusev overpowers Kalisto early, taking him to the corner, but Kalisto with his speed avoids the initial attack and lands leg kicks. Kalisto was doing well until Rusev cut off the RANA. No powerbomb as Kalisto slipped out, back to the leg kicks for Kalisto, but he then runs into an elbow strike. Rusev takes over as Del Rio says he got over confident, and that is why he lost his title. Kalisto fights back, gets the RANA and that takes Rusev to the floor. Kalisto went for a dive, but ate a superkick as we headed to the commercial break…
Back from commercial as Rusev is in control and JBL continues to find ways to remind us all that Kalisto is a small man. There is no commentary focus here as Rusev works the heat, because commentary is only focused on the Del Rio vs. Kalisto rematch. Kalisto was able to start a comeback with a tornado DDT, both struggled to their feet and v connected with kicks to Rusev and then the seated senton. Kalisto followed with the corkscrew forearm, but when he went for another Rusev caught him and destroyed him with a sweet spinning uranage for 2. Rusev went for a charge, posted himself and Kalisto got a rollup for 2. Jawbreaker by Kalisto, a dropkick to the knee and then the spike RANA all connect. The cover got 2 as Rusev rolled to the floor. Basement dropkick by Kalisto, he heads up top and Kalisto with the high cross, caught but he escapes and dropkicks Rusev to the steps. Rusev back to his feet, whips Kalisto who lands on the announce table and then hits a RANA on Rusev, sending him to the barricade. Kalisto back in the ring, Rusev gets counted out and Kalisto picks up the win.
OFFICIAL RESULT: US Champion Kalisto @ 10:10 via countout
– Kalisto then escaped before Del Rio could attack.
– Backstage Ambrose and Reigns are waiting to meet with Stephanie. The WWE Title is on a table in a special case on display for all to see. Stephanie reminds us all that Triple H won the title, and she then discusses the triple threat match at Fastlane. Reigns says one of them will be the top contender and will then beat Triple H. Stephanie puts over Brock Lesnar, and then starts to bring up famous teams that turned on each other, trying to mindfuck them both. They know what she's trying to do, so Stephanie puts them in a tag match against New Day in the main event. Stephanie then dismissed them.
– They discuss Nikki Bella's surgery, which reportedly went well. Renee Young interviews Brie Bella about her sister. Brie says Nikki is fearless, and she will return. They also take the time to promote the WWE Network and Ride Along. Charlotte comes in to run her down, and said she had no clue that she'd basically be ending Nikki's career. Charlotte says she should apologize, but why would she, she's the diva's champion and is on pace to break Nikki's record. Nikki can sit at home, enjoying online shopping.
– After the break, they show video and mock Lilian for calling the Usos "Grammy Award Winning."
– The Social Outcasts get promo time before the match, noting that they are the real family, because they chose each other. As they cut their promo, they ask where Bo Dallas is. Rose then says they forgot him in the back, but Slater said that he told them last week' he wouldn't be there because BO RIDA is in the studio working on a new album.
The Usos (Jimmy & Jey) vs. The Social Outcasts (Adam Rose and Curtis Axel) w/Heath Slater : They use this match to promote a WWE Network show on Thursday night. Anyway, Axel and Rose control early, working over Jey in their corner and even hitting a version of Demolition's finish, but with a top rope knee drop instead of elbow drop. They keep him isolated in the corner, working quick tags and Slater also getting cheap shots in. Axel worked the chinlock; Jey fought to his feet, escaped but then ran into a dropkick. Rose tagged in and went for the chinlock to keep this proper and slow. Jey escapes again, and hits an enziguri and finally gets the tag to Jimmy. He runs wild, sends Axel to the floor and then superkicks Slater and then Axel as he jumped in. Double superkicks to Rose, Jey then heads up top and hits the Superfly splash and that is that.
OFFICIAL RESULT: The Usos @ 5:12 via pin
– We see Miz preparing for Miz TV.
MIZ TV With AJ Styles: Miz says that AJ Styles has been the talk of the WWE Universe, and says that guests like AJ Styles is why he does Miz TV. He says this is about storytelling, and Styles' story is phenomenal. Miz says Styles finally made it, and did the deal when he'd ask a question and then cut AJ off and keep talking. Miz spoke about Styles being called too small and being told not to pursue wrestling. Miz told the story of AJ traveling the world, working small towns and beating the bigger man, all while wondering about coming to WWE. This is coming off as if they are completely afraid to let AJ talk. Miz then put over Styles' time in the Rumble as well as his victory over Jericho last week, before comparing Styles to Daniel Bryan. He said Bryan was a great wrestler with a tiny stature and big heart, but when Miz took him under his wing and became his mentor, that is when Bryan became great. Miz even claimed he was the father of the yes movement. Miz is here to help Styles, he wants to guide him and mentor him in WWE. Miz was insulted by the crowd's reaction, and reminded us about his accomplishments (including main evening Mania) and says there is a reason that AJ didn't get here before now, the E is just as important as the W, and this is an ocean full of sharks and Styles will drown if he listens to the people. The crowd chanted for Styles as Miz ranted, and asked if the rookie redneck could make it in WWE. The crowd chanted yes, and Miz said there was no chance. Styles then started to beat Miz's ass, and threw him around the ring just pummeling him until Miz rolled to the floor and ran away.
– We get a video package for tomorrow's Total Divas, which means that it is time for our Total Divas special.
Non-Title Match: Champion Charlotte w/Ric vs. Brie Bella w/Alicia Fox: Charlotte did some pushups t get warmed up. They locked up and Brie worked some forearms. A knee and clothesline followed, and then Brie hit the Daniel Bryan kicks and a running basement dropkick. Charlotte countered the running knee, and Brie spilled to the floor. I guess Charlotte was able to avoid the running knee because Brie yelled "BRIIIIIIIIIIIIE MODE" before executing the move. Charlotte rolled her back into the ring and took control, working a cravat and knee strikes. Charlotte then slammed her down by the hair and worked the skull fucker before settling into the head scissors. Brie escaped, avoided the big boot and connected with clotheslines. A bulldog or sorts followed and Brie covered for 2. Charlotte countered the X-Factor, but Brie got the backslide for 2. The dropkick followed, and this time hit the charging knee strike because she didn't yell first. Brie up to the second rope, Charlotte cut her off but Brie then got a sleeper. Ric tried to distract the ref, Fox yelled at him as the ref checked on Charlotte, who then hit a stunner to escape. Ric danced on the apron, Charlotte went for the figure eight and Brie got a roll up for the pin.
OFFICIAL RESULT: Brie Bella @ 4:38 via pin
– We got a video package of Thursday's Smackdown DQ finish.
– Big Show will face Erick Rowan tonight.
– Cole discusses Bret Hart's fight with Cancer, which Hart announced today. Best wishes to Bret.
Big Show vs. Erick Rowan w/Harper and Strowman: Strowman and Harper looked to attack Show, so he grabbed the steps to make sure they kept their distance. Show went on the attack, only for Rowan to counter and look for a suplex. That failed as Show suplexed Rowan and then hit clotheslines. Corner splash by Show and then a shoulder block. He calls for the chokeslam, but had to dispatch Harper first. Show then sends Strowman off the apron, and that allows Rowan to attack. Show then told him to fuck off and hit a chokeslam for the win.
OFFICIAL RESULT: Big Show @ 1:15 via pin
– Strowman then hit the ring and attacked, Harper joined in and the swamp monsters went to work on Show. Rowan hits a spin kick and then they lay the boots to Show. Since Show has had approximately 436 turns, he has no friends, and the beating continues. They then took Show to the floor and whipped him into the steps. Harper then hit a superkick, and then Rowan and Strowman slammed Show onto the steps.
– We get highlights of the segment we just watched.
Titus O'Neil vs. Tyler Breeze: Nice to see Breeze is still alive. Breeze tried to work over Titus, but got caught and Titus hit several aside back breakers and tossed Breeze to the mat. Titus barks and hits the corner splash, Breeze then begged off and took out the knee of Titus. Breeze posted his knee, and then continued the attack back in the ring. Breeze then applied the half crab, but Titus made the ropes. Breeze tried to pull Titus to the corner, but Titus pulled him across the ring and then hit a clothesline. Off the ropes, clash of the Titus, and that was that.
OFFICIAL RESULT: Titus O'Neil @ 2:40 via pin
– Heyman and Lesnar talk backstage, and Triple H arrives. He asks for private time with Brock. Triple H asks about Ambrose bowing up to Brock earlier in the show, and then asked why he got to walk away. He questions if Brock is getting soft, and Brock said they'd find out at Mania. Triple H said he was looking forward to it.
– AJ Styles faces the Miz on Smackdown this week.
Dolph Ziggler vs. Kevin Owens: Owens avoided a superkick and rolled to the floor, where they brawled for a bit and then returned to the ring. Owens talked trash, but Ziggler hit a dropkick, sending Owens to the floor. Followed, and when he went to attack, Owens dumped him into the timekeeper's area and we went to a commercial…
Back from commercial as Owens is in control. He works the chinlock, Ziggler to his feet and works to escape and does with the jawbreaker. Owens then avoids a superkick and slams Ziggler to the corner. Owens then hits the corner cannonball, and that gets a near fall. Owens lays the boots to Ziggler, Ziggler tires to fire up but eats a back elbow and Owens covers for 2. Owens with more shit talk on Ziggler, mockingly urging him to fight back. Owens just beats down Ziggler, and tells the ref that Ziggler can't continue. Owens then went for the running senton, but Ziggler moved out of the way. Owens then missed a charge and posted himself, allowing Ziggler to hit corner splashes until Owens cut him off with a clothesline. He went for the pop p powerbomb, but Ziggler countered and sent Owens to the apron and then Ziggler hit a superkick, sending Owens to the floor. Ziggler then hit a fameasser on the floor as the referee counted both men. Ziggler rolls Owens back in, follows and covers for 2. Ziggler went for the zigzag, but Owens countered and then hit a superkick for a near fall. Owens then went up top, but Ziggler ran up the ropes and tried to attack but got knocked off, he fought back up, but Owens slid out and trapped Ziggler in the tree of WHOA and then Owens hit the cannonball. Owens set for the pop up powerbomb, but Ziggler countered and hit the zigzag and that was that.
OFFICIAL RESULT: Dolph Ziggler @ 11:33 via pin
– Post match Owens was pissed off and threw some stuff off of the commentary table.
– We get a Black History Month video package for Mark Henry.
– Sasha Banks makes her way out to the ring. The Boss is back and it is on her terms. She won't sit in the back watching other divas stealing her matches or her spotlight. She is on her own, and nothing or no one will stop her from becoming diva's champion. Becky may be whining about a title match, and Brie may have beaten her tonight, but no one can hold a candle to her because she's a boss, legit. Naomi and Tamina then arrive, and said that baby girl is stepping out on her own and spreading her wings. Banks says this is not personal, they are family and she respect them, but she came to be the best. They came out to assure her that there are no hard feelings. They knew the moment would come, and that partnerships do not last forever. Unlike others, they won't fall into a Twitter war, they can be competitors and still be sisters. Banks questions if they actually have her back, and still wants them to have unity. All seems well as Becky Lynch makes her way to the ring.
Sasha Banks w/Tamina and Naomi vs. Becky Lynch: Cole made sure to mention the Divas Revolution and Stephanie McMahon, who created all things women, as well as the land, sea and air. Some counter wrestling to begin, takedown by Lynch but Banks to her feet but back to the mat as they continue to mat wrestle. Arm drags by Lynch, grounding Banks and keeping control. To the corner, awkward pause there as Banks them delivers a right and the corner knees. Lynch back with rights, but Banks cuts her off and then hits a run up the ropes lucha arm drag. Banks counters the corner kick by Lynch, and sends her to the floor. Naomi and Tamina look to attack, and Banks stops that and says she doesn't need them because she got this. And here is the drama between them and Naomi and Tamina attack and we get a DQ…
OFFICIAL RESULT: No Contest (?) @ 4:00
– Naomi and Tamina work over Banks on the floor, but Lynch makes the save and all four brawl. Sasha and Lynch stand tall as they send Naomi and Tamina packing. TEAM B.A.E. reunion…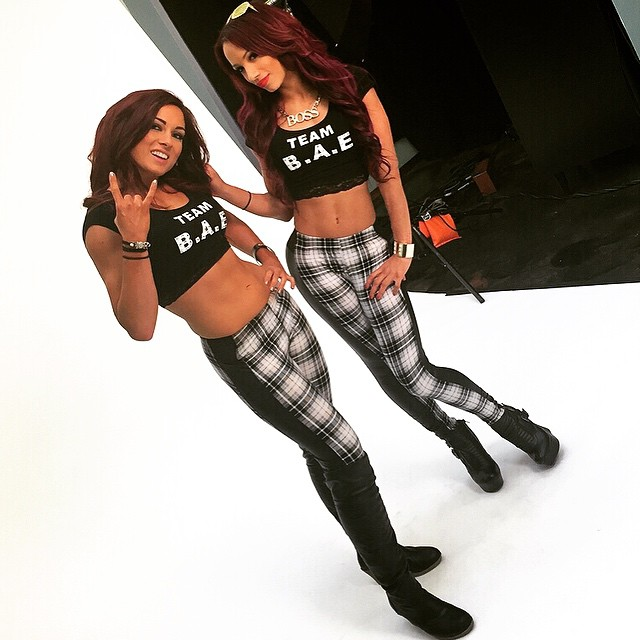 – Renee Young interviewed Chris Jericho about his loss to AJ Styles. Jericho says everyone is talking about Styles, and he has been thinking about Styles since last week. The outcome was not expected, but anything can happen in WWE. But what it proved to him was that Styles is the real deal and is here for the long haul. He's a pitbull and tenacious, and he likes that. He'll be paying close attention to Smackdown, because he is curious as to what will happen, and can't wait to see it.
– R-Truth is not happy Goldust keeps texting him, and then discovers Goldust in a stall in the bathroom. Goldust again asks him to be his tag team partner, but Truth says he is flattered, but doesn't want to tag with him because Goldust is weird, and he has crap on his foot. Goldust then asks who Truth's last partner was, and brings up little Jimmy.
– Thursday on Smackdown, Roman Reigns faces Rusev.
– Paul Heyman is out to do commentary.
– New Day says they shamed the rock last week, got in a Network plug, and then said that they will shame him again this week. They say Rock should think of the kids, and point out a little kid in a Bullet Club shirt dancing. New Day is all about the fair treatment of children and trombones alike. Now tonight they will beat up the Rock's cousin and the Rock's cousin's friend. They then brought up Ambrose/Reigns fanfic sites…
Non-Title Match: Champions New Day (Kofi and Big E) w/Woods vs. Roman Reigns and Dean Ambrose: Reigns and Kofi to begin. Kofi tries to grapple with Reigns, and then celebrates a bit. Kofi gets a side headlock, off the ropes and Kofi uses his speed to counter Reigns but then eats an uppercut. Tag to Ambrose, jabs to Kofi and then a belly to back suplex follows. Sliding clothesline by Ambrose follows, to the corner and Kofi back with chop sand Ambrose challenges him to throw more and then unloads on Kofi. A slam to Kofi follows, and Reigns tags in, drops the elbow and covers for 2. Reigns sets for the Superman punch, but Big E and Woods pull Kofi to the floor as we head to a commercial…
Back from the break as Kofi works over Reigns. Kofi takes Reigns to the corner and he lays the boots to him in the corner. Big E then misses the big splash on the apron. Kofi rolls Big E back in and then Reigns tags in Ambrose. Ambrose works over Big E with rights an chops, off the ropes and a flying forearm connects for Ambrose. He hits the corner splash and bulldog, tosses Kofi to the floor and slams him to the barricade. Back in and Ambrose sends Big E to the floor and hits the suicide dive. Back in the ring goes Big E, and Woods then shoves Ambrose into the steps as Kofi distracted the ref. Kofi delivers a running kick to Ambrose, rolls him back in and covers for 2. new Day delivers the stampede kicks in the corner, and Woods plays some trombone as Kofi and Big E dance. Kofi then lands a running kick to Ambrose and covers for 2. Kofi then works the half nelson, grounding Ambrose. Big E tags in and hits a spear in the corner, and the cover gets 2. Heyman is entertaining himself by basically interviewing himself throughout the entire match. Big E works an abdominal stretch and smacks Ambrose's ass in rhythm, which pisses off Ambrose, who escapes but then runs into a back elbow. Tag to Kofi, slam to Ambrose and Kofi heads up top. He leaps into a punch to the gut by Ambrose, Big E in and Ambrose counters a suplex and then Ambrose finally tags in Reigns. Reigns runs wild on New Day, works over Kofi in the corner and then delivers rights. Reigns fights off Woods and Big E, but Kofi catches him with a kick and tags in Big E. Samoan Drop by Reigns follows, and then tags in Ambrose. Top rope elbow to Big E, and that gets 2 as Kofi breaks it up and tosses Ambrose to the floor, Woods works him over, but Ambrose hits the jawbreaker lariat, but then Kofi wipes him out, Reigns takes out Kofi and then Big E slams Reigns onto the announce table. Back in and Big E with a clothesline to Ambrose. Straps are down, big ending countered and Reigns back in to Superman punch Kofi, Dirty deeds to Big E and that is enough to pick up the win.
OFFICIAL RESULT: Reigns and Ambrose @ 17:25 via pin
– Brock Lesnar then arrives, and New Day attacks Reigns and Ambrose. Brock watches on as Reigns and Ambrose fight back. Brock in the ring and hits the F5 on Ambrose as Reigns was on the floor with Kofi; Brock stands tall.
– End scene.
– Thanks for reading.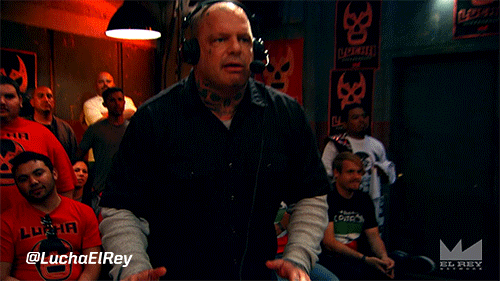 "I'm out…"