411's WWE Survivor Series 2018 Preview
November 18, 2018 | Posted by
~THE STAFF~
* 411 columnist, Mr.
Justin Watry
.
* 411 columnist, Mr.
Steve Cook
.
* 411 columnist, Mr.
Jake Chambers
.
* 411 columnist, Mr.
Mike Chin
.
* 411 contributor, Mr.
Ken Hill
.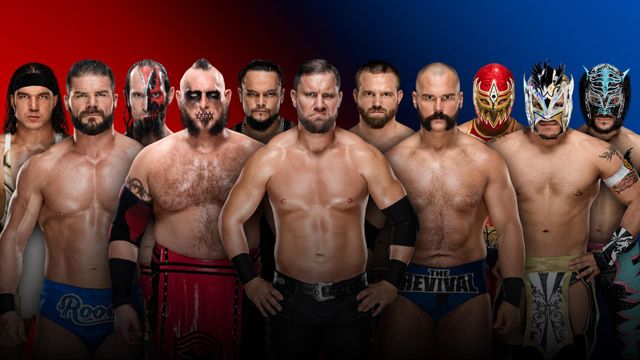 Tag Team Survivor Series Elimination Match: Chad Gable & Bobby Roode, The Ascension, Lucha House Party, The Revival, The B Team vs. The Usos, The New Day, The Colons, SAnitY, Luke Gallows & Karl Anderson
Ken Hill
: Ah yes, here is the "we totally forgot either tag division existed, so here they all are as a reminder" clusterfuck match with zip to zero proper build. The fact that RAW's team is being captained by a team thrown together literally weeks ago in Roode and Gable should tell you about the state of the show's tag division all around. Barring a "shocking" early elimination of the Smackdown captains, I think the Usos and one other blue brand team will be the only ones afloat at the end of this 10-team scrum. New Day would be a likely choice, but my money's on SAnitY because I think AOP vs. The Bar could make a good precursor for a big wrasslin' boy feud between Sheamus & Cesaro and Dain & Wolfe.
WINNER
: Team Smackdown (Usos & SAnitY survive)
JUSTIN WATRY: I have less interest in this than the Cruiserweight Championship match, and I don't even watch 205 Live. That says it all. Smackdown is really scrapping for victories come Sunday night, so this can be one of those wins… WINNER: Smackdown LIVE
Steve Cook: The last time I saw Raw's tag teams, they were getting run over by Braun Strowman. How am I supposed to pick them over the Usos & New Day? Good on the rest of Team SmackDown for getting on this show, by the way. At least Sanity has been on the show fairly recently, I can't tell you where the Colons & Good Brothers have been the past few months. They won't be around long in this one either. As the Usos & New Day are the only teams anybody actually cares about in this match, I figure they're the ones going over. WINNER: Team SmackDown
Jake Chambers: Oh WWE, how funny you are. Does this match exist to show us what a horrible tag team scene there is in the WWE? Amazingly, this is like 50% of the upcoming Royal Rumble right here. Enjoy the early preview. WINNER: The Usos and The New Day
Mike Chin: The good news is that this ought to be a fun match given the many talented workers involved. The bad news is that, above all, it underscores the imbalance between the tag divisions of each brand. SmackDown has two all time great teams in New Day and The Usos, plus the brutally under-used but nonetheless rich in potential Sanity and Good Brothers. And Raw? It's telling that a makeshift team of guys paired up because WWE couldn't figure out how else to use them are captaining the team. For all their greatness in NXT, The Revival has been booked out of relevance on Raw, The B Team and Ascension are dead end acts, and while Lucha House Party is quite good, it's very evident WWE fetched them from 205 Live just to fill out this team. Expect the blue brand to win here, with the Usos and New Day, and possibly Sanity left standing. Hopefully Gable and Roode put up a good fight to remain somewhat credible challengers to the AOP. WINNER: (Tag) Team SmackDown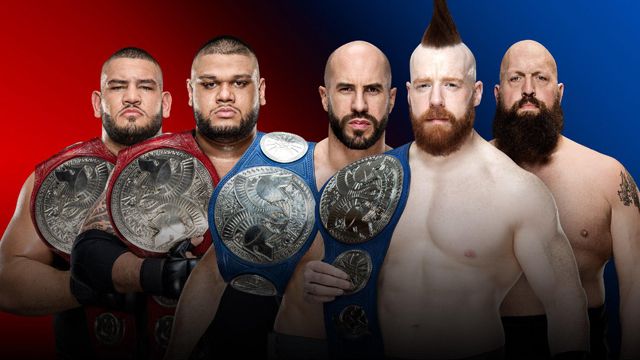 RAW vs. SmackDown Match: The Authors of Pain vs. The Bar
Ken Hill
: Speaking of the two pairs of tag champs, this is a heel-vs-heel match-up that has me rather intrigued. There's doubt it will be a hard-hitting affair and then some, but I imagine the crowd will lean slightly in Cesaro and Sheamus' favor simply by way of their veteran status. We'll get some light entertainment out of Big Show terrorizing Drake Maverick on the outside, which I believe will in fact be the undoing for The Bar as Show is taken out of his game mindset, allowing Akam and Rezar to go over and notch their first big win as RAW's newly-crowned champions, with veterans Sheamus and Cesaro suffering no real downturn with a semi-clean loss.
WINNER
: Authors of Pain
JUSTIN WATRY: New tag team champions on both brands. Much improvement over the past few months where the divisions have been garbage. Authors Of Pain are likely to be more dominant in the future, so they get the nod. The Bar pulling off an upset would be surprising but welcome. WINNER: Authors Of Pain
Steve Cook: Two teams with some big ol boys going at it should be a pretty fun spectacle. Maybe if we're lucky we'll get a Cesaro Hot Tag the likes of which we haven't gotten to see in quite some time. To me, it comes down to who's at ringside. Sheamus & Cesaro have Big Show. AOP has…Drake Maverick? OK then. WINNER: The Bar
Jake Chambers: On paper, this LOOKS like a great match. The WWE 2018 environment, especially on these mostly too-long, lame duck PPV events, doesn't feel accommodating to the kind of bad-ass slugfest these four could have pulled off on, say, a Takeover event. As much as The Bar winning here seems like typical main roster booking, they gotta give Sheamus and Cesaro some love here, those guys are too awesome! WINNER: The Bar
Mike Chin: Both teams could really use this win as relatively recently crowned champions, and I could only imagine this bout would better if one team had had time for a face turn, as both have proven themselves capable of working face when needed. Just the same, this ought to be a fun, smash mouth fight. As the new team, in greater need of bragging rights to reinforce their dominant gimmick, I'm picking Akam and Rezar. WINNER: The AOP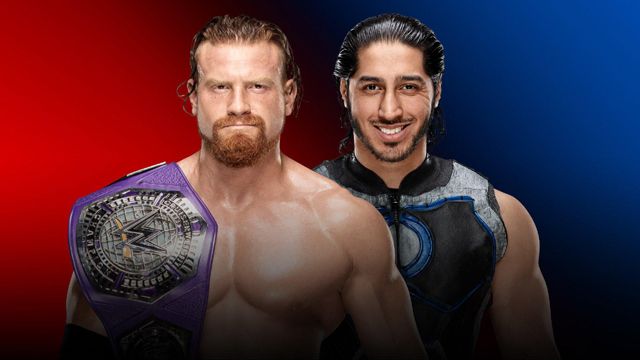 WWE Cruiserweight Title Match: Champion Buddy Murphy vs. Mustafa Ali
Ken Hill
: It's rather curious to see this match (one not of the rather antiquated "RAW vs Smackdown" set-up…Royal Rumble, GRR and Crown Jewel ring a bell?)) seemingly get main show airtime rather than end up jerking the curtain to little or no audience on the pre-show. It remains to be seen, but if Ali and Murphy do get some main show time to strut, flip and knee strike their stuff, I have little doubt it will be one of the early highlights of the night. Many pundits are picking Ali simply due to Murphy's win in Sydney being a pure "hometown pop" attempt and nothing else, but after a lengthy babyface title run by Cedric that ran from early April to October, the CW strap could use some balancing out with a solid heel reign, and Murphy more than fits the bill.
WINNER
: Buddy Murphy
JUSTIN WATRY: My once a month viewing of the cruiserweight division. How lovely. The sad part is I know this is going to be great and be awesome for the Los Angeles…and yet, I won't tune into 205 Live on Tuesday or Wednesday or Thursday or whatever night it airs on these days. Not on my agenda at all, which sucks. Again, I KNOW they are talented and super exciting. For what it's worth, the champ gets my vote of confidence because that is the easiest assumption. WINNER: Buddy
Steve Cook: I haven't watched a second of 205 Live since Murphy won the championship. I assume it's going well & that Ali is doing a fine job as the heart of 205 Live. I assume Murphy's nowhere near done being champion. I assume this will be a spectacular show of ability. WINNER: Buddy Murphy
Jake Chambers: Having 205 Live Cruiserweight Title matches on WWE main roster PPVs is like if they threw NXT Title matches on the mid-card of these events and gave them 12 minutes to just try and hit as many high spots as possible to get the uneducated audience to pop. I'm just looking forward to their inevitable re-match on the show where they'll get to main event and have all the time they need. WINNER: Buddy Murphy
Mike Chin: If this one gets time me is half as good as their No DQ match from the summer, it could easily be in the running for match of the night. Murphy is still a new champion, so I'm picking him to retain and further establish his reign here. WINNER: Buddy Murphy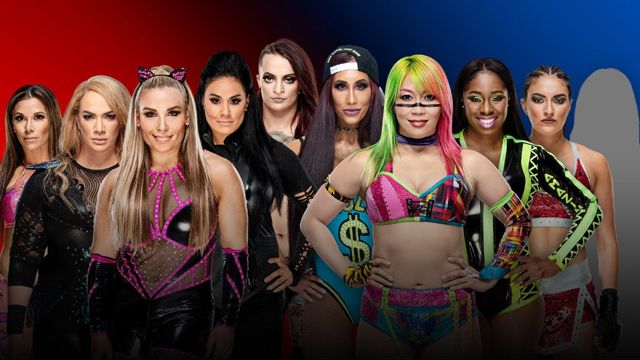 Women's Survivor Series Elimination Match: Natalya, Mickie, Nia Jax, Tamina, and Ruby Riot vs. Naomi, Sonya Deville, Asuka, Carmella, and TBA
Ken Hill
:The talking point of this match lies in the unknown fifth member for the Smackdown Women's team. Rumors are swirling about that it could be the loser of the Baszler-Sane match at Takeover: War Games or Nikki Cross making her main roster PPV debut, but the odds-on favorite seems to simply be Mandy Rose, in which case her dissolving relationship with Sonya Deville could may well lead to the blue brand losing out here. If it's Baszler or Sane, I could definitely see them pulling an Asuka (from last year, anyway) and being a Sole Survivor. With Nikki, things could just break down with her assaulting everyone, even her own partners, which frankly would make the match a hundred times more interesting. With all those fascinating theories in mind, I'll go with Team Smackdown winning, with Asuka and Naomi as the survivors. They've formed a fun, if somewhat shallowly-based team on the blue brand, and Becky is going to need some face challengers to hold her over until her hopeful WM 35 match with Ronda.
WINNER
: Team Smackdown Wins (Naomi & Asuka survive)
JUSTIN WATRY: Based on my scores, everything will be tied up by the time we get to the main event. Whatever closes the show, I have RAW winning. Rousey, Braun, and Brock are all on Raw and are all my predictions, so it is going to be a shocker if the blue brand pulls out the evening ahead. Asuka needs to get back to where she was 10 months ago. Destroying all of Team Raw would be a cool start. Take out Nia Jax first and go from there… WINNER: Asuka
Steve Cook: Raw seems like the smart choice, as you've got heavy hitters like Nia & Tamina, veteran presence in Nattie & Mickie, and a wild card in Ruby. There's plenty of dislike between certain members of the team though, and Alexa Bliss isn't the best at keeping everybody on the same page. Team SmackDown is motivated by their invasion on Monday night & has the advantage of surprise on their side. I like Asuka's chances of surviving & getting a bit of a rub. WINNER: Team Smackdown
Jake Chambers: Wow, if you thought the Tag Team division match was embarrassing, the Women's division wants you to hold their Shirley Temple. Look at Asuka's name hidden in there too, so funny. Oh well, there's always next year's Evolution PPV to look forward to, right? WINNER: Nia Jax and Tamina
Mike Chin: The nature of these inter-brand matches without the champions involved is that they feel like also-rans vs. also-rans, and that's most evident in this women's match. While WWE could use this as a platform to heat up Asuka or make good on the hinted push for Mandy Rose, I'm calling this one instead to feature the new team of Nia Jax and Tamina with the two of them standing tall in the end. WINNER: Team Raw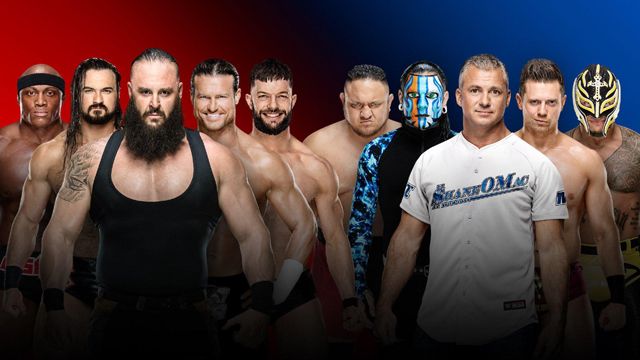 Men's Survivor Series Elimination Match: Braun Strowman, Dolph Ziggler, Drew McIntyre, Finn Balor, and Bobby Lashley vs. Shane McMahon, Jeff Hardy, The Miz, Samoa Joe, Rey Mysterio
Ken Hill
: Shane McMahon on a Smackdown Survivor Series team for the third year in a row…feels like that "land of opportunity" and "authority figures not being the center of attention" malarkey Shane spewed was years ago. Sadly, he seems to be the focus on Smackdown's side of this match along with the newly-solo captain Miz. RAW's side has Braun Strowman, who made his intentions perfectly clear as far as getting back into the Universal Title picture and ensuring that Baron Corbin "GET DESE HANDSSSS!", and possibly Drew McIntyre, who recently handed Kurt Angle a big and rather demoralizing loss and has made it clear that the Monster Among Men is in his sights as well, even with the tenuous alliance being enforced by RAW Commish Stephanie McMahon. Given that Steph went overboard in assuring Braun's team loyalty, it wouldn't have much of a payoff to have him just lose. I imagine Corbin will try and find some way to screw Strowman out of the match (because WWE is TOTALLY over screw-jobs at Surivivor Series *eyeroll*) only for it to backfire and Strowman emerging triumphant (possibly with McIntyre to give Drew another substantial push), leading to Steph firing Corbin and opening him up to Braun's big-time revenge at TLC in December. Meanwhile, a Smackdown loss will help in pushing the "Heel Shane McMahon" envelope by having Shane be the one to take the pin.
WINNER
: Team RAW wins (Strowman & McIntyre survive)
JUSTIN WATRY: Like last year, Braun Strowman is going to be the story. If he wins, he gets another Universal Championship shot versus Brock Lesnar. That is really the only thing happening. I see that as the only option. Kinda straight forward, which is fine by me. Don't rule out another star making match by Drew McIntyre though. Dude is a stud and future main eventer. WINNER: Braun/Raw
Steve Cook: Raw has a couple of guys that are getting big pushes & probably won't lose. I don't see Braun taking a fall, nor do I see Drew taking one. SmackDown's a different kettle of fish. They have some guys that are getting pushed, but nobody whose push will be affected by losing here. Shane's bound to screw something up here & have an issue going forward with somebody. Maybe Miz? WINNER: Team Raw
Jake Chambers: Fans are always clamoring for more respect for the traditional Survivor Series match, especially after years of WWE flirting with getting rid of them or taking this PPV off the calendar completely. The problem is, when WWE does book these matches, this is what we get: an eye-rolling collection of wrestlers representing their "brand" for ultimate supremacy! LOL. Get ready for a lot of post-elimination celebrations by one wrestler with their back turned to the opposing team, only to turn around and get surprise eliminated. That's one thing you can always count on when the WWE sleepwalks through this format yet again. WINNER: Shane McMahon
Mike Chin: There's some decent star power packed into this match and it could be an interesting one. There's every possibility of Braun Strowman and Drew McIntyre combusting and taking each other out of the match. That sort of self-destruction seems like the only way either man takes a fall in this context, against this opposition. Instead, though, I'm going peg the two of them at the least as survivors (possibly with Dolph Ziggler or Finn Balor lasting with them), only to brawl after the match is done. WINNER: Team Raw
RAW vs. SmackDown Match: Seth Rollins vs. Shinsuke Nakamura
Ken Hill
: The fact that more people were shocked by Nakamura actually showing up on an episode of Smackdown rather than be excited his first-time encounter with Seth Rollins tells you just how mishandled Shinsuke has been over on the blue brand. I've said this time and gain: If Shinsuke puts on his working boots, there is no doubt he and Rollins could put on a banger of a match. On Rollins' side, he is of two minds, one keyed in on his match with Nakamura, the other being emotionally distraught over Ambrose's forsaking of The Shield. I see the latter coming back to haunt Rollins, with Ambrose getting involved near the end to cost him the match, and allowing Nakamura to break Seth's face to match his broken heart.
WINNER
: Shinsuke Nakamura
JUSTIN WATRY: Smackdown LIVE needs to win a few of these, right? Seth Rollins is distracted with Dean Ambrose as we speak, and Shinsuke Nakamura could probably use a show stealing performance right about now. Works for both sides. United States Champ beats IC Champ. WINNER: Shinsuke Nakamura
Steve Cook: I think people have learned not to get their expectations too high for Nakamura's WWE matches by now. On paper, Rollins vs. Nakamura is the type of thing the IWC would be creaming themselves over. I'm not hearing a ton of hype for this match that surely would get seven stars in the Tokyo Dome. Rollins will try his best and do some goofy stuff to try & get it over, but Nak at half speed is what he is. It won't be terrible, but you'll forget about it right after it happens. WINNER: Seth Rollins
Jake Chambers: In what would have been a quote/unquote "dream match" years ago, I wouldn't get your hopes up too much for this one. Nakamura is about as much of an "artist" as late career Michael Jackson these days, and Dean Ambrose not being anywhere else on this card has gotta mean he's likely getting involved. Those are the type of WWE 2018 factors that combine for dull matches of wasted potential. WINNER: Shinsuke Nakamura
Mike Chin: Every indication is that WWE is more invested in Seth Rollins than Shinsuke Nakamura. Counter intuitively, though, this looks like Nakamura's match, with Dean Ambrose getting involved to feed his issue with The King Slayer while giving The King of Strong Style gets a little extra little push by claiming this victory. WINNER: Shinsuke Nakamura
RAW vs. SmackDown Match: Ronda Rousey vs. Charlotte Flair
Ken Hill
:
Nia Bella cracked Becky in the face
Charlotte vs Ronda feels out of place
It may still be a shadow of fore
Of the Horsewomen going to war
But with no thanks to Nia's lame duck grace
I'm in the consensus that WWE needs to be do something about Nia; she's clearly made no effort to improve herself or even develop a safer power style of wrestling than dropping her opponents on the back of their head. Becky's facial fracture and concussion, Charlotte's ringside faceplant because Nia missed a catch on a moonsault, Bayley's injured shoulder, Zelina Vega being sidelined with a concussion after being thrown out to ringside during a recent battle royal…there were times where I felt for Nia because she's one of the many misused NXT call-ups who were either straight-up wasted or brought up before they were ready, the latter being Nia's case, but enough is enough. Rocky's cousin or no, Nia needs some serious fine tuning.
*deep breath* Anyway…Charlotte felt like the best logical fit from both a storyline and experience perspective. Charlotte is another WWE veteran who can teach the art of technical finesse and fluidity to Ronda, who's still green when it comes to making the proper transitioning between moves and doing more than simply latching in an armbar. Storyline wise, it still continues the foreshadowing of an impending war between WWE and UFC's Four Horsewomen and helps WWE booking keep Lynch vs Rousey in their back pocket for a bigger event like, oh say, WrestleMania 35. It'll be a competitive match for sure, but the Rowdy One, mk II has this in the bag. WINNER: Ronda Rousey
Justin Watry: Ronda Rousey vs. Becky Lynch was MY main event of Survivor Series. I have been chirping about it on Twitter for awhile. That needed to close the show in the worst way imaginable. As fate has it, we may have to wait awhile. Just like Alexa Bliss vs. Trish Stratus being cancelled totally bummed me out, this bout being off has done the same. Sucks big time. The only glimmer of hope is if WWE lets this thing simmer for another few months, and we get the payoff at Mania. Now THAT would make the wait worth while. As such, WWE is fast tracking the long awaited Rousey vs. Charlotte clash. I may have been tempted to go with Asuka representing the blue brand instead, but Ms. Woo is clearly the big star currently. Like it is difficult to pick against Brock Lesnar on pay-per-view, it is difficult to see Ronda Rousey losing as well. Easy pick for Raw. WINNER: Ronda Rousey
Steve Cook: At one point this was going to be the big money match for WWE's women's divisions. Since Becky Lynch came along and became The Man, it's a consolation prize because Nia Jax had to go & break Becky's face. Ronda's been tremendously over as a babyface so far on Raw, but it seems like her natural unlikability is starting to come out. Charlotte is coming in to win it for Becky, her best friend/sworn enemy/best friend again maybe I dunno. I wouldn't have been surprised if Charlotte was Ronda's first loss, and she still might be. I don't think it's coming this soon though. WINNER: Ronda Rousey
Jake Chambers: I don't think anyone wants, or was expecting, the WWE's back-pocket women's division sure-fire main event of Rousey vs. Flair, to be happening on this card out of nowhere. My guess for this one is that they're gonna use it to set up this long-rumored Horsewomen vs. Horsewomen match. Sasha and Bayley being strangely absent from the card along with Becky and Charlotte reuniting this week feels telling, and I figure Baszler takes that mystery spot in the Women's Survivor Series match too. If that's the case, expect some kind of brawl here instead of a real match. WINNER: Double Disqualification
Mike Chin: While I can appreciate the rumors of Ronda Rousey doing the favors to get a Horsewomen vs. Horsewomen feud going, and that's a logical enough story to tell, with Becky Lynch out of the mix for this match, I'm pegging WWE to go the more conservative and straightforward route, with Rousey winning the hard-fought battle. WINNER: Ronda Rousey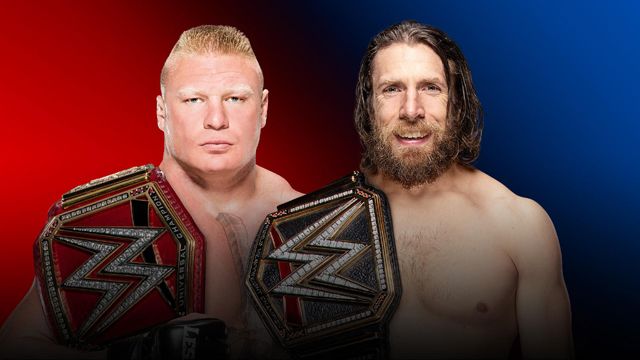 RAW vs. SmackDown Match: Daniel Bryan vs. Brock Lesnar
Ken Hill
:
The absolute shock of a Daniel Bryan heel turn versus the crushing reality of Brock "Where's My Check, Bitch?" Lesnar as Universal Champion leads me to understand their is but one truth in the WWE Universe: AJ Styles is WWE's "2018 Cheap Moron" who wouldn't spring for $10 to buy a freaking athletic cup after about three or four different Nakamura specials between his uprights.
While most readers would be concerned about Brock's unsafe, physical treatment of his opponents and I'd be lying if I said I wasn't a touch worried as well after seeing his manhandling of the Singh brothers and Orton's near scalping back in 2016. However…
People tend to forget that Brock held no ill will against Bryan's decision to step away for the sake of his health and leading a long and prosperous life with his friends and family and even went so far as to say he respected and applauded such a decision as it was one Brock himself wasn't sure he'd been able to make. I'm pretty sure Brock hasn't forgotten this and will take the necessary precautions to avoid Bryan having a relapse because of one errant suplex. That said, I still have to go with Brock winning in what I'm sure will be a very physical, hard-hitting match-up with Bryan's recent brutal change in attitude. WINNER: Brock Lesnar
JUSTIN WATRY: Hey look! Daniel Bryan is the WWE Champion, just as I predicted. Funny story about my column about AJ Styles that was posted Tuesday night. I will share that and many more funny stories in my November reader feedback column in early December. Interesting how life goes sometimes. Either way, how great it is to FINALLY get Daniel Bryan vs. Brock Lesnar. It may be at Survivor Series, but so is Ronda Rousey vs. Charlotte! Both potential WrestleMania headliners. While one could argue Lesnar can lose more often now that he is slowly but surely being phased out, it is still difficult to predict a pay-per-view loss for him. Doing my RAW vs. Smackdown LIVE math, the red brand gets this. The Beast wins. WINNER: Brock Lesnar
Steve Cook: I would be very interested in this match if Bryan hadn't just turned heel on AJ Styles. The idea of big, dominant Brock against a resilient, never say die Daniel Bryan is pretty great in theory. Now we'll get a fraidy-cat Daniel Bryan that spends most of the match running away from big, scary Brock. It'll probably be fun, but I'd have preferred Styles vs. Lesnar 2. Brock squashing Bryan does nothing for anybody involved. Bryan out-smarting Lesnar, or somebody running in to impact the finish, moves things forward. WINNER: Daniel Bryan
Jake Chambers: Have you ever been to a wedding? I'm assuming most of you have. The ceremony is usually nice; you're just in the audience, facing front like you would at a wrestling show. But the reception, ugh. That's like standing in line before the show or waiting for the subway/bus afterwards. If you're a social person, maybe that's okay… but no offense to the 411 readers (because I know YOU'RE not like this) but the publicly social wrestling fans you're stuck with in line or crowds are some annoying-ass losers. Well, being surrounded by them feels the same to me as when I'm at a wedding reception, having a bunch of people I barely (or don't even) know kill time with generic conversation as they slowly get wasted. All the while, I'm thinking about other things as I watch the clock move in frozen motion like a Randy Orton chin-lock. Of course, my mind wanders naturally to the goings-on in the wrestling world at times like these, and sadly that's exactly what will be happening this Sunday night when Bryan and Brock are facing off one-on-one for the first time. A dream match I've long hoped the WWE would put together – one that I thought I'd stop everything to see – just got randomly booked less than a week from a wedding I can't possibly escape. 2018 WWE really knows how to mess with your head. And you know what, I think Daniel Bryan is going to win – I mean, I desperately WANT Daniel Bryan to win. And that's gonna make the wedding reception all that much more painful, ruminating in my mind the whole time about the impossible ways Bryan could win, and all the infuriating excuses publicly social wrestling fans will make if he doesn't. Matches aren't perfect, be they of the marrying kind or in the squared circle, but one man has had the ability to always make it seem like perfection is possible: Daniel Bryan Danielson. And here's to hoping that he can find a way to bring out the pro-wrestling match-loving personality of Brock Lesnar one more time. I've long believed Bryan would be the one who could do it, and I guess we'll see if they're a match made in heaven on Sunday night. Meanwhile, I've got a snake in a box I'm planning to bring as gift, so hopefully my night will early so I can get home to check this one out live! WINNER: Daniel Bryan
Mike Chin: Were this a face vs. heel match, I wouldn't hesitate to pick Brock Lesnar, the dominant monster to get the better of a game Bryan, not unlike his match with AJ Styles a year earlier. Given the abrupt heel turn for Bryan, and setting up this oddball high-profile heel vs. heel main event, I'm expecting some serious shenanigans. More to the point, I'm going out on a limb and calling that Paul Heyman's involvement in setting up Styles vs. Bryan for SmackDown wasn't incidental, and Heyman is about to strike up a partnership with Bryan at Lesnar's expense. Take a half cup of Heyman siding with The Big Show over Lesnar in late 2002, mix that with a pinch of his partnership with CM Punk from 2012-2013 and you have Heyman's next big story lined up right here. WINNER: Daniel Bryan
JOIN 411 TONIGHT AT 5PM ET FOR OUR LIVE COVERAGE OF THE SHOW!