Csonka: From Order to Jay White's CHAOS In Under a Year
September 26, 2018 | Posted by
It'd like to tell you the tale of Jay White, a young lion cub that may very well be on his way to being the king of the jungle…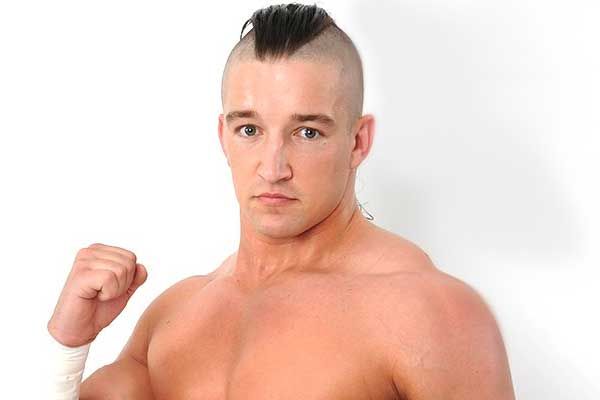 Look at this bag of douche above; you just knew he'd be trouble one day. Jay White started his career in NJPW in 2014, training in the dojo for a year before making his main roster debut, losing to Alex Shelley. White & Finlay ended up paired off, like they tend to do with the lions, for tag matches and a singles feud, which White dominated. After a good first year, White was sent on excursion to the US, and worked for Ring of Honor, while living with Alex Shelley. Shelley, with his past in Japan, took on a mentorship role on and off TV as White was part of the Search and Destroy stable with Shelley, Sabin, & Gresham. White had the best ROH excursion of the recent NJPW talent, especially when compared to EVIL & 3k, who barely made TV and were never presented as important. White was given a long undefeated streak before losing to former world champion Jay Briscoe, was a regular fixture on TV and was given opportunity on iPPV & PPV, where he delivered some great matches (he appeared 5 times on my Top 24 ROH Matches of 2017 list). He had a great run, but it was time to return home…
At the NJPW Power Struggle event, the identity of "Switchblade" was finally revealed, and unlike the big Chris Jericho reveal, it wasn't a big surprise. Jay White made his return from his excursion, coming back home and revealing himself as the mysterious star of the video packages that had been airing for months.
Jay White was back from his excursion with ROH, and he made the challenge, and laid out the ace and due to that will be involved in one of the top three matches at NJPW's biggest show of the year.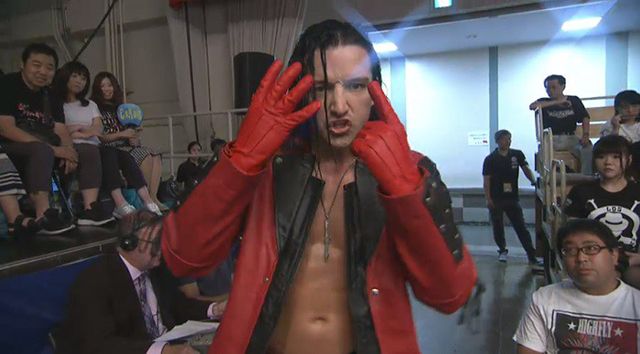 At WrestleKingdom 12, White got his chance, in NJPW's biggest event against their biggest star. But IWGP IC Champion Hiroshi Tanahashi defeated Jay White to retain the championship, ending White's chance at starting off on a hot streak. The match was good, but easily Tanahashi's "worst" dome effort in some time. It was a very paint by numbers Tanahashi match, and while Jay White worked hard, this ended up being the wrong time for him. While the thought process here was good and losing to Tanahashi is not a horrible thing, having White's big match at the dome ended up being a mistake. He worked hard, looked good and didn't do anything wrong, but I feel he would have benefited from a program with someone ahead of Tanahashi, so that fans would have a real reason to care and treat him as a threat, which they didn't here. Even if he lost, he should have looked more dominant and threatening to Tanahashi, and he didn't. But for White, this "failure" was only a setback, and despite some worrying he was "done" as a top guy, tomorrow would be another day…
The next day at New Year's Dash, Jay White defeated Katsuya Kitamura as part of Kitamura's trial series and got some momentum back. But while a win is nice, beating Kitamura wasn't exactly setting the world on fire. But later on that night, after an issue with Cody Rhodes involving Kota Ibushi, Kenny Omega admitted that Bullet Club hasn't been whole for a long time, and they need to stop the fighting and that they needed to be #1. This led to Omega calling out White, and offering him a spot in Bullet Club. But White refused the offer, which would have seemingly given White the boost he needed following the loss to Tanahashi. But White had a different plan in mind, which would be revealed soon after.
You see, following the events on New Year's Dash, the next stage of White's plan was revealed as he joined the CHAOS faction. His reasoning behind this was that he wanted to battle Bullet Club and destroy them, but was smart enough to realize that there was no way that he could do it on his own. But while White is with CHAOS, he also made it perfectly clear that he wasn't there to bow down to, or kiss the ring and or ass of Okada. White made his standing perfectly clear, and that was that he wanted to be a champion, even if that meant challenging the status quo of CHAOS and challenging a member of the stable namely Okada. White now had backup, he had a plan and more importantly, a new title shot in Sapporo against Kenny Omega. And in Sapporo, the plan continued to evolve as Jay White defeated US Champion Kenny Omega to become a champion in NJPW. In the build to the match, White constantly mentioned taking down Bullet Club and causing them to break down from inside, and his victory, in a very good performance, he ended up doing that. After the match, Adam Page (who had been positioned well with wins on both Sapporo shows), arrived to be the first challenger, but when Omega interrupted to hand White the title, Cody Rhodes arrived and accused Omega of stealing Page's moment. This led to a confrontation, which had been built up very well on Being The Elite, and Cody laying out Omega, and seemingly taking control of Bullet Club. Not only was Bullet Club ripped apart, but also this led to Kota Ibushi making the save and reuniting with Omega, further changing the landscape of NJPW.
THIS HAS ALL BEEN IN THE MAKING FOR ALMOST A YEAR
The G1 Climax was the next step in the evolution of White and the story. White made an instant impact, pinning Okada & Tanahashi to jump out in front and prove himself. But if you paid attention to the undercards, he wasn't thrilled with being forced into tags with his CHAOS stablemates, and not only treated them badly but constantly tried to manipulate young YOH into the dark side. It was an arc that ran the entirety of the tournament and then, the issues continued as friction started to grow between White and Okada. White continually questioned Okada's leadership since he had defeated him, and that led to more tension within CHAOS, specifically involving White, Okada, & YOSHI-HASHI.
The full turn by White at NJPW Destruction in Kobe 2018 came off as a huge moment and Paradigm shift for the promotion. The stable system needed a mix-up, Bullet Club/Firing Squad/Golden Elite have their issues going on, and now CHAOS will never be the same. How will the group splinter? Will we see new names or defections? I am fascinated and looking forward to how this all shakes out.
White had a big hand in Bullet Club breaking apart, but we shouldn't forget that to him the relationship with CHAOS was only one of convenience to him. But now we have to wonder, was this Gedo's master plan all along? Did Gedo see the cracks in Okada's armor? Was he frustrated that Okada's CHAOS couldn't fracture Bullet Club like White was able to? Gedo and Okada's split during the G1 seemed completely out of nowhere, why did the separation come then? The one thing we know is that we have gone from perfect order to Jay White's CHAOS, just like he planned.
Despite the rocky start at WrestleKingdom, I have been consistent in preaching how NJPW sees White as a possible top Gaijin star. They built him in their dojo, they sent him on his excursion and brought him back against the ACE. The events at NJPW Destruction in Kobe 2018 had been almost a year in the making. From White's initial failure to joining CHOAS, to winning the US Title, to his wins over Tanahashi and Okada to the final act in Kobe that saw him rise, it all played perfectly. And that includes the Tanahashi and Okada matches some weren't a fan of; Okada had to beat Tanahashi to surpass Tanahashi's records. The G1 draw give Tanahashi reason to demand to defend against his greatest rival so that he could feel worthy again Tanahashi had to beat Okada to give him that momentum for WrestleKingdom, and that loss by Okada was the reason for White to finally put his plan into action, unseat Okada, and also lay challenge to Tanahashi's title shot. I'm still thinking Omega vs.Tanahashi & Okada vs.White for WrestleKingdom, but as we saw in Kobe, just when we think we have all of the answers, NJPW changes the questions.
Who says long-term booking doesn't exist or work anymore?
White is what Okada was six-years ago, the young star that may not be ready that NJPW sees as a next big star; the era of the rainmaker is dead, long live the knife pervert, long live the painmaker.
– End Scene.
– Thanks for reading.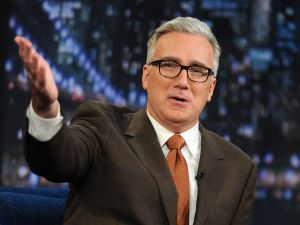 "Byyyyyyyyyyyyyyyyyyyyyye Felicia!"