Csonka's WWE Raw Review 03.05.18
March 5, 2018 | Posted by
Csonka's WWE Raw Review 03.05.18
Csonka's WWE Raw Review 03.05.18
OFFICIAL RESULTS
– Asuka defeated Nia Jax @ 11:05 via pin [**¾]
– Non-Title Match : Champions The Bar defeated The Revival @ 9:20 via pin [**¾]
– John Cena defeated Goldust @ 3:47 via pin [*]
– Bayley defeated Mandy Rose @ 8:45 via pin [**½]
– Symphony Of Destruction Falls Count Anywhere Match: Braun Strowman defeated Elias @ 4:55 via pin [**½]
– Bray Wyatt defeated Rhyno @ 0:44 via pin [NR]
– Rollins & Balor defeated Miz, Axel, & Dallas @ 11:10 via pin [**¾]
---
– Follow all of my reviews at this link.
Kurt Angle Talks: Angle makes his way to the ring to kick off the show. Angle says he has to get serious here. He's had to swallow his pride several times, and had to do what was best for business. Triple H sucker punched him last week, and everything is not ok; he calls out Triple H to face him like a man. Angle drops the suit jacket, but Stephanie arrives instead. Steph tells Angle to calm down and Triple H isn't even here yet. She brings up Angle's kids, and says that he has alimony payments due to having a new wife. She praises Angle's accomplishments, but those accolades do not pay the bills. She blames things going wrong on him, and Triple H got even. She tells him to know his role and to not allow his ego to get in the way. Ronda Rousey arrives. She hugs Angle and even shakes Steph's hand. The crowd is happy to see Rousey. Rousey isn't happy with what happened to Angle last week, and she was enlightened. She's dealt with bully bosses before and will handle things her own way. Steph says she signed a WWE contract and Steph oversees her and that doesn't have to be a bad thing. They gave Rousey her dream, a match at Mania. Rousey says she's grateful, and that she does get to choose her opponent for Mania. Steph says as long as it's not a champion and is an active roster member. Rousey picks Steph. Steph says she's not an active roster member and Triple H arrives and puts a stop to this and tells Angle to do his job. Angle agrees that Steph is an executive, but also has a talent contract, and since he makes the matches, he makes Rousey vs. Steph for Mania. Angle says Triple H that he also has a contract as talent, and books the tag match. Steph starts to run down Angel and Rousey cuts her of, Triple H gets involved and beaks it up and he brawls with Angle. Angle runs wild, looks for the ankle lock, but Triple H shoves him away and Steph attacks Rousey, but then runs away. Angle then gets the ankle lock on Triple H and Steph pulls him to the floor. Rousey grabs Steph and pulls her back in and hits a Samoan drop to lay her out. Hot angle to kick off the show, locking in the tag match and giving Angle some revenge. I am also glad they didn't give away Rousey arm barring Steph already.
Asuka vs. Nia Jax: Asuka attacks with strikes and kicks, Jax cuts her off and hits a corner ass attack. The head butt follows, and she tosses Asuka to the floor. Alexa & Mickie are interviewed backstage during the match. Back in the ring and Asuka looks for an arm bar, but Jax cuts her off with a back breaker. Asuka battles back with the octopus hold, but Jax fights out and then lays the boots to Asuka. Jax takes Asuka up top and hits a wacky airplane spin crucifix slam. Post break, and Jax has things grounded. Asuka starts to fight back, hits a shining wizard and covers for 2. Jax now slams her to the buckles, and covers for 2. Asuka escapes the Samoan drop once, but runs right into another try and it connects as Jax covers for 2. Jax follows with a press slam, but misses the leg drop. Asuka locks on the arm bar, Jax rolls and powers up Asuka, powerbombs her, but Asuka won't let go. Asuka holds on, but Jax slams her to the buckles and Asuka still holds on. Jax powers up again, but Asuka maintains the hold and Jax fights and finally taps. Asuka defeated Nia Jax @ 11:05 via pin [**¾] This was a pretty good match overall, but the layout and commentary were focused on putting over Jax, who again lost, and not Asuka, who is the one with the guaranteed title shot at WrestleMania. I think that these matches have not done many favors for Asuka. If the rumors are true, I really don't see how Jax gets a title shot at Bliss, it would really make no sense at this time.
Champions The Bar vs. The Revival: If the Revival win, they get a tag title shot at Mania. Dawson & Sheamus start us off. The Bar works quick tags, double tams follow and Sheamus lays in strikes until Dawson battles back. Dash tags himself in and double teams on Sheamus follow. Cesaro tags in and the Revival double team him and make a cover for 2. Post break, and Sheamus is in control working over Dawson. Cesaro tags in and they work double teams and pick up a near fall. Dawson hits a desperation jawbreaker, Dash tags in and the Revival battle back with double teams on Sheamus. Dawson & Sheamus trade strikes, Dawson looks to ground things, but Sheamus hits a backdrop and tags in Cesaro. Dawson hits a DDT, covering for 2. Cesaro cuts him off with uppercuts, tags in Sheamus who hits a high knee. The Revival battles back, Sheamus posts himself and the Revival hit the old power & glory (a superplex on Cesaro followed by the top rope splash) and that gets a good near fall. Sheamus cuts off shatter machine, Cesaro hits the neutralizer and that's that. Champions The Bar defeated The Revival @ 9:20 via pin [**¾] This was another pretty good match, the crowd wasn't into it early, but the second half was quite good.
John Cena Talks: Cena repeatedly failed on Raw, was sad that he had no road to WrestleMania, and then ran off to Smackdown and beat Styles right away to get into Sunday's title match. Cena is here to talk about Smackdown. He found his road to WrestleMania, and Kurt Angle gave him this time to talk to us tonight. As WWE's only free agent, and he appreciates the privilege to compete on both shows. Sunday at Fastlane he's part of a 6-pack challenge for the WWE Title. His opponents would interrupt him on Smackdown, because on Sunday, he will break a record that has stood for 20-years, he will become the 17-time world champion. All records are made to be broken, and he will do this because this is his only road to WrestleMania. Some say he is handed everything and that he holds people back. He was given a chance and earned an opportunity and he will never hold anyone back. When he wins on Sunday people will cry that he robbed Styles of a Mania moment. And when he wins, he will defend against Styles & Nakamura at Mania. Goldust appears and says he could have been a contender, but he's become a bum. He says Cena is the leading man, and says he's always had a dream of sharing the screen with someone like Cena at Mania. That dream begins with him stopping Cena from going to Mania. He's never had a perfect story, they've all been taken from him. They have been turned evil, and that ends today. If Cena wants to go to Mania, that's his dream, but Goldust is here to be his new director. Tonight, Cena's dreams will be shattered. Goldust lays out Cena and it appears we have a match. This was a solid, but odd segment, but I am always in for Goldust getting TV time.
John Cena vs. Goldust: JIP as Cena fires back on Goldust. Goldust quickly cuts him off, covering for 2. Goldust grounds the action, and follows with an atomic drop. They work into a double down, Cena up and misses a charge and Goldust covers for 2. Goldust in control now, but Cena fires up and runs into the snap slam and Goldust covers for 2. Goldust plays mind games with Cena, but Cena locks on a sleeper now. Goldust hits a low blow, and covers Cena for 2. Cena fires up with shoulder blocks and the proto bomb. The shuffle and AA connects and that's that. John Cena defeated Goldust @ 3:47 via pin [*] I was hoping for a fun and energetic back and forth match, but this was really bland and largely nothing.
– Elias talks with Angle and tries to get his match with Strowman canceled. Angle refuses and Elias says whatever happens to Braun is on Angle.
– Hillbilly Jim is going into the WWE Hall of Fame.
– Charly asks Bayley about not tagging Banks last week. Bayley says that what Banks did at the Rumble & Chamber was hard for her to take. Absolution interrupts. Paige says that Bayley finally gets it and grew a backbone, joking that she's a big girl now. Paige says Bayley is a stupid child and that there is strength in numbers. If you have no one, you have nothing.
Bayley vs. Mandy Rose: Paige & Deville are at ringside. They lock up and Rose takes control with a dropkick. Bayley attacks, working the arm. Rose cuts off Bayley, slamming her to the corner. The slam follows, and covers for 2. Bayley fires up and works over Rose in the corner, hitting the charging elbow and Rose bails. Post beak, and Rose has Bayley grounded. Bayley battles to her feet, counters a suplex and then eats a big right. Rose covers for 2. Rose follows with more rights, they trade strikes and Bayley gets a backslide for 1. The roll up follows by Bayley for 2. Rose cuts her off with the running knee strike and that gets 2. Rose follows with mounted rights, but Bayley fights her off and hits the stunner in the ropes. Bayley follows with strikes and then tackles her and lays in rights. Bayley works over Rose in the corner, and hits a Saito suplex. Bayley to the ropes and Deville distracts her, but Bayley knocks her to the floor. Bayley cradles Rose and picks up the win. Bayley defeated Mandy Rose @ 8:45 via pin [**½] The match perfectly solid, and Rose is showing more aggression and comfort in the ring. The post match worked well to continue the Banks vs. Bayley issues.
– Post match, Rose & Deville beat down Bayley, Banks arrives and makes the save. Banks helps Bayley up and looks for a hug, but Bayley shoves her away and leaves.
– Alexa meets with a disappointed Nia. Alexa comments on her losing at the Elimination Chamber and tonight as a well, noting that it had to be embarrassing. She doesn't want Jax to feel like a failure, but knows she can make WrestleMania next year. Alexa says Jax has been an outcast, bullied and scorned because she's always been bigger. Some may think that Jax is a quitter, but Alexa doesn't want her to give up, because if she does, everyone will lose respect for her. Alexa made poor Nia cry with her mix of pep talk and savage emotional break down of Jax. With the booking of the Asuka match, it looks as if they are turning Jax babyface.
"You can't let this be your downfall, @NiaJaxWWE. If you do, everyone will lose all respect for you." – @AlexaBliss_WWE on Nia's loss to @WWEAsuka tonight on #RAW… pic.twitter.com/XJsvm60gJj

— WWE (@WWE) March 6, 2018
– We see Rousey getting inducted into the International Sports Hall of Fame.
#RAW Superstar @RondaRousey was inducted into the International Sports Hall of Fame, and GM @RealKurtAngle was right there to congratulate her! pic.twitter.com/xlW96LYL9M

— WWE (@WWE) March 6, 2018
– We now get clips of the show's opening segment.
– There are all kinds of musical instruments on the stage. Elias tinkers at the piano for his pre-match promo. He then drops a beat on the drum kit, noting that he's not a one trick pony. He then says that Braun is living in his world, and grabs the guitar to play us a song, a song that will be the last Braun hears before he walks with Elias. Elias runs backstage after asking for the lights to be dropped for a proper introduction and runs backstage and out of the building. He gets in a car, but Braun isn't finished with him yet and has picked up the back of the car stopping Elias' escape.
Symphony Of Destruction Falls Count Anywhere Match: Braun Strowman vs. Elias: Braun chases him back into he building and into the ring. Braun starts attacking and beating down Elias, running wild as the crowd roars for him. Elias escapes the powerslam and hits Braun with a guitar. Elias attacks, heads up top and hits a big elbow drop for 2. Braun fights off drift away and sends Elias to the floor. They brawl up to the stage, and Braun dismantles the announce table. Elias rakes Braun's eyes, but that just makes Braun angry. Braun grabs the bog old string bass, and smashes it on Elias. Braun slides him under the piano and then sits down and Braun smashes on the keys. Braun picks up the piano, kicking off the legs and smashes it onto Elias. Braun covers for the win. Braun Strowman defeated Elias @ 4:55 via pin [**½] Not much of a match really, but with the pre-match included, this was fun and entertaining plunder.
– Elias is stretchered out post match.
– Commentary hypes the Greatest Royal Rumble event in Saudi Arabia.
Bray Wyatt vs. Rhyno: This was set up last week when Wyatt kicked the shit out of Slater & Rhyno. Rhyno attacks, but Wyatt instantly cuts him off and hits sister Abigail for the win. Bray Wyatt defeated Rhyno @ 0:44 via pin [NR] SQUASH
– Wyatt calls out Matt Hardy post match. He says the Great War is far from over. Matt appears on the screen, and says if they have to battle again, it must happen on the Hardy compound. We see Vanguard1, Skarsgård the Dilapidated Boat, and video of the compound, and Matt says to prepare for Ultimate Deletion. It feels too late to salvage the angle, but who knows, Matt maybe able to work some magic at the compound one more time.
Only ONE battlefield is suitable for the CONCLUSION of the #GreatWar between #WOKEN @MATTHARDYBRAND and @WWEBrayWyatt… #RAW pic.twitter.com/BlhmYND4xE

— WWE (@WWE) March 6, 2018
Will The ULTIMATE DELETION of @WWEBrayWyatt commence at The #HardyCompound?! @MATTHARDYBRAND #RAW pic.twitter.com/ipUkeo1Aud

— WWE (@WWE) March 6, 2018
The Miz Presents The Mizzies: Miz, Dallas, & Axel are in the ring. Miz knocks the Oscars and runs down the movies that won over The Marine 5. Miz awards the Mizzie for Superstar that Pats Themselves on the Back The Best goes to Seth Rollins & Finn Balor. The next award is for worst decision by a Raw GM. Angle wins for various things, including bringing his bastard son to Raw. Mix looks to give himself a lifetime achievement award, but Rollins interrupts. Finn Balor also arrives, Rollins takes issues with Balor following him around. Miz gets pissed and says that neither of them deserve an IC Title shot, Rollns makes losing look great, and Balor does the same. Miz runs down Balor for winning the universal title, and having to give it up. This isn't Japan, and to be over, you need more than a hand sign that isn't even yours. Miz proposes a tag match, Rollins & Balor vs. Miz, Axel, & Dallas. Miz is so good at making you hate him, from the intentionally annoying awards to the knocks on Rollins & Balor to keep things rolling towards the IC Title match, this was fun.
Rollins & Balor vs. Miz, Axel, & Dallas: Balor & Axel star off. Axel looks to take early control, but Balor quickly cuts him off. He tags Rollins in, tosses Axel and hen dropkicks Dallas. Miz distracts Rollins, allowing Dallas to attack, Miz tags in when Rollins is down and attacks, and covers for 2. Axel back in and hits the Hennig neck snap and then grounds Rollins. Axel then follows with a dropkick. Dallas back in as they continue the heat on Rollins. Rollins starts to fight back and tags in Balor. He hits a standing double stomp and Miz makes sure to bail to the floor. Dallas tries to fight back, eats an enziguri but Balor then chases Miz, allowing Dallas to attack. Post break, and Balor battles back, hits the PELE and gets the tag to Rollins, Rollins flies in and starts to run wild, hitting an enziguri on Miz, The suplex into the falcon arrow follows as Rollins does the deal, and covers for 2. Rollins hits the superkick, takes out Dallas and cradles Miz for 2. Axel now makes the save, gets tossed and Rollins hits the suicide dive. Balor tags himself in and they argue. They fight off Miz and company and Balor follows with a tope. Back in and the shotgun dropkick follows on Miz. Balor up top and Rollins tags himself in and hits the curb stomp and pins Miz. Rollins & Balor defeated Miz, Axel, & Dallas @ 11:10 via pin [**¾] This was a pretty good match, with Balor & Rollins trying to one up each other, and leading to the IC Title match being made official for Mania.
– Kurt Angle arrives and books Miz vs. Balor vs. Rollins at Mania. I'm happy all three are getting on the card and I hope it stays a triple threat. It has the chance to be really good.
Paul Heyman responds to Roman Reigns: Heyman arrives, carrying the Universal Title and doing his usual introduction. He has a message from Brock and to set the record straight. He lays the title in the ring, and only does so because Brock allows him to do so. Brock will successfully defend at Mania, and if he chooses to defend at Summerslam, he'll come back and do the same and lay down the UFC title as well. Last week Reigns had a lot to say about Brock, to criticize Brock. Heyman brings up Roman beating Undertaker, only the second man to do so at Mania. Nobody downplayed that win because Taker only wrestled one time that year, because that would have been bullshit. Brock is Brock, and Roman will not beat Brock at Mania. If he doesn't like that, because Brock will be here and Roman can have words with the champion. And "Afa" mania, you can "Sika" a new title to challenge for. Heyman says last week Roman called Brock a bitch, but this title is Brock's bitch, because she belongs to Brock. Roman is eye balling Brock's bitch, but he can't have her. Roman talks about family and bloodline, but when your champion, this title is your bloodline. If you want the title, you'll have to take it from Brock. The title makes you #1 and better than anyone else. To be champion, you have to sacrifice. If you get an emergency call to go home the night before Mania, you can't because the title needs you. But you can't go home after it, because you're needed on Raw & Smackdown. To be a champion like Brock, that title need you more and it is everything to you. Next week on Raw, Brock will be here and you can say anything you want to him. Because you don't want to shoot on the mic with Heyman and you don't want to shoot in the ring with Brock. Roman arrives now, and says that what he said last week was true. But Brock didn't show up, he's a bitch because he sent Heyman. Roman wants Brock to not only show up but also to want to be here. Roman promises to be in Detroit next week with Brock, but he better be dressed for a fight. I think like always that Heyman's delivery and passion were absolutely great and there are very few that can touch him in that regard. I really think that the segment should have just ended with his promo, as the Reigns portion felt very tacked on, and didn't add much to the segment at all. Also, while reigns' promo last week felt like a breath of fresh air, the whole shoot aspect of this almost feels like they are trying way too hard to "make it real," to the point that it's feeling way too forced.
– End scene.
– Thanks for reading.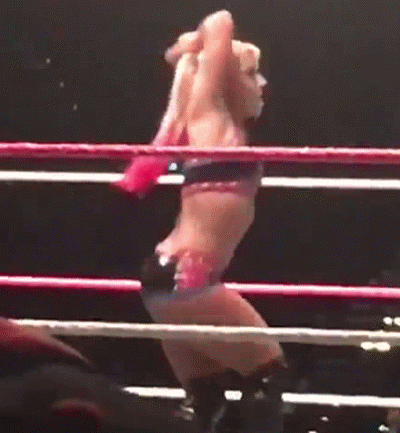 ~GLORIOUS~
6.2
The final score: review Average
The 411
Tonight's episode of WWE Raw started off with a bang, officially setting up Rousey & Angle vs. Stephanie & Triple H for WrestleMania. We had some pretty good matches after that to close out the hour, but hour two fell off quality wise, and felt very below average. Hour three picked back up with the fun Braun & Elias segment/match, the ultimate deletion announcement and the IC Title match being announced for Mania. The closing segment was a mixed bag for me, Heyman was great, but the Reigns portion wasn't needed and overall it felt forced to me. Overall, tonight's show was a solid effort, but far from a must-see show.
legend