Csonka's Evolve 53 Review 1.22.16
January 23, 2016 | Posted by
Csonka's Evolve 53 Review 1.22.16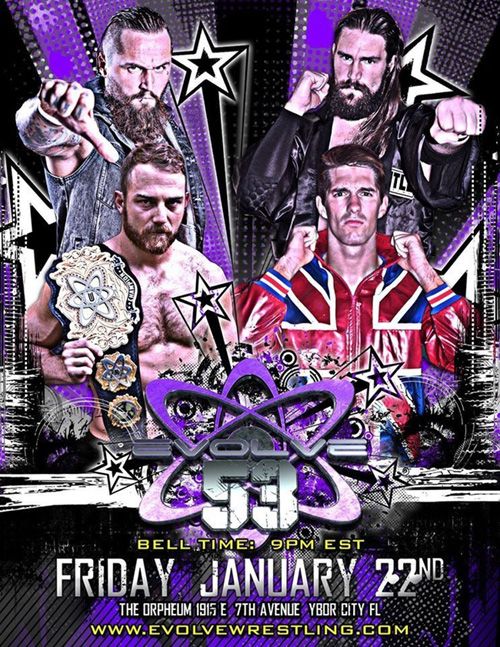 Evolve 53 Review 1.22.16
OFFICIAL RESULTS
~ EVOLVE Tag Team Title Tournament First Round Match: The Bravados defeated The Premiere Athlete Brand @ 12:58 via pin [***]
~ Jason Cade defeated Joe Coleman @ 3:47 via pin [*½]
~ Style Battle Round Robin Tournament Match: Matt Riddle defeated Peter Kaasa @ 4:45 via submission [**]
~ PJ Black defeated Ethan Page @ 10:07 (total time) via pin [**]
~ EVOLVE Tag Team Title Tournament First Round Match: Roppongi Vice defeated Team Tremendous @ 15:32 via pin [***]
~ Style Battle Round Robin Tournament Match: Tracy Williams defeated Fred Yehi @ 14:55 via submission [**½]
~ EVOLVE Tag Team Title Tournament First Round Match: Chris Hero and Tommy End defeated Zack Sabre Jr and Sami Callihan@ 28:15 via [****½]
~ EVOLVE Tag Team Title Tournament First Round Match: Drew Galloway & Johnny Gargano defeated Drew Gulak & TJ Perkins @ 15:30 via pin [***]
– The show started at 9:01 PM ET.
– Evolve Champion timothy Thatcher, who will not be competing tonight due to a staph infection, is introduced and makes his way to the ring. Thatcher explains the situation, and is not happy that he has to sit out this weekend. He says he has some business to take care of when he returns, need to wrestle Davey Richards; he wants to face off with Chris Hero again and then will hunt down Catch Point (Gulak, Williams, Perkins and Riddle). The Premiere Athlete Brand (Caleb Konley & Anthony Nese with So Cal Val & Andrea) arrives and Konley rants about Thatcher ducking him. Nese says to stay focused because they will win the tag titles this weekend; Andrea stands off with Thatcher and talks trash. Thatcher again gets the mic and says the people don't want to hear them talk and says they need to start the tournament.
EVOLVE Tag Team Title Tournament First Round Match: Caleb Konley & Anthony Nese with So Cal Val & Andrea vs. Harlem & Lancelot Bravado: This is the return of the Bravado Brothers to the WWNLive family. They previously held the DGUSA Tag Titles for 302 days, losing them to the Premiere Athlete Brand. Solid back and forth to start, the Premiere Athlete Brand isolated Harlem after sending Lancelot to the floor. Lancelot would recover, leading to the Bravados fighting back and sending Konley to the floor. After a short floor brawl, Lancelot worked over Konley with uppercuts; Nese took out Harlem and the Premiere Athlete Brand finally got the heat on Lancelot. Konley did the slam to the corner on Lancelot, dumping him on his head, which had to suck. Harlem finally got the tag after a mediocre heat segment. The heat for most Premiere Athlete Brand matches tend to lack, and tonight was no different. Harlem ran wild for a bit, it broke down with all four involved, Harlem spiked Konley with a hangman's DDT and then sent Nese to the floor with a yakuza kick and then hit a dive onto him. The Bravados then hit a doomsday suicide dive spot, and thing were escalating nicely. The Bravados then got a near fall off of a double team cutter spot, as Nese made the save. Konley came back with a Merosault for a near fall. Konley got sent to the floor, Nese crashed and burnt on the 450, and the Bravados hit the Gentlemen's agreement for a near fall? Yeah, Nese kicked out. The Bravados then hit a Gory Special into a flatliner double team to pick up the win. The opening portion, the first half really was ok and had a definite drag factor. But things really picked up and they delivered a great second half and ended up getting the show off to a good start.
Joe Coleman vs. Jason Cade: These guys have impressed at recent tryouts and earned a match tonight. Cade is a highflier, Coleman is jacked up and carries around "Brotien" powder. Cade almost killed himself 34 seconds in as he hit a suicide dive, but overshot a bit and ate chairs. He then hit a big dive over the top, and again dove out into a DDT, which was delayed as Coleman held him for too long. Coleman fought back, hit a uranage and then did pushups while choking Cade. Coleman then hit a TKO and got another near fall. Cade then came back with knee strikes and a big boot, he then hit a top rope head and then the shooting star press and that was that. This had a huge "lets get out shit in" vibe to it. That's because it was short and both were trying to impress. Coleman looks good and has some charisma for sure, Cade looked impressive and I have heard a ton of good things about him.
Style Battle Round Robin Tournament Match: Matt Riddle w/Drew Gulak vs. Peter Kaasa: Riddle is a former MMA fighter, who used that along with a catch style for his work. Kaasa is a built like a brick shithouse, but has a ton of agility and can fly. Riddle tried to grapple and control early, but got sent to the floor and Kaasa hit the Fosbury flop. Back in the ring, Riddle tried to use ground and pound, but Kaasa countered with a triangle, only for Riddle to use the powerbomb as the counter. Riddle keeps adding in more traditional pro wrestling moves, using a sweet fisherman's buster for a near fall. Kaasa tried… something from the top, it was like a jacked up spiral tap with extra revolutions. It was a spectacular over shoot in the worst way. Riddle then got the heel hook, and Kaasa had to tap. It was very crisp and clean early, but that miss was bad. The good news is that both recovered well and they got to the ending without issue. Riddle keeps slowly improving and they aren't over exposing him in long matches. I wish that the big miss didn't; happen, because things were going well for them. There is a lot of upside with both guys.
PJ Black vs. Ethan Page: Ethan Page has been trying to redeem himself, and when Johnny Gargano would not accept his apology and offer to team in the tag tournament, Page asked for a series of matches to prove himself to the Evolve roster, management and fans. Black is the former Justin Gabriel. Really nice stuff early, Black controlled the match, but they had a good pacing that kept you interested in what they were doing. Black controlled for the first three minutes until Page hit the sack of shit slam. Page then worked as friendly heat segment, focusing on control and not falling back into his old heel ways. Black fought back and they traded a series of kicks, but Page spiked Black with a DDT for a near fall. Black came back with an O'Connor roll into a sitout powerbomb for a near fall. Black went up top, but Page rolled out of the way, and Black dropped to the mat and hit a corner splash. After some reversals Page kicked Black's face off with a big boot and then hit a SCARY looking powerbomb for 2. Black lands on the back of his neck and not his back there. Black countered the cutter, they then went into a slow series of counters, Black may be loopy from that powerbomb. They fought to the apron, Black with a high kick and another. Page finally countered and slammed Black to the apron. He then hit the cutter and the spinning Dwayne for the win; Black's foot was under the ropes. Page sees it after the decision and is not pleased to win that way. He addresses the crowd and apologizes to Black and says he cannot accept the victory. He needs to take from the good, and wants a restart because that's what Johnny Gargano would do. Black rolls up Page right away, Page kicks out, and then Black gets another roll up for the win. This was a solid match, it got slow down the stretch after that powerbomb, which is understandable but hurt the match. On the positive side, the Ethan Page story is being well done.
EVOLVE Tag Team Title Tournament First Round Match: Roppongi Vice (Trent Baretta & Rocky Romero) vs. Team Tremendous (Dan Barry & Bill Carr): Roppongi Vice are ROH and NJPW regulars, Team Tremendous are Beyond Wrestling regulars and made a good name in 2015, earning more attention and even scoring a look by PWG. Barry and Romero had a nice back and forth beginning, a little comedy involved, but not too much. Roppongi Vice started to work over Carr, who then fired up and that allowed Barry to hit a missile dropkick on both. He followed that with a suicide dive lionsault, scoring a near fall on Baretta. Baretta made his comeback, sending Barry to the floor, and Roppongi Vice took control of things. They worked a fine heat on Barry, it wasn't bad but I had a hard time getting into it. Baretta missed a moonsault, and Carr got the hot tag and ran through Roppongi Vice. Romero avoided the powerbomb and ht the forever clotheslines in the corner, but then Carr cut him off with a lariat and covered for 2. Romero avoided the Bossman slam; double knees by Roppongi Vice and Barry tagged back in and tried to keep control. Roppongi Vice took out Carr and hit a series of moves on Barry for a near fall. Barry continued to fight back, Carr returned and everyone ate superkicks leading to everyone being down. Baretta cut off Barry, hit a German and the running knee for a near fall. Carr hit the Bossman slam as Barry hit a version of the Spanish fly, and Team Tremendous got a double near fall. Roppongi Vice countered Book Em Danno, LOW BLOW by Baretta as Romero took the ref. Roppongi Vice hits Strong Zero and that is that. The match was good, but lacked something and felt as if it went a bit too long and that held it back from being possibly great. I did like Roppongi Vice having to resort to heel tactics; it gives them a new personality in Evolve, and protected Team Tremendous in loss.
– They took an intermission at this time. The show has been solid, but unspectacular so far.
Style Battle Round Robin Tournament Match: Tracy Williams vs. Fred Yehi: No Gulak with Williams. Yehi has been making a good name for his self in the southern independents, and previously got a shot with Evolve towards the end of last year on Evolve 51. Williams keeping the match in his wheelhouse early, working the grapplefuck, but Yehi is able to keep up and not fall into the trap. They then took to slapping the piss out of each other, and then Yehi tried to control with the basic grappling. Williams cut off Yehi, working grounded strikes and then into submission attempts. Yehi tried to fight back, but Williams hit a back breaker and a release German for a near fall. Williams delivered some chops, but Yehi got pissed off and they traded strikes, but Williams kept control and went back to working submissions. Yehi with a German and Fisherman's buster for a near fall, and then worked a neck crank. This match is fine in theory, and I really enjoy the grapplefuck style, but this is lacking something to keep my attention and really to really get me invested. They are working a hard-hitting match here, but its just there. Williams hit a shoulder breaker and then the crossface, Yehi made the ropes. They then again traded strikes, and Williams got a near fall off of a clothesline. Yehi then hit a rolling elbow for a near fall, and then a powerbomb for the same result. They are trying to build to a climax here, but the crowd isn't feeling it all that much and neither am I. After a difficult time on the ropes, Williams hit a brainbuster, a piledriver and then tapped him out with the crossface. This felt way too long, and like they were working too hard for an epic match, but I had a very difficult time getting into it and it felt off at times. Cut three to four minutes and let that intensity and fire come through and I feel this would have been much better, in my opinion.
– Here are the Style Battle standings after night one:
* Matt Riddle (1-0)
* Tracy Williams (1-0)
* Peter Kaasa (0-1)
* Fred Yehi (0-1)
– They mentioned that Gargano was working NXT tonight, and that he hasn't arrived yet. Galloway tried to call him but got his voice mail. He told him to drive as fast as he could and they'd all chip in for the speeding ticket. They are switching match order to accommodate.
EVOLVE Tag Team Title Tournament First Round Match: Sami Callihan & Zack Sabre Jr. vs. Chris Hero & Tommy End: Callihan is replacing Thatcher, due to his staph infection. Hero and ZSJ with the grappling to begin things, ZSJ controlled here, grounding Hero. Callihan in, wearing his hoodie, and working the side headlock on Hero. Hero fought back with a shoulder block and back splash, and End tagged in. End worked leg kicks, utilizing his striking, and Callihan had to take a powder. Callihan then tried to strike with End, which was a mistake as End started to just destroy him with kicks. Callihan eventually powered End to his corner, ZSJ tagged in and worked the technical grapplefuck with ease on End. ZSJ is so damn smooth and makes things look easy. They worked a great series of strike counters, End then just kicked him in the face, but ZSJ fought back, only to eat a kick by Hero. Hero in and just drops bombs on ZSJ. End in with kicks as they work the heat on ZSJ. Hero and End worked over ZSJ in the corner, and then Callihan ate a kick to the face. Hero and End are brutalizing their opponents here, keeping control on ZSJ and working very well as a team. Hero can be so spectacular as a dick, slapping and kicking ZSJ and telling him that "there is no Thatcher here to help you" as he beats on him. ZSJ eventually rolled into the hot tag, hit a delayed suplex on Hero and then forearms for a near fall. It broke down here, Callihan fighting off both Hero and End; he hit the face wash on hero and then End. Hero had no time for that bullshit and he and End hit a sick Suplex/knee strike combo for a near fall. Callihan kept fighting, ate a kick to the chest but then connected with the boot to the face. They fought up top, slaps by Callihan followed and then the sunset flip bomb was countered and End hit a knee strike and German for the near fall as ZSJ saved the match. He hit rolling elbows and then a Tiger Suplex on Hero, which looked like it sucked to take. Callihan then accidentally kicked ZSJ in the face, but they then fought together to hit a double team tombstone on End for a near fall. Then worked the arm of End with strikes, and rolled into the double armed submission but Hero started to kick ZSJ in the face, but he refused to break. Callihan in with a sleeper on Hero, End is almost broken in half, but Hero escaped to break that up. This is pretty damn great here. Hero worked over ZSJ with forearms and elbows, but End and Hero worked together and hit a version of total elimination for a near fall. Hero just bludgeoning ZSJ with strikes here, and then hits machinegun chops onto ZSJ. ZSJ back with the running uppercut, captures the leg and into a bridging pin combo for 2. Hero then spiked him with a piledriver, and both men were down. Hero then recovered and hit another piledriver. Hero hen took ZSJ to the corner, set him up top but Callihan made the save. He and End fight to the floor, back in and hits a powerbomb on Hero, suicide dive on End and ZSJ with the soccer kick to Hero for a near fall. Hero hit the ripcord elbow and ZSJ survived somehow. Hero called for End to come back in, but Callihan tried to stop him but End hit a moonsault to the floor onto Callihan. Gotch piledriver try by Hero, but ZSJ countered into a hanging guillotine and then into he kimura. Hero escapes, ZSJ gets the cross arm breaker; they fight and hero pulls him up and End in and hits a double stomp onto ZSJ. Elbow, high kick, and then a KO combo and ZSJ is finally done. Yeah, follow that, this was some insane shit. It lasted nearly 30-minutes and never felt like it to me. They worked a nice beginning, and then built and built and built and it was awesome. This had great wrestling, grappling, striking, violence and drama; it was an ass kicking adventure and I loved it. This was a great match, one of the best of the year so far, and exactly what the show needed.
EVOLVE Tag Team Title Tournament First Round Match: Drew Galloway & Johnny Gargano vs. Drew Gulak & TJ Perkins w/Riddle & Williams: Galloway says that Gargano is not here yet, so he can forfeit or he can go it alone. Ethan Page then arrives, and offers to be Galloway's partner for tonight. He offers to work tonight, and if they win, to step aside for Gargano when he returns. Galloway says that was sensible, but Page screwed over Gargano. Galloway tells Page to fuck off and to leave. Galloway then attacks Catchpoint and the match is on. Galloway just wrecking fools here as he fights on his own. They eventually brawled to the floor, where things went badly for Galloway. Catchpoint slowly broke down Galloway, working the heat and utilizing the numbers game. They tried to target the knees of Galloway, working knee bars and stump pullers and staying focused. Galloway tried to fight back, tossing Perkins onto Gulak. Catchpoint fired back with a series of rapid-fire strikes to maintain control. While Perkins worked the knees, Gulak worked the arm of Galloway as they tried to break him down. Catchpoint did little things well, like working the count to double team Galloway as much as possible. Galloway would get short spurts for hope spots, Catchpoint tried to work some poetry in motion but caught Perkins and powerbombed him onto Gulak. Gargano finally arrived and wanted the hot tag and got it. Gargano was the house of fire, hitting superkicks, spears and dives. He and Galloway looked to work together, Gulak in and we had a bit of miscommunication, but they all recovered well. It broke down with all four men in here, they did the all four guys down spot, and as things started back up Gargano was sent to the floor. When Gargano returned, Catchpoint had dueling ankle locks applied. Galloway and Gargano escaped, with Gargano and Perkins working to the floor. Gulak and Galloway in, Galloway hit the future shock DDT and then hit another but did not make the cover. He went for a third, but Gulak tried to fight back with strikes but there was nothing left so Galloway hit him with the claymore kick and another future shock DDT and that was it. This was an overall fun main event; weaving in the Page story with the "late arrival" of Gargano was a nice touch as Page continues to do the right thing but constantly gets the wrong end of it no matter what he does. Galloway, Perkins and Gulak worked a good opening stretch, and the match ended well (even with some rough spots) once Gargano arrived. The ending, to me, felt like the beginning of a write off for Gulak, who has been previously rumored as heading to NXT. We shall see as the weekend progresses.
– Post match Catchpoint checked on Gulak, and then they slowly left the ring, helping Gulak to the back.
– Hero & End, Galloway & Gargano, The Bravado Brothers, and Roppongi Vice and have all advanced in the tag title tournament.
* You can order Evolve on iPPV or VOD at this link.
* End scene.
* Thanks for reading.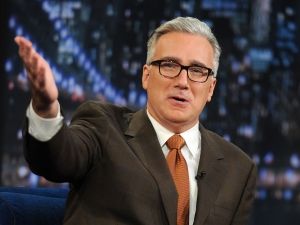 "Byyyyyyyyyyyyyyyyyyyyyye Felicia!"
7.0
The final score: review Good
The 411
Evolve 53 was a good start to 2016 for the company, while not a blow away show like the ones that finished 2015, it was a quality event. We had solid to good matches for the most part, a tremendous semi-main event. They also continued the Ethan Page angle well, and are possibly setting the stage for a Gulak exit/Catchpoint break up. They set the stage well enough on night one, now we wait to see if nights two and three can follow up and build off of it.
legend