Csonka's TNA One Night Only TNA World Cup 2015 Review
August 29, 2015 | Posted by
Csonka's TNA One Night Only TNA World Cup 2015 Review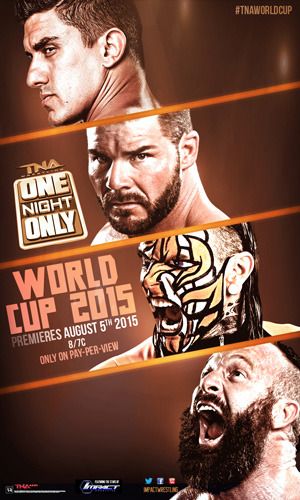 TNA One Night Only World Cup 2015
OFFICIAL RESULTS
– Team Roode's Austin Aries defeated Team Young's Bram @ 11:01 via pin [**½]
– Team Roode's Lashley defeated Team EC3's James Storm @ 7:16 via pin [**]
– Team EC3's The BroMans (Jessie Godderz and Robbie E) defeated Team Roode's Mr. Anderson and Magnus @ 5:35 via pin [*½]
– Team Hardy's Rockstar Spud and Davey Richards defeated Team Young's The Revolution (Abyss and Manik) @ 8:55 via pin [**¾]
– Team Young's Samuel Shaw defeated Team Hardy's Crazzy Steve @ 7:52 via [The Drizzling Fucking Shits]
– Hardcore Match: Team EC3's Awesome Kong defeated Team Young's Havok @ via 4:47 [*]
– Team EC3's Tyrus defeated Team Hardy's Gunner @ 5:02 via pin [½*]
– Team Hardy's Gail Kim defeated Team Roode's Taryn Terrell @ 8:05 via pin [**¾]
– Jeff Hardy defeated Eric Young, Ethan Carter III and Bobby Roode @ 7:55 via pin [**½]
– Elimination Match: Team Hardy (Jeff Hardy (captain), Gunner, Crazzy Steve, Rockstar Spud, Davey Richards and Gail Kim) defeated Team EC3 (Ethan Carter III (captain), James Storm, Jessie Godderz, Robbie E, Tyrus and Awesome Kong) @ 18:00 via pin [**]
---
* This was taped back on February 15th.
* Josh Mathews and Jeremy Borash are on commentary.
WASTING TIME: So they start off the show with the captains coming to the ring, and then basically have a fantasy football draft. This is how they did the show last year. This took up the first 27-minutes of the PPV, and was completely ridiculous. You've just nuked 30-minutes of match time, which likely means that these matches will be rushed through as they usually are. Here are the teams…
* So again, this isn't much of a world cup since it's just the TNA roster with no gusts. Just rename it the team challenge series
Team Roode's Austin Aries defeated Team Young's Bram: Aries controlled early, using his speed advantage. Bram would finally crotch him on the ropes and take control. Bram then worked WWE Developmental heat 101; chinlocks, hard whips to the corner, slow and repetitive offence that was executed fine but became tedious. Bram is really fun in his element (the hardcore/brawling stuff) but when it comes to a regular match, he tends to lack overall. He isn't bad; he does all of the basics well and has great aggression, but hasn't stepped up like many have hoped. Example, he had a perfectly solid, but at times boring match here with Aries. It's difficult to have a boring match with Aries, but he managed to have one here. This felt as if it lasted 30-minutes, listening to the same four guys chanting "Angry Jesus" for Bram as time seemingly stood still. Aries then got a rollup out of nowhere for the win. This was really solid, but never got going as it hit a level and stayed there; Aries was good here as always.
* EC3 cut a really fun promo with his team about winning the world cup. Maybe even better than his promo was Kong's reaction as she stood in the background.
Team Roode's Lashley defeated Team EC3's James Storm w/Not Khoya Anymore: Storm tried to use his experience and Khoya to take an advantage, but early on Lashley was able to overcome with his power game. Khoya eventually got involved when Lashley was about to use the spear, allowing Storm to get the heat. It didn't last long, as Storm opted to argue with the crowd a bit, and then missed a corner dropkick. That allowed Lashley to make the comeback. They had some back and forth, Khoya distracted Lashley AGAIN, but then Lashley just hit a spear and that was all. Too much bullshit with Khoya here, including a post match angle where Storm ran down Khoya for messing up. The match was solid, but never got out of second gear and the interference was just annoying and took away more then helped.
* Roode praises his team for taking the advantage early, and promised that this will be year of Team Roode.
Team EC3's The BroMans (Jessie Godderz and Robbie E) w/DJZ defeated Team Roode's Mr. Anderson and GFW's Nick Aldis (TAFKA Magnus): Anderson and Magnus controlled right away, working well together and using some solid double team moves. Jessie eventually got in a cheap shot, which allowed the BroMans to take control of the match. They worked a basic heat, not much to it really, and then Magnus fought off both men and scored the tag to Anderson. DJZ would get involved and distract Magnus and then hit a cheap shot on Anderson, allowing a roll up win for the BroMans. Overall there wasn't a lot to this, and this was the second match in a row with interference that again took way from the match. This wasn't very good.
* Eric Young cut a promo with his team, noting that they were together to hurt people. He won the world cup before and will do it once again.
Team Hardy's Rockstar Spud and Davey Richards defeated Team Young's The Revolution (Abyss and Manik) : Richards and Manik had some nice exchanges here, which was expected. Crowd was also pretty hot here at times, chanting for Spud and wanting the little guy to do well. Spud's not a great wrestler when it comes to the technical side (he's not bad either), but his character really work is good and he works it so well that he elicits some very good crowd reactions. Anyway, the Revolution took control and things slowed down as they worked the heat. Lots of Abyss waking around, yelling and clubbing away at Spud; Manik's stuff was better, more moving parts and got the crowd into things more. Richards and Manik did more nice things down the stretch, Abyss looks so slow these days but thankfully everyone else was moving around so much that it didn't hurt the match. Spud hit the underdog and Richards hit the double stomp and that was all. That was a fun match overall, with a good crowd as well. Spud and Richards worked well together, and Manik was really good; although he continues to be underutilized in the company.
* Jeff hardy cut a promo, he thinks he's Captain Morgan. Drink better booze son.
Team Young's Samuel Shaw defeated Team Hardy's Crazzy Steve: So, Crazzy Steve came to the ring with one of those monkey toys with the cymbals, but this one looked as if it came out of the Nightmare before Christmas. Shaw proceeded to smell Steve, Steve would honk his horn at him as he ware this monkey around his neck. This was the first minute and thirty seconds. Shaw attacked, and then slithered towards the creepy monkey toy. Then they both slithered around the ring and went face to face, fighting over a FUCKING MONKEY TOY. They played hot potato with the Monkey, the ref joined in for that. Shaw would scream like he was being tortured and choke out Steve, and then slither around like a snake and chase the ref. Shaw continued to do really bad punches and scream as the crowd got silent, because they had no clue as to what they were watching. I know what you're thinking, I am typing way too much about this, but when something this bad occurs in wrestling, it needs to be discussed in as much detail as possible. Shaw got the heat (just a term, there was none) and once again got the monkey. He missed a leg drop and still held onto the monkey as Steve made his comeback on both Shaw and the Monkey. Steve somehow nearly missed a stationary Shaw with a corner cannonball. Shaw low blowed Steve after the ref took the monkey away and won the match. This was like that One Night Only PPV where the rubber chicken was the most over member of the roster, except the monkey wasn't over, so it was just shit. I am not even sure this was in that so bad it's good territory, but it sucked.
Hardcore Match: Team EC3's Awesome Kong defeated Team Young's Havok: So Havok comes to the ring with a trashcan of weapons, Kong walks out with a single pipe the size of a Donatello staff. They brawled on the floor and then into the ring, using trashcan lids and other assorted weapons from the Hardcore Champion collection of the late 90s. During this match Josh Mathews decided to discuss having watcher infused with fruit, because he sucks. So after a few minutes of action, Havok brought in a ladder and Kong chokeslammed her on it for the win. I thought they were actually building to a match, and then it just ended The Kong vs. Havok encounters have been extremely disappointing overall.
Team EC3's Tyrus defeated Team Hardy's Gunner: I really like Gunner and feel that TNA completely dropped the ball with the guy. Tyrus took over almost immediately, attacking the back and slowly worked him over and even busted out the bear hug to send this to a grinding halt. This shit was so boring that Borash and Mathews discussed like, 50 of the people that Tyrus was a bodyguard for. Gunner escaped, shook it off and then ran wild and slammed Tyrus with ease. I mean, fuck the last few minutes of work on the back. Tyrus hit a corner splash and then the Asiatic spike and that was all. That was a LOOOOOOOOOOOOOOOONG five minutes, in the worst way possible. I mean, Tyrus worked the back, they did a 90-second bear hug spot, and then they just ignored it as Gunner ran wild.
Team Hardy's Gail Kim defeated Team Roode's Taryn Terrell: They worked a nice beginning, a lot of back and forth to call back on their previous matches and pinning combos to get the crowd into it. They did a double down spot on the apron and rolled to the floor, which led to Kim's figure four on the post. This largely led to nothing, because Kim didn't work the leg and Terrell didn't sell it either. Kim controlled until Terrell sidestepped her, and Kim missed her cross body and flew to the floor. Terrell hit a high cross off of the apron, and we had some more brawling on the floor. Once back in the ring, they really picked up the pace and had some good back and forth action. They both countered each other's finishers, and Kim won when he countered the cutter into a roll up. They worked really hard, had a good crowd and this was fun. Overall it was one of the most enjoyable matches on the show, but was hurt by the fact that they looked to work the leg and then both completely ignored it, which made no sense. If you're going to take the time to set it up, follow up with it.
Jeff Hardy defeated Eric Young, Ethan Carter III and Bobby Roode: Team Young has already been mathematically eliminated. Team EC3 has clinched a spot in the finals. Carter and Young ended up working together, Carter got busted open in the early minutes and snapped and beat the hell out of Hardy. Carter and Young would of course not last as a duo, because they both wanted to win, and that allowed Roode to return and run wild for a bit. This felt like a house show main event or dark match segment. You have four of the company's stars, they work at a safe pace, hit some signature shit and then the big babyface star wins to make everyone happy. This was a perfectly fine match, but it had no real emotion or near falls to tease that anyone other than Jeff Hardy was winning. The moves were fine, but there was no real drama here.
Team Hardy (Jeff Hardy (captain), Gunner, Crazzy Steve, Rockstar Spud, Davey Richards and Gail Kim) defeated Team EC3 (Ethan Carter III (captain), James Storm, Jessie Godderz, Robbie E, Tyrus and Awesome Kong): EC3's head is all taped up and he wrote "HARDY" on the tape, to show he wants revenge for the previous match. Prior to the match Storm handed Khoya a weapon of some sort, the old international object. This started really slow, lots of in and out and not a ton of action really. Tyrus finally hit his finish and pinned Steve. Kong and Kim they battled for a bit, went to the floor and were both counted out and disappeared. Richards then pinned Robbie E quickly after that. Spud then eliminated Jessie, and then seconds later Tyrus submitted Spud, and Hardy then immediately rolled up Tyrus. EC3 got the weapon form Khoya and nailed Richards, and eliminated him. Seconds after Storm eliminated Gunner. It came down to EC3 and Storm vs. Hardy. C3 then got disqualified after hitting Hardy with his arm brace, leaving Storm and Hardy. Hardy survived and pinned Storm, surviving interference from Khoya. Say what you will about the WWE's booking, and I do, but they have a habit of putting on really fun multi-man matches. This was the opposite of that, it was lazily worked and executed and felt extremely flat. They had pairs in there (EC3 & Spud, Gunner and Storm) that they could have revisited and explored, but just didn't. This was a poorly laid out and executed main event match overall, with a few bright spots that saved it from being shit.
* Team Hardy celebrated.
* The PPV was 2-hours and 40-minutes long, ending early as usual.
* End scene.
* Thanks for reading.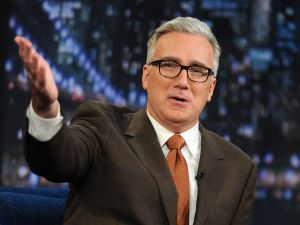 "Byyyyyyyyyyyyyyyyyyyyyye Felicia!"
3.0
The final score: review Bad
The 411
This was not a good show. The wrestling was largely below average with one atrocious outing, and nothing to get you really excited about. It's a shame, because there was a lot of talent on the show, but there is nothing here I'd even consider going back to watch. This just felt like a show that they were forced to tape, a lifeless show with nothing of value on it. Avoid this one for sure.
legend