Csonka's WWE Raw Review 02.05.18
February 5, 2018 | Posted by
Csonka's WWE Raw Review 02.05.18
Csonka's WWE Raw Review 02.05.18
OFFICIAL RESULTS
– Elimination Chamber Qualifier: Roman Reigns defeated Bray Wyatt @ 14:50 via pin [***]
– Finn Balor & Karl Anderson defeated Dash Wilder & Scott Dawson @ 8:00 via pin [**½]
– Cedric Alexander & Mustafa Ali defeated Drew Gulak & Tony Nese 4:18 via pin [**½]
– Asuka defeated Bayley @ 11:16 via submission [***¼]
– Elimination Chamber Qualifier: The Miz defeated Apollo Crews @ 5:30 via pin [**¾]
– Tag Team Title Match: Champions The Bar defeated Seth Rollins & Roman Reigns @ 13:40 via DQ [***½]
– Nia Jax defeated Vanessa Floyd @ 1:20 via pin [NR]
– Mickie James defeated Sonya Deville @ 3:37 via pin [**]
– Winner Enters The Chamber Match Last: Elias defeated John Cena, and Braun Strowman @ 9:51 via pin [**½]
---
– Follow all of my reviews at this link.
– Bray Wyatt monologues about his match with Roman Reigns tonight, reminding us all about Reigns' recent failures. Reigns says he isn't a failure, because he's on a great journey.
Elimination Chamber Qualifier: Roman Reigns vs. Bray Wyatt: They open up with some back and forth, and then Reigns over powering Wyatt. Reigns then misses a charge and posts himself. Big people in wrestling need to stop running; it always ends up badly for them. Matt Hardy watches on from backstage as Wyatt grounds the action. Reigns quickly escapes, hitting clotheslines and Wyatt bails to the floor. Reigns follows, but Wyatt cuts of the drive by kick and sends Reigns to the steps for the convenient commercial break. Post break, and Wyatt has things grounded again. Reigns escapes and follows with corner clotheslines, Wyatt cuts him off and hits the running cross body, covering for 2. Reigns fights off a superplex, lays in head butts, and hits the sitout powerbomb for 2. Wyatt counties the Superman punch with a uranage and senton, and that gets a good near fall. Reigns counters sister Abigail into a roll up for 2. The Superman punch follows for 2. Wyatt cuts off the spear, hits sister Abigail but Reigns kicks out. Wyatt sits along the ropes, looking like he's tweeking for the good stuff, the stuff that helps him write his promos. Reigns fights off a second sister Abigail, hits the spear and wins. Roman Reigns defeated Bray Wyatt @ 14:50 via pin [***] Despite the fact that the decision was never in doubt, they had a good match and it was completely refreshing to have Raw open with, you know, wrestling.
– Post match, Matt arrives and lays out Wyatt with the twist of fate.
– Roman Reigns joins Elias, Cena, and Strowman in the chamber match.
– Rollins meets with Jordan, and asks him about his injuries, because this is their last shot at the titles. Jordan claims he's 100% and ready to go.
– The Revival arrive, and want a tag team match because they are tag team specialists.
Finn Balor & Karl Anderson w/Gallows vs. Dash Wilder & Scott Dawson: Anderson in to begin, he and Dawson work some back and forth until he hits hip tosses. Anderson &Balor clear the ring. Post break, and the Revival are working the heat on Balor, working the arm. They work quick tags, isolating Balor. Balor manages to fight back, hitting the standing double stomp. Anderson gets the hot tag, running wild and hitting the neck breaker off the ropes. The spinebuster follows for 2. Balor in and Anderson hits a dive to the floor. Sling blade and dropkick by Balor, and the double stomp finishes it. Finn Balor & Karl Anderson defeated Dash Wilder & Scott Dawson @ 8:00 via pin [**½] This was a perfectly solid and fun little tag match. Balor & Anderson looked like they were having so much fun working together. But the problem is that you have the Revival claim to be tag team specialists, and then lose to a non-regular tag team.
– Sasha Banks is watching her loss to Asuka last week, and she's a sad panda. Bayley arrives and says she's being too hard on herself. Banks says she was close and knows she can beat Asuka. They talk about Banks eliminating Bayley at the Rumble, and both say they plan to win the chamber and beating Asuka. Things continue to get chippy as they work the banks heel turn, which feels like it has to be coming sooner rather than later. Or it's a big swerve and Bayley turns.
"I know I can beat YOU, and if YOU'RE good enough to beat @WWEAsuka…so am I!" – @itsBayleyWWE to @SashaBanksWWE #RAW pic.twitter.com/1nyqQ1jOxc

— WWE Universe (@WWEUniverse) February 6, 2018
Cedric Alexander & Mustafa Ali vs. Drew Gulak & Tony Nese: Drake Maverick is on commentary, hyping 205 Live and the cruiserweight title tournament. Ali & Alexander dominate early, until Nese stuns Alexander off the ropes. Quick tags follow as the heels take control, working double teams. Alexander manages to fight them off, tagging in Ali, who runs wild. Alexander then wipes out Nese with a dive as Gulak hits the lariat on Ali. Alexander gets the tag, flies in with the clothesline and then hits the lumbar check for the win. Cedric Alexander & Mustafa Ali defeated Drew Gulak & Tony Nese 4:18 via pin [**½] They didn't get a ton of time, but they made the most of it. The match was solid overall, fun, and Maverick did well on commentary in selling 205 Live.
Kurt Angle Announces The Women's Elimination Chamber Match Participants: Angle make his way to the ring. He puts over the women's rumble and hypes the first ever women's elimination chamber match. The participants are Champion Alexa Bliss, Bayley, Mandy Rose, Mickie James, Sonya Deville, and Sasha Banks. I'm surprised Mickie got in over Nia. But Angle reveals that Nia will face Asuka at elimination chamber, and If Nia wins, she'll get added to the women's title match with Asuka. Bliss doesn't thin kit's fair that she has to defend her title while Brock doesn't. She has a point. Angle says she hasn't defended since October. She accuses Angle of being sexist, but Angle decided to poll the fans, and they support Angle as Bliss walks off.
The field is SET…@AlexaBliss_WWE will defend her #RAW #WomensTitle against @itsBayleyWWE @WWE_MandyRose @MickieJames @SonyaDevilleWWE & @SashaBanksWWE in the first-ever Women's Elimination Chamber match! pic.twitter.com/mSl3iginJL

— WWE (@WWE) February 6, 2018
– John Cena cuts a promo on the elimination chamber match. He has a plan, he got into chamber, will win tonight to enter the chamber last, and then win the chamber to get to Mania.
– We get a black history month video.
Asuka vs. Bayley: Asuka works leg kicks as commentary comments on Bayley never beating Asuka in NXT, Coach makes sure to mention that NXT isn't the big stage of WWE. Shut up asshole. Asuka follows with strikes, and they go to the mat. Bayley looks to ground things and avoid the strikes, but Asuka escapes and lays in kicks. Bayley then sends Asuka to the floor. She follows with a RANA, backing and Bayley catches her with the ass attack, sending her to the floor. Asuka follows and Bayley slams her to the barricade. Post break, and Bayley has things grounded. Asuka escapes, but Bayley cuts her off with a Saito suplex for 2. Bayley lays in strikes and then grounds things again, working the back. Asuka back to her feet and hits a pop up knee strike and follows with kicks. The sliding knee follows for 2. Asuka up top, misses the high cross and Bayley hits a running kick for 2. Bayley hits the cutter in the ropes and sends Asuka to the floor. Bayley looks to attack, but runs into a knee strike. Back in and Asuka covers for 2. Asuka follows with kicks, but Bayley counters into a cradle for 2. Asuka counters Bayley to belly, looks for the Asuka lock, but Bayley counters Hart/Austin style into a near fall. Asuka locks in the arm bar, and Bayley has to tap. Asuka defeated Bayley @ 11:16 via submission [***¼] This was a good back and forth match, Bayley looked good and was more than competitive before taking the loss. Asuka has delivered well in back to back weeks hereon Raw.
– Post match, Asuka offers a handshake, and Bayley accepts.
– Miz cuts a pre-match promo, claiming that 2018 is the year of the Miz. He puts himself over for besting Reigns two times in a row and taking back his IC Title. He also claims to be the inspiration for the eagles winning the Super Bowl. He will win tonight to get into the chamber for a chance to face Lesnar at Mania.
Elimination Qualifying Match: The Miz w/Dallas vs. Apollo Crews w/Titus & Dana: This match is oh so fucking important that it's joined in progress. Crews runs wild, picking up near falls until Miz stuns him off the ropes. Crews hits a dropkick, covering again for 2. The press slam follows, but Miz counters the standing moonsault with knees and rolls up Crews for 2. Crews hits the running kick and clothesline, and the enziguri follows for 2. Miz tries to fire up but eats a belly to belly and the Uhaa combination (standing moonsault & shooting star press) for 2. Crews picks up another near fall, but Miz crotches him on the ropes and hits the skull crushing finale for 2. The Miz defeated Apollo Crews @ 5:30 via pin [**¾] While the finish is what we all expected, this was a pretty good little spring with Crews getting a lot in and showing more of what he is capable of.
– The Miz joins Roman Reigns, Elias, Cena, and Strowman in the chamber match.
– Jason Jordan is out of tonight's tag title match. Reigns will partner with Rollins now.
When one door closes, another one opens… Believe that.#RAW @WWERollins @WWERomanReigns @JasonJordanJJ @RealKurtAngle pic.twitter.com/oDY62o3yrQ

— WWE (@WWE) February 6, 2018
Tag Team Title Match: Champions The Bar (Sheamus & Cesaro) vs. Seth Rollins & Roman Reigns: Rollins & Sheamus begin. Sheamus works the power game, but Rollins picks up the pace and Cesaro tags in. They work some back and forth, Cesaro lays in knees and strikes, and the champions then work quick tags. Reigns in and double teams on Cesaro follow. The challengers work quick tags and double teams, they then dump Sheamus. Rollins' suicide dive is cut off by Sheamus, and Reigns gets sent to the barricade. Post break, and the champions are working the heat on Reigns, working quick tags and isolating him in their corner. More double teams and a Cesaro pop up uppercut gets 2. Sheamus takes Rollins to the floor, allowing Cesaro to roll up reigns for 2. More double teams follow on Reigns, but he kicks out at 2. Reigns manages to hit a desperation Samoan drop but Sheamus cuts off the tag, but eats a superman punch. Jordan arrives to seemingly support Rollins. Rollins gets the hot tag, runs wild, hitting the blockbuster sand suicide dive. He sends Cesaro into the crowd with a suicide dive. Back in and sling blade scores for a near fall. Cesaro counters the curb stomp, but Rollins hits a suplex and rolls through, doing the deal with the falcon arrow for 2. Jordan trips up Cesaro allowing Rollins to roll him up for 2. Reigns tells Jordan to leave, Rollins hits the ripcord knee and superkick. Reigns tags in, and the Bar looks to bail. Jordan stops them and attacks, and that's a DQ. Champions The Bar defeated Seth Rollins & Roman Reigns @ 13:40 via DQ [***½] This was a very good and fun tag match, they worked really well together, and while the ending was flat, it plays well into Jordan's character arc.
– Jordan & Rollins argue backstage. Angle tells Jordan to go home and stay home until he's cleared.
Nia Jax vs. Vanessa Floyd: Jax toys with Floyd a bit, Floyd ties to fire up and hits a dropkick, but Jax just runs her over. Jax then tosses her around, and hits a press slam and leg drop. That's that. Nia Jax defeated Vanessa Floyd @ 1:20 via pin [NR] That was exactly what it needed to be.
– Post match, Jax says she doesn't fear Asuka and is the only one that can beat her. Well, you didn't back on the January 15th Raw, that's for sure.
Sonya Deville vs. Mickie James: Paige & Rose are at ringside. Deville looks to ground the action early, but James makes the ropes. James slaps Deville and they trade strikes. James is all fired up here. James follows with knee strikes and covers for 2. Rose distracts jams and that allows Deville to attack with knee strikes. She follows with kicks, and covers for 2. Deville hits another knee strike, again covering for 2. James gets a roll up out of nowhere and wins. Mickie James defeated Sonya Deville @ 3:37 via pin [**] That was a fun and hard-hitting match, with a horribly flat ending. Who ever laid that out should be ashamed. That wasn't even a desperation roll up, that was Deville dominating, pausing, and then a roll up because it felt like they didn't know where to go from there.
– Post match, Absolution betas down James, but Alexa Bliss arrives and helps James to the back, James is completely confused as Bliss tries to re-start their friendship ahead of the chamber.
– Next week, Balor, Hardy, Crews, & Wyatt face off in a second chance match to get into the elimination chamber match.
– Elias plays a tune and talks about winning the chamber and going onto Mania. He also reveals that he turned down the Super Bowl halftime show to be here tonight. He then sings us a tune.
Winner Enters The Chamber Match Last: John Cena vs. Elias vs. Braun Strowman: This whole thing feels unfair to Miz & Reigns. Elias bails, Braun takes down Cena, commercial. Post break, and Braun chases Elias. Cena tries to pick up Braun, but falls. Elias is back in and quickly gets dumped by Braun. Braun controls until Elias & Cena work together, dumping him to the floor and posting Braun a few times. They then slam Braun to the steps. Cena picks up the steps and attacks Braun. Elias breaks the guitar on Braun, and Cena hits an AA onto the steps. Elias attacks, rolling Cena back in and covering for 2. Elias hits the back breaker, covering for 2. Cena fires up, hitting shoulder tackles and the proto bomb. Braun back in and cuts off the five knuckle shuffle, powerslams Cena, but Elias dumps him and Elias steals the pin. Elias defeated John Cena, and Braun Strowman @ 9:51 via pin [**½] This was a perfectly solid match, nothing special, but some fun spots and I believe the right guy winning to earn the final spot in the chamber.
– Post match and Braun delivers more powerslams. He then plays to the crowd and more powerslams follow.
– End scene.
– Thanks for reading.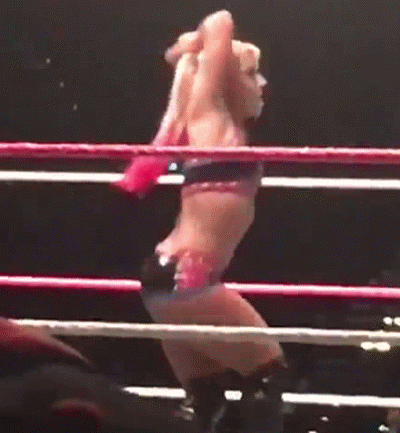 ~GLORIOUS~
6.2
The final score: review Average
The 411
Tonight's episode of WWE Raw was a rock-solid show, focusing on the build to the Elimination Chamber PPV, cutting way down on filler, and also delivering some good wrestling.
legend