Csonka's WWE Smackdown Review 2.27.18
February 27, 2018 | Posted by
Csonka's WWE Smackdown Review 2.27.18
Csonka's WWE Smackdown Review 2.27.18
OFFICIAL RESULTS
– Baron Corbin defeated Sami Zayn @ 9:45 via pin [**]
– Ruby Riott defeated Naomi @ 6:50 via pin [*]
– Shinsuke Nakamura defeated Aiden English @ 6:20 via pin [**¼]
– Non-Title Match: John Cena defeated Champion AJ Styles @ 21:50 via pin [***½]
---
– Follow all of my reviews at this link.
Desperate John Cena Searches For a GPS Coordinate to WrestleMania: He's here to find his road to WrestleMania. He wants in on the five-way at Fastlane. He says he's not here for a handout, but just walked in and asked to be put into a title match. He then claims he'll earn his shot, and Shane arrives. Shane dances around a bit and welcomes Cena back. Shane then says Cena is putting himself right into the WWE title picture, and Cena thinks this is a great idea. We get Rusev Day chants now. Shane says if Cena wins the WWE title, he'd be a history making 17-time champion. Bryan now arrives to argue with Shane as always. Bryan agrees with Shane that Smackdown is the land of opportunity. So Bryan will give Cena an opportunity. If Cena wins tonight's main event, he's in at Fastlane. Cena faces AJ Styles in that match. This Cena angle just isn't doing it for me, it lacks believability and while Cena is trying, there is no real reason to emotionally invest. Like this billion dollar company s going to leave their biggest star over the last 10-years off the show while he's still active? At least we got to see Styles vs. Cena, which depending on how they play things could be great. Although Sami, Kevin, Corbin, & Ziggler should all kick his ass and stop him from trying to ruin their chances.
Baron Corbin vs. Sami Zayn: Corbin overpowers Sami to begin. They work to the floor, and Sami takes control until they work back into the ring and Corbin sends him back to the floor. Sami manages to send Corbin over the barricade as Shane & Bryan argue backstage, taking away from the match. We go screen in screen, and Sami looks to ground Corbin back in the ring. Corbin starts firing back, and hits a suplex. Sami immediately cuts him off with rights, and follows with a high cross for 2. Back to full screen, and Sami maintains control to Rusev day Chants. Shane & Bryan banter some more and Corbin cuts off Sami with the choke breaker. Hits the bossman lariat for 2. Sami scores with a jawbreaker and dumps Corbin. But Corbin catches the plancha ad tosses Sami onto the announce table. Back in and Sami gets a roll up for 2. The tornado DDT follows for another 2. Ziggler arrives and superkicks Kevin, distracting Sami and allowing Corbin to hit end of days for the win. Baron Corbin defeated Sami Zayn @ 9:45 via pin [**] This was only ok, as it was impossible to focus on the match with all of the extra bullshit going on. The match was, unfortunately, never the focus here and Corbin's win was a complete afterthought.
– Ziggler lays out Corbin post match with zigzag.
– Shane & Bryan banter some more and Bryan decides to go home.
– Sami & Kevin complain to Shane, and Shane doesn't care. He tells them to catch-up with Bryan because Brie hates when they are late for dinner.
Ruby Riott vs. Naomi: Logan & Liv are at ringside, as are Charlotte & Becky. They brawl at the bell, Naomi then rubs her ass in Ruby's face and sends her to the floor. All six have a stand off on the floor. Post break, and Ruby is in control back in the ring and grounding the action. Carmella is shown backstage. Naomi starts to fight back and they end up in a double down. Naomi now fires up and hits a disaster kick for 2. Ruby counters the rear view, follows with a kick but Naomi cuts her off, but Ruby counters the bulldog. The Riott kick finishes it. Ruby Riott defeated Naomi @ 6:50 via pin [*] This was a complete nothing of a match, with some poor chemistry on display and a poor layout. The only good thing here was Riott winning to maintain momentum ahead of her title shot.
– Josh Duhamel meets with the Fashion Police, hyping tonight's debut of the Tupac & Biggie special. New Day is also there. It was a segment that happened.
The star of @UnsolvedUSA, @joshduhamel, crosses paths with a couple of guys who solve EVERY case… @MmmGorgeous & @WWEFandango! #SDLive pic.twitter.com/bTB48Kx9Un

— WWE (@WWE) February 28, 2018
New Day Meet With The Usos Ahead of Fastlane: New Day talks about looking to lock in a spot on Mania, but to do that, they have to face their toughest rivals, the Usos. Kofi sprays water on Big E's crotch a few times, because humor. They respect the Usos, but at Fastlane, this is about winning. And when they win they will party in New Orleans. The Usos arrive and talk about thier feud and say that they were the ones left standing tall. They haven't looked back since. They used to be just like the New Day, until they went to the next level in reality. They proved that they belonged, and belonged at Mania. But year after year they have been passed over, no Mania main cards for them. But this year is their time. They will run through New Day at Fastlane, proving that they belong and are the top, while New Day will be left on the sidelines. They are the future, while New Day is in the past. Big E says they didn't get here because of their daddys. They took what they wanted, set the one and set records. At Fastlane, they become 5 time tag team champions. The Bludgeon Brothers arrive. The Usos & New Day bail. This was really good stuff from the Usos and New Day, setting the tone well for Fastlane and making you care about their match.
– Shane meets with Rusev & English. Shane says English will face Nakamura tonight.
– Roode cuts a promo on his Fastlane match with Orton, and praises him, and then takes a shot at Orton's ranking on the Smackdown top 10. Orton arrives and says it's all about winning the US title.
– English sings his own introduction to chants of Rusev Day,
Shinsuke Nakamura vs. Aiden English: English attacks, but Nakamura quickly fights back. he follows with knee strikes, and English bails to the floor. Nakamura follows and rolls English back in but Rusev attacks Nakamura and lays him out with a head kick. We go screen in screen, as English takes control and grounds the action back in the ring. English then beats on Nakamura in the corner. Back to full screen, and English sets Nakamura up top. Rusev distracts him, allowing English to hit a spinebuster for 2. English charges, countered but Nakamura misses the knee strike. English follows with a high cross but Nakamura rolls out and fires up with strikes and kicks. Knee strikes and Kinshasa follows and that's that. Shinsuke Nakamura defeated Aiden English @ 6:20 via pin [**¼] This was an ok match with a lively crowd. It's nice of the Road Dogg to remember that Nakamura won the Rumble and is on the roster, but with all due respect to English, Nakamura shouldn't be working 50-50 with him right now.
– Nakamura stares down Cena post match…
Eyes are firmly on the prize for @JohnCena…

He battles @WWE Champion @AJStylesOrg NEXT on #SDLive! pic.twitter.com/eT2CusFumR

— WWE (@WWE) February 28, 2018
Champion AJ Styles vs. John Cena: If Cena wins he's added to the WWE Title match at Fastlane. Cena takes control right away, grounding the action and going for early pins. It's all Cena early, showing some desperation as he continues to try and finish this as soon as possible. Styles looks to fight back, but Cena cuts him off with a rough looking tornado DDT. Post break, and Cena hits the proto bomb and shuffle. Styles fights off the AA and connects with an ushigoroshi for 2. Cena battles back, slamming Styles to the corner and following with a TKO for 2. Cena now takes Styles up top and follows, but Styles escapes and hits the rack bomb for a good near fall. Styles looks for the clash, but Cena counters out into an electric chair face buster for 2. Cena is fired up now, demanding Styles get up and levels him with a lariat, covering for 2. Cena then runs into an enziguri. Post break, and both men are down. Styles hit the clash during the break, poor layout there. Cena also hit an AA during the break, shame we didn't see it live. Styles now hits a clothesline for 2. Styles misses a lionsault and Cena hits a code red for 2. The STF follows. Styles fights, and counters into a pin for 2. Cena misses a charge and Styles follows with a springboard forearm and that gets a great near fall. Styles now heads to the apron and goes springboard 450, but eats knees. The AA follows, Cena rolls into another but Styles rolls to the floor Cena follows and gets sent to the steps. Styles breaks the count and Cena hits an AA through the announce table. Cena rolls back in, Styles struggles but beats the count. Cena can't believe it, Styles counters the AA into a calf crusher. Cena fights, he stares at the Mania sign and counters up into an AA and wins. John Cena defeated Champion AJ Styles @ 21:50 via pin [***½] While I am not a fan of adding another person to the Fastlane main event, this was a very good main event and one of the few good things on the show. These two guys work very well with each other, and while far from a classic, it was very good and enjoyable.
– All of the Fastlane competitors hit the ring for the big brawl. I say we get a 6-man tag next week; Cena stands tall.
– End Scene.
– Thanks for reading.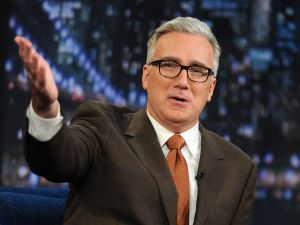 "Byyyyyyyyyyyyyyyyyyyyyye Felicia!"
6.0
The final score: review Average
The 411
This week's episode of WWE Smackdown was a mixed bag, with some really rough stuff, but the main event & Usos/New Day segment being the must-see stuff. It was fine.
legend