The Chrononaut Chronicles: Clash of the Champions VIII
October 18, 2011 | Posted by
The Chrononaut Chronicles: Clash of the Champions VIII

Thanks to the infinitely talented Kyle Morton for the logo. Check out his Etsy account, where he does custom artwork and commissions… you'll be glad you did!
The Chrononaut Chronicles
NWA Clash of the Champions VIII: Fall Brawl '89 – September 12, 1989
– Flashback to July's Great American Bash 1989 as Terry Funk and The Great Muta, directed by their manager Gary Hart, assault Ric Flair following his successful World Title defense against the Funker. Funk and Muta prepare a spike piledriver on a chair as WCW Head of Security Doug Dillinger tries to intervene, but Muta disposes of him. The rabid crowd chants "We Want Sting" until the Stinger himself runs out to make the save before the dastardly heels can piledrive the Nature Boy. As a result, former rivals Flair & Sting will unite tonight to battle Funk & Muta in the main event of the eighth Clash of the Champions: Fall Brawl '89!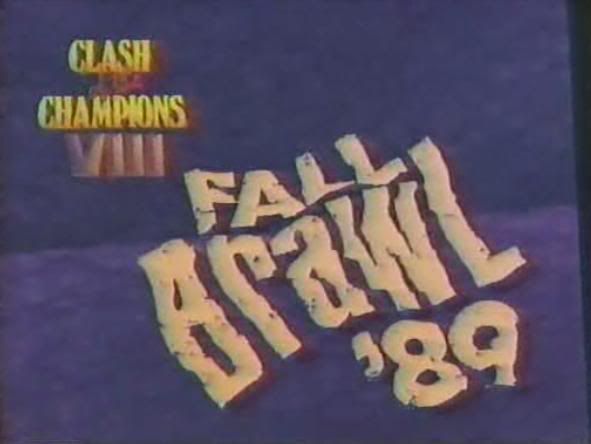 – LIVE from the Carolina Coliseum in Columbia, South Carolina! Jim Ross and Jim Cornette, another of my all-time favorite combinations, are on commentary and they mention that some unspecified rumors about Gary Hart's camp have been floating around the locker room.
– Gordon Solie interviews Gary Hart backstage. Hart denies there are any problems within his J-Tex Corporation, but he claims that there will be a problem in the main event for Ric Flair & Sting.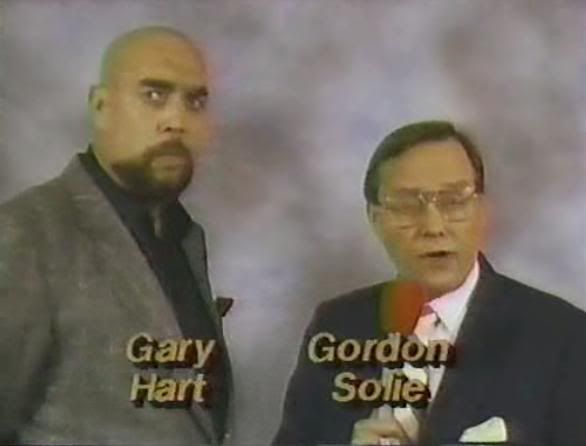 The Dean of Wrestling meets the Sid Haig of wrestling.
– The Samoan Swat Team (Samu & Fatu w/Paul E. Dangerously) vs. The Road Warriors (Hawk & Animal w/Paul Ellering)
Paul E. Dangerously performs the introductions for his Samoan Swat Team and works in a reference to Jim Bakker's trial, which must seem like a foreign language to anyone under the age of 20. These two teams had been feuding for a few months, as the SST cost the Road Warriors their first-round match in the World Tag Team Title tournament and the Roadies exacted a measure of revenge at our last Clash when they caused the SST to lose their semi-final bout to The Midnight Express. Big-time hoss-style showdown here with power against power, as Animal eats a thrust kick from Fatu, but comes back with a powerslam on Fatu and a clothesline for Samu. The Legion of Doom hold the advantage until Hawk misses a charge in the corner and sails out to the floor. Samu atomic-drops Hawk's groin on the guardrail and the Samoans punish him in the ring with quick tags and double-teams, but Hawk will not stay down. Fatu dives off the top turnbuckle, but Hawk gets the boot up and makes the hot tag. Animal explodes on the Samoans and it's chaos as Fatu brings in Dangerously's phone, but Hawk knocks it out to the floor. Ellering tosses the phone back in and Hawk clocks Fatu with it before the LOD trigger the Doomsday Device and Hawk pins him at 6:46. The camera misses Ellering punching out Dangerously, but we do see him stomp the phone into pieces. After the Warriors and Ellering leave, the SST blame Paul E. for the loss and exit without him. *** A good ol' fashioned tag team slobberknocker to blow off the feud with a post-match angle to split up Paul E. and the Samoans.
– The Cuban Assassin vs. The Z-Man
Entering to Danny Elfman's iconic Batman score, The Z-Man is Tom Zenk as he makes his NWA debut following a run in the AWA after leaving the WWF in 1987. The McMahon policy of ignoring a wrestler's history in other promotions is adopted as Ross and Cornette act as if they've never seen Zenk before and they only refer to him as the Z-Man. Z-Man throws a lot of dropkicks and armdrags en route to a victory with the sleeperhold in 3:36. Zenk was an average talent with a pretty face, but too bland to break through. He found his niche as a serviceable midcard babyface for WCW. Just weird that the promotion treated him like a brand-new wrestler nobody had ever seen when he had been wearing the same white trunks and boots since he was in The Can-Am Connection. *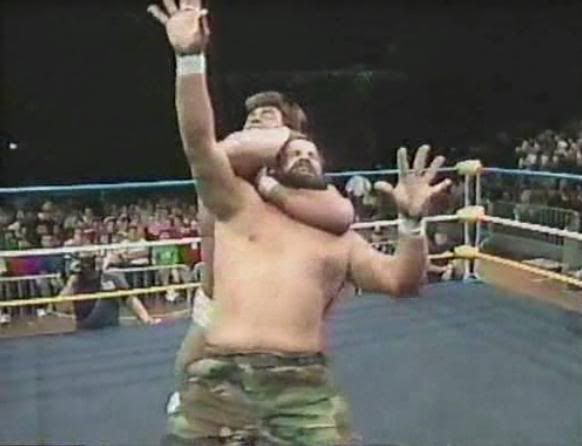 He practiced by putting the crowd to sleep first.
– Now it's time for the segment that puts the pep in your step and lays down some gravel to travel: The World According To Theodore R. Long! The referee-turned-manager is in a recording studio and uses his swank radio DJ voice to deliver some scoops on upcoming house shows as he works in shots at Rick Steiner, Dick Murdoch's wife, Sting's fans, the Road Warriors, and Ric Flair. Long was such a natural wrestling personality, it's hard to believe he was just a referee for so long.
– In a pretaped piece, Governor Carroll Campbell of South Carolina reads a proclamation naming Tuesday, September 12, 1989, as Ric Flair Day and presents the Nature Boy with a plaque.
– Ranger Ross vs. Sid Vicious (w/Theodore R. Long & "Dangerous" Dan Spivey)
OH. FUCK. YES. An awe-inspiring mountain of a man, Sid Vicious had recently debuted in the NWA and was soon paired with Danny Spivey to form The Skyscrapers, managed by Teddy Long. Sid exudes a superstar aura and gets a big reaction in his first Clash appearance as Ross and Cornette hype him as the predominant superstar of the next decade. Vicious squashes Ranger Ross in 1:08 with the helicopter slam and a powerbomb. The King of the Squash Match, Sid was just an awe-inspiring beast at this point.
– Madonna's "Material Girl" is the song of choice for a vignette depicting Missy Hyatt and Robin Green riding in a limousine and going shopping for dresses and jewelry. Prior to adopting the persona of Woman, Nancy Sullivan first appeared in the NWA/WCW as Robin Green, an obsessed fan of Rick Steiner who showed up in the crowd for his matches and flirted with him. She eventually became his girlfriend and started accompanying the Steiners for their matches along with Missy Hyatt. As a form of female bonding, Robin and Missy went on a shopping spree courtesy of a credit card that Rick gave Robin. Robin shows a greedy side as she can't decide which dress to buy, so she buys them all and adds a very expensive necklace at their next stop. The po' negro chauffeur is stuck with all of Robin's bags in the end.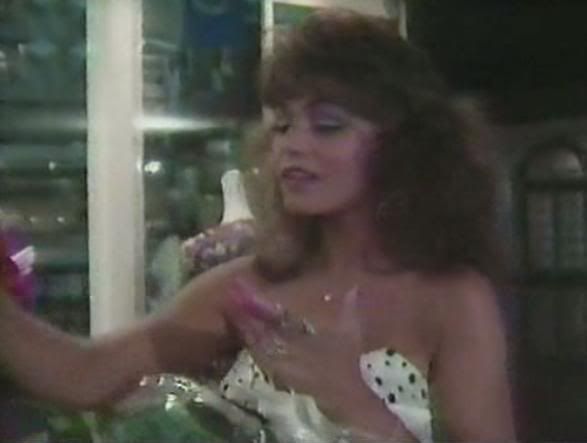 You should have stayed with Rick Steiner.
– Gordon Solie interviews World Tag Team Champions The Fabulous Freebirds, now a two-man team since Terry Gordy headed back to Japan. Michael Hayes complains about a lack of respect for the Freebirds' tournament victory at the last Clash and promises that they will walk out with the belts again tonight.
– NWA World Tag Team Championship: The Steiner Brothers (Rick Steiner & Scott Steiner w/Missy Hyatt & Robin Green) vs. The Fabulous Freebirds (Michael "PS" Hayes & Jimmy Garvin) ©
"Welcome To The Jungle" by Guns N Roses brings the Steiner Brothers out for their first-ever shot at the World Tag Team Title, as Cornette notes that the Steiners would be one of the few brother combinations ever to win the NWA belts if they are victorious. They are escorted by manager Missy Hyatt and Rick's girlfriend Robin Green, who is no longer the bespectacled young lady in an oversized Rick Steiner t-shirt. In her prime, Nancy Sullivan was the hottest woman in wrestling history as far as I'm concerned. Sex on legs would be an apt description. Relying on a phenomenal mixture of power and speed, Scott Steiner has his way with both Michael Hayes & Jimmy Garvin as he unleashes slams, suplexes, and clotheslines. The Dogfaced Gremlin tags in and picks right up where his younger brother left off, manhandling both Freebirds until Hayes avoids a charge in the corner. The Freebirds utilize their superior experience and willingness to fight dirty as they control Rick with frequent tags and ringside beatings. Rick comes back with a Tully Blanchard-style slingshot suplex on Garvin and makes the hot tag to Scotty as the crowd erupts. Scott is a juggernaut, snapping off perfect Frankensteiners on Hayes and Garvin before mowing them down with a double-clothesline. Powerslam on Hayes gets a two-count as Garvin makes the save, but Rick takes Jimmy out to the floor. Scott runs off the ropes, but he stumbles as if he were tripped (the camera is set up to miss it) and Hayes plants him with the DDT to retain the NWA World Tag Team Championship in 10:27. Since the camera angle conveniently missed who tripped Scott, the commentators remain clueless while Scott blames Robin, Rick blames Missy, and several fans point at Robin. Ross promises to get another camera angle as they go to commercial, but it isn't any more conclusive than the original angle. Ross and Cornette trip over themselves trying to explain why they didn't just look up from their monitors, and they mention the remote possibility of asking some ringsiders what happened. Or how about ring announcer Gary Cappetta, or the timekeeper, or any of the other thousand people who were RIGHT THERE. I can appreciate the intent behind this storyline, to build the mystery of which woman is a lying bitch, but this was a stupid way to do it. As for the match itself, the human dynamo known as Scott Steiner completely energized this match and took it to another level. He looked so fluid and crisp and should have been WCW's savior in the '90s. Freebirds/Steiners was actually a fantastic pairing because Hayes & Garvin could draw heat with their dance moves and bump for all the Steiners' suplexes and Steinerlines. Fun Fact: This match started around 9:00pm because it was deemed strong enough to go head-to-head against the season premiere of Roseanne airing on ABC, and it drew one of the highest quarter-hour ratings of the whole Clash. ***¾
At least they found a way to incorporate the ineptness of their television production crew into a storyline.
– Norman the Lunatic (w/Theodore R. Long) vs. Flyin' Brian
Teddy Long now carries a cartoonishly oversized key to represent the control he has over Norman. Flyin' Brian is accompanied by a squad of middle-school cheerleaders… no wait, apparently they're from the University of South Carolina. Could have fooled me. Norman attacks Pillman as soon as he steps through the ropes, but Brian fires off a pair of dropkicks and an impressive snap suplex as the Gamecock girls cheer him on. Brian follows that up with a springboard clothesline from the apron and then a dive off the top turnbuckle all the way down to the floor after Norman rolls out to ringside. Teddy Long climbs up on the apron and Brian grabs the key from him, but Norman avalanches Brian from behind. The 384-pound Lunatic ragdolls Pillman and scores a two-count with a big splash off the middle turnbuckle before the battle goes out to the floor. Norman avalanches Brian against the Coors Light ringpost, but Pillman moves when he tries it again and Norman crashes into the post. Back inside, Pillman lands a missile dropkick off the top and displays his surprising strength as he bodyslams and back-bodydrops the massive mental patient, but Norman catches Brian in mid-air and powerslams him for a near-fall. Clothesline gets another two for the Lunatic, but Brian ducks a second clothesline and wraps up Norman in a crucifix for the 1-2-3 at 3:38. Teddy Long berates Norman afterward and voices his displeasure with the Lunatic's performance. ***¼ Classic speed vs. size match-up that was a perfect vehicle to get Flyin' Brian over in his Clash debut since these two had worked together many times in Stampede Wrestling and developed good chemistry.
That must be one big lock.
– Gordon Solie is backstage with Gary Hart again and elucidates on the vague rumors from earlier, asking if Terry Funk is the problem. Denying the rumors once more, Hart claims that Funk is in the building and invites Gordon to follow him if he has any doubts.
– Captain Mike Rotunda vs. "Dr. Death" Steve Williams
Still holding on to the Varsity Club gimmick and music, Mike Rotunda slugs away at former Club member Steve Williams as he enters the ring, but Dr. Death uncorks a clothesline and an awesome press slam with multiple reps. Doc charges from a three-point stance, but Rotunda cuts him down with a clothesline as JR starts rambling about their college football history and notes that the clothesline would have resulted in a 15-yard penalty on the gridiron. The Varsity Club Team Captain punishes his former teammate outside and inside the ring until Williams breaks out of a chinlock and powers Rotunda into the corner. As referee Tommy Young is trying to separate them, Rotunda reaches into his kneepad for something and viciously thumbs Williams in the eye to blind him. Syracuse batters Oklahoma and Rotunda foolishly goes to the top turnbuckle, but Doc slams him down to the canvas and marches around like Jim Duggan. Williams ducks when Rotunda launches a crossbody and the Captain sails over the top rope. When Rotunda climbs back up on the apron, Doc scoops him up for the Oklahoma Stampede, but Rotunda holds onto the ropes and Doc struggles to pull him away. The referee takes it upon himself to KICK the Captain's hand off the ropes and Williams crashes to the mat with Rotunda on top. However, Williams rolls through and pins Rotunda at 7:04. Rotunda clotheslines Williams afterward and rams his head against the guardrail after tossing him to the floor. Williams shakes it off back in the ring and Rotunda flees the scene. **¾ As the big blowoff of the Varsity Club, this match was anticlimatic and felt like it was setting up a rematch, but I think that was it for this feud. Still a very solid and well-worked bout.
– Gordon Solie interviews United States Champion Lex Luger, who cuts an effective self-absorbed, egotistical promo. The Total Package proclaims himself the centerpiece of the promotion and boasts that he is bigger than the sport itself. Luger was a great Horseman and a hot babyface, but this heel run was the pinnacle of his career.
– NWA United States Heavyweight Championship: "Wildfire" Tommy Rich vs. "Total Package" Lex Luger ©
A former NWA World Champion, Tommy Rich had recently returned to the NWA/WCW after getting back into ring shape. Cornette notes the opposite personalities and upbringing of the two competitors, and puts over Wildfire's credentials as the second-youngest NWA Champion of all time when he won it in 1981 at the age of 22. Rich has Lex Luger rockin' and reelin' early on and keeps going back to an armbar, but the Total Package pushes him into the corner to break it. Luger whips Rich to the opposite corner and charges in, but Rich moves out of the way and rolls Luger up for a near-fall. Small package also gets two and Tommy armdrags Lex into another armbar, but Wildfire misses a dropkick and Luger takes the advantage. Luger powerslams Rich for two and hammers away at the back to soften him up for the Torture Rack, but Rich comes back with a sunset flip for a near-fall. Tommy ducks a clothesline and Lex goes sailing over the top rope like Superman. When Luger climbs up on the apron, Rich hooks him up to suplex him back in and accidentally drops Lex on his head as Lex lands on top of him for a two-count. Side suplex gets a near-fall for the Package and he powerslams Rich to set up the Rack, but Rich slips off and escapes. Known for his never-say-die attitude, Rich kicks out after a huge superplex and rolls out of the way when Luger dives off the top turnbuckle. Wildfire unloads on the US Champion and hits the Thesz Press for a close near-fall, but Luger stops his challenger's momentum by bailing out to the floor. Rich follows Lex out and slugs away, but Luger ducks and Tommy punches the ringpost. Up on the apron, Luger breaks a sleeper by dropping Rich's throat down across the top rope and covers him to retain the NWA United States Heavyweight Championship in 10:36. **** Although he was a shell of his former self, Tommy showed some good fire and Luger brought his working boots, so this was a great little match.
– Gordon Solie pesters Gary Hart yet again, so Hart provides a videotaped message from Terry Funk in a hospital bed in Louisiana. His arm in a cast, the Funker explains that he almost lost his arm to a severe infection after Ric Flair repeatedly smashed it with a branding iron. Nonetheless, Funk promises to get the Nature Boy at the Clash.
Looks like someone needs a visit from Yurple the Clown and Mr. Socko.
– Gordon Solie interviews World Champion Ric Flair & Sting about the changes to tonight's main event, but the Nature Boy is confident that it doesn't matter who the Great Muta's partner will be and he invites Terry Funk to get involved if he's in the building. The Stinger adds that he and Slick Ric are going to make history tonight as partners, just like they did as opponents at the first Clash.
– "Dirty" Dick Slater & The Great Muta (w/Gary Hart) vs. Sting & "Nature Boy" Ric Flair
This is definitely not a case of trading up. And this substitution doesn't even make sense, since Dick Slater is also wearing a cast due to a broken arm. Somebody in WCW must have really had a thing for Dirty Dick, because the dude could always get a job and a solid push there. The Great Muta sprays the red mist in the air before the match and Ross later discusses the different mists Muta has used in the NWA, noting that we've seen him spew green and red mists, but not yellow, which is apparently the most dangerous according to JR's Oriental contact. Escorted to the ring by a couple of lovely ladies in evening gowns, Ric Flair & Sting start off strong as Sting cuts down Muta & Slater with a pair of clotheslines and Sting & Flair work Muta's arm. Cornette mentions that this is the first time Flair and Muta have wrestled each other as the Pearl of the Orient tags out and Flair chops and kicks the hell out of Slater. The Nature Boy also chops Muta on the apron, but Muta knocks him out to the floor with a spinning back kick and wipes him out with a slingshot plancha. When Muta stands up, Sting surprises him with an impressive dive over the top rope and Slater joins the rumble as all four men brawl at ringside. The heels get their asses handed to them as Flair rams Slater against the guardrail and Sting drops Muta's throat on the railing. In the ring, the new-found friends attack Slater's broken arm until he manages to tag out and Muta takes control of Flair, landing the handspring elbow.
Slater & Muta focus on Flair's faulty neck and work him over inside and outside the ring, but Flair counters a nervehold from Muta with an inverted atomic drop and tags Sting. All hell breaks loose as Flair slugs away on Slater at ringside while the Stinger press-slams Muta and hits the Stinger Splash. Sting applies the Scorpion Deathlock, but referee Tommy Young is distracted with the ringside activity, so Gary Hart sneaks in and whallops Sting with a roll of coins that explode all over the mat. Muta covers Sting for a dramatic near-fall and powerbombs him for another two-count as the J-Tex members take advantage of Sting's dazed state. The momentum shifts when Sting escapes a sleeper and back-bodydrops out of a piledriver attempt before making the hot tag to the NWA World Heavyweight Champion. Flair & Sting clean house, but it doesn't last long as Muta sprays Sting with the deadly yellow mist and Slater clubs Flair with his cast, busting him open. This is the first time we've seen blood during a Clash since Dusty Rhodes was fired. The match is over in 19:16 via disqualification as Terry Funk runs in and suffocates Flair by wrapping a plastic bag over his head, which provides a rather disturbing visual. Meanwhile, Muta & Slater hammer Sting's ankle with the branding iron as the scene is absolutely chaotic. After a commercial break, Flyin' Brian is by Flair's side as paramedics have removed the bag and revived the Nature Boy via CPR, although he is still laying on the floor. Ross and Cornette warn that Terry Funk has gone too far as they sign off. **** The excellent quality of the main event made up for the bait-and-switch, and the post-match angle with the plastic bag was so controversial that it generated a flood of viewer complaints at TBS.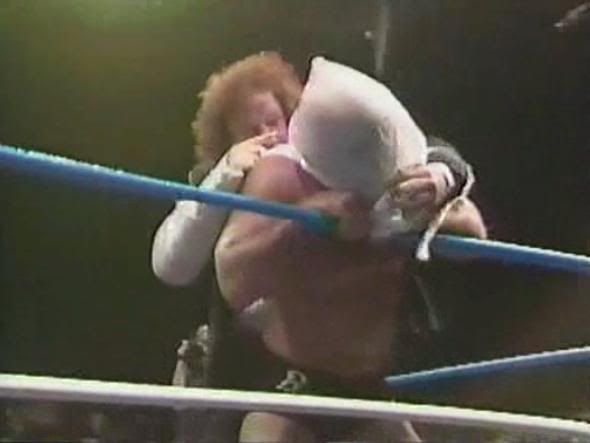 Attempted murder is only legal if it takes place during a wrestling show.
The 411: An entertaining show from top to bottom, Fall Brawl '89 was one of the more successful Clash of the Champions with something for everyone on the card. The 'sports entertainment' segments and Sid's squash were well-done. The two undercard tag team matches were well-booked and well-worked, but in different ways. Road Warriors vs. Samoan Swat Team was a tag team slobberknocker designed to blow off the feud and split the SST from Paul E. Dangerously, while the World Tag Team Title bout was a more athletic affair that served to showcase Scott Steiner and advance the Robin Green storyline. The surprise of the night was the US Title match, as Lex Luger and Tommy Rich exceeded all expectations and worked their asses off. The main event had fantastic psychology and selling, and helped to elevate the Great Muta to main event status only months after his American debut. From an in-ring standpoint, 1989 had been a banner year for the NWA/WCW, but with these great matches came a price. Due to the hard-hitting physical style of the promotion, injuries began to take their toll on the roster and that led to the bait-and-switch in the main event. Terry Funk had a severe staph infection in his elbow and was at risk of having his arm amputated when he finally underwent surgery one week prior to Clash VIII, and he left the hospital specifically to perform the run-in. On the babyface side, Sting had legitimately hurt his ankle prior to the show, but the storyline explanation for the injury was the post-match attack with the branding iron. Despite these setbacks, the brutal heel beatdown on Flair & Sting set up the main event of Halloween Havoc '89: a show-stealing Thundercage tag team battle pitting Sting & Flair against Funk & Muta.

Final Score:  9.0   [  Amazing ]  legend